Learning to play chess in high school was one of the best things that I ever did because it helped shape some of my problem solving skills. For something that looks so simple and unassuming, chess is an incredibly complex game where each move opens up near limitless game play possibilities. With so many options to consider, playing chess can be daunting for beginners, which is why it's important to play chess with a set that you're comfortable with.

Best Chess Sets for the Money in 2019: Our Favorites!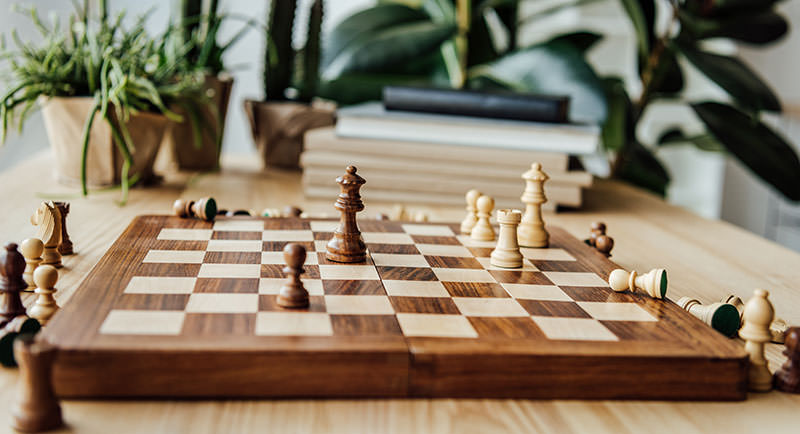 Instead of buying up the first cheap chess set that you see for sale, let us give you a few tips on what you should consider before making a purchase. With so many different sets available on the market, it's a good idea to have some parameters in mind when shopping. That way, you can easily find exactly what you need to meet your needs.
Skill level: Are you new to the game or do you already know how to play? If you're new, then you should get a basic set instead of one with more ornate pieces or novelty pieces. Why? Because it will be easier for you to recognize the pieces as you learn to play better. Besides, you can always upgrade to a better set later on.
Budget : How much do you want to spend? You can find decent options under $50 if you're on a budget and need something cheap. You can also find luxury models that cost over $100 and are designed as display pieces as much as game sets.
Materials : The most common sets are made of either glass or wood. You can also find sets made of plastic, marble and other materials. Determine what you want yours to be made of and narrow down your options to just that. We advise that you choose something that is durable, such as a good wooden chess set, especially if you have children or pets in the home who might bump into it.
Where will you play? : If you want to be able to travel with your game, then you need either a travel chess set or a portable set that comes in a tin. Otherwise, you can choose a normal set. However, some normal sets come in a fold-up case while others come in a box or are meant to be left out on a table.
Size : Like most games, you can find chess sets in a variety of sizes. From small travel size models to larger table-size models, you should be able to find something that fits the available space you have for game play.
Types of Chess Sets
To the beginner, it may look like all chess sets are the same. Truth is that there are several types of chess sets out there for you to purchase. Below we'll go over those types so that you have a better idea of what's out there on the market. This type comes in different sizes and materials, so you can choose something that best meets your needs and preferences.
Traditional Chess Sets (also known as Staunton Chess Sets) : These are the most common type that you see and often you have to buy the pieces the board separately. Of course, some manufacturers just package them together to make is easier on you.
Portable or Magnetic Chess Sets : These are perfect for road trips, taking on flights and trains, or even just something for the kids to play with in the car. They come in different sizes and materials as an all-in-one package deal.
Tournament Chess Sets : You really only see this type at schools and tournaments and we don't advise these for home use. One of these sets consists of a roll-up vinyl board and plastic pieces.
Teaching Chess Sets : Exactly like it sounds, this type is geared towards absolute beginners and includes teaching aids that remind you how the pieces move. Obviously, this type if not meant for long term use.
Folding Chess Sets: This is another super popular type that you see a lot of people owning. While wood is the most common material, there are really cheap models made of basically cardboard boards and plastic pieces. This type if good for people who want easy storage when not playing, especially for small apartments and condos.
Figurine Chess Sets : This type is meant to be a conversation piece and decorative piece of the room, as much as it is a game for playing with other enthusiasts. They often have a high price tag and make up some of the more expensive, and luxury chess set options. Sometimes they don't come with a board, and other times they come with a special board that matches the pieces. A good example of this type is one of the high end Crusader chessmen.
Novelty Chess Sets: This type is meant more for the fan collector who also plays chess as a hobby. Sometimes these sets come in collector tins for storage. A good example of this type of set is the Super Mario Chess Collector's Edition Tin set.
Multi-game Chess Sets: This type gives you several games in one set. Often this is made up of chess, backgammon, and checkers; however exact games included it the sets will vary.
Our Favorite Chess Sets Reviewed
If you're looking for a little insight on some of the top chess sets on the market, then you're in luck! Our editors have taken the time to share their thoughts on some of our favorites that you can buy right now. Below you'll find our top chess set reviews that feature what we like about each set and why we think it will make a good addition to your game table.
Best Wooden Chess Sets
Probably the most common sets that we've come across are wood, and it took us a long time to narrow it down to just our favorites. Hopefully one of these great wood chess sets will be just what you've been looking for.
Wegiel Ambassador European Chess Board Game Review
Hand crafted in Poland, we think that this is one beautiful folding wooden chess set for a great low price. The board is made of birch and beech wood and has some incredible detail along the perimeter of the board. The chessmen are made of sycamore and hornbeam wood.
Honestly, this is a very classy chess set and the detail on the pieces is truly detailed and beautiful. It really seems like a more expensive set than it it, which is nice.
The board is a good size at 21.65″W x 1.18″H x 21.65″D, and the pieces are: King 4.5″, Queen 3.66″, Pawn 2.28″, with the squares measuring 2.24″x2.24″. The board folds in half and you can store the pieces inside, where it is lined with felt.

Our only minor complaint with this board is that the pieces could be weighted a bit more because they do tend to get knocked over if you're not careful.
And if it matters to you, there are not any extra queens in this set. But overall, we think that this is a good folding wooden chess set in the under $100 price range. (*)
Chess Armory 15″ Wooden Chess Set Review
If you want a wooden set but are on a tight budget, then you should check out this set from Chess Armory. It is a bit smaller at just 15″ x 15″ but it also folds with a felt interior for storing your pieces. For the chessmen size, the king piece comes in at 3-inches. And they are Staunton pieces.
The set features inlaid walnut and looks good for the cost. The pieces are not weight, but seem sturdy enough for that not to be an issue when playing.

Overall there's not a lot to complain about here since this is one of the best chess sets under $25 - $50 right now. So, if you need a cheap chess set that is of good quality, then this Chess Armory set is a great choice. In fact, it gets our pick as one of the best chess sets for beginners .
Best Magnetic Chess Set for Travel (or Kids)
This magnetic set from Yellow Mountain Imports is the perfect option for a portable chess set that you can take with you on trips or even just let the kids play with it in the car on long drives.
This set has an ultra low price and is small enough to take with you, but larger enough to play on. When open, the board measures 9.7 x 9.7 x.95 inches.

Honestly, there isn't a lot to say about this one. It is super cheap - I bought mine for a cost under $15 at the time (*) - and it is perfect for taking with you when you're traveling. It's also good for the kids, even around the house, since the pieces stay on the board due to the magnets. We think it's hard to go wrong at this low cost if you need a magnetic travel set.
Best Educational Teaching Chess Sets
If you're shopping for a chess set for kids who also need to learn how to play the game, then we whole heartedly recommend the No Stress Chess set by Winning Moves Games .
It is the perfect chess set for beginners who need a lot of extra help, like children. The board has teaching instructions and it comes with a deck of "action cards" that are designed to teach someone how to play the game of chess.

A cool feature of this one is that you just flip over the board once you know longer need the extra help and it's just a regular chess board that you can play on.
It has an affordable cost and is a great way for you to teach your kids how to play the game of chess.
If you're not sold on the No Stress Chess game above, then take a moment to consider Chess Junior from Cubes.Art .
This is a slightly different take on your traditional teaching chess set. Instead of chessmen, it uses cubes (dice) that feature the chessmen on them. And, instead of learning via a traditional game play, it focuses on teaching via 'reduced' learning games.
Sure, it sounds unconventional but it works because it makes the game more fun for children, which makes it more accessible for them. The recommended age group for this one is ages 5 and up.

Overall, we find this to be a quick and fun way for kids to learn how to play chess. And, the cost of this one is reasonable as well. It's definitely a good alternative to traditional teaching sets.
Best Electronic Chess Set
Honestly, here at Gaming Weekender we're not big fans of electronic chess set, preferring to play it old school instead. However, we know that some people actually like to go the electronic way, so we took the time to evaluate what's available on the market. As it stands, there is really only one model that we feel comfortable recommending - the Millennium ChessGenius, Model M810 - Grandmaster Electronic Chess Computer .
Based on our finding, Millennium makes the best electronic chess sets on the market, period. And of the models that they make, we prefer this M810 model.
But let us warn you - it is not cheap. In fact, it is one of the more expensive models that we recommend.

That being said, it is fun to play and the chessmen are magnetic, so they stick to the board, which makes it great for travel. The computer has a backlit display, which is perfect for low lighting on planes. And, it has a teaching mode that you can turn on and off.
Overall, if you want an electronic option, then we firmly believe that this is the best that it gets.
About Matching Chess Pieces To The Board
While it is easiest to buy a complete chess set made up of the board and pieces, you can purchase each item separately. Of course, when you do that you need to make sure that the pieces match the board. This is important because pieces come in different sizes and you don't want to end up with pieces that are too big or too small for the squares on the board.
Now, if you're not a serious player, then you can make your choices based on whatever is most aesthetically pleasing to you. Otherwise, you should know that the USCF (United States Chess Federation) has regulations on the proper sizes of the pieces. USCF regulations state that "a King that measures between 3 3/8″ to 4 1/2″ with a base diameter of 40-50% of the height."
So, if you want to do everything by the books, the people over at Chess Central make is easy. They state that "the proper square size for a set of good Staunton chess pieces is such that the width of the base of the King should be 78% of the width of a square. So, divide the King's base diameter by 0.78 and you get the proper square size."
Another thing that you'll want to keep in mind that you should try to match the materials of the pieces to those of the board. For instance, if you have a wooden board then choose pieces that closely resemble the dark and light wood on the board.
Other Things To Consider
While we've covered the basics above for the hobbyist chess player, there are actually a few more things you might want to consider if you're serious about this game. Here are a few additional considerations:
How many queens come with the set? While you only need two queens, some sets come with four to make game play easier. Such a set may appeal to you if you are a more serious player.
Are the pieces weighted? If you're playing a timed game, then weighted pieces are definitely necessary due to the fast-paced nature of such a game.
Should you buy more than one set? If you expect to do a lot of playing, then it probably makes sense to have more than one set. For instance, you may want a tournament set and a folding wooden set that you can take with you when you travel.
Additional reading