You can typically find people playing cornhole at barbecues, tailgating, or at other get togethers - usually where there are buckets of beer and a group of people (at least in my experience). If you're looking to make your backyard, garage or driveway the go-to sport for cornhole games, then buying a cornhole board set just won't cut it. Sure, you can use the bags that come with the boards you end up ordering, but they won't be the best cornhole bags that you can be using.
For a top of the line game, you need some top of the line cornhole bags for game play. And, you're most likely going to need to order those separately from the boards. Not sure which ones to get? Let us help you find some good options.
Top Cornhole Bags by Editors in 2022
Best Cornhole Bags Reviewed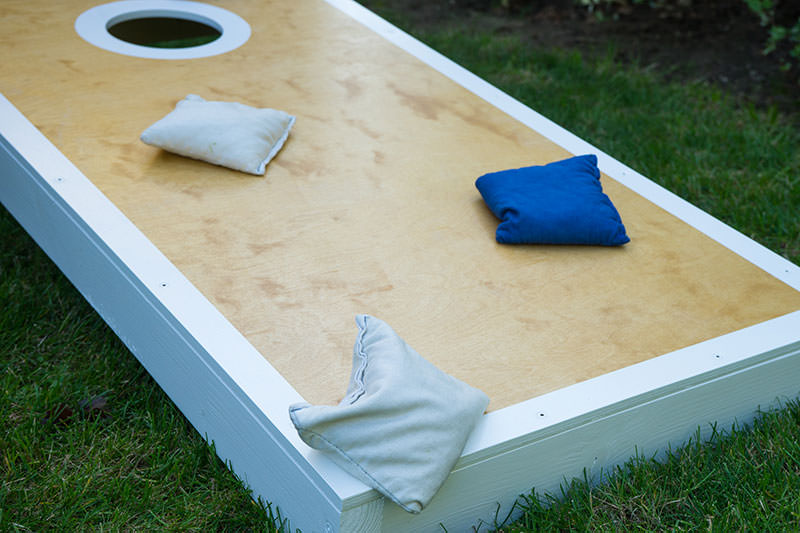 Below is a list of the top 5 best cornhole bags on the market. We have based our rankings on durabilty, price, material quality, and available colors. If you have any questions or disagreements, please let us know in the comments down below.
1. Premium Weather Resistant Duckcloth Cornhole Bags - Play Platoon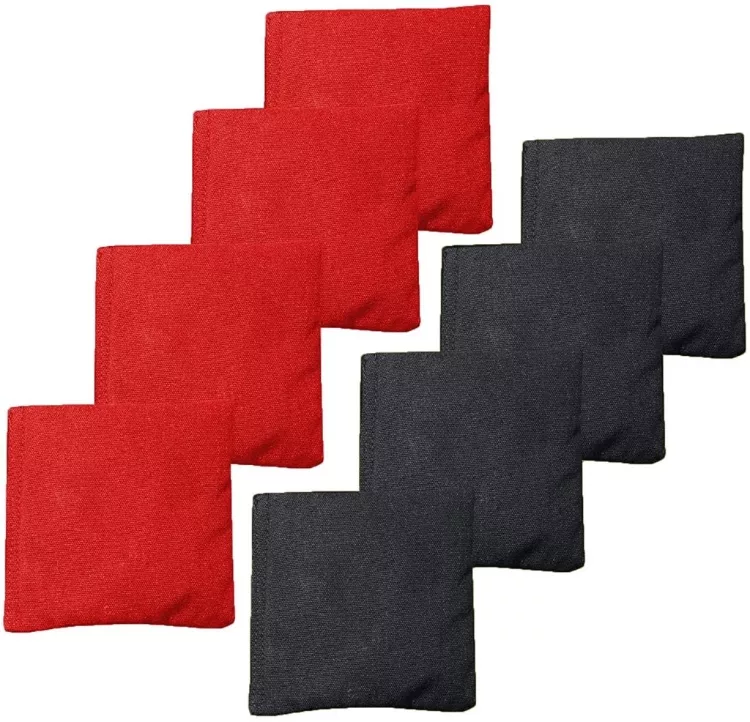 The Premium Weather Resistant Duckcloth Cornhole Bags by Play Platoon is a set of 8 cornhole bags containing two colors, four of each. They are a regulation size of 6″ x 6″ and weight of 15 - 16 oz. They are filled with sand, which makes them weather resistant.
The bags are made of premium 10 oz. duck cloth and are double stitched, which makes them super durable and on top of our list. The cornhole bags come with a lifetime replacement warranty, which guarantees you a replacement with a new set should anything be wrong after purchase. The cornhole bags come with a mesh carry bag for safe and easy storage and transportation.
Pros
• Easy to transport and store: Includes a mesh bag that makes it easy to transport and store the cornhole bags.
• Regulation size: Size and weight of the cornhole bags is regulation size.
• Weather-resistant: Filled with sand, making it possible to use them under any weather condition.
Cons
• Very dusty when landing on the board
• Filled with sand so they throw differently
2. Weather Resistant Cornhole Bags by SC Cornhole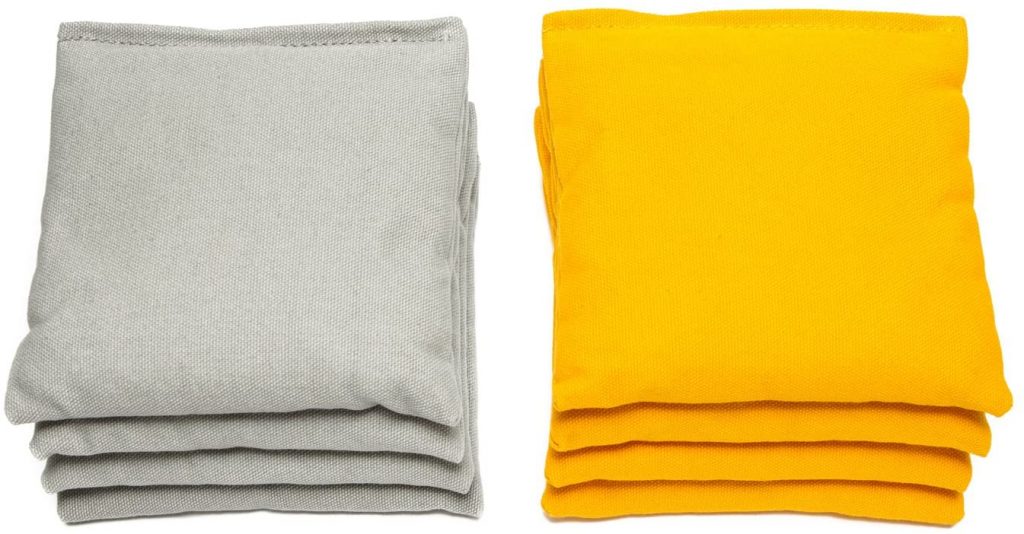 For over the last ten years, SC cornhole games weather-resistant cornhole bags have been the most popular seller due to their durability and uniform design. The bags' features include 12-ounce durable duck canvas, which makes it perfect for games under any terrain, including gravel, concrete, or grass.
The cornhole bags are also made up of plastic pellets, making them critter and weather resistant. They are the official standard size and weight of 6×6" and 14-16 ounces, respectively. Moreover, the cornhole bags come with a one-year guarantee to replace the bags in case of failure. The SC cornhole bag is a trusted brand that has provided top-notch products to many players to buy with confidence.
Pros
• Weather-resistant: the cornhole bags are filled with recycled plastic pellets, which makes them critter and weather-resistant; this enables them to withstand any weather conditions, including rain.
• Durable material: the cornhole bags are made up of 12-ounce durable duck canvas material and are double stitched to maintain the durability of the bag
• All types of play: the cornhole bags are made up of materials that allow for all kinds of play in any terrain, including gravel, concrete, and grass.
Cons
• Possible issue with stitching
3. GoSports Premium All-Weather Duck Cloth Cornhole Bean Bag Set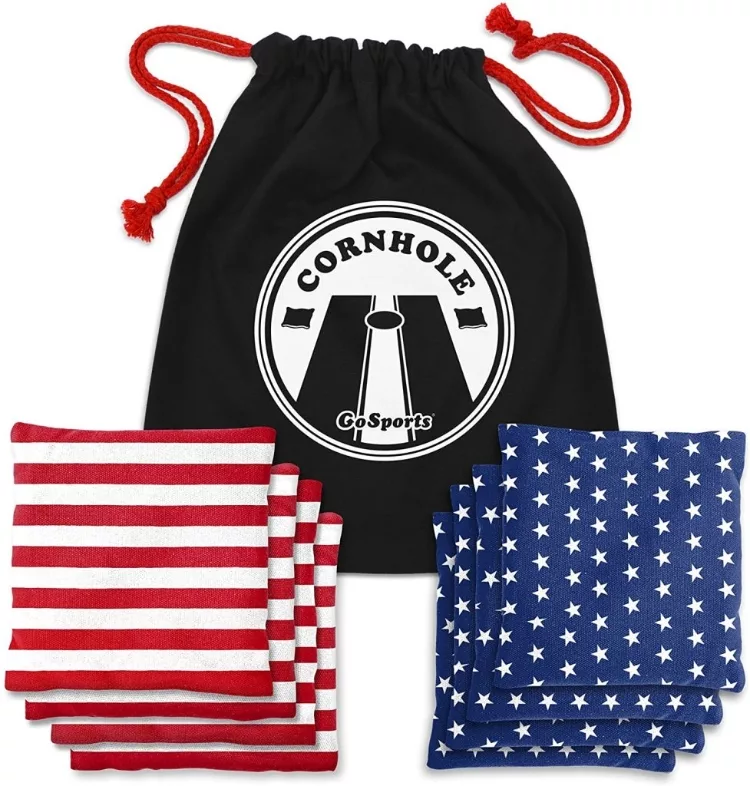 The GoSports premium all-weather duck cloth cornhole bean bags are a premium set that helps you get the most out of your cornhole bags. Two of the reasons they are on our list of best cornhole bags is the plastic pellet fillings and durable duck cloth double stitched to ensure durability and weather resistance. The cornhole bags are also regulation size and weight of 6×6 inches and 16 ounces. The premium quality ensures the most playtime out of these cornhole bean bags.
Pros
• Premium quality: Developed using durable double stitched duck cloth with plastic pellet fillings.
• American theme: the cornhole bags come in 8 premium American themed bean bags with four stars and four stripes.
• Comes with a tote bag for easy transportation and storage
Cons
• Color choice: Limited to stars and stripes and red and blue. Other bags provide these options and many more.
4. SPORT BEATS All Weather Cornhole Bean Bags Set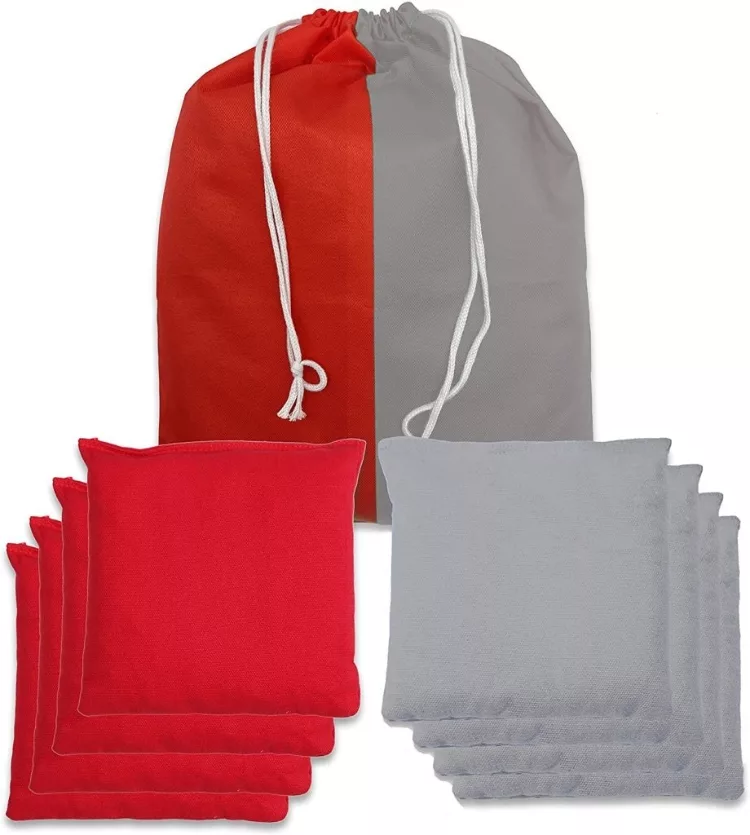 The SPORT BEATS cornhole bags all-weather cornhole bean bag set comes with 8 duck cloth weather-resistant cornhole bags that are double-stitched for durability. These cornhole bags are also the standard size and weight of 6″ x 6″ and 15 - 16 oz. (You may be sensing a theme here).
They are filled with weatherproof river sand fillings that make it easier to store and transport. This feature makes them weather-resistant, and hence, you can play under any weather conditions, including rain and snow.
Pros
• Premium quality: Made with durable duck cloth fabric, which is double stitched to durability and toughness.
• Weather-resistant: Filled with river sand, which enables them to withstand playing in any weather conditions.
Cons
• River sand may absorb water when playing in wet conditions and increase the weight of the bag.
5. EXERCISE N PLAY Weather Resistant Official Regulation Cornhole Bags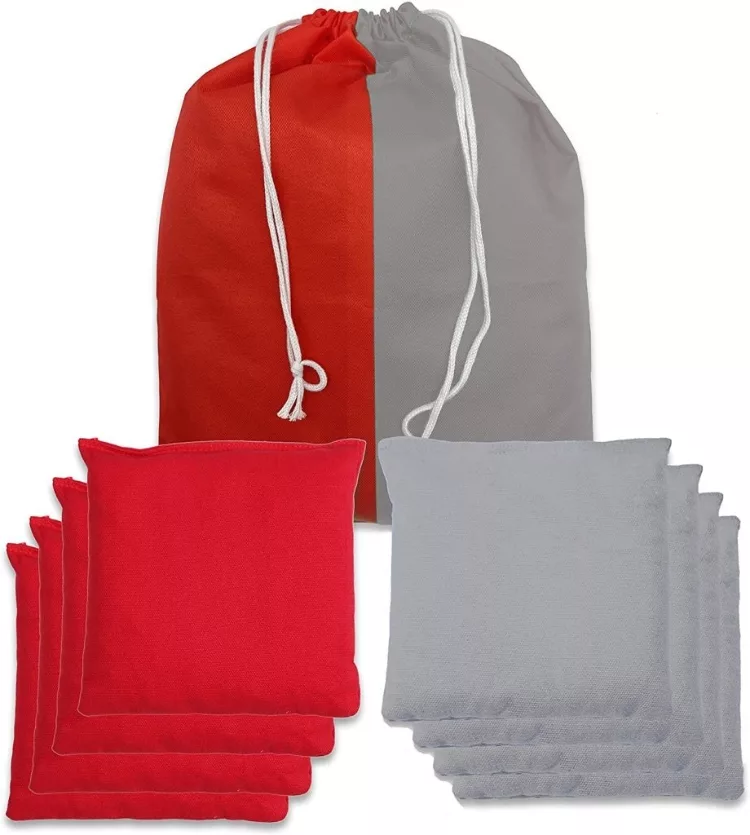 EXERCISE N PLAY weather-resistant official regulation cornhole bags are the first brand to develop cornhole bags with innermost layer opp material waterproof design. Their features include double stitch craftsmanship with canvas material that guarantees durability during playtime. The bags are filled with sand are made according to ACA regulations - the official size and weight of 6×6 inches and 14-16 ounces, respectively. The set also comes with a shoulder bag for easy transportation and storage. Its design makes it perfect for use by all ages and occasions.
Pros
• Weather-resistant: Designed with waterproof innermost layer opp material to enable play at any weather condition.
• Durability: Mde with double-stitched canvas material to ensure durability and prevent them from bursting.
Cons
• Set might not come with an even 4 and 4 of each color. Be sure to contact support if this happens to you.
What To Consider Before Buying
Before you go out and buy the first set of new cornhole bags that you see, take a moment to learn what you should look for when shopping. Otherwise, you might just end up buying some new bags that are no better than the old ones that came with your game set! Of course, if you're just replacing some damaged bags, then you might want the same kind that you were playing with before they needed replaced. Be sure to try and get the best cornhole bags that you can.
Filling
While you might be thinking that all bags are filled with corn kernels, the truth is that you may fill your bag with materials other than corn. Although corn is still the most common material thought of, something like pellets is a good synthetic alternative. You can actually fill your own bags, you just need a bag to put your pellets or kernels into. Most of the bags these days are filled with synthetic material, such as resin filling and recycled plastic. And every so often you'll come across cornhole bags filled with sand - this is a cheap and weather resistant option, but it just doesn't throw the same.
Here at Gaming Weekender, we prefer the synthetic filled bags as they long-lasting and do not break easily or succumb to vermin. They also maintain a constant weight, which is necessary for the cornhole game regulation that requires the bags to be at a consistent weight of 14 to 16 oz.
Synthetic cornhole bags are an ideal choice for their resistance to wear and tear and guarantee a long playing life for your enjoyment. Besides, they require minimal maintenance effort and offer a hassle-free gaming experience.
Fabric
The nature of the cornhole game involves the repetitive throwing of the cornhhole bags on various surfaces including, wood, concrete, and gravel, which results in wear and tear. With the consistent tossing of the bags within the designated 27 to 33 feet between players, you need to consider the durability fabric of the bag.
For your set of cornhole bags to last, you need a strong fabric that can withstand wear and tear. Doing so adds to your options when in play. You do not have to limit yourself to indoor space. Choosing a cornhole bag made of strong materials is essential for the outdoor adventure.
If you appreciate playing a cornhole game outdoors, you should settle for cornhole bags made of duck cloth. It is thicker, rigid and strong enough to withstand rough surfaces. Besides, there are various color options for you to choose from. Cornhole bags made of synthetic materials are also ideal and provide tender texture for easy handling in gameplay. They are also less rigid than duck cloth cornhole bags.
Stitching
When shopping for a cornhole bag, it is essential to consider how the bag is stitched. Fortunately, you do not have to guess whether the stitching has been well done or not. The American Cornhole Association offers straightforward specifications on how cornhole bags should be stitched.
With these specifications, you can make an informed decision on the ideal cornhole bag. Also, you can be sure that the bags are of impeccable quality and up to the standards of the game. In particular, all cornhole bags should have quarter-inch double stitching on all sides of the bag seams.
Bag Size
Cornhole bag sets should be of a regular size, that is, 6'' by 6'' for easy play. Smaller bags or bigger ones are inconvenient to play with and a poor match for the cornhole boards. When purchasing a cornhole bag, you should consider the American Cornhole Organisation's regulations an4d specifications for cornhole bags, which stipulate a 6'' by 6'' measurement.
Unless you have a customized cornhole board, no other measurement will suit your board. However, if you have a custom-made board, you should choose bags with the same measurement as your board. For example, a board with a 4.5'' diameter would be best to pair up with a 4.5'' bag set.
In a nutshell, look out for the bag's quality; you can use standard regulations and specifications discusses above to help you find the best cornhole bags for your needs.
Buy on Walmart
Weather Resistant Cornhole Bags (Set of 8) by SC Cornhole:: Choose Your Colors - Walmart Link
YAADUO Set of 8 Regulation Cornhole Bags, Duck Cloth Double Stiched - Standard Corn Hole - Walmart Link
JMEXSUSS Weather Resistant Standard Corn Hole Bags, Set of 8 Regulation Cornhole Bags for - Walmart Link
SPORT BEATS Cornhole Bags All Weather Set of 8 for Cornhole Toss Games-Regulation Weight - Walmart Link
Play Platoon Tournament Series Cornhole Bags - Pro Style Dual Sided Slick and Sticky Side - Walmart Link
Premium Weather Resistant Duckcloth Cornhole Bags - Walmart Link
SC cornhole games weather-resistant cornhole bags - Walmart Link
GoSports premium all-weather duck cloth cornhole bean bags - Walmart Link
SPORT BEATS cornhole bags all-weather cornhole bean bag set - Walmart Link
EXERCISE N PLAY weather-resistant official regulation cornhole bags - Walmart Link
Buy on eBay
Weather Resistant Cornhole Bags (Set of 8) by SC Cornhole:: Choose Your Colors - eBay Link
YAADUO Set of 8 Regulation Cornhole Bags, Duck Cloth Double Stiched - Standard Corn Hole - eBay Link
JMEXSUSS Weather Resistant Standard Corn Hole Bags, Set of 8 Regulation Cornhole Bags for - eBay Link
SPORT BEATS Cornhole Bags All Weather Set of 8 for Cornhole Toss Games-Regulation Weight - eBay Link
Play Platoon Tournament Series Cornhole Bags - Pro Style Dual Sided Slick and Sticky Side - eBay Link
Premium Weather Resistant Duckcloth Cornhole Bags - eBay Link
SC cornhole games weather-resistant cornhole bags - eBay Link
GoSports premium all-weather duck cloth cornhole bean bags - eBay Link
SPORT BEATS cornhole bags all-weather cornhole bean bag set - eBay Link
EXERCISE N PLAY weather-resistant official regulation cornhole bags - eBay Link