With USAopoply recently acquiring the rights to make Harry Potter board games, the amount of HP board games available has increased dramatically. So whether you're into card games, trivia games, or something else, there is certain to be a Harry Potter-themed game that you'll love to add to your family game night. And best of all, you can find something for all ages. So, check out our list of the best Harry Potter board games to find exactly what you are looking for!
Top Harry Potter Board Games by Editors' Picks in 2022
Harry Potter Board Games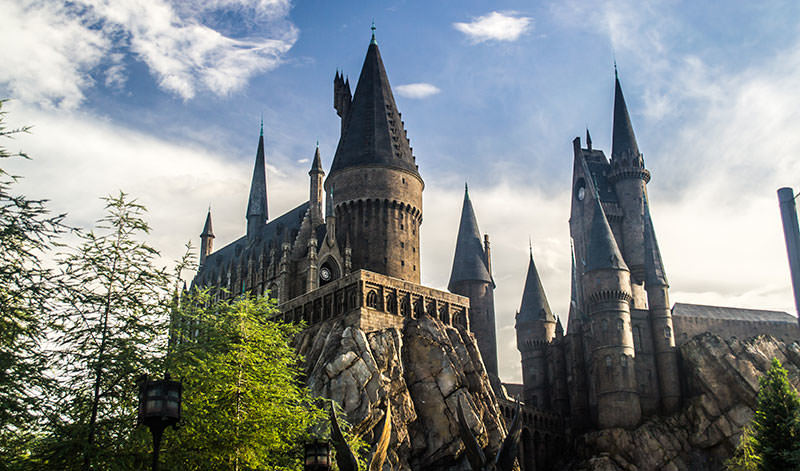 Sometime in the near future we will be dedicating an entire article to the best Harry Potter video games. This article with focus exclusively on the Harry Potter board games. The ratings will be based on difficulty to learn, amount of players, fun to be had, and replayability. On a side note, you can also check out these Pandemic board games, which has the modern theme; the exact counter part of our Harry Potter board games here.
1. Harry Potter: Hogwarts Battle A Cooperative Deck Building Game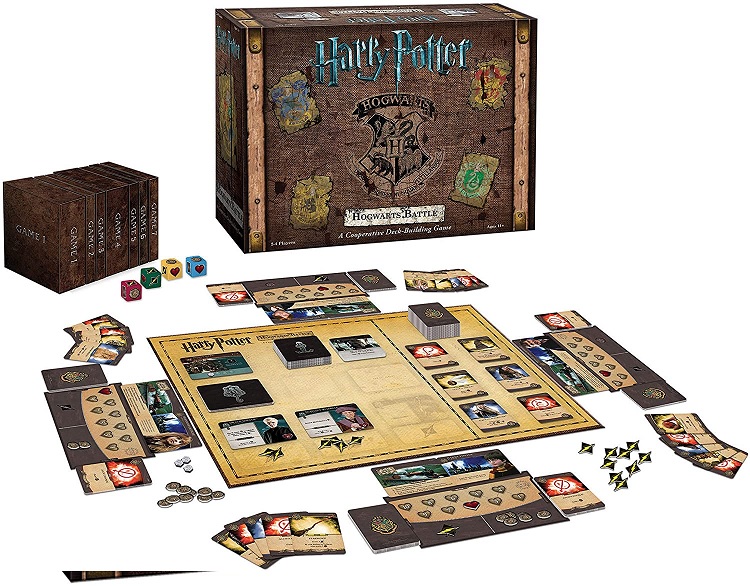 Players: 2-4 | Game Time: 30-60 minutes | Complexity: Low | Age: 11+ | Year: 2016
Released in 2016, the top game on list is Harry Potter Hogwarts Battle Cooperative Deck Building Card Game. Although several other games have come out in the last several years, this game has stood up very well over time and remains in our top slot.
You can play this game with two to four players, and like most strategy games, expect game play to take between 30 minutes to an hour (depending on which "Book" you are playing in the game). And if you've ever played anything like Pandemic or Forbidden Island, then you'll recognize that this is a co-op strategy game where the players are supposed to help each other and work together to win the game. It's really a lot of fun, even for adults. And, it's fun for just two players - you don't need all four players for it to be enjoyable to play.
The game comes with 252 cards, 4 dice, 7 game boxes, 7 game rules, 4 player boards, 8 villain control tokens, and 70 chip pieces.
In this Harry Potter board game, you are able to choose one of and play as one of the main Hogwarts students - Harry, Ron, Hermione, or Neville. Each player will get their own personal deck of cards used to acquire resources. Adding to your deck will allow you to gain new spells and other magical items. Other cards allow you to fight against the villains or regain health for your character. The goal of the game is to defeat all the villains and make Hogwarts safe again.
One of the things that we really like about this game is that as you play each level ("book"), it becomes harder and more involved. You'll also notice that it takes longer to play the levels as you progress. But it's really a lot of fun if you enjoy cooperative deck building games. It is a heavily story based game and you are able to read the instructions as you play.
Play as your favorite character to defend the wizarding world from evil forces: Harry Potter, Hermione Granger, Ron Weasley and Neville Longbottom
Gain influence to master powerful spells, recruit allies, and uncover magical items
Enhance your abilities with over 140 cards
7 successive game adventures offer increasing difficulty: as you advance through games 1-7 of Harry Potter Hogwarts Battle, you will reveal progressively more challenging adventures and unlock new secrets on your journey to save Hogwarts from the Dark Lord!
And if you really enjoy this game, then you should know that there is an expansion deck that you can add for even more fun. It's the Harry Potter: Hogwarts Battle - The Monster Box of Monsters Expansion Card Game . Keep in mind that you can't play this expansion deck alone - it is meant to be added to the game above.
Expansion for Hogwarts Battle, the hit Harry Potter deck building game
Venture into the Forbidden Forest as you encounter creatures!
4 more boxes to add to the base game, plus now play as Luna Lovegood to save Hogwarts
Work together to defeat the evil forces and protect iconic locations to make the Wizarding World safe once and for all!
Here is a complete video review of our top ranked Harry Potter board game:
2. Harry Potter Death Eaters Rising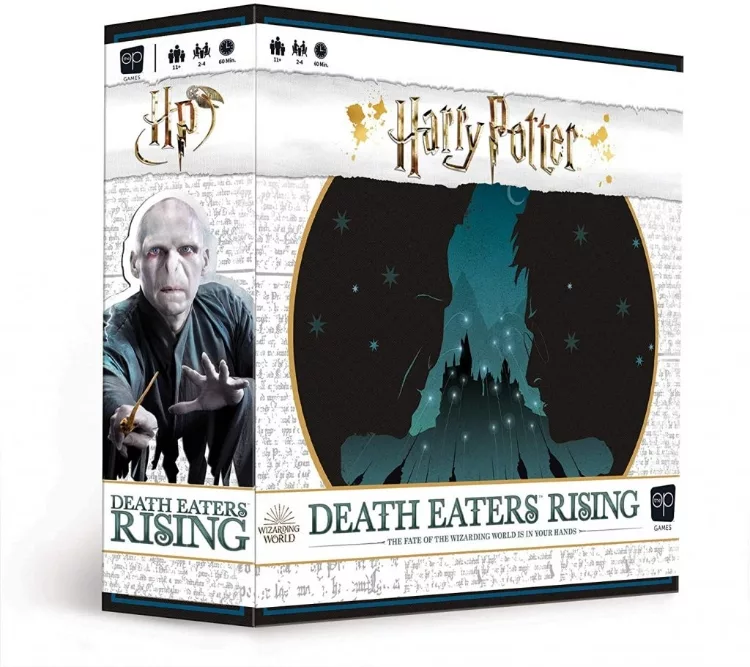 Players: 2-4 | Game Time: 45-90 minutes | Complexity: Low | Age: 11+ | Year: 2019
A new kid on the block, Harry Potter Death Eaters Rising is one of the the newest Harry Potter board games released by USAopoly and features very similar box art to other games.
In this game, the player must create a team of witches and wizards from Dumbledore's Army, the Order of the Phoenix, and Hogwarts to defend the Wizarding World against the Death Eaters (as you may have guessed) and Dark Lord.
This is a cooperative dice game that requires strategy and teamwork to rid some of the key locations of the Harry Potter World against Dark Wizards. The goal of the game is to defeat all of the Death Eaters and eventually take on Voldemort himself. Being a dice game, a certain amount of luck is required, but you still need to skillfully build your team and manage the Death Eater's influence at the different locations.
He-Who-Must-Not-Be-Named has returned! Lord Voldemort and his Death Eaters are a mounting threat to Hogwarts and the wizarding community, compelling everyone to combine their strengths against the dark villains
Use strategy, teamwork and the help of Wizarding World forces to fight the odds in this cooperative dice game
In Harry Potter Death Eaters Rising, players must summon witches and wizards from Dumbledore's Army, the Order of the Phoenix, and Hogwarts to retaliate against evil Death Eaters and protect the Wizarding World from the Dark Lord's corruption for good!
Featuring your favourite characters and items from the Harry Potter movies!
3. Fantastic Beasts Perilous Pursuit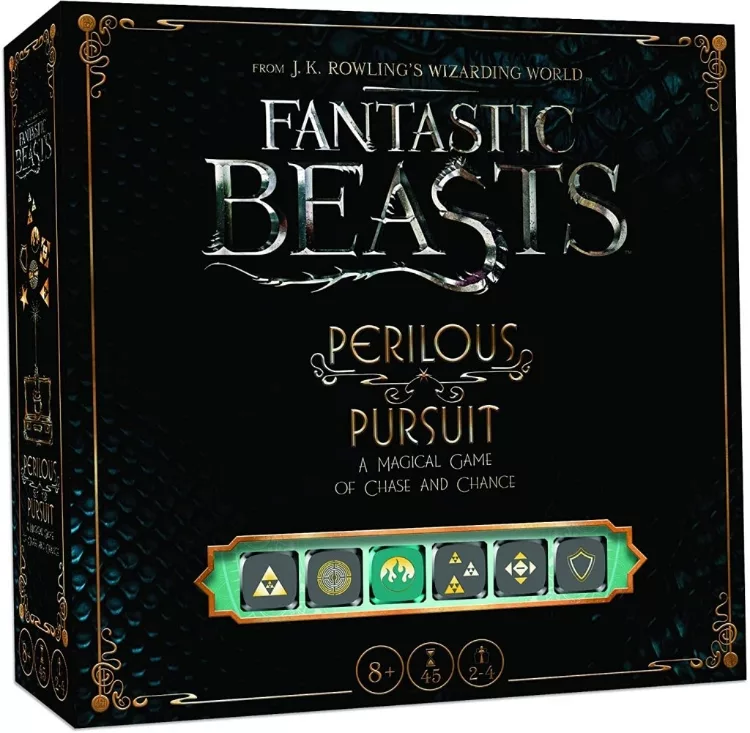 Players: 2-4 | Game Time: 45-60 minutes | Complexity: Very Low | Age: 8+ | Year: 2016
Although Harry Potter does not make an appearance in this game, Fantastic Beasts Perilous Pursuit still takes place in the Harry Potter World so we decided to include it on this list.
This game follows the movie fairly closely as you play as Newt, Tina, Jacob, and Queenie and try to track down all the escaped beasts from Newt's suitcase before the Muggle community notices.
Like the Death Eaters Rising game above, this is also a cooperative dice game. You may have noticed that the recommended age for this game is lower than the ones above and that means it is easier for younger kids to follow and play along.
4. Harry Potter: Hogwarts Battle - Defence Against the Dark Arts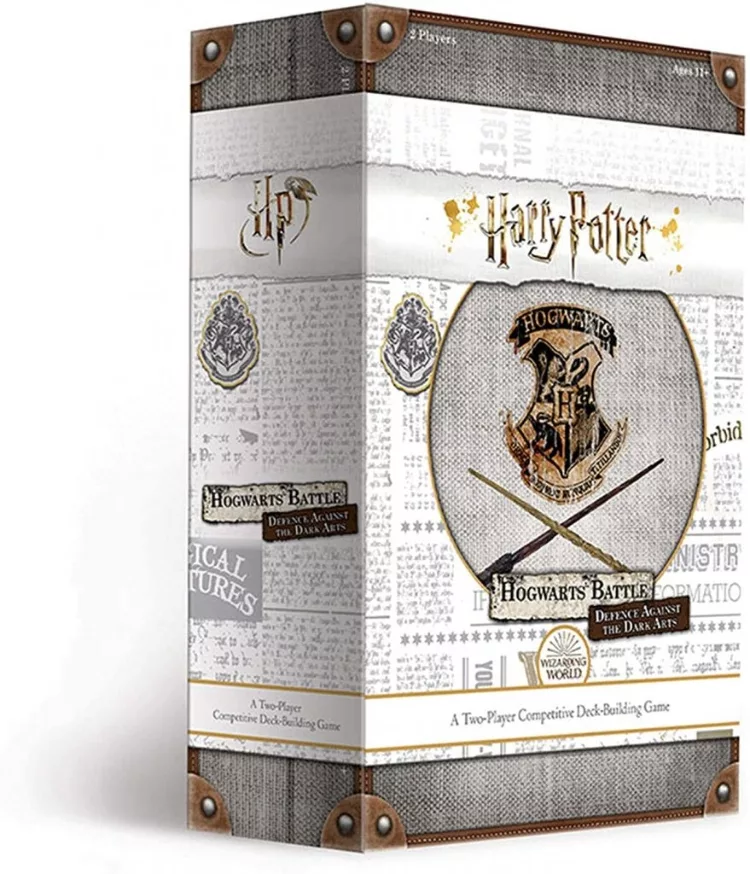 Players: 2 | Game Time: 30-60 minutes | Complexity: Very Low | Age: 11+ | Year: 2019
The final unique game on our list of Harry Potter board games is Harry Potter: Hogwarts Battle - Defence Against the Dark Arts. The rest of the games below will just be a Harry Potter inspired version of a classic board game.
As you may have guessed from the name, this is another deck building game inspired by the top game on our list. It is a standalone game and these two games don't have any compatibility besides the name.
Harry Potter: Hogwarts Battle - Defence Against the Dark Arts is only a two player game where you compete against another person by building a deck and engaging in a wizard duel. The goal of the game is to stun your opponent three times to win.
Go head to head and dominate this Harry Potter board game perfect for fans of Harry Potter and Hogwarts Battle
Draft cards, build an unstoppable deck, be strategic and take down your opponent to be class champion
Includes 1 practice mat, 4 House cards, 8 House movers, 2 bases, 24 starting cards, 21 Hex cards, 129 Hogwarts cards, 5 Stun tokens, 30 chip pieces, and rules
2 Players | Ages 11+ | 45 Min Play Time
5. Trivial Pursuit: World of Harry Potter Edition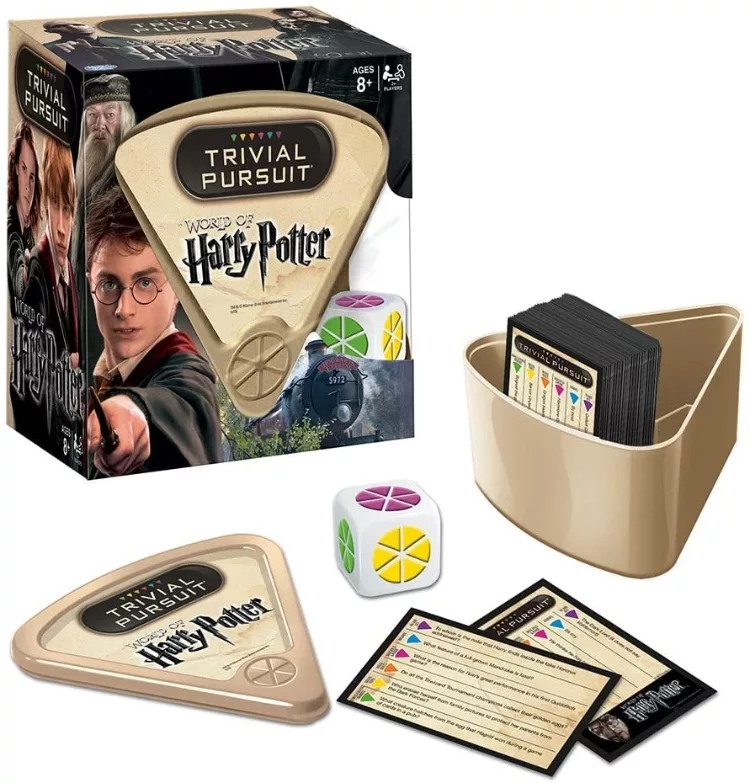 Players: 2-6 | Game Time: 30-60 minutes | Complexity: Very Low | Age: 12+ | Year: 2014
Test your knowledge of all things Harry Potter with Trivial Pursuit: World of Harry Potter Edition - see who knows more about Potterverse, you or your friends and family? This fun take on the classic trivia game is definitely a lot of fun for fans of all things Harry Potter.
You only need two players for game play, and the recommended age group for this one is ages 8 and up. The game has a total of 600 questions with six different trivia categories available for game play. Six trivia categories include: The Dark Arts, HOGWARTS, Magical Spells & Potions, Magical Objects, Magical People and Animals & Magical Creatures.
Our only real complaint about this game is that it is based off the movies and not the books.
Step into the Hogwarts library and answer 600 questions based on the Harry Potter movies
This Harry Potter merchandise is quick to play, easy to store, and convenient to carry
Play Harry Potter Trivial Pursuit from the car, on family trips, or anywhere - get your trivia pursuit on wherever you go!
First player to answer 12 questions correctly wins and bragging rights for head student at Hogwarts!
6. Clue Harry Potter Board Game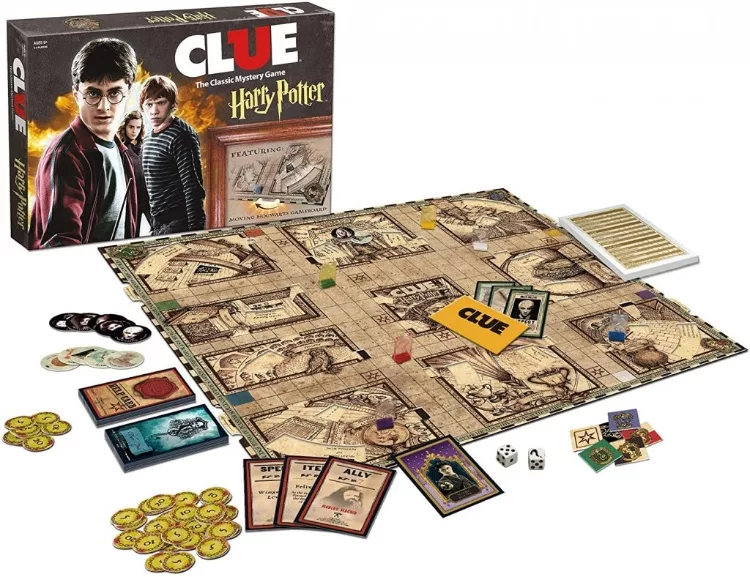 Players: 3-5 | Game Time: 30 minutes | Complexity: Very Low | Age: 9+ | Year: 2008
Another classic board game that gets the Harry Potter treatment is Clue. If you enjoy playing the old school version of the game, then you'll really dig Clue Harry Potter Board Game.
The game board takes place in Hogwarts, and just like in the books, parts of the school can move and change where they are located. We think that is honestly one of the coolest things that any of these games offer.
The object of this game is to discover WHO did it, WHAT spell or item they used and WHERE the student was attacked. Three players are required for this game as there is no two-player variant of it. And the recommended age group is age 9 and up.
Expect game play for three people to take around 45 minutes, and for five people around two hours.
Though we find the game a bit expensive compared to other board games, we can't deny that the game board looks cool and it's definitely fun to play - if you have three people for game play.
Game board features wheels which move the rooms and reveal secret passages!
Solve the mystery of a students disappearance from Hogwarts! Ready your magic wand and prepare to solve the mystery across the many rooms of Hogwarts Castle.
Play as your favorite Harry Potter character - Harry Potter, Ron Weasley, Hermione Granger, Ginny Weasley, Luna Lovegood, and Neville Longbottom
A great board games for families and a perfect gift for Harry Potter fans! Featuring room locations from the Harry Potter books and Harry Potter movies - they have come to life in this Clue game.
7. Pictopia: Harry Potter Edition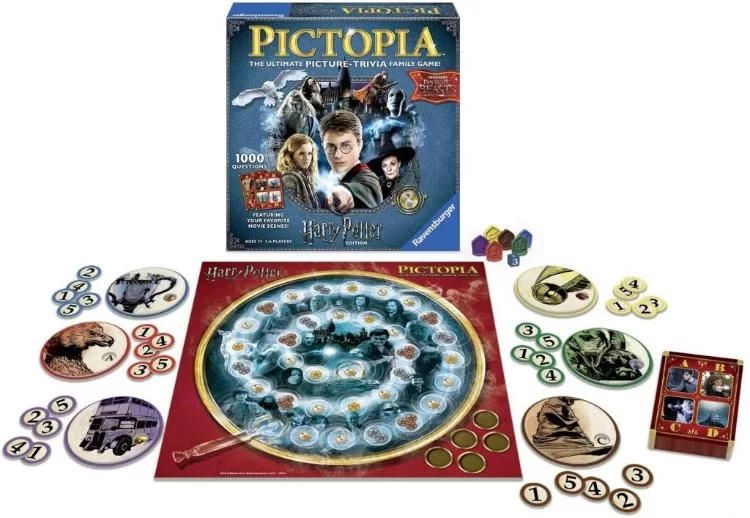 Players: 2-6 | Game Time: 25-45 minutes | Complexity: Very Low | Age: 7+ | Year: 2017
If you're already got the Trivial Pursuit edition above, then consider adding Pictopia: Harry Potter Edition to your next game night. You can play with two to six players and it is recommended for ages 7 and up.
The game comes with 200 Cards, 6 Answer Dials, 30 Prophecy Coins, 1 Game Board, 6 Movers, 1 Die, and Instructions. In this game for families and fans alike, you'll encounter 1,000 picture trivia questions that will transport you to J.K. Rowling's Wizarding World-discussing beloved characters and magical creatures, revisiting magnificent locations, and marveling at enchanted objects from the epic Harry Potter movies!
The game includes content from all the Harry Potter films including the newest movie, Fantastic Beasts. Honestly, we here at Gaming Weekender prefer this over Trivial Pursuit.
What you get - Harry Potter pictopia comes with 1 game board, 6 movers, 6 answer dials, 30 prophecy Coins, 1 die, 200 trivia cards, and instructions.
Great for Harry Potter fans and families - Whether you're playing with a group of devoted gryffindors, classic strategy gamers, or with your family, pictopia is perfect for any game night occasion and makes a great gift for Harry Potter lovers!
Clear instructions - easy to learn with clear instructions! Each of the 6 villains has their own guide, and these guides will inspire you with strategies and tips for crafting the most successful Plan to win!
Includes content from all Harry Potter movies, including fantastic beasts! As well as 1000 picture trivia questions!
8. Harry Potter Mystery At Hogwarts Game by Mattel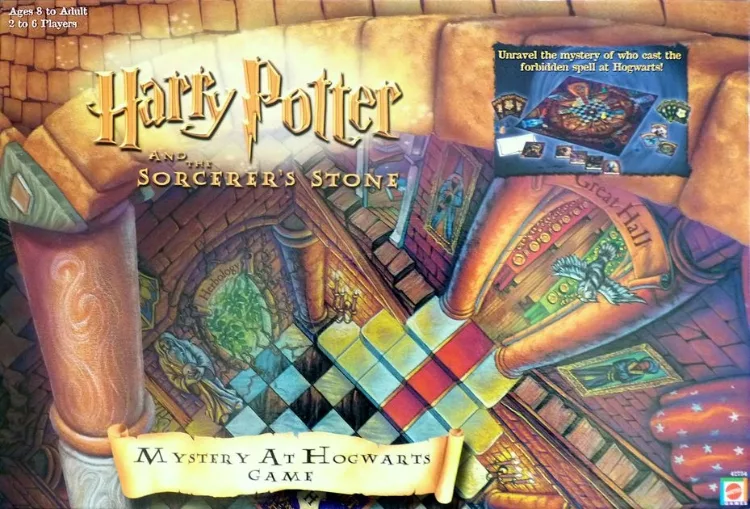 Players: 2-6 | Game Time: 30 minutes | Complexity: Very Low | Age: 8+ | Year: 2000
Can you solve the mystery of the forbidden spell? This Harry Potter Mystery at Hogwarts Game from Mattel takes you on a magical ride through the halls of Harry's famous school. Someone has cast a forbidden spell and you need to figure out who did it, which classroom they were in and what spell was cast. But be careful: Peeves, the poltergeist, is out to get you.
This game is designed for between two to six players. The recommended age group ages 8 and up. Note that this is a "Clue" type game and not a trivia game. Compared to CLUE, this game requires just a bit more strategy.
9. Harry Potter Diagon Alley Board Game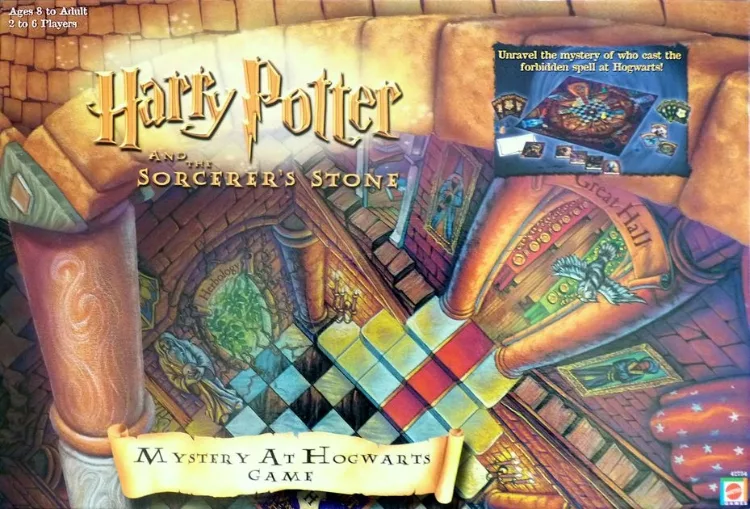 Players: 3-6 | Game Time: 45 minutes | Complexity: Very Low | Age: 8+ | Year: 2001
Harry Potter Diagon Alley Board Game is one of the older Harry Potter board games and can actually be a challenge to find for sale new anywhere. And often, when you can find it new the price can be rather expensive. You can look for it new or try you luck shopping for it used on eBay.
You need between three and six players for game play, with the recommended age group being ages 8 and up. Expect for game play to take you around 45 minutes for three players.
Hurry and visit all the shops of fascinating Diagon Alley to buy wizard school supplies before they run out. The Harry Potter Diagon Alley board game is an exciting race of spending, scheming and casting spells to beat out your opponents. In the world of Harry Potter, Diagon Alley is the long, cobbled street filled with the most amazing shops in the world, accessible only through the Leaky Cauldron Pub in London.
Includes game board, 6 trunk cards, 46 Diagon Alley cards, 36 trunk items, 60 wizard coins, 6 moving hats, die and a "closed" sign.
Year Published: 2001
# of Players: 3 − 6
Playing Time: 45 minutes
Manufacturer's Suggested Ages: 8 and up
10. Harry Potter Triwizard Maze Game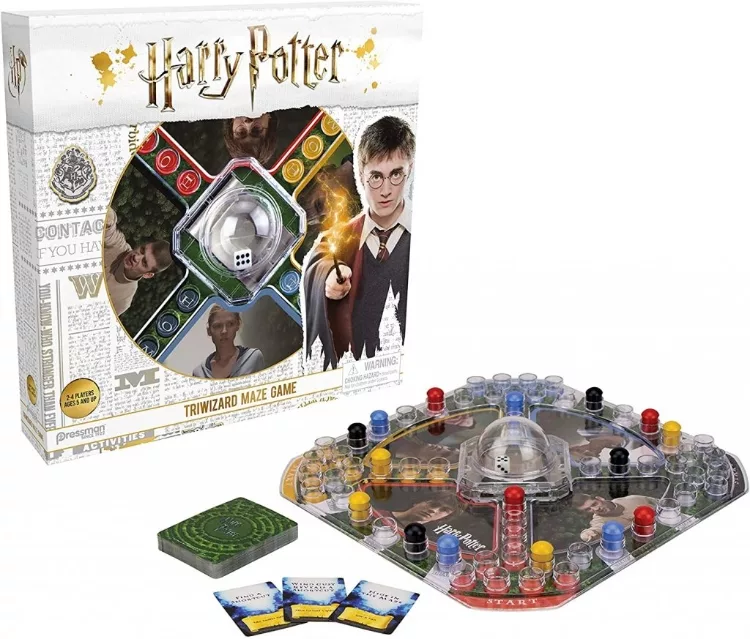 Players: 2-4 | Game Time: 30 minutes | Complexity: Very Low | Age: 5+ | Year: 2016
If you've played and enjoyed the old school game Trouble, then you'll like playing Harry Potter Triwizard Maze Game. In this game, players pop the die and move their playing pieces around the maze, racing to reach home.
It features fast-action Pop 'N' Race play as you race around the Triwizard hedge maze to capture the Triwizard Cup! Be careful - action spaces cause you to draw a card that can help or hurt your chances.
Land on a "draw" space to draw a Maze Card. Will you find a spell to send your opponent to another space on the board, or will a wind gust reveal a shortcut in your path? Cards can help, or hurt, your race through the maze, adding increased excitement and anticipation to the game.
Overall, we think that this is a fun game for families with kids and we like that it is one of the cheaper options out there for Harry Potter fans.
Perfect for the Harry Potter super fan
Classic Pop 'N' Race gameplay with a twist
Race through the Triwizard maze to get to the finish line
Beware of magical spell cards which could send you back to start!
11. Ravensburger Harry Porter Labyrinth Family Board Game For Kids & Adults - Link
As you can already guess from the name of this game, it is playable by both kids and adults alike. And to be honest, the Ravensburger Harry Potter Labyrinth Board game is a must-try for any avid harry potter fan.
Not only is the game easy to play, provided you have some knowledge of the J.K Rowling wizarding world, the game also has a ton of replay value.
GAMEPLAY
Only 2 to 4 players can play the game at a time with the main objective being to reach the end of the labyrinth quickly while collecting as many treasures as possible. Players that can find the shortest route through the labyrinth wins.
The playtime is about 20 to 30 minutes. The age limit that can play this board game is 7 and above. Children between 5 to 6 can also play the game provided you can take the time to teach them.
What do we love about the game?
The replay value of this game is quite huge, especially considering its price. While playing you have to watch out for all the popular Harry Potter characters such as Harry, Ron, Hedwig, Hagrid as well as some popular Hogwarts residents. Even if you try to follow the exact path you took when you first complete the game, any slip in concentration would see you in a dead-end! Collecting the characters and treasures is quite fun and interesting especially when there are other harry potter fans on your heels!
What we don't love about this game?
Although it is a fun game once you understand the rules of how to play it, it is not appropriate for adults. Hence, if you are looking to buy this game to play with other adults, you might quickly find it less challenging every time you get through the labyrinth.

Harry Potter Board Games Buying Guide
While we can easily list 10 board games that give you incredible value for money as one of the best harry potter board games on market right now, we believe knowing what to look for in a harry potter game would help you better. Besides, there are over a hundred harry potter board games to choose from - all of which are testament to the incredible popularity of the Harry Potter books and movies.
So which games are perfect for you to test your knowledge of the Harry Potter Wizarding world?
Hopefully, with the features that we will discuss below, you would be able to identify the best harry potter board games for you.
Genre you are interested in
The type of genre you are interested in is perhaps one of the most important things you need to consider before buying a board game. Yes, all of the harry potter board games are played on boards. However, they all fall under a unique category.
Do you find yourself more interested in detective and mystery board games where you have to solve clues using your knowledge from the harry potter books so you can uncover mysteries? Or do you prefer strategy board games that send you on adventures where you play as characters taken from the harry potter world?
You might even love playing trivia games in which case you will have to answer questions about the harry potter world using knowledge gathered from the books or movies.
Whichever genre you prefer playing, this is the first thing you want to consider. For instance, one of our favorite harry potter board games is Hogwarts Battle. It is a cooperative deck-building game where players must gather magical items that would help them accumulate skills and superior spells which they need to defend the J.K Rowling Wizarding World. It has an increasing level of difficulty as you complete each adventure and has a ton of replay value. That said, it is only appropriate for kids and teens and not so challenging for adult Harry Potter fans.
TIP: One way you can be sure a particular harry potter board game is perfect for you is by checking online reviews of the game. You can even simply look for the gameplay of the game online so you have a bit of an idea of what you will face when you do buy the game.
Age Limit
This is just as important as the Game genre you love the most. Each Harry Potter board game comes with a recommended age range. And this is not only limited to harry potter board games. All board games on the market have a specific age limit that would find the game challenging.
For instance, deck building and trivia harry potter games are designed strictly for teens and adults. While strategy and adventure harry potter board games mostly fit all age ranges. Then as your kids grow, you can increase the level of difficultly of the board game.
Hence, whether you are trying to buy a game for your kids or yourself, it is important to consider the recommended age the game is designed for.
Number of Players that can play the game
All board games have a fixed number of players that can play the game at any given time; so it is not just limited to Harry potter games. It is therefore important to confirm how many players can play the game at any given time.
For instance, if you are purchasing the board game for your kid, unless you plan on frequently playing the game with the child, you need to avoid 4 player games. In this case, two-player games would best serve your child.
The same goes for large gatherings. For instance, some harry potter games have no player limit.
So whether you want to play the game alone in your pastime, with your kids, or with families and friends that are big harry potter lovers, it is important to check the player limit of the game.
Game extras and set up a time
Although this might sound ridiculous, you need to consider it. Most harry potter board games are played with tokens, cards, unique pieces among other items. These pieces, cards, and tokens are stored in the box after each game.
To play the game, you have to set up all the pieces, cards, or tokens. Depending on how many pieces, tokens, or cards are required to start the game, the setup time can vary from short to long. In other words, the longer the setup time of the game, the longer it is to play the game itself.
As a result, you need to consider the number of tokens or pieces you have to set up on any board game you decide to choose. This is even more important if have little kids that might end up losing some of the pieces because they are too many.
Other Features
Apart from all the aforementioned features, you need to consider before buying any harry potter game, there are also some smaller features to consider. These features are not so important but they can make the difference between enjoying the game or not.
-Boardgame dimensions: This indicates how much space the game takes on the table or in the room when it is being played. More often than not, the dimensions of the game also indicate how many board pieces or tokens you need to set up to start the game.
-Weight and Portability: Most board games are compact and lightweight even when all the accessories are in the box. However, some board games come with a carrying case so you can carry the game anywhere and play any time you want.
FAQs
Which Harry Potter game is best for family gatherings?
There are many family-friendly Harry potter board games if most of the family are avid harry potter fans. Here are some of the games that quickly come to mind:
· Pictopia: Harry Potter Edition
· Trivial Pursuit: World of Harry Potter Ultimate Edition
What is the best teen Harry Potter board game?
There are tons of teen Harry potter board games which makes it difficult to specifically state one. The best way to determine which is best for you is to follow our buying guide