It might surprise you to find out that there are a lot of different options out there when it comes time to shop for the best bowling shoes on the market. You can find lots of great pairs for both men and women. To help you make a solid decision on which pair best meets your playing needs, let us recommend a few of our favorite pairs and give you some tips on what to look for when comparing different pairs of shoes for bowlers.
If you're taking bowling from the occasional hobby to a more regular one, then it's time for you to get your own pair of bowling shoes. Stop renting a pair from your local bowling alley and get a pair that help prevent you from sliding or dragging your feet each time you step up to the line.
Editors' Picks: Top Bowling Shoes in 2022
Why Do You Need Bowling Shoes?
Shoes are a key piece of equipment in any bowler's repertoire. The best bowling shoes will help you achieve a smoother overall motion by helping you slide down the polished lanes. They also work with your body to allow proper movement during slides, preventing knee, ankle, and foot injuries. When you've completed your throw, the rubber heel acts as a brake to stop your slide. Finally, bowling shoes protect the lane itself. They prevent the polished wood from becoming scratched by debris, keeping the lanes slippery. Oa a side note, If your bowling shoes lose their shininess over time, consider applying some boot oil on them.
While rental bowling shoes provide an adequate solution for the biannual bowler, anyone who is even slightly serious about bowling should invest in their own pair of bowling shoes. From a financial standpoint alone, purchasing a personal pair of bowling shoes will pay off after an average of five trips to the alley. Plus, there's just that gross-out factor that comes with renting and wearing shoes that other people have sweated in - lots of other people! It just makes sense for you to have your own pair.
Expert Tips for Choosing Bowling Shoes
When looking for bowling shoes, it is important to find a pair that fits well and is comfortable
There are a few factors you should consider when choosing bowling shoes
The type of sole on the shoe is very important - it should provide good traction
You will also want to make sure the shoe has good support
Some people prefer shoes with a wider toe area
It is also important to find a shoe that is stylish and looks good with your outfit
Top 11 Best Bowling Shoe Reviews 2022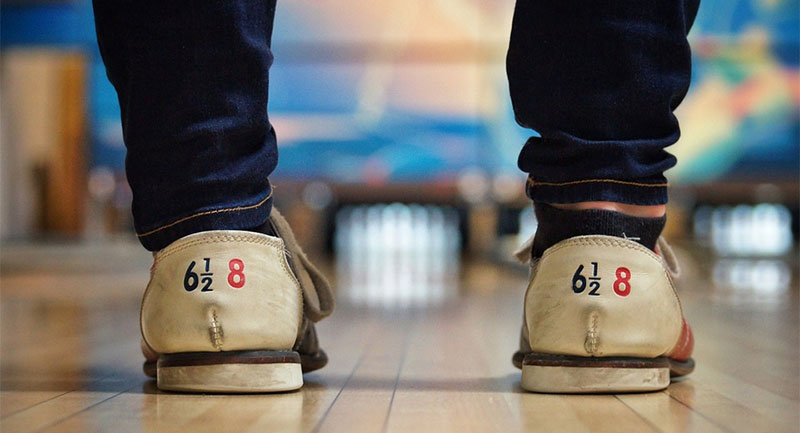 There is a wide range of affordable options available for the novice bowler. Introductory bowling shoes are similar to the rentals that most beginners are used to. They are often significantly cheaper than more advanced bowling shoes and work for all basic bowling techniques and styles. With most entry-level bowling shoes, you don't need to worry about what hand you bowl with or what style of play you favor.
Advanced bowlers have more factors to consider when purchasing the best bowling shoes for their needs. Professional bowling shoes are expensive and designed with specific features to improve different aspects of their wearer's game. When buying professional bowling shoes, you need to know which foot is dominant and what hand you bowl with. This is important because the soles on each shoe vary depending on which foot is dominant. A rubber sole on your dominant heel helps with breaking, while the other sole is slick and ideal for sliding.
Not sure which shoe is the right choice for you? We've reviewed ten different options to help you make your choice!
1. Dexter THE 9

Meet the Dexter THE 9. The ultimate professional bowling shoe, Dexter's THE 9 is the powerhouse of the bowling world, combining advanced bowling technology with comfort and style and top of our list of best bowling shoes.
THE stands for "Toehold Hyperflex Engineering," a revolutionary technology designed to increase performance and add durability to the shoe's weak points. The reinforced toehold on the replaceable soles mitigates the reduced strength that comes with interchangeable soles. This extends the shoe's lifetime - a good thing, given the THE 9's hefty pricetag. The hyperflex channels are a symmetrical outsole system that works to increase flexibility, boosting bowler performance. Its universal raised heel fits any Dexter replacement.
The THE 9's only deterrent is its price tag. Easily the most expensive shoe on this list, the THE 9 is an investment in the wearer's bowling career. All but the most serious of bowlers would likely find other, less expensive professional shoes adequate for their needs.
The verdict: If money isn't a concern, buy the THE 9. These are the best bowling shoes available by a wide margin. The price tag is worth it for professional bowlers looking for top of the line equipment, but less serious players might not get the same return on investment.
2. Dexter SST8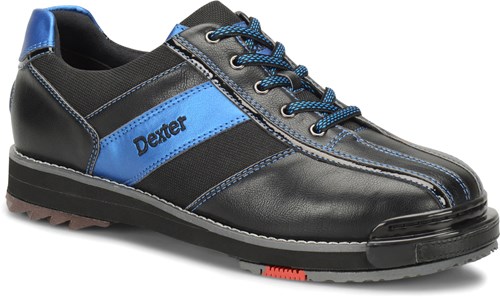 Welcome to the big leagues. Able to handle anything a serious bowler can throw at it, the Dexter SST8 is fully customizable to match the wearer's gameplay. Interchangeable rubber soles allow the slide and traction levels to be modified to preference. The replaceable traction on the non-slide shoe means that the SST8 doesn't need to be replaced when the traction's rubber wears thin. Additionally, the slide can be moved to either foot, making the shoe suitable for left- or right-foot dominant players.
Comfort and durability are also key features of the SST8. The shoe features full-grain leather uppers and extensive padding. EVA in the sole molds the shoe to the wearer's foot, reducing the break-in period. For aggressive players, the drag protector adds durability by preventing the slide from peeling.
The only real deterrent surrounding the SST8 is the cost. While not the most expensive professional bowling shoe on the market, the SST8 is definitely not priced for casual bowlers. Despite this, they make an excellent choice for serious bowlers looking for a feature-packed, durable bowling shoe.
The verdict: If you're looking for a professional-grade bowling shoe, the Dexter SST8 is ideal. Its customizable soles make the SST8 flexible, meaning that your shoe has you covered no matter your style.
3. Dexter Pro Am II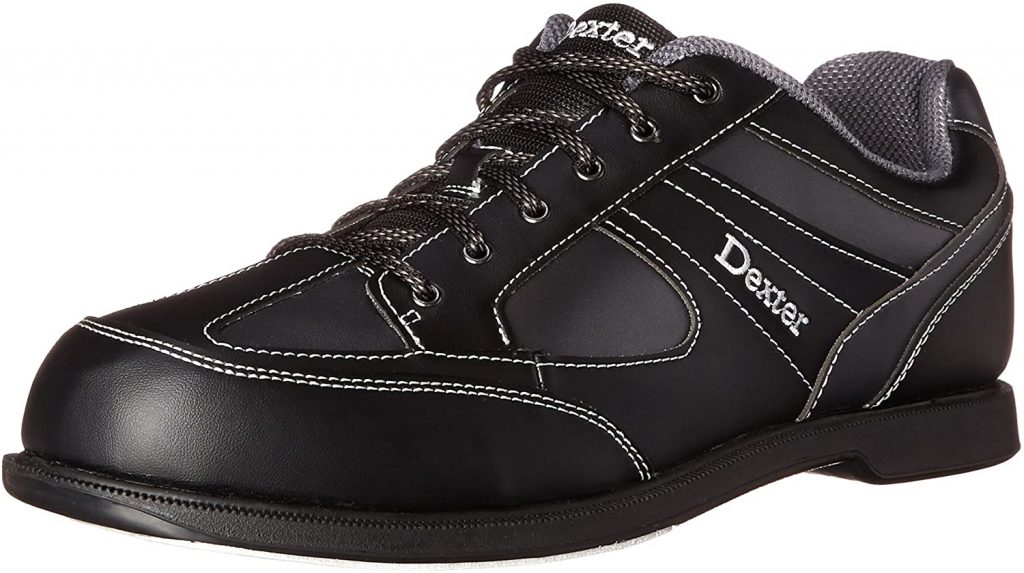 Another Dexter for the list! The Dexter Pro Am II is still technically a beginner's shoe but comes packed with features more commonly found on intermediate and advanced options. They make an excellent choice for bowlers looking for a more sophisticated shoe without the accompanying price tag.
The Pro Am II comes with lots of padding to help cushion the wearer's feet. They feature a raised heel for added height and increased slide control. Both shoes sport a microfiber slide sole. The plain black design makes them universally appealing, giving the appearance of a regular athletic shoe.
Durability is a concern with the Pro Am II. Its synthetic material wears out quicker than Dexter's higher-end leather shoes. The shoe's fit runs small, especially in its extra sole. If purchasing online, buyers should choose a size larger than the one they usually wear (especially for those with wide feet). Finally, the Pro Am II is a heavy shoe, with the excess rubber occasionally sticking to the lane in ways other bowling shoes don't.
The verdict: The Pro Am II is easily the best beginner shoe on our list. It is comfortable, affordable, and boasts some of the more advanced features found in professional shoes. For novice bowlers looking to up their game (and willing to spend slightly more to do so), the Pro Am II is an ideal first step into professional bowling shoes.
4. Pyramid HPX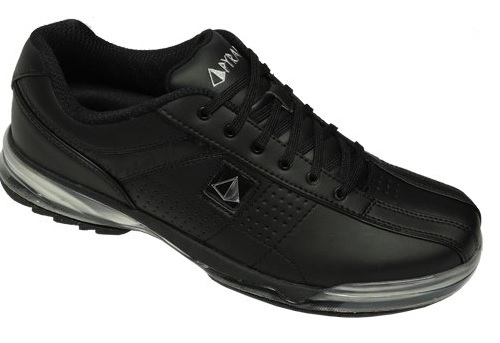 The next step up from the Pro Am II, Pyramid's HPX bowling shoe is the introductory professional shoe you've been waiting for. It is an especially solid choice for those who dislike the Dexter brand and are looking for an alternative. The HPX features biomechanical contouring for exceptional comfort and support. It is made with full-grain leather, minimizing break-in time, and is designed to be flexible for ease of movement.
On the bowling-specific side, the HPX has multiple features designed to increase sliding, breaking, and overall movement control. Their interchangeable soles are compatible with other brands' heels and soles, easing the financial impact of having to buy name-brand replacements.
One thing to watch for with HPX's is their sizing. The shoes are available in left, right, and ride-wide fits. It is prudent for the purchaser to carefully measure their feet before ordering a pair of HPX's to ensure that they get an optimal fit.
The verdict: Pyramid's HPX bowling shoes are an excellent overall professional shoe. They come packed with features designed to make moving feel effortless while retaining the comfort most bowlers crave. The HPX is a great option for professionals - and for novice players looking to make the leap into competitive play.
5. BSI Men's Basic #521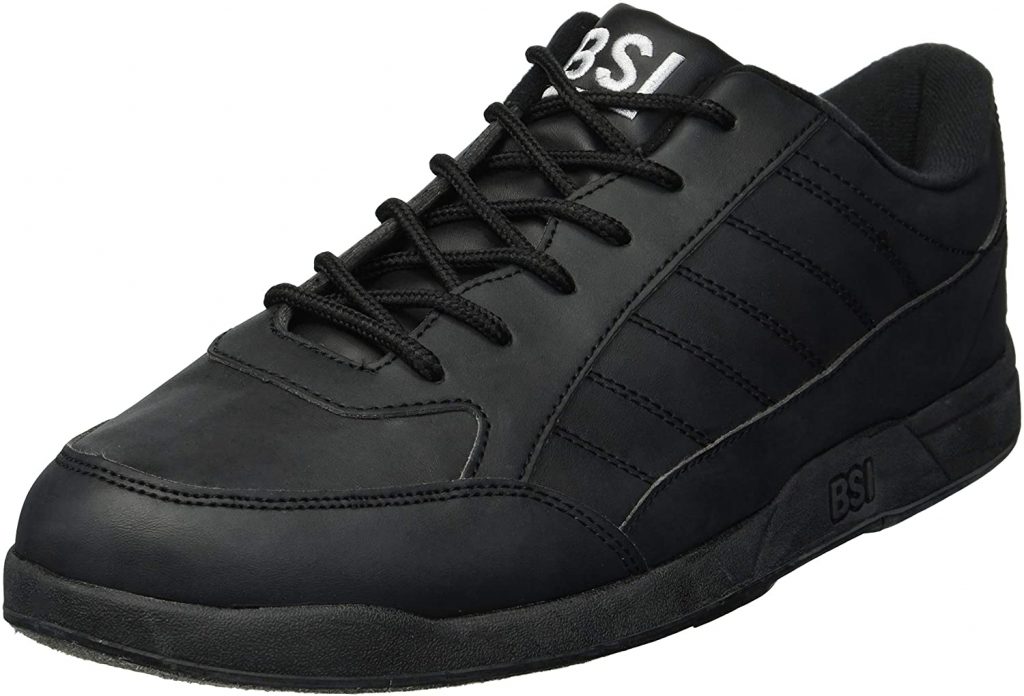 This beginner's shoe is an excellent choice for those looking for an inexpensive introductory bowling shoe. The BSI Men's Basic #521 is easy to find in sporting outlets and online. It features a lightweight, outer rubber sole with excellent sliding capabilities. The shoe is as durable as can be expected for the cost. The Basic is sneakerlike in appearance for a more fashionable look.
One common complaint about BSI's Men's Basic #521 is its fit. The shoe fits almost a full size bigger, making measurements all the more critical. Additionally, the shoe and sole both wear out relatively quickly (but are still worth it given the accompanying price tag).
The verdict: The BSI's Men's Basic #521 is probably the casual bowler's best bet. It is a low-investment option for beginners while still providing a good quality bowling shoe. Those wishing to pursue bowling more seriously in the future might find they outgrow the Basic quickly.
6. KR Strikeforce Flyer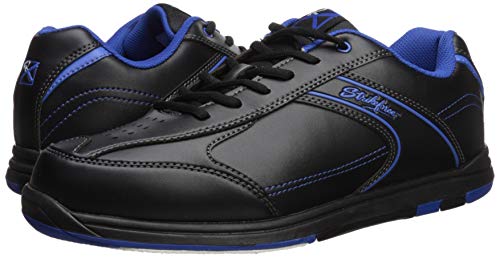 The KR Strikeforce Flyer is a slight step up from BSI's Basic. The Strikeforce Flyer is an affordable option for entry-level bowlers. It is a stylish shoe, coming in a variety of colors. The universal sole means that bowlers don't have to consider which foot is dominant. This also makes the Strikeforce Flyer a solid choice for ambidextrous players and players who have not yet determined whether they are right or left-hand bowlers. The soles use KR's Flex Slide technology to improve the shoe's slide and provide adequate traction in crucial moments. Perhaps the Strikeforce Flyer's strongest feature, however, is its comfort. The top part of the shoe, or collar, is made of a soft and durable fabric designed to cushion the wearer's foot.
Unfortunately, the synthetic leather material used over the majority of the shoe makes the Strikeforce Flyer less durable overall. Additionally, the shoe trends towards a wide fit, making online shopping a challenge.
The verdict: A great alternative to the BSI Men's Basic, the Strikeforce Flyer provides exceptional comfort for its price point. Its overall lack of durability is a deterrent for any buyer looking for the shoes to last moderate wear and tear. Still, the Strikeforce Flyer's sturdiness should be adequate for the casual or beginner bowler.
7. Dexter Jack II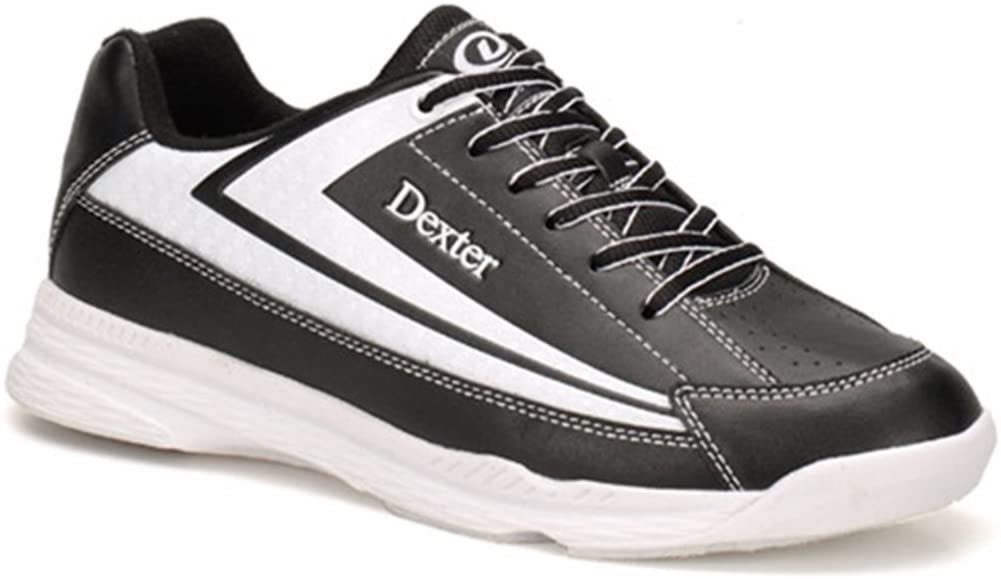 The Dexter Jack II is the first of several Dexter shoes on our review list. Dexter bowling shoes are known for their quality and are widely considered to be the brand with the best bowling shoes available. The Dexter Jack II mostly lives up to the Dexter brand, with some notable drawbacks. It is a very comfortable shoe, designed with good support and a soft fabric collar. The extra-long slide soles work with the bowler's motions to increase the smoothness of each ball release.
The Dexter Jack II fits small, requiring savvy purchasers to try the shoe on before buying online. Durability is also a concern. The synthetic material is prone to wear, and while the Jack II isn't an especially expensive bowling shoe, the amount of bowling time that you'll get out of it is something to consider.
The verdict: The Dexter Jack II is a very comfortable beginner shoe. Though it doesn't quite live up to the Dexter name, it is nevertheless a decent option for the casual bowler. Be sure to try it on in stores before purchasing to guarantee a snug fit!
8. BSI Women's Classic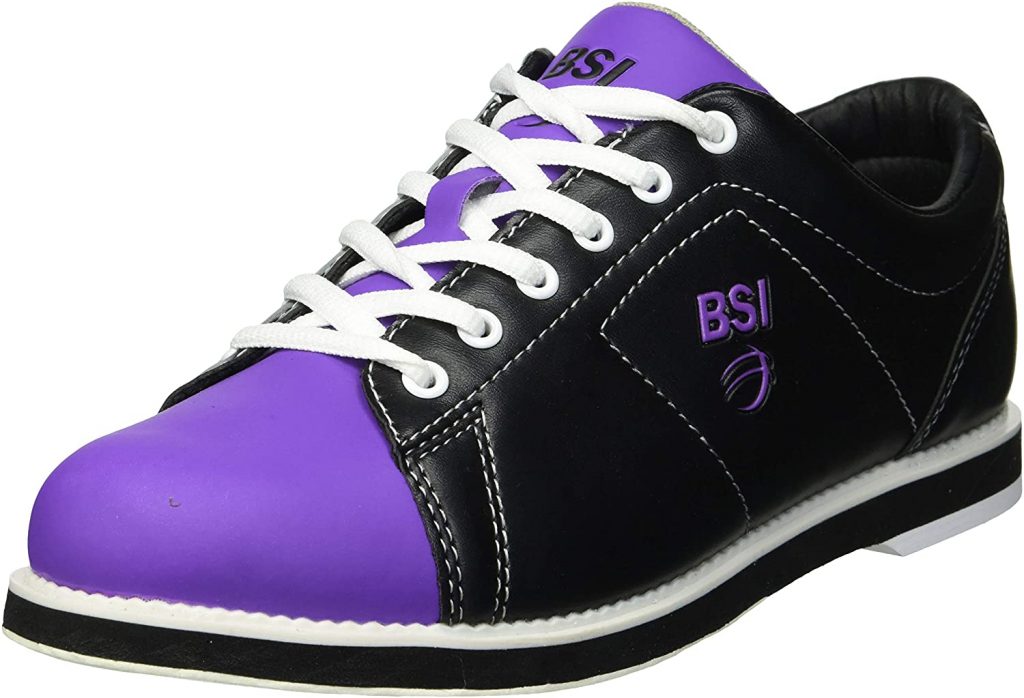 The BSI Women's Classic is the only bowling shoe designed specifically for women on this list. While women can wear appropriately sized men's bowling shoes without issue, the Women's Classic is tailored for female feet. Designed for both left- and right-foot dominant players, the Classic is made to be durable and comfortable. The lightweight midsole contours to the wearer's foot for added support. This makes the Classics particularly beneficial for women suffering from pronation or supination issues. The shoe's collar is brightly colored, offsetting the otherwise black finish.
As with most beginner's shoes, the soles of the Classic are not interchangeable. (The shoes make up for this with significant durability - casual players should have no issues). Sizing can also be a concern. The Classic is known to fit small and narrow compared to other bowling shoes and has very little give, making them hard to stretch out and break in.
The verdict: The BSI Women's Classic is a great option for women looking for gender-specific bowling shoes. They are an inexpensive introductory shoe that prioritizes comfort and style over diverse features, making them a universally adequate choice.
9. Storm Gust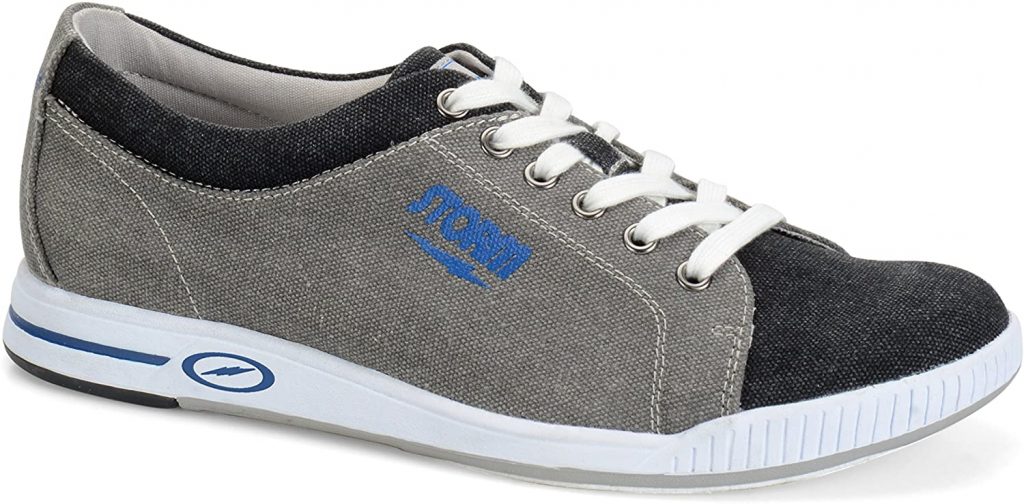 Are you a big fan of Converse and Vans? Look no further than the Storm Gust when searching for basic bowling shoes. These kicks are best for social bowlers who prioritize fashion over features. Storm Gusts are essentially rental shoes with slightly more padding. They feature a molded EVA insole and padded collars, giving the wearer some additional comfort. Their cotton canvas material is breathable and lightweight.
Storm Gusts can't really grow with the wearer because of their lack of specialized features. This makes them a poor choice for new bowlers looking to grow in the sport. And, much like other canvas shoes, Storm Gusts require extensive breaking in to get that casual, comfortable fit.
The verdict: Storm Gusts are perfect for style-conscious social bowlers. If all you're looking for is a shoe to wear to your bowling league once a week, a pair of Storm Gusts will be a welcome step up from the alley's rentals. Bowlers looking to improve or grow their game should choose a shoe with more features.
10. Brunswick Edge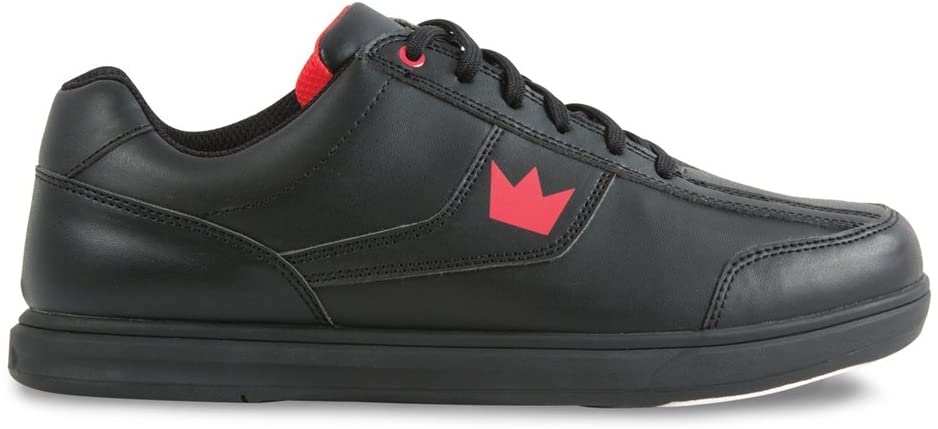 The Brunswick Edge is another beginner's bowling shoe worthy of consideration. The Edge is all about comfort, trading some functionality for a better feel. It's bulkier than most of the others on the list of best bowling shoes due to extra padding. This padding increases the wearer's comfort but also adds weight to the shoe. The Edge uses lightly molded EVA outsole technology to contour the shoe to the wearer's foot. Another benefit of the Edge is its microfiber soles. These soles are ideal for heavy sliders who frequently use the slide step.
The extra padding found in the Edge is a double-edged sword: while comfortable to wear, the shoes are both more cumbersome and less durable than other bowling shoes. Their long laces also present an (albeit easily mitigated) challenge. Finally, the Edge's treads wear out quickly. As the soles are not replaceable, this significantly shortens the shoe's lifespan.
11. Pyramid Men's Path Lite Seamless Mesh Bowling Shoes - Link
Designed to provide superior performance, comfort, and optimal traction, the Pyramid Men's Path Lite Seamless Mesh Bowling shoes are an affordable masterpiece for bowlers.
It offers a seamless design for comfortable movement. The shoe is also incredibly lightweight so you can bowl as much as you want without any feet aches. Its comfortable knitted body means it offers enhanced breathability.
The Pyramid Men's Path Lite Seamless Mesh Bowling Shoe is a true-to-size shoe. This means you can order your regular shoe size without having to worry about whether or not it would match your feet.
The shoe also comes with improved cushioning that aids support so that it can be worn by both right or left-handed bowlers. It features an ultra-light outsole and a raised rubber heel that is easy to carry and move around.
This bowling shoe is available to buy in 5 different colors and comes with a 2-year warranty.
Best Features
Comes with microfiber slide pads for enhanced comfort.
Knitted uppers guarantee enhanced breathability.
Ultra-light outsole with rubber heels for lightweight.
Available in 5 different colors.
2-year warranty
Cons
Users complain of the shoe feeling cheaply made.
The shoes tend to leave rubber marks on the lanes while bowling
The customer service department could be better.

The verdict: A comfortable beginner's shoe, the Brunswick Edge is a suitable option for casual bowlers who prize comfort over performance. They're also an excellent choice for heavy sliders who don't rely on a solid tread for stopping.
And the winner is…
Best budget shoes: BSI Men's Basic #521
Best overall shoes for casual players: Storm Gust
Best introductory professional shoes: Pyramid HPX
Best performance shoes: Dexter THE 9
Buying Guide for The Best Bowling Shoes
There aren't many things to think about or consider when buying bowling shoes. Mostly, all you have to do is look for a pair that matches your regular shoe size and you are good to go. However, you do need to consider how the shoe fits your ankle and toes since you would have to use the shoes for at least a few months.
This buying guide would outline everything you need to consider when buying a bowling shoe.

Type of Bowling Shoe
There are different types of bowling shoes. The differences depend on your age, gender as well as bowling technique you use.
Youth Bowling Shoes: They are designed for youths and are unsuitable for adults. They do not possess a lot of cushioning and are only worn by kids and teens. If you have kids that enjoy bowling, it is recommended to buy them a pair rather than rent them shoes at the bowling center.
Men's Bowling Shoes: This type of shoe is different from ladies' bowling shoes both in design and size. Essentially, men's shoes are always wider than women's to accommodate their wide feet.
Right-handed only Shoes: If you are quite particular about how you bowl, you might want to get a shoe that matches your style. This type of shoe has better traction and grip soles on the right show so that you have improved grip on your approach.
Left-handed Only Shoes: They are the complete opposite of right-handed only shoes.
Universal Bowling Shoes: While the right-handed only and left-handed only shoes are great, they can also be expensive. Universal Bowling Shoes on the other hand are readily available on the market. There are also no special features to accommodate your style of play which makes them generally cheaper.
NOTE: This type of shoe is only good if you are just starting.
Bowling Shoes with Interchangeable Soles: This type of shoe is not so common since they are often expensive. They are shoes that allow you to change their sole depending on the type of surface you will be bowling on in the bowling alley/center.
Sole
The sole is one of the most important parts of a bowling shoe. There are only two things to consider here.
Smooth Soles - This is the type of sole found on Sliding bowling shoes. As the name implies, this type of shoe improves the smoothness of your slides when delivering the ball. It also improves your follow-through on the bowling surface.
As good as they are, they have their downsides. Having smooth soles on both feet can cause you to slide a lot more than necessary. The implication of this is you unintentionally commit fouls.
As a result, most high-end and professional bowling shoes feature both a sliding sole and a traction sole.
NOTE: Cheap and beginner-level bowling shoes usually only have sliding soles on both feet.
Traction Sole - These types of soles are only present on expensive bowling shoes. They are mostly only worn by professionals because it enhances the power of your ball throws. They also make pivoting easier during approach and delivery.
They are also ideal for people who bowl often.
When buying a bowling shoe, you need to check what type of sole it comes with. For instance, if you are not a regular bowler, you probably won't get the best value for money by buying a bowling shoe with a traction sole. If you are a regular bowler on the other hand, rather than going all out for a bowling shoe with full traction soles, you might want to get a hybrid one that has a sliding sole on one foot and a traction sole on the other foot.
Shoe Anatomy
Lastly, you need to consider the build and design of the shoe since they both determine how comfortable and durable the shoe will be.
Lining
A good bowling shoe should have well-lined inners. Most of the best bowling shoes on the market features a sock-like lining on the vamp and a quarter of the shoe for more comfort.
Uppers
You want to look for a shoe with uppers made from breathable materials. Most bowling shoes are made from leather. If you are not sure whether the material the shoe is made from is breathable, you might want to check for perforations on the shoe.
Insole
Another thing you want to check is the insole of your shoe. The insoles should be thin and removable. This gives you the option to add custom insoles should there be a need for them.
Toe Caps
Some bowling shoes come with toe caps that protect the toes and prevents wear or injuries on the toe when bowling.
Outsole
This is very important to check before buying a shoe. The best type of outsoles does not mark floors. It is a prerequisite for most bowling alleys.
Midsole
Some bowling shoes come with extra cushioning to keep your feet in place while pivoting. It is not important to have if your shoe is well-lined.
Heel Cup
Some bowling shoes feature heel cups that support your heel for better balance. Shoes with heel cups often also feature a padded collar for maximum ankle support.
Benefits of Owning Bowling Shoes
Bowling shoes are an important piece of equipment for any serious bowler. They not only provide the necessary traction and support to help you bowl your best, but they also protect your feet from the harsh elements of the bowling alley. While you can bowl in regular sneakers, doing so can put unnecessary wear and tear on your shoes and potentially cause injury. Bowling shoes also come in a variety of styles to suit your personal preferences.

If you're serious about bowling, then investing in a good pair of bowling shoes is a wise decision. Here are just a few of the benefits that come with owning your own pair:

Improved traction and support
Better foot protection

Increased durability

A wider variety of styles to choose from

More comfortable fit

Increased performance

Reduced risk of injury

When shopping for bowling shoes, it's important to consider your individual needs and preferences. There is a wide variety of shoes available on the market, so be sure to do your research and find the pair that best suits you. With the right shoes, you'll be able to enjoy enhanced traction, support, and protection while bowling your best.
FAQs about Bowling Shoes
Is It Important to Wear Bowling Shoes to a Bowling Alley?
Yes! There is a reason bowling shoes are available for hire or buy at most bowling alleys after all.
Bowling is a sport that takes precision and requires great balance. While approaching a bowling lane, a bowler needs to be slick and flexible to ensure their aim is straight and true.
Bowling shoes are designed to keep the lane and alley in good condition by leaving zero marks or dirt.
Can I Bowl With Regular Shoes?
Yes, but we do not recommend this.
Regular shoes are exactly what they are, regular! They are not designed for bowling which means they can be very uncomfortable when you use them as such.
That said, there are instances where you can turn your regular shoes into bowling shoes. This is done by applying soles designed for bowling shoes onto your shoe using a specific type of glue. However, as you can already imagine, that can be quite stressful. Besides, there is no guarantee it would work.
When is the Ideal Time to Replace My Bowling Shoes?
There is no specific answer to this because the ideal time to replace your bowling shoes depends on how often you bowl.
If you are a regular bowler, you should be ready to replace your bowling shoes every couple of seasons. This is to ensure the comfort and balance the shoe offers isn't lost over time due to wear arising from continuous use.
For people that bowl once a week or once every two weeks, you can use your bowling shoes for a couple of years.
Summarily, how long your bowling shoes last also depends on how well you maintain them.

Can I Wear Bowling Shoes Outside?
Bowling Shoes are designed to be worn in a bowling center. Wearing it as a casual shoe ultimately defeats the purpose of the shoe.
The shoes are made using specific materials that provide comfort and balance while bowling. These materials when exposed to external conditions such as moisture, food particles, ice, oily surface, etc. can easily ruin your shoe.
Asides from ruining the shoe, it can also cause you to slip or fall.
How Much Does Bowling Shoes Cost?
Most bowling shoes on average cost around $24. They cost even less when you rent them at a bowling center. However, it is recommended that you buy your pair as it is more healthy and safer especially if you are a regular bowler.
What are Bowling Shoes Made Of?
Bowling Shoes are typically made of rubber and leather. Shoes made from this material are usually cheap and always in stock. There are also other premium materials such as soft leather used in making expensive bowling shoes.
How much do I plan on bowling in the shoes?
If you only bowl once or twice per month, there is no reason to purchase your own set of shoes. You can rent or borrow them from someone else. However, if you decide that you want to make more of an investment into something that will benefit your game on a regular basis, be sure to ask yourself these following questions first:
What type of outsoles do I prefer?
Draggers provide maximum traction, but can often be heavier and louder, making them a poor choice for those that want to maintain stealthy status when walking to their ball.
Am I open to swapping out my rubber soles with aftermarket alternatives?
For example, some brands allow for interchangeable soles, which can be replaced depending on the condition of your lanes or what type of balls you are using. This is great if you want to have more custom options without having to purchase entire new shoes every time they wear out. Many professional bowlers also change their outsoles by season.

Types Of Bowling Shoes
For both men and women's models, you will come across only two basic types of shoes for bowlers. There are athletic options and performance options. Here's a quick explanation of their differences:
Athletic bowling shoes are typically cheaper in price and perfect for the hobbyist recreational bowler. And they are the perfect choice for beginners who don't aspire for professional game play. The sliding soles on these are pretty similar to the rental shoes at your local alley. And, they work for both right-handed and left-handed bowlers.
Professional bowling shoes are typically more expensive to buy and really designed for the serious bowler. A pair of these has one shoe that has a rubber sole for breaking, and the other shoe features a slick sole used for sliding. And it's common for this type to have interchangeable and removable sole capabilities.
When you are looking for bowling shoes, there are three main types of bowling footwear to consider. These are bowling shoes, the traditional slide sole bowling shoe, and finally bowling slide soles. Bowling slides are simply a sliding foot cover that can be attached to any shoe. To see how much it is worth when purchasing a new pair of shoes or a set of slides, keep reading.
Bowling Shoes
Depending on the type of lane conditions, bowling pins and whether or not there is oil on the lanes can have a major impact on what type of shoe you should use when playing the sport of bowling. In some cases using a regular pair of shoes might be just fine. However, for the best performance it is a good idea to buy a pair of bowling shoes. The main difference between them and regular tennis or basketball shoes is that they have a slide sole instead of a normal rubber outsole.
Bowlers tend to use different types of slides, depending on the lane conditions and the type of bowling balls they are using for their swings. In some cases, a bowling ball might have a lot of surface area which can create too much traction for just the sole of the shoe alone to provide smoother action while releasing the ball from your fingers or hand.
Slide soles are also a great tool if you ever find yourself in a league where there is oil on the lanes and you are not able to clean the lanes before you get there.
Traditional Slide Sole Bowling Shoes
Traditional slide sole bowling shoes look just like your average pair of tennis or basketball sneakers. The main difference is that they have the slide soles on the bottom, instead of just rubber outsoles. They tend to come in both leather and mesh styles. These types of shoes are great, regardless of the type of bowling you play.
Classic Adidas Men's Bowling Shoes
One style is a classic style from Adidas that comes in standard athletic colors such as black and white. Since they have been used for years by bowlers all over the world, it is hard to find any other shoe that can compare. If you are looking for a more heavy duty bowling shoe, then check out the two models of New Balance shoes.
Regular Slide Sole Bowling Shoes
One type is just like your regular pair of tennis or basketball sneakers with the only difference being the slide soles on the bottom. They tend to come in leather styles and if they are mesh, they are not as heavy duty as a traditional slide sole pair.
The difference between the two types is how much traction you need for your specific lane conditions. If you have oil on your lanes, then you might want to go with a traditional slide sole shoe or maybe even a bowling slide sole instead of just wearing a regular pair of shoes. The main reason for this is that the added traction on your feet can allow you to make smooth, consistent and powerful swings without slipping or losing your positioning.
Bowling Slide Soles
You might need a bowling slide sole if you are playing in tournaments with oil on the lanes and you do not want to wear traditional slide soles or regular sneakers. Since they cover your shoes, you can walk with them on and keep your feet perfectly positioned for throwing the ball.
Features and Other Considerations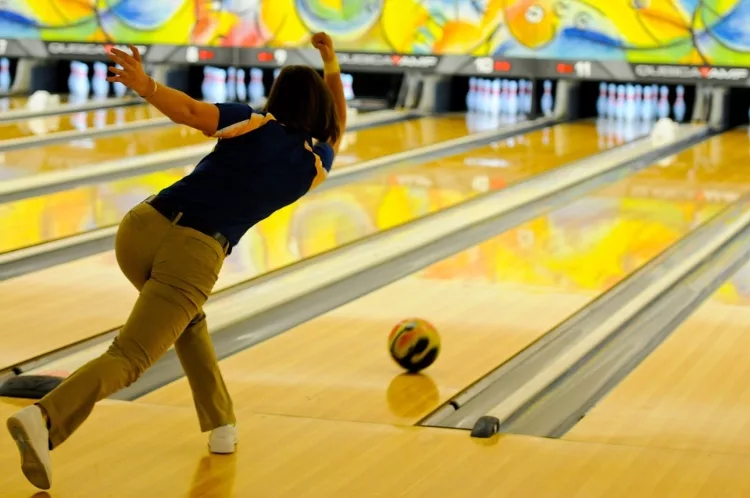 Now that you know which type of shoe is best for your needs, it's time to consider a few other things before you pull the trigger on your purchase. Below are a few features and other things for you to consider after reading through the list of best bowling shoes.
Right vs Left Handed
If you're going for a pair of performance shoes, then you have to know if you need a left-handed or right-handed pair. This doesn't mean with hand do you write with, but which hand do you release the ball with, instead. So, if you release the ball with your right hand, buy a pair of right-handed shoes. And if your ball hand is the left one, get a pair of left-handed shoes. If you're getting the 'athletic' type, then you don't need to worry about this.
Adjustable Slides
Okay, so you're a serious bowler and going with a performance pair of shoes. Good choice! But you also need think about interchangeable or replacement slides for better performance out there. You'll notice that the sliding soles are rated on a range of one to 10, with one meaning they give minimal slide and a 10 meaning the sole gives maximum slide. Keep in mind that lane conditions tend to dictate with level of slide is the best for the game. For instance, if you're in a cold New York winter, then you'll want a lower slide rating to help you out on the cold, slick surface. But, if you're playing in humid New Orleans, then you'll prefer maybe an 8-rating slide to help you move on the lane floor. You'll also want a high slide rating if the land has a scuffed floor.
Durability
Since the point of purchasing the best bowling shoes for most casual players is to save on rental costs, the shoes' longevity is a critical factor. Shoes that fall apart after ten trips to the alley don't make for a savvy investment.
For entry-level players, most introductory pairs will be durable enough to make the purchase worth it. Durability is more of a factor for serious or professional bowlers. Since the shoe is worn much more frequently and tends to be put through a more strenuous range of motions, a well-crafted shoe will guarantee that the wearer is playing at their peak.
Right Fit
If you know what size you wear in a regular shoe, then you already know what size you need for your best bowling shoes. It's really that simple. When you're wearing your new pair of bowling shoes, they should fit like a regular pair of athletic shoes. Your heel should not slip in the back and your foot should feel adequately supported without feeling too tightly wedged into the shoe. And your toe area should have around a quarter of an inch between the tips of your toes and the end of your shoe. As you walk in the shoe, it should not slip and your foot should not move around. If you have wide feet, then you need to choose bowling shoes for wide feet for the best fit. And if you tend to have sweaty feet, then be sure to choose a pair that has breathable uppers for air flow.
Buy now at eBay, Etsy, Walmart (quality guaranteed)
KR Strikeforce Men's Flyer Mesh Bowling Shoes, Black/Steel, Size 10.5 - Walmart, Etsy, eBay
Pyramid Men's Path Lite Seamless Mesh Bowling Shoes - Black/Royal Blue Size 10.5 - Walmart, Etsy, eBay
Brunswick Vapor Mens Bowling Shoe White/Black, 10.0 - Walmart, Etsy, Ebay
Dexter Mens Kam Bowling Shoes- Charcoal/Grey, 14 - Walmart, Etsy, eBay
BSI Men's #751 Bowling Shoes, Black, Size 16.0 - Walmart, Etsy, eBay
KR Strikeforce Flyer Black/Orange Men's Bowling Shoe Right Hand Size 10 - Walmart, Etsy, eBay
Classic Mens Rental 11 - Walmart, Etsy, Ebay
Dexter Pro Am II - Walmart, Etsy, eBay
BSI Men's Basic #521 - Walmart, Etsy, eBay
Conclusion for Bowling Shoe Buyers
Bowling shoes are an important part of the bowling experience. They help you to bowl better and protect your feet. It is important to find the right pair of bowling shoes for you, and to take care of them so that they last. If you are looking for a new pair of bowling shoes, or just need some tips on taking care of your current ones, read on. We will discuss the different types of bowling shoes available, how to choose the right pair, and how to keep them in good condition. We hope this guide has helped you learn more about bowling shoes and how to choose the right pair for your needs. Thanks for reading!