If you're short on space or just want to be able to get your ping pong on anywhere, then portable table tennis kit is exactly what you need. With one of these, you get a retractable net, paddles and balls. Some sets even come with other extras.
One benefit of a kit like this is that you can bring the fun of ping pong into your small apartment or condo without having to make the space required for a full size ping pong table. Sets like this are also good for kids since they are a LOT cheaper than buying a full size table. Instead, you can just pop out one of these on the dining room table or a card table.
Does a kit like this sound like what you've been looking for? Check out our recommendations and reviews below for the best portable table tennis kits for playing table tennis anywhere you want to play a game.
Top Portable Table Tennis Sets by Editors' Picks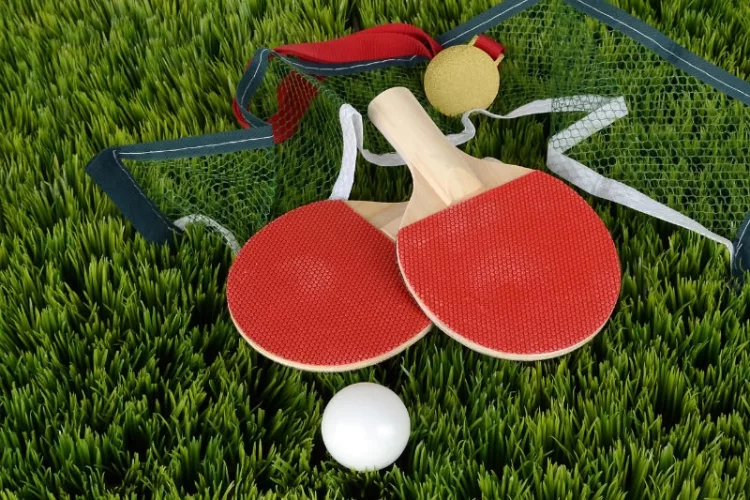 Best Portable Table Tennis Sets
1. Champion Sports Anywhere Table Tennis: Ping Pong Paddles, Balls, and Portable Net & Post Set To Go
When you buy this portable kit, you can start playing ping pong as soon as you take this kit out of the box. It has everything that you need to play a game of table tennis anywhere, any time.
This kit includes 2 rubber blades, a blue paddle and a black paddle, a ball and 2 replacements, and the retractable net.
What's really great about this set is that the innovative net posts clamp onto table tops measuring up to 75 inches across and 1.75 inches thick so you can start a game any time. Lightweight mesh netting can easily be stretched and retracted for quick setup on almost any surface and simple storage after the game; it's also a great replacement for older nets.
Done playing? Storage is a breeze! With a compact, no tangle design and an included mesh carry bag, the net and posts are easy to store, keeping them safe and sound between matches.
2. Harvil Portable and Retractable Table Tennis Net Set To-Go with FREE Balls, Rackets, and Mesh Bag
If you're shopping for a good portable ping pong set for kids, then this is probably your best option. It's got a great low price and should last your kids for several years. For adults, we honestly would skip this one and go with one of our other recommendations.

This set comes with 2 paddles with pips-out rubber, 3 one-star yellow balls, table tennis net and post. Plus, there is a mesh bag to carry it all in.
If you order this set, then be sure that you're buying the 2018 model because the paddles have been updated to prevent any bubbling in the surface, which was sometimes an issue with older models.
3. Halex On-The-Go Table Tennis Set Model #57000
Another cheap option with decent quality for the money is this set made by Halex. Just like with the sets listed above, you end up with everything that you need to start playing a game of ping pong right out of the box.
This set includes net and post, 2 paddles, 3 balls and a storage bag for all of set's pieces.
Our biggest complaint about this set is the quality of the ping pong balls. They seem to dent easily, which isn't ideal. But for kids or the occasional hobbyist player, the ball quality might be okay since there are extras included with the set.