Pocket billiards or pool is a popular tabletop game that you might find in some bars and bowling alleys. If you enjoy the game and want your own setup, though, you'll need quite a bit of space. Fortunately, you have a more unique option: bumper pool.
Similar to traditional pool, the goal of bumper pool is to sink all of your pool balls into a pocket before your opponent. However, the table has obstacles called bumpers and only two pockets: one on each end of the table. Another difference is that there are fewer billiard balls, and the pool sticks that you use to hit them with are about half the length of traditional billiard sticks. The biggest difference and main attraction of bumper pool, though, is that the table is much smaller.
Although bumper pool is a lesser-known game in the billiards family of activities, it can be a lot of fun for children and adults alike. Before you jump into the game, it's helpful to learn more about the bumper pool tables, balls and rules.
Top Bumper Pool Tables in 2022 by Editors' Picks
Editor's Recommendation: Top Bumper Pool Balls in 2022
There are a few bumper pool table designs for you to choose from, and they're all smaller than the pocket billiards tables that you're used to. While octagonal and rectangular are the most common shapes, you can special order hexagonal, eased octagonal and scalloped rectangular tables.
In general, octagonal bumper pool tables measure 48 inches wide, 48 inches long and 30 inches high. The rectangular ones have standard dimensions of 41.5 inches wide, 57.5 inches long and 32 inches high. By comparison, a standard pool table measures 42 inches wide and 84 inches long.
However, these are just the standard measurements for bumper pool tables. Several companies manufacture tables of various sizes.
Top 6 Best Bumper Pool Table Reviews 2022
Now that you have an idea of what shaped table you might be interested in, lets take a look at the best bumper pool tables. If you still are unsure of what you are looking for check out the small section below the reviews for some information on the differences in table layouts. Two of the biggest factors to consider and the amount of space you have and if you plan on using the table for something other than bumper pool.
GoSports 6ft or 7ft Billiards Table - Link
GoSports 6ft or 7ft Billiards Table is a mid-sized billiards table. It has a premium construction that features a heavy-duty steel frame for sturdiness and a premium felt surface for smooth gameplay. It also comes with a free felt brush for cleaning the playing surface.
This stylish board comes in six different styles but only three colors - Black, Red, and Blue. It comes with a complete set of 15 regulation balls, a ball rack, cue sticks, 2 chalk, and as aforementioned, a felt brush.The table is small enough so you don't have to worry about getting the right space to store it. It is easy to assemble. All you have to do to set it up is unfold the legs, set the balls and the fun begins immediately! Although it is a mid-sized pool table, the size is just right that it can be used to play competitive games.
One of the things other users who have used this table loved about it is its compact design and solid stability. Everything about the table feels premium and while it is not overly cheap, it is safe to say the table is well worth the money you pay for it.
Pros
Enjoy competitive games of billiards at home with your family. Also, entertain guests with the game to pass the time.
Comes out of the box with the complete set needed to play the game.
Sturdy, has a premium finish and features a compact design.
Easy to assemble.
Improved stability thanks to its alloyed steel frame.
Easy to store since part of the table is foldable.
Cons
The cues look to be of lower quality compared to the premium finish of the table.

Playcraft Hartford Slate Black Bumper Pool Table - Link
Dimensions: 54″ L x 39″ W x 31″ H
Slate: Yes
Includes: Two 48″ cues, set of ten 2 1/8″ balls, brush and chalk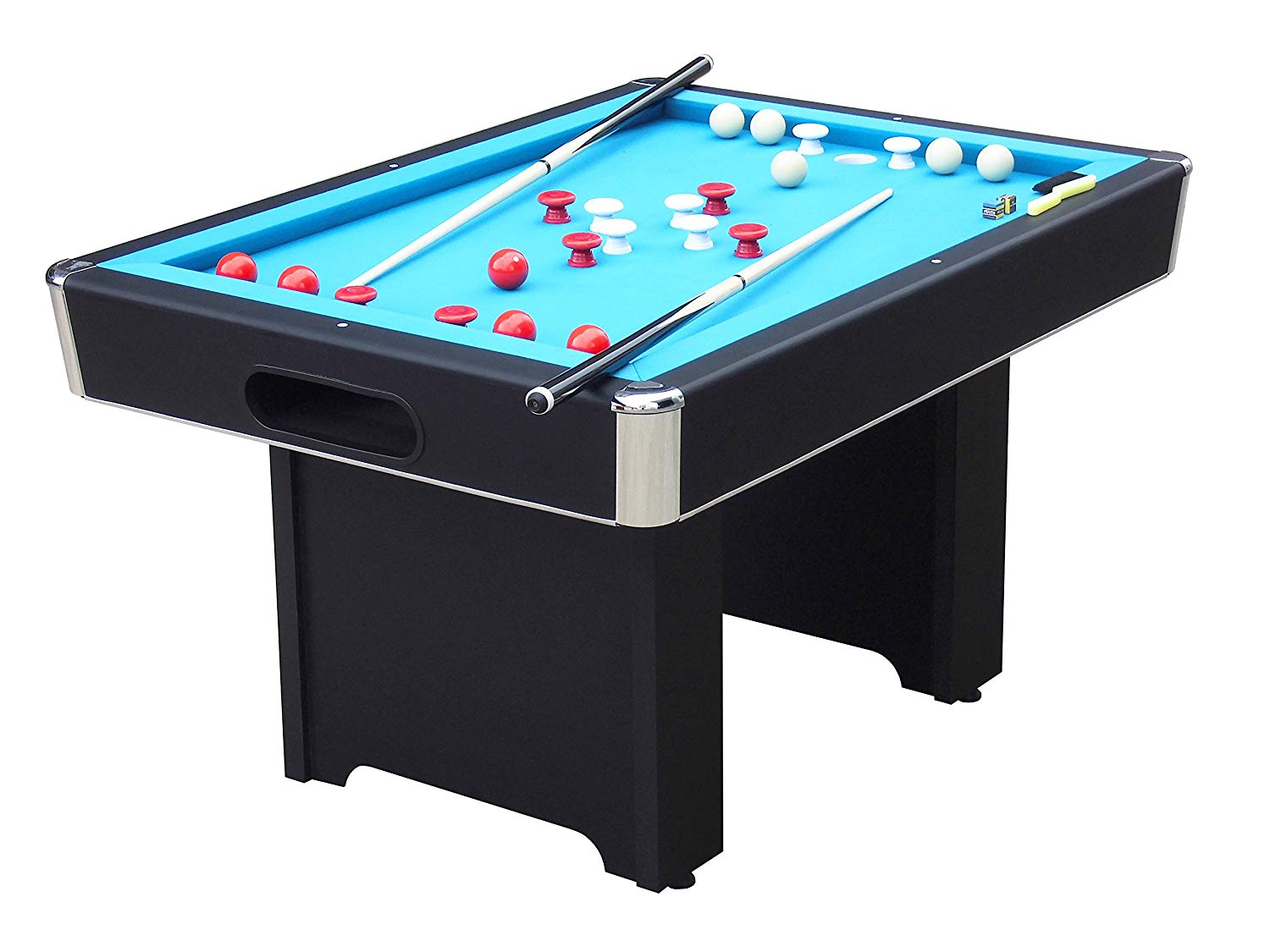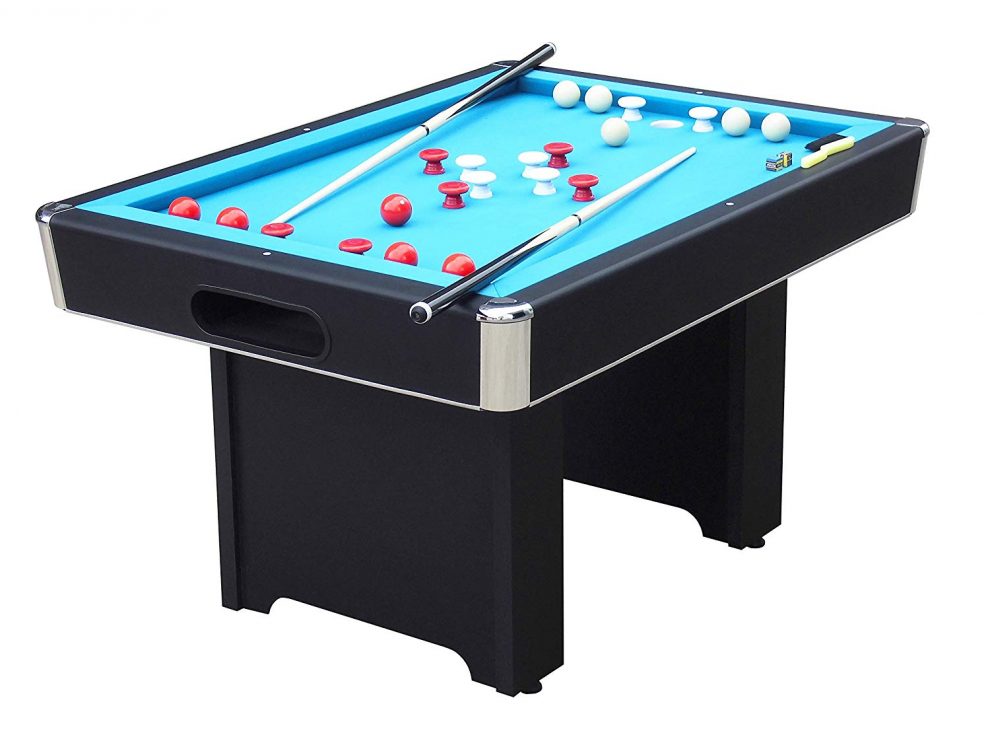 Ultimate Guide to Bumper Pool: Tables, Strategy, and More!
Where to Buy:
Playcraft makes the Hartford bumper pool table with solid plywood and medium-density fiberboard. It measures 39 inches wide, 54 inches long and 31 inches high. The Hartford has a carpeted ball return system, cast metal corner caps and posts, and a black finish. Best of all, you only have to attach the legs to the table before you can play. Also, it comes with everything that you need: chalk, a table brush, two 48-inch cue sticks and 10 balls.

Hathaway Renegade 54-in Slate Bumper Pool Table - Link
Dimensions: 54″ L x 39″ W x 31.5″ H
Slate: Yes
Includes: Two 48″ cues, set of ten 2 1/8″ balls, brush and chalk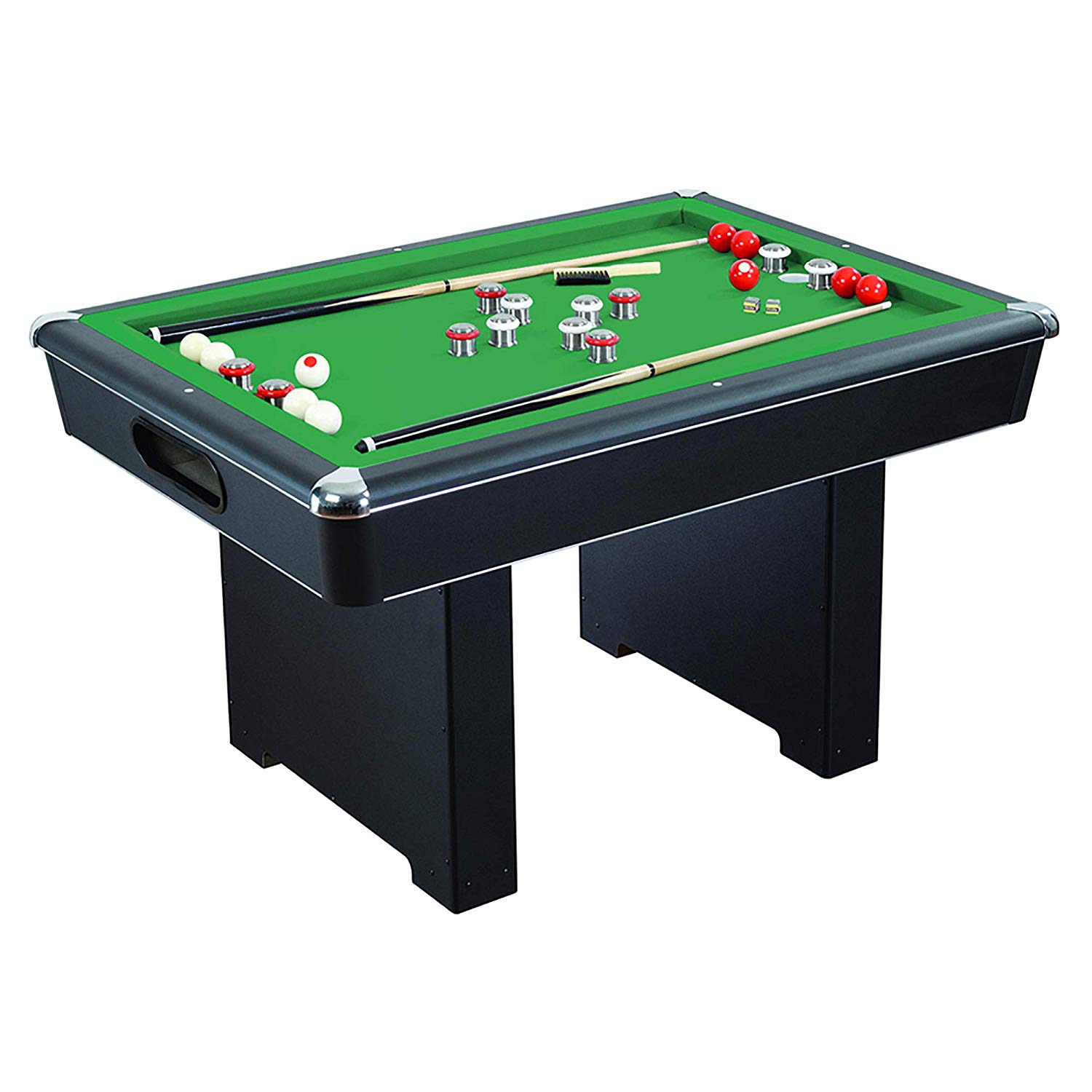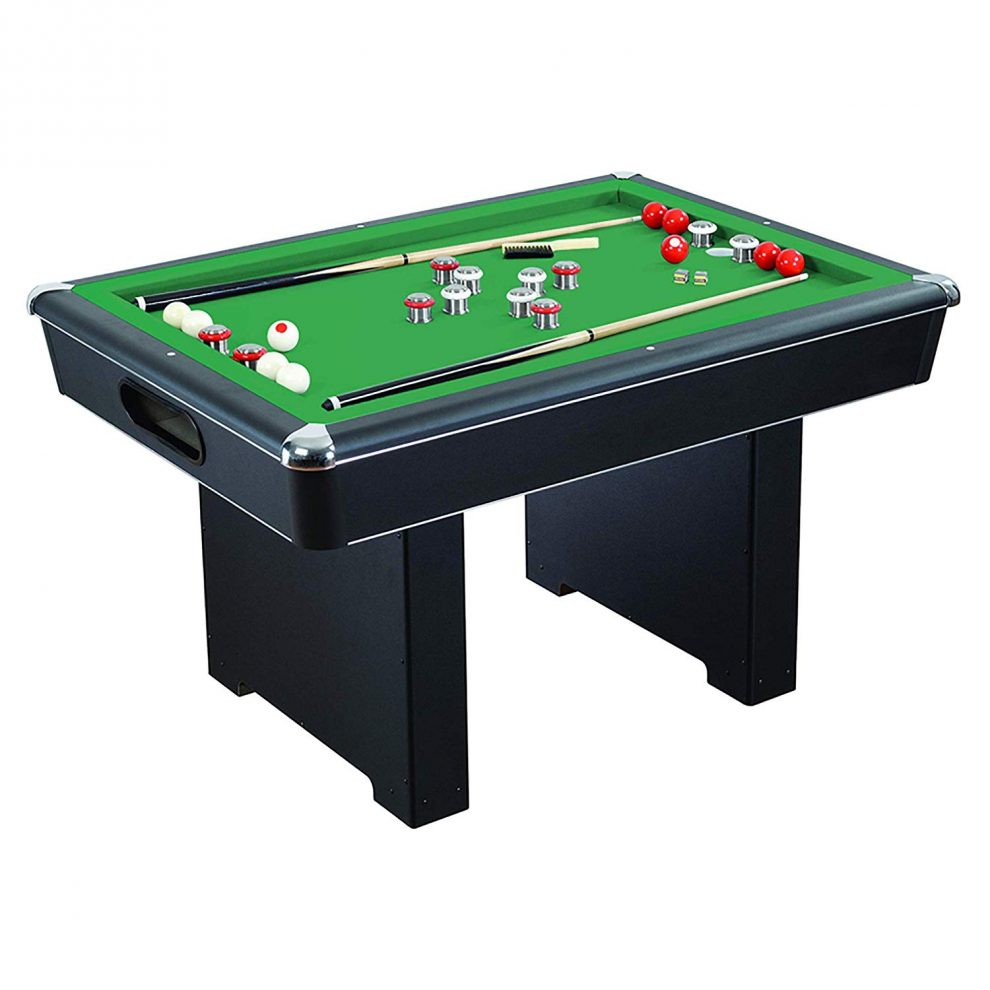 Ultimate Guide to Bumper Pool: Tables, Strategy, and More!
Where to Buy:
The Renegade bumper pool table by Hathaway is rectangular and has the same dimensions except that it's an extra ½-inch tall. Its premium features include quality blended felt, K66 gum rubber bumpers and a genuine slate area of play. It comes with all of the equipment that you need to play the game too. However, you'll have to put the table together first.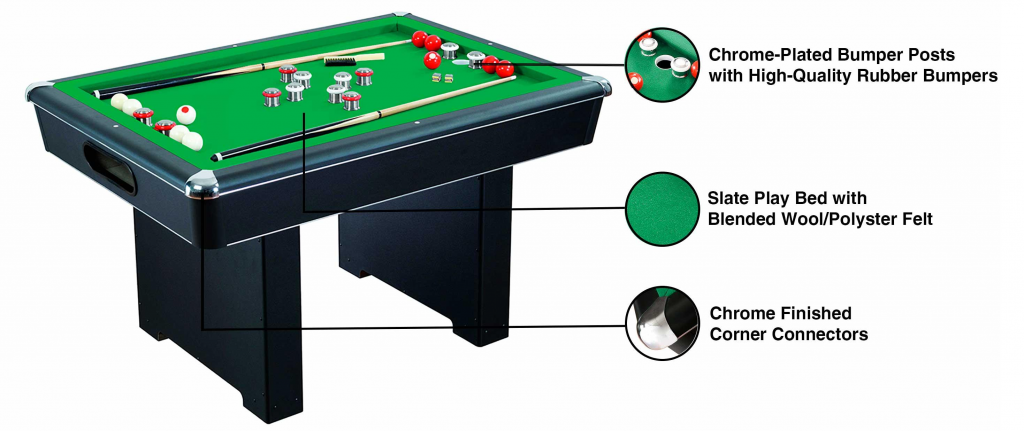 Atomic Classic Bumper Pool Table - Link
Price: Click HERE for current price
Dimensions: 54″ L x 54″ W x 31″ H
Slate: No
Includes: Two 48″ cues, set of ten 2 1/8″ balls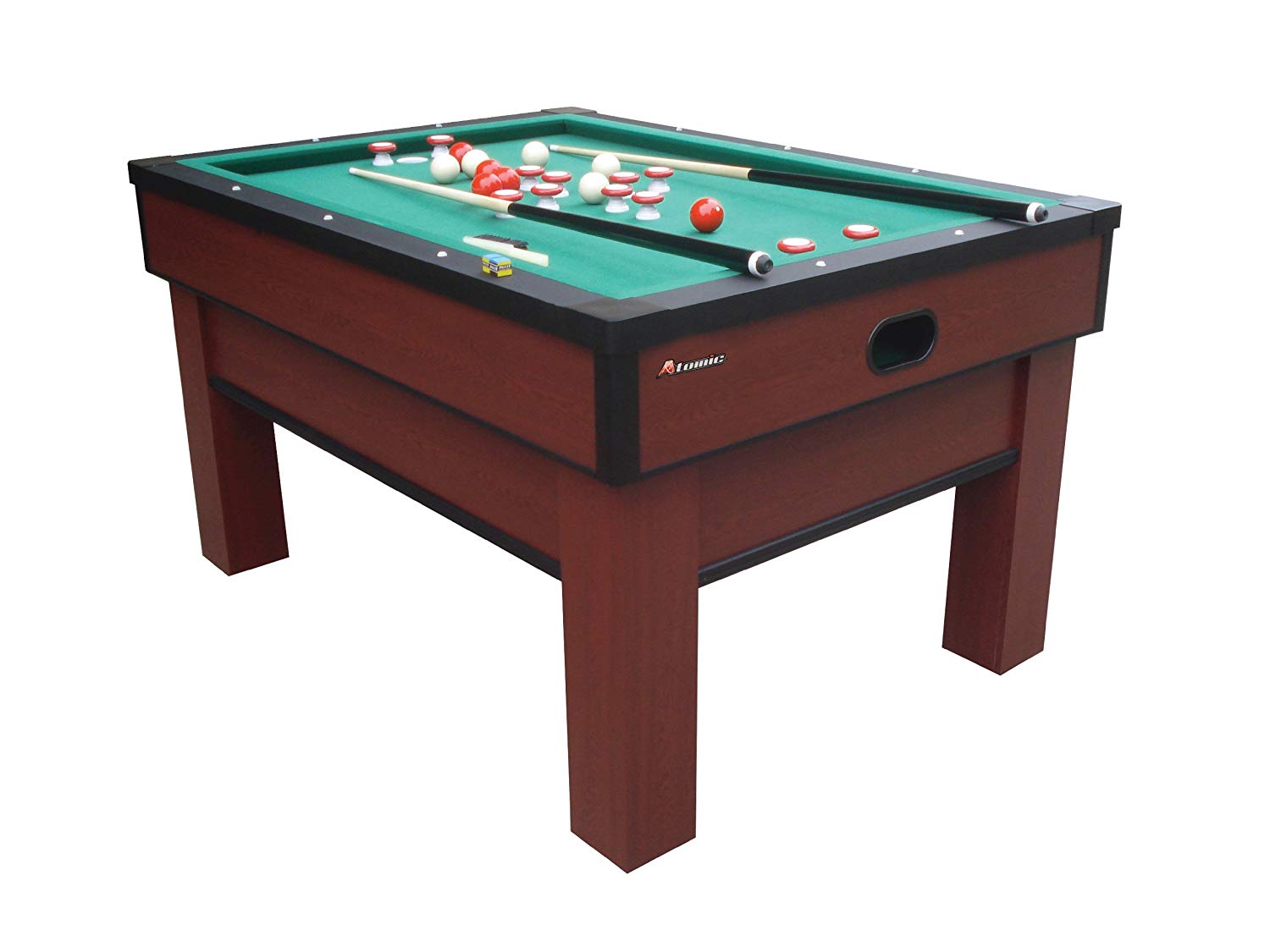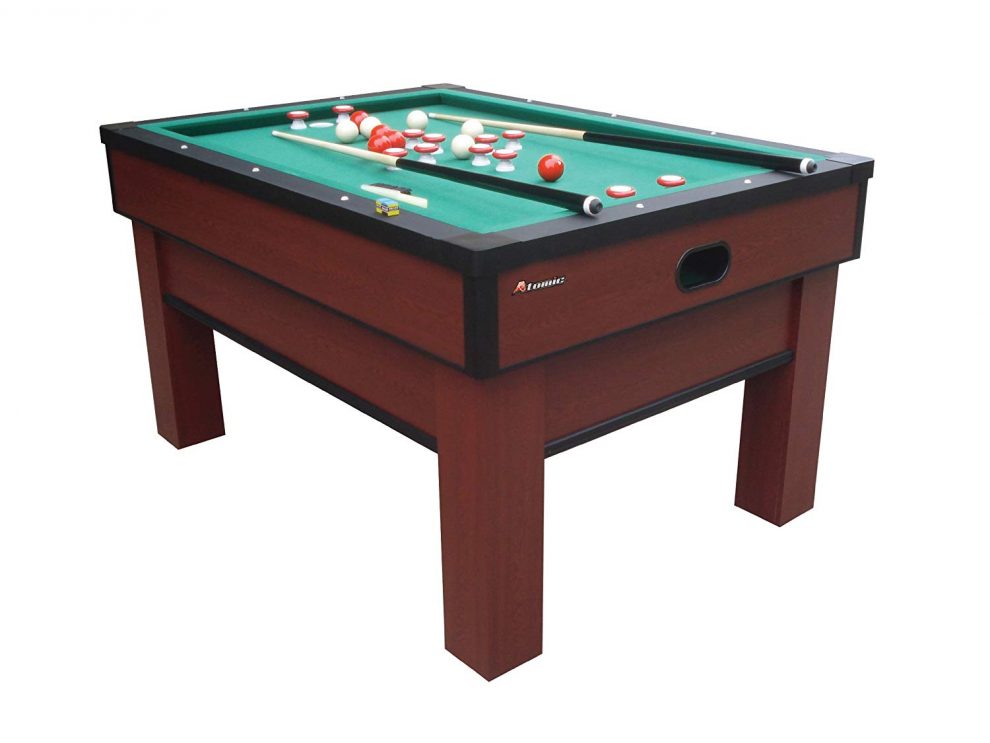 Ultimate Guide to Bumper Pool: Tables, Strategy, and More!
Atomic is another brand that makes a classic, rectangular bumper pool table with the standard dimensions, so it's slightly larger than the Playcraft and Hathaway tables. This free-standing table has 5-inch square legs, medium-density fiberboard and an internal ball return system. It also has high-quality bumpers and a wood-grain laminate exterior. All of the equipment to play is included as well.
The biggest difference between this bumper pool table and the other options is that it doesn't have a slate-based area of play. Because of that, there's no guarantee that it will be level for optimal ball movement. Also, it is a little bit larger than the previous ones so keep that in mind.

Fairview Game Rooms 54″ Combination 3-in-1 Game/Dining Table in Chestnut Finish - Link
Price: Click HERE for current price
Dimensions: 57.5″ L x 41.5″ W x 32″ H
Slate: No
Includes: Two 48″ cues, set of ten 2 1/8″ balls, brush and chalk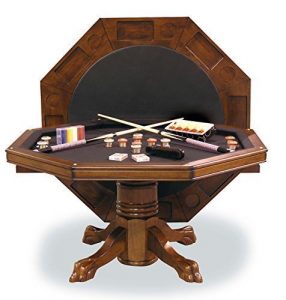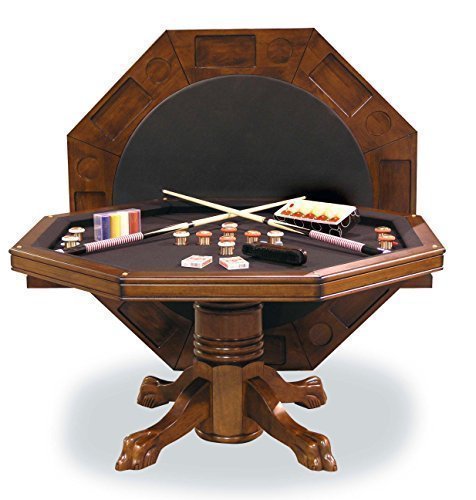 Ultimate Guide to Bumper Pool: Tables, Strategy, and More!
Among the octagonal shape of tables is a combination 3-in-1 game and dining table with a chestnut finish. Measuring 54 inches wide, 54 inches long and 31 inches high, the table has a top that you can flip over or remove. You can leave the top on for dining, flip it over to play cards or remove it to play bumper pool. There are even cup holders on the card-playing side.
This table is also doesn't have slate center so the balls won't roll as well. However the added features might make this the best bumper table for your needs. As of this writing it only has 5 star reviews on Amazon. You can also buy a set with 4 matching chairs here.

Table Layout and Differences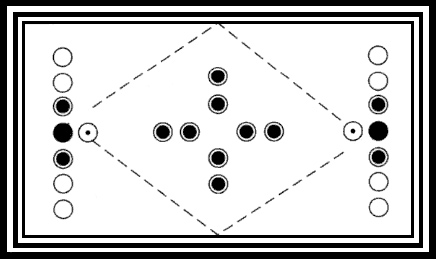 Whether you get a rectangular or octagonal bumper pool table, the layout is the same. There's one pocket at each end of the table and a bumper on each side of the pockets. In the middle, there are two rows of red and white bumpers that cross each other. The rows typically have four bumpers each, but large tables have more. The balls bounce off the bumpers on contact, which is what makes the game challenging.
Clearly, the shapes and sizes of octagonal and rectangular bumper pool tables differ. However, there are other differences too. Most rectangular tables are constructed with wood, slate or another durable material. Octagonal tables are typically made from walnut, oak or mahogany. They're usually combination tables too.
In addition, having eight sides in the area of play on an octagonal table adds another level of complexity to the game. You have to maneuver the balls at different angles to get them around the bumpers. With a rectangular table, you can mirror the gameplay of traditional pool.

Bumper Pool Balls - Link
SET OF 10 BUMPER POOL BALLS: 4 RED, 4 WHITE POOL BALLS. 1 white ball with a red dot and 1 red ball with a white dot. The game is played with 5 red and 5 white balls, with one marked ball in each set
REGULATION SIZE BUMPER POOL BALLS: This bumper billiard ball set is regulation size 2-1/8″ diameter and weighs 5oz. A full set should include 10 balls total
FUN FOR CHILDREN AND ADULTS The objective is simple: be the first player to sink all five of his balls into the opponent's pocket. There is no cue ball. Players hit their own balls directly with their cues
USE FOR EVERY LEVEL: This 10 Piece billiard fun bumper set will meet the needs of beginners, college students, and tournament tested shooters. A perfect gift for pool players and billiard lovers
Most bumper pool tables come with everything that you need to play. However, you may need to purchase the equipment separately if you special order a table. In that case, you can find the table brush, chalk and pool sticks pretty easily. You shouldn't buy just any billiard balls, though.

For bumper pool, you need a set of 10 balls, and Action makes the perfect set. Four of them are white, and four are red. Then, there's one white ball with a red dot and one red ball with a white dot. Playing with the regular solids and stripes that are used for pocket billiards could cause confusion during the game.
How to Play Bumper Pool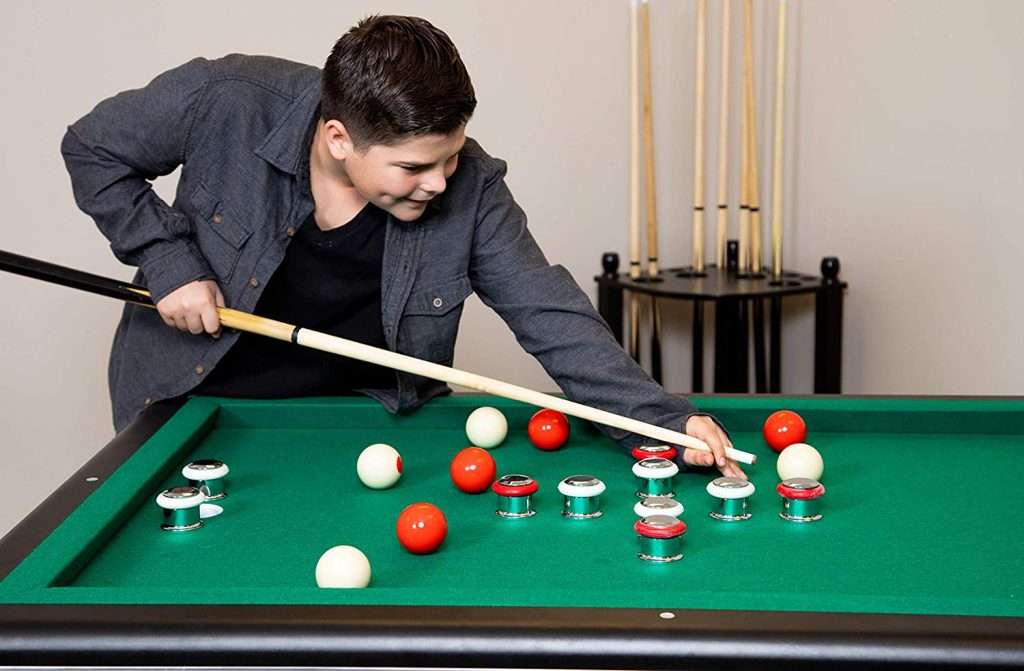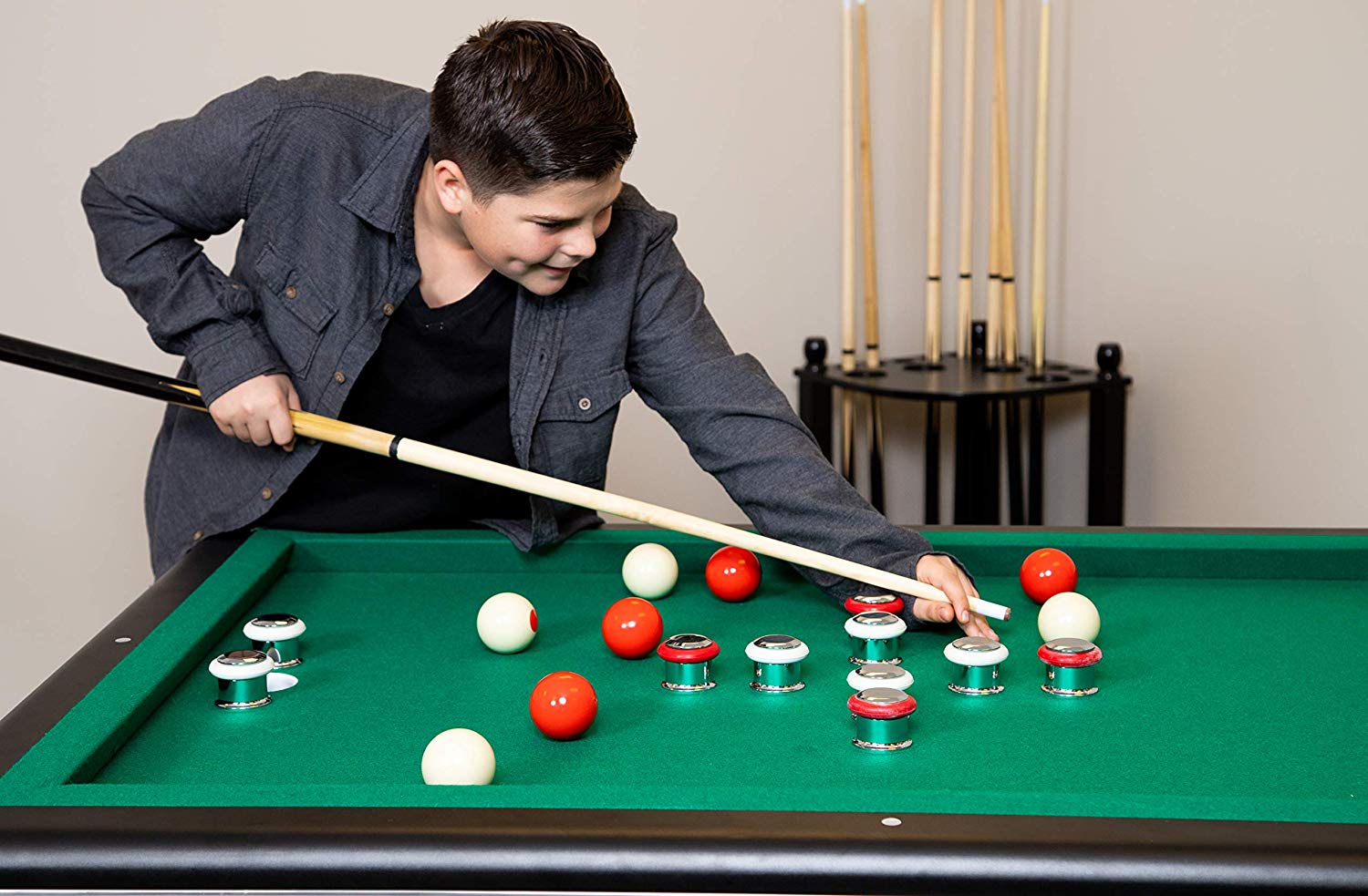 When you're ready to play bumper pool on your new table, you and your opponent choose your respective sides. If you wish, you can play with a partner to make two teams of two. As a result, up to four people can play bumper pool. In either case, the rules of play are the same.
Step 1: Each side will get five balls to shoot into the opposing pocket: red or white. The starting positions for the solid-colored balls are on each side of your pocket. Then, you place the spotted ball in the starting position in front of your pocket. This is also the first ball that you shoot to begin the game.
Step 2: You and your opponent agree on a count down to hit your spotted balls at the same time. The goal is to get your ball into the opposite pocket or as close to it as possible. Since there are bumpers in the center of the table, you can't make a straight shot. You must bounce it off the side cushion of the table to your right, which avoids your ball from interfering with your opponent's ball.
Step 3: You can determine who will make the next shot by seeing who is closest to the opposing pocket. If one of you makes it into the pocket, then that person will get the next shot. If you both make it, then you'll perform another opening shot with your left-most ball on the table. In any case, you have to sink your spotted ball before you can strike any of the others.
Step 4: Take turns shooting the balls into the opposing pockets. You can only have one ball in play at a time. If you don't sink a ball on your turn, the turn passes to your opponent. When you sink a ball, you get another shot. The winner of the game is whoever sinks all of his or her balls into the opposing pocket first.
Note: If your ball goes into the middle of the central bumpers for any reason, you return it to the starting position on your next turn.
Fouls and Penalties
It's important that you follow the above steps for bumper pool and avoid fouls. Otherwise, your opponent will get a major advantage. Keep these penalties in mind while you play so that you don't end up at a disadvantage.
Foul: Playing or sinking a ball other than the spotted ball first.
Penalty: Put all of the balls back where they were positioned before you took the shot. The turn passes to your opponent. If you sank a solid ball first, your opponent gets to sink any two of his or her own balls by hand.
Foul: Hitting a ball off the table or making a jump shot.
Penalty: Your opponent gets to choose any place on the table to position the ball, including in the middle of the central bumpers. He or she can also sink two balls by hand.
Foul: Knocking your opponent's ball off the table.
Penalty: You return the ball to where it was positioned before you knocked it off the table. Then, put one of your own balls in the middle of the central bumpers.
Foul: Sinking your opponent's balls.
Penalty: The only penalty for doing this is that it gives your opponent an advantage. The ball doesn't return to the table and counts toward your opponent's success.
Foul: Sinking your ball in your own pocket.
Penalty: Your opponent can choose two of his or her balls to sink by hand.
Foul: Sinking your last ball in your own pocket.
Penalty: You automatically lose the game, and your opponent wins.
Bumper Pool Strategy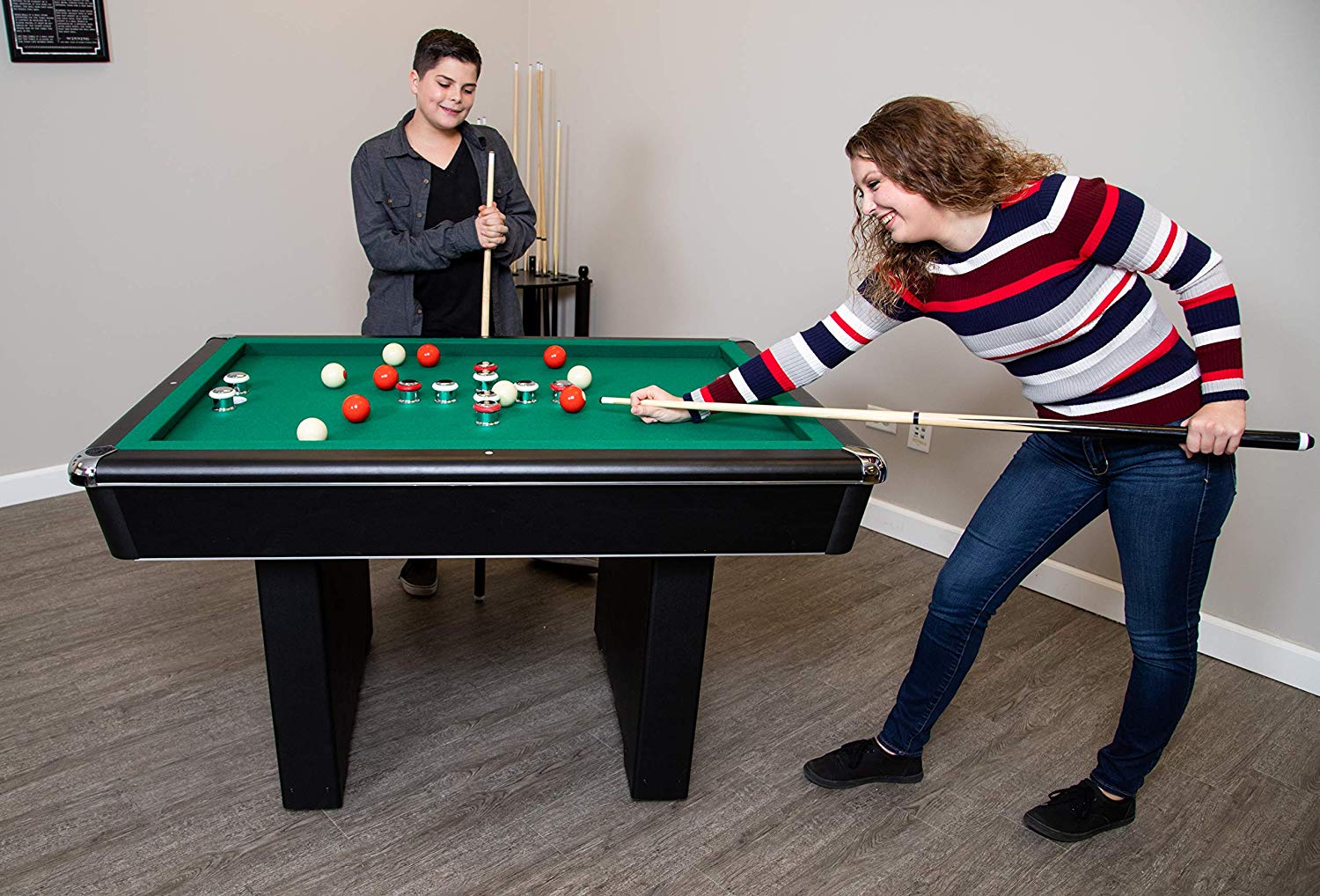 The rules for playing bumper pool are pretty straightforward. However, you can still use different strategies and techniques to accommodate your skill level and improve your chances of winning.
Two offensive strategies are knowing the banks and playing the bumpers. When you know exactly where to hit the sides of the table, it becomes easy to angle your shots so that your balls end up in your opponent's pocket. Similarly, you can use the bumpers to redirect your shots into the pocket.
Playing the bumpers also comes in handy when you don't have a good angle to bank off the sides of the table. For example, you could shoot into a bumper so that the ball will bank off the table's side and into the pocket. On the other hand, you could bank off the table's side, into a bumper and then into the pocket.
A third offensive strategy is to set up your ball for an easy shot into your opponent's pocket. This involves using a turn to position the ball. You can bank off the table's sides or bumpers to get into the right position.
In a different approach, you could play defensively by using your turn to knock your opponent's ball out of position or block it from a straight shot into your pocket. For instance, you can nudge your opponent's ball closer to the bumpers, preventing an easy sink.
You might even knock your opponent's ball into the middle of the central bumpers. Doing that can buy you some extra time to score because your opponent will have to re-position the ball at its starting point.
History of Bumper Pool
The specifics of how pocket billiards developed is a mystery, but bumper pool is a variation of the game. It's likely that pocket billiards emerged as an evolution of croquet or a similar lawn game. Croquet is a French outdoor game that involves using a mallet to maneuver a ball through hoops in the ground. The goal is to reach a cone or stick at the end of the course.
Bumper pool is a spinoff of the indoor, tabletop evolution that developed over time. First, bumpers or rails were added to a pocket billiard table to prevent the balls from falling off. Then, the two sticks or cones that players used as goals became pockets. Eventually, more pockets were added to create the modern game of pocket billiards.
The game became so popular that even Shakespeare referenced it in one of his plays. In fact, pocket billiards was very common in the United Kingdom. In the mid-19th century, Brunswick Company mass-produced the tables in the United States.
However, owning a pocket billiards table was expensive and took up quite a bit of space. This led to the development of bumper pool with cheaper, more space-efficient tables. The addition of bumpers increases the difficulty compared to pocket billiards. It forces you to plan every shot carefully. Despite that, it's a unique challenge that makes playing this tabletop game a little more interesting.
Buying Guide for Best Bumper Pool Table

Buying a bumper pool table can be quite tricky. It is the fastest way to have fun at home or during a games night with families and friends. In this best bumper pool buying guide, we will talk about the biggest difference between traditional billiard tables and bumper pool tables. This will also give you a good idea of what to look for before buying any bumper pool table.
Traditional Billiard Table vs Bumper Pool Table
Billiard tables often have a dimension that measures 8 by 4 feet. Some large ones measure 9 by 4.5 feet. Bumper pool tables on the other hand are quite smaller with the most common dimension being about 4.5 by 3 ft. As if that is not enough, unlike billiard tables that are always rectangular, bumper pool tables also come in a hexagonal shape.
Although the base rules of playing on a bumper pool table are similar to that of a billiard table i.e. hitting the balls with the cue, there are still a few differences. This difference is due to the smaller size of bumper pool tables as well as the shape of the table.
That said, both types of tables offer nearly the same level of fun and entertainment.
Without further ado, here are some features you should consider before buying a bumper pool table:
Multifunctionality
This is the first thing you need to consider. Because let's face it, bumper pool tables are not affordable especially considering how small they often turn out to be.
That said, some bumper pool tables feature different surfaces which make its price tag a lot more worth it. These tables let you play pool on one surface and poker on the other surface. Depending on the type of bumper pool table you buy, you might even be able to convert it to a dining table if you are particularly short on space.
NOTE: To convert your bumper pool table to a dining table, it means your bumper pool table comes with a wooden top to cover the playing surface.
Dimensions
As aforementioned while we were comparing the traditional billiard table and the bumper pool table, size matters when it comes to playing pool.
Although on average, bumper pool tables come in pretty similar sizes, the only thing you need to consider is if there is enough space to use and store the table.
Another thing to note when considering the size of the bumper pool table is that they also come in a hexagonal shape.
NOTE: Bumper pool tables come in variable measurements that do not conform with the usual dimensions of bumper pool tables.
The material the Table Is Made From
The type of material a bumper pool table is constructed from determines how high-end or premium it is.
Most sophisticated bumper pool tables on the market are made from solid refined wood e.g. Mahogany. Cheaper and more affordable bumper pool tables often use laminated wood instead.
Essentially, all you have to consider here is that if a table looks to be made of solid wood, it is probably going to be very expensive.
NOTE: Most tables that have multifunctionality use are made from solid wood hence, the insane price tags they often come with.
Accessories
Checking the number of accessories the bumper pool table you want to buy comes with can go a long way in saving you unnecessary stress. It also saves you from wasting too much money buying standalone accessories so that you can play the game.
Most bumper pool tables that come with accessories come with accessories such as pool cues, set of balls, chalk, felt brush, etc. The number of accessories your table comes with also depends on how high-end the table is.
For instance, bumper pool tables with multiple playing surfaces will also come with a set of accessories to play another game. Most bumper pool tables with dual playing surfaces let you play poker so they might come with poker chips and cards.
Weight
Without mincing words, bumper pool tables are often very heavy. The notion that a mid-sized version of a table game would be portable does not apply to bumper pool tables. Hence, it is important to consider this before buying one or trying to set one up as you might not be strong enough to move it around.
One good way to have an idea of the weight of a bumper pool table is to check the product description.
NOTE: Unlike the other features that we already discussed in the buying guide above, the weight of a bumper pool table is not very important. Once you know a bumper pool table is heavy, all you have to do is assemble it at a permanent spot dedicated to it. Thus, eliminating the inability to move it around due to its weight.
Other Features
There are some extra features you might love to have in a bumper pool table.
For instance, some bumper pool tables come with leg levelers. This prevents people from making cheeky trick shots that are often counted as fouls. Some tables even come with chairs for people to sit on. Also, some bumper pool tables have warranties. The good thing about having a warranty on a bumper pool table is that you can easily return the table upon delivery if you find it to be damaged or scratched.
Bumper Pool FAQs
How to Play Pool on a Bumper Pool Table?
Playing pool on bumper pool tables is different from playing on traditional billiard tables. Here are some unique rules to keep in mind if you are using a bumper pool table for the first time:
-Each player starts with 5 balls of a different color (white or red).
-Teams of two can play against each other
-The objective of the game is simple: players have to sink their balls faster than their opponents.
Can I Replace the Felt on My Bumper Pool Table?
Yes, you can.
Felt on pool tables can easily become worn after continuous use. The felt improves the smoothness of the game and is thus important. Once you notice the felt on your table is worn, here are simple steps to replace it:
-Remove the worn felt on the table. You would need a stable remover if the felt is stapled. However, glued felt would easily come off by pulling it.
-Next, clean the surface of the table to ensure it is clean and smooth.
-Measure and cut the right size of felt.
-Glue or staple it on the table.
NOTE: Ensure the felt is well stretched before gluing or stapling it to the table so there are no wrinkles.
Are Bumper Pool Tables Fully Assembled?
No, they are not and for good reason. A fully constructed bumper pool table, though small when compared to full-sized pool tables, is still too large to pass through most doorways. Hence, most of them have foldable legs or attachable legs. They are also easy to assemble so it shouldn't be too much of a hassle.
TIP: While setting up your bumper pool table, ensure to leave a minimum of 5 feet of space between the walls and the table. This allows players enough players to draw the cue to take their shots.
Buy on eBay, Etsy, Walmart (subject to availability)
3-in1 Combination Game & Dining Table Set with 4 Rocker-Swivel Chairs-- (Chestnut) - Walmart, Etsy, eBay
Atomic Classic Bumper Pool Table Multi-coloured, 5- 7/8" Top Apron; 7-3/4" Bottom Apron - Walmart, Etsy, eBay
Hathaway Kingston 3-in-1 Poker Table with 4 Chairs, Walnut Finish - Walmart, Etsy, Ebay
Valley Tiger Cat Bumper Pool Table with Ball Return - Walmart, Etsy, Ebay
54" Combination 3-in-1 Game/Dining Table in Chestnut Finish - Walmart, Etsy, Ebay
ACTION BBBUMP Bumper Pool Ball Set, 10 Red and White Bumper Pool Balls - Walmart, Etsy, eBay
Collapsar Bumper Pool Balls 2-1/8" Regulation Size,Standard 10 Billiard Balls Set - Walmart, Etsy, eBay
GSE Games & Sports Expert 2-1/8" Regulation Size Bumper Pool Balls, Standard 10 Billiard - Walmart, Etsy, eBay
Epic Gear Bumper Pool Ball (1) - Walmart, Etsy, eBay
Epic Gear Bumper Pool Ball Set - Walmart, Etsy, eBay
Aramith 2-1/8" Regulation Size Bumper Pool Balls, Standard 10 Billiard Ball Set - Walmart, Etsy, eBay
Click HERE for current price - Walmart, Etsy, eBay
Conclusion for Bumper Pool Table Buyers
If you are looking for a great game to enjoy with friends and family, bumper pool is a perfect choice. Not only is the game fun and exciting, but it can also be quite challenging. We hope our buying guide has helped you make an informed decision about which bumper pool table is right for you. And don't forget to check out our FAQs section for more information about this popular game table. Have fun playing bumper pool!