Sometimes, no matter how much you want to be outside doing active things, you end up stuck inside. But that does not mean that you have to spend that time looking at cat photos on the internet. Though it might not be quite the same as mountain biking or hiking, you can have a lot of fun playing games like foosball, air hockey and ping pong. Of course, not everyone has the space to put several different game tables in a rec room. For those of us who are short on space, a combination game table is the perfect option. They're also a good choice for people who have trouble making up their mind!
Normally, I am not really a fan of combo game tables because I've had a hard time locating some that are high quality. In my experience, a lot of these tables are, quite honestly, crap. However, recently I have managed to discover a few combo gaming tables that are actually a good value for the money.
Top 10 Best Combination Game Tables in 2019
Our multi-game table ratings are based on value, durability, ease of assembly, and size.
Types of Multi-Game Tables
The real benefit of multi-game tables is that they allow you to enjoy multiple table games while only taking up the space one of table game. And this is awesome for people who don't have a lot of space for several gaming tables. And the best part is that there are a few different types of combination game tables for you to choose from. Here's the basics:
Conversion top combination game table
Flip, swivel, or rotating combination game table
Hybrid game combination game table
Now that you know the basic types, let's dig into a bit more detail so that you know what to look for when you're out shopping for one of these.
Conversion top game tables, which are sometimes referred to as attachable top game tables are exactly like it sounds – you have a fold-out game surface that fits on top of your current game table to convert it into another type of game table. This is most often seen as a ping pong table conversion top. And the most common types of table that people put conversion table game tops onto are pool tables. Unless you're on a super tight budget, we recommend that you skip this option as it doesn't really offer a lot.
The rotating flip multi-game table is the most common option, and the one that we recommend you consider buying for your home. This can include anywhere from three to more than ten different table games in one combination game table. This truly gives you the best value for the money right here. And it works just like it sounds – the table top rotates or swivels around and you can flip onto different playing surfaces.
Hybrid multi-game tables are basically a combination of the two types above – some flipping table surfaces plus a conversion top. While this is usually cheaper than a standard flip combination game table, we're not really fans of it since you do better with the standard option.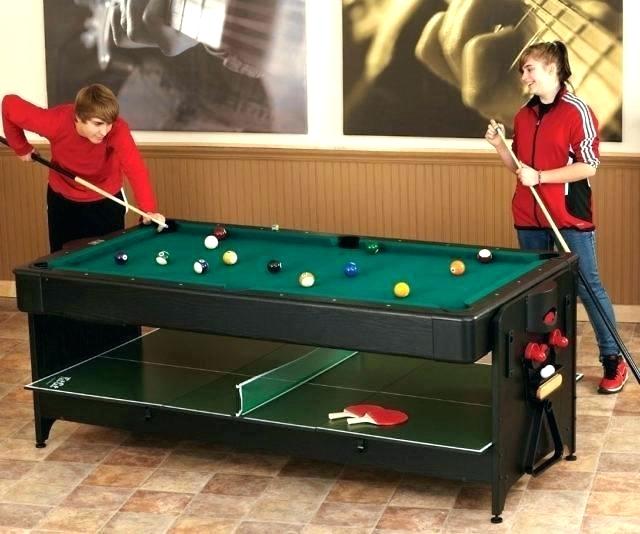 Other Things To Consider
In addition to knowing the type of combination game table that you want to add to your home, there are a few more things for you to think over before you buy. Let us break down the most common things for you to consider before shopping.
Size
Like all types of gaming tables, multi-game tables come in a variety of different sizes. You can get a full-size standard table, a compact table that is slightly smaller than regulation size, or a mini tabletop combination game table. The perfect size really depends on your available space at home and how you intend to use it. Often, the small mini tabletop models are perfect for kids since they don't take up much space and have a low cost.
Game Combos
You'll also want to make sure that the table you buy contains all the table games that you actually want to play. The actual combinations tend to vary from one mode to the next, with air hockey, ping pong, and billiards being the most commonly packaged games in a multi-game table. Here's a list of the games that you can find in various combination game tables:
Bowling
Dominoes
Checkers
Pinochle
So, determine which games are of most interest to you and then look for the tables that contain all those games.
Our Favorites: Best Air Hockey, Billiards, and Table Tennis Table Combo Multi-Game Tables Reviewed
Triumph Sports USA 84″ 3-in-1 Rotating Combo Table Review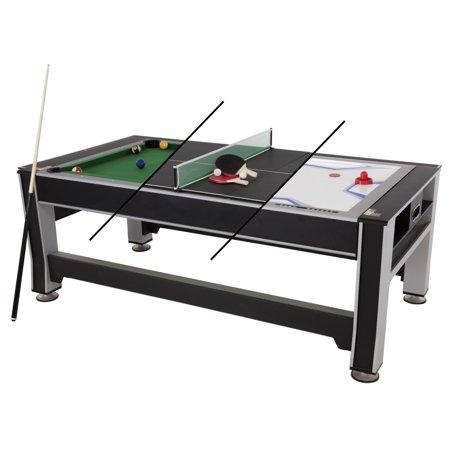 I have managed to find two great choices when it comes to the top combination game tables. Of those, the Triumph Sports USA 84″ 3-in-1 Rotating Combo Table is a good, affordable choice that is a nice option for families. So, if you are on a budget, then I believe that this one is the best combo game table for the money since it has a low price but is still a high quality gaming table.
The cool thing about this table is that you can easily play air hockey, billiards and table tennis on it. It does have a powered air blower for the air hockey table, and it seems to be fairly powerful, which is good. It also comes with everything that you need to play each game – from pool cues to ping pong balls.
Where to buy:
To get to the different game table tops, you just rotate the table top. It's not that difficult to do. However, there are only two sides for rotating. That is because the table tennis table top is actually removable.
That is what I dislike about this combo game table. If you want to play ping pong, then you attach the table tennis cover – BY VELCRO!! Sure, it stays in place while you are playing, but it feels a little on the cheap side. And, I'm not really certain how long this will hold up.
Based on the look of this one, I think it is best for teens instead of your really nice home game room. Don't get me wrong, there is nothing bad looking about this one, but the table listed below does have a bit of a more luxury feel to it.
A lot of people have problems leveling this table, which is something to consider if you're comparing this model to another one.
Bottom line: in my opinion, this is a pretty decent combo game table, but if you can afford to spend a little more then skip this one and get the Fat Cat model reviewed below.
Fat Cat Pockey 7ft Black 3-in-1 Air Hockey, Billiards, and Table Tennis Table Review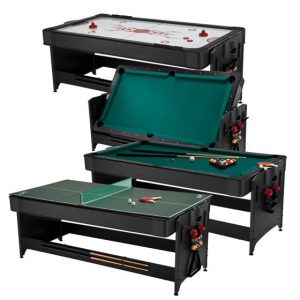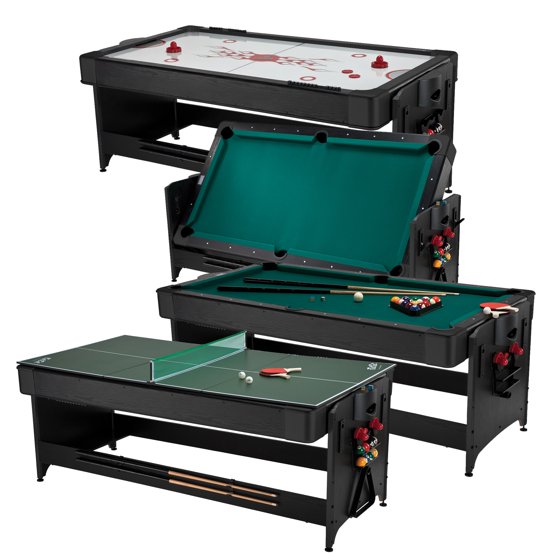 Probably our favorite of all the top rated combination game tables in the under $1000 – $1300 range is the Fat Cat Pockey 7ft Black 3-in-1 Air Hockey, Billiards, and Table Tennis Table. This is one badass combo gaming table set right here at an affordable cost. It is definitely my favorite option in this price range.
This one right here is a pretty solid choice for families on a budget but who want something that looks nice. Honestly, I think it looks a little classier than the one up above, so this is probably the better choice if you're shopping for a nice home game room.
Where to buy:
As you can probably tell in the photos, this table is a MUCH higher quality one than the Triumph model reviewed above (in my opinion). It offers the same games and the same equipment, but all at a higher level. I think that it is really a good value for the money, especially if you can get it on sale from one of the stores that carries it.
The air hockey motor on this table is a little more powerful, which makes the game play a bit more exciting. And rotating the table is a bit of a smoother process than it is with the Triumph model.
I do want to make sure that you know that the pool table surface is wood and not slate. You can't get slate at this price. And that means that you won't be able to put it on a screened in porch cause the humidity will warp the table. Just something to think about.
Unfortunately, the table tennis top on this one is also velcro, which I hate. But, having three game tables instead of one kind of makes it a decent trade off.
Bottom line: For me, this is my top pick for a combo table around the under $1000 – $1200 range, but it's still not perfect. If you have the space for separate game tables, then you'll get better quality. But if not, then this is probably the best that it gets for now.