The last time that I was at my parents house, we threw up a makeshift table tennis net and played a bit of ping pong on the pool table. Obviously not the ideal conditions for a rousing ping pong match, but better than nothing, eh? And since they don't have the space for a full size table tennis table, it's the best that they could do. I do love me a bit of ping pong though.
When I was younger, my parents took us to a lot of campgrounds that had game rooms where my brother and I spent rainy days engaged in battles at the ping pong table and air hockey table. Though my brother turned out to be a jerk in adulthood, I do miss playing ping pong every now and then. And that is why I have been checking out some of the best ping pong tables for the money. There are tons of different models that you can buy and I have been spending my time getting all the nitty gritty on these sweet home game room tables. So, if you're like me and ready to take the plunge and put one of the best table tennis tables in your home game room, then let me share what I know about these.
Our Top 10 Best Ping Pong Tables in 2022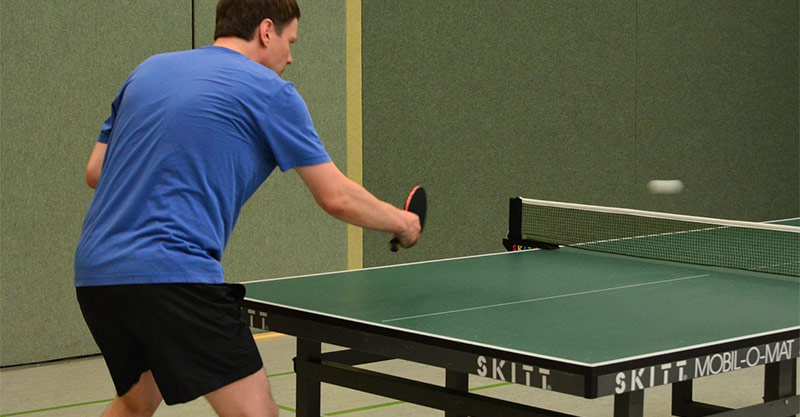 Our ratings are based on value, durability, ease of assembly, and size.
Our Pick: Best Ping Pong Table For Families & Offices
Often it is amazing what spending just a little bit more gets you and that is definitely true when it comes to ping pong tables. In fact, if you were considering the JOOLA table above, then just wait until you see this JOOLA Triumph 15 Indoor Table with Corner Ball Holders and Magnetic Scorer . This table is very high quality with a great low price.
Where to buy:
What I don't like about this one:
The black surface color isn't for everyone's tastes and decor
No ball or paddles included
I love this table, but first let me start with that I don't like about it. Cons of this this table: doesn't come with balls or paddles so you have to spend extra, and it doesn't look as nice as the similarly priced STIGA here (though this one is better made than the STIGA). But - you sure do get a lot for your money with this table tennis table.
What I like about this one:
Made by one of the top brands on the market
It looks great with that sleek black surface
Matches high end furniture well, which is great for luxury game rooms
It feels sturdy and durable
Quick assembly time
Full-size
Extra ball storage spot
Easy to move and store when not in use
Pros of this table: easy to assemble in about 20 minutes, has included storage for your extra ping pong balls and a scoreboard, folds up for easy storage, has wheels so you can move it around your home easily and it's compliant with regulation size requirements. It really does look great in a home game room.
Bottom line: this is probably the very best value for the money if you don't need a professional table and just want a high quality table for home or the office.
Our Pick: Best Ping Pong Table - Professional Quality
When you start looking at all the great table tennis table options, there are a lot of options in the $500 to $1500 range. And the thing is that pretty much all of them are great choices. However, I am a firm believer in not spending any more than you have to if you can get exactly what you need - and at a high quality - for a lower price. And after evaluating all of the options, my top pick for a table tennis table that offers professional quality at affordable cost is right here. The table I've picked is the STIGA Synergy Table Tennis Table .
Where to buy:
What I like about this one:
Professional model at affordable cost
High end look and design
Sleek surface goes well with luxury furniture
Looks awesome in a fancy home game room
Full size
Very stable/sturdy
Made by one of the top brands on the market
Surface gives you extra bounce
Easy to assemble and move around/store
Corner protection to save you from injury
Let's face it, when it comes to the top ping pong table brands, STIGA is one of the very best out there. Unfortunately, they do not make many cheap options though. However, this is one of their lower priced tables and it is an awesome value for the money.
Assembly is quick and easy (less than 20 minutes) and the table is VERY sturdy. It could probably withstand the game play of some rowdy kids with no issues. The table top has this special finish on it to give you optimal bounce from your ping pong balls, which really ups your game.
And one of the features that I really like on this one is the corner protection. It has plastic corner protectors, which is perfect for preventing clothing snags or injuries. And if you've ever run into the corner of one of these tables, then you already know how great this is. Your groin muscles with be especially thankful for it!
It is regulation size and features regulation white silk screen striping. This is basically a professional quality table tennis table for amateur players like you and me. It's the perfect competition ready ping pong table.
What I don't like about this one:
Price is a bit on the higher end
You can't fold it up by yourself
No balls or paddles included
Black color isn't for everyone
The only thing that I really dislike about this table is that it isn't as easy to fold by yourself like some of the cheaper models. Of course, that's not really a big deal if you have someone else there to help you.
Bottom line: I think this is the perfect choice for the home game room as it is high quality and low priced. Just remember that you have to buy your paddles and balls separately.
Our Pick: Best Outdoor Ping Pong Table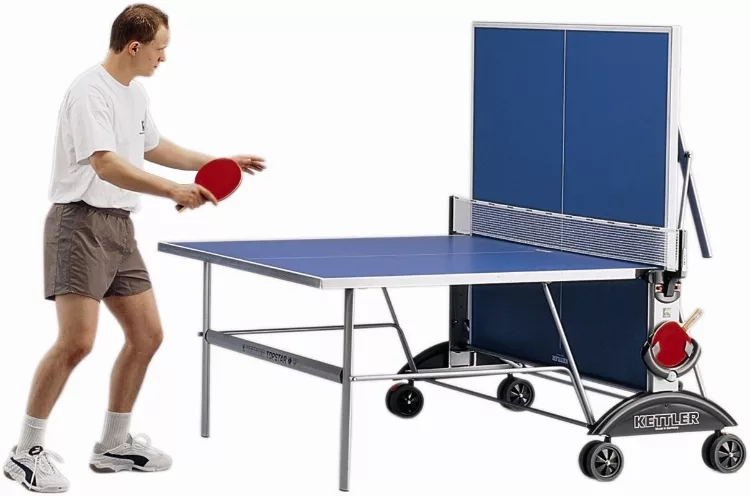 If you live in a place where the weather is good most of the year, then I strongly encourage you to get a good all-weather ping pong table. This way, you can play outside all year long (or move the table inside when it's too hot or the weather is bad). These types of tables are traditionally a wee bit more expensive since they have to be built to withstand all sorts of weather elements. That being said, they are some of the highest quality ping pong tables that money can buy. Of all the great outdoor table tennis options, my top pick is the Kettler Top Star XL Weatherproof Table Tennis Table Set .
Overall, Kettler is the top brand when it comes to outdoor ping pong tables and they have several different models that are great choices. However, this one is my favorite because you get the outdoor cover for the table as well as paddles and balls all for one low price. In fact, I think this is a really cheap outdoor ping pong table!
Where to buy:
The surface of this table, as well as its other components, have a weatherproof coating so that it stays nice all year long. However, when you leave it outside it is a good idea to put the weatherproof cover over it to prolong the life of this table. This cover is normally around $70 by itself, so it is awesome that they include it with this set.
It features a tournament style top and meets regulation size compliance.
What I dislike about this table is that it takes a LOT longer to put together than your normal indoor table. That is because it is higher quality and has more components. And you really need two people to get it assembled. And probably the worst part is that the instruction manual is only in German! Luckily it has pictures. Just beware of this fact before you order it.
All things considered, in my opinion you will NOT regret buying this table though because it is awesome. You get a good bounce and it feels super sturdy. It's obvious that this table is built to last.
Our Pick: Best Ping Pong Table For Kids & Teens (and Adults on a Budget)
I know what you're thinking - adding games to your home rec room can be expensive, so you want to look for the kids a good, cheap ping pong table that is affordable and won't break your budget. For some reason, 200 to 300 bucks is what most people consider to be the upper limit for a cheap table tennis table. But here's the thing - all the tables that I've seen in the price range suck (in my opinion). Seriously. Every single one of them has bad reviews on different sites from current owners. And if you're going to spend a couple hundred bucks on something like this, you want it to last right? Be something that you can enjoy with your drinking buddies and maybe even your kids. Well, I think you won't really get that with this low of a budget. I believe that about the cheapest that you can get off is around $350 and even then, you aren't getting something that is super high quality. But, I know how it is to need to stick to a budget. However, I cannot in good conscience recommend ANY of the tables with a price under $200.
The cheapest ping pong table I've found that has good enough quality for the money is the JOOLA iPong Intro Table Tennis Table . Please note that I ONLY suggest this table if you cannot afford to spend a little more money on a higher quality table. Of course, it is a good ping pong table for beginners if that is what you are looking for and want to keep costs low for now.
Where to buy:
What I like about this one:
It's made by one of the top brands on the market
It's full-size
It's easy to put together
It's easy to store when not in use
It's a cheap way to see if you really enjoy the game
The pros: this table is very easy to put together (takes about 20 minutes) and it folds up for easy storage if you do not want to leave it out all the time. Unlike other cheap ping pong tables, you do not have tons of screws to assemble this thing. It has wheels so that you can easily move it around your rec room. Plus, this table is regulation size compliant.
What I don't like about this one:
The build isn't high quality
Surface has zero protection (damages easily)
It looks kind of cheap
What's wrong with this table? Mainly that it's not made of the highest quality components (particle board). And it will more than likely arrive with scratches on the table surface.
That being said, the scratches will not affect your game play. So, if you do not really care about the cosmetic problems, then you will love this table.
Bottom line: this table is good for beginners and players looking for the cheapest ping pong table that offers a good value for the money. Otherwise, spend a little more for higher quality.
What To Consider Before Buying Your First Table Tennis Table
Okay, so you've decided to add a ping pong table to your home game room, garage, or basement - awesome choice, but there are a few things that you need to think about before you buy one of these. Let us break down some of the most common things that you'll want to think over before you go out and do your shopping.
Size
How much room do you have for a good table tennis table in your home? If you're working with a big family game room, a basement space, or a large garage, then this won't really matter to you. But, if you have limited space or want to be able to collapse the ping pong table and store it upright when it's not in use, then you need to know that now. You see, there are some models of ping pong tables that have wheels for easy transport around the house and that fold up so you don't need a lot of storage space. Plus, some tables are regulation full-size models, while others are not.
Keep in mind that full-size regulation tables measure in at 9-ft by 5-ft by 2.5-ft in size. And for beginners or intermediate players, you'll want to allow for around five feet of space behind each player and around three feet on the sides of the table. If you have a smaller space to work with, and you don't mind being cramped, then you can probably make a tighter fit work for you.
But if you're playing doubles at the ping pong table, then give the teams and additional 3.5 feet at the end of the tables and another two feet on the sides of the table. That should give everyone enough room for a fun game of table tennis doubles.
Do you want to play table tennis by yourself?
If you're buying this to play against yourself, then you definitely need to look for a model that folds up on one side for single-person game play. Fortunately, this is a fairly common feature, but do know that not all models offer it.
Table thickness
Do you take your table tennis seriously? If so, you might prefer a table that meets the regulation thickness requirement of 1-inch thickness. Personally, we wholeheartedly recommend this choice because you get a nice bounce. The thinnest we can recommend is 0.75-inch thickness, which often still gives you that nice, even bounce that you see with the one-inch thick tables.
The net
The quality tables have nets that feature a soft surface, like felt, where the net meets the table so that you don't end up with scratches on the surface where the net secures to the surface. This is definitely something that you want to look for so that your table surface stays scratch free from the net attachment. If you've already about a table without this feature, then head to your local craft store to get yourself some felt that you can cut and glue onto the net bottom and protect the table's surface.
The legs
If you're shopping for a cheap ping pong table, then you'll want to pay attention to the table's legs of the model that you're considering buying for your home. Not only do you want to make sure that they are durable and sturdy, but you should look for a model that has leg levelers. Why do you need this feature? Because your floor might not be as level as you think it is and the leg levels help you make sure that the table playing surface is level, which means that one player does not get an unfair advantage due to a slanted floor.
Smooth, level surface
Nothing ruins a good game of table tennis like a warped playing surface. You definitely need to make sure that your table has a nice, level playing surface for the best game play. So, squat down to get at eye-level with it and see how it looks. You can even confirm if it is level with a yard stick or leveler tool.
Do you want to use it outside?
Are you interested in playing ping pong outside on the patio or deck? If so, you need to look for a good outdoor ping pong table for your table tennis needs. These types of tables are specially designed to last outside in the weather elements without being damaged. This is perfect for people who live in locations with a favorable climate most of the year.
Types of Ping Pong Tables Available
Before you select the perfect table tennis table for your family, keep in mind that there are a few different types available. Here's what you can expect to find:
Full-size indoor table tennis tables (these are regulation size)
Compact indoor table tennis tables
Table tennis conversion top (for dining room table or other tables)
Outdoor table tennis tables
Multi-game tables that include ping pong
Indoor vs Outdoor Ping Pong Table
If you want to take your table tennis outside and get some fresh air while you play, then you'll need to get yourself a quality outdoor table tennis table. Under no circumstances should you take your indoor table outside because it is not designed for that type of use.
An outdoor table is just like an indoor table, with the exception that is it specifically designed to withstand all of the harsh elements that come with being outdoors. The legs are typically sturdier and made of galvanized steel. You shouldn't have to worry about rust on the legs or the table blowing away in the wind cause those legs are made to keep it in place.
The playing surface of an outdoor ping pong table is also made to withstand the outdoor elements. The surface of outdoor tables have a weatherproof coating that helps protect against UV damage and water damage.
Overall, outdoor table tennis tables have a higher average cost than indoor tables simply because they are made of more durable components. And you can expect one of the outdoor models to last you for quite a while.
One important thing to note is that outdoor tables should be covered when not in use to further extend the table's lifetime. Some models come with a table tennis table cover included, while others require it as a separate purchase.
Best Ping Pong Table Brands
If you have bought any other types of game tables for your home rec room, then you will likely see some brands that you are familiar with when you start shopping for a new table tennis table. When it comes to quality, there are a few brands that stand out from the rest. Those brands are:
STIGA
JOOLA
Kettler
Cornilleau (really great but more expensive than most)
Butterfly (also expensive)
While I think that those three are really the very best makers of ping pong tables, there are a few other brands that make pretty decent tables as well. However, not every single style of table that they make offers the same quality, so you do have to be a little more careful with the following brands:
There are a few other brands out there that have a decent table or two (in my opinion), but they are not really the leaders when it comes to making the best ping pong tables. If you stick with the brands at the top, then you can take comfort in knowing that you are buying a high quality table for yourself and your family.
As you compare these brands and others on the market, you should be able to find a good option that meets the needs of your budget. Though prices can vary a lot among the different tables, you can easily find something in the following categories:
best ping pong table under $200
best ping pong table under $500
best ping pong table under $1000
We suggest starting your comparison shopping with our reviews below of our favorite ping pong tables for the money.
Buy on Walmart
JOOLA Inside 15 Table Tennis Table with Net Set - Walmart Link
JOOLA Nova Outdoor Table Tennis Table - Walmart Link
STIGA Advantage Table Tennis Table - Walmart Link
Harvil Insider Table Tennis Table - Walmart Link
JOOLA Atlanta Olympic Table Tennis Table - Walmart Link
DUNLOP 2Piece Table Tennis Table - Walmart Link
Butterfly Easifold 19 Rollaway Table Tennis Table - Walmart Link
Butterfly Compact 19 Table Tennis Table - Walmart Link
Kettler Match 5.0 Indoor/Outdoor Table Tennis Table - Walmart Link
Cornilleau 250S Crossover Indoor/Outdoor Blue Table Tennis Table - Walmart Link
Buy on eBay
JOOLA Inside 15 Table Tennis Table with Net Set - eBay Link
JOOLA Nova Outdoor Table Tennis Table - eBay Link
STIGA Advantage Table Tennis Table - eBay Link
Harvil Insider Table Tennis Table - eBay Link
JOOLA Atlanta Olympic Table Tennis Table - eBay Link
DUNLOP 2Piece Table Tennis Table - eBay Link
Butterfly Easifold 19 Rollaway Table Tennis Table - eBay Link
Butterfly Compact 19 Table Tennis Table - eBay Link
Kettler Match 5.0 Indoor/Outdoor Table Tennis Table - eBay Link
Cornilleau 250S Crossover Indoor/Outdoor Blue Table Tennis Table - eBay Link