We've all been at someone's house or apartment when the red Solo cups and the folding table come out for an impromptu game of beer pong. But you don't have to pull that old folding table out of storage or clear off the dining room table. Instead, get yourself a good beer pong table - one that is designed solely for this purpose.
These things are standard regulation size and surprisingly durable. If you're ready to take the plunge and make yourself the proud new owner of an awesome beer pong table, then let us help you pick the perfect one for your backyard party, frat house and tailgating needs.
Editor's Recommendation: Top Beer Pong Tables
Top 5 Beer Pong Table Reviews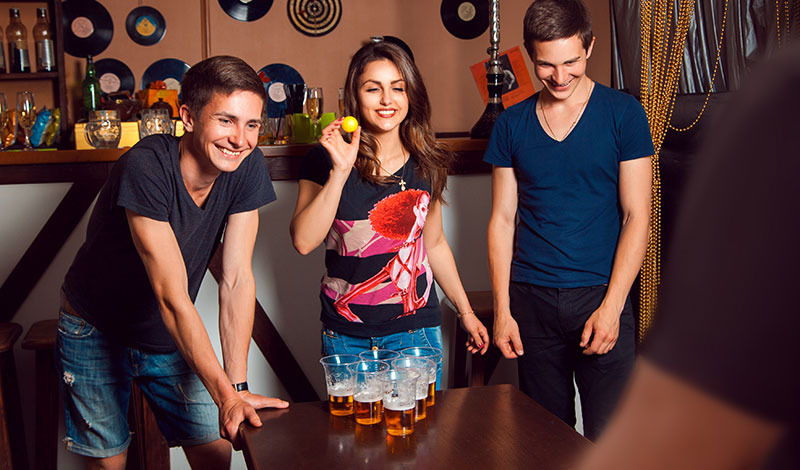 After taking a look at the current options on the market, we've gone through and selected a few of our favorites to review for you. These are the models that we think represent the best beer pong tables for the money no matter what your budget might be. So, if you're having trouble deciding which tables might be a good option for your needs, then take a moment to read through our editor thoughts below and see if that doesn't help you out.
GoPong PRO 8 Foot is a premium heavy-duty beer pong table. The table is made using premium lightweight aluminum. It is an all-aluminum table and features a black powder coat.
The table frame rocks an impressive 36-inch height which makes it very comfortable to play on. There is also a portable version of this table that is cheaper and also quite sturdy.
The standard dimensions of this table make it a great choice for beer pong tournaments. The black powder coat on the surface is wear and tear-resistant even when the party gets wild.
Asides from being a top-quality table, it is also aesthetically pleasing to watch. You can be sure it would draw the attention of just about everyone at the party!
The playing surface is also reinforced with beer-proof MDF. This means beer spills would have to effect on how the table's coating looks after a few use.
NOTE: Do not leave this table outside while not in use. Rain and Sun can quickly affect the overall quality and durability of the table.
For storing, the table features a compact fold-up design. This allows you the chance to conveniently fold and store it when it is not in use without taking up much space.
Best Features
·The height makes it a great table to play beer pong for adults and especially tall people.
·The reinforced MDF playing surface protects the black powder coating. It also makes wiping the table a lot easier.
·A compact folding design makes it easier to store.
·Comes with pong balls to get you started.
Cons
·The table is not suitable for short people.
NOTE: This does not mean they can't join in on the fun. The only issue is it can get a bit inconvenient.
·While you can fold the table in other to store it, it is not portable due to its large size.

GoPong Pool Lounge Floating Beer Pong Table - Link
The GoPong Pool Lounge Floating Beer Pong Table is an affordable plastic table that lets you enjoy the game of beer pong. It can take a bit of getting used to but the fun it offers makes it an incredible addition to your pool parties!
This 6-foot floating beer pong table features a unique design. it has 6 sideline cup holders, comes with 6 pong balls and 4 grommets for tethering. It features a 10 cup beer pong setup on both sides of the table for two people to play at a time.
Contrary to what one might expect in a table made from plastic, the material is quite thick which makes it sturdy. This greatly reduces the chances of the table overturning while the game is on.
NOTE: When deflated, you might notice pink mildew developing on some part of the plastic material. Spraying with foam and airing should easily remove this.
Asides from being a table specifically built for pool parties, you can use the table for different purposes. It can be used to play a game of pool beer pong - which is of course its main function. You can also use it as a floating lounge to simply pass drinks around while in the pool.
Inflating the table is also very easy. Its unique design means you can quickly start the game without much hassle. You can pump up the table using your mouth or by using a pump. Of course, pumping via mouth is slower but it does work which can be handy in case there is no pump.
NOTE: No pump is included with this product. You can either buy a standalone pump if you don't already have one or simply pump it by mouth.
The price tag and functionality of the table also make it a great gifting idea for friends or partners.
If you are looking for a challenging and fun game to play at your pool party, then this table offers great fun.
Best Features
·Cheap and also offers buyers a warranty for replacement or refund.
·Can be used in any pool or water body.
·The intricate design of this model means it inflates 4 times faster than other floating beer pong tables.
·The plastic material used is thick which gives the table a sturdy feel.
·The cup holders are firm and prevent the cups from falling over.
Cons
·At only 6 feet in length, the GoPong Pool Lounge floating beer pong table is not a standard competition table.

Eastpoint Sports Easy Folding Beer Pong Table - Link
The Eastpoint Sports Easy Folding Beer Pong table is a lightweight, Sturdy table for playing the game.
It is perfect for yard parties, park games, BBQ parties, beach parties, etc. Like most affordable beer pong tables, this table by Eastpoint features an aluminum design that is water and beer-resistant.
NOTE: This does not imply you should leave the table out to the elements. However, it would not be damaged by water or beer while the game is on.
The table is easy to clean and features an amazing folding design. When completely folded, there is an easy-carry handle so you can move the table around. This makes it very portable and easy to store.
On purchase, you also get 8 table tennis balls and 22 solo cups so you can start playing the game immediately.
Best Features
·Lightweight and easy to carry and store thanks to its folding design.
·Comes with other accessories to get the game started.
·Water-resistant playing surface that you can easily wipe down.
Cons
·The table dimension is not right.
·Some of the bolts on the legs need tightening on purchase
·There is no warranty which means the chances of a refund is very slim.

Our favorite option when it comes to cheap beer pong tables under $100 is this model by GoPong. There's a lot to like about it, so let's look at it's top features.
Best things about this model:
Low price
Folds for easy portability with a carry handle
Regulation size tournament table
Waterproof melamine surface coating
Ultra lightweight at just 25 pounds
Comes with six Pong balls and holder
Durable aluminum frame good for cold weather
As you can see, there is a lot to like about this one. Honestly, it ticks all the requirements from our editors, and does so at a cheap price.
Where to buy:
The one complaint from our editors is that the legs could be sturdier. So, if you enjoy slamming down your cups on the table, then this model might not be the best choice for you. Of course, if the legs were thicker and sturdier, then it would weigh a lot more. So, overall it's a decent trade-off, which is why it's currently our top pick.

Best Light-Up Beer Pong Table - Link
If you're looking for one of the coolest beer pong tables, then look no further than this PartyPongTables 8-Foot LED Color-Changing Glow Lights Beer Pong Table model. It really brings a little something extra to your games. Best of all, there are 11 different designs to choose from - including a dry erase beer pong table! How awesome is that?
Best things about this model:
11 different design options
Can get a dry erase board surface
LED color-changing lights that glow during game play
Regulation size
Holes for the cups
Pong ball holder with balls included
Folds up for easy portability
Lightweight aluminum
As you can see, this is one of the coolest options out there right now, especially if glowing lights sounds as awesome to you as it does to us.
Where to buy:
Our only complaint with this one is that some of the models that have the painted surface are not very good quality. It doesn't take long until the paint starts peeling off. Of course, this could have been just a fluke with the models we checked, but know that it might happen.

Coolest Beer Pong Tables
If you're just looking for something that looks really cool or will be a fun conversation piece, then we suggest you check out some of our favorite models with really cool designs on the table surface.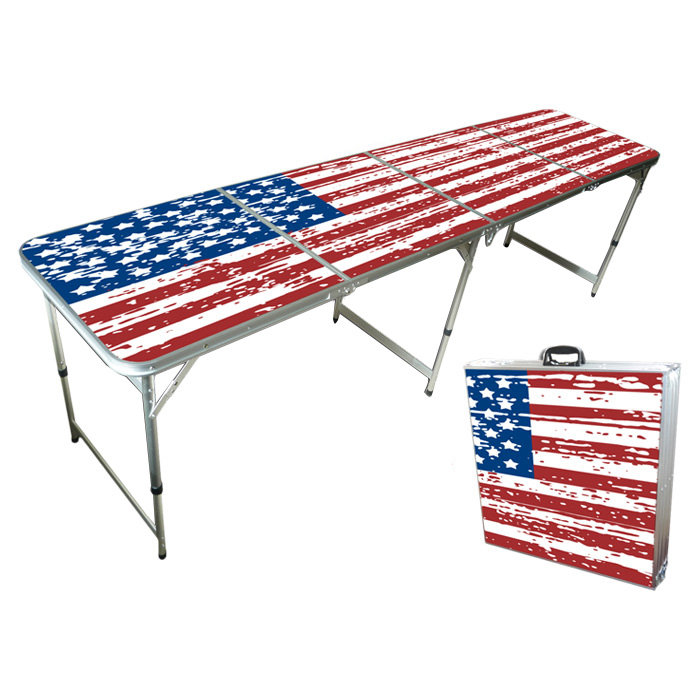 This one is great because it's made by one of the top brands in the industry and is lightweight and ultra portable. You can fold up to take it tailgating, camping or anywhere else you desire. The waterproof surface keeps it looks great for many years to come.

Where to buy: Amazon

Red Cup Pong Comedic Design 8′ Folding Beer Pong Table with Bottle Opener, Ball Rack and 6 Pong Balls - Link
This one is also made by one of the top brands in the industry and is lightweight and ultra portable. Plus, it has this funny design that guys everywhere will get a laugh out of. You can fold up to take it tailgating, camping or anywhere else you desire. The waterproof surface keeps it looks great for many years to come.
Where to buy: Amazon

Red Cup Pong Sistine Design 8′ Folding Beer Pong Table with Bottle Opener, Ball Rack and 6 Pong Balls - Link
This one is also made by one of the top brands in the industry and is lightweight and ultra portable. Plus, it has this funny design that art enthusiasts everywhere will get a laugh out of. You can fold up to take it tailgating, camping or anywhere else you desire. The waterproof surface keeps it looks great for many years to come.

Where to buy: Amazon
Beer Pong Tables Buying Guide
Whether you're just a hobbyist or a long-time player of the game, let us help you find a good option to meet your needs. Whether you need a good beer pong table for cold weather tailgating or backyard fun with the guys, we can help you out. Feel free to click on any of our recommended models for more information, or keep reading for details on specs and features to look for when you're out shopping for one of these.
Why You Need A Dedicated Beer Pong Table
Are you just a casual player of this drinking game? If so, then a table made just for playing it likely isn't a good choice for. However, if you play when tailgating, at cookouts, the Greek house, and other get togethers with friends and family, then why not get one of these? It's a good investment that will making the game more fun for everyone.
Here's a few of our top reasons for considering buying a proper table for beer pong fun:
Standard regulation size every time you play.
More durable than your average folding table.
Durable construction means you get something that lasts for years.
As you shop and consider some of our recommended models, know that the best models tend to be regulation size and come with a protective coating to ensure that the surface doesn't get damaged from spilled beer. Even the cheaper models tend to be a better choice than a regular folding card table.
As you start to shop, you will notice that there is a lot of variety when it comes to the best beer pong tables on the market. So, let us give you some pointers on what to look for before you buy something you might regret. Here are some features to look at:
Size
Waterproof
Custom Balls
Portability
Cold-resistant
Custom table design
First things first, definitely make sure you opt for a regulation size model. This way, if you ever decide to take part in any tournaments you'll already be used to playing on the proper size tables. According to the Word Series of Beer Pong (WSOBP) rules, proper dimensions for regulation-size tournament play is 8-foot by 2-foot by 27.5-inches. (One thing to keep in mind when it comes to beer pong rules is that house party rules are a bit different).
Does it have a waterproof coating? Let's face it, when we play beer pong, we end up spilling almost as much beer as we chug, right? That's why a protective coating is so important. Go with a model that has something like a melamine coating to protect from beer spills and prevent warping of the surface when that beer gets on the table's surface. This feature should really be non-negotiable because your table's surface WILL get wet from the liquid.
Some of the models on the market some with custom balls. Personally, this isn't really a deal-breaker feature for me, but some of the more serious players I know prefer to have custom balls for when they play. So, if that's important to you, then know that some models do offer it.
If you plan on taking this baby out tailgating, or even over at friends' houses, then you need a model that folds up for easy portability. Of course, you'll find that many of the models do fold up. However, you'll also want to check the weight cause some of them weigh a lot more than others. And you don't want to be lugging around extra weight if you don't have to - you might not mind it on the way to set up, but trust me, after all that chugging you will not like having to carry the table back to the truck!
Here's the thing about taking one of these tailgating - if we're talking about football season then it gets COLD outside, and that's not good for some of these models. So, you need to choose one made out of a material that can take the cold weather. A good choice here is aluminum, which can also take the really hot temperatures for those summer baseball game tailgating parties.
I know one guy who takes his beer pong games very seriously, and as a result, he is all about the custom designed tables. Personally, I don't want to spend that much money, so I'm not at all interested in custom design. But, if you're like by buddy Mike, then know that you can make a custom design happen, if that's what you want. For me, I'm more of a hobby player so a cheap beer pong table is really all I need for a fun Saturday cookout with the guys.
How To Play Beer Pong (a beginner's guide)
If you've never played beer pong before, then you might be looking at these awesome beer pong tables and wondering what you're supposed to do with them. Luckily, the game is easy to play and you can pick it up quickly. Below we'll give you some beginner tips on how to play this game.
What You Need To Play
those classic red Solo party cups (though any cups will suffice)
the beer
ping pong balls (at least two)
sturdy beer pong table
And you need to set up those cups at each end. You have 10 cups on each side, arranged in a triangle with four cups in the row that is closest to the player.
Basic Beer Pong Rules of Play
Start the game with an eye-to-eye challenge stare down. Make your first shot while doing this stare down.
Each player gets to play one ball per turn.
Players take turns trying to sink a ball in the opponent's cups
When a shot is made into a cup, that cup has to be removed from the table and drank by someone on the team that had to remove the cup. Team members alternate drinking the beer.
Shots can be tossed or bounced into the cups.
The defending team can block bounced shots once the ball hits the table, but cannot block tossed shots.
Any cups accidentally knocked over are considered sunk.
Re-racks - when there are three or six cups that remain on one side, that side has the opportunity to re-arrange the cups. Re-racks are only allowed twice for each team per game.
Scoring Basics
When a ball is lobbed into a cup = 1 drink
Deflected or bounced ball in a cup = 2 drinks
Two balls scored in the same cup by a team = 3 drinks
Beer Pong Terminology
Here's a quick glossary of the common terms you'll hear in a game:
Island - a cup that is completely isolated
Party cup - When a ball touches the cup, it is called a 'party cup' until all the beer is gone from the cup. If the opposing team sinks the party cup, then you lose.
Rebuttal - When your team is down to just one cup and your opponent makes a shot, you get the chance to score an save your game from being a loss for your team.
Beer Pong Table FAQs
Is Beer Pong a Real Sport?
Beer Pong is one of the most popular college party games in the US. The game, also known as Beirut, is now considered a real sport.
Beirut, or Beer Pong, is a drinking game where players have to throw a ping pong ball across the table to land it in a cup. There are some cups at the other end of the table, all of which are filled with beer.
What Are the Rules of Beer Pong?
One thing to love about this game is that there are not many rules to keep in mind. If you check the official site of the game's official competition (the World Series of Beer Pong), the first thing you would notice on the rule list is - Rules are made to be broken.
This shows how lax the rules are, hence why there are many variations of the game. That said, there are still some standard rules each player has to agree to and follow while playing the game.
For instance, players can decide not to play with beer and instead play with water. This makes it a lot more kid-friendly. Also, the game can be played by a team of 2 to 4 players with a 6 or 10 plastic cup setup.
What Is the Size of a Standard Beer Pong Table?
Official beer pong tables are usually designed to have a foldable playing surface thus making them portable. Essentially, this makes them easy to transport and easy to set up while still being sturdy.
There are different types of beer pong tables. Mostly, the category a table falls under depends on how premium the material used in making the table is and what type of dimensions or features it has.
For instance, there are beer pong tables that have a lighting system and would light up giving the table more of an arcade feel. There are also beer pong tables designed for use on water bodies - referred to as floating beer pong tables. There are even beer pong portable racks that challenge the whole idea of playing with a table.
NOTE: The best type of table is down to personal preference.
For the official competition of the game, the official tournament table should be 8 inches long, 24 inches wide, and 27.5 inches high.
Can I Play Beer Pong on a Regular Table?
Theoretically, you can, However, there is a big chance of ruining the table due to beer or water splashes that are always associated with the game. This can quickly damage the wood hence the need for a beer pong table.
Most beer pong tables are made from aluminum material or other related materials with only a few tables being made of wood.
How Many Cups Do I Need to Play Beer Pong?
There are two ways to play a game of beer pong. You can either play with 6 cups on either side of the table or with 10 cups. Either way, you have to set up the cups in a triangle to play.
Some of the best beer pong tables have drawings that indicate where and how to place the cups on the table.
In summary, the maximum number of cups you need to play beer pong is 20.
Beer Pong Tips and Techniques
Before you gather your friends and start playing, let us share a few tips and tricks for a better game.
Make sure you don't stand close to the table when your opponent is shooting. If you do, they get a better perception of distance.
The best technique is a follow through at 90-degrees into the cup that you are aiming at.
If you're playing teams, don't throw both balls at the same time.
When you take a shot, always aim at a specific cup.
For a challenge, designate a 'foul line' where the players' bodies cannot pass when making a shot.
GoPong 8 Foot Portable Beer Pong / Tailgate Tables (Black, Football, American Flag, or - Walmart Link
PartyPongTables.com 8-Foot Professional Beer Pong Table w/Optional Cup Holes & LED Lights - Walmart Link
8' Beer Pong Table - Lightweight & Portable with Carrying Handles by Red Cup Pong (Black) - Walmart Link
8' Folding Beer Pong Table with Bottle Opener, Ball Rack and 6 Pong Balls - Basketball - Walmart Link
GoPong 8 Foot Portable Beer Pong / Tailgate Tables (Black, Football, American Flag, or - eBay Link
PartyPongTables.com 8-Foot Professional Beer Pong Table w/Optional Cup Holes & LED Lights - eBay Link
8' Beer Pong Table - Lightweight & Portable with Carrying Handles by Red Cup Pong (Black) - eBay Link
8' Folding Beer Pong Table with Bottle Opener, Ball Rack and 6 Pong Balls - Basketball - eBay Link