Which game shows snagged the top five spots when "TV Guide" presented a list of the 60 greatest game shows of all time? If your answer was "Family Feud," you would have a decent chance at taking control of the board. However, since this long-time favorite ranked third, you would have to worry that your opponent could snatch control by naming the first or second answer. Watching "Family Feud" is entertaining, so it is no wonder that fans of this family-friendly television game show are eager to join the fun with a Family Feud board game. Numerous games are available to make that possible, and here is our list of the top 3.
Top Family Feud Board Games by Editors' Picks in 2022
Top 4 Best Family Feud Board Game Reviews 2022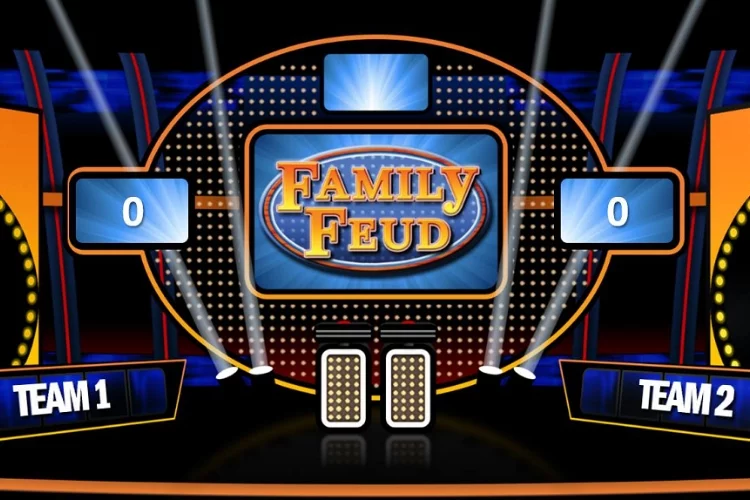 Platinum Family Feud Signature Game - Link
Do you have what it takes to win Platinum Family Feud? Survey says…yes!
Challenge your friends and family to the popular Family Feud game
For 2 or more players
Ages 8 and up
Can you name a really unpleasant way to wake someone up? Now, can you name the really unpleasant way to wake someone up that was the most popular answer among Americans who participated in the survey? That is the kind of trick that you'll have to manage to win Cardinal's Platinum Edition Family Feud board game. Gather your group, choose a host and divide into teams. The host is tasked with keeping the game moving by reading questions, deciding who was the quickest to signal, handing out strikes when necessary and revealing who gave the highest-rated answer. Players get to participate in three Face Off rounds and a bonus Fast Money round in their quest to accumulate points by being the best at coming up with what the survey said. Failure to offer an answer that is on the list results in a strike, and three strikes give the opposing team a chance to steal. When the four rounds are finished, points are tallied to determine the highest score and the winner.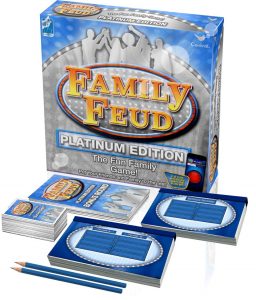 The Platinum Edition Family Feud board game from Cardinal calls for two to four players ages 8 and up. However, play goes much more smoothly when you have at least three participants so that you have someone to handle the hosting duties. Also, the game easily accommodates larger teams, so there is no real need to limit the players to just four. It comes with instructions, six strike cards, 150 Face Off question cards, 50 Fast Money question cards, two Face Off pads and one Fast Money pad for hours of frantic fun and plenty of hilarity. Are you ready to add this Family Feud board game to your game night rotation?

Family Feud 6th Edition - Game Show Home Edition - Link
ENDLESS GAMES PRESENTS: Family Feud! From the Face-Off to the Fast Money Round, the survey says…FUN! Battle it out to see who reigns supreme! The Family Feud Game is sure to provide hours of family entertainment.
SURVEY SAYS: Give the most popular answers to win. Loads of the best questions from the TV game show such as, "How much allowance should a 10-year-old get each week?" "Name a major league football or baseball team named after an animal."
DETAILS: This exciting and hilarious game includes a scoreboard, play money, crayons, a strike indicator, "X" markers, a game sheet pad with all the survey questions and answers, and complete instructions. For 3 to 11 players.
POPULAR FOR PARTIES: Silly entertainment and laugh out loud fun challenges the whole family. Great for birthdays, holiday parties, or game night. For 3 or more players ages 10 years and older.
With the Classic "Family Feud" 6th Edition board game from Endless Games, your goal is to have the most points at the end of three games. How do you do it? You think fast to come up with popular answers to questions about everything from things that are embarrassing to doze off while doing to the food that should be named the national food of the United States. Each game consists of three Face Off rounds and one Fast Money round. During a Face Off round, players compete to name a more popular answer. Doing so gives their team a chance to take control and come up with all the answers on the survey. If their team comes up with all the answers, they get the points. However, if they miss even one, the other team has a chance to steal those points by naming one of the missing answers. If the opposing team fails to offer an answer that's on the list, the first team keeps the points. After three Face Off rounds, both teams get a chance to play a fast money round. The team with the most points at the feud's finale wins.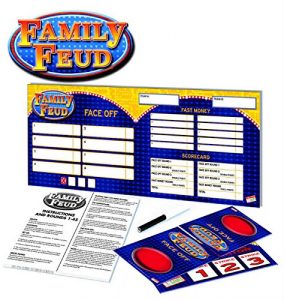 According to Endless Games, Classic "Family Feud" 6th Edition is intended for three or more players who are 10 years old or older. One of the players serves as the game's emcee while the others are divided into two teams. The game includes a wipe-off scoreboard that has places to record Face Off and Fast Money rounds, strikes, and total scores. Players also receive a wipe-off marker, two Face Off button cards and an instruction booklet that contains both the rules of the game and questions for 45 rounds. With so many questions and countless possible answers, the fun is sure to be endless.

Cardinal Family Feud Parents Vs Kids Edition Game - Link
150 Face Off cards and 50 Fast Money cards
The great family equalizer
With survey questions like "Name something magicians escape from" and "Name something that gives you problems on a golf course"
Exciting trivia fun for 3 or more players, ages 8 and up
When exuberance battles experience, who will win? Find out by playing Cardinal's "Family Feud"- Kids Versus Parents board game. Here, the generations fight it out in a battle of the wits as teams of kids and adults take turns completing two Face Off rounds before each participating in one Fast Money round. There is no need for an emcee, so everyone can join in the fun. Parents ask the survey questions of the kids, and the kids return the favor during the parents' rounds. While the highest score wins, everyone is sure to have fun. The game is a blast for the whole family and a great way to get everyone involved on your next game night.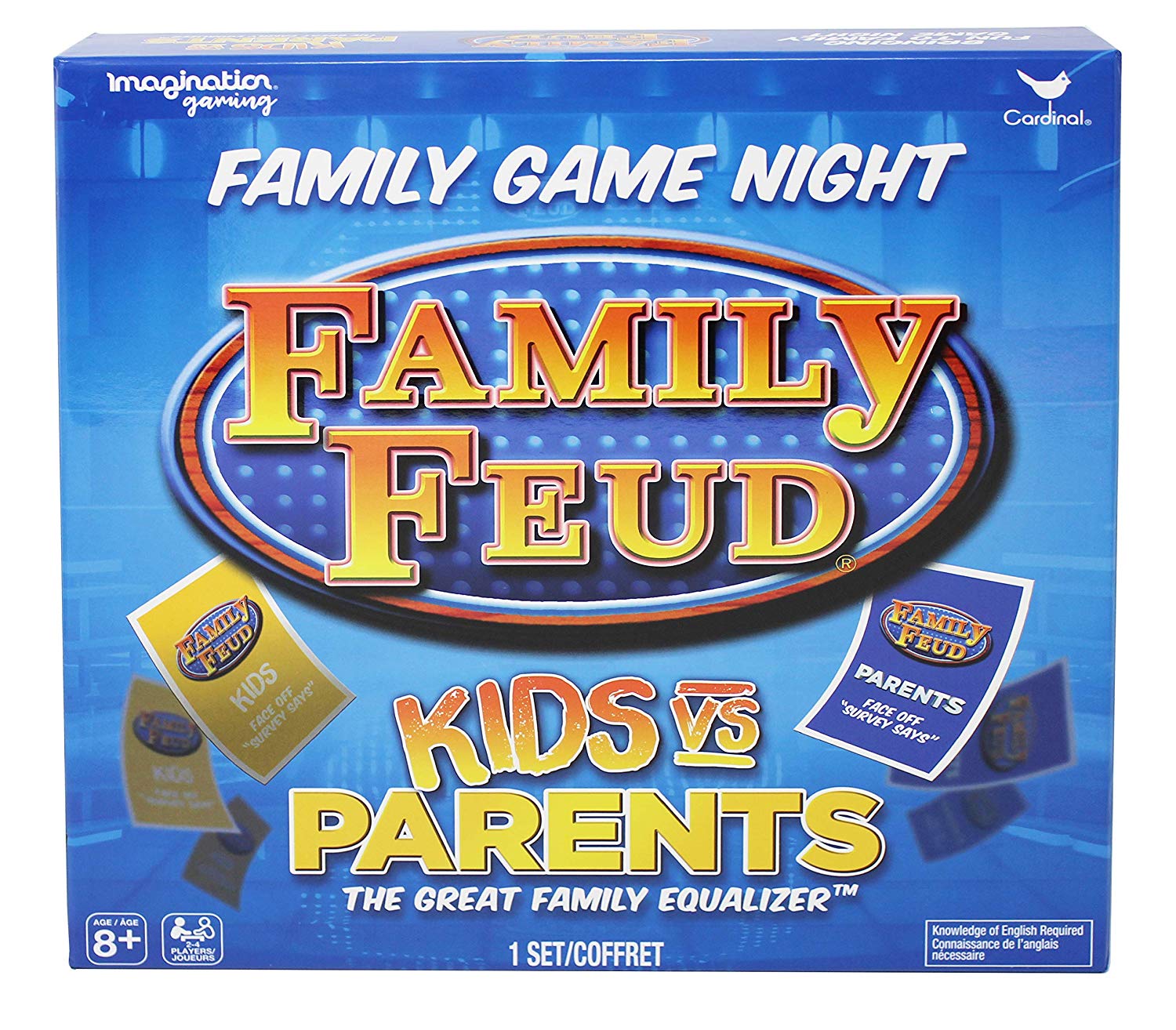 Cardinal says that the Kids Versus Parents Family Feud board game is designed for two to four players who are ages 8 and up, but the format is fairly flexible. You could certainly play with a larger group if you wanted to do so. Opening the box will reveal 75 Kids Face Off cards, 75 Adults Face Off cards, 25 Kids Fast Money cards, 25 Adults Fast Money cards, six strike cards, two Face Off scoresheet pads, a Fast Money scoresheet pad and instructions for the game. Are you ready to pit the kids against the adults? Purchase Cardinal's "Family Feud"- Kids Versus Parents board game on Amazon for $19.

Family Feud Board Game - Link
SPIN MASTER's Family Feud Big Buzzer Edition board game offers a new way to play the popular TV game show of the same name.
In this edition, there is a buzzer that has to be placed in an area accessible by all the participating family members. Asides from making the game a lot more similar to the TV game show, it also brings an extra level of excitement and fast thinking to the game. Nearly helping the family create a sense of being on the show itself.
GAMEPLAY
There are hundreds of survey questions in this edition. The family has to select a judge who will then device them into two teams (if it would be a team game). It could also be a winner takes in which the family member that answers the most questions correctly wins.
All participating family members have to try to give the most popular answers to each question to earn points each round. There are different rounds although this is down to the judge's inclination.
BOX
The game box contains an electronic buzzer, one Steve Harvey Card, a set of faceoff question cards (about 150), about fifty (50) fast money cards, among other items. There is also an instruction manual to help you properly set up the game.
Best Features
The game is incredibly easy to play
Kids friendly (aged 8 and up) so you can play as a family
Comes with an electronic buzzer to mimic the TV game show even more
Different rounds to play
Comes with a user manual so you can properly set up the game
Includes a Steve Harvey Card
Offers fantastic value for money
Perfect for family game nights, vacation games, birthday parties, etc.
NOTE: The only issue we have with this game is that there is no way to time the rounds. This means how fast the game progress is down to how quickly someone comes up with an answer. And of course, the judge can simply move on to another question if the family or participating players have a hard time answering a question correctly.

Buying Guide for the Best Family Feud Board Game
If there is anything we can all agree on, it's that the Family Feud TV game show ranks high up on any list of family game shows. The show's popularity is also a testament to this fact.
Buying a family feud board game is a lot more technical than one might think. Fortunately, there aren't many varieties of Family Feud board games on the market. Even at that, the products are all so closely related differentiating one from the other can be very difficult.
To be honest, there aren't many specifications to grade a family feud board game on. For the most part, all you have to do is verify if the product you want to buy comes with the game elements or features you want to see.
This begs the question, what are the important features or elements of a family feud game?
Cards or Book questions
As aforementioned, there are not so many different family feud games. The main reason is that most of the brands producing the board games simply release an updated version of the game on installment. These installments also referred to as Edition, come with refined questions, updated answers, and more often than not a unique feature. This unique feature will then be the product's main selling point.
There are certain editions of the family feud game that have the questions written in a book. This greatly reduces the overall experience of the game since the judge has to painstakingly read a question multiple times to the participating members. As if that isn't bad enough, there is also the issue that the judge might find it difficult to keep track of the questions they already asked. This can lead to the judge repeating questions which slow the overall pace of the game.
Newer editions of the game have the questions written on cards in clear letters. It is then up to the participating members to quickly answer the question since they can all see it.
We recommend checking to be sure the edition of the game you want to buy has the questions printed on cards.
Are the questions family or children-oriented
There are family-oriented family feud board game editions as well as children-oriented ones. You need to consider who will be playing the game with you before buying just any family feud game.
The reason for this is to ensure that everyone playing the game has an equal chance of getting the answer to the questions right.
For instance, you don't want to play a family feud game in which your younger kids can barely participate due to the ambiguity of the questions being asked.
Buzzers and Timers
There are only a few family feud game editions that come with buzzers or timers. And there are even fewer editions that come with both features.
The most common family feud board games you will find on the market do not have a buzzer or timer to keep the games fast and competitive. The general agreement is that the game progresses when one of the people playing the game provides a correct answer to the question being asked.
With the addition of buzzers and timers, a feature present in the live TV Gameshow, there is another level of excitement your family or friends get to enjoy with you.
User manual
Most of the popular family feud board games come with an instruction manual on how to set up the game. The manual also often contains unique rules that the judge or anyone participating in the game must follow.
It is, therefore, best to check if the edition you are about to buy has one. By doing that, you don't have to lose any sleep trying to figure out how to set up or play the game.
What Is Family Feud Board Game and How to Play
Family Feud is a popular board game that is based on the TV game show of the same name. The object of the game is to guess the most popular responses to survey questions.
To play, each player takes turns rolling the die and moving their piece along the path. If they land on a question square, they must answer the question. If they answer correctly, they can choose to either steal a point from another player or give them a point. The first player to reach the end of the path wins the game. Family Feud is a lot of fun and can be played with up to six players. Give it a try today!
How to Win Family Feud Board Game
In order to win the Family Feud board game, you need to know the answers to as many questions as possible. The first player to reach the end of the gameboard wins the game.

One way to become familiar with the answers is to watch the TV show and study the survey results. Another way is to use online resources like this one: familyfeudanswers.com. This website has all of the answers to questions that have been asked on the show in recent years.

So, if you're looking to win your next game of Family Feud, be sure to check out familyfeudanswers.com for all of the answers!

Fun Facts About Family Feud Board Game
The first Family Feud board game was released in 1967.
The game was created by a man named Charles Coombs.
The game was designed to be played by two to six players.
The game can be played in about 30 minutes.
Players earn points by guessing the most popular responses to survey questions.
The player with the most points at the end of the game wins.
The Family Feud board game has been a popular family game for over 50 years. It is a fun, fast-paced game that is always a hit with everyone who plays it. Thanks for reading!
Tips for Playing Family Feud Board Game With Your Family or Friends
If you're looking for a fun, family-friendly game to play with your friends or loved ones, then look no further than the Family Feud board game! This classic game is sure to keep everyone entertained for hours on end. Here are some tips for playing the game successfully:

1. Choose a team captain
The team captain will be responsible for fielding questions and making decisions on behalf of the team.

2. Be familiar with the categories
There are several different categories of questions in the Family Feud board game, so it's important to be familiar with them all before playing.

3. Pay attention to the scoreboard
Keep track of how many points your team has scored, as well as the opposing team's score.

4. Strategize with your teammates
Work together to come up with the best possible answers for the questions.

5. Have fun!
The most important thing is to enjoy yourself while playing Family Feud. After all, it's meant to be a fun, engaging game!

FAQs about Family Feud Board Games
How to play Family Feud at home?
If you want to play Family Feud at home, there are a few things you need to do first. You'll need a copy of the game board, some tokens or counters, and a die. To begin, everyone should choose a team captain. The captain will then roll the die to see who goes first. The person with the highest number goes first and play continues clockwise from there.
On your turn, you will roll the die and move that many spaces on the game board. If you land on a question space, you will have to answer the question that is listed. If you answer correctly, your team will earn points equal to the number in the red circle. If you answer incorrectly, your team will lose points equal to the number in the black circle. The team with the most points at the end of the game wins!

Can I play a family feud board game with my kids?
Yes, you can play a family feud board game with your kids. In fact, this is a great way to have some fun together while also teaching them some valuable skills. The family feud board game is based on the popular TV game show of the same name. In the game, players compete to answer questions from different categories. The first player to reach the end of the board wins the game. Playing this game with your kids is a great way to help them learn about different topics. They'll also improve their general knowledge and problem-solving skills. Plus, it's just plain fun! So grab a copy of the family feud board game and get playing.
Do Family Feud Contestants get paid?
If you're curious about whether or not Family Feud contestants get paid, the answer is yes - they do! Contestants on the show typically receive a $500 stipend for appearing on the program, and in some cases may also receive prize money if they win. So if you're ever lucky enough to be a contestant on Family Feud, know that you'll at least be compensated for your time. And who knows, you might even walk away with a big cash prize!
Does family feud show dress their contestants?
If you are planning on putting your family's problem-solving skills against other families on the show, you will be glad to know that there is no dress code for contestants.
However, it is important to dress in a business casual manner because, at the end of the day, you will be on Live TV.
Do people win cars on Family Feud?
Yes, your family can win a car on the Live show. For that to happen, your family needs to win five (5) games in a row on the show.
Can I play the Family Feud game on my computer?
Yes, you can. There is a PC game of the Live TV show produced by Ubisoft. The game is available to buy on the Microsoft Store and is also available for Xbox consoles.
The game lets you feel the authentic Family feud show experience and even comes with options to choose different AI difficulty levels.
To cap it all, the game also has a Party Battle mode which is a local multiplayer mode. This mode lets you compete versus your friends or family members on the same computer.
Is Family Feud Still on in 2022?
Yes. The show was renewed for a seventh season earlier this year and it debuted on the 6th of June 2022. The last episode of the seventh season aired on September 19, 2022.
As of the time of this writing, the Steve Harvey show has not been renewed for an eighth season. However, it is fairly safe to say it would not be canceled.
How to get on the Family Feud Show?
The Family Feud show is one of the biggest game shows in America. Steve Harvey is the show's host and he does an outstanding job keeping everyone on their toes while the game is going on.
The best and safest way to learn about joining the show, either as an audience or as a contestant is by visiting the Family Feud Official website. You can also follow the game show's social media accounts for important updates.
Buy them at eBay, Walmart, Etsy (quality guaranteed)
Family Feud 6th Edition Competition - Game Show Home Edition - Walmart, Etsy, eBay
Spin Master Platinum Family Feud Signature Game, brown/a - Walmart, Etsy, Ebay
Endless Games Family Feud 6th Edition Set Bundle Includes Strikeout Card Game, Electronic - Walmart, Etsy, eBay
Cardinal Family Feud Parents Vs Kids Edition Game - Walmart, Etsy, eBay
Trivia Box Card Game (6030654) - Walmart, Etsy, eBay
Family Feud After Hours 2018 Edition - Party Game for Ages 17 and Up - Walmart, Etsy, eBay
Conclusion for Family Feud Board Game Buyers
When it comes to feuding families, the Hatfields and the McCoys might be among the most famous, but it is easy to argue that they did it wrong. After all, unpredictable survey questions, fast quips and friendly competition deliver a lot more fun. Do you enjoy playing "Family Feud" at home but find simply raising your hand to signal your readiness to answer unsatisfying? For more of a thrill, get all the sounds from the television game show by downloading the "Family Feud" Buzzer app. It is available for both smartphones and tablets and the perfect addition to any Family Feud board game. Which board game will be the latest addition to your collection?