Harry Potter is perhaps the most well-known franchise in the world. Everyone knows about the Boy Who Lived, the lightning scar, and the magical struggle to triumph over evil. Taking the globe by storm, Harry Potter has generated (and sustained) a cult following of millions of would-be Hogwarts attendees. With this dedicated fan base has come a wide range of associated Harry Potter merchandise including board games and Harry Potter chess sets.
Clothing decorated with house colors and iconography can still be found in stores more than two decades after the release of Harry Potter and the Philosopher's Stone. Wands are easily obtained (though they, unfortunately, lack the ability to choose their owners). And, of course, the books are still displayed prominently in any bookstore worth its salt. Less commonplace are artifacts from the books themselves. Your average big box store doesn't carry a Goblet of Fire. The local bank doesn't stock galleons. And, outside of specialty game shops, it takes an internet search to find the coveted Harry Potter Chess Set.
Top Harry Potter Chess Set by Editors in 2022
Best Harry Potter Chess Set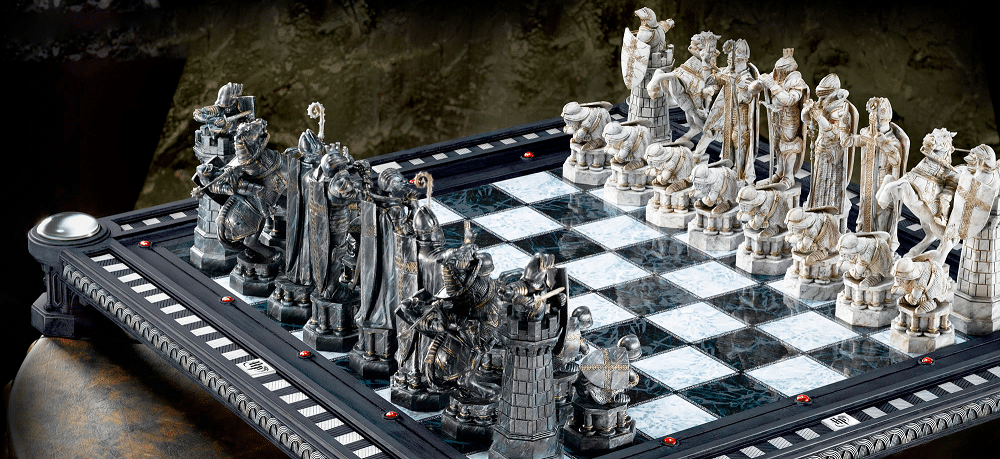 For the interested muggle, there are multiple Wizard Chess Board replicas available. We've selected three to review in this article: the Harry Potter Wizard Chess Set, the Final Challenge Board, and the Hogwarts House Quidditch Board. The boards range in quality and price, but each option is an excellent choice for any muggle looking to obtain a Harry Potter-themed set.
Harry Potter Wizard Chess Board - Link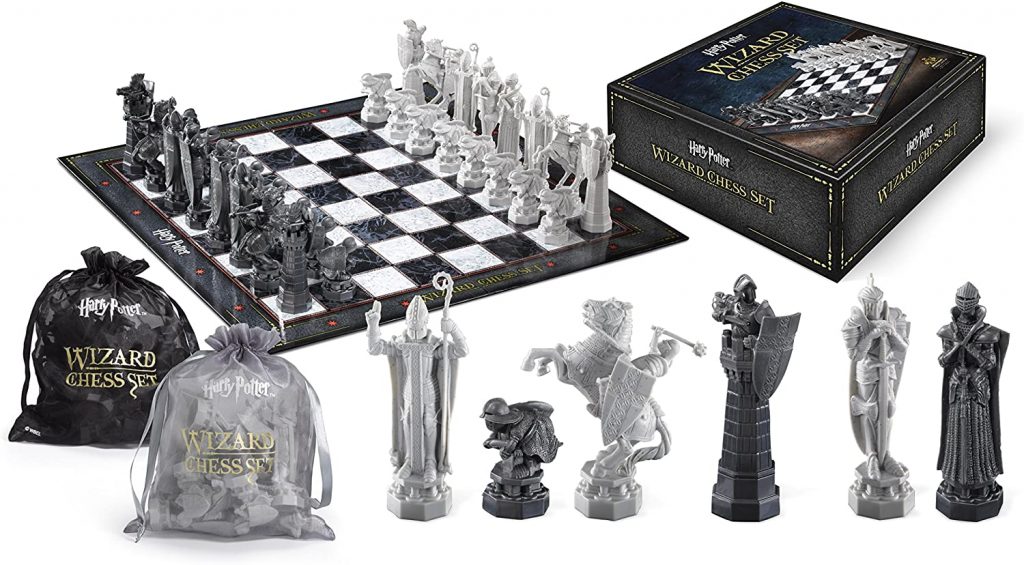 Budgeters rejoice! This detailed replica is an ideal option for new players, children, and those looking for a cost-effective display board. The Harry Potter Wizard Chess Board is officially licensed by Warner Brothers - no need to worry about getting a knock-off!
The pieces are made from a combination of plastic PVC and ABS and are painstakingly replicated from the set used in the final sequence of challenges in Harry Potter and the Philosopher's Stone. Pieces are stored in branded, color-coordinated bags and measure between 2-4" in height. The board itself consists of heavy-duty cardboard and is designed to look like marble tiles. It measures 18.5" x 18.5", fitting into the World Chess Federation's standard sizing of 16-20".
The Harry Potter Wizard Chess Board is listed on Amazon for $99.99 at full price but frequently drops as low as $35.00. This makes the chessboard a perfect investment for fans on a budget that looking for a detailed display set. It's also a great choice for getting children interested in learning chess. The durable plastic pieces are fit easily in small fingers and can tolerate being manhandled. Because of the detail in the replication, they provide a level of interest to young Harry Potter fans that might not be present when playing with a plain chess set. This affordable recreation is a great entry-level option for Harry Potter and chess fans alike.
The Final Challenge Board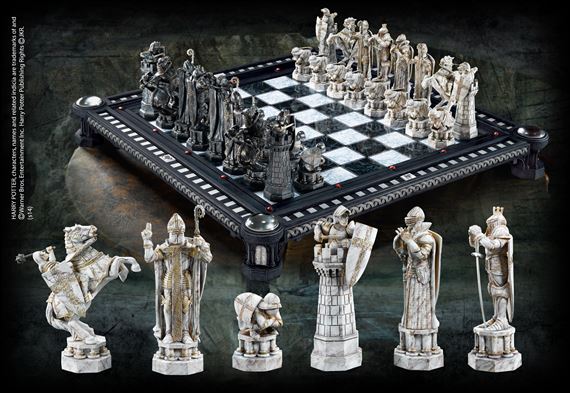 Step up into the big leagues with the Final Challenge Board! Luxurious in every way, this high-end replica is almost movie-prop quality. Every piece is carefully crafted to be an exact copy of pieces used in the 'final challenge' in Harry Potter and the Sorcerer's Stone. The board is also painstakingly designed to meet the discerning needs of Harry Potter super fans.
Fashioned from high-quality materials, the Final Challenge Board is modeled to provide a durable and professional finish. Pieces are made from die-cast zinc and stand between 2.5"-5.5" in height. They are beautifully crafted with painted gold touches highlighting each piece. The board is raised plexiglass and painted with a faux marble finish. No branding is present on the board to increase immersion.
The Final Challenge Board is an ideal investment for the serious investor. The set can be purchased on sale for $40-60 off. (At the time of this article, the Final Challenge Board was being sold online for $361.21). It's a pricey (but worthwhile) addition to any collection. For a serious fan looking to add a movie-quality replica, though, the Final Challenge Board will be worth every penny. The set is also a good option for regular chess players looking for an ornate, high-quality board.
The Hogwarts House Quidditch Board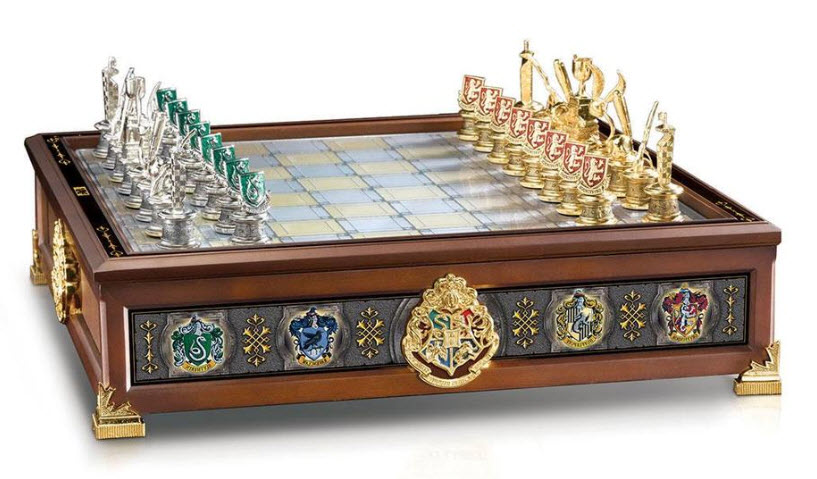 Not looking for an exact replica? The Hogwarts House Quidditch Board is an excellent choice for chess players who want more of a Harry Potter-themed board instead of a reproduction of the Wizard Chess set from Harry Potter and the Philosopher's Stone. The set is designed to mimic a quidditch pitch, with the raised board's enclosed sides decorated with house emblems and a gilded Hogwarts crest.
The standout feature of the Hogwarts House Quidditch Board is that players can choose to play with any two of the four Hogwarts houses. Fancy playing a game of Ravenclaw vs. Slytherin? Simply pick the relevant pieces when setting up the game. Each set of pawns are decorated with their house crest. Knights, bishops, rooks, kings, and queens are quidditch-themed and include a snitch, a bat and bludgers, a broomstick, and the house cup. Each piece is die-cast and enamel plated for durability.
The board itself is made of hardwood and finished with 24-karat gold plating. It's a miniature chess board, measuring 12" x 12" (far off the recommended 16"-20" from the World Chess Federation!). Playing pieces can be stored inside the board for a contained game. The Hogwarts House Quidditch Board's smaller size makes it an ideal travel game for chess and Harry Potter fans alike.
A whimsical take on Wizard Chess, the Hogwarts House Quidditch Board is a great compromise for budget collectors who are still looking for a high-quality chess set. The ability to play as any house is also a draw. Plus, who doesn't love quidditch? With the broomstick-riding sport easily being the most popular sport in the Harry Potter world, the Hogwarts House Quidditch Board combines both games into a stunningly finished collectible.
Why We Care About Wizard's Chess
Wizard's Chess is a bit different than its non-magical counterpart. The pieces move themselves around the board at the wizard's direction, grumbling about tactics and offering strategic advice. When captured, the pieces are not merely removed from the board; instead, the ensnared piece is destroyed by its opponent in a violent, magical frenzy. While undeniably entertaining, in the words of Hermione Granger, Wizard's Chess can be considered "barbaric."
Chess holds a special place in the Harry Potter universe. In Harry Potter and the Philosopher's Stone, Wizard's Chess is one of the obstacles designed to provide security for the titular artifact. A challenge for brainy Hermione Granger, Wizard's Chess is the obstacle Ron Weasley excels at. He sacrifices himself during the game, allowing his friends to continue along their path to the stone. Though less prominent in the other books, Wizard's Chess also appears throughout the rest of the series as a challenging recreational activity for savvy wizards and cocky newcomers alike.
Conclusion
No matter your budget, there is a Harry Potter Wizard's Chess set for you. If you're intending to actually play a game of chess using the board, the Hogwarts House Quidditch Board is likely to provide the most versatile player experience. If, instead, you're attempting to entice children into the world of chess (Wizarding or otherwise), your best bet is the Harry Potter Wizard Chess set. Its plastic pieces and low price tag make it an ideal introduction to the game. Finally, serious collectors will revel in the movie-level detail found in the Final Challenge Board.
A parting word of caution: there are many knock-off versions of Wizarding Chess available. Before purchasing a Harry Potter Wizarding Chess set, it's important to do your research. Otherwise, you might end up with poorly replicated pieces lacking in detail and durability. Check for official Warner Brothers licensing to ensure that your new set is a quality purchase.