Are you looking for a fun little activity for the kids or to entertain guests with? Or maybe you don't have enough room for a full sized air hockey table. In either case, a tabletop air hockey table could be perfect for you in a family room or another room for entertainment. To help you pick one out, we put together a list of our favorite tabletop air hockey tables. Let us know what you think!
Top Tabletop Air Hockey Tables by Editors' Picks
Best Table Top Air Hockey Game for Kids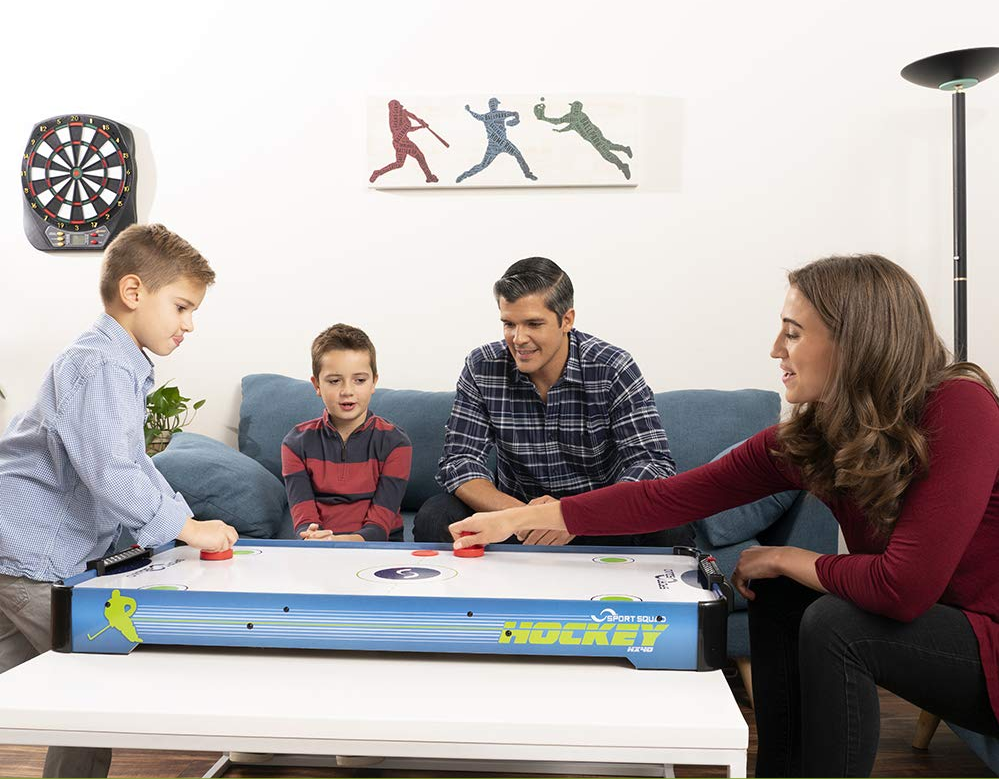 Since a lot of parents look for a table top game for their children, I kept that mind when comparing all the top rated air hockey table top game sets.
1. Playcraft Sport 40-Inch Table Top Air Hockey - Link
Based on my research, I've decided that the Playcraft Sport 40-Inch Table Top Air Hockey is my top pick. It's great for adults without a lot of space at home, as well as the best air hockey table top version for kids. Plus, it is a cheap air hockey table and our review rating is good and with high quality.
includes 2 pushers and 2 pucks
CE certified and ul approved motor.
What I really like about this one is that it has a good size at 40-inches. And, it comes with 2 pucks, 2 strikers and an air-powered motor. It really almost gives you that "at the arcade" feel.
Where to Buy:
What I don't like about it is that it's made from MDF. Sure, that is a sturdy build but I prefer something a bit more high quality that this. That being said - if I was on a tight budget and needed something for a small space, then this would definitely be my pick.
Bottom line: it's easy to put together, it can stand up to aggressive players, it's a good choice for kids, great for limited space and it's very cheap. But, if you want something a little nicer and don't mind a higher price, then check out the Carrom 42-in Power Play Hockey Game . Carrom is one of the best air hockey table brands and this model doesn't disappoint, to me.
2. Sport Squad HX40 40 inch Table Top Air Hockey Table - Link
HIGH OUTPUT FAN CREATES A REALISTIC ARCADE-STYLE GAME PLAY: Powered by AC-12V motor and included adapter, the electric fan provides powerful, yet quiet and even airflow for a smooth and frictionless playing surface.
5 MINUTE EASY ASSEMBLY: Simply attach the 2 goal boxes and you're ready to play! Comes with 2 air hockey strikers and 2 pucks. The manual sliding abacus scorers help keep track of total goals and the goal boxes offer convenient hockey puck return.
PORTABLE, COMPACT DESIGN: Fun and competitive, the HX40 slide hockey table is made of durable MDF. DIMS: 40"L x 20"W x 5"H and weighs 14 lbs. The compact air hockey table features non-marking rubber pads to protect all your table surfaces.
100% SATISFACTION GUARANTEE: Sport Squad listens and learns from your feedback to create quality gameroom equipment for kids & adults. If you're not 100% satisfied or have product suggestions our customer service team is available to help.
The Sport Squad 40-inch Electric Tabletop Air Hockey Table allows you to add entertainment to your game room without worrying about additional floor space. It is powered by an AC-12V motor, allowing the fan to blow quietly and powerfully so that the play is frictionless. The air hockey table is lightweight at 14 pounds, and its compact size allows you to easily transport it. The legs have rubber stoppers so that it will not mar the surface of your table.
Where to Buy:
The assembly of the tabletop air hockey table takes just five minutes. It comes with two goals, two pucks, and two hockey strikers. Sport Squad is based in the U.S. and offers a 100% satisfaction guarantee. The hockey table is 40 inches long, 20 inches wide, and five inches high, allowing you to easily store it when it is not in use. It also comes with an adapter for the motor so that you can enjoy continuous play. The Sport Squad Tabletop Air Hockey Table is sturdy and can provide your friends and family with hours of enjoyment for years to come.
3. Rally and Roar Tabletop Air Hockey Table - Link
IMPROMPTU GAME, ANYTIME: In under 15 minutes, you can assemble this mini-series tabletop hockey game, making it the perfect addition to parties, pub crawls, Family Game Night or tailgates. Simply attach the padded legs and goal box and you're ready to go!
EVERYTHING YOU NEED: The Rally and Roar electric-powered air table comes with all the pieces you need for a challenging game of table top hockey. With two scoreboard options, 2 mini pucks, and 2 mini pushers, you have all the accessories you need.
SMALL SIZE, HUGE POWER: This air hockey machine comes with a CUL-certified, AC-12V motor for optimal air flow and puck fluidity. Requiring nothing other than a socket, simply plug in your table hockey unit with blowers and you're up and running.
PREMIUM CONSTRUCTION: This air hockey equipment is derived from dense fiber wood with optimal dual airflow for sleek playing conditions. The legs are durable, sturdy, and foam-protected so your game won't cause scratches or surface damage to furniture.
The Rally and Roar Travel-Size Tabletop Air Hockey Table comes with an LED score tracker, two mini pushers, and two mini pucks. It is powered by a CUL-certified AC-12V motor to provide you with good airflow so that the play will be smooth. After you have assembled the table, you can simply plug it in to enjoy a quick game. The tabletop air hockey table is durably constructed out of dense fiberboard. Its legs are padded with foam to prevent them from scratching the surface of your table.
Where to Buy:
It takes less than 15 minutes for you to assemble the tabletop air hockey table. The legs are detachable and can be reattached in minutes. You can easily transport this tabletop air hockey table, allowing you to bring it with you to your next event or party for fun with your friends. Once assembled, the Rally and Roar Travel-Size Tabletop Air Hockey Table measures 40 inches long, 20 inches wide, and nine inches tall. You will need to use two AAA batteries, which are not included.
4. Best Choice Products 40in Air Hockey Table - Link
ARCADE-STYLE GAME: Enjoy intense striking and endless fun with a mini arcade classic that brings the joy of friendly competition to any table!
COMPACT & PORTABLE: Crafted with a lightweight design, this compact game table can be taken anywhere and is versatile enough for use on the floor or table
STRONG MOTOR: An electric, 100V fan motor propels air up through the top of the table to create a smooth, frictionless surface for the puck to move across
ABACUS SCORER: Designed with manual sliding scorekeepers and goal boxes, plus a convenient puck return on each side; 2 strikers and 2 pucks also included
The Best Choice Products 40-inch Air Hockey Table comes with a 100 volt electric motor for smooth and frictionless play. Fully assembled, it measures at 40 inches long, 20 inches wide, and 8.5 inches tall. This table boasts a quick assembly time and comes with two goal boxes, two pucks, and two strikers. It has abacus scorers on each end so that players can keep track of who is winning. This tabletop air hockey table weighs just 16 pounds, allowing you to easily transport it and to store it in an out-of-the-way location such as under your bed or in a closet.
Where to Buy:
The table is multi-colored with tan wood balanced with striking black features to contrast. When you assemble the table, you will simply have to use a screwdriver to attach the legs and the goal boxes. It is a good choice for players of all ages, including both children and adults. The table is well-constructed and durable, allowing your family to enjoy it for many hours of fun.
5. Point Games Blazing Air Hockey - Link
ENJOY ENDLESS FAST-PACED ACTION FUN: Ice hockey is a game of quick reflexes, smart lightning-speed moves and immediate comebacks, which makes it one of the most amusing and fun table games. Children of all ages will simply fall in love with it!
PERFECTLY SAFE ENTERTAINMENT FOR YOUR KIDS: This is a mini table top air hockey game, 21 inches and was designed keeping your children's safety in mind - its corners aren't sharp and none of the accessories included can be swallowed.
A COMPLETE SET WITH ALL NECESSARY ACCESSORIES: This air hockey set includes everything you need to enjoy your games; a high powered fan for blazing speed, 2 sliding score trackers that require batteries (not included), 2 pucks, 2 paddles and, of course, the board itself!
EXCELLENT CONSTRUCTION QUALITY: When it comes to our mini table top air hockey boards, we make a point of using nothing but premium high quality durable hard wood and modern production processes, so that they meet your highest standards and they can last you a lifetime!
The Point Games Blazing Air Hockey Table is a miniature tabletop air hockey table, measuring at 21 inches long. It has rounded, smooth edges so that kids will not hurt themselves, and the pieces cannot be swallowed. It comes with two strikers and pucks, and it has two sliding scorers that are located on each end above the goal boxes. The air hockey table is completely battery powered and takes three AA batteries to run. The Point Games Blazing Air Hockey Table is perfect for children because of its small size and safety features.
Where to Buy:
The tabletop air hockey table has a strong fan so that the players can enjoy smooth playing action. It is simple to set up and can be ready to use within minutes. Because of its small size, it is very easy to transport and to store when it is not being used. It is compact and sturdy, so it should last for a long time. The fan provides an even flow across the playing surface.
Related Articles
- Best Air Hockey Table
- Best Kids Air Hockey Table