As you play games on your air hockey table at home, there's a risk of losing some of your air hockey pucks - especially if you have children. Even if you don't end up losing any of the pucks, some aggressive game play can result in some damage to the pucks. When they're damaged, they don't move as well on the table surface, which has a negative effect on your game play. So, if you end up with missing or damaged air hockey pucks, then you should get some replacement pucks for your table. But you can't just buy the first replacements that you find! Let us help you find the perfect replacement air hockey pucks pucks for your home air hockey table.
Top Air Hockey Pucks by Editors
Top Air Hockey Pucks Reviewed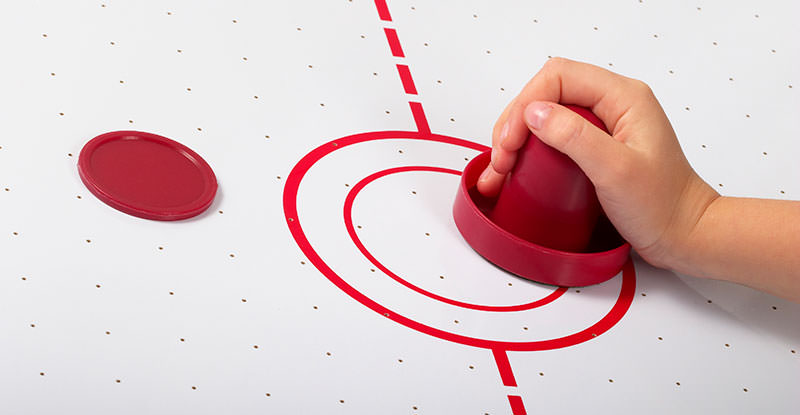 Here are our reviews of the top rated air hockey pucks. If you are looking for an in depth buying guide, scroll past the reviews and check out what we have to say at the bottom of this page. Here's our rundown and reviews of the top 5 air hockey puck sets:
1. Dynamo 2.5″ Air Hockey Pucks Set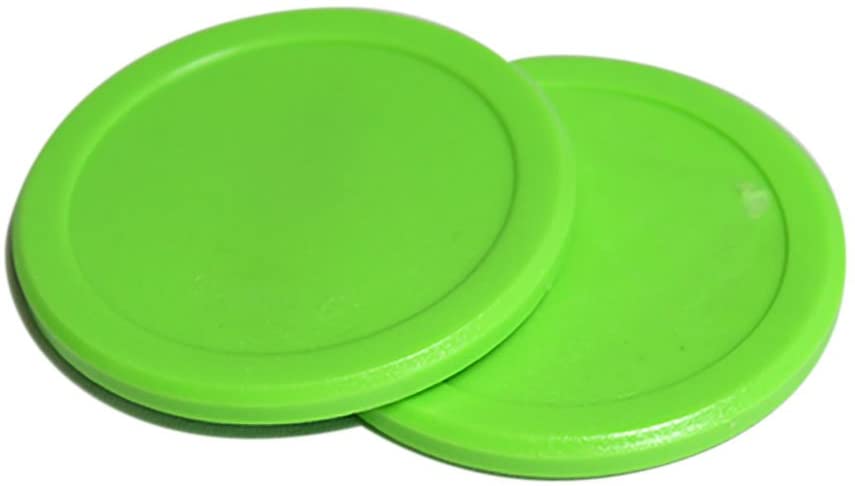 Dynamo is one of the most dependable sellers of durable and cheap air hockey pucks. This specific air hockey set is one of the best recommendations to get you started. The set has two pucks of excellent quality and 2.5-inch in diameter.
They're made from durable, commercial-grade plastic and will last you a year or two each. Given how cheap this set is, you're set to get maximum value with a puck to get you started and a replacement puck in case you lose the first one.
These fluorescent green pucks belong to some of the heavier weight ranges of air hockey pucks of this size, so make sure your air hockey table is fitted with a decent air blower to support its weight. Also, be sure to choose the correct puck set.
Pros
2 Pucks
Heavy type
Good build quality
Inexpensive
Cons
Smaller diameter
No striker inside the set
Better blower needed in the table
2. Dynamo 3.25″ Air Hockey Pucks Set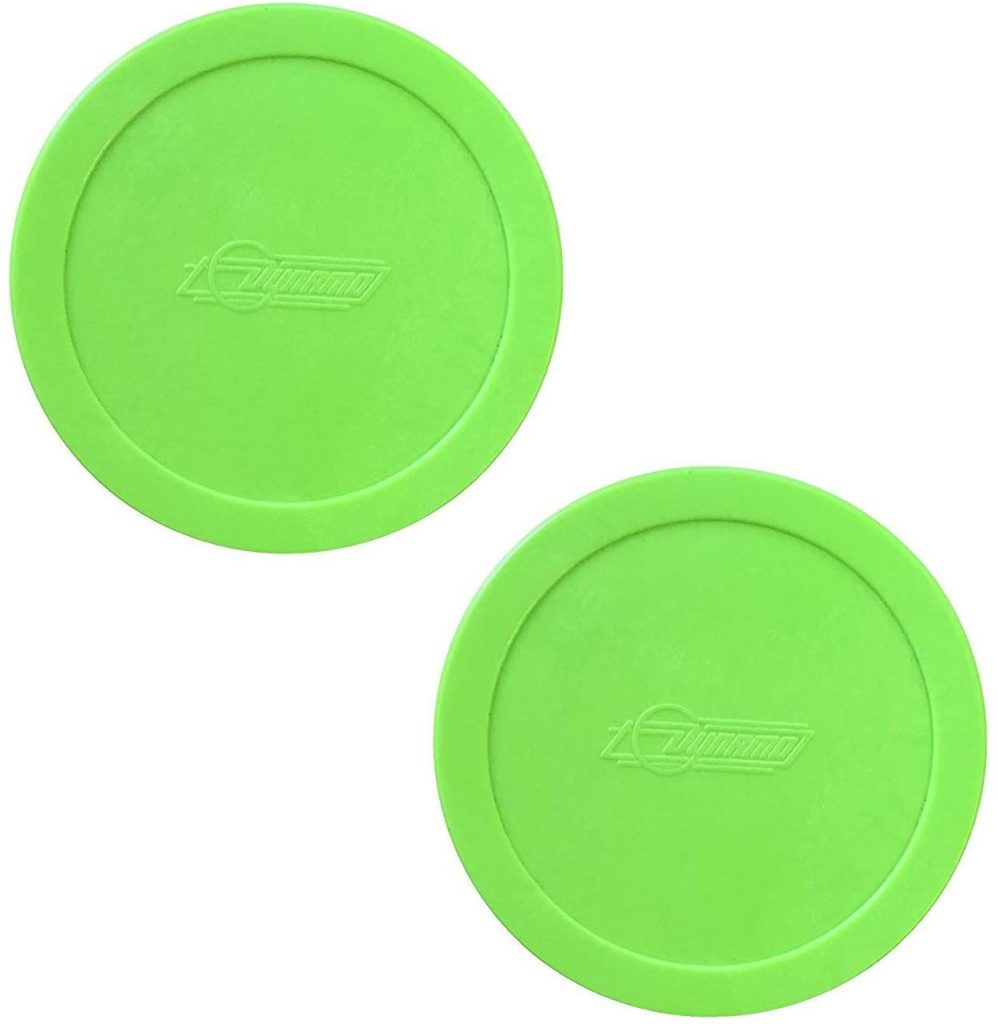 Here's another set of some trusty pucks to shoot into the opponent's goal. This set of Dynamo air hockey pucks also contains two pucks in case you need a back-up replacement. The set contains high-quality pucks with a diameter of 3.25 inches. Each puck is also a quarter of an inch thick and weighs 1.4 ounces, a standard for pucks of this diameter.
The quality of the pucks is what you would expect from Dynamo. On average, each of the pucks will last for 2-3 years. They also support most types of tables and attached air blowers, so that shouldn't be a concern. The best thing is that they are fluorescent and will glow in low lighting, making them a blast to play in arcades and dark game rooms.
Pros
2 Pucks
Big Diameter
Good build quality
Glow in the Dark
Support for most table blowers
Cons
No striker included
May require a bigger air hockey table
3. Dynamo 3.25″ Air Hockey Pucks Set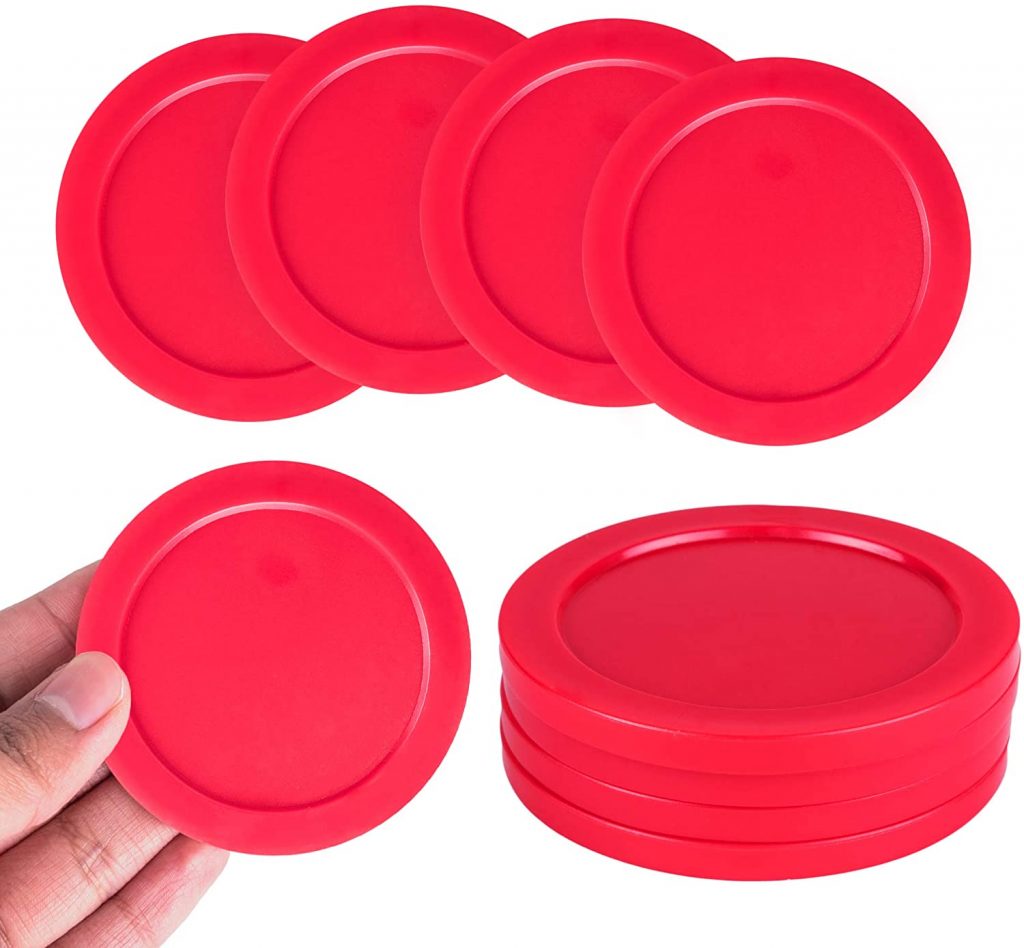 Probably the most economical choice on this list, the Super Z Outlet Home Air Hockey set is inexpensive and consists of 4 red air-hockey pucks. Combined, these durable pucks could provide you with 6-8 years of arcade-style fun. You won't have to worry about losing a puck or playing on two tables simultaneously when you have four of them to go around.
Each puck has a 2.5-inch diameter, weighs approximately 13 grams, and is made of smooth plastic of good quality. The pucks are aerodynamically efficient due to their design, and the bright red aesthetic is a fan favorite in the arcade.
These are a bit lighter and smaller than most standard pucks, making them ideal for smaller tables and almost all air blowers. They may not be appropriate for adult players due to their structure and are more suitable for younger players.
Pros
4 Pucks
Low Price
Good plastic
Works with small tables
Support for most table blowers
Cons
No striker included
Not great for strong air blowers
Not great for hard striking (may jump off the surface)
4. Hathaway Pro-Series Air Hockey Striker and Puck Set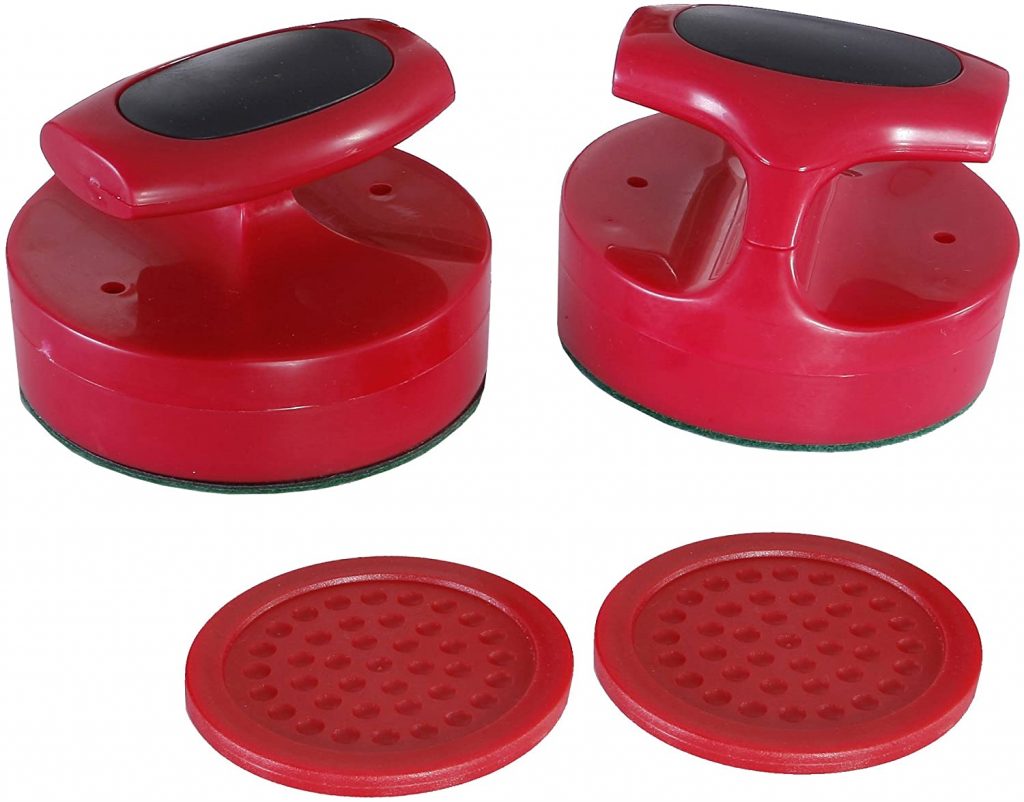 If you have the table prepared and want to initiate the complete air hockey experience, Hathaway Pro-Services Air Hockey Striker and Puck Set has got you covered. It comes with not just functional and beautifully designed two 3-inch pucks, but two high-quality strikers as well.
These chip-resistant pucks and strikers are made from ABS materials that can withstand years of intense, hard-hitting gameplay without taking any significant damage. The pucks are highly durable to last long, and the strikers are of much better quality than most of the standard strikers out there.
These pucks are heavier weighted and offer a much more controlled and comfortable grip than regulars. The pieces inside the set are crafted to give you the ultimate and pleasant air hockey table play experience.
Pros
2 Pucks + 2 Strikers
Excellent Build Quality/li>
Made for quick action
Cons
More Expensive
Works best on bigger tables
Needs a strong air blower
5. PBOX Air Hockey Replacement Set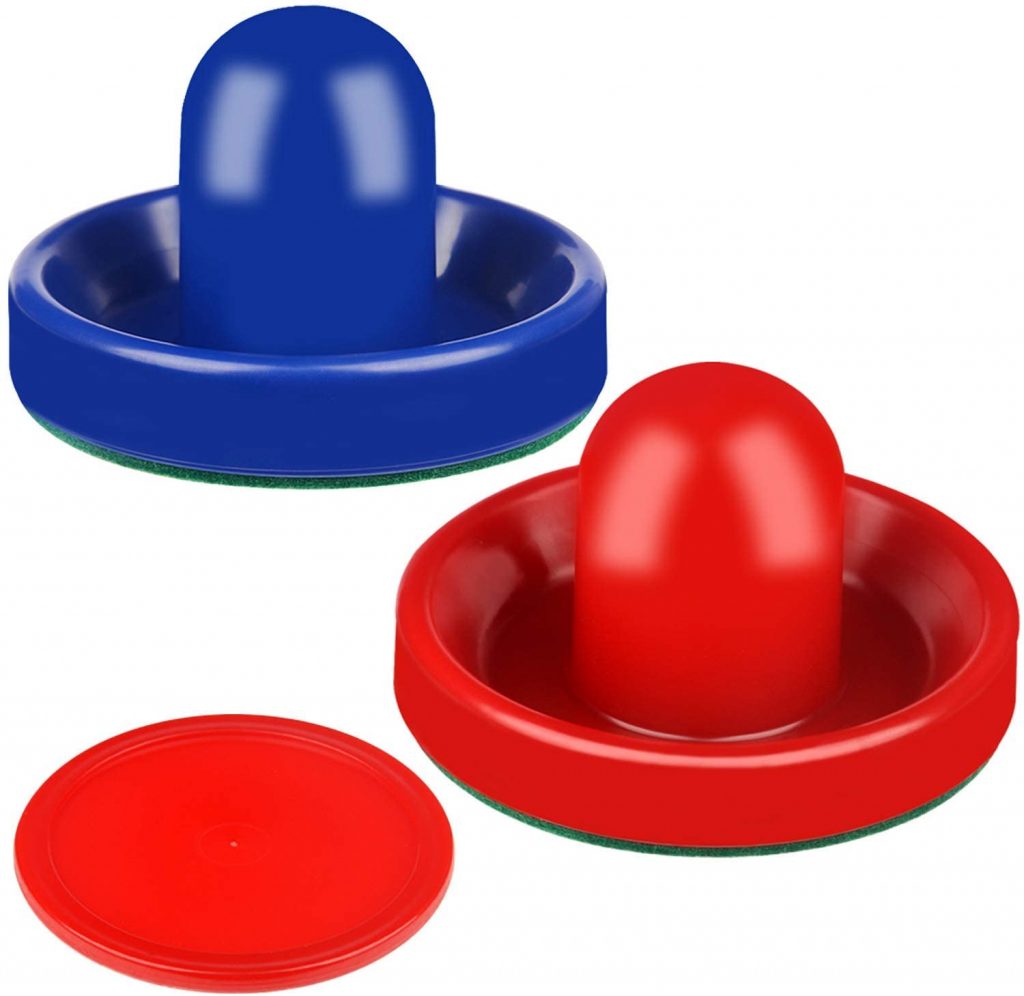 This set is the perfect fit for you if you're looking to arrange an air-hockey game night or own your own arcade with multiple air hockey tables. The set contains 8 air-hockey pucks, each of high quality that can last 2-4 years of use. These accessories are made to complement most air hockey tables, without causing any damages to your costly table's surface.
On top of that, the set provides you with 4 ABS-material strikers, two blue and two red. The bright red color will provide you complete visibility during a game. Air hockey is normally a 1v1 game, but it can be played in teams of two, and this set is perfect for the purpose. The bright red pucks are thick and sturdy; you can rest assured they'll hold out against immense push and bump.
Pros
8 Pucks + 4 Strikers
Excellent Build Quality/li>
Appropriate for all ages
Cons
More Expensive
Works best on bigger tables
Getting The Right Pucks
You need to be sure that you buy replacements that are similar to the originals that came with your table. This is important because the proper pucks move just right on the table surface, while the same is not true for those pucks that are the wrong size.
So, be sure that you're only looking at pucks that are the same size/shape as the originals. Now that you've narrowed down your choices, the next thing that you need to pay attention to is the weight.
You don't want pucks that are too heavy or too light. Why? If they are too heavy, then they will not move easily on the table surface. And if they are too light, they will basically fly across the table since they will be too high up from the table's surface.
Another thing to consider is the quality of the puck. Those that are of lower quality will often get scratched during game play, with negatively affects your game play.
Tip: You should clean the pucks regularly to extend their life span.
Another thing to keep in mind is that you can use pucks that are odd shaped, like the triangle ones that are available for sale, to give your games a bit more of a challenge. Though we don't advise that you regularly play with non-regulation shaped pucks.
Conclusion
Whether it's family game night or a fun weekend get-together with friends, air-hockey is a fast-paced, competitive recreational activity that you can do together. That's why the air hockey table is an excellent investment for your game room. But you'll need to know which kinds of pucks you'll be needing for your particular table, air-blower, player age-group, and striker quality. By referring to the buying guide, you'll either find a puck set that suits you or get a better idea of which set of pucks would make for the best possible purchase.