Cue sticks, also known as pool cues, pool sticks and billiard cues among other names, are the single most important piece of equipment in a pool player's arsenal. Each year, millions of these sticks are manufactured, ranging from budget-friendly sticks for beginners and home users to professional cues that are used by some of the world's best players.
But with so much variety out there, how do you go about choosing just the right cue for your needs and preferences? This is a question we will answer in some detail in the article below.
Editor's Recommendation: Top Pool Cue Sticks
Best Pool Cue Sticks for the Money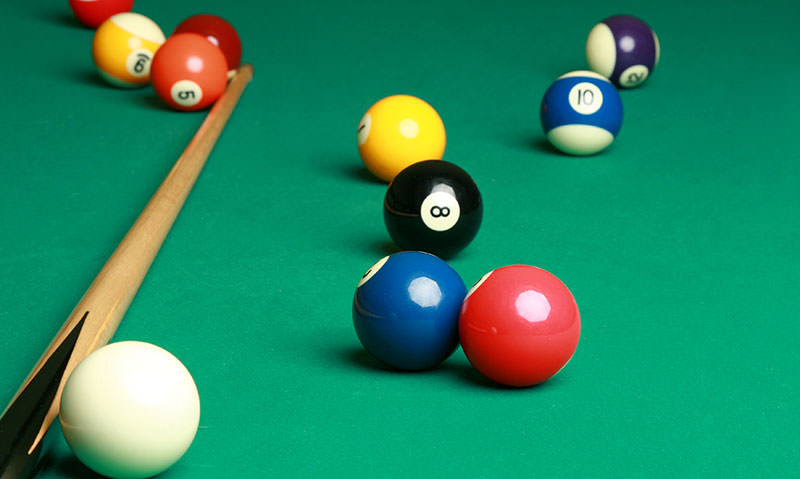 Here we have reviewed several of the best-selling and most popular cue sticks on the market today, and highlighted the pros and cons associated with each cue. We have also included a Pool Cue Buying Guide, in which we will discuss the many factors and characteristics you should look for when shopping for your next pool cue.
Lucasi Mystic Black and Curly Maple Pool Cue - Link
A cue stick designed for those who are serious about their game, the Lucasi Mystic Black and Curly Maple Pool Cue is a two-piece stick that you have to experience to truly appreciate. Treated with a solid black, double-pressed Irish linen wrap, the cue stick offers a traditional, no-slip grip and superb feel. Its "solid core low deflection technology shaft" provides a firm and shock-absorbing hit every time, and the Everest tip by the Tiger Corporation is made of layered leather, allowing it to "hold its shape like a hard tip, strike like a medium tip and provide the control of a soft tip."
The Lucasi Mystic Black and Curly Maple Pool Cue is available in weights ranging from 18 ounces to 21 ounces, including half-inch increments. Made entirely of maple, the cue stick is extremely durable, and its joint is incredibly sturdy. The cue stick measures 52 inches and its super straight shaft is designed to give your game a jump start by making each shot travel on a truer and straighter path. Its classic black maple finish makes it look great in your home billiards room, and its modern technology makes it the ideal cue for anyone looking to enhance their game.
Pros
Different Weights Available. The Lucasi Mystic Black and Curly Maple Pool Cue is available in weights ranging from 18 ounces to 21 ounces-in half-ounce increments-increments that are not typically available on other cues.
Great Feel. According to billiard enthusiasts, the maple wood makeup of this cue gives it "amazing feel."
Lifetime Warranty. The Lucasi Mystic Black and Curly Maple Pool Cue comes with a no-questions-asked lifetime warranty.
Cons
No carry case included. There is no carrying case included with the two-piece Lucasi Mystic Black and Curly Maple Pool Cue, so that will need to be bought separately.
Premium priced. The materials and extras associated with this fine pool cue gives it a premium price that might not fit the budget of some home pool table owners.
If you're shopping for the best pool cue under $200, then this model is a decent choice for someone shopping in the $100 - $300 price range. It feels great in your hand and seems to be of good quality. We think this is a cue stick that you'd be happy playing with for many years to come.
Imperial Eliminator Pool Cue - Link
Available in either one or two pieces, the Imperial Eliminator Pool Cue is a great entry-level stick for the entire family of billiards enthusiasts. Made of hard-rock maple, the cue is very sturdy and long-lasting, and its medium type tip provides a good measure of control and feel while also making it perfect for firm shots and breaks. There are four length options available with the Imperial Eliminator Pool Cue, ranging from 36 inches for junior players to the two-piece 58 inch model for those who prefer a longer stick. There are also cue sticks measuring 46 inches and 52 inches. Most eliminator pool sticks weigh between 18 ounces and 19 ounces depending on the manufacturing run, offering a great deal of versatility for players of different skill and ability levels.
A budget-friendly cue stick, the Imperial Eliminator Pool Cue is the perfect cue for the home pool table, offering the same level of durability as those sticks found in pool halls and bars around the country.
Pros
Budget Friendly. The Imperial Eliminator Pool Cue is the most budget-friendly pool cue on our list.
Available in one and two pieces. Purchasers of this pool cue can choose between a one-piece model and two-piece model at different lengths.
Great for beginners. With its medium tip, the Imperial Eliminator Pool Cue is a great pool cue for beginners.
Cons
Entry-level only. The Imperial Eliminator Pool Cue is not the pool cue of choice for more advanced players.
One weight only. There is no option for a different weight balance on either the one-piece or two-piece Imperial Eliminator Pool Cue.
If you're shopping based solely on your budget, then you might be looking for the best pool cue stick under $100 or under $50. There are a lot of options in the under $100 budget range, but we think that this pool cue is a great choice for the budget minded player who is new to the game. This is truly an entry-level cue stick, so skip this one if you're a more experienced player.

AB Earth 2-Piece Pool Cue/Pool Stick - Link
A great pool cue for beginners, the AB Earth 2-Piece Pool Cue/Pool Stick boasts a maple butt with sleek decals, making it look great in any home pool cue rack. Its ergonomic design gives it a great feel, especially for newer players just learning the game. The cue is 57 inches in length when fully assembled, and usually comes in at a weight of 19 ounces-a great average weight for most players.
Available in a wide range of colors and priced to sell, many people will want to buy multiple AB Earth 2-Piece Pool Cues/Pool Sticks to spruce up their billiards room. It is a great stick for younger players, and its maple makeup makes it extremely sturdy and durable. Its two-piece design makes it very portable, and the medium cork tip offers solid contact with the cue ball.
Pros
Great entry level cue. With its budget-friendly price, the AB Earth 2-Piece Pool Cue/Pool Stick is the perfect cue for beginners starting out.
Good performance. For the price, this pool cue performs very well and provides a good feel for players.
Ergonomic handle. The ergonomic handle on the AB Earth 2-Piece Pool Cue/Pool Stick gives it a great feel for new players.
Cons
One weight only. The AB Earth 2-Piece Pool Cue/Pool Stick is a 19 ounce stick-a good average weight-but it is not offered in lower and higher weights.
Problems with shaft. Some players have reported that the cue sometimes arrives with a slightly bent shaft, which could be due to the non-descript wood that is used to make it or some lax manufacturing processes.
Despite some problems in the production happening occasionally, this is still a good value if you're relatively new to the game and want a decent entry-level billiard cue until you develop your skills.
When shopping for your next pool cue there are several factors and characteristics you may want to consider. In doing so, you'll have a better chance of selecting just the right pool cue for your preferences and game style. Here are just a few of those factors and characteristics to look for:
Understanding the Basic Components of a Pool Cue
There are several components that make up your standard pool cue or cue stick. These include:
Shaft. The shaft is the long, thinner part of the pool cue near the top of the stick. It can be made of several different materials, including wood, graphite and even aluminum.
Butt. The butt or butt end of the stick is the thicker part of the cue near the back of the stick. This is the largest part of the pool cue and it is also available in all of the above-named materials.
Bumper. The bumper or butt cap of the stick is the rubber piece at the very bottom of the cue. This protective piece keeps the stick safe from breakage when it is resting on the floor.
Tip. The tip, or cue tip, is the part of the cue stick that actually strikes the ball. The tip can be made of several different materials, including leather, composite and even cork.
Joint. In two-piece pool cues, the joint is where the shaft of the stick meets or screws into the butt of the cue. This is typically made of metal (brass) and has a pin that fits into the center of the cue shaft.
One-Piece or Two-Piece
Pool cues are available in one-piece models and two-piece models, with the latter usually being reserved for more advanced players. If you are buying pool cues for a home-based pool table, we recommend you go with one-piece cues, as they are more durable and keep you from having to assemble a cue every time you want to play. Two-piece pool cues, on the other hand, are the perfect choice for those who want portability in their cue-people who play at different pool tables regularly.
Material Used
Most pool cues are made of various types of wood, with maple being the most prominent type of wood used in their construction. Wood cues are hard and durable, and are typically the choice of experienced and professional players. Graphite cues are becoming more and more popular for the feel and control they offer, and they will not warp over time like wood. The exact material you choose is more a matter of preference. We recommend you try out several different materials before making your selection.
Weight
Pool cues are generally available in weights ranging from 16 ounces to 21 ounces. Some cues even offer half-inch increments (17 and a ½ ounces, etc.). Like the material used, weight is more a matter of preference than it is a matter of strength. Heavier cues are great for breaking as they offer a lot of power, but lighter cues can often offer more feel and control. Some sticks will even have removable weight bolts so players can adjust the weight for various shots like breaking, where more power is desired.
Length
Most adult pool cues come in lengths of 52-58 inches. Although also considered a matter of preference, we recommend longer sticks for individuals with greater "wingspans," and shorter length cues for those with shorter arms.
Tips
Most cue tips today are made of one of two materials: leather or composite. Leather tips are softer and offer greater feel and control, while the composite tips are much harder and durable, perfect for power-type shots. The majority of professional-level tips are made from leather that is layered for different degrees of hardness. There are soft-tip cues, which offer great feel and control, medium tips that are great when a combination of feel and power is needed, and hard tips for shots like breaking. For best results, try out cues with tips of varying hardness before making your decision.
Straightness
If you purchase a pool cue you expect it to be "perfectly" straight, but that is simply not the case with all pool cues, especially those on the lower end of the price spectrum. Be sure to inspect the cue for total and complete straightness before making a final purchasing decision.
Pool Cue Stick FAQS
When you're shopping for your first billiard cue stick, it's common to have a lot of questions. And there's nothing worse than trying to play a game of pool with a crappy cue stick that just doesn't work for you. So, let us see if we can answer some of the questions that you might have.
What is the best brand of pool cue?
While this is a great question to ask, it is really irrelevant if you are a beginner because you really have no need for a top of the line pool cue. But, if you want to plan ahead and think about some of the premium pool cue sticks that professionals might use when playing, then we can give you an idea of some of the cue stick brands on the market right now thanks to the people over at Ranker.
McDermott - see the
Meucci - for an awesome premium pool cue check out the
Schon - check out one of the most expensive pool cue sticks we've seen - the
Joss
Lucasi
Pechauer
Jacoby
Ob
Mezz
Balabushka
Some of these brands have affordable options in the pool cues under $200 - $300 range, so if you want to start out upgraded then you can do so. Or, just check out our list above of the top pool cues for beginners!
What is the most expensive pool cue in the world?
While that Schon cue stick above is expensive to us at over $1000, it is not the most expensive pool stick in the world. That designation goes to the McDermott Intimidator Masterpiece Cue. It's an awesome looking cue stick that was designed with the fantasy geek in mind. And this one-of-a-kind cue stick sold for a whopping $150,000 in 2015!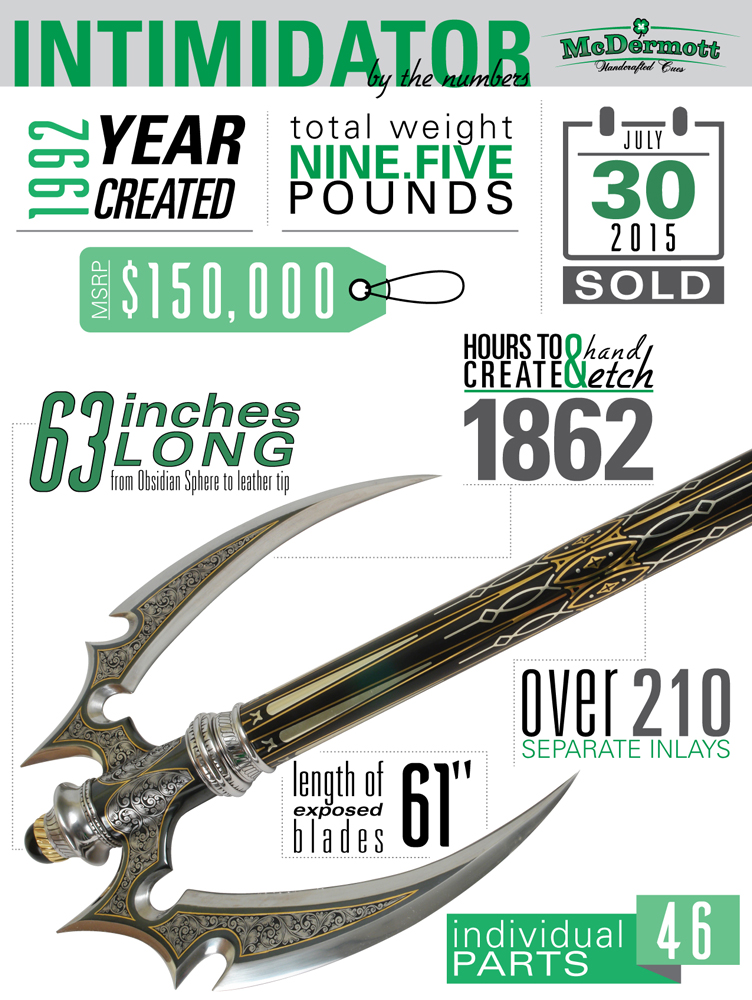 Looks super cool, huh? Though I can't say that I'd actually want to play with that thing cause those sharp points look really dangerous!
What weight of pool cue should I use?
This is a really common question from new players. We suggest that you visit a local billiards shop to get a feel for the different weights, but we know that is not always possible. So, the general rule of thumb is that you should play with a weight that matches your abilities.
Lighter sticks (18 & 19 ounces) give you more snap. The result is that the cue ball is lively and the object ball sinks in the pocket slowly.
Heavier sticks (21 ounces) don't offer as much snap since they're heavier. The result is a slower cue ball and the object ball sinks in the pocket faster.
If you can't control the cue ball, then your stick is probably too lightweight for you.
The cue stick might be too heavy for you if you have issues drawing the ball.
Not sure which weight to choose? We suggest a 19 ounce because that seems to be the sweet spot for most players. So, see how that treats you and then you can always adjust later on once you get more comfortable playing.
What is the best tip size for a pool cue?
The three most common pool cue tip sizes are: 13mm, 12mm, and 11.75 mm. For most cue sticks, you're going to find that they have a 13mm tip. But, if you want to shop based on tip sizes, here's what you need to know:
13 mm tips helps you pocket balls like a pro, but you won't get a ton of side spin from it.
12.5 mm tips are not for beginners because the smaller surface means you're more likely to miss the shot, but you get more side spin from this tip than the 13mm
11.75 mm tips give you the most side spin but are really for the billiard pros among us cause that tiny surface makes it the hardest when it comes to not missing the shot.
If your primary objective is sinking the balls, then go with the 13 mm tip every time. But if you're more interested in getting that side spin action, then go with the smallest option, the 11.75 mm tip.
You may also be wondering what is the best size snooker cue tip?
Most snooker players prefer a tip size between 9mm to 10mm with 9.5mm being the most popular. English pool players tend to use a smaller tip between 7mm to 9.5mm mainly due to smaller lighter cue ball.
What is an "English" in pool?
If you've been reading up about cue sticks, then you may have seen people referring to different cues giving you English when you play. And no, this isn't talking about the language!
This term just refers to giving the ball side spin. This is more of an advanced technique and not something that entry level billiard players even need to worry about.
You may have also noticed references to "right English" and "left English," which just refers to the side of the ball you strike when attempting this technique. When you try this technique, the ball spins in the opposite direction of where you struck it, so a right English sends the ball spinning left and vice versa.
What is a Sneaky Pete?
In addition to being a funny sounding name, which refers to the actual design of the cue, this is just a type of cue stick preferred by most billiard players. A Sneaky Pete is designed to look like a poorer quality, traditional house cue instead of a custom cue. The idea behind this was that people would underestimate the capabilities of their opponent and be susceptible to being hustled. Not many people use them for that purpose these days, but instead it is their traditional style and simplistic beauty that has enabled them to remain one of the most popular and best selling pool cue styles on the market today. ( source)
What is the standard size pool cue?
If you're comparing cue stick lengths and trying to determine which is best for you, then it might help to know what's most common among billiard players.
The majority of pool tables come as standard with a 48-inch cue (which is considered to be medium size). A 57-inch cue is considered full size and for tight cueing areas or junior players a 36-inch cue is also available. Pool cue tend to have wider tip diameters in comparison to their Snooker counterparts. ( source)
Standard cue lengths are 57 inches for one piece house cues. Standard two piece cues are 58 inches long with the butt and shaft an equal 29 inches.There are options for players who are extra tall or those who are not. If you are 6'5″ tall and you cannot extend your bridge hand and have room to stroke the cue, there are options for a better fit. Many cues can be special ordered as long as 61 inches. Junior cues are available today in 48″ and 52″ lengths. These cues are also a good choice in areas where you have space limitations. Recently more Cue extensions have become available for those shots that are hard to reach. They are made to attach to the butt end of the cues. ( source)
What is a jump break cue?
A jump break cue is a multi-purpose cue. It is designed primarily for jump shots as it is a three-piece cue stick. Jump/break cues have a second joint added just above the wrap line. Once the bottom piece of the cue is removed it eliminates about 50% of the cue's weight, thus making it much lighter, therefore easier to jump a ball.
Then, after you've made the jump shot, you just screw back on the bottom piece for your full-size cue stick. And below is the proper way to execute a jump shot with your jump break cue stick.
How long should a pool cue be for a child?
If you're the awesome type of parent who is letting their child learn the game of pool, then we're big fans of your parenting! You just need to make sure that you get the proper cue stick for the kiddos so that they can properly develop their skills.
You can get a 36-inch cue stick for junior players, but the best idea is to let them get a feel for a few different sizes to see what works best. If the pool stick is too long for the child, then they will just jab at the ball and probably damage the pool table felt. You don't want to have to repair that damage and you want the kids to be confident players. So, definitely get a shorter cue for the kiddos.
Are snooker and pool cues the same?
If you're the owner of a snooker table, then you might be wondering if you need a snooker cue or a pool cue. Let us help with that.
Both cues are typically the same length 57-58 inches. However, the snooker cue will be lighter, with a smaller tip diameter (9-10.5 mm). The America pool cue has a tip diameter of 12-13mm and is a heavier cue stick. Obviously, the main difference is in the cue tips. The snooker cue tip is shorter and measures 9mm while a standard pool cue tip measures 13mm.
Snooker cues are thinner and lighter than "regular" cue sticks, making them much more accurate at the expense of somewhat less cue ball control (English, throw, force follow, and what not). ( source)
How much do I need to spend to get a good cue?
Obviously, the amount that you spend will depend on your budget and your skill level. Generally speaking, if you want a quality cue stick that will last you a lifetime, then you're looking at spending somewhere in the $150 - $300 price range as a hobby player.
Now, if you start taking up the game of pool as more than a hobby and want to compete in tournaments, then you'll likely want to spend a bit more. This would have you looking at cue sticks in the $500 to $1000 price range.
Of course, if you're just a beginner who doesn't even know if they will stick with the game, then a good cue stick under $100 will likely suffice for playing a few games here and there.
How to clean your pool cue stick?
Want to extend the life of your cue stick and keep it looking good? If so, then you'll regularly need to clean it up a bit to keep it looking as good as possible and free from grime and dirt build-up from your sweaty hands. Check out the video below for some tips on cleaning your cue stick.