Every time you enjoy a game of backgammon, you're playing with history. It was a favorite pastime in Mesopotamia almost 5,000 years ago. Today, you have something that would amaze those ancient folks. You can choose from a variety of backgammon sets designed to keep the game portable and preserve its classic style.
New to backgammon? Check out some of our basics and tips to winning at backgammon. Roll your luck and sharpen your skills on some of the best backgammon boards that we have found.
Top Backgammon Boards by Editors' Picks
Best Backgammon Board Sets for the Money
Here is a quick overall view of the best backgammon board at each price point. Premium sets tend to be $100 - $200. Intermediate sets are $50 - $100 and beginner sets are under $50. On the opposite end of the spectrum there are extreme luxury sets that can cost thousands of dollars!
Top 8 Best Backgammon Set Reviews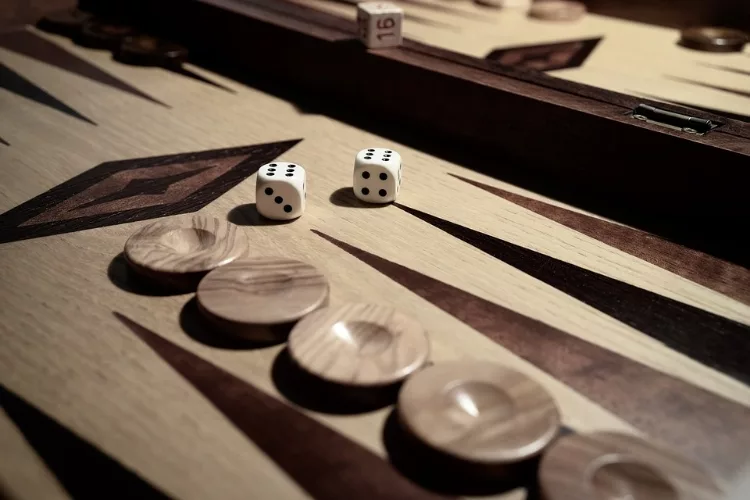 Here are some quick reviews of the best backgammon boards that you can buy. Prices are generally based upon the size of the board (which ranges from about 15″ to 30″) and the type of material used (which can be anything from plastic to luxurious Italian leather). We were sure to include boards of all different price points and materials so that you can pick out the best backgammon board for your needs. The reviews are in the following order: Premium Sets, Intermediate Sets, Beginner Sets, Luxury Sets, and then Unique Backgammon Sets.
1. 19″ Premium Backgammon Set - Silverman and Co.
A sturdy case covered in leatherette opens to reveal a padded felt playing surface. Silverman and Company blend quality and value inside and outside this backgammon set. Checkers glide across the board, felt-lined dice cups reduce noise, and a large 1-inch doubling cube keeps the competition rolling.
Where to Buy:
Sturdy handles give you a firm grip on the game while solid latches secure everything inside. The American-made backgammon set is ideal for friendly backyard competition and serious tournament play.
Dimensions, closed - 19 x 12.6 x 2.75 inches
• Weight - 6.86 pounds
2. Gramercy Park Deluxe Wooden Walnut Backgammon Set 19 3/4″
This exotic backgammon set is beautifully designed and crafted, the 19 3/4" cabinet is carefully constructed from walnut, maple & burl. The top and bottom of the cabinet features a striking decorative patterning of various precious hardwoods.
On opening the cabinet the innovative magnetic fastening system is evident, this creates very clean lines to this cabinet that is not spoiled by unsightly hardware. The playing surface and points are made from veneers of ebony & maple, surrounded by walnut. The dice cups and backgammon pieces are also wooden.
This is a beautiful backgammon to leave on display closed just as you would leave out a fine piece of crystal.
Size: 19 3/4" X 11 /3/4"(closed) 19 3/4" X 23 1/2" (open).
When it's beautiful enough to give as a gift, you know you have a special backgammon game ready for play. Bello Games' Gramercy Park Deluxe model includes all the touches you expect in a luxury backgammon set. The walnut outer case features an elegant geometric design of maple and burl.
Where to Buy:
Precious hardwoods line the interior too as maple and ebony veneer points surrounded by walnut. Checkers and dice cups are also made of fine wood.
This backgammon set is perfect for both play and display.
Dimensions, closed - 19.75 x 11.75 x 2.6 inches
• Weight - 6 pounds
3. Yellow Mountain Imports Backgammon Game Set - 17″
Beautiful Inside And Out: The level of detail on the backgammon wood inlay speaks to a high level of craftsmanship
Large Yet Portable Set: The 17-inch set folds in half with all accessories inside, for compact storage and carry; Kept secure by hidden inset magnets, the case measures 17.3 x 9.8 x 2 inches (44 x 25 x 5 centimeters) when closed
Grand Playing Field: The board comes with an elegantly-designed play area with inlaid pips and organizational sections for checkers and accessories
Complementing Accessories: Includes 2 sets of 15 acrylic checkers that measure 1.2 x 0.3 inch (3 x 0.7 centimeter), 4 dice, a doubling cube, and 2 wooden dice cups
This backgammon set shows off detailed craftsmanship. The case exterior is beautifully patterned with wood inlays and finished with a soft satin shine. That same care in material and construction graces the playing board.
Where to Buy:
Hidden inset magnets keep the case secure for trips back to the closet shelf or travel across the country. It's light enough to slip into a carry-on and large enough to let you really enjoy game play.
This set from Yellow Mountain Imports also includes instructions for beginners.
Dimensions, closed - 17.3 x 9.8 x 2 inches
• Weight - 2.59 pounds
4. Middleton Games Tournament Backgammon Set - 21″
Classic full-sized (21 inch) backgammon set
Elegant style, quality craftmanship, simulated leather (Brown color)
Measures 21" x 13" x 2 1/4" when closed (or 21" x 26" x 1 1/8" when open)
Sturdy, rugged handle, solid brass latches, and strong frame - Includes high-quality playing pieces
If you prefer the look of leather on your game board exterior, then one with a leatherette cover might appeal to you. The problem that I've found with this design is that a lot of them have a really cheap feel and look. After testing out a few models, I've found one that has a very classy and sophisticated feel to it - the Middleton Games Tournament Backgammon Set - 21″ .
Where to Buy:
Not only is this my favorite leather backgammon set, but it is also the cheapest quality tournament backgammon board set that I've been able to find (so far). The playing surface has felt and it looks really nice. It comes with the dice cups and checkers. And the dice cups are covered in matching leather, which is a really nice touch.
This one has a nice, sleek exterior, some brass latches and a very sturdy handle. That makes it easy to carry when you want to take it out to a friend or family member's house.
Bottom line: If you are looking for a larger size board or one that is really nice but under $150, then this is the best leather backgammon board set for the money for you.
5. Middleton Games Map Backgammon Set - 18″
Elegant and classy old world map design. Ultra plush faux-suede playing surface.
Measures 18 1/4" x 10 1/2" x 2 1/2" when closed; Measures 18 1/4" x 21" x 1 1/4" when open.
Comes with extra thick 1 1/4" x 3/8" checkers, 1" doubling cube, 5/8" dice and matching dice cups.
Folding attache style. Easy to carry, easy to store.
Think outside the traditional backgammon case with a cover design featuring an Old World map. Faux suede inside and out wraps this unique backgammon game with a lovely antique feel. Stitched points contrast against a soft camel-colored playing field, and felt-lined cups ensure a quiet game.
Where to Buy:
The checkers in this set from Middleton Games are extra thick. Enjoy winning with pieces measuring 1.25 inches in diameter with a height of.375 inches. The folding attache case sports a luggage handle and secure latches.
Dimensions, closed - 18.25 x 10.5 x 2.5 inches
• Weight - 5.09 pounds
6. Orion Craft 15″ Oak Wood Backgammon Set
You can't go wrong with a classic wooden style game set, especially since this style is usually the cheapest backgammon board for the money. When I was doing my shopping, this is what I came across the most often. Of those, my favorite has got to be the 15″ Backgammon Oak Board Game Set by Orion Craft .
Where to Buy:
Though I have begun to prefer a larger size board, this one is is great option for players who prefer a wooden game board or just a good beginners wooden backgammon board set.
Our editors think that it has a great price, which makes it a good value backgammon set for the money.
You get a lot of great features with this board that a lot of the other wood models don't offer you. First off, it is made of oak and actually has a nice, quality feel to it. It doesn't feel flimsy or cheap but like something that you would be proud to sit out on your coffee table.
It also has a handle on the outside of the case, which is hard to find in the wooden models. For me, this is important because I want to be able to take the game with me when I visit some friends and family. Another cool thing is that it has a nice, minimalist design on the case exterior.
It comes with the natural all wood dice cups and lovely grooved checkers. Like the board, all the pieces are high quality with a nice finish.
Overall, this is a good set for the money since it has a cheap price and a quality build. The smaller size makes it good for travel and for people who live in a small apartment or don't have a lot of space to play games.
7. 14.75″ Recreational Board Game Vinyl Backgammon Set
14.75" brown and white vinyl backgammon game
Color matching sewn in points velor interior
Included sets of brown and white playing pieces, two sets color matching dice, two dice cups and one doubling cube.
Dimensional Detail: (W x L x H) = 10.0" x 14.75" x 1.875"
Take your game anywhere with an ultra-light backgammon set perfect for outside play. This model from CHH gets its sharp good looks from a faux leather cover featuring contrasting center stripes. Inside detailing includes points stitched on a smooth velour playing board.
Where to Buy:
The brown and white vinyl exterior cleans up with a quick wipe. An easy-grip handle and faux brass latches keep the game ready to grab and go.
Dimensions, closed - 10 x 14.75 x 1.875 inches
• Weight - 1 pound
8. Crazy Games Backgammon Set - Link
The ideal backgammon set typically depends on who is playing the game. One set that particularly caught our eyes in the process of writing this guide is this Backgammon Set by Crazy Games.
The board comes in three sizes: Large, Medium, and Small. One thing you should note right off the bat is that this backgammon set is designed for adult use. That said, it is very easy to use for both beginners as well as advanced players. The boxed set comes with every game piece you need to start the game immediately.
The refined felt interior of the board and its exquisite faux leather combination gives it a premium feel. This makes it a good gifting idea for your dad, husband, grandpa, mum, or anyone who truly enjoys Backgammon.
The dimensions of the case (15 x 9.4 x 2.2 inches) mean it is large enough to be played outdoors, indoors, or during a friend's or family games night.
Top features
To be honest, there are many reasons why you should buy this backgammon set.
if you are looking for a backgammon set that won't look out of place should you decide to place it in your living room, then this backgammon set from CRAZY GAMES would serve you well.
There is also the issue of noise and noise reduction when playing the game. The dice cups come with felt lining and coupled with the leather finish, you don't have to worry about loud noise when playing the game.
The set is also foldable, which essentially means you get to pack and store it away when it is not in use.
Drawbacks
The biggest disappointing issue with this backgammon set is that the medium-sized set is a bit underwhelming. To be on the safe side, we recommend getting the large-sized board so you don't end up with an undersized board.
NOTE: Although the medium-sized board is undersized, it should not be much of a deal-breaker since you can still play the game easily on the board.
Best Luxury Backgammon Board Set
Luxury Italian made backgammon set. This is hand-made of the most precious and superior woods and others have no comparison, the woods used are Elm, Briar, Mahogany & Burl. In recent years, faux woods have appeared in the marketplace. None of these fake reproductions, however, often sold as real they cannot begin to replace the beauty or the feel of the natural woods themselves.
Design, function, quality and beauty are the features that make this luxury backgammon set very unique. This set truly exemplifies luxury at its very best, this is definitely a set to impress, this is a fine piece of furniture to leave on display. This is an unforgettable gift that will be appreciated from one generation to the next.
Hand Made by Italian Artisans.
24K Gold Plated Lock & Key.
For the serious backgammon player, a good luxury backgammon game board is the way to go. This type of game set typically has a higher price because it is of better quality and higher class materials than the cheaper sets. And the very best top of the line sets come from Italy. Of those, the Bello Games Collezioni Professional Luxury Backgammon Set has got to be my favorite.
Where to Buy:
My only complaint with this one is the price tag. Even after comparing the prices that a few of the different online stores offer, it is still too costly for me.
The hinges on this are really neat because they move so that you can get the board completely flat for game play. I've never seen this with any other boards, so it is a very unique feature.
Unlike most of the other leather boards that are covered in leatherette, this one has a playing board that is covered in 100% genuine leather. The two dice cups are also covered in genuine leather. So, you're getting more for your more with this one.
Maybe even more impressive is that solid brass latches are covered in real 24K gold. And it has mother of pearl type chips. This is truly the finest in luxury backgammon board sets.
Unique and Cool Backgammon Game Board Sets
For the players who just want to go with the coolest backgammon boards, there are a few great choices out there. Of course, everyone has different tastes and preferences, so my favorites might not appeal to you at all and you may need to do a bit more shopping on your own. I have narrowed down the really cool ones that I like to just the two below.
I think the coolest board I've seen so far has got to be the Mosaic Mother of Pearl Inlaid Backgammon 16″ Wooden Backgammon Game Board pictured below.
This is a handmade wooden board, which means that each one produced is completely unique. And, the price is not bad either.
It comes with a pair of dice and the playing chips, but there are no dice cups included with this one.
The other set that I really like has a travel theme, which is something else that I love. It is the United Nations of New York Backgammon Set by Bello Games. This 18-inch board is your typical leatherette backgammon set except that it has an old-style map design on the exterior and on the dice cups as shown in the photo below.
Large 18" Backgammon Set.
Size: 18" x 12" (closed) 18" x 24" (open).
Uria stone backgammon checkers & dice.
Each set complete with the Bello Games New York logo inside the dice compartment.
To me, this is probably the coolest leather backgammon set that I've seen so far. I really like that the design is also on the dice cups.
As mentioned, you get two dice cups with this set, as well as the four dice, one doubler and 30 uria stone backgammon checkers. And for those new to the game, an instruction booklet is also in the set.
Remember as you read through my top backgammon game board set reviews that these few are just my personal favorites and may not be the best choice for you. I do hope that these gave you some ideas on what you're looking for in a board though.
As a friendly competition that's lasted 5,000 years, backgammon continues to be a winner around the world. Whether you play for fun or tournament fame, you're in always in good company with a good game of backgammon.
Best Backgammon Sets Buying Guide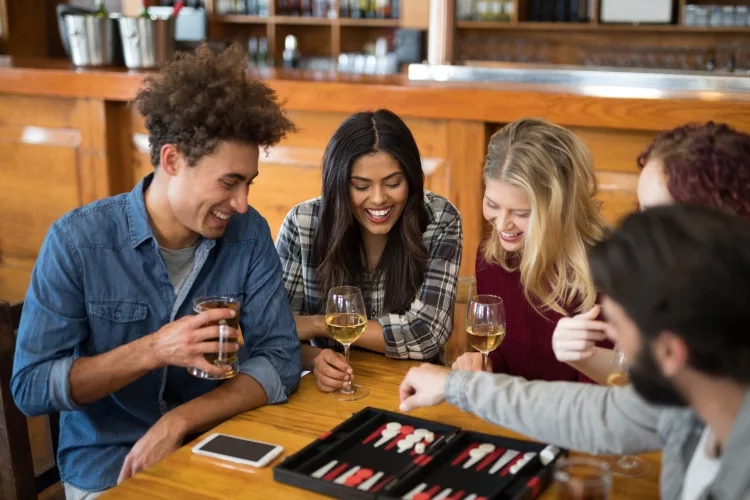 Widely regarded as one of the oldest board games one can play, it isn't that much of a surprise to see that there are tons of different backgammon sets one can buy to enjoy the game with friends or families.
This then begs the question, how does one choose the best backgammon set that fits your style of play both in terms of the number of players, comfort, among other things.
Size of the board
Generally, the size of the board you decide to buy depends on how frequently you play the game. If you are an avid fan or dedicated player of the game, it is recommended you go for a classic-sized backgammon board. However, if you are only going to be playing the game once every few weeks, a portable or smaller-sized board would serve you well.
NOTE: A small backgammon set does not necessarily connote cheap. Due to how light and portable they are, they can be quite expensive too since they are very much in demand.
The material used in making the Backgammon Set
There are different materials used in making backgammon sets. Traditionally, ceramic, ivory, wood, and even bone were used. However, it is very rare to find some of these materials today. Instead, you will find modern sets made from wood, plastic, leather, felt, vinyl, the occasional ceramics, etc.
What you need to note is that the type of material used in making a backgammon set determines its durability, weight, gameplay experience, affordability, etc.
NOTE: How expensive a backgammon set also depends on the material it is made from and how elegant or classic it looks.
Design and Quietness
Both of these are important to consider. A backgammon board that is not loud or clunky while rolling the dice or moving the pieces around means you get to enjoy the game for hours without constantly torturing your ears. You want to check how the board is designed as well as the materials used in making the board. Both of these can help you figure out how durable the board will be after continuous use.
Accessories included in the set
Each backgammon set should come with thirty (30) pieces, fifteen (15) of two different colors, a doubling cube, and two dice.
Of course, there are other accessories a set might come with but the aforementioned are the basic requirements a set must have before you can play a game of backgammon.
Weight
This is a feature you might not have to consider if you do not plan on moving the backgammon set around. If you plan on taking the set to a friends' or family's games night, you might want to get a more portable set.
NOTE: Most portable sets are not very durable. It is best to carry out proper research and be sure you're the set you are buying would be usable for years to come.
Other features
There are many other features one might look for in a backgammon set before buying.
For instance, some sets come with magnets that keep the board closed when moving it from one place to another so you don't lose your pieces. Some sets come with extra pieces in case you lose some. Some sets also come with cases or briefcases where you can keep both your board and pieces safe when not in use. There are even some unique sets that let you play chess and checkers on the same board along with necessary pieces to set a game up.
Frequently Asked Questions
What are the top backgammon set brands on the market?
When buying any item on the market, it is often best to simply choose a product from one of the well-respected brands in that specific item niche rather than buying from a random brand.
Backgammon sets like all other board games have different brands producing them. Over the years, due to popularity or quality, some acquired more praises while others were heavily criticized. Briefly, we are going to discuss the most popular backgammon set brands you might want to keep in mind.
Widely ranked as the crème de la crème of brands when it comes to making backgammon sets, Geoffrey Parker is a UK-Based brand.
The brand is especially known for making premium, luxurious handmade backgammon sets that feature seamless and bold leatherwork. The brand is also sometimes tasked with sponsoring backgammon championships with backgammon board sets.
If you are particularly familiar with Greek, you might recognize that this is a Greece-based backgammon set brand. However, if you aren't, there you have it!
The brand produces both luxury and affordable traditional handmade backgammon sets. The sets are only made from fine natural wood and they boast amazing craftsmanship.
If you are looking for fine backgammon sets handcrafted using superior Italian leather, then you want to look for a set made by Zaza & Sacci.
The Dal Negro brand is one of the oldest backgammon set manufacturers. This essentially proves how reliable and exceptional the backgammon sets they produce are.
What is the classic backgammon board size?
Before reading any further, you should note that there is no specific standard size when it comes to a backgammon board. This greatly depends on personal preference and how you plan to play the game.
For instance, if you are in the market for a portable backgammon board set, you would need a model that is small and easy to carry around.
That said, there is a general diameter size for classic board games. In this case, a classic backgammon board size has a diameter of about 28 inches. This not only makes it comfortable to play, but it also makes it easy to move the board pieces around without fear of the dice displacing them from their position.
What does "doubling cube" mean in a backgammon board game?
Doubling cube in backgammon changes the dynamics of a backgammon game as it increases the value of the game being played. If there is a price for the winner of a backgammon game, a doubling cube also increases the amount of the stake.
At the start of the game, the doubling cube is placed right in the middle of the board. None of the players playing have any control over it and cannot influence it while the game is just starting. However, during the game, a player can decide to roll it if they are confident of winning the game, thereby increasing the stakes and winnings.
Is Backgammon a game of luck or skill?
Isn't this a question we all ask ourselves before playing any game? Be it online video games, board games, card games, and basically any type of game.
The truth is, luck does come into play when playing any type of game. That much we can all agree on, but there is only a certain level having insane game luck can get you. You also need to have some skill or learn a strategy that you are confident in that will win you games.
For instance, if you are familiar with chess, you will agree that it is one of the most intellectually demanding games in the world. From having to learn openings to chess notations to middlegame tactics and endgames, there is so much skill needed before you can achieve a respectable ELO rating. That said, one can be lucky enough to consistently get opponents that "hang" or blunder their chess pieces while the game is going on. But without the right strategy, the opponents might still end up leveling the playing field.
This same analogy works for backgammon games. While luck might determine how a game starts, you need a solid strategy, in the long run, to win games.
That said, you might want to take the time to study the game and understand the basic concepts about the game before buying a backgammon set.
Buy on Walmart
Crazy Games Backgammon Set - Classic Medium Brown 15 Inch Backgammon Sets for Adults - Walmart Link
19-inch Premium Backgammon Set - Large Size - Desert Brown Board - Walmart Link
19-inch Premium Backgammon Set - Large Size - Black Board, Green Playing Surface, Black - Walmart Link
19-inch Premium Backgammon Set - Large Size - Black with White and Astral Blue Points - Walmart Link
Kangaroo's "15 Inch Faux Leather Vinyl Backgammon Set I Premium Backgammon Board Game - Walmart Link
Get The Games Out Top Backgammon Set - Classic Board Game Case - Best Strategy & Tip - Walmart Link
Backgammon Set - 15 Inch Classic Backgammon Board Game Sets Handheld - Backgammon Sets - Walmart Link
Gramercy Park Deluxe Wooden Walnut Backgammon Set 19 3/4' - Walmart Link
Yellow Mountain Imports Wooden Inlaid Backgammon Set- Cascadia - with Acrylic Playing Pieces & Wooden Dice Cups, 17-inch Board - Walmart Link
Middleton Games Tournament Backgammon Set - 21 in. - Classic Brown - Walmart Link
Middleton Games Map Backgammon Set, 18-Inch - Walmart Link
14.75' Recreational Board Game Vinyl Backgammon Set - Brown & White - Walmart Link
Bello Games Collezioni - Giovanni Luxury Wooden Backgammon Set from Italy 20' - Walmart Link
United Nations of New York Backgammon Set 18' - Walmart Link
Buy on eBay
Crazy Games Backgammon Set - Classic Medium Brown 15 Inch Backgammon Sets for Adults - eBay Link
19-inch Premium Backgammon Set - Large Size - Desert Brown Board - eBay Link
19-inch Premium Backgammon Set - Large Size - Black Board, Green Playing Surface, Black - eBay Link
19-inch Premium Backgammon Set - Large Size - Black with White and Astral Blue Points - eBay Link
Kangaroo's "15 Inch Faux Leather Vinyl Backgammon Set I Premium Backgammon Board Game - eBay Link
Get The Games Out Top Backgammon Set - Classic Board Game Case - Best Strategy & Tip - eBay Link
Backgammon Set - 15 Inch Classic Backgammon Board Game Sets Handheld - Backgammon Sets - eBay Link
Gramercy Park Deluxe Wooden Walnut Backgammon Set 19 3/4' - eBay Link
Yellow Mountain Imports Wooden Inlaid Backgammon Set- Cascadia - with Acrylic Playing Pieces & Wooden Dice Cups, 17-inch Board - eBay Link
Middleton Games Tournament Backgammon Set - 21 in. - Classic Brown - eBay Link
Middleton Games Map Backgammon Set, 18-Inch - eBay Link
14.75' Recreational Board Game Vinyl Backgammon Set - Brown & White - eBay Link
Bello Games Collezioni - Giovanni Luxury Wooden Backgammon Set from Italy 20' - eBay Link
United Nations of New York Backgammon Set 18' - eBay Link