If you are reading this article about Rick and Morty board games, you are probably already familiar with the show Rick and Morty so we won't get into that. Most of the Rick and Morty board games found online are just skins of popular games like Clue, Risk, Monopoly, etc. Instead of listing all of those games, we have only unique games listed below. Check them out and let us know in the comments which is your favorite Rick and Morty board game!
Editors' Picks: Rick and Morty Board Games in 2022
Best Rick and Morty Board Games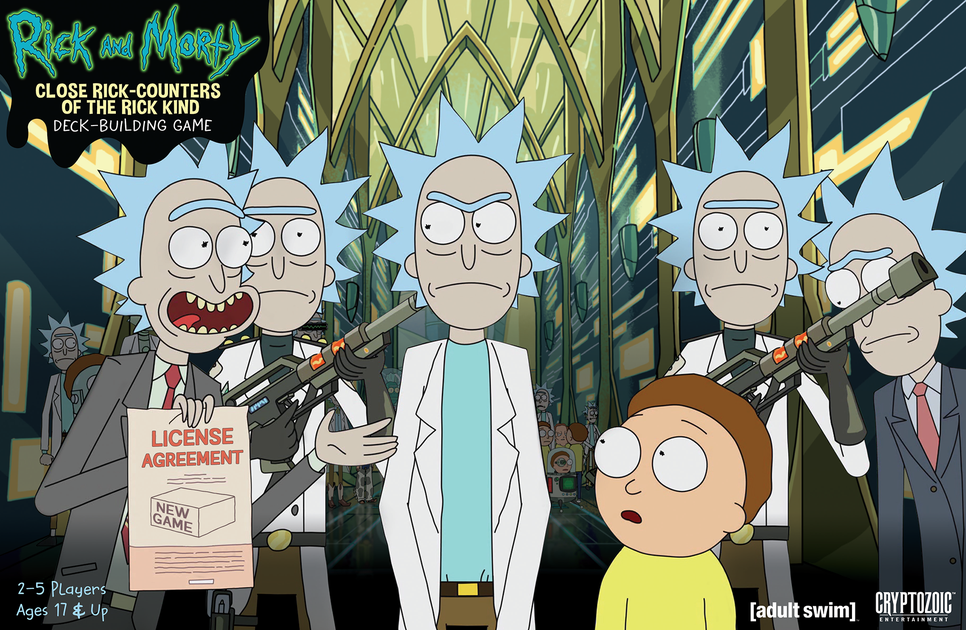 1. Rick and Morty: Total Rickall Cooperative Card Game - Link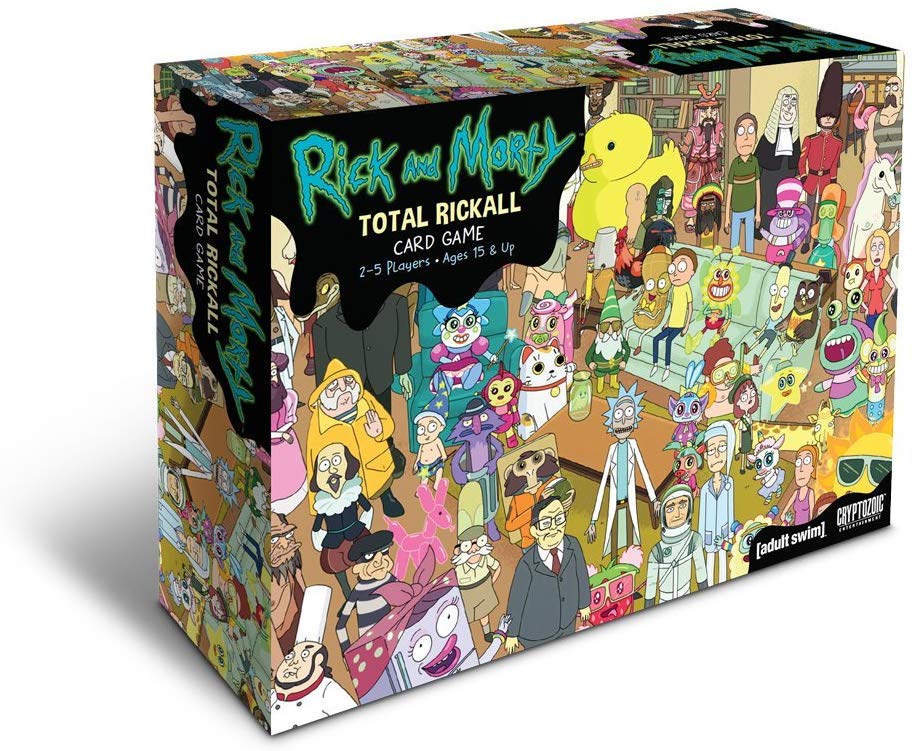 Players: 2-5 | Game Time: 30 minutes | Complexity: Low | Age: 15+ | Year: 2016
Taking its theme from the Adult Swim Rick and Morty tv show, the Total Rickall Cooperative game presents the Smith family in a perplexing situation. The family happens to occupy a space that alien parasites have invaded, and the creatures can appear like real companions. Players must destroy the invaders before Rick agrees to remove the lockdown on the house because their escape can overrun the planet.
The designers call the game " cooperative" because one way of playing it lets everyone share efforts to figure out which characters on the game board have a real identity or not. Some frustration enters the game when players have no choice but to shoot a character who has a real identity and not that of a parasite. As the game ends, players win if no parasites remain. However, if they shoot four real characters, the humans lose. The game board allows 2-5 players to enjoy the zany antics that maintain interest.
Intended for players age 15 and up, the game may make some parents choose to delay introducing it to youngsters. Patience and maturity can handle the frustration of the game's logic that features deception, but it challenges even some adults until it becomes easier to understand with practice. While easy to learn the basics of the game in about 10 minutes, its complexity holds the interest of frustration-tolerant players. Even those who never like to play board games may totally enjoy this one.
2. Rick and Morty: Anatomy Park - Link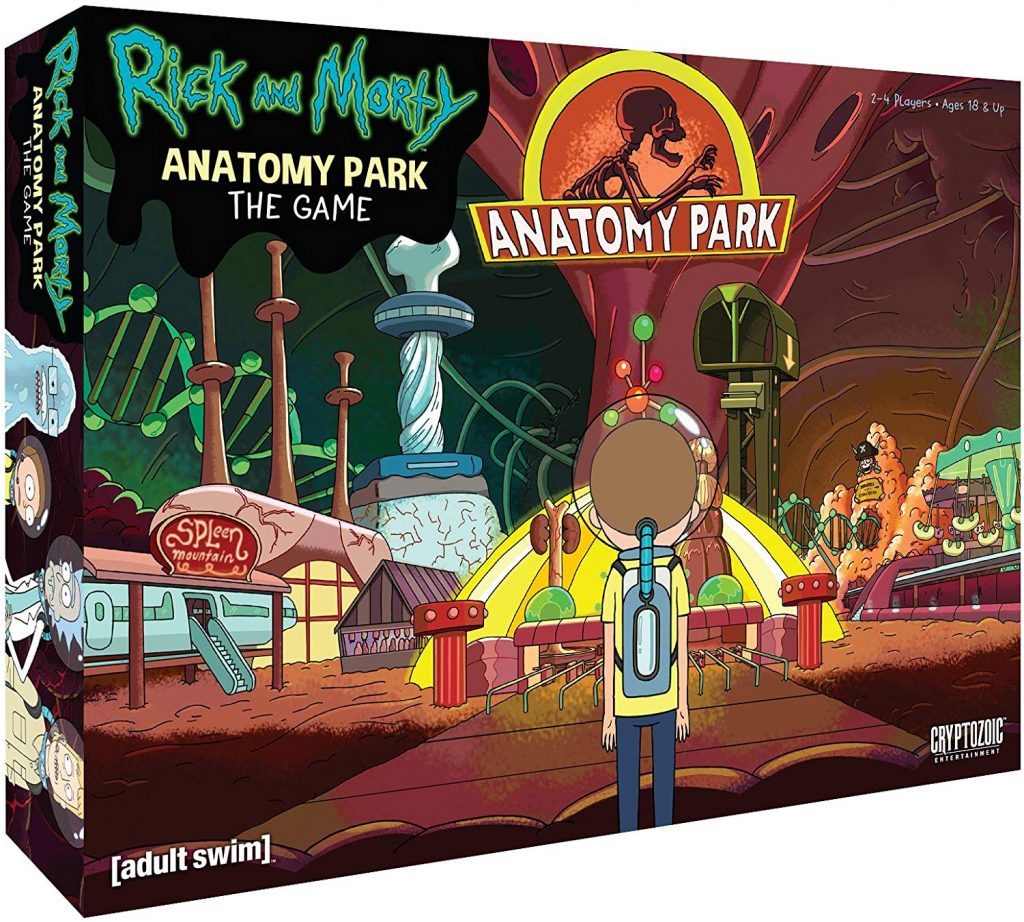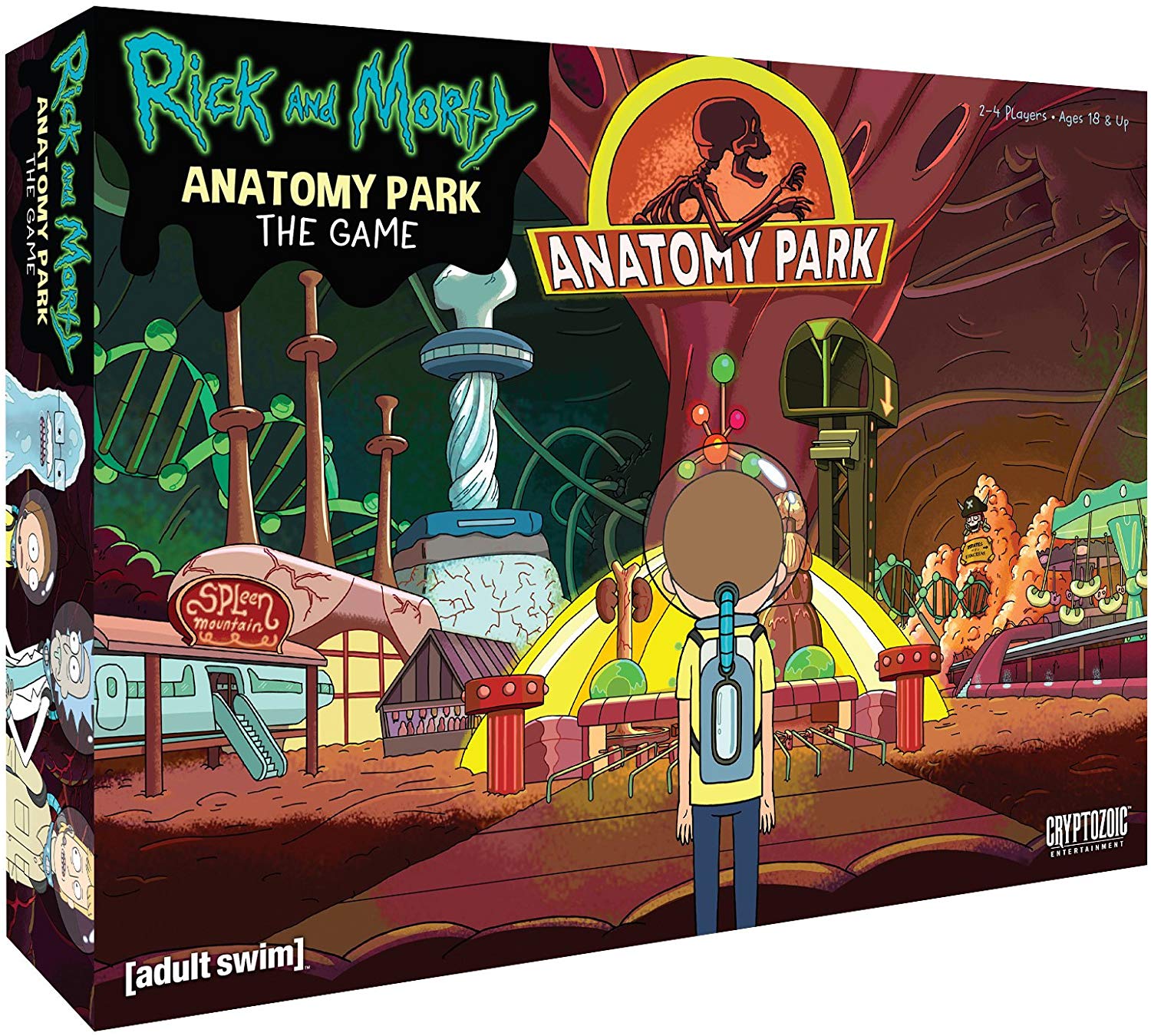 Players: 2-4 | Game Time: 30-60 minutes | Complexity: Medium | Age: 18+ | Year: 2017
In another spoof of a familiar and highly popular visual art form, Rick and Morty turn their attention and zany adventures to mocking Jurassic Park. In the Anatomy Park Game, they find almost endless ways to make something funny out of perfectly straightforward material. It challenges players to construct a theme park, but the project must go on inside of Ruben's body. The homeless man has no objection to the placement of tiles that represent the typical areas of a theme park: Attractions, Exit, Food, Ride and Transit with an additional one for Focus Groups.
Fans of the tv show and Rick and Morty board games enjoy the crude jokes and questionable taste of the artwork, and others may learn to like them as well after getting used to the shock factor. The point of the game allows players to compete to earn the most victory points and become Anatomy Park's master builder. On the way to earning the title, the successful player places the park tiles into the most advantageous locations within the body, those far away from disease.
Four players can choose one of six characters that include Annie, Rick and Morty, Dr. Xenon Bloom, Roger and Poncho. The colors of the tiles indicate the locations where they fit, and playing a green Exit tile allows a character to escape from Ruben's disease-ridden body. Tiles from the draw stack may state the name of a disease or a bodily reaction to it. When a disease shows up, a player can choose to gun or run, but a roll of the dice may produce a six that can thwart any disease. However, a heart attack that appears on a Bodily Reaction card can end a game. Players who use strategy to get out before the game ends can earn victory points.
3. Rick and Morty: Close Rick-Counters of the Rick Kind Deck-Building Game - Link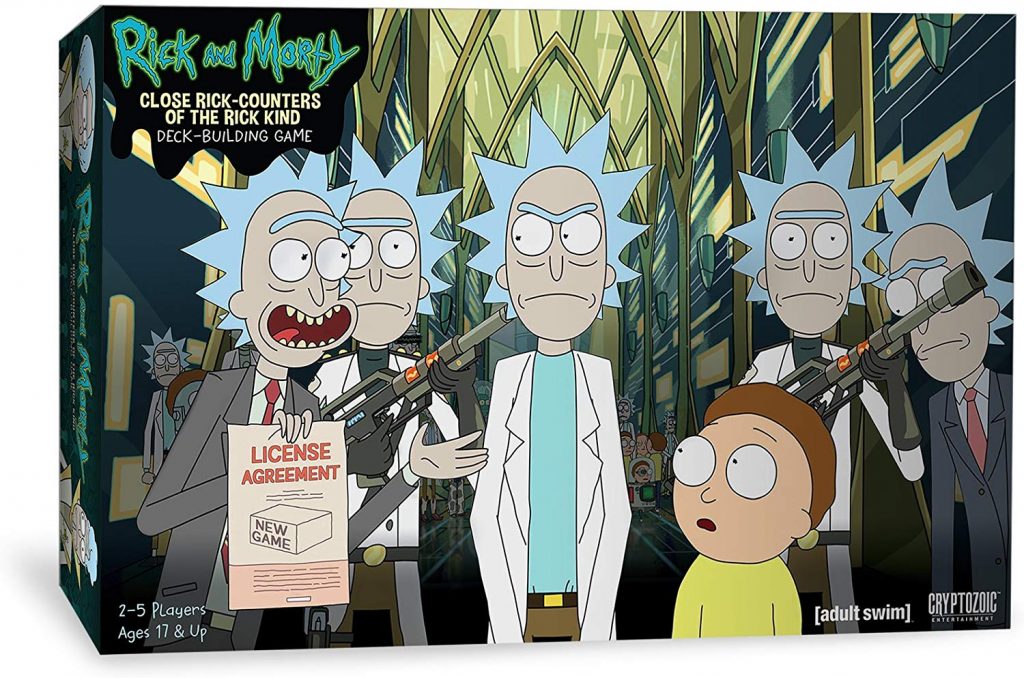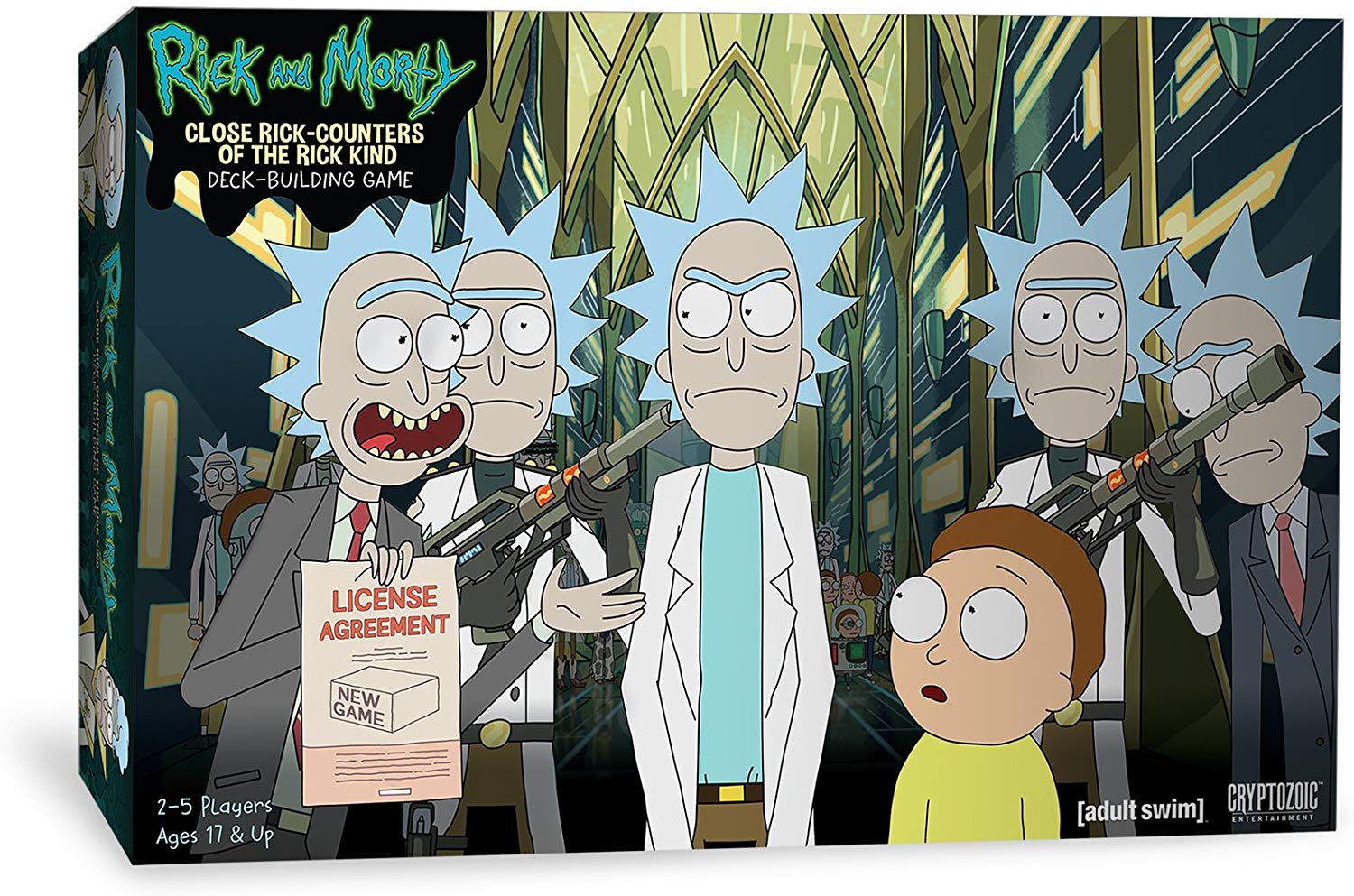 Players: 2-5 | Game Time: 30-70 minutes | Complexity: Low | Age: 15+ | Year: 2017
The complex challenges that exist in some Rick and Morty board games do not appear in the Deck Building game Close Rick-Counters, and the ease of playing it can provide up to two hours of enjoyable fun. The object of the game requires players to build a better deck than the opponents construct. As an intro to deck building, it provides an easy entry that may let a family play it. It departs from the cooperative approach that lets players join forces to take down the opposition, and it makes everyone fend for themselves.
Each player gets 10 cards to begin a game and hopes to buy better ones with each turn. The categories of cards include Equipment, Mortys, Ricks, and Specials plus Locations which has some special abilities. Players can get a portal gun to access alternate dimensions that may produce bonuses that improve the value of regular cards. Turning negative events into positive ones can reward a player who finds a location to defend against Morty waves.
Buying the right cards and scoring more victory points than the opponents help defeat Evil Rick and lead to a potential win. The tension mounts as players try to put more versions of Rick in a deck as the more that show up help increase the chances of victory. Players must make every attempt to defeat the dreaded Council of Rick members. Some strategies may let players weaken opponents' hands by figuring out which cards they need and taking them first. A member of Rick's family can show up and wreck a player's plan as it adds to the fun.
4. Munchkin Rick and Morty Game - Link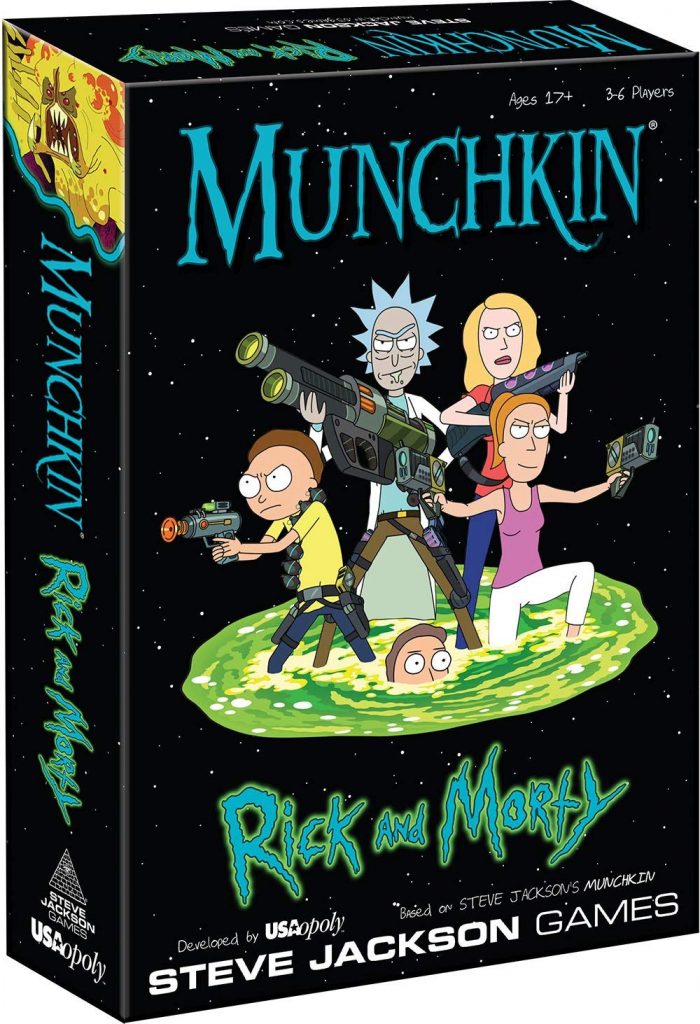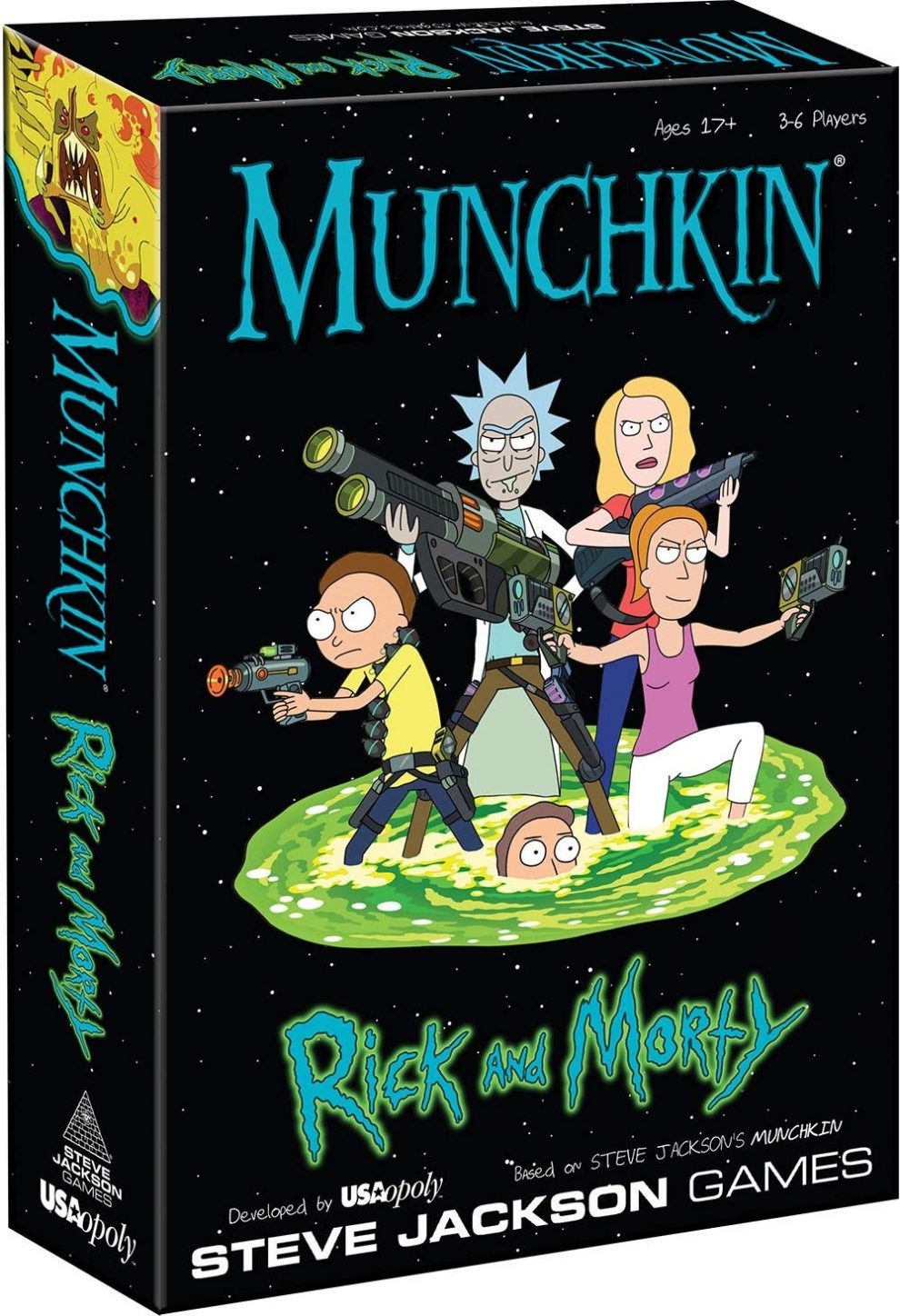 Players: 3-6 | Game Time: 60-120 minutes | Complexity: Low | Age: 17+ | Year: 2017
A perfect game for parties or anytime 3-6 people have time for fun, the USAOpoly Munchkin Rick and Morty game lets players try to reach level 10 as a character from the Rick and Morty TV show. The mature, graphic content continues to appeal to devoted fans and new ones who find it for the first time as well. Recommendations for a minimum age of 17 provide a reference point for parents to consider.
The game competition provides opportunities to defeat an enemy with an enemy card, pick up some treasure and advance to one level or more. Opponents try to complicate the game by empowering enemies or increasing their number. Parasites appear in the Munchkins game as they do in other Rick and Morty offerings, and a roll of the dice can help players deal with them.
Players can choose to roleplay as Beth, Jerry, Morty, Mr. Poopybutthole, Rick or Summer with the goal of defeating aliens, cyborgs and demons. The adventures take place in Rick and Morty's universe with all its humor, challenges and entertaining exploits. The USAopoly Munchkin game provides plenty of chances to slay monsters and emerge victorious eventually. The high level of competition includes rule-breaking cards and allows players to use unfair tactics just for fun and to win.
5. Monopoly: Rick and Morty - Link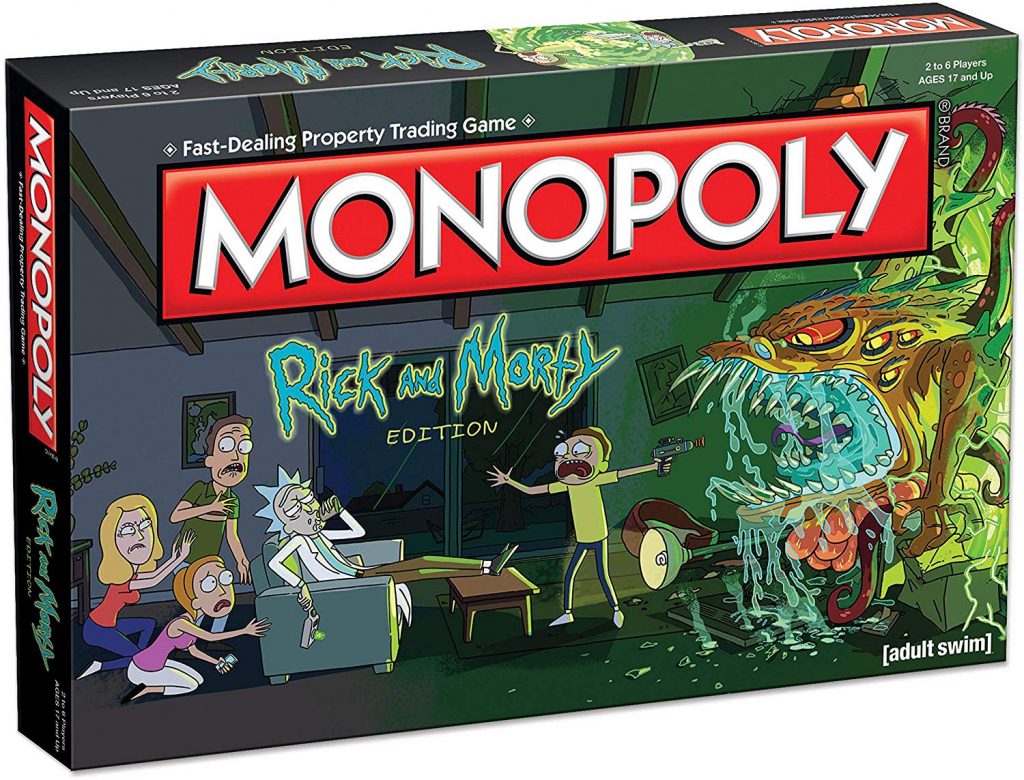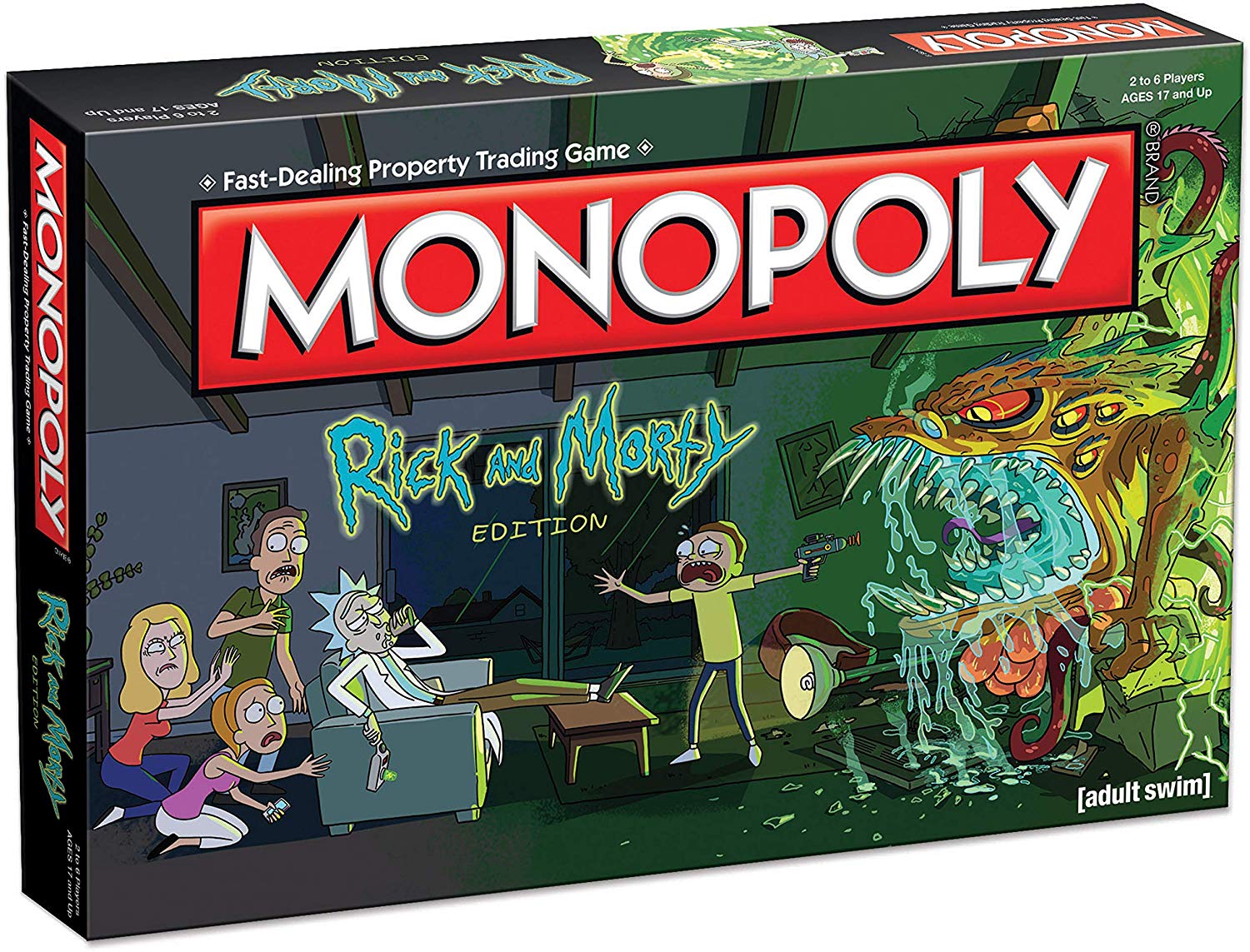 Players: 2-6 | Game Time: 40-60 minutes | Complexity: Low | Age: 17+ | Year: 2016
A fresh approach to the traditional Monopoly game only makes it more interesting and appealing. With pop cultural twists for the Rick and Morty version, it has the full approval of Hasbro as a legitimately licensed product. Instead of the traditional hotels and houses that players bought in the 1935-style Monopoly game, the Rick and Morty version uses Gobble Boxes and Flooble Cranks. Buying and selling, trading or mortgaging locations with Flurbo currency takes the game to the Cremulon Dimension, Planet Squanch and Gazorpazorp instead of Park Place.
The game swaps out the draw pile of Chance and Community Chest cards with Dimensional Cable TV and Get Schwifty cards. Faithful to the tv show, it brings the 1935 game up to date in a hurry with the Miniverse, Citadel of Ricks and many more hilarious and sometimes shockingly funny ideas. It allows up to six players to participate. Anyone who enjoys the Adult Swim show or wants to play a futuristic version of Monopoly can have a perfect opportunity with the Rick and Morty board game.
Emotions may run high as the game tends to make players reach frustration levels that can make their desire to flip the table seem natural and normal. The game board features locations that fans of the show can easily recognize. Original names for six collectible tokens include Snuffles Helmet, Council of Rick's Badge, Plumbus, Portal Gun, Rick's Ship and Meeseeks Box.
Buy on Walmart
Monopoly Rick and Morty Board Game | Based on the hit Adult Swim series Rick & Morty | - Walmart Link
Cryptozoic Entertainment Rick and Morty Anatomy Park Game - Walmart Link
USAOPOLY Risk Rick and Morty Risk Game | Based on The Popular Adult Swim TV Show Rick & - Walmart Link
MUNCHKIN: Rick And Morty Card Game | Rick and Morty Adult Swim Munchkin Board Game | - Walmart Link
Rick & Morty: The Morty Zone Dice Game, Rick and Morty: The Morty Zone Dice Game - Walmart Link
Cryptozoic Entertainment Rick & Morty Look Who's Purging Now - Walmart Link
Rick and Morty DBG: The Rickshank Rickdemption - Walmart Link
Total Rickall Cooperative game - Walmart Link
USAOpoly Munchkin Rick and Morty - Walmart Link
Rick and Morty version - Walmart Link
Buy on eBay
Monopoly Rick and Morty Board Game | Based on the hit Adult Swim series Rick & Morty | - eBay Link
Cryptozoic Entertainment Rick and Morty Anatomy Park Game - eBay Link
USAOPOLY Risk Rick and Morty Risk Game | Based on The Popular Adult Swim TV Show Rick & - eBay Link
MUNCHKIN: Rick And Morty Card Game | Rick and Morty Adult Swim Munchkin Board Game | - eBay Link
Rick & Morty: The Morty Zone Dice Game, Rick and Morty: The Morty Zone Dice Game - eBay Link
Cryptozoic Entertainment Rick & Morty Look Who's Purging Now - eBay Link
Rick and Morty DBG: The Rickshank Rickdemption - eBay Link
Total Rickall Cooperative game - eBay Link
USAOpoly Munchkin Rick and Morty - eBay Link
Rick and Morty version - eBay Link