Bowling machines allow cricket batsmen to practice and hone their skills. There machines offer a distinct advantage during training sessions. A batsman will be able to repetitively focus on a certain shot until they've developed a certain skill level. Also, a player can practice when no one is on hand to bowl. While these are relatively simple machines, they can be useful for skill development. However, within the athletic community, there are a few who question the value of training with a bowling machine.
The questions primarily arise around the types of pitches that can be made. While both mechanical and pneumatic bowling machines can deliver a variety of pitches, sometimes adjustments have to made to achieve different types of results. An additional argument is that there is inherent value in learning to 'read' bowlers. By watching their facial expressions, stance and other subtle indicators, a batsman can learn to predict the types of pitches that they will receive.
Top Cricket Bowling Machines by Editors' Picks
Best Cricket Bowling Machines for the Money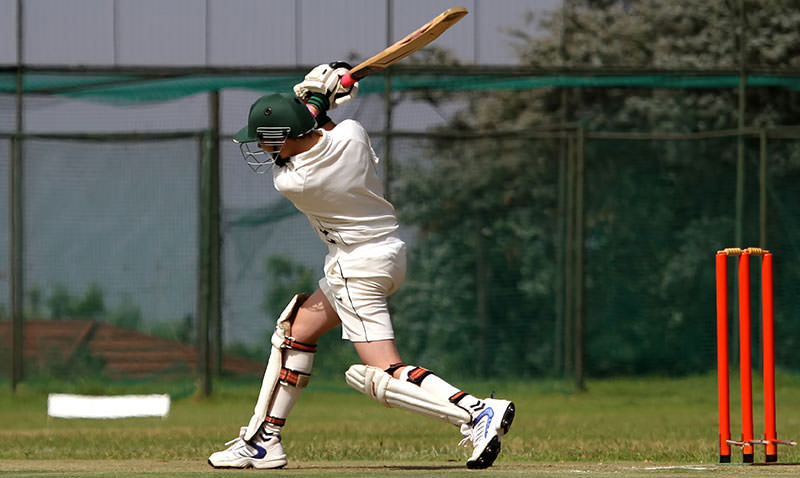 Below are five notable cricket bowling machines with reviews so that the buyer can make an informed decision about which is best for their training environment and desired experience.
As professional cricket teams and clubs have increasingly included practice with bowling machine into their training schedules, the value and skill development that results from working with a bowling machine has increasingly been accepted. Today, most professional cricket players recommend training in both environments: practice games with live bowlers and training sessions with a bowling machine. This allows batsman to develop a broader range of skills including the intuitive live play situations, as well as, reacting to specific pitches.
Among cricket bowling machines today, there are the mechanical and pneumatic bowling machines. These are simple pieces of equipment that can deliver bowls including: fast, swing, spin, seam and bouncers. Programmable machines have been introduced to strengthen the athletes experience.
While mechanical and pneumatic machines can deliver a range of shots, they must be reset to change the type of bowl. Programmable machines, owning to an onboard computer control, can be set up to continuous deliver a variety of pitches. This means that while the coach can set it for a player to practice a certain pitch, they can also set it to deliver random bowls so that they athlete never knows what is coming. Again, this can be a valuable addition to a training schedule, particularly when it is combined with the unique challenges of live play.
Heater Sports Deuce 2 Wheel Cricket Bowling Machine - Link
The Heater Sports Deuce 2 Wheel Cricket Bowling Machine is designed to take your skills to a whole new level. The pivot head design allows athletes to hone their skills with out-swings, in-swings, fastballs and spin balls. The automatic ball feeder has a 12-practice ball capacity so that more time is focused on actual skill development. The bowling machine can be powered by a standard wall outlet or a third-party battery pack.
Dual speed controls allow the swing variation of each wheel to be independently set for speeds up to 121 kpm. This allows for greater control of specific training goals. Wheels are completely enclosed for safety. Sturdy steel legs increase the stability of the unit during operation.
Pros:
Pivot head design for a variety of pitches including out-swings, in-swings and spin balls.
Automatic ball feeder with a 12 light ball capacity.
Can be powered by a wall outlet or a battery pack.
Wheel speed can be independently adjusted up to 121 kph.
Wheels enclosed for safety during operation.
Steels legs provide stability while in use.
Bowling machine can also be used for tennis practice.
Cons:
Battery power is an additional purchase.
Balls are sold separately.
Slider Cricket Bowling Machine by Heater Sports - Link
For athletes looking for master inside breaking balls, fastballs or outside breaking balls, the Slider Bowling Machine from Heater Sports fills the bill. The unit has a 12 lite-ball automatic feeder capacity. Ball speed can be adjusted up to 60 mph. During use, the Slider will pitch balls every 9 seconds.
This machine allows players to work independently on specific pitches even if there isn't anyone else around to bowl. The swivel adjustment makes it easy to practice fastballs, as well as, curve balls. This bowling machine is powered by a standard wall outlet or a battery pack. The wheel mechanism is fully enclosed for safety while being used.
Pros:
Easy to adjust for practice on a variety of pitches including fastballs, in-swing and out-swing.
Automatic ball feeder has a 12-ball capacity.
During use, balls are pitched every 9 seconds.
Ball speed can be adjusted up to 60 mph.
Wheel mechanism is encased for safety.
Uses a standard wall outlet or optional battery pack.
Sturdy steel construction gives the unit stability.
Cons:
Unit does not work with real cricket balls or tennis balls.
Battery power is purchased separately.
Practice balls are purchased separately.
Ball speed adjustment is lower than some bowling machines on the market.
Paceman Strike Bowling Machine - Swing For Six With This Bowling Machine
This is an all-around bowling machine designed to help athletes develop their skills no matter what level they are batting at. From the new player just learning the intricacies of the sport to the veteran player, this machine can help push their skills higher than ever before. Because of its adaptability to a variety of skill levels, this unit is popular with both schools and clubs.
Adjustable lengths and delivery settings for in-swing and out-swing allows athletes to simulated 'real world' game play and be ready for anything. Speeds can easily be adjusted up to 100 kph allowing the coach or trainer to tailor the practice session to the individual's needs. As the unit is light weight and easily transported, its useful at home, school or the local cricket club. The unit is equipped with an automatic ball feeder with a 12-ball capacity. One practice ball is included.
Pros:
Suited for training both new and veteran players.
Easily stored and transported.
Popular with individuals, schools and local cricket clubs.
Highly adjustable lengths and delivery settings
Easily simulates game play.
Ball speeds up to 100 kpm.
12 ball automatic feeder capacity.
Easy to store and transport.
Mechanisms are enclosed for safety during operation.
Cons:
Only 1 ball included. Balls must be purchased separately.
Battery packs sold separately.
Net World Sports Paceman Bowling Machine [Pro X2] World Class Batting Training - Link
When a cricketer wants to play like the pros, they get the equipment the pros use. This bowling machines uses multi-function batting to deliver a high-quality training experience. The multi-spin settings, adjustable speeds and length settings allow for challenging, yet realistic, training sessions. Both new batters and seasoned pros have used this bowling machine to develop their skills to their peak. The ability to mimic 'real world' game scenarios during training helps athletes be better prepared in a real match.
The unit is powered by a DC motor. The high-quality construction was designed for safe use and easy transportation. Ball speeds can be adjusted up to 110 kph giving each athlete a pro-level training experience.

Pros:
Delivers an all-around training experience.
Easily stored and transported for use at schools, home garden or local cricket club.
Multi-spin settings for a variety of pitches.
Speed adjustable up to 110 kph.
Length is adjustable.
Solid steel legs for stability during use.
Mechanisms are contained for safety during use.
Cons:
Includes one practice light ball. Additional balls and automatic ball feeder are purchased separately.
Battery power packs are sold separately.
Paceman Original S2 Cricket Bowling Machine - Link
The Original S2 Cricket Bowling Machine from Paceman is an all-around, high quality piece of training equipment. For the optimal training experience, the pitch lengths are adjustable with duel-delivery swing functions. The unit features the integrated Paceman Drive System for smooth, seamless practice sessions. The unit's automatic feeder has a 12-ball storage capacity and is sold with one ball. An optional pack of 12 light Paceman balls is available.
The variable speed adjustment allows batsmen to practice at realistic speeds. Ball speeds can be increased up to 90 kph so that each practice session can be made as challenging as desired. The ball machine is so light and easily packed that it is ideal for use both at home or at the club. This means that athletes can use it in junction with their team practice periods then extend their training into specific areas in their own garden or backyard.

Pros:
Easy to transport for use at home or away.
Easily stored when not in use.
12 ball storage capacity
Variable speed adjustment, up to 90 kph, to tailor training session.
Adjustable pitch lengths with duel delivery swing functions.
Cons:
Additional balls must be sold separately.
Needs to be connected to a power outlet.
Not able to produce a pitch with a spin, only in-swing and out-swing for fast bowling.
There are a wide variety of cricket bowling machines in the marketplace. While they are relatively simple mechanical pieces of training equipment, they are not all created equal. When looking for a suitable personal or team machine, coaches and athletes need to consider the skill level of the individuals who will be using the equipment. Simple questions regarding the needed functionality of the bowling machine also need to be addressed. Will it need to be transported frequently to different training locations? What speed and pitch length adjustments are required for training sessions? What types of pitches does the machine need to perform (fastball, inswing/outswing, spin)? What types of powers sources are available? The answers to these sorts of questions will help guide coaches and cricketers to make the best choices for their training equipment.
While the benefits of training and playing with a team are plentiful, setting aside time to work individually on specific skills can be invaluable. Cricket bowling machine can help athletes develop their skills quickly and efficiently. By practicing the same shot repetitively, the player will start to develop a muscle memory. On game day, they will often react unconsciously due to the conditioning they went through during training.
When cricketers train, they need to train the whole athlete. This includes work with their team members, as well as, individual skill development. From what they do on the field to their private sessions with a good cricket bowling machine, it all works to build better, stronger cricketers.