A game shed is nice, and ideal come inclement weather, but who wants to play indoors when it's perfect outside? If you're looking to add an outdoor play space to your home, you don't have to just throw a ping pong table next to the swimming pool. With a little planning, you can turn unused outdoor space into a full-fledged game room where the whole neighborhood will want to come play.
Choose Your Tables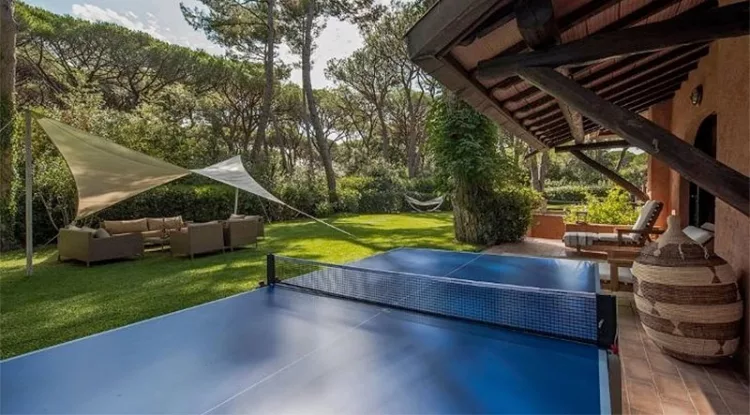 It might seem obvious, but before you start designing your backyard around your gameroom, you need to determine how much space you'll need, and the best way to know how much space you'll need is to decide which gaming tables and features you want to include.
There are multiple outdoor gaming tables available: foosball, ping pong, pool, and multi-tables, which combine several games into one. Take a vote form everyone in your household, and see how many wishes you can grant.
Permanent Outdoor Tables vs Portable Tables
When selecting your tables, you have a couple of main options for table types. Some manufacturers make outdoor tables, designed to be left outside for long-term placement. Multiple manufacturers also manufacture portable tables, designed to be stored when they are not in use. Both types of tables have pros and cons.
Since outdoor tables are specifically designed to be left outside, they tend to be heavier and better-made, which means they can withstand more abuse and hold up better in all sorts of weather conditions. Portable tables are lighter and not as sturdy, but can easily be moved.
The main downside of outdoor tables is they tend to run at higher prices than indoor tables due to the materials required to make them weatherproof, while the main downside of using portable tables outside is that they must be put away after use or owners risk damage if unexpected weather rolls in.
Upgrade The Space
Once you know how much space you need for your garden game room, you can work on the design of your outdoor space. The trick is to think of your outdoor game area like a real room. You can leave it entirely open, or enclose the area as much as you would like. Numerous potential upgrades are available that can make your outdoor game room as post as it would be inside. The potential of what your game room can be is limited only by your budget and your imagination.
Potential Flooring Types
While any paved patio, or even flat ground, will do, if you want to put more pizazz into your game room design, the floor is the place to start. With the sheer number of outdoor flooring options available, even if you add nothing else to your game room design, you can set your game room apart from the rest of your outdoor space, and create the perfect vibe for outdoor fun.
When choosing your game room flooring, there are a few things you might want to keep in mind. Style probably matters, but so does comfort. Game tables keep players on their feet sometimes for hours, something you may want to consider while weighing flooring options.
Tile
Exterior tile and paving stones are sexy. I think we can all agree about that. Classy and stylish, they can make outdoor space look like it just got a million-dollar upgrade.
The problem with tile for an outdoor game room, however, is two-fold. One, it's hard, making it harder on backs, knees, and feet. wo, it breaks easily compared to other outdoor flooring types, and game tables can be very heavy.
That doesn't mean tile is a completely undoable outdoor game room flooring choice. If you have a family member with foot or back problems who can't stand on hard surfaces for long periods of time, they presumably also own shoes too. And lighter tables will be easier on tile than heavier ones, so you can compensate with your table choices.
If you would like your game room flooring to be a little more forgiving on grandpa's knees, or if a pool ball flies off the table and strikes it, some other flooring types may prove better options.
Wood
If you don't mind a slightly raised game room, one option for your floor design is to turn your patio into a deck. You may be used to seeing them up on stilts, but wood decks don't have to be more than a couple inches off the ground for proper drainage.
The benefit of wood is that it's a soft flooring type, eliminating the issues that come with tile. It's also typically cheaper than tile.
Rubber Pavers
The best of both worlds? Maybe.
Rubber pavers can look a lot like traditional tile, until you step on it. Then, you can feel the difference. This is the type of flooring often found around playgrounds and in gyms due to its ability to take a hard hit and protect bodies in motion.
Rubber flooring designed for outdoor use dries easily, is resistant to sun damage and to mildew, and provides a more comfortable surface to stand on. It does tend to run slightly more expensive than traditional tiles, at least if you want it to be thick enough to make a difference, but you're paying for comfort.
To Cover or Not to Cover Your Outdoor Game Room, That is the Question
So, you're putting in an outdoor game room, and you throw a roof on top. Have you just defeated the purpose of building your game room outdoors? Is it even an outdoor game room anymore? No, you haven't, and of course it is.
There are multiple good reasons to put a "roof" over your outside gaming room. One, a game room roof lets you use your game room even when the weather isn't ideal. Two, a game room roof protects your game tables form the sun's rays, because although outdoor game tables are designed to withstand weather, direct sunlight still wears on their colors over time. Three, a game room roof protects players from the sun too, meaning more focus on having fun than on lathering up with sunscreen once every two hours to make sure no one is getting too well-done.
Basically, if you want to be able to play for hours and whenever you feel like it, not just when the weather allows, a roof is pretty much a necessity. Luckily, there are multiple options for roofing your outdoor game room that provide cover, while still letting in plenty of fresh air.
Canopies/ Party Tents/Patio Gazebos/Carports
What a strange combination of game room coverings, you might think. Why on Earth have these all been lumped together? The answer is actually pretty simple. Installation.
Canopies, as you probably know, are self-supporting devices used to shade decks, patios, and other outdoor spaces. Party tents are more complete structures with a top and sides (a roof and wall, if you will). A patio gazebo is much like a canopy, though patio gazebos tend to be better made, more ornate, and have sturdier bases. And a carport is a carport, basically just a metal roof on legs.
That is the essential commonality between these four roofing types. They are all supported by separate, freestanding legs that must be well-secured if you intend to use them as permanent gameroom covers, unless you want a stiff wind to blow the roof off.
Of the four, patio gazebos and carports are the only two designed with permanent placement in mind, and they come complete with anchors and staking systems for secure installation. If you opt for a canopy or party tent as an outdoor game room cover, it'll take a little ingenuity and some digging to ensure the covering is secure.
One reason you might want to still consider a canopy or party tent, though, is the sheer variety of what's available if you do. Canopies come in a multitude of styles, colors, and materials, and party tents run the gamut from simple canopies to super ornate. So, if you're not finding the look you want in a patio gazebo or carport, you might have to get creative.
Canopy Awning
This requires proximity to a building on your property, but as long as your gameroom is already butting up against your house, barn, shed, or outhouse, a canopy awning is an option you may want to consider. It's like a regular canopy, but instead of four or six legs, a canopy awning typically only has two, because the other side attaches to the side of a building like a normal awning does.
The good thing about canopy awnings is that they come in loads of different styles and colors. The potentially bad thing about a canopy awning is it that, if you really want your outdoor game room to be a distinctive and separate space, having it attached to the exterior of your house doesn't quite get you there.
Part-time Cover
Just because you want some cover for your game room when you're outside playing in it doesn't mean you have to install a permanent roofing option. If you're installing outdoor game tables you're not worried about weathering or are opting for portable tables you can put away when not in use, you can always utilize a temporary shading option for your game room as well.
Cantilever umbrellas are a great means of offering shade to a game room on an impermanent basis. They are large, feature sturdy bases, and can be folded up and put away when not in use.
When it comes to outdoor game room design, you shouldn't feel constrained by the seeming limitations of the space as it already is. By adding elements that work with your natural surroundings, you can create an outdoor games room that provides all the utility and year-round enjoyment of an indoor game room, while still integrating and appreciating the natural world that surrounds it.