Foosball tables are a lot of fun for people of all ages, but the full size ones take up a lot of space. So, if you live in a small apartment or condo, or just don't want one of the full-size tables taking up a whole room, then a mini foosball table is a good value for the money. They come in a variety of sizes and are the perfect to enjoy the game when you don't have a lot of space in your home.
Editors' Picks for Top Mini Foosball Tables 2022
Top 5 Best Mini Foosball Table Reviews 2022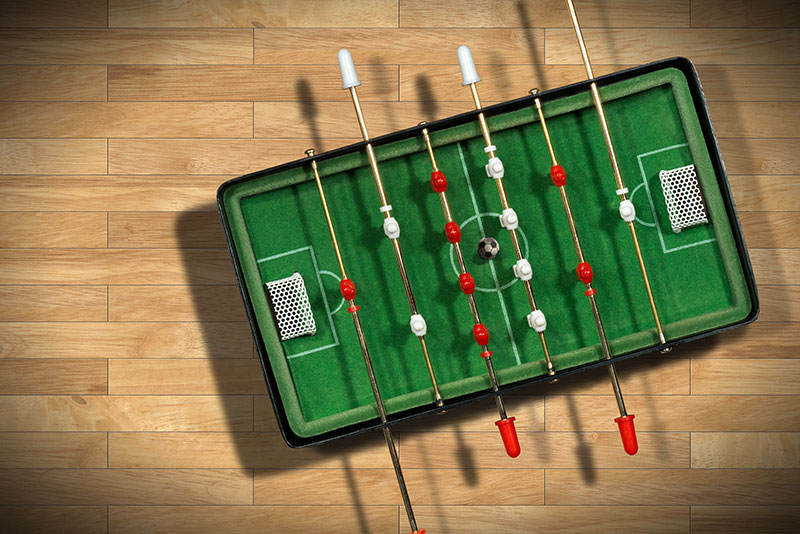 There are two types of mini foosball tables - standing and tabletop. Standing mini foosball tables are the same as a regular foosball table, they are just shorter and some are even able to be folded. Tabletop mini foosball tables are even smaller (usually under 40″) and are able to be played nearly anywhere. All you need is a kitchen table, counter top or other type of surface to sit the game on and you're ready to play! Plus, the small size makes this type of game easy to store when not in play.
Another good thing about the mini foosball table is that is is a LOT cheaper than a full size model. In fact, some models on the market are under $50! That low price and small size makes mini foosball tables a good choice for kids.
The only bad thing about mini foosball tables is that they do not have the same type of high quality build that you get from the larger size tables. And, as can be expected, some brands and models are better made than others.
1. Kick Monarch 48″ Folding Foosball Table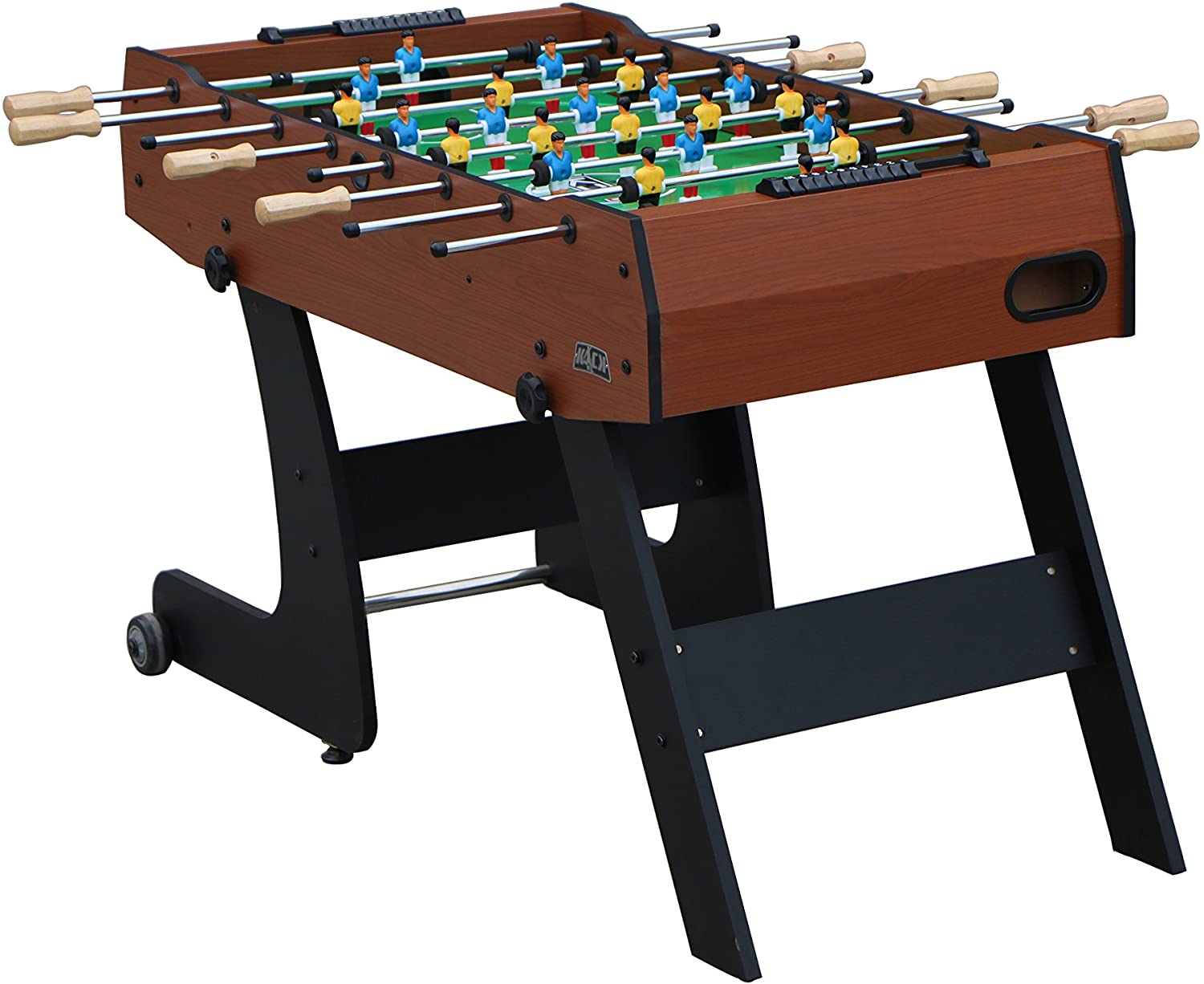 The top mini foosball table on our list is the Kick Monarch 48″ Folding Foosball Table. If you want a full-sized foosball table but don't have enough space in your room, this is the perfect mini foosball table for you. KICK is a well-known brand in the foosball table industry and frequently sits at the top of our list of best foosball tables.
Where to buy:

A standard foosball table is right around 56″ and the KICK Monarch is just a smaller version, coming in at 48″. If you are looking to save some space with this table, not only is it a couple inches shorter, it also folds vertically and has wheels so you are able to store it elsewhere. Here is what it will look like when you are storing it: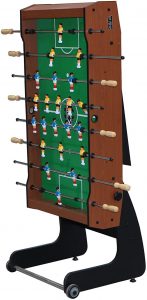 As mentioned above, KICK is a top brand in the foosball industry and you can't go wrong with one of their tables. All KICK products come with an unlimited lifetime warranty so you are able to contact them with any issues.
Bottom line: If the only reason you are looking at a mini foosball is to save space, this is the perfect table for you. It is a high quality product that is able to be stored or pushed into a corner.
2. Best Choice Products 48″ Competition Sized Soccer Foosball Table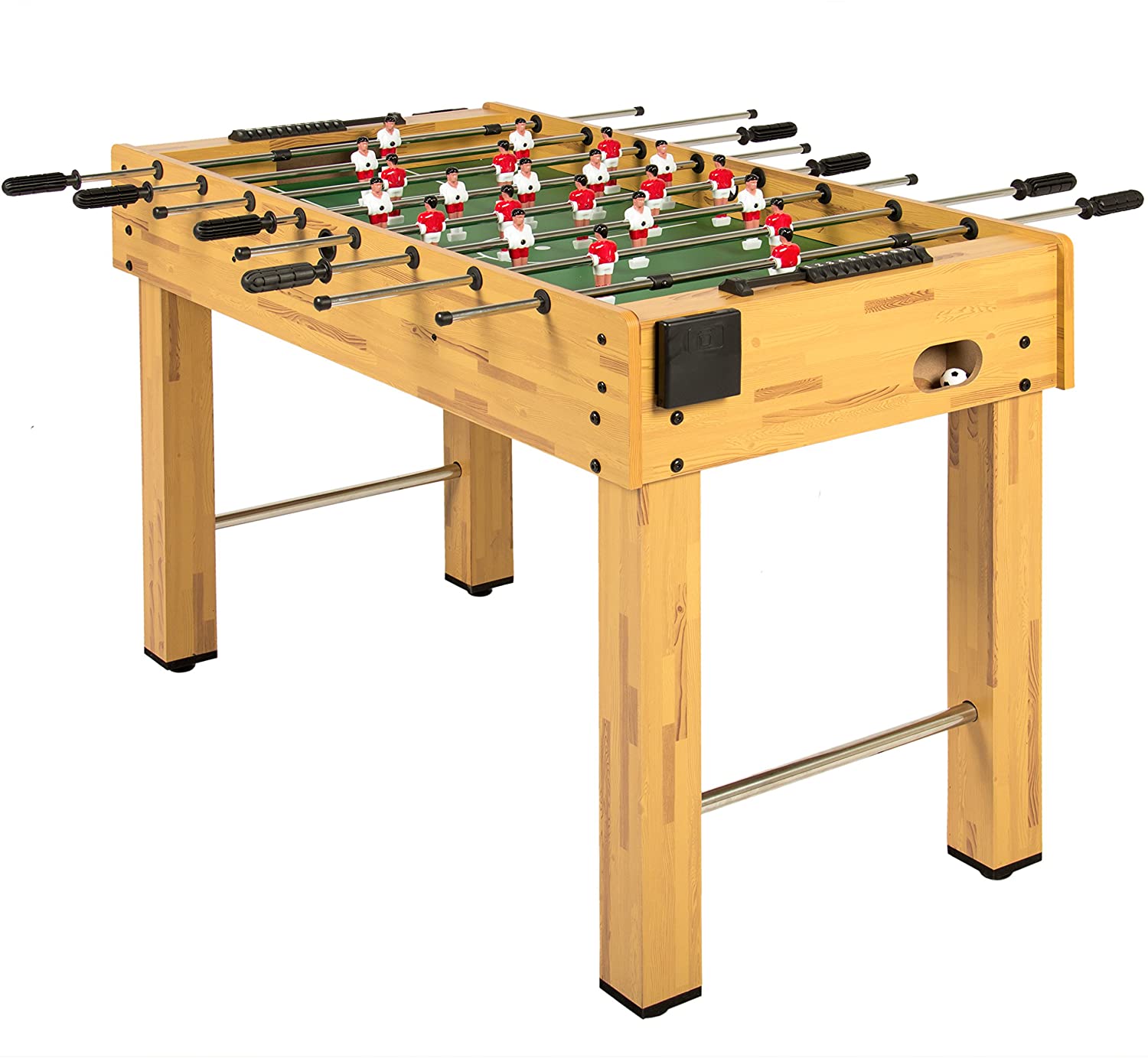 Next on our list of best mini foosball tables is the Best Choice Products 48″ Competition Sized Soccer Foosball Table. Best Choice Products makes some great lower-priced game tables and are one of the top recommended products on our pool table ping pong combo table page.
Where to buy:

Like the KICK model above, the Best Choice Products model is a 48″ stand alone foosball table. It is made out of MDF instead of wood, which is the reason for the lower price. If you are curious about the differences between wood, MDF, and particleboard, read the short paragraph below the best mini foosball table choices.
Some of the directions may be a bit confusing, so be sure to pay close attention when you are putting the table together. Once you get it together though, the table is incredibly sturdy and well put together. An added feature of the table is a cup holder on each side.
Bottom line: This table is not quite as high quality as the KICK option above, but is a tad cheaper. If you are looking for a cheaper version of a mini foosball table, this is a great option for you.
3. Sport Squad FX40 Foosball Tabletop Game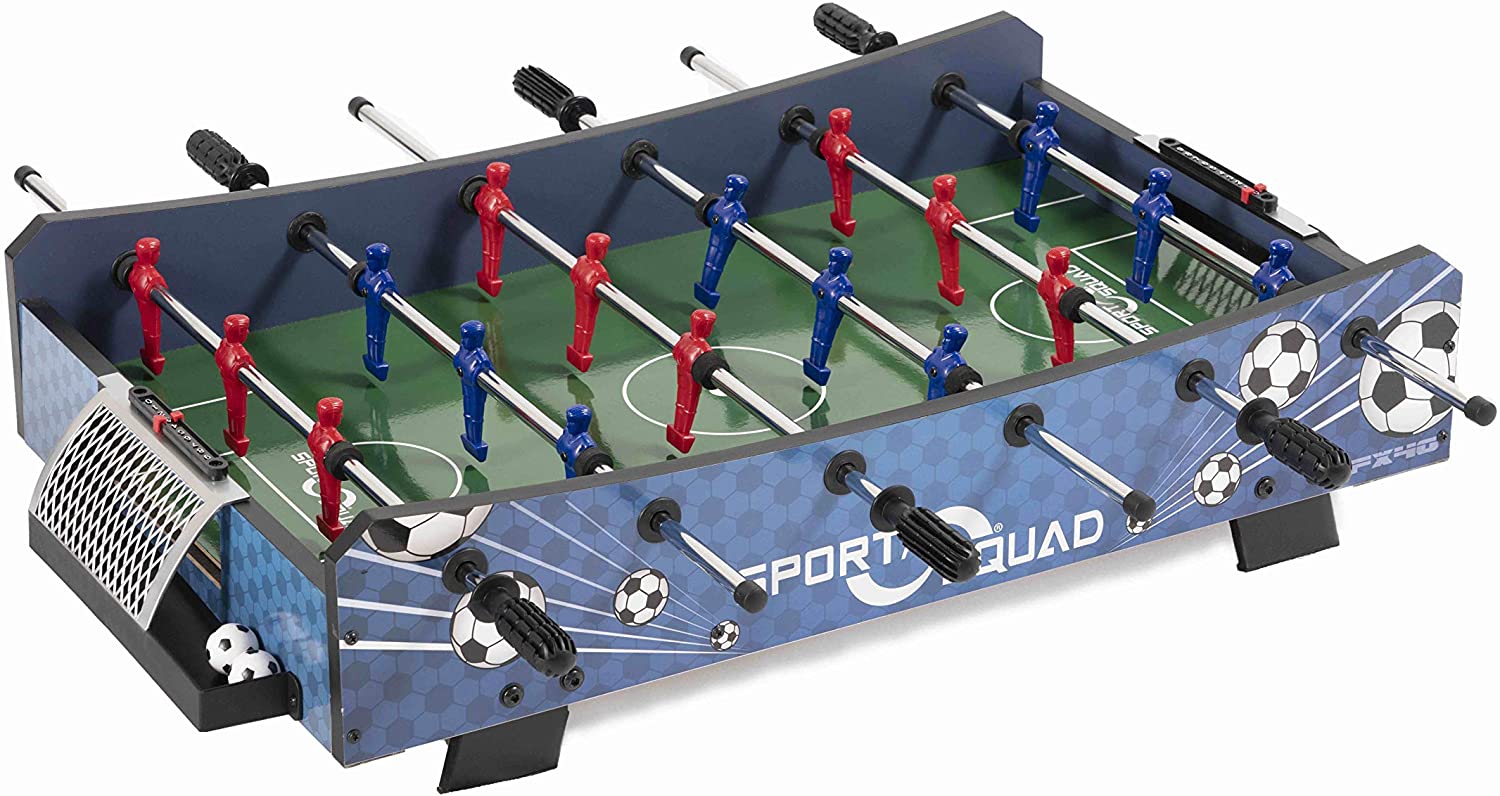 If you are shopping for a good tabletop foosball game for kids, then you should take a look at the Sport Squad FX40 Foosball Table. It is a favorite among kids and teens. And it just happens to be a good quality gaming table, so it offers a good value for the money.
This mini foosball tabletop game is one of the longest models being 40 inches long. It is 20 inches wide and it sits about 8 inches high once you put it on the flat surface for playing.
Where to buy:

Most of the components are very high quality. You've got chrome plated steel rods with ergonomic handles that have black rubber on them for easy gripping during fast game play. The playing surface is made from MDF. And if you're concerned about it leaving any marks on your tabletop, don't worry - it has rubber pads on the bottom of the legs to make sure that does not happen.
Like the other tables, there is a sliding score keeping system so that you always know which team is ahead. And, you'll like the 3-man goalie, which helps you make those tricky corner shots. Assembly does not take all that long, maybe a half hour to 45 minutes tops.
Bottom line: It's hard to find a better value for the money on the market right now. If you want something under $50, then this is the best that you're going to get. Of course, you do need to remember that the playing surface is MDF particle board and not real wood. As long as you're okay with that, then you will love playing on this one.
4. Rally and Roar Foosball Tabletop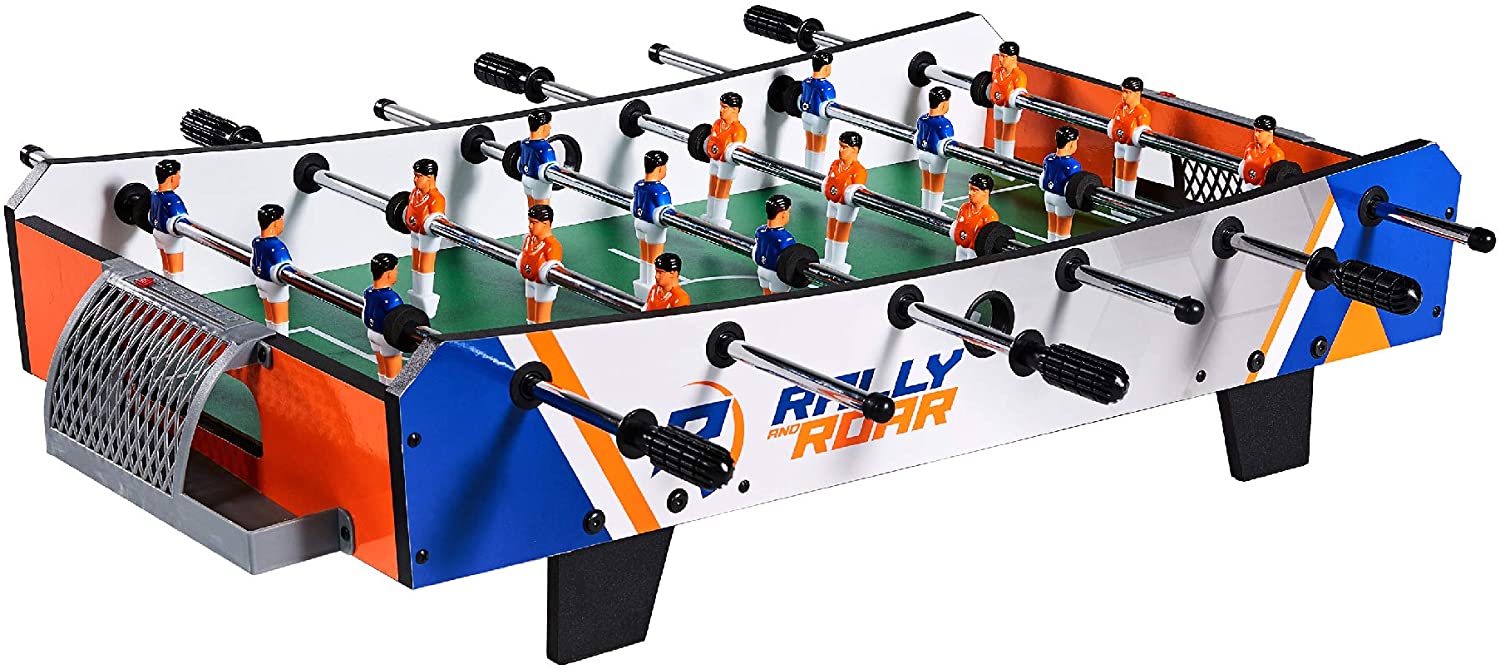 Next on our list is another tabletop mini foosball table, the Rally and Roar Foosball Tabletop. It is nearly the same size as the Sport Squad model above, measuring 40 inches long by 20 inches wide by 9 inches high.
This is a nice looking design that looks more like a soccer stadium rather than the standard foosball table.
Where to buy:

Although the table is also made out of MDF, it is very sturdy and can handle kids playing with it. The legs are padded so it doesn't move while you are playing, but be sure to play on a hard surface and not something like carpet. Assembly is quite easy and should take about half an hour.
Bottom line: This is a great mini foosball table with a neat design. It is very sturdy and easy to put together. Can't go wrong with this one!
5. Giantex 27″ Foosball Table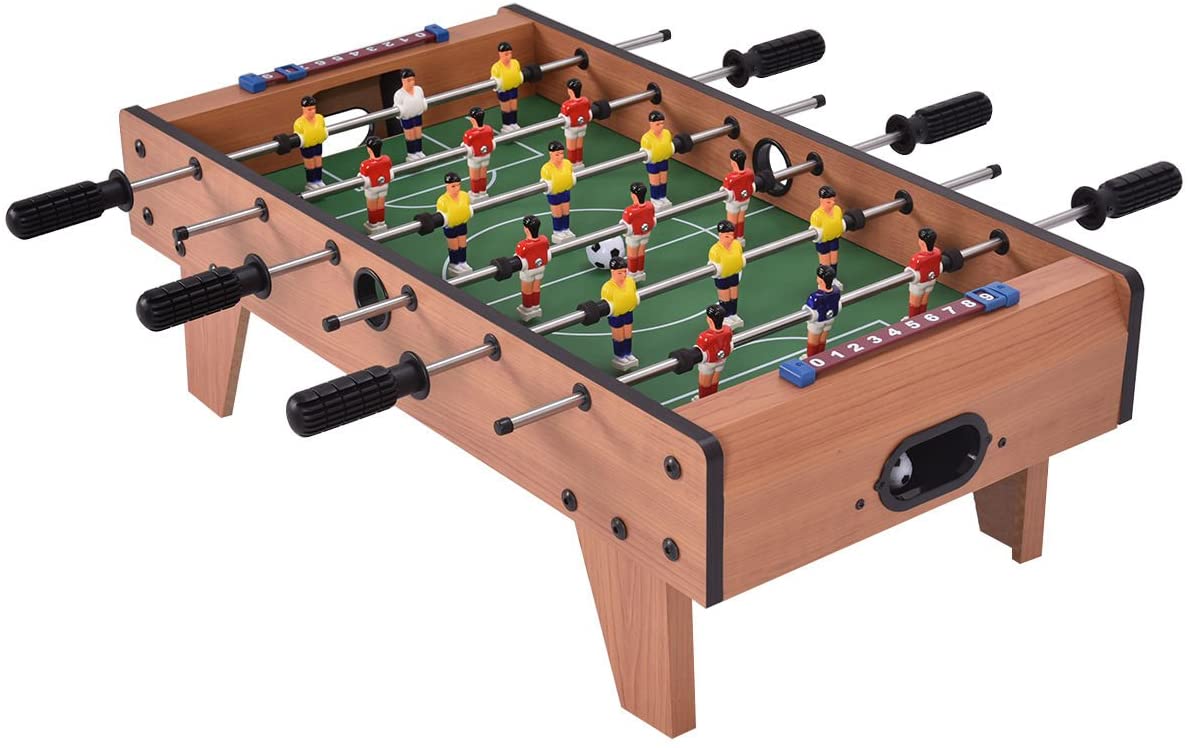 The last on our list might be considered a mini mini foosball table. At only 27″ wide the Giantex 27″ Foosball Table is designed for very little kids with only one player on each size.
Where to buy:

Although it is smaller than the other tabletop models, it is still very sturdy and able to take the beating that smaller kids may deliver. One nice thing about the smaller size is that assembly is super quick!
Bottom line: If you are looking for something very compact or for smaller kids, this is the one for you.
6. Tabletop Foosball Table by Hey! Play! - Link
Of the many aesthetic, high-quality tabletop foosball games on the market, this foosball table by Hey! Play! quickly comes to mind. Designed from metal and high-quality ABS plastic, this foosball table comes in Tan/Green color.
One of the things we love about this foosball table is that it does not require any technical tool to assemble. The only too you need to assemble the game is an Allen Wrench and it is included with the product. Only three players can play it at a time.
It is incredibly portable at just 20 inches long, which is ideal if you are looking to save space in your recreational room or kid's playroom. This tabletop foosball game is fun to play for both kids and adults alike. By continuously playing on this table, you get to perfect your foosball skills and even engage in friendly competitive matches with your kids, friends, and families.
The table comes with a complete game set which includes 2 soccer balls, two goalkeepers, and a full stack team of five players each for each team. It also comes with an effective ball return system so you don't have to worry about picking up the balls every time you score.
Pros
·Easy to assemble and play.
Ideal for kids and adults alike.
Portable and does not take lots of space.
It lets you enjoy quality foosball matches without having to worry about picking up the balls every time you score thanks to its auto ball return feature.
Cons
It feels cheaply made which isn't a surprise since it does not cost a whole ton.
Buying Guide for the Best Tabletop Foosball
Reading a review of the best tabletop foosball games on the market is all well and good. However, without knowing what to look out for at a foosball table, it would still be quite difficult to make the right choice. If anything, you would only end up choosing the table that fits your budget. As a result, we would discuss the important features to consider.
Table size
Standard foosball tables mostly come with 56 x 30 inches dimensions. Tabletop foosball tables on the other hand are incredibly smaller.
The size of a foosball table often influences its weight which in turn determines how portable the foosball table is.
Additionally, ensure that there is enough space in your home to fit the size of the table you end up buying.
Table Type
When shopping for a tabletop foosball table, there are three materials you would often come across.
The most popular and more often than not premium tabletop foosball table models are designed using Solid Wood. The most common and cheap models are made using particle boards. There are also tables made using composite wood which is not as expensive as Solid Wood mini foosball tables.
TIP: While they come very cheap, it is recommended to avoid any table made using particle boards. Not only do they feel cheap, they easily break when assembling them.
Goalie Setup
All Foosball tables can either have a three-man goalie configuration or a one-man goalie configuration. When it comes to this feature, what you choose is really down to personal preference since both setups guarantee a quality foosball experience.
That said, we do have some tips for you to help you make the right decision.
-If you are someone that loves fast-paced foosball games, then a table with a three-man goalie configuration would serve you well.
-However, if you are more concerned about foosball skillset, precision and timing, a one-man goalie configuration is your best bet.
In summary, three-man goalie setups are best for beginners (casuals) and kids while a one-man goalie configuration is ideal for anyone that wants to develop solid foosball skills.
Does the table have Counter Weighted Men?
Counter-weighted men mean the player pieces on the board would stay or revert to their natural horizontal position immediately after you release the rod. While it is not much of a big deal, it can make the difference between having a fun foosball game or a boring one where the weighted men keep getting in the way of your shots.
Type of Playing surface
Foosball tables come with different types of playing surfaces. We highly recommend getting a table with designs laminate on it. That way you don't have to worry about the line markers and designs rolling or peeling off due to continuous use.
NOTE: In summary, avoid foosball tables with stick-on designs.
Playing Rods
Most tables come with playing rods that are made of steel. However, some tables do not. It is important to only consider tables that have steel playing rods as they are easy to use, responsive, and very durable.
NOTE: Most high-end standard and mini foosball tables sometimes come with hollow rods. They are also very good, even better than steel rods, and you can expect quality performance while using them.
Your foosball skill level
It is also important to consider how skilled you are in foosball before buying a table.
If you are just starting, i.e., you haven't played a game of foosball before, it is best to go for a model that is cheap but still of good quality.
On the other hand, if you are very serious about the game, then you should go all out to get the best and most durable tabletop foosball you can afford. That way, you get to enjoy the game for as long as you want to play.
Table Levelers
This is not very important and frankly depends on personal preference. A Foosball table without a leveler means that in case the surface you place the table is not necessarily smooth, the table would lean to one side. This can end up making the game completely unfair for anyone on the leaning side of the table.
Real Wood vs Particleboard or MDF
As you compare all the top mini foosball tables above, you will notice that most of them are made out of MDF or particleboard instead of real wood. And, the real wood models have higher price tags.
That is because real wood is higher quality than particleboard or MDF.
In fact, with the particleboard and MDF models, you have to be careful when putting it together because you can very easily split the wood. This problem does not happen with the models that use real wood.
So, before you decide on one of the cheaper models, consider spending a little more for one of the higher quality models that uses real wood. You'll end up with a gaming table that will last you for much longer that way.
Discuss the Benefits of Playing Tabletop Foosball and How It Can Improve Your Skills

Much More Affordable and Accessible Option
Compared to the full-fledged version of foosball, tabletop is a much more affordable and accessible option. And playing tabletop can help you improve your skills when you're ready to move up in level! In this blog post we will discuss why it's worth giving table top Foosball a go and how it can strengthen all the right muscles that every player needs for their game.
Warming Up
Warming Up Before any intense or competitive sporting activity, players need to warm up their muscles and practise some of the basics before heading into the games themselves. The same goes with Foosball - if you want to get warmed up for an intense session on your home table, there are some great ways that tabletop Foosball can come in handy.
Warm Up Their Wrists and Forearms
The first thing that players should always do is warm up their wrists and forearms. It's important to get the blood flowing through your arms before you begin playing because building up speed on the rods can be very strenuous on these muscles. You should spend some time warming up your wrist by moving them around in circles, stretching them out, and then bending them down over and over again. This will ensure that you don't hurt yourself during the game!
Focus On Your Breathing
Before beginning, it's also good to focus on your breathing. Taking deep breaths can help you mentally prepare for all of the movements ahead, as well as connect you with your muscles on a more physical level. You can practice this by inhaling through your nose and exhaling out of your mouth.
Tabletop Foosball can be a great way to warm up before you move to the big table, and you'll also get an awesome workout! Before playing foosball on a full size table players should expect to work up a sweat in their arms and legs by running around the tabletop and quickly changing direction. This is a great way to prepare your body for the much more strenuous full size game to come!
Picking Your Foosball Style
When It Comes To The Tabletop Game, Relaxed Is King As with all things in life, you should never force anything when it comes to your foosball game. When you're playing tabletop, it's important to relax your muscles into the movements rather than tensing them. If you're new to Foosball then your body will feel tense when trying to spin the rods - this is totally normal, but instead of fighting it you should try and embrace it!
This tension in your muscles means that you're aware of what's going on in your muscles and how they work. When you relax everything, the movements become natural and fluid - it's like when you learn a new dance move or when you first start driving; when you're learning something new there's always that moment where your brain becomes one with the task at hand. Relaxing your muscles means that you're working with your body, not against it.
This is especially true for tabletop Foosball because the guys are very lightweight and can be difficult to control at first - if you tense up then it's even more strenuous on your arms. If you've ever tried playing foosball but failed miserably, consider whether or not you were tense through your whole body. Relaxation is key to a good tabletop game!
Highlight Some of the Top Players in the World of Tabletop Foosball and What Makes Them So Successful
The top two foosball players in the world are Olympians Kevin Stryker and Jeff "Tiger" Ragland. They are both dominant strikers on their teams, with tremendous ball control and an unmatched ability to score goals consistently.
Kevin Stryker
Stryker is one of the few table football players who has managed to play serious competitive table football at the international level as well as making a living playing table soccer. During tournaments, he is known for his smooth, fast and fluid ball handling and shot-making abilities. His ability to score makes him deadly on counterattack and he has won numerous matches with late goals after controlling the ball off an opponent's misplay. He is also a pacey player who uses a lot of plant-and-pivot to open up his opponent and avoid defenders. Stryker's style is considered the most effective offensive playing style in table foosball today.

Jeff "Tiger" Ragland
Jeff "Tiger" Ragland is also an Olympian, with several top 4 finishes at World Championships. His greatest claim to fame is his strong defense, which has led him to earn the nickname "Tiger" over the years. Ragland's style is considered very effective in use of counterattack and he likes to play a positional game based on quick pinning and shooting. This allows for his playing style to sometimes be mistaken as passive, but it has allowed him to add many victories in many tournaments by trapping his opponent and waiting for a chance to strike. Ragland is also known as having one of the most accurate shots in the sport.
David "Boom Boom" Rogers
The third best player in the world is David "Boom Boom" Rogers, an American player who has won several bronze and silver medals at world championships and has beaten both Kevin Stryker and Jeff "Tiger" Ragland in major tournaments. Rogers has developed a very unique playing style that has become dominant in the game of foosball. He is usually able to win games by opening up an opponent with his extremely accurate passing ability, but can also score goals on them with well-placed shots. A key to his passing game is the amount of "lookaway" passes he can make and his ability to fake and draw opponents out of position. Rogers' style has been widely emulated by players all over the world.
FAQs about Tabletop Foosballs
Can kids play on tabletop foosball tables?
Yes, most tabletop foosball games are secure and safe for kids to play on. However, it is always better to check if the table you are purchasing is kid-friendly. In this case, you want to buy mini foosball tables since their small size allows them to maneuver and play the game comfortably.
For instance, there are tabletop foosball games that are quite large and heavy. Such tables are designed for adult use. Also, there are table models that come with rubber pads for reinforced stability when a foosball match is underway. That way, kids can't just disrupt the game when they push or pull the table.
Can I convert a full Sized foosball table into a tabletop one?
There are two ways to answer this.
Some full-sized foosball tables have designs that let you unscrew their legs. This in turn converts it to a tabletop foosball model. However, because full-sized foosball tables are often bulky in size and substantially heavy, placing them on any surface around your home is not very safe - especially considering they are not designed for portability.
So can you convert a full-sized foosball table into a tabletop foosball table? Yes, you can. But you could cause long-term damage to the full-sized foosball table in the process of converting it to a tabletop one.
Is it possible to reconfigure the goalie setup in a foosball table?
Yes, you can reconfigure the goalie setup on your tabletop foosball table although the table model you want to reconfigure must allow this.
All you have to do is check out the specifications of the mode to confirm if the table offers multiple goalie setups.
NOTE: Even if the tabletop model allows for multiple goalie configurations, you still need to keep an eye out for the number of pieces included in the game set. Some models fail to have complete game sets when switching goalie setups. A good way to do this would be to check out online reviews of people who have bought or extensively used that particular tabletop model.
How much does a tabletop foosball game cost?
Yes, a tabletop foosball table game can be a good way to spend time with your family. It can even be a fun way for your kids and their friends to develop love and interest in the game. But how much would it cost to experience that type of fun?
The main reason a lot of people prefer tabletop foosball tables to full-sized ones isn't just because of their small size. It is because they do not come with an incredibly huge price tag.
NOTE: Since these types of foosball tables are miniature versions of a standard or full-size foosball table, they do not often come with a lot of features.
That said you can find mini foosball tables in various price ranges.
Does tabletop foosball weight matter?
The weight of your tabletop foosball table can determine how often you move it from one spot in your home to another. It also influences the area you decide to place the table in your home.
As you would expect, models that weigh very little are portable and easy to move from one room to another. That way you can play the game anytime and anywhere you feel like in your home.
NOTE: Mini Foosball tables can weigh as heavy as 22 pounds up.
Buy now at Etsy, Walmart, eBay (quality guaranteed)
Harvil 38-Inch Tabletop Foosball Table with Silver Rods and Non-Slip Handles, 2 Manual - Walmart, Etsy, eBay
Sport Squad FX40 40 inch Table Top Foosball Table for Adults and Kids - Compact Mini - Walmart, Etsy, Ebay
Triumph Sports Lumen-X 20" Table Top Foosball Game - Walmart, Etsy, eBay
S&T INC. T&S Tabletop Soccer Foosball Table Game - Walmart, Etsy, eBay
Mainstreet Classics 36-Inch Table Top Foosball/Soccer Game, Multicolor - Walmart, Etsy, eBay
Kick Monarch 48″ Folding Foosball Table - Walmart, Etsy, eBay
Best Choice Products 48″ Competition Sized Soccer Foosball Table - Walmart, Etsy, eBay
Sport Squad FX40 Foosball Table - Walmart, Etsy, eBay
Rally and Roar Foosball Tabletop - Walmart, Etsy, eBay
Giantex 27″ Foosball Table - Walmart, Etsy, Ebay
Conclusion for Tabletop Foosball Buyers
If you haven't made up your mind yet, here is a quick breakdown for the best mini foosball table for your needs.
Kick Monarch 48″ Folding Foosball Table - Best Mini Foosball Table. Stand alone table that is able to be folded and save space.
Best Choice Products 48″ Competition Sized Soccer Foosball Table - Stand alone table that is fairly cheap.
Sport Squad FX40 Foosball Table - Best tabletop mini foosball table.
Giantex 27″ Foosball Table - Ideal for small children and taking up a very limited amount of space.