When I was a kid, my favorite thing to do was convince my parents to take me to Chuck E. Cheese's so that I could play skee-ball. I loved playing that game - heck, I still do! That's why I was super excited when I realized that I could actually buy my very own home skee-ball machine for the basement game room.
Sounds pretty awesome, huh? That's cause it is! As an adult, I've been getting my skee-ball gaming on whenever I'm in a city that has a Dave and Buster's. But now, I can play whenever I want. If that sounds as awesome to you as it does to me, then let me help you relive those childhood memories by telling you how to get your very own skee-ball machine for home use. Below you'll see some of my recommended models as well as some tips on shopping for one of these.
Editor's Recommendation: Top Skee Ball Machine
Best Skee Ball Machines for the Money
To help make your decision just a little easier, our editors have taken the time to share some of their thoughts on the top skee-ball machines on the market. Check out their reviews below.
1. Hathaway Boardwalk 8-ft Skee Ball Table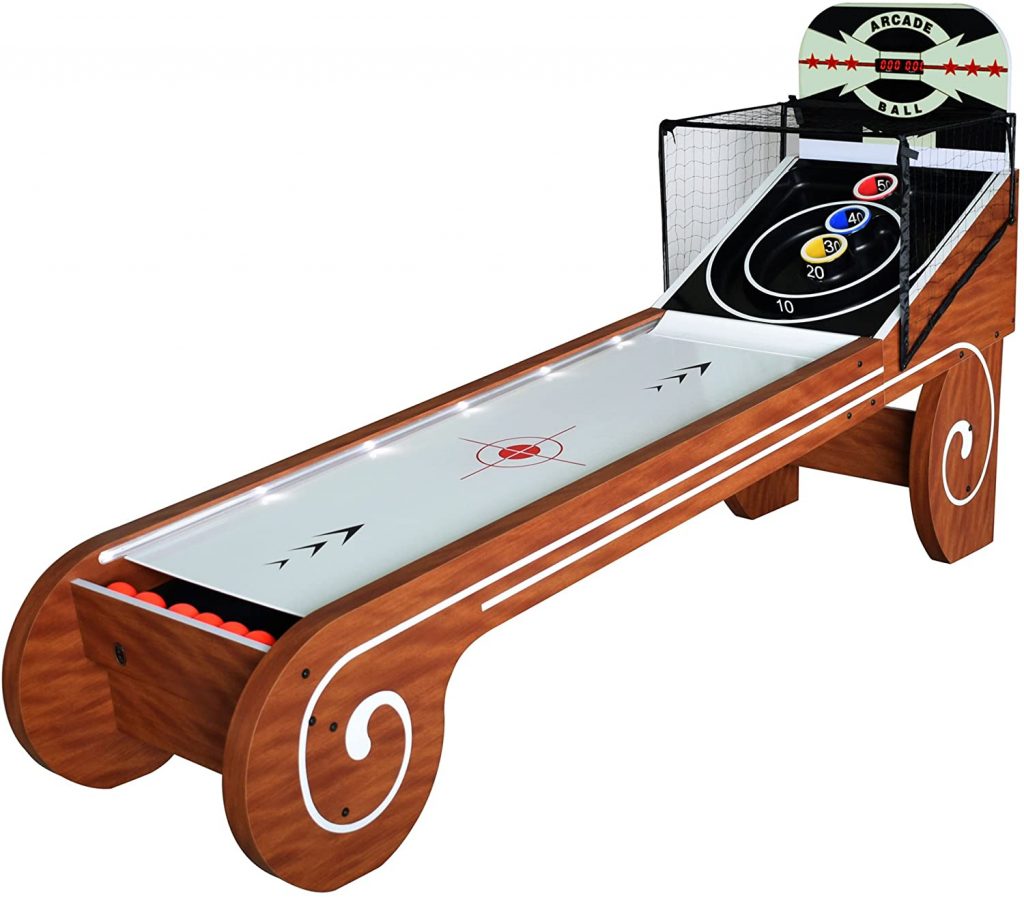 Looking for a skee-ball machine under $1000 that has a vintage skee ball machine look? If so, we highly recommend this model from Boardwalk. Keep reading our Hathaway Boardwalk 8-ft Arcade Ball Table Review to see what our editors like about this model.
As you can see in the image, it has a more old school look to it than the model reviewed up above. And this retro skee ball machine has a cheaper price than a lot of models on the market.
One positive feature of this model is that it weighs a LOT less than the model listed above. Since it is made out of MDF, the weight for this one comes in at just over 100 pounds!
You'll find that this one is a good option for younger kids since the balls are semi-soft instead of the traditional hard balls.
It's also important to note that this machine is not as long as the model reviewed above. In fact, it measures in at just over 8-feet in length!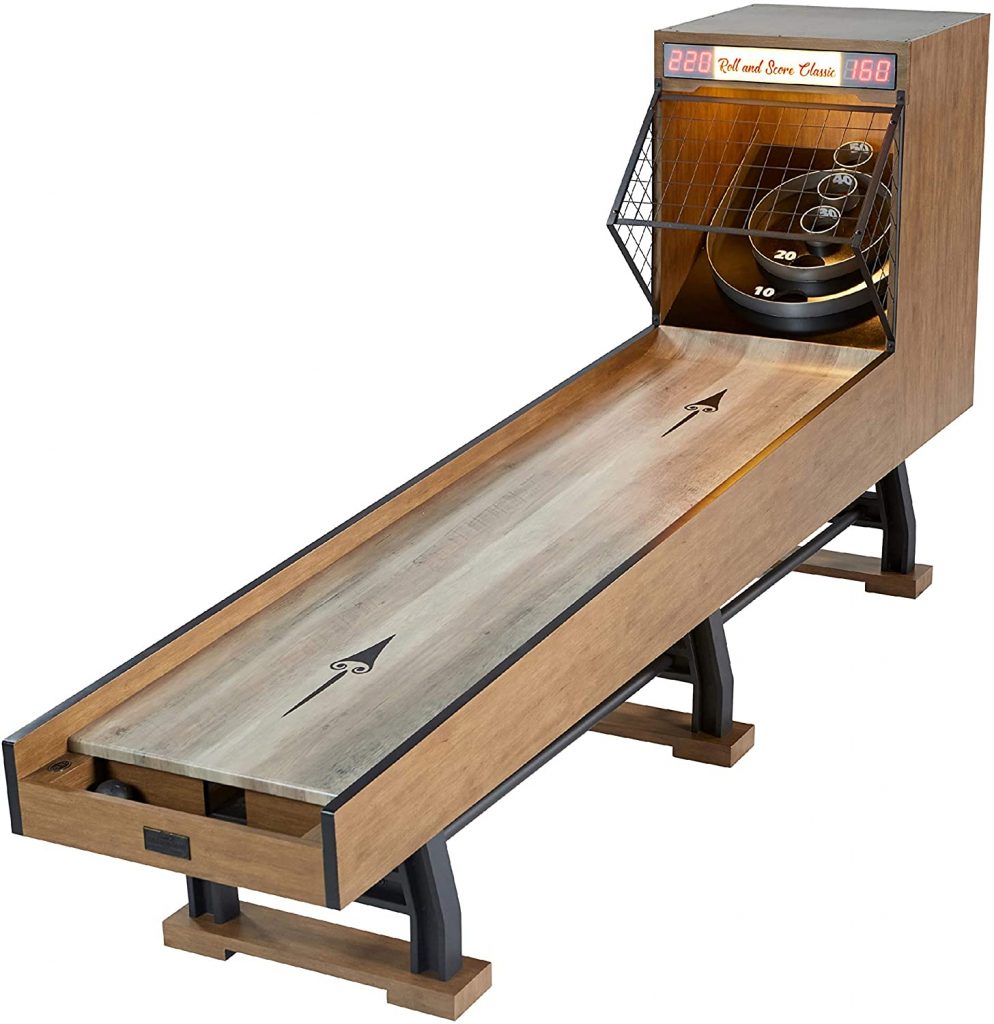 If you're looking for an elegant skee ball machine for your home that won't break the bank, then check out this model. Keep reading for our Barrington Billiards Coventry Collection 10 Ft Roll and Score Skee ball Game review to see what our editors think about this one.
Like the MD Sports model above, we're crazy for the design of this modern looking wooden skeeball table from Barring Billiards.
And we love that it is priced so affordably. In fact, if you're shopping for a skeeball table in the under $800 - $1000 price range, then we think that this should be the first table that you consider adding to your home game room.
Don't let the classy look of this game scare you away - you can still have hours of fun on it. This table has a LED lights and an oak finish and rust-resistant metal legs to enhance any game room or basement. Built-in ball return, electronic scoring, and arcade sound effects will keep your family entertained for hours!
It does weigh in at around 200 pounds, so make sure that you have some friends around to help you move this thing once it arrives at your home.
3. Hall of Games 9ft Roll and Score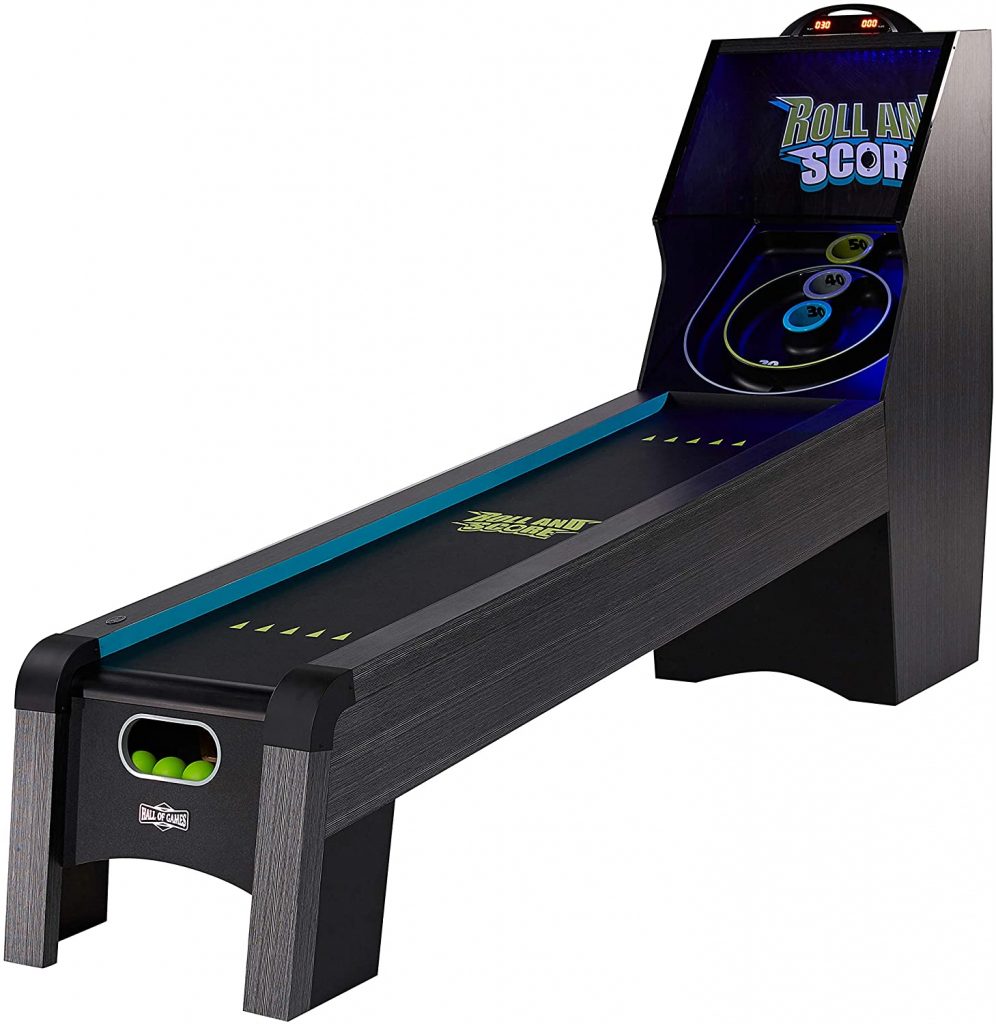 The Hall of Games Roll and Score Skee Ball machine is an awesome addition to any game room, man cave, or other gaming space. With LED lights built in, ABS scoring rings, and an automatic ball return, this skee ball machine will keep you and your family preoccupied with gaming fun for hours.
The Hall of Games Roll and Score features one solid piece of equipment with ½'' playing surface. Black PVC laminate and print graphics add to its visual appeal. With its vibrant LED lighting, engaging arcade sound effects, and push button controls with featured easy access, this skee ball machine brings the experience of a real arcade right to your home.
Clear, acrylic cover is also featured to prevent the ball from escaping. To ensure durability and long-term use, the ABS scoring rings are built to last. The table legs are built sturdily, featuring cross panel support for reinforcement. Four balls are included with the machine and with dimensions of 107 inches in length, 24.5 inches in width, and 75 inches in height, the Hall of Games Roll and Score will easily fit in most game rooms.
4. Fat Brain Toys Arcade Alley Ball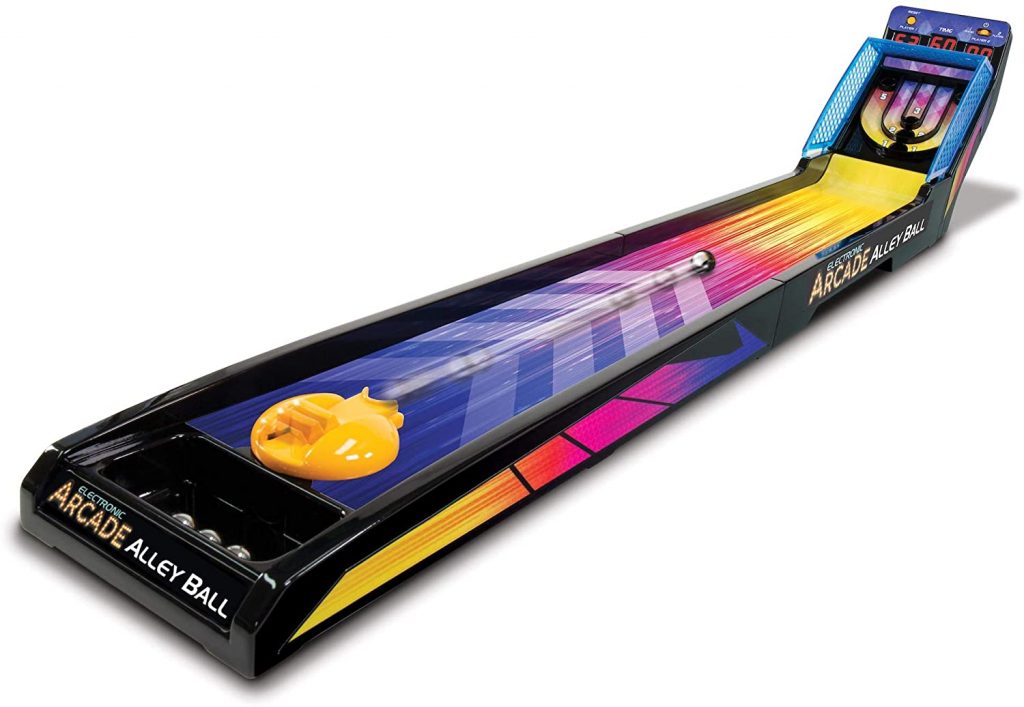 The Fat Brain Toys Arcade Alley Ball tabletop game is the perfect way to keep your children entertained for hours. Appropriate for kids ages 6 and up, with easy gameplay, a bright, colorful display, and easy assembly, this fun tabletop game will have your little ones begging to play again.
The Fat Brain Toys Arcade Alley Ball tabletop game allows children to sharpen spatial reasoning and improve hand-eye coordination, as well as concentration, all while enjoying the fun of a game. Children can play alone or in two-player mode. There are eight balls featured for loading the game's shooter. This tabletop version of the alley ball arcade game features an electronic scoreboard for easy score keeping and features a 3-foot-long track.
The product is 17.1 inches in length, 3.55 inches in width, and 13.3 inches in height. Batteries (3AAA) are required. Weighing only 2.8 pounds, the Fat Brain Toys Arcade All Ball tabletop game can be easily transported by your children.
Fat Brain Toys also confidently promises to create each of their toys with safety and quality at the forefront. Their toys have appeared on NBC's Today Show and ABC's Good Morning America.
EDITOR'S NOTE: These skee ball machines frequently go out of stock on Amazon and other similar machines will then be in stock. We do our best to keep this article updated with the latest products in stock. There around 10 different machines that rotate their stock quantity. This post was last updated September 2020.
5. Franklin Sports Whirl Ball Arcade Game - Link
The Franklin Sports Whirl Ball Arcade Game is one of the best value-for-money skee ball machines on the market. Primarily designed for kids but suitable to be played as a family, there is so much to love about it.
What we love about this machine is that it comes with a dedicated Auto Scoring electronic system that counts the score.
It comes with an automatic ball return ramp that brings the ball back to the direction it is facing. That way you can focus on the game and not have to worry about retrieving the balls after each round.
The machine has 5 scoring zones with different point values which adds a different layer of fun to the game.
As if that is not enough, the machine comes with foldable legs. As a result, you can easily fold the game for easy storage. Thereby, reducing how much space it carries in the house.
Highlighted Features
· Game room ready out of the box. There is no need for special tools to assemble this arcade game machine. You can start playing immediately.
· Features an electronic scoring system as well as arcade sounds to simulate the traditional arcade experience.
·Ideal for kids but adults can also join in on the fun.
·Easy to store.
·More Scoring zones increase the level of difficulty of the game.
·Comes with a timer for fair competition.
·Automatically returns arcade balls after each round.

6. Merchant Ambassador Electronic Arcade Alley Ball - Link
With a dimension of 17.14 x 3.55 x 13.4, the Merchant Ambassador Electronic Arcade Alley ball machine isn't just a game addition to your recreation or game room. It is also a stylish addition to the room thanks to its vibrant lighting system.
Made entirely of steel, this machine lets you play authentic alley ball! Only two players can play at a single time and it has a 36-inch playing surface (length).
It comes with an automatic scoring system to keep track of the scores. There is also a timer so that you and your friends can have a multiplayer game that is competitive while also being fair. The maximum setting you can set on the timer is 60 seconds.
Out of the box, it comes with a 36-inch long alley board as well as 8 steel balls. It also comes with an instruction manual to get you started.
NOTE: It does not come with batteries. You will have to purchase batteries separately.
One major issue users tend to have with this machine is that the balls tend to scatter because the net designed for this purpose is poorly designed and barely does its work correctly.
NOTE: This issue seems like a factory defect as it is not present in all machines. You just have to hope yours is fully functional and without defects.
Highlighted Features
·The playing surface is 36 inches long.
·Comes with a timer as well as a dedicated auto-scoring system.
·Can be played by two players at a time.
·Comes with a set of easy-to-follow instructions on how to assemble and play.

7. Lancaster 108 Inch Classic Arcade Roll and Score Machine Table - Link
If you are looking for a fun Skee ball machine playable by more than 2 players, the Lancaster 108 Inch classic Arcade Roll and Score Machine table would serve you well.
Made from wood and plastic, (wooden frame. Only the electronic part of the machine has a plastic component), this machine offers a fun way of spending the day with families and friends.
Playable by four players at the same time, the gameplay is highly competitive. Essentially, players have to roll their balls down the alley to get the balls to enter one of three bull's eye rings at the end of the machine.
It comes with arcade lights, an electronic scorer, arcade sound effects as well a push buttons to give you and your family an authentic arcade experience. The machine also comes with an effective ball return design so you and anyone playing can focus on having a competitive match without having to break strides to return balls to the starting line.
Highlighted Features
·Made using premium plastic and sturdy wood.
·The machine offers an authentic arcade experience thanks to its auto-scoring system, built-in automatic ball return feature, blacklight lighting system, and sound effects.
·Up to 4 players can play at once.
·Primarily designed for family game nights.

8. Skee-Ball Arcade Table Machine Game for Home Basement, Recreation Rooms - Link
This premium arcade machine features a sturdy and classic design that gives nostalgic feelings to avid skee ball fans.
Made in the USA, this machine is a perfect addition to any home game or recreational room. You can even place it in your garage, private jet, man cave, etc. Provided there is space enough for it, this machine would fit right in.
Highlighted Features
·A fun game that can be played by the entire family
·Nostalgic design for avid skee ball game fans
· Easy to assemble and play
·Compact design (with dimensions of 8.6 x 2 x 5.4 inches) means it can fit almost any room. Even a private jet!
·Comes with detailed instructions on how to set it up and play.
·Authentic arcade sounds, and a Digital Scoring system
·Works both on electricity and batteries.
Things To Consider Before Buying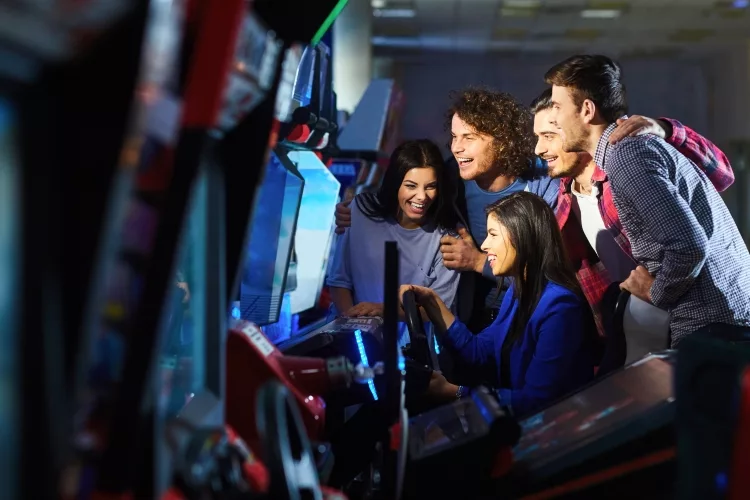 So, I've got you interested in adding one of these awesome skee ball machines to your family game room. Now, let's make sure that you get the perfect machine for the job by answering some of the questions below.
Who Is It For?
Are you a cool adult like me who is just buying one of these for yourself? Or do you have kids at home who will also be playing the game? If so, are these teenagers or younger kids? The reason that this is important is that you want to be sure that you choose something that is kid-friendly. Or, maybe you're buying one of these just for the kiddos - if that's the case, then you probably don't want to spend a fortune on one that teens and adults can enjoy.
Knowing who you're shopping for first will help you pick the perfect skee ball machine.
How Much Space Do You Have?
If you live in a small apartment, condo or townhouse, then I have some bad news for you - one of these is probably not gonna fit in your home. In case you haven't played one of these in a while, they are really long and take up a lot of space. You need a good sized family game room, a basement or a garage where you can put it. One average these things are close to 9-feet long and around 5-feet high in the back.
What's Your Budget?
If you've ever looked into buying an arcade cabinet, then you know what I'm about to say. Skee-ball machines for home use are not cheap. There are a couple of models that I've seen available under $1000 brand new, but the really nice machines will run you a few thousand dollars.
Should You Buy A Used Skee-Ball Machine?
Since the really nice models can be very expensive, you may want to consider buying yourself a used machine. You can look on your local Craigslist or eBay to find one. However, before you take this route keep in mind that you may need to call on an electrician or arcade repair person to give it some TLC, and that cost can also add up. So, we really do advise you to go with a brand new model when possible. But, if your budget can't afford it, then we suggest eBay as the place to start for second-hand skee ball machines.
FAQs
Who is a Skee ball machine for?
Hearing a lot about Skee Ball machines but you are not quite sure if you should buy one? Read on, we got you covered.
First things first; buying a Skee Ball machine is a no-brainer if you are a big fan of Skee ball. However, this does not mean you can't purchase one as a casual.
Having a personal skee ball machine means you get to play the game anytime you want, thus developing more interest in the game itself. One thing to consider when buying a skee ball machine is that they come in different types: there are skee ball machines for adults as well as for kids.
Asides from buying the machine for your personal use, they are also very good gift ideas especially if you have an adult friend that particularly loves the game.
How long is a typical Skee Ball Machine?
Skee Ball Machines comes in different length. That said, the main thing to consider when buying one is how much space you have in your room.
Do you have a dedicated recreation or games room? Can you comfortably walk, stand, or even perform other activities once the machine is in the room?
These are very important questions to ask yourself before deciding how long you want your skee ball machine to be.
Most Skee Ball Machine sizes range between 10 x 2 feet or 8 x 2 feet.
How much does a Skee ball machine cost?
Saving up for your Skee Ball machine but not quite sure how much it would cost? Well, the actual cost of any skee ball machine depends on several things.
Regardless of how much you have, there is always a Skee Ball machine for you. Mostly the price of a Skee Ball machine depends on the quality of the machine. Sometimes it also depends on the number of features the machine has as well as the brand you are buying from.
Hence, you can find Skee Ball machines as cheap as $50. And, you can also find machines as expensive as $500. The most important thing is to identify whether or not the machine offers the best value for money.
Is an Electronic Scoring system important in a Skee ball machine?
This is one of the unique features that determine how expensive a Skee ball machine is. As a result, not all models have it since it add a new level of versatility to the machine.
For most machines, you have to manually keep track of the scores. While this is not overly a bad thing, it can quickly get tiring. Apart from that, it can also lead to errors.
A machine with an electronic scoring system, on the other hand, eliminates this issue so you can fully focus on the game being played. Apart from that, machines with an electronic scoring system also come lighting system as well as arcade sounds that adds another rich layer of enjoyment to the game.
That said, there are instances where having an electronic scoring system isn't that important. For instance, if you play the game alone, you don't necessarily have to keep scores and you can just play for as long as you want. In this case, you are not getting the best value for money by purchasing a machine with LEDs and an electronic scoring system.
Can Kids Play Skee Ball?
Of course, they can! Not just that, there are skee ball machines specifically built with children in mind. They have small sizes and mostly comes with arcade sounds and a lighting system to keep kids occupied and engaged. That is not to say kids can't play on any type of Skee ball machine.
For instance, if you are an avid fan of the game, you can buy a machine and introduce your kids to the game. If they take to it, the game can quickly become a favorite family pastime that you all play and enjoy together.