When I was a kid, my favorite thing to do was convince my parents to take me to Chuck E. Cheese's so that I could play skee-ball. I loved playing that game – heck, I still do! That's why I was super excited when I realized that I could actually buy my very own home skee-ball machine for the basement game room.
Sounds pretty awesome, huh? That's cause it is! As an adult, I've been getting my skee-ball gaming on whenever I'm in a city that has a Dave and Buster's. But now, I can play whenever I want. If that sounds as awesome to you as it does to me, then let me help you relive those childhood memories by telling you how to get your very own skee-ball machine for home use. Below you'll see some of my recommended models as well as some tips on shopping for one of these.
Top 5 Best Skee-Ball Machines for the Money (2017 - 2018)
our editor selections below are based on value and quality of the machines. **This page contains some affiliate links and GamingWeekender may be compensated if you make a purchase after clicking on the links.
Things To Consider Before Buying
So, I've got you interested in adding one of these awesome machines to your family game room. Now, let's make sure that you get the perfect machine for the job by answering some of the questions below.
Who Is It For?
Are you a cool adult like me who is just buying one of these for yourself? Or do you have kids at home who will also be playing the game? If so, are these teenagers or younger kids? The reason that this is important is that you want to be sure that you choose something that is kid-friendly. Or, maybe you're buying one of these just for the kiddos – if that's the case, then you probably don't want to spend a fortune on one that teens and adults can enjoy.
Knowing who you're shopping for first will help you pick the perfect skeeball machine.
How Much Space Do You Have?
If you live in a small apartment, condo or townhouse, then I have some bad news for you – one of these is probably not gonna fit in your home. In case you haven't played one of these in a while, they are really long and take up a lot of space. You need a good sized family game room, a basement or a garage where you can put it. One average these things are close to 9-feet long and around 5-feet high in the back.
What's Your Budget?
If you've ever looked into buying an arcade cabinet, then you know what I'm about to say. Skee-ball machines for home use are not cheap. There are a couple of models that I've seen available under $1000 brand new, but the really nice machines will run you a few thousand dollars.
Should You Buy A Used Skee-Ball Machine?
Since the really nice models can be very expensive, you may want to consider buying yourself a used machine. You can look on your local Craigslist or eBay to find one. However, before you take this route keep in mind that you may need to call on an electrician or arcade repair person to give it some TLC, and that cost can also add up. So, we really do advise you to go with a brand new model when possible. But, if your budget can't afford it, then we suggest eBay as the place to start for second-hand skee ball machines
.
Skee-Ball Machine Reviews
To help make your decision just a little easier, our editors have taken the time to share some of their thoughts on the top skee-ball machines on the market. Check out their reviews below.
Skee-Ball 2010 Alley (10 Feet Long) Review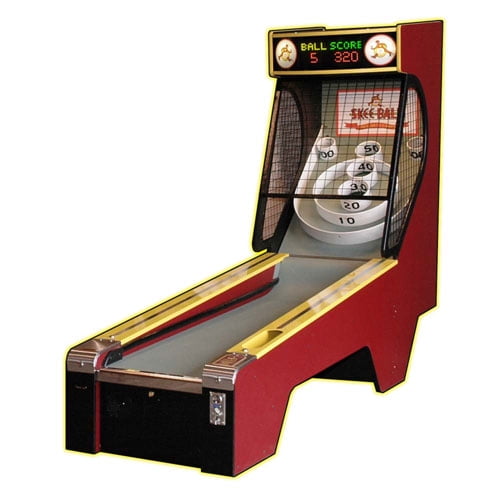 If you want to play skeeball at home on a machine just like you'll find at the arcade, then this model here is a great choice. The Skee-Ball 2010 Alley machine gives you that 80's arcade-style vintage skee-ball machine design that you know and love.
It's got the standard electronic display that shows your score and the number of balls that you've rolled. This is exactly like the ones we used to play at Chuck E. Cheese!
Just make sure you have plenty of space for it, since it is 10 feet long. And make sure it's not going upstairs since this thing weighs in at around 540 pounds.
Overall, this is a quality commercial skee-ball machine for home. It should last you and your family for plenty of years of fun game play. The only thing we don't like about it is the price, which is several thousand dollars.
Boardwalk 8-ft Arcade Ball Table Review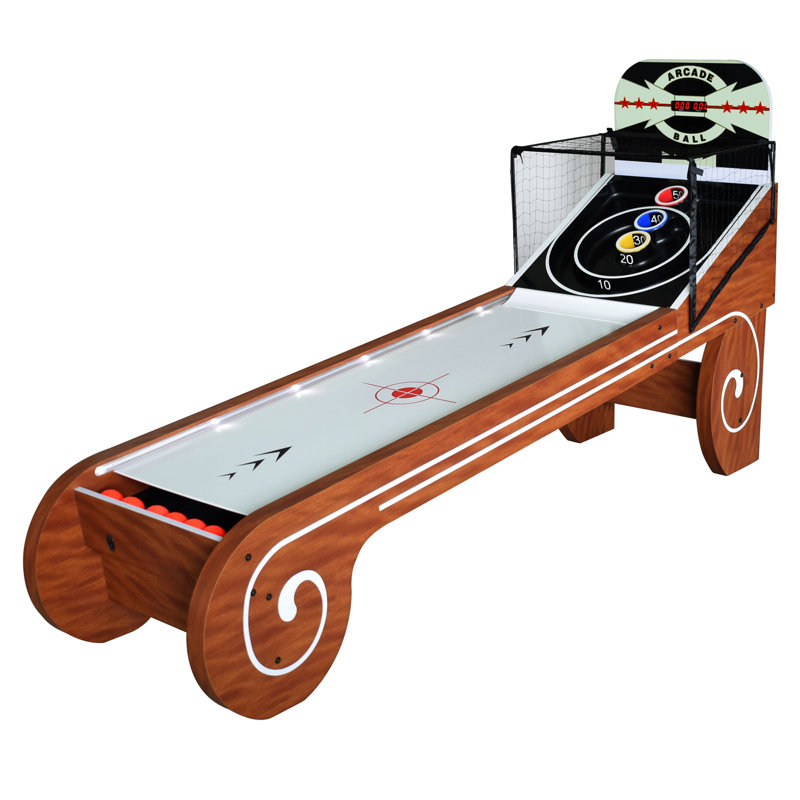 Looking for a skee-ball machine under $1000 that has a vintage skeeball machine look? If so, we highly recommend this model from Boardwalk.
As you can see in the image, it has a more old school look to it than the model reviewed up above. And this retro skee ball machine has a cheaper price than a lot of models on the market.
One positive feature of this model is that it weighs a LOT less than the model listed above. Since it is made out of MDF, the weight for this one comes in at just over 100 pounds!
You'll find that this one is a good option for younger kids since the balls are semi-soft instead of the traditional hard balls.
It's also important to note that this machine is not as long as the model reviewed above. In fact, it measures in at just over 8-feet in length!