Whenever I find myself at the local Dave & Buster's, I always end the night with a few competitive games of arcade basketball. Nothing beats a little one-on-one with your buddies at the arcade. And I'm a really big fan of the games where the hoop actually moves so that it gets harder to make the shots. Have I got you wanting to get in a game or two? Thinking about hustling to make the most shots before that buzzer goes off?
Good news - you can actually put one of these in your home! That's right you can bring the awesomeness of basketball arcade games into your home game room, mancave, basement or wherever else you want to stash one of these. And the best part? Several models are cheap! Ready to learn more about the ones that we think are the best indoor basketball arcade games for the money? Keep reading.
Top Indoor Basketball Arcade Game by Editors in 2022
What To Consider Before Buying
Okay, so you know that you want to get one of these basketball arcade games for your home, but now what? Well, instead of buying up the first one that you find for sale online, we suggest that you take a moment to consider a few things first.
How many hoops do you need? Do you want to be able to play against one other person? Two other people? More? Knowing how many hoops you want helps you to narrow down your search.
How much space do you have available? Most of these games fold up for easy storage, but some don't. And the models can take up different amounts of space when in use. Know in advance how much game playing space you have. And remember to account for enough space for players to stand and shoot.
Do you need professional / commercial arcade quality? If you want the top of the line, then this is the best that money can buy - and it's totally worth it. But it does come at high cost.
What's your budget? You can find a basketball arcade game to fit almost any budget - from under $100 to under $10,000. Know how much you can spend in advance so that you don't get your heart set on a game that's out of your price range.
Do you need a height adjustable frame? If you're buying this for kids, then you might want to be sure to buy a model that has a heigh adjustable frame. This way, the game can grow with your kids. Based on our experience, expect a model like this to have a price tag of $200 or higher MSRP.
Now that you know what to look for before you start shopping, check out our basketball arcade game reviews below. You'll find our editor's favorite models on the market right now. We recommend you start your shopping with these games.
Best Indoor Basketball Arcade Games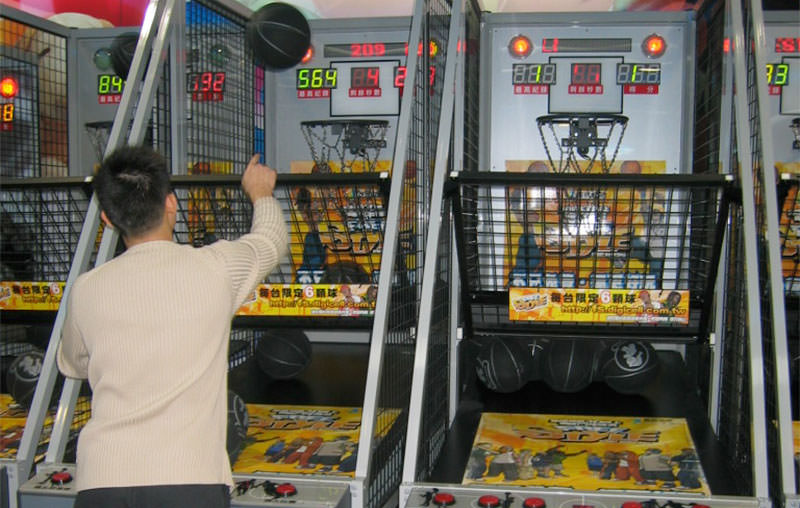 1. Hathaway Shot Pro Deluxe Electronic Basketball Game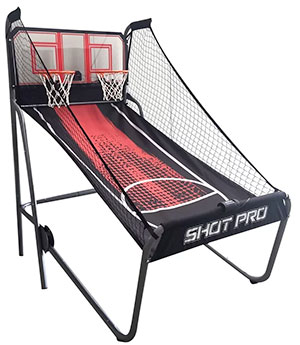 If you want to play against someone else, then we think that this model from Hathaway is the best dual / double indoor basketball arcade game right now. It's made by one of the top brands in home game room accessories and we think that it has an affordable price.
With a powder coated 1.75-In diameter heavy gauge steel frame, it is a relatively durable game that seems to have been built with quality in mind. The backboard is made of clear acrylic. And the durable heavy gauge rip-stop Nylon Canvas ramp with double-stitched side netting can take the weight of all those basketballs bouncing in it.
Of course, there is also a dual LED display electronic scoring and time clock with 8 exciting game options. The game does come with an AC adapter included, but you can actually power it with (3) AA batteries (not included) if you prefer. That means you can even get in a few games during a power outage.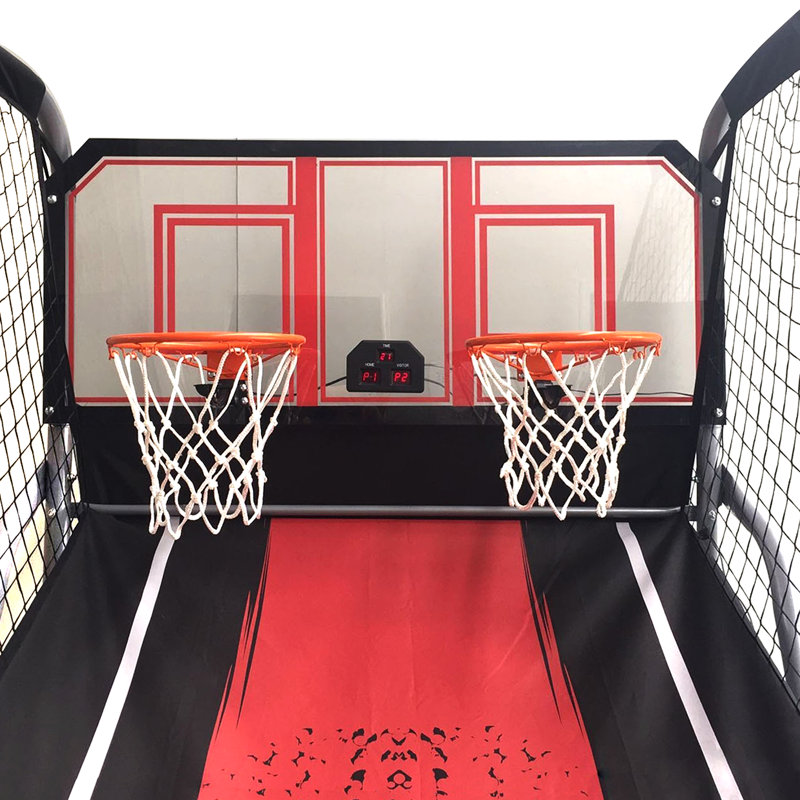 One of the nice things about this Hathaway model is that it folds up for easy storage when it's not in use. That makes it surprisingly compact and feasible for even people with small spaces to play this game. When you're done playing, simply fold the Shot Pro into a space saving position for easy storage.
Where to Buy:
Overall, we think that this is one of the more sturdy basketball arcade games on the market right now.
2. ESPN EZ Fold Indoor Basketball Game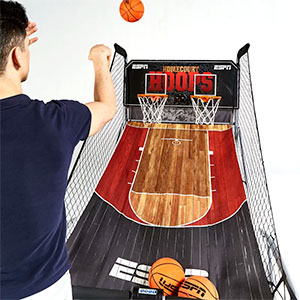 Another decent option for a two player indoor basketball arcade game is this model by ESPN. Our editors love the value you get with this model since it has an affordable, low price. That makes this a good basketball arcade game for teens and kids at home.
As you might expect, the ESPN brand name makes this model very popular with sports fans everywhere. And despite the low price, the quality of this model is decent.
Like the Hathaway model listed above, this game features a new folding design that is easy to use and offers storage space saving.
This one also has 8 different games options built-in to the electronic scoring system which can be played by 1 or 2 players. And the construction is decent with a sturdy metal frame and steel rims. The backboard of this one is made of MDF, so not quite as nice as the Hathaway model listed above.
Where to Buy:
Based on our testing, this one isn't quite as durable as the Hathaway model listed above, but you should still be able to get in a decent amount of game play if you're not too rough on it. But if you think you're going to be rough on it, then definitely skip this model and go with the more durable Hathaway model listed above. Overall this one is good, but not great - but still better than most options currently available in the market.
3. Skee Ball Super Shot Deluxe Electronic Basketball Game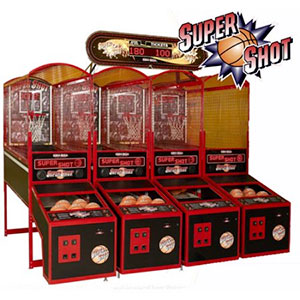 If you've got the money to spend, then this right here offers the most authentic arcade basketball experience. But make no mistake - it comes at a very high price tag. But hey, if you seriously love arcade basketball and you can afford it, then it definitely doesn't get any better than this!
Other than the high price tag, the only bad thing about this model is that the steep price only get you one unit. Yup, you have to buy additional games in order to play against someone else. I gotta tell you though, when I first found this model I started doing the math in my head to see if I could open up my own little mini arcade and make some money!
This model offers all of the best and most profitable basketball features - Linkability for competitive play, a moving backboard, great looks, and real basketball sound effects. You can link up to six of these games together for competitive play.
And the best part - the moving backboard creates four different games! As expected at this price level, you get the highest quality and experience with this game model.
Where to Buy:
So, if you want the professional quality or commercial quality of a basketball arcade game for your home, then this is what you've been looking for. And hey, it might help you improve your b-ball skills on the court.
4. Lifetime 90648 Double Shot Deluxe Basketball Arcade Game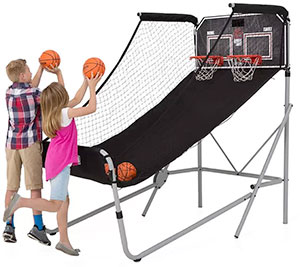 Another decent option is this model from Lifetime. It has a similar price range to the Hathaway model listed above and a similar design with sturdy construction.
So, consider testing your skills on a heavy-duty double shot arcade basketball system from Lifetime products. Constructed of heavy-duty 18 gauge powder-coated steel, the lifetime double shot is durable, rust-resistant and will not crack, chip or peel.
The system on this game has been programmed with 4 new games for single players, 4 new games for 2 players and 4 new games for multiple players enjoy 12 new games with your family and friends!
It folds up for easy storage and we really like that the frame is height adjustable in the front and back, which makes it good for kids.
The nylon ramp has adjustable straps and buckles and unlike many systems, it will not fray or sag over time. The convenient ramp design folds up and secures in place with locking pins, providing safe, out-of-the-way storage. With infrared optical scoring and fun sound effects, the double shot is sure to create a fun arcade atmosphere, providing your family with years of excitement and fun.
Where to Buy:
Overall, this is a decent alternative to some of the models listed above, though we still think that the Hathaway model is an overall better value for the money.