Looking to experience some of your nostalgic gaming experience again with your friends or family? Thanks to technological advancements in the gaming department, you can do just that.
The old Classic Arcade games are bulky, heavy, and expensive models and while you might still be able to buy them, they don't offer much value for money. What with them being too bulky to move around.
Fortunately, there are newer models built for convenience, fun, comfort, and a highly competitive arcade experience. These models are referred to as tabletop arcades since you have to place them on a table or similar surface to comfortably play them.
In this post, we will review one of the best tabletop arcades on the market that stands out for us. Then, we would discuss everything you need to consider before buying a tabletop arcade machine in our buying guide section.
Top 7 Table-top Arcade Games by Editors' Picks
Best Tabletop Arcade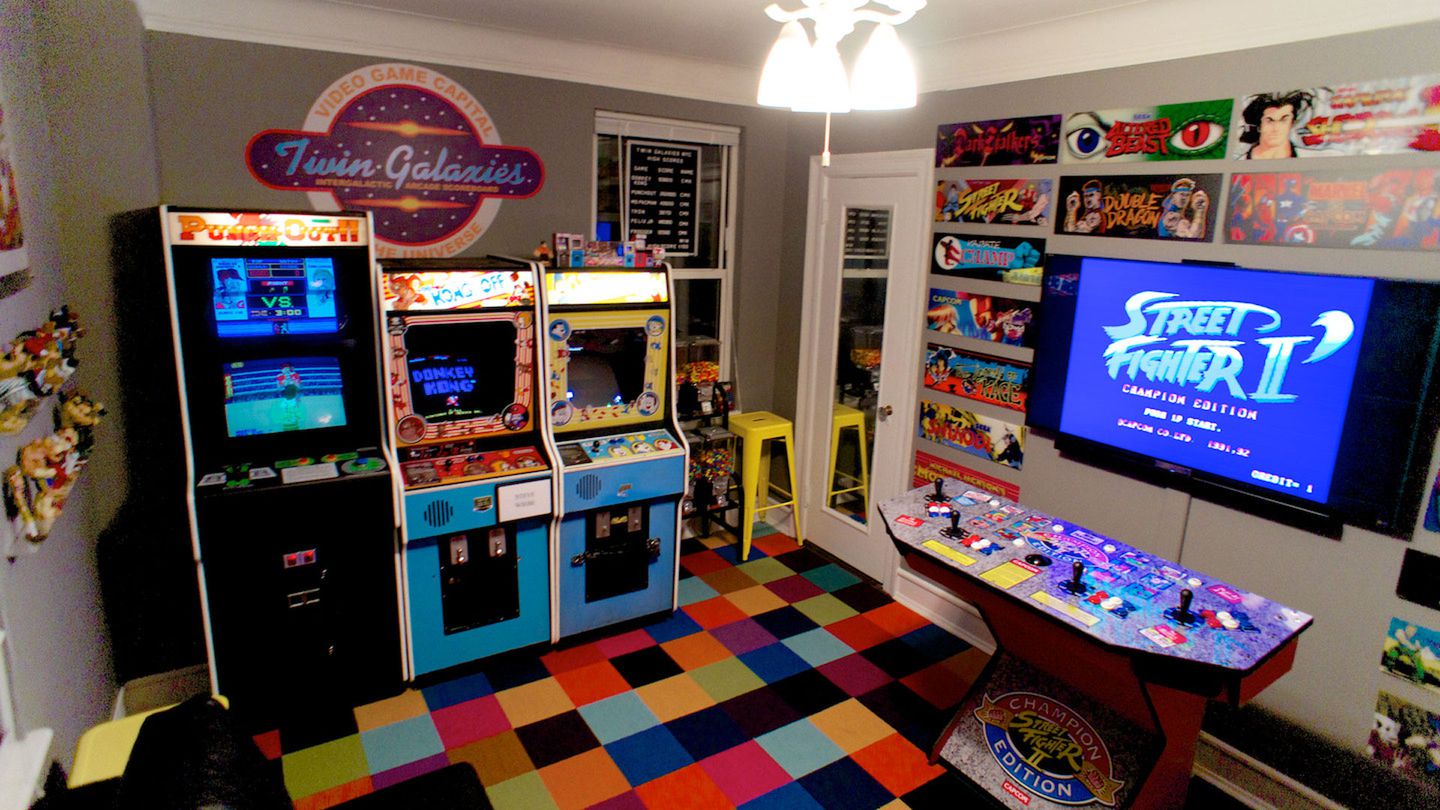 We all have fond memories of classic video games. The sounds of Pac-Man chomping down on white dots as he evades ghosts is ingrained in the brains of an entire generation, and images of Mario breaking boxes are still prevalent in pop culture. Memories of going to the arcade and playing rounds of Street Fighter with friends can still warm our hearts. For many, video games were the fabric of childhood. Those classic games we all loved may seem like a past we can no longer experience, but this is not the case. All those classic games we loved have seen a resurgence and can be experienced again in the form of a tabletop arcade.
1. Cocktail Arcade Machine 1162 Games in 1 with 80's and 90's Classics - Link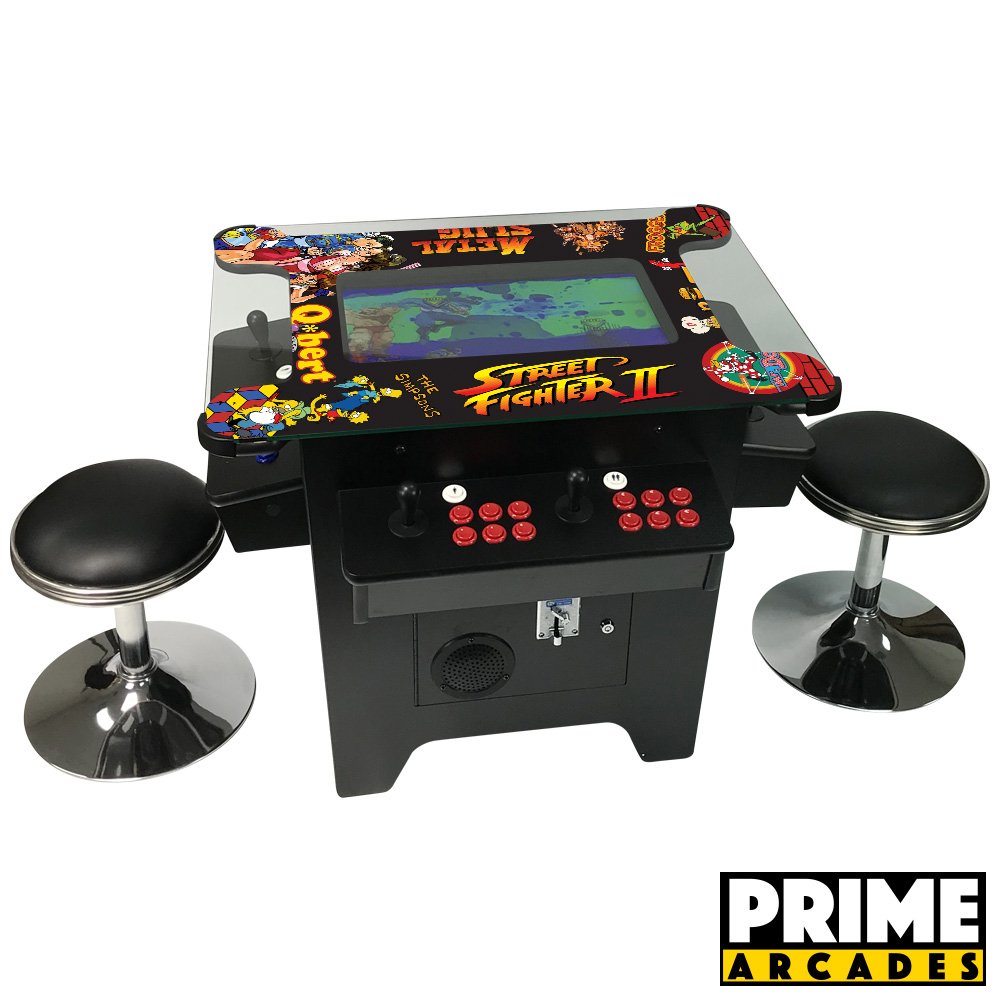 Games: 1162
Dimensions: 30″ x 44″ x 30″ (L x W x H)
Weight: 185 lbs.
Screen Size: 22″
Warranty: 5 Years
The 1,162 Games in 1 Cocktail Arcade from Prime Arcades is a great choice for anyone looking to buy an arcade coffee table. This machine focuses on bringing its users the flood of nostalgia they crave. It features 1,162 classic arcade games in one machine such as Ms. Pac-Man, Centipede, and Street Fighter II. Here is two lists of games that the machine offers - List 1 and List 2.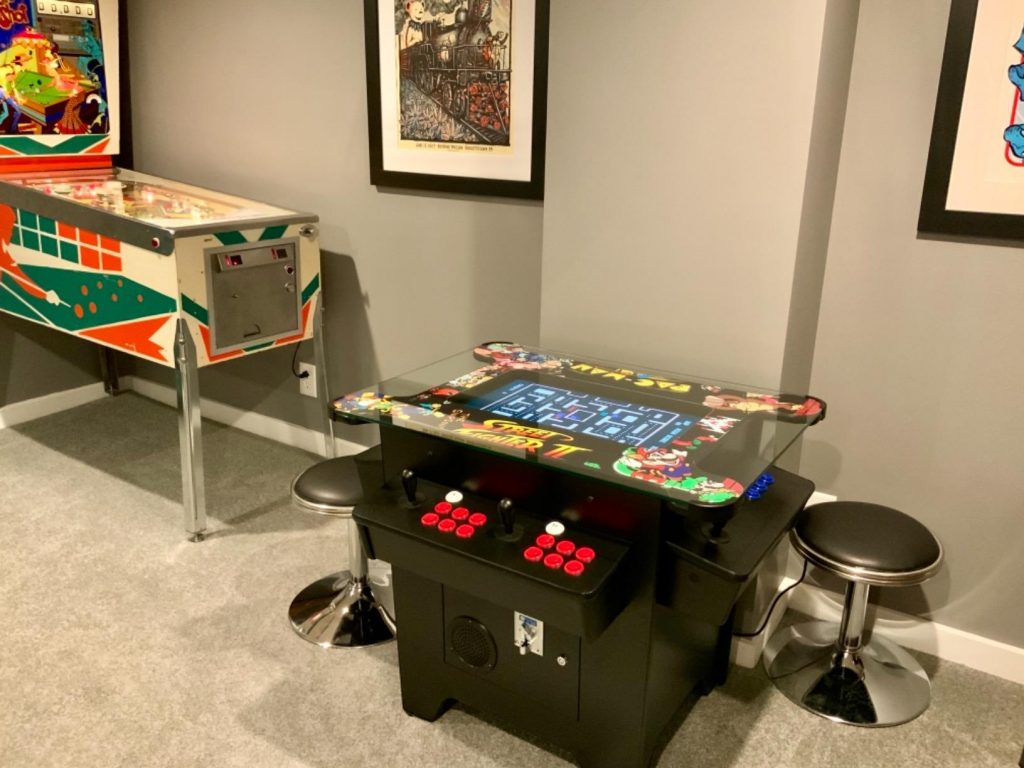 This tabletop arcade comes fully built, meaning all a person has to do is plug it in and start enjoying any of the 1,162 games it offers. You are able to make the 1,162 Games in 1 coin operated or it has another option that allows it to be played for free. Best of all, the 1,162 Games in 1 comes with a 21.5" LED screen and tempered glass table top, making it a beautiful piece for almost any room. Up to four people can sit at the machine, making it a great choice for game nights with family and friends. And it comes with 2 chrome stools so it is ready to go right out of the package!

2. 412 Games in 1 Cocktail Arcade by Prime Arcades - Link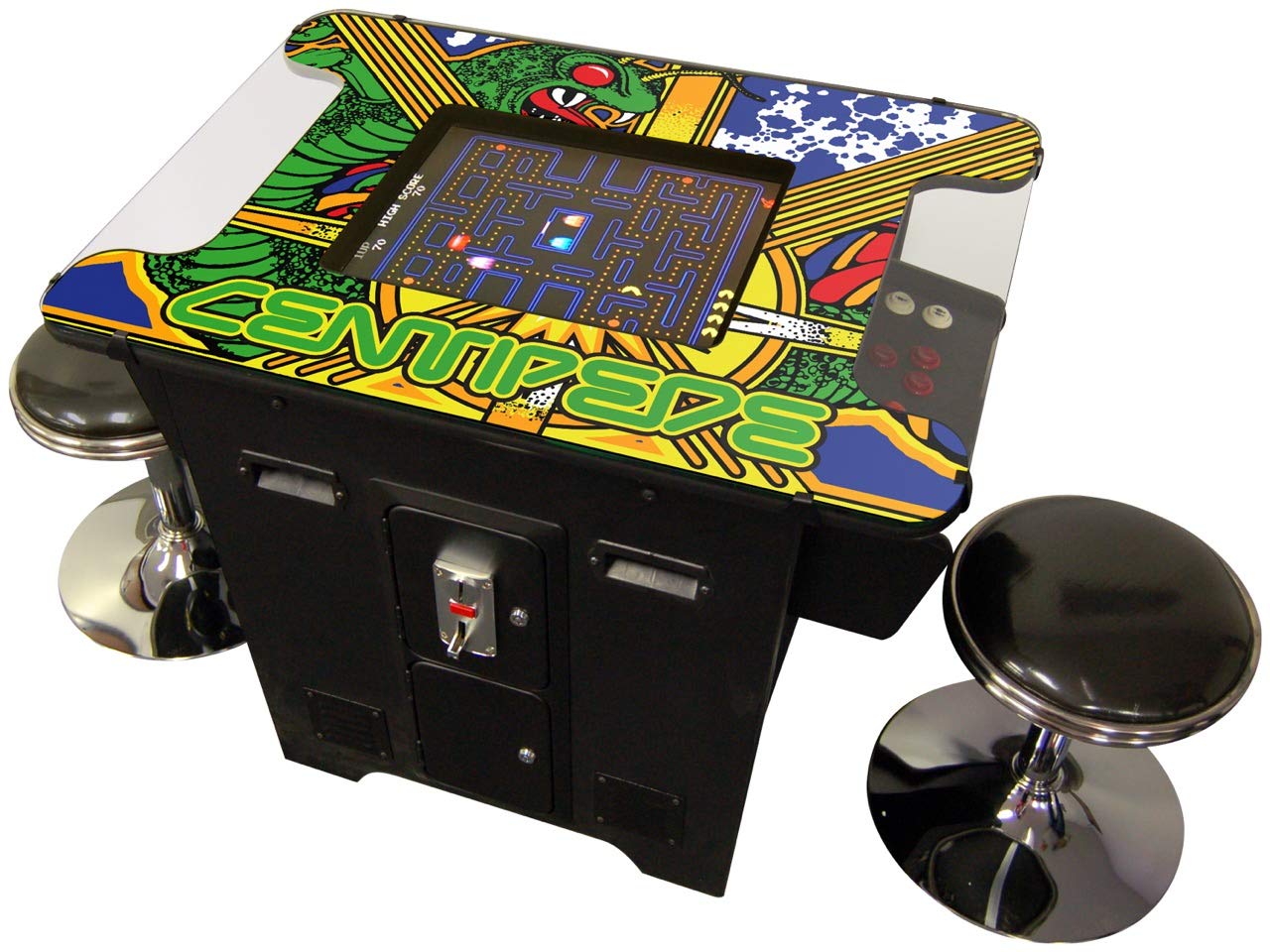 Games: 412
Dimensions: 34″ x 25.5″ x 29″ (L x W x H)
Weight: 165 lbs.
Screen Size: 19″
Warranty: 5 Years
The 412 Games in 1 Cocktail Arcade by Prime Arcades is a great buy for anyone who enjoys classic 1980s video games. It features 412 video games from the 1980s in one plug and play machine, making it a great choice for those who crave that 1980s aesthetic. This unit comes with two benches and a five-year warranty. Prime Arcades offers lifetime tech support, ensuring customers will be able to enjoy their games of Donkey Kong and Space Invaders without worry of tech problems for as long as they own this machine.

3. Arcade 1Up Pacman Countercade, Tabletop Design - Link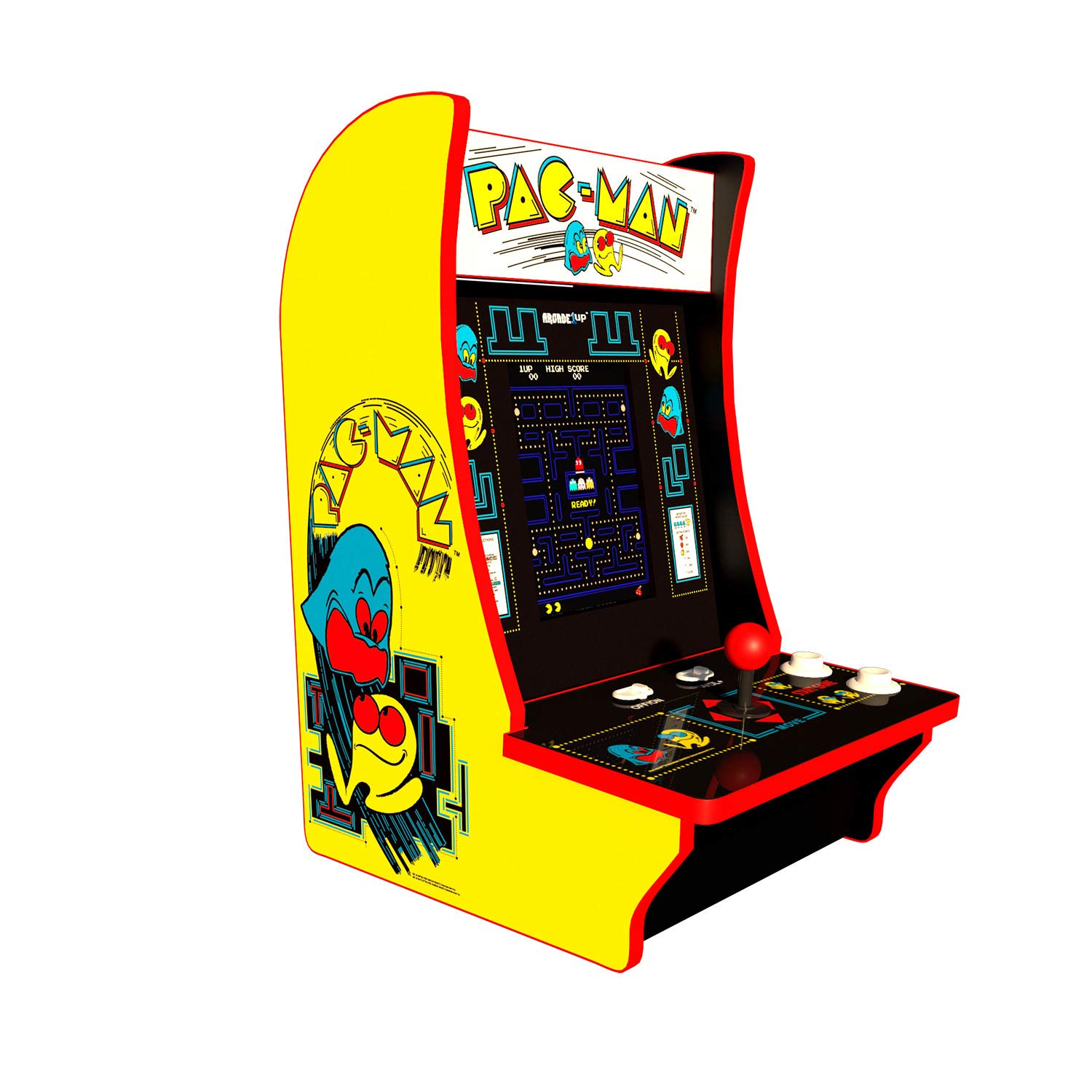 Games: 2 (Pac-Man and Pac & Pal)
Dimensions: 12.25″ x 11.25″ x 18.5″ (L x W x H)
Weight: 11.10 lbs.
Screen Size: 8″
Warranty: Unknown
The Arcade 1Up Pacman Countercade is an affordable choice for lovers of Pac-Man. This machine isn't just an arcade game, it's a great piece for Pac-Man collectors. The tabletop design of the 1Up Pacman Countercade makes it a great choice for any room. This machine is lightweight, coming in at only 11.10 pounds, and its small footprint means it can be set on almost any surface. The machine features two different games. The original Pac-Man we all know and love can be enjoyed on the Pacman Countercade, and the much rarer Pac & Pal can also be played. The Pacman Countercade is a great buy for those who enjoy collecting Pac-Man memorabilia due to the machine being styled with Pac-Man's original artwork.

4. Happybuy Tabletop Arcade Machine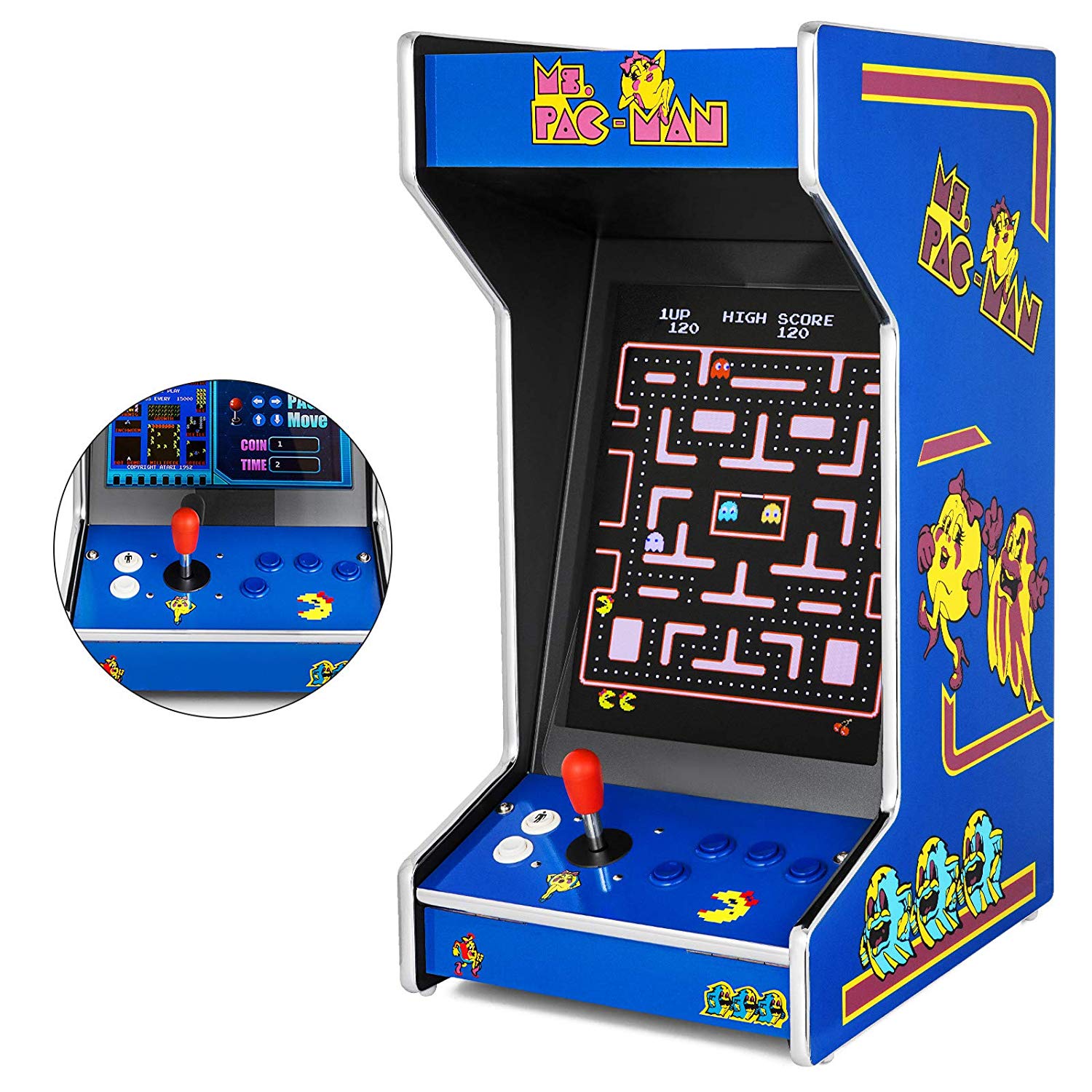 Games: 412
Dimensions: 15″ x 17″ x 30″ (L x W x H)
Weight: 50.7 lbs.
Screen Size: 19″
Warranty: Unknown
People who want to enjoy 412 retro games on a 49" LCD screen can't go wrong with the Happybuy Tabletop Arcade Machine . This machine comes in at a weight of 50.7 pounds, making it the perfect entertainment choice for most tabletops. Operators can require players to insert coins before playing, making it a must for bars and restaurants that want to make a little profit from a machine that takes up very little space. When it comes to audio, the Happybuy Tabletop really shines. It features hi-fi audio and a toggle that allows the game music to be turned on and off. The display for the Happybuy Tabletop supports both VGA and CGA with a 640 by 480 ratio. Those wanting to experience these retro games with a friend can activate two-player mode by adding a USB 2.0 hub and using a PS2 controller. This machine is fully portable, making it a great choice for people who wish to bring it to a friend's house.

5. Retro Tabletop Arcade Machine with 412 Games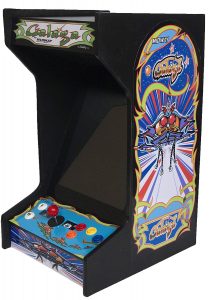 Games: 412
Dimensions: 19″ x 16″ x 29″ (L x W x H)
Weight: 45 lbs.
Screen Size: Unkown
Warranty: 2 Years
The Retro Tabletop Arcade Machine by Suncoast Arcade is a great choice for people wanting to play retro games on a machine made in the USA. This machine is 49" tall by 16" wide by 19" deep, making it the perfect fit for most tabletops. There's little to worry about with this purchase. It comes with a two-year warranty. It also comes with tech support for the entirety of the machine's life. The beautiful artwork decorating the machine will transport people back in time to when arcade games were all the rage.

Tabletop arcades are much like the arcade games that stood tall inside the bowling alleys and skating rinks many of us remember from childhood. They are machines that allow a person to play video games, but unlike arcade machines of the past, tabletop machines can be enjoyed in the privacy of our homes or easily placed inside our businesses without taking up much space. These machines are also affordable, making them perfect for homes and allowing for people to live in joyful nostalgia whenever they desire. There are several different designs for tabletop arcades. An arcade coffee table, for instance, usually sits on the ground with its screen facing upwards. These machines are almost like pieces of furniture all on their own, and they allow friends and family to pull up a seat and sit around them in ways that classic arcade machines never allowed. Some tabletop arcades are small enough to simply sit on top of a table or bar. Each tabletop arcade machine has its own unique set of games that it plays. Some of them are dedicated to just a single game, such as Pac-Man, while others offer a whole list of games that can be played on them. Tabletop arcades are designed and manufactured by game lovers, meaning that no matter what a person is looking for, they are likely to find something that perfectly fits their needs.
6. Doc and Pies Arcade Factory Classic Home Arcade Machine - Link
Features
·No of Games: 60
·Screen size: 19 inches full LCD
·Weight: 50 pounds
·Joystick: Yes (Black)
·Warranty: 7 years
So what do we love about the Doc and Pies Arcade Factory Classic Arcade Machine? Well, everything!

This stylish machine quickly adds a new look to your room, recreational room, or even your bar top. It comes with buttons and a joystick with which you can play about 60 of those classic games you used to play and love as a kid!
Weighing about 50 pounds, it is portable enough to move around but it is still quite heavy. The buttons and joystick are very easy to control and with a 19 inches LCD, everything in the game you are playing comes to life.
The machine is built to last and works straight out of the box. In case of any complaints or issues with the machine, you can easily call the company via their customer support team number. And should you encounter any major issue that might require outrightly replacing some parts of the machine, there is a 7-year warranty to take advantage of.
Pros
·Configured with about 60 classic games.
·Buttons, joystick, and arcade sound for the ultimate arcade experience.
·Fits into any room or table you place it on.
·Sturdily built.
·It is not coin-operated. Select the game you want to play and click the start button to begin!
·Large playing screen.
Cons
·Overworking the joystick can cause it to unscrew itself. The good thing is you can easily screw it in to fix it.
·It does not record high scores which is a shame!

Best Tabletop arcade Buying Guide
Are you shopping for a Tabletop arcade machine but not quite sure how to go about it? Read on to learn more.
Tabletop arcades are an incredible piece of technology. Not only do they let you enjoy nostalgic classic arcade games, but they also let you play them anytime and anywhere you want. The only issue is there is quite a number of tabletop arcades on the market today.
Thus, finding the right tabletop arcade for you or your bar can be a bit of a hassle. Since there are many factors to consider while buying one, we have taken the time to discuss the important ones below.
No of the games on the arcade machine
For a machine you intend to use for a long time, it is very important that you don't quickly get bored. The only way to not get bored is to have a large variety of games to choose from every gaming session.
The amount of classic games on each tabletop arcade machine greatly varies depending on the price tag that comes with it. So while there are tabletop arcades that have as many as 60 games, there are some that only have 2 to 4 classic games.
NOTE: The general rule to keep in mind here is that the higher the number of games a tabletop arcade has, the more expensive it is. Hence, you will have to pay a premium for machines with 100+ classic and retro games.
Do you want a tabletop cabinet arcade machine or a cocktail tabletop arcade machine?
You might be wondering if there is any difference between these two. Well, there is a very fine line that separates the two although they are pretty much the same in terms of size.
A tabletop cabinet arcade is placed on a table or any similar surface. To play it, you can either sit on a chair or stand depending on the arrangement that brings you the most comfort.
Cocktail arcade machines on the other hand are more premium versions of a tabletop arcade machine. While playing games on these machines, you can easily sip your cocktails and drinks. This is because they often include a pair of stools which makes them cost a lot more. Some even come with a premium glass top. They usually have a huge library of games to play, usually in the range of thousands, and are designed for social arcade experience e.g. bar, lounge, etc.
Screen size
Each tabletop arcade comes with a screen where the game to be played is displayed. However, the screen sizes vary from one arcade to the other.
As a result, you need to consider which screen size is perfect for you or for your kids (in case you are buying one so you can play with your kids).
NOTE: Before selecting, keep in mind that the larger an arcade machine is, the larger the screen size.
Buttons or Joystick
All tabletop arcades come with buttons. However, not all of them have joysticks for maneuvering while playing a game.
Arcades without a joystick often indicate that the machine has a very limited library of games to play. So if you are looking to have a ton of fun, you might want to avoid such tabletop arcades.s
Design and build quality
Tabletop arcades have the unique build quality and different designs. it is one of the reasons why trying to choose the right one for you can be a bit challenging. Most arcades are small enough to play on a desk while there are others, especially cocktail arcade machines, that have components that replace a traditional table.
Does it save high scores?
While this might sound like a no-brainer, there are a fair number of tabletop arcades on the market today that do not record high scores. Even some of the most popular brands have models that do not have a proper high score-saving system.
If you are big on having a high score on the playing screen, you might want to do a little bit more research.
Coin-operated or not?
Funny as it might sound, some tabletop arcades take the nostalgic experience a bit too far. These arcades have mechanisms in place that prevent you from playing the game unless you place a coin into it. While this feature adds another layer of authentic arcade experience to the tabletop machine, it can also be quite inconvenient.
The good news is arcades with this feature also has a free play mode option. When you switch this option on, anyone can play games on the arcade machine without having to drop in a coin.
Warranty
Considering you intend to use the machine for a very long time, you might want to check that the machine comes with a warranty.
Having a warranty can be useful for several reasons. The most obvious reason is that you don't have to spend a lot of money should the tabletop arcade develop any fault that prevents it from functioning properly.
We advise buying only tabletop arcades that offer at least 5 years warranty. Whether or not the machine comes with lifetime tech support is a bonus.
FAQs
Can I play for free on a coin-operated Tabletop Arcade?
As nostalgic as this feature is, it is not a feature everyone would love. And just so you know, you can easily collect back your coins by opening the coin compartment should you choose to not disable the feature. The good thing about arcades that have this feature is that there is also an option to disable it. Once disabled, you can then play as many games as you want for free.
NOTE: There is no specific way to disable this feature. You will have to check the user's manual that comes with the machine.
How do I find the list of games on a tabletop arcade?
As aforementioned, each game comes with a unique list of games. The only way to know what types of games you can expect on a tabletop arcade is by visiting the manufacturer's website.
NOTE: Unfortunately, not all tabletop arcade manufacturers have an official website. We recommend taking a leap of faith with such arcades or outrightly avoiding them.
Can I power a tabletop arcade using batteries?
No, you cannot. All tabletop arcades come with capabilities that you must connect to an electrical socket. Each arcade comes with varying power cord lengths so you might want to set up your tabletop arcade close to a power outlet. Of course, you can always use an extension cord to lengthen the wire.