Part of American history and amusement, the full-size claw machine still offers entertainment at restaurants, supermarkets, laundromats, drug stores, movie theaters, bowling alleys, amusement parks, discount stores and almost any place where people gather. Its see-through glass cabinet shows the colorful items that the claw can grab and delight a player by delivering a plush toy, hat, doll, candy or an attractive alternative. With a mini claw machine, you are able to bring that entertainment to your own home!
These classic arcade machines might be easily found, but little tops the convenience of playing at home. Miniature claw machines designed for home use have cropped up in recent years, ready and waiting for custom prizes to be added. Mini claw machines are the perfect distraction for small children, usually four years of age and up, and provide hours of entertainment and challenge. (Don't worry - they're great for the young at heart, too!)
Editor's Recommendation: Top Mini Claw Machine
These classic arcade machines might be easily found, but little tops the convenience of playing at home. Miniature claw machines designed for home use have cropped up in recent years, ready and waiting for custom prizes to be added. Mini claw machines are the perfect distraction for small children, usually four years of age and up, and provide hours of entertainment and challenge. (Don't worry - they're great for the young at heart, too!)
Best Mini Claw Machines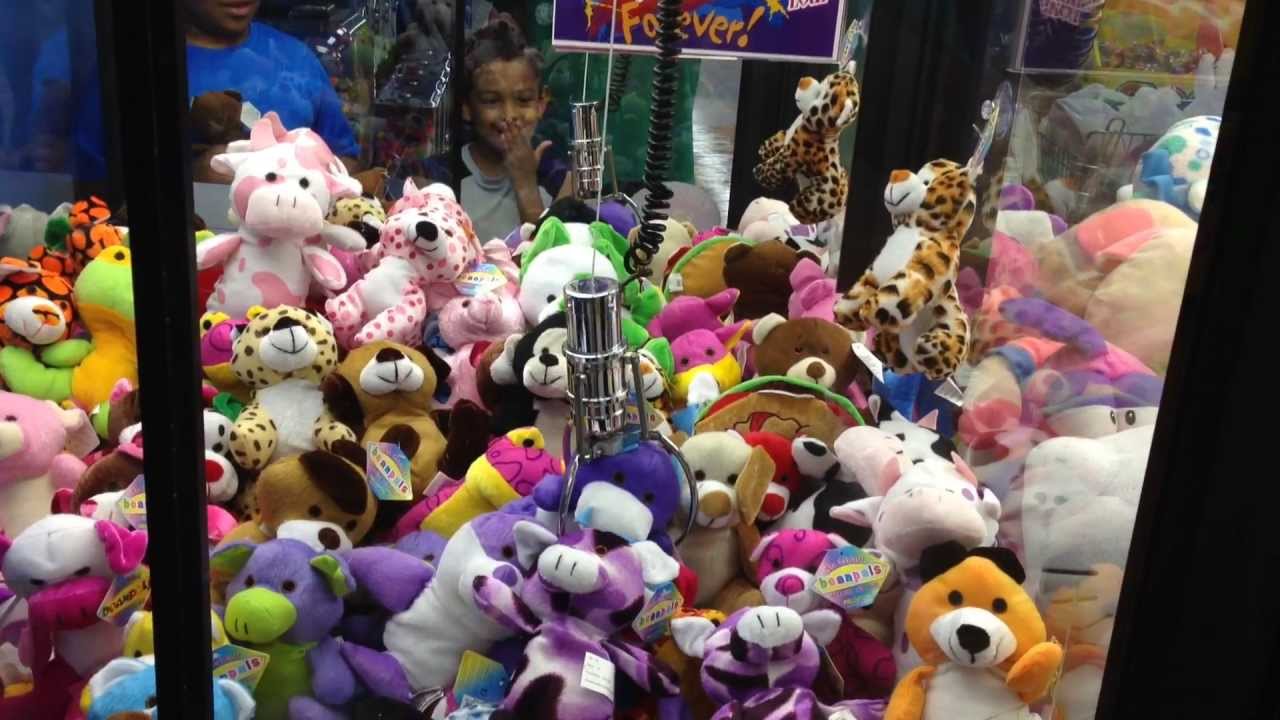 Below are the top 5 best mini claw machines. We have considered reviews, durability, and overall level of fun to give you our top 5 list. Let us know what you think of these mini claw machines in the comments below!
1. JSNY Electric Arcade Claw Machine - Link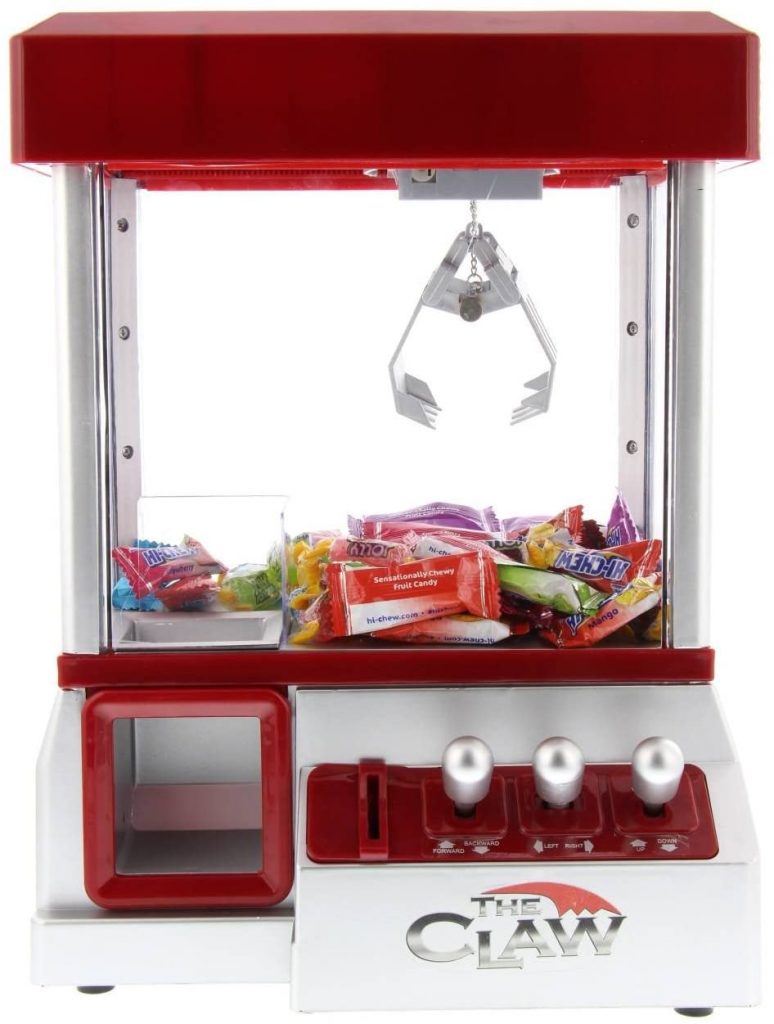 Our first claw machine is the JSYN Electric Arcade claw machine. While it can be filled with any small prize, this machine works best with only a few items in the bucket. A bold red, JSNY's mini claw machine comes with classic arcade features. Twelve included plastic coins can be used to activate the toy. The claw is manipulated with three joysticks: up/down, front/back, and side to side. The gameplay is a blast with flashing lights, carnival music, and cheering once a toy has been dispensed.
On the purchasing side, JSNY's claw machine doesn't require any assembly. It's powered by three D-cell batteries (not included in the packaging). Similarly, the toys and candies used as prizes need to be purchased separately. The machine itself is 10" long, 7.5" wide, 13.5" tall, and weighs 3 pounds - perfect for a tabletop activity. You'll find that most of the other mini claw machines you see will be exactly the same as this one. They are just clones of this product, so be sure to get the best and original mini claw machine!
Our verdict: the JSNY's Electric Arcade Claw Machine is an excellent option for casual players. It doesn't require much setup, but prizes and batteries will have to be acquired separately.
2. CISAY Claw Machine - Link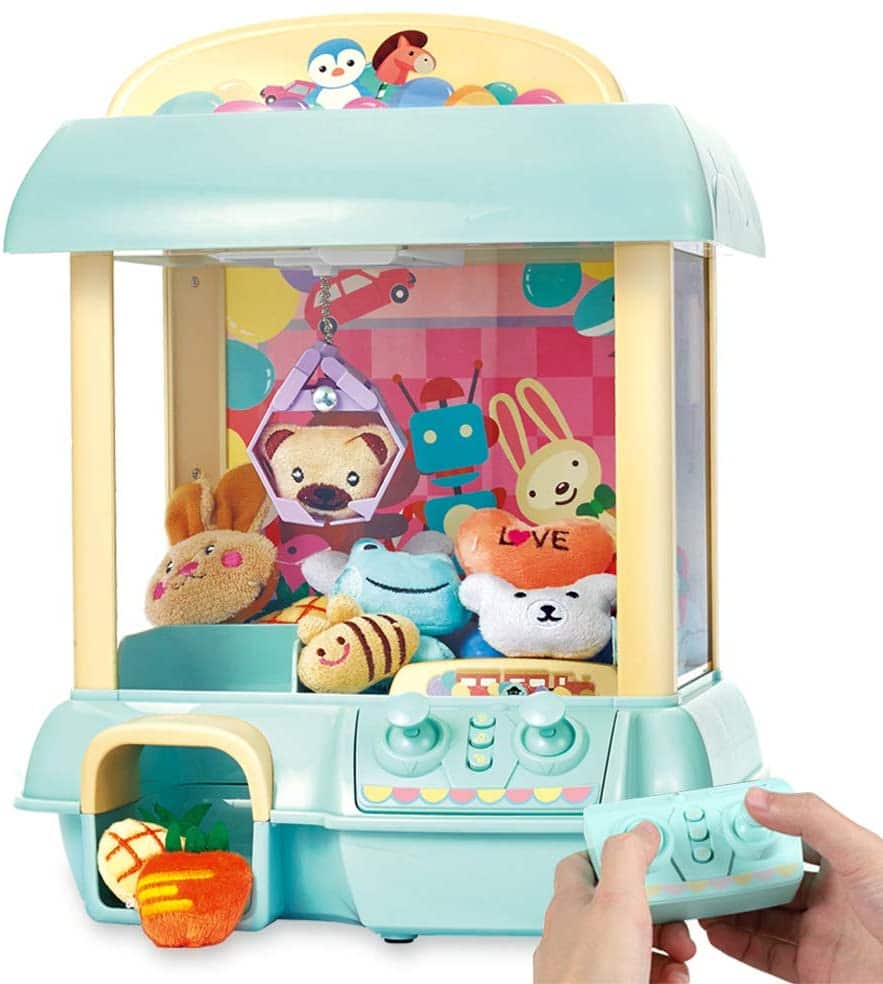 Less of a classic look than the JSNY, the CISAY claw machine comes in two pastel options: blue or pink. While some assembly is required, CISAY's claw machine doesn't need the purchaser to supply toys. The toy comes with twelve activation coins and twelve randomly selected plush toys to be used as prizes. It also comes with a wall adapter (although batteries are an option for a portable unit). Like with the JSNY, players can enjoy a variety of lights and sounds during gameplay. CISAY's Claw Machine stands at 13.5" x 10.8" x 9.2".
The CISAY's standout feature, however, is its removable remote control. With two joysticks and three buttons, the remote control can be used to operate the claw machine from across the room! (Note: if you want to use the remote control separate from the unit, you need two AAA batteries to the controller!) For versatile gameplay, the remote control also fits seamlessly into the machine's body.
Our verdict: The CISAY is a fun and versatile claw machine that doesn't require a lot of extra effort on the purchaser's part. While some assembly is required, CISAY's claw machine is still a great low-maintenance option.
3. JOYIN Mini Claw Machine - Link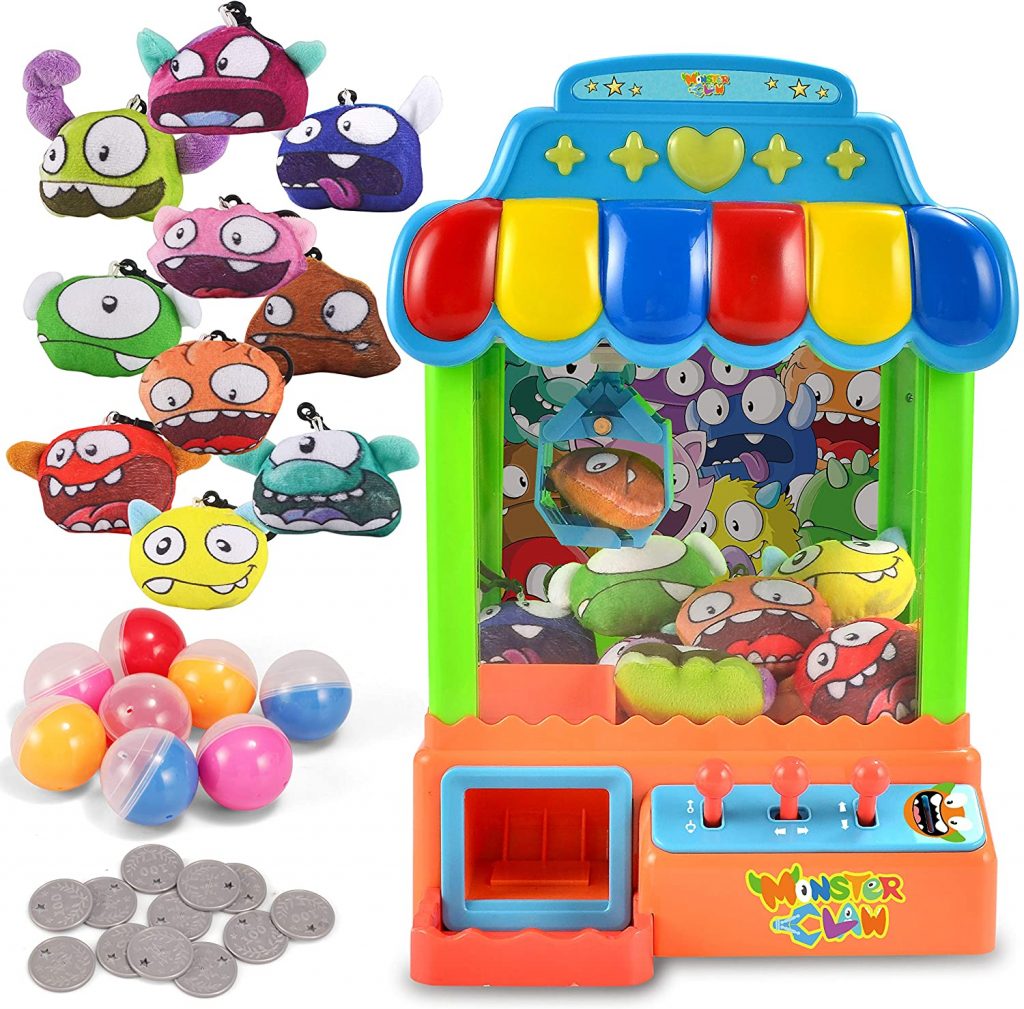 JOYIN's Mini Claw Machine is another excellent choice for those looking to have something fun to play with right out of the box. Like the CISAY, JOYIN's mini claw machine is monster-themed. Its ten included plush toys are cute monsters that match the machine's sticker decorations. An additional eight fillable capsules and twelve activation coins are included in the packaging. For those that wish to stock the machine themselves, any 2" toy fits well within the machine and can be picked up by the claw. Fans of batteries can purchase three 1.5 volt D-cell batteries; otherwise, the included USB power cable will suffice.
The JOYIN's claw is unique across other claw machines. It's formed more like a scooper than a traditional crane claw, making it able to pick up a wider range of toys and prizes. The claw is operated with the standard three joysticks attached to the unit. Like other machines, JOYIN's mini claw machine features lights and music during gameplay. It stands at 15.87" x 10.7" x 8.27" and is just shy of 5 pounds.
Our verdict: the JOYIN mini claw machine is a good choice for players who want to fill the machine up with different (and possibly odd-shaped) prizes. It has a very different aesthetic from other claw machines, so the JOYIN is also a great choice for those looking for something a little more distinct.
4. The Original Moj Moj Squishy Toys Claw Machine Playset
Moj Moj has a claw machine! Six of these adorable little cartoon animals are included with the claw machine, held in refillable containers. Other Moj Moj's are available for purchase if players want more, matching prizes. The unit itself is a blend of pastel colors and cute Moj Moh stickers.
Similar to other machines, Moj Moj's unit is operated by the standard three joysticks and plastic activation coins (twelve included). The gameplay is made more enjoyable by lights and music. Standing at 8" x 13" x 14.5", Moj Moj's claw machine fits well on play tables.
Our verdict: While this claw machine is easily the cutest one on our list, Moj Moj's features are otherwise very average. If you are purchasing based on looks alone, Moj Moj will give you solid gameplay with an adorable veneer.
5. Takara Tomy Pokemon Pikachu Crane - Link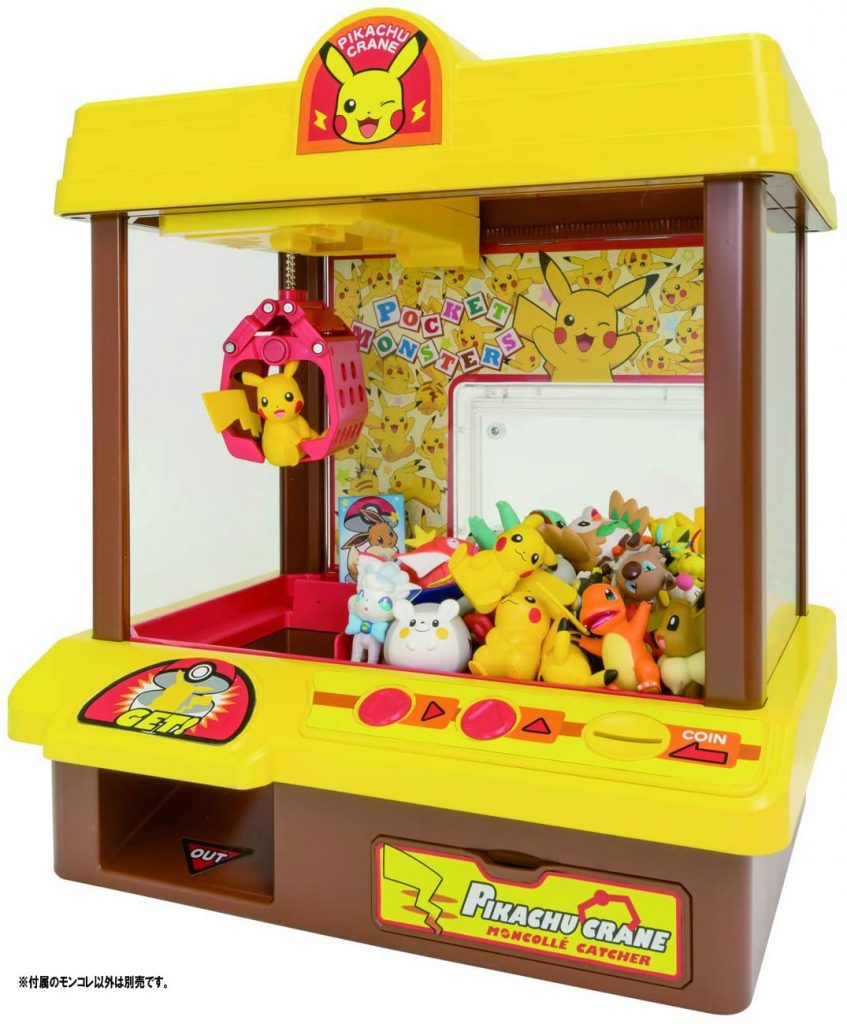 An obvious choice for Pokemon fans, the Takara Tomy Pokemon Pikachu Crane is another solid choice for mini claw aficionados. With only minimal assembly required, Takara Tomy's Pokemon crane is decorated with countless Pikachu stickers and comes with two Pikachu prizes for scooping up and ten activation coins. The unit requires 3 AA batteries (not included), measures 12" x 7" x 12", and weighs 4.28 pounds.
While popularly themes, the Takara Tomy Pokemon Pikachu Crane has a significant detractor. Both the package and manual for the mini crane are exclusively in Japanese, making it hard for English-speaking players to reference.
Our verdict: the Takara Tomy Pokemon Pikachu Crane is a good option if your youngster is a Pokemon fanatic. Otherwise, other options boast better features and have English instructions.
6. Mini Claw Machine For Kids - Link
Made from plastic yet rugged and durable, this mini arcade claw machine by ENTRA offers your kids the best platform to experience the fun game of grabbing a prize for themselves. The machine is big enough that you can even join in on the fun with your kids for unlimited fun.
The machine has a pretty simple design and features three joysticks. It also comes with 30 plastic coin tokens required to start a game.
One of the things we love about this machine is that you can fill it with any prize or item. From small toys to candies, gums, etc. the claw will pick it all up!
Operating this machine is very simple. Once one of the coin tokens is inserted, the crane is activated and you can then use the three joysticks to control the claw in any direction.
Like most of the popular mini claw machines on the market, this model by ENTRA comes with fun authentic arcade music and classic flashing LED lights to lift the mood.
Pros
·Offers a fun, yet challenging experience for your kids.
·Great value for money
·Quality build
·Flashing LED lights
·The claw can pick all types of items including small prizes such as candy, gum, etc.
Cons
·The music is way too loud which can quickly become annoying after a couple of minutes. To stop it, you would have to manually unscrew the machine and disconnect the speaker's wires.

Best Mini Claw Machine Buyer Guide
Mini Claw Machines are made for kids but even then, there are still notable differences between all of them. If you are looking to buy a mini claw machine, here are some things to consider when choosing mini claw machines.
Age Range
Since mini claw machines are typically designed for kids to use, people often overlook this important factor. Mini claw machines are designed for different age ranges. Essentially, this means that the model you would buy for toddlers or smaller kids is different from the one you will get for older children.
NOTE: The level of difficulty of operating a mini claw machine increases depending on the age range it is designed for.
Size
The next thing you need to consider is the size of the machine. Typical mini claw machines are usually around 13 inches tall. They have a base with dimensions that is roughly about 8 by 10 inches. In other words, the dimension you will find on most mini claw machines is 13 x 8 x 10 inches.
Cheaper versions of the machines sometimes come with dimensions smaller than the aforementioned. As a result, it is best to read the specs of any machine on your shortlist before making the final decision to buy.
There are many reasons why you might want to consider the size of a model before buying it as big size does not necessarily guarantee a machine would be long lasting. Besides, knowing the size of the model you are buying helps you make informed decisions about the space you would need to properly store the machine.
Power Option
Mini claw machines have only two power options - they either require electricity to work or are battery-powered.
Both models come with their respective advantage and drawbacks.
For battery-powered mini claw machines, they are the most portable models since all you need to power them is AAA batteries. This eliminates the need to locate a power socket before the machine can be operated.
Plug-in models on the other hand require electricity to work. The implication of this is you can't carry them anywhere since there is always the chance you might not find a power socket to plug it in. However, plug-in mini claw machines give the assurance that you will always be able to use the machine, unlike battery-powered ones. Unknowingly draining the capacity of batteries is one of the most common issues of owning a battery-powered mini claw machine.
NOTE: There are a few models that are capable of operating on both battery and electricity. The only issue with these models is that they are expensive and hard to find. However, they are the most reliable you can buy!
Controls and Design
These two work hand in hand.
Mini claw machines features s different control types. Some models come with single joysticks and buttons which control the claw to open or drop. Some models have a dedicated joystick for every direction you want the claw to move - whether it is right, left, up, and down.
There is not a lot to worry about when it comes to the control type. Any of the two types are reliable and offer a quality experience. The best control style is strictly about your personal preference i.e. what you think your kids would love best.
The Design and build of a mini claw machine often influence the type of control it comes with. Also, the machines come in different colors and they also have different themes printed on them. Most of these themes are scenes from popular children's movies as well as from kids' video games.
Hence, to increase your kids' interest in playing the game, you might want to choose a model that would appeal more to them.
Other Features
Asides from the features described above, there are some other features worth noting while buying a mini claw machine. Unlike the aforementioned features, these are not overly important since they do not affect the gameplay much.
·Toys and tokens included
Some mini claw machines have toys included when purchasing them. The good thing about this is you don't have to stress yourself buying toys or other items to put inside the machine. This in turn helps you save money since you only have to spend more money to fill it after the toys included have all been won.
Most mini claw machines come with plastic coin tokens to make the game more fun. These types of models are only available for smaller kids. These plastic coin tokens work just like real coins.
·Lights
To be honest, there aren't many mini claw machines that do not have LED lights. These internet and external fittings improve the experience of playing the game.
So, if you want to increase your children's interest, even more, you might want to look for a model that comes with LED lights
·Sound effects
Some mini claw machines come with sound effects that make playing the game more exciting. Some even come with relaxing music that plays whenever someone successfully wins a toy.
FAQs For

Mini Claw Machine
Who can use a mini claw machine?
Mini Claw Machine offers a fun yet challenging gaming experience for young children. The models provide an arcade experience for your kids. Although they are designed for kids, adults can always join in on the fun.
The machines come in different types, but they typically feature the same size.
Do mini claw machines use batteries?
Yes but not all of them.
Most mini claw machines on the market require batteries to work. They remove the stress of looking for a power socket before using the machine.
Some machines only work on electricity. They are more stressful to use since you can't use them anywhere.
There are also a few models that work both on electricity and batteries. The only drawback of such models is they are hard to find.
To get the most out of the machine you buy, we recommend getting a battery-powered one. It is also best if you keep new spare batteries on hand.
How durable are mini claw machines?
Since there are lots of mini claw machines to choose from, it does beg the question, do mini claw machines last long?
Many factors contribute to the durability of a mini claw machine. The build quality is the biggest factor since it refers to the type of materials used in making the machine. How much a mini claw machine costs also often determines its longevity.
The most common materials used in making mini claw machines are metal and plastic. Metal mini claw machines tend to be more durable and heavier than plastic ones.
NOTE: This does not mean you have to splash huge cash. However, it is advisable to avoid buying machines that have prices that sound too good to be true.
What type of prizes can I use in a mini claw machine?
There are different options you can select a prize. The most common options are small toys and candy. You can also add gums and other items to the machine.
The only important thing to consider when filling the machine with prizes is to ensure the item is big enough for the claw to grab.
NOTE: Avoid using unwrapped candy as a prize option since they tend to stick on the claw. They are also unsanitary and generally not a good idea.
Can I refill a Mini Claw Machine?
Of course! The fun in having a mini claw machine is to be able to play and win prizes. All claw machines are refillable.
Conclusion for Mini Claw Machine Buyers

Buying a mini claw machine is a no brainer for those who want to experience the fun of arcades in their own home without breaking the bank. The five toys that we've reviewed above are all great choices, depending on where your purchase priorities lie. That said, we've got our recommendations here:
Best overall claw machine: The JSNY Electric Arcade Claw Machine
Cutest claw machine: The Original Moj Moj Squishy Toys Claw Machine
Most versatile claw machine: The JOYIN Mini Claw Machine