In terms of bang for your recreational buck, an air hockey table is a savvy purchase. It deliver hours of entertainment to children and adults alike without breaking the bank. Finding the perfect ESPN air hockey table for your household isn't that difficult if you know what to look for.
Editors' Picks: ESPN Air Hockey Table in 2022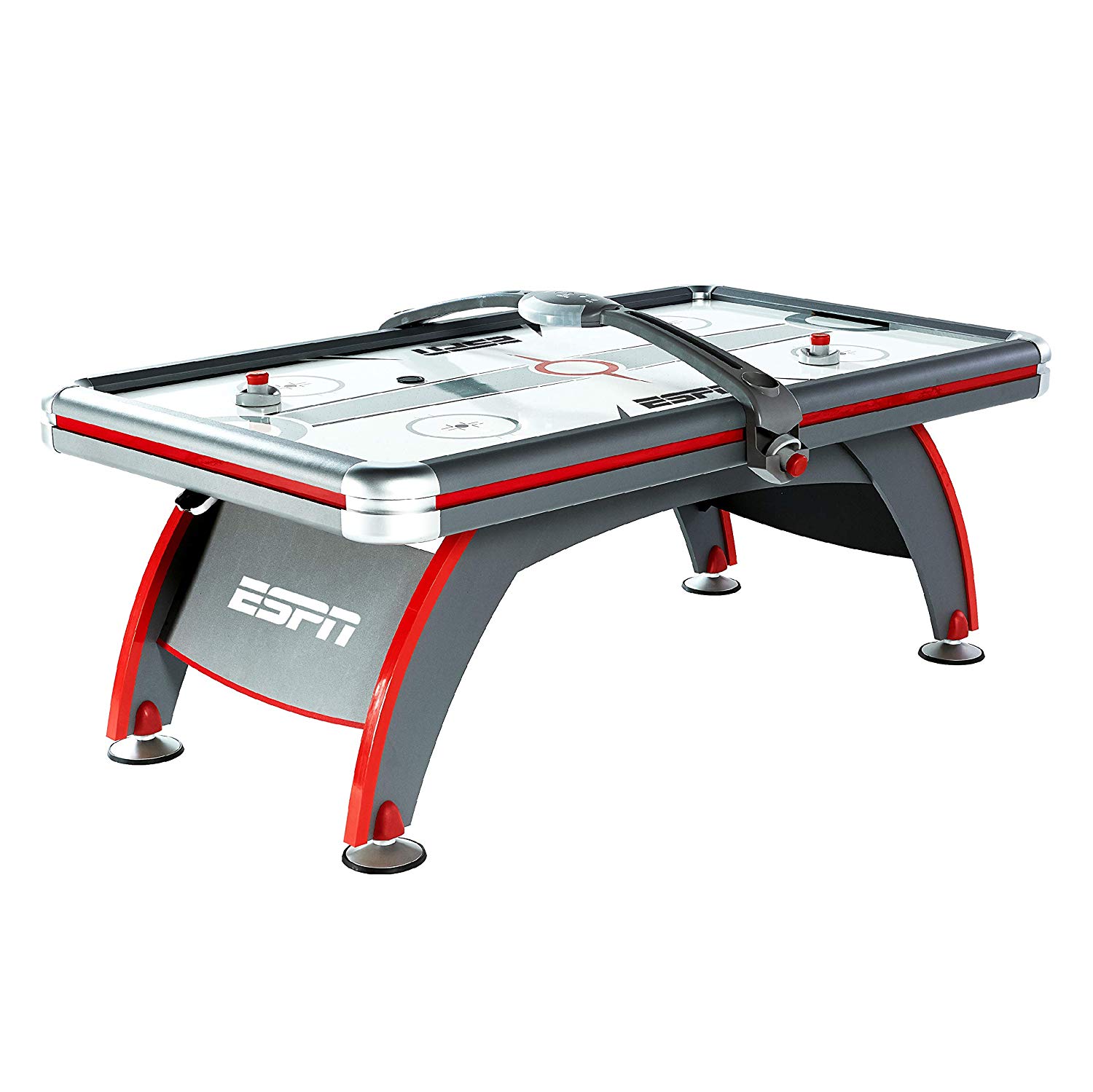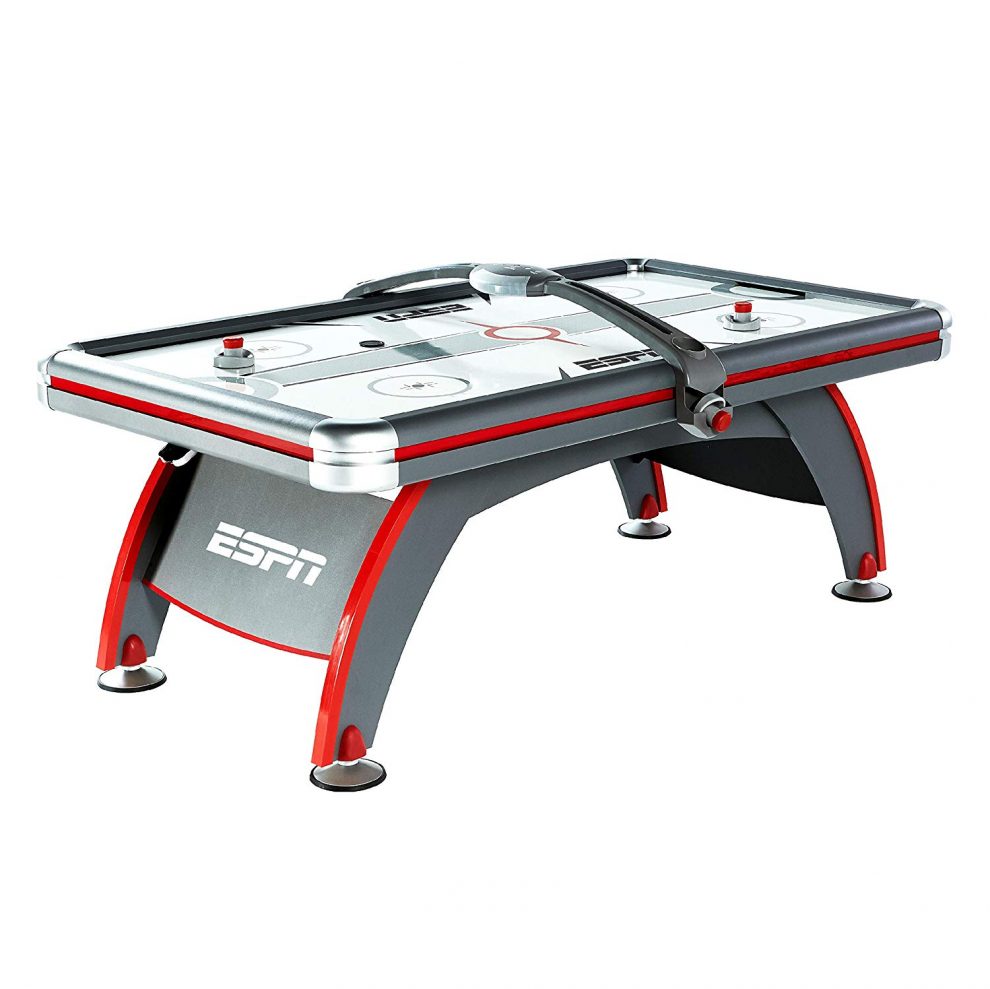 Skip the Reading - Our Top Pick
The featured ESPN Air Hockey Table comes in several different sizes - from 5 foot all the way to 8 foot. Regulation air hockey tables found in homes are between 7 and 8 feet while the five foot version would be perfect as a kids air hockey table.
5 Foot Version - This kids air hockey table comes with all the necessary equipment to start playing right after setup - two pucks and two pushers. It has a UL certified motor for a smooth playing service and also includes an LED side panel score and time keeper. Where to buy: Amazon | Walmart
7 Foot Version - This 7 foot ESPN air hockey table (see image) is the perfect addition to any game-room. It includes 4 pucks and pushers, LED overhead scoring, cup holders, and a UL certified blower on the 3/4″ magnetic playfield. Where to buy: Amazon
Factors to Consider When Buying an Air Hockey Table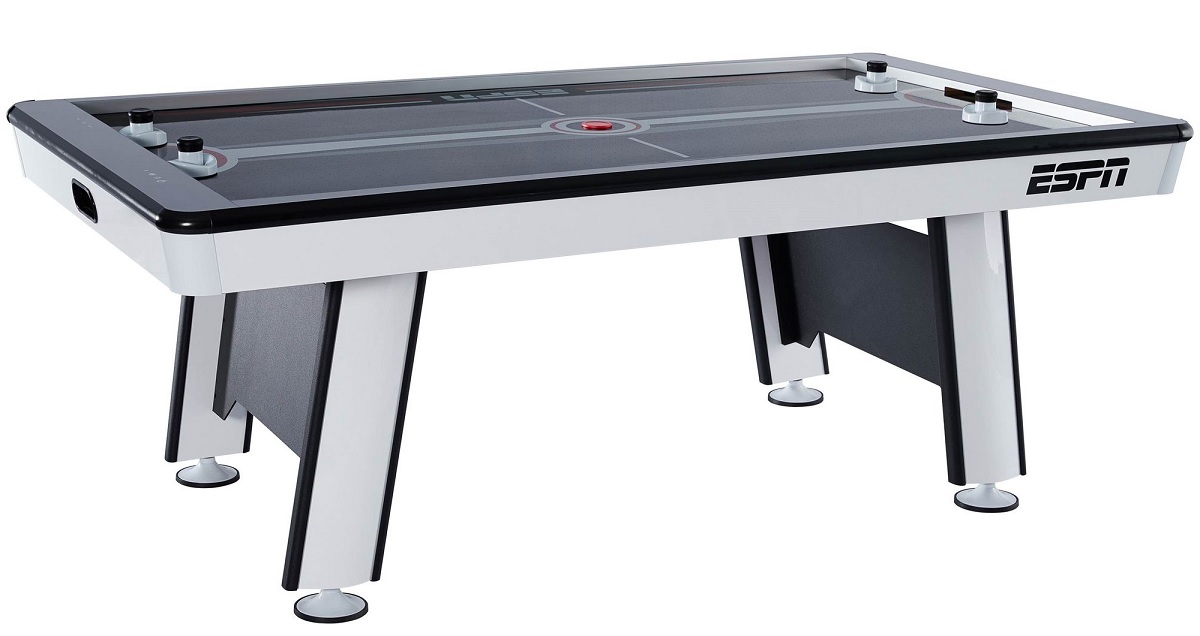 Dimensions
A regulation air hockey typically measures four feet long by eight feet wide. In other words, it's the size of a sheet of plywood or drywall. If you don't have a lot of space in the basement, a six-foot table is probably a better idea.
Construction
An air hockey table worth buying should be made from solid materials. Try to avoid cheap options that utilize particle board. Furthermore, side rails should be fabricated from sturdy aluminum or nylon. Adjustable steel legs will ensure that your table is level on any surface.
Air System
A high-output motor that delivers consistent airflow is the most important component of an air hockey table. Some of the larger commercial tables boast two blower motors. Furthermore, a plenum chamber that can produce adequate air pressure to the playing surface is vitally important.
Scoring System
Nowadays, most modern consumer-grade air hockey tables come with electronic scoring systems and LED displays. These systems use infrared sensors rather than mechanical sensors to detect goals. While many players prefer digital goal counters, manual score-keeping systems allow players to discount unintentional own goals.
ESPN Air Hockey Tables Worth Considering
1. ESPN Air Hockey Game Table - Link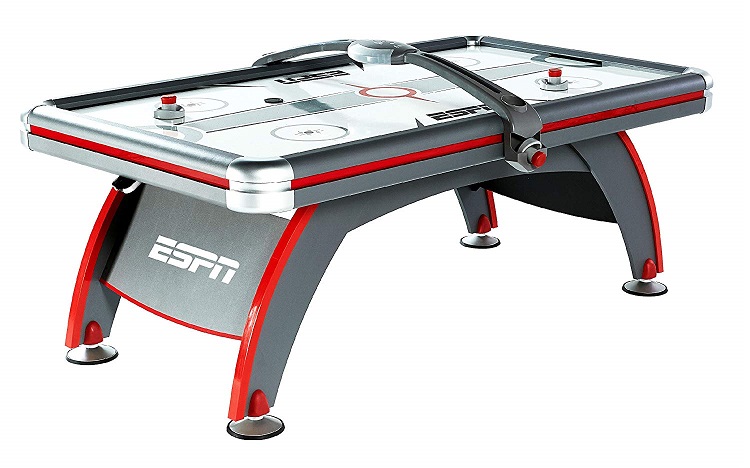 Table Specifications
If you're looking for an unassuming yet capable air hockey machine, this ESPN table is the right one for you. Ranging from five to eight feet in length, it can fit any space in your house. The five-foot option weighs just 80 pounds.
Design and Aesthetics
Clad in a black corduroy carbon fiber skin, the ESPN Air Hockey Game Table is a sleek piece of hardware. Metal corner guards and red leg accents give this table a distinctive look you won't find in many other air hockey installations.
Gaming Experience
If you're not looking for it, you might actually miss this table's digital scoreboard at first glance. Located on the sidewall at center ice, the LED display flawlessly keeps track of goals without distracting players. Topnotch sound effects produce a raucous playing atmosphere.
Pros
The best thing about this air hockey table is its lack of electronic frills. You get digital score-keeping, a few sound effects and very little else. What's more, it's an incredibly stable table thanks to its lateral cross braces and five-inch leg levelers.

Cons
While it's hard to find fault with the ESPN Air Hockey Game Table, some buyers may be disappointed that it only comes with two pushers (only on the 5 foot version). However, the table isn't really suited to four-person play. Consequently, the lack of extra pushers shouldn't be an issue for most consumers.

2. ESPN Air Hockey Table with Overhead Electronic Scorer - Link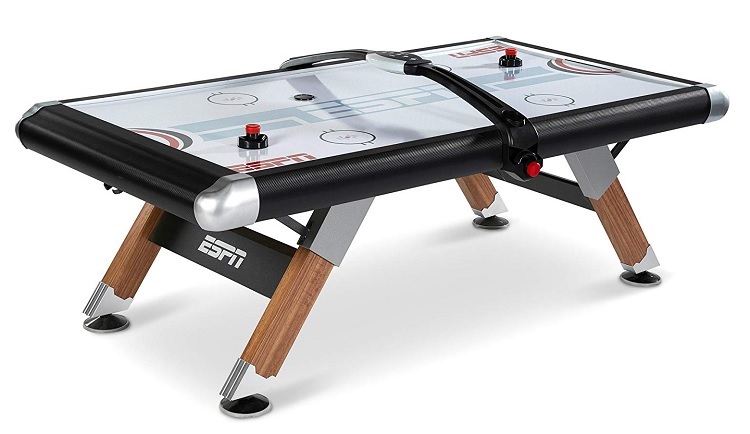 Table Specifications
Measuring 96 inches long by 48.5 inches wide by 32 inches high, this ESPN Air Hockey Game Table is a terrific bargain. Weighing a hefty 230 pounds, it's a sturdy number that boasts 6-inch leg levelers to deliver a perfectly level air hockey surface.
Design and Aesthetics
Framed by black faux carbon fiber trim, this ESPN air hockey table evokes memories of every NHL rink you've ever seen. A protective table cover prevents dings, scratches and dust accumulation. Wood grain legs reinforced by steel struts make for a classy look.
Gaming Experience
Thanks to an overhead scoring bar that spans the middle of the playing surface, this table makes tabulating goals a breeze. An integrated timer and sound effects heighten the excitement of a rousing battle for players of all ages. Best of all, a 120-Volt UL-certified fan ensures consistent puck speed for years.
Pros
Easily the best thing about this table is its return on investment for the typical air hockey enthusiast. For the money, it's hard to find a more stable table unless you build one yourself. What's more, its electronic scoring system is a hoot.

Cons
The main drawback of this ESPN air hockey table is its assembly process. If you're not handy, it might take you a few hours to go from the initial un-boxing to a finished product. Regardless, you don't have to be a mechanical engineer to piece this table together.

3. ESPN Premium 84 Inch Air Powered Hockey Table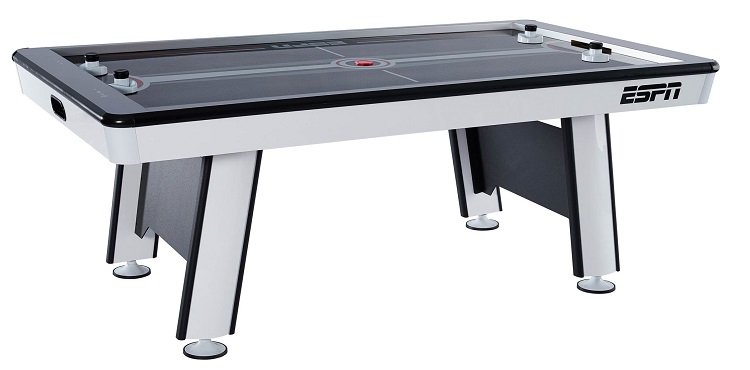 Table Specifications
The ESPN Premium 84-Inch Air Powered Hockey Table is the Goldilocks of air hockey tables. Measuring 84 inches long by 48 inches wide, it's the perfect size for any room. A moderate weight of 118 pounds makes it easy to wrangle.
Design and Aesthetics
Unlike most air hockey tables, this handsome customer boasts a distinctive gray and black top. White legs and sidewalls set off the high-gloss laminate table surface nicely. The four pushers that come with this set boast white bases with black handles.
Gaming Experience
Thanks to its powerful 120-Volt UL-certified motor, this ESPN table keeps the puck floating smoothly for hours and hours. The electronic scoring system is easy to operate and doesn't get in the way. Even the sound effects are designed to augment rather than interrupt play.
Pros
Thanks to its moderate dimensions, this ESPN table should appeal to a wide swath of consumers. Its distinctive aesthetics and superior fan motor make for memorable game play. What's more, it can be assembled in under an hour with a few hand tools.

Cons
One of the few drawbacks of this table is the lack of lateral leg braces. Many other tables feature these struts and certainly benefit from the extra bit of stability. That having been said, this table holds up quite well without them.

Buy on Walmart
ESPN Sports Air Hockey Game Table: Indoor Arcade Gaming Set with Electronic Score System - Walmart Link
ESPN 5 Ft. Air Hockey Table with Overhead Electronic Scorer and Pucks & Pushers Set - Walmart Link
Buy on eBay
ESPN Sports Air Hockey Game Table: Indoor Arcade Gaming Set with Electronic Score System - eBay Link
ESPN 5 Ft. Air Hockey Table with Overhead Electronic Scorer and Pucks & Pushers Set - eBay Link