Adding a game room to your home will give you a space to unwind after a long day at work. Whether you have kids or not, the addition of a game room is incredibly useful and can become a great way to enjoy some time when you invite people over. Here is the essential home game room equipment that you should add to your game room in order to make it complete.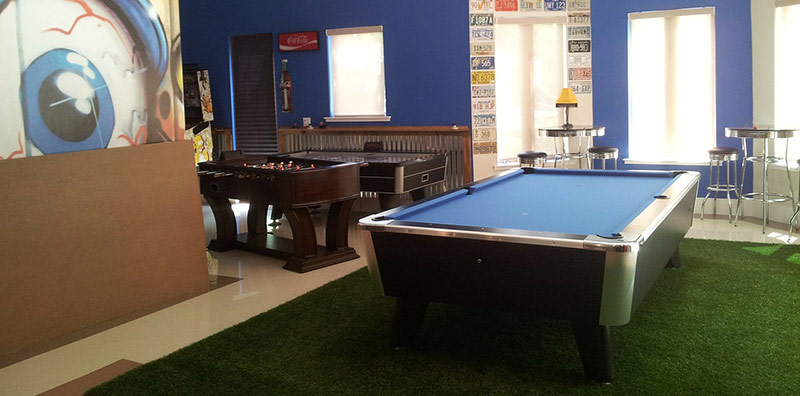 Foosball Table

Foosball is one of the classic table games that most people have grown to love. This game is a great choice for your home game room because it can be played with as little as two players or it can be played in teams. If you want to complete your game room, you won't want to forget about this important table game. Tables can be found to fit any budget, for help shopping check out our reviews for the best foosball tables.
(runner up: a good ping pong table)
Poker Table
Poker is another essential table that you'll need to add to your game room. When inviting friends over for a few drinks, there's no better place to go then at the poker table. Everyone love playing poker so this is a sure thing.
Dart Board

A dart board takes up very little space in your game room, but it can keep you busy for hours. If you're serious about having an awesome game room, you'll want to keep a part of your wall dedicated to your dart board. Just make sure that you have some sort of protection behind the dart board or you'll end up with tons of holes in your walls.
Arcade Games
Although most of them can only be played by one player at a time, arcade games are a great addition for any game room. Arcade games come in various types, but some of the classics like PacMan and Asteroids make the best choices. If you want to really make your friends fall in love with your game room, go ahead and get a pinball arcade game.
Flat Screen
You may want to consider adding a flat screen TV to your game room. This is great for putting sports on mute in the background. If you really want to go all out and make your game room feel more like a sports bar, you can find really affordable projectors for less than $500 online. However, projectors don't work well in heavily lighted rooms, so if you have lots of windows or bright lights, you should spend your money towards a big TV instead.
While these are the basics that you'll want for your home game room, there are certainly other things that can be added to it. If you have the room, you could consider things like an air hockey table, a pool table or a ping pong table.