Since his introduction in 1939, he has gone by many names: the World's Greatest Detective, the Caped Crusader, the Dark Knight, the Bat-man and Bruce Wayne. One of the world's most iconic fictional characters, Batman's adventures have carried him from the pages of comic books to television shows, cartoons, video games, graphic novels and even award-winning major motion pictures. Today, many of Batman's opponents and allies are nearly as famous as he is, and the rich tapestry of characters that populate Gotham City provides endless opportunities for imaginations to take flight.
Editors' Picks for Top Batman Board Games in 2022
Batman Board Games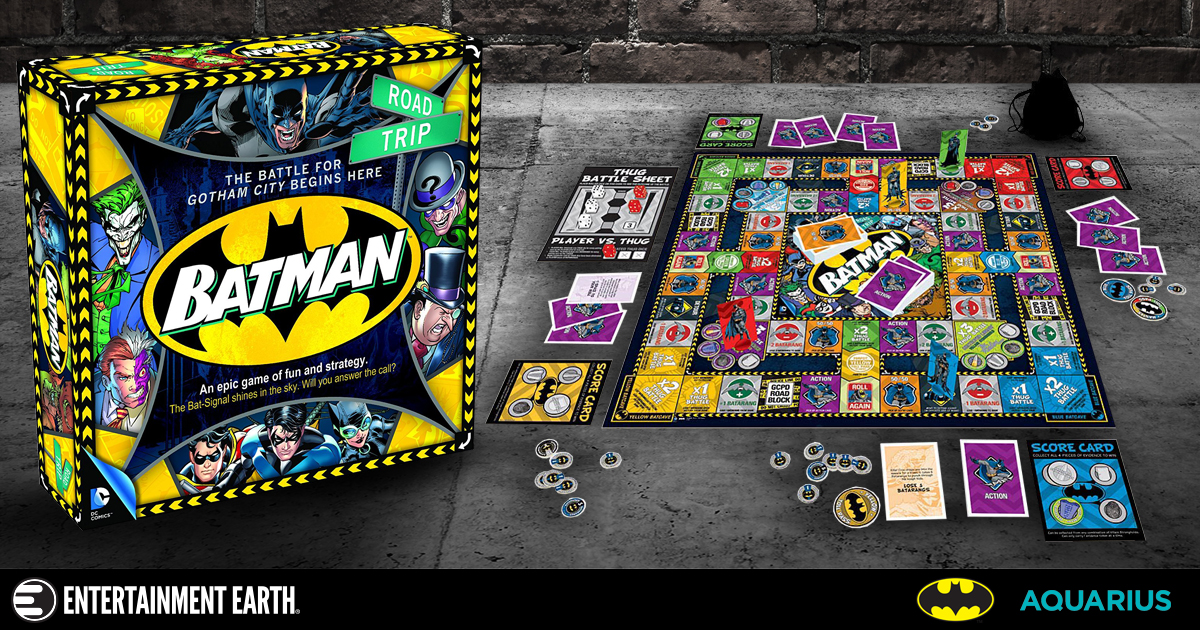 Board games set in Batman's world offer fans a fun, interactive way to spend time with their favorite heroes and rogues. With the wide-ranging appeal of the characters, it's no wonder that a variety of Batman board games are available. Are you looking for a complex game that pits you against your fellow players? Do you love playing a cooperative game that requires strategic teamwork to triumph? Would you enjoy a role-playing game that leaves you guessing whether the person next to you is a friend or a foe? What about a zany game where the rules are always in flux? Whatever your preference, you can find a Batman board game to suit your style.
Batman Road Trip Board Game - Link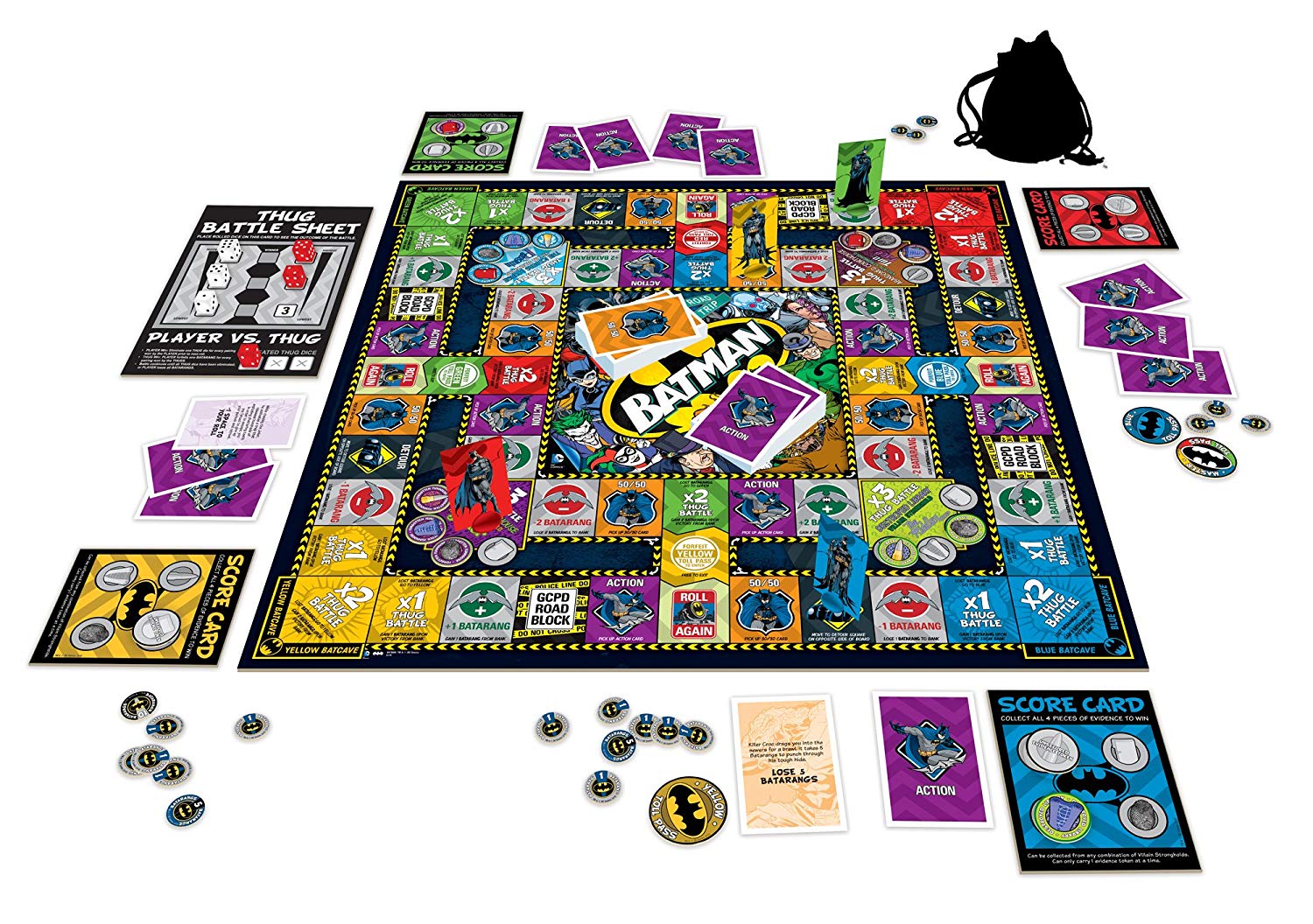 Players: 2-4
Batman is routinely called on to save Gotham City. Can you fill his pointy-eared cowl? That is the challenge in the Batman Road Trip board game. Playing as Batman, you receive word that the Joker, Penguin, the Riddler and Two-Face have combined forces to wreak havoc on Gotham. What does their dastardly plan entail? Why are they cooperating? What ends do they hope to achieve? Your goal is to find out the answers to those questions.
Epic game of fun & strategy
Save Gotham City
Up to 4 players
As you move around the board, you travel through the city to collect tokens, batarangs, and checkpoint passes. Along the way, you will battle villains and other players, who are also playing as Batman, in your quest to gather the evidence that will reveal the latest plot against Gotham so that you can foil it. It will take strategic thinking and a little luck to be the first Batman to snag four pieces of evidence and return them all to your Batcave in order to complete your score card and win the game.
A game for two to four players, the Batman Road Trip board game is recommended for gamers ages 12 and up. With 48 action cards and multiple thug battles to participate in, there is a lot to accomplish, so you will need to set aside sufficient time to play this epic game completely through to its finish. According to the manufacturer, it typically takes 60 to 90 minutes to play a game. Are you ready to play?

Batman: The Animated Series - Gotham City Under Siege Board Game - Link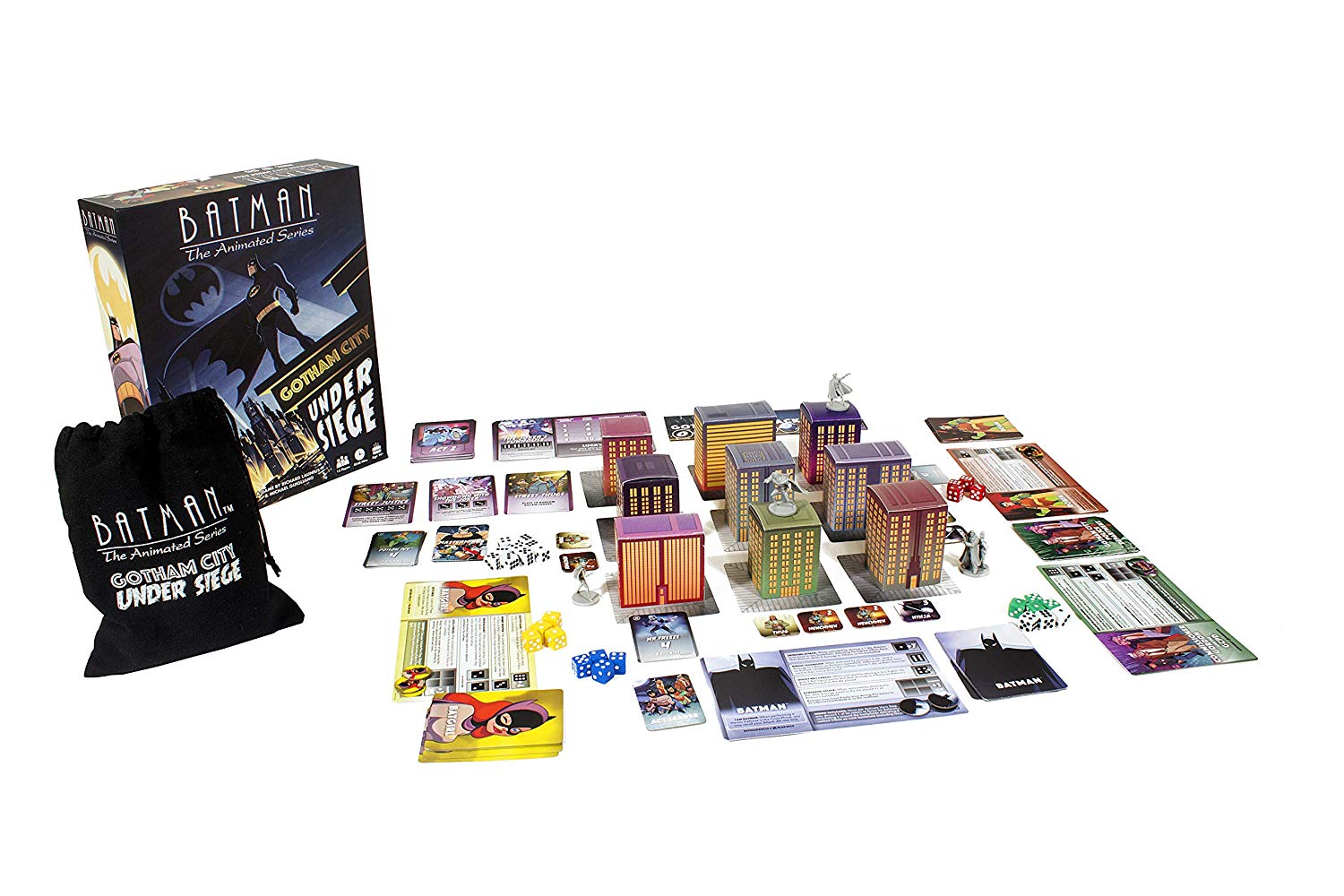 Players: 1-5
Do you enjoy a cooperative approach to gaming? Grab some friends and settle around the game board of "Batman: The Animated Series" - Gotham City Under Siege. Based on the first season of the hit animated television show, the game tasks Batman, Robin, Batgirl, Commissioner Gordon and Catwoman with protecting Gotham, foiling famous foes and surviving through four challenging acts. Each player takes on the mantle of one or more of these famous superheroes. Each act is inspired by an episode from the show's first season. Rolling dice and placing them strategically on either your hero's card or a story card sets the game into motion. Can you prevent damaging explosions, civilian casualties and keep your team alive long enough to win the game?
Features all-new artwork from tabletaffy and Leonardo Ito.
Includes 5 highly detailed miniatures
Let too many civilians fall or buildings be destroyed, and there will be nothing left for Batman to protect!
Game design from Richard launius (Arkham horror; Planet of the apes) and Michael guigliano
"Batman: The Animated Series" - Gotham City Under Siege is for one to five players. Three-dimensional buildings, detailed miniatures of the heroes and various cards that feature the television show's distinctive artwork give this board game a great visual presence. The story cards present a wide range of possible adventures that call for clever teamwork, keeping the fun fresh. Aimed at players ages 14 and up, the game moves quickly; it requires an action-packed hour to play. If you are eager to take up the mantle of one of Gotham's super heroes, you can find this fun game on Amazon for around $35.

Batman Arkham City Escape Board Game - Link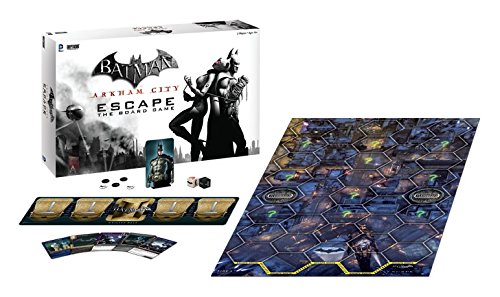 Players: 2
This two player Batman board game let's one player control Batman and the other control the villains trying to escape from Arkham City. Which do you want to control? Take turns playing each role - no two games will ever be the same! The controller of the villains tries to have them escape the city while the controller of Batman tries to prevent them from leaving.
Based on the hit video game franchise! Features over 100 cards, a giant double-sided game board (2 different maps!), 9 custom dice, and much more.
One player takes on the role of Batman, and the other player controls all of Batman's Rogues Gallery!
Can Batman stop the inmates of Arkham City from escaping? Villain cards start out face down, so Batman doesn't know what lurks in the night…
Batman customizes his Utility Belt each game to try new strategies. Combining these items with Combat Cards during a fight creates incredible action!
Batman doesn't know which villains are lurking in the shadows waiting for him. However, he has the abilities of his utility belt to try and stop them from getting out. This game is designed for two players 15 and older which games requiring strategy and taking 30-45 minutes per game. The first person to 10 Victory Points wins!

"Batman: The Animated Series" - Almost Got 'Im Card Game - Link
Players: 5-8
Even villains need to unwind, and a poker night offers an excellent chance to relax and swap tales of all the times they almost got Batman. What happens when Batman dons a disguise and takes a seat at the table? Based on the "Batman: The Animated Series" episode of the same name, Almost Got 'Im gives you a chance to assume the role of a member of Batman's famous gallery of rogues as you try to unmask the hero in villain's clothing. In this social-deduction game, everyone has something to hide, and nothing is necessarily what it seems. To win, you will need to pay careful attention, choose your allies wisely and craft a poker hand so that you'll have access to your character's special abilities before the lights go out.
Easy to learn and set-up takes a minute.
A cunning Evolution of the classic werewolf social deduction-style game
Public personas and poker hands give players something to talk about.
Based on the memorable Episode of the same name.
An addictive card game for five to eight players ages 15 and up, "Batman: The Animated Series" - Almost Got 'Im is an excellent choice for any time a large group gathers together. Setup is quick, and learning how to play is easy. Each round takes around 30 to 45 minutes and allows you to play as a famous foe like Scarecrow, Ra's al Ghul, the Joker, Bane, Harley Quinn, Poison Ivy, Penguin, Two-Face, the Riddler, Killer Croc, Mr. Freeze, or Clayface. Would this be a hit on your next game night?

Batman Fluxx Card Game - Link
Players: 2-6
While plenty of villains can be found among the 100 playing cards that comprise the Batman Fluxx card game, they are far from the only source of chaos in this rapid-fire game where change is the only constant. The basic idea is simple. Players draw, play, discard and keep the number of cards required by the rules as they try to achieve the game's goal. However, both the rules and the goal are forever shifting as cards are played in this capricious game. To add to the craziness, creeper cards that can keep anyone from winning and surprise cards that can be played whether it is your turn or not add another level of unpredictability.
Card game with ever-changing rules
2 to 6 Players
Playtime 5 to 30 minutes
English (Publication Language)
While it may sound complicated, Batman Fluxx requires far more luck than skill to play. The cards provide clear instructions as they guide you through the game, which is meant for two to six players ages 8 and up. How long does it take to play? That depends on where the cards fall. A round may wrap up in under five minutes or take a solid 30 minutes.

Whether you are a devoted enthusiast who can give the Batcomputer a run for its money when it comes to Batman trivia or a casual fan who would not mind a quick spin in the Batmobile, these Batman board games can provide hours of fun. The hard part may be deciding which one to play first.