Shopping for a new foosball table to add to your home game room can be exciting, but also overwhelming since there are many different options available to meet every budget. Do you have enough space for a full-size model? Do you want a single goalie or three-man goalie setup? Did you know that you can also choose a traditional game table or go with a cheaper table-top setup? Knowing your preferred table type and your table buying budget will help you pick our the perfect table from our list of the best foosball tables.
I'll share my reviews of the best value and best foosball tables for your home game room below. But first, let me break down some of the basic features that are available so that you know what to look for when shopping for the perfect foosball table and give you some of the top tables according to Gaming Weekender editors.
Editor's Recommendation: Top Foosball Tables in 2022
Top 9 Best Foosball Table Reviews 2022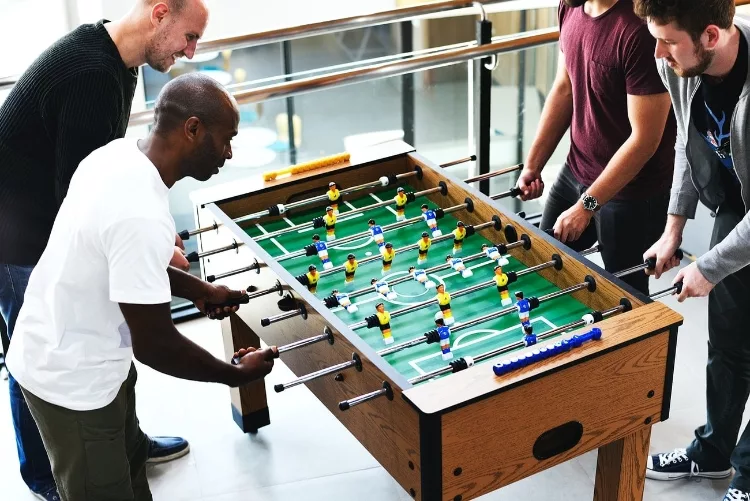 With tables made from cheap particle board to solid wood, there are certainly a lot of options out there and many different price points. If you are shopping strictly by price, then our quick guide below shows you our favorite options at all the popular price points. We also include a few of our favorites by type of table. We will start with our best foosball table overall for home use, then a few less expensive options, followed by some expensive tournament tables, finally wrapping up with smaller tables for kids.
1. Rally and Roar Foosball Table - Best Foosball Table Overall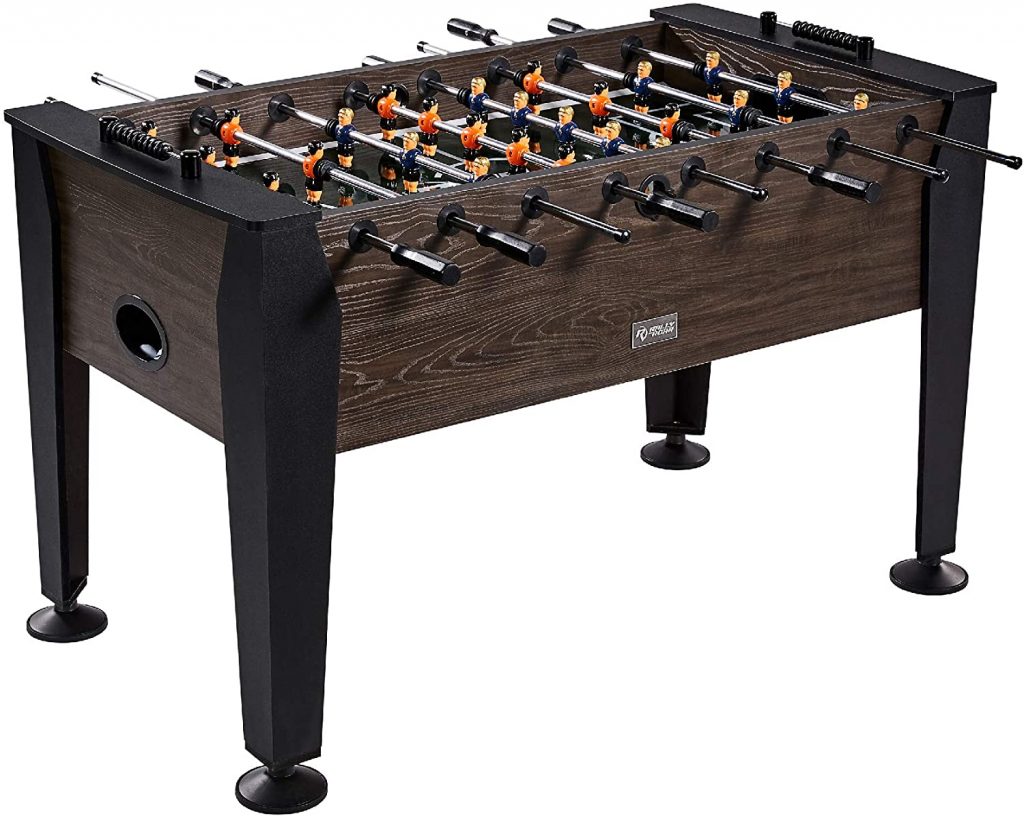 If you are looking for the best foosball table for your home, look no further than the Rally and Roar 56″ Foosball Table. It is a professional-sized foosball gaming table that will not disappoint. Crafted with a sleek design that is sure not to preoccupy too much room space, this foosball table is perfect for home or office use. This table offers several features for you to enjoy time and time again with your family or friends.
The Rally and Roar Foosball Table is handcrafted with premium materials, which makes it durable. This foosball table comes with two recreational-size balls that look like soccer balls, two softer, fuzzy surface balls, and eight chrome-plated steel rods with wood handles. The table is made up of solid wood and features 5" diameter leg levelers, making sure that all players are on the same playing field. The finish is rubber, which helps combat scratches or buffs on the floor as the table is used. The rods are steel-plated chrome, accompanied by wood handles with a smooth finish for playing comfort, and the playing pieces, which are ABS-constructed, move smoothly. The table's playing surface, which is glossy, green, and resembles grass, has an espresso-finish.
The Rally and Roar Foosball Table is relatively easy to assemble, requires no batteries or electricity for use, and features a solid wood bead scorer. The ramped edges make continual motion easy while playing, and both beginners and experts alike can enjoy this elegant foosball table.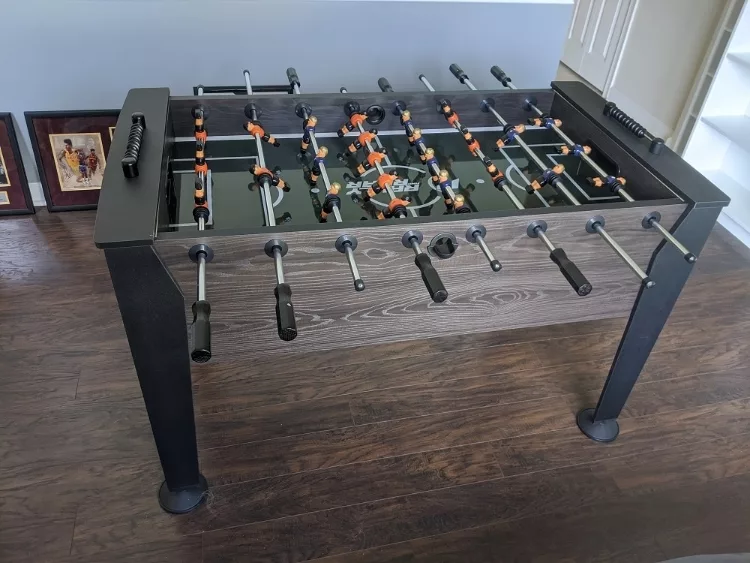 This is even the table I have at my own home:

Pros
Durable - Made with sturdy materials for extended use
Classy Build - Easy on the eyes, appropriate for home or office
Cons
Surface Marking - Playing surface gets marked up when hitting a ball hard across it
Ramped Edges - Makes bank shots more difficult, but they don't have to be put on the table
2. Best Choice Products 48in Competition Sized Soccer Foosball Table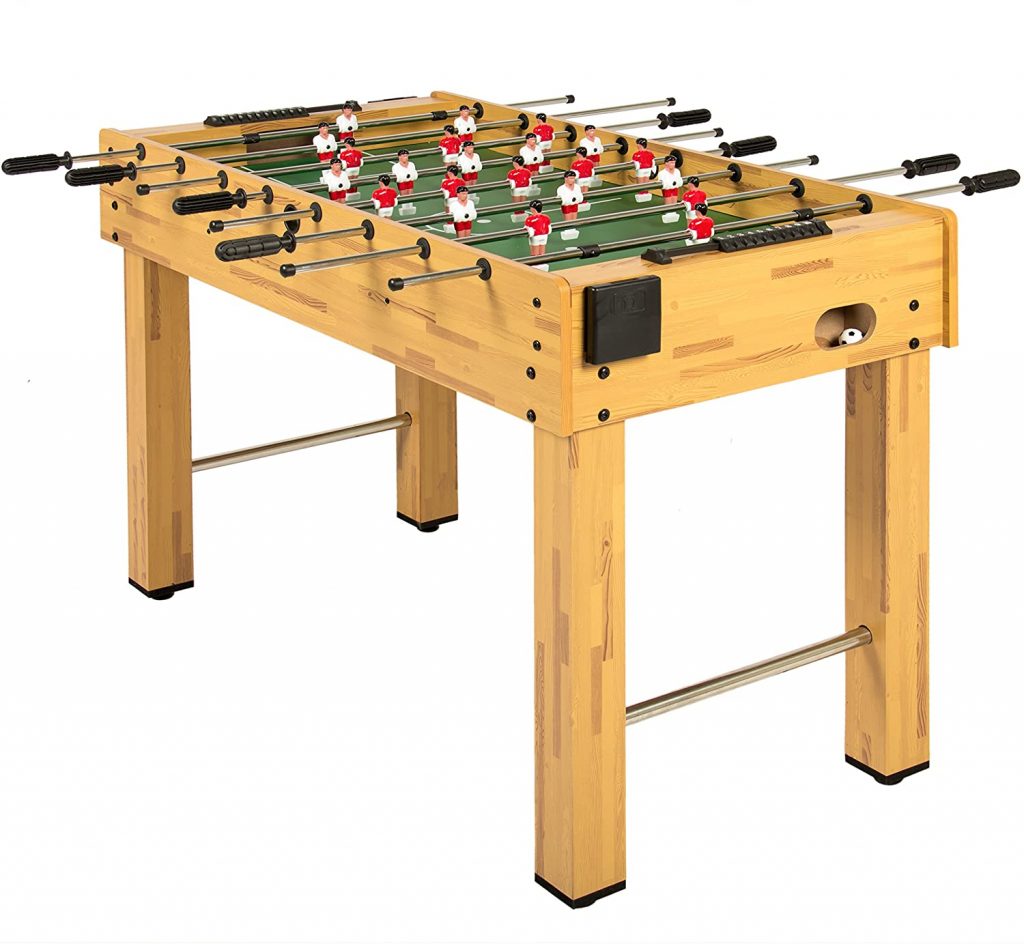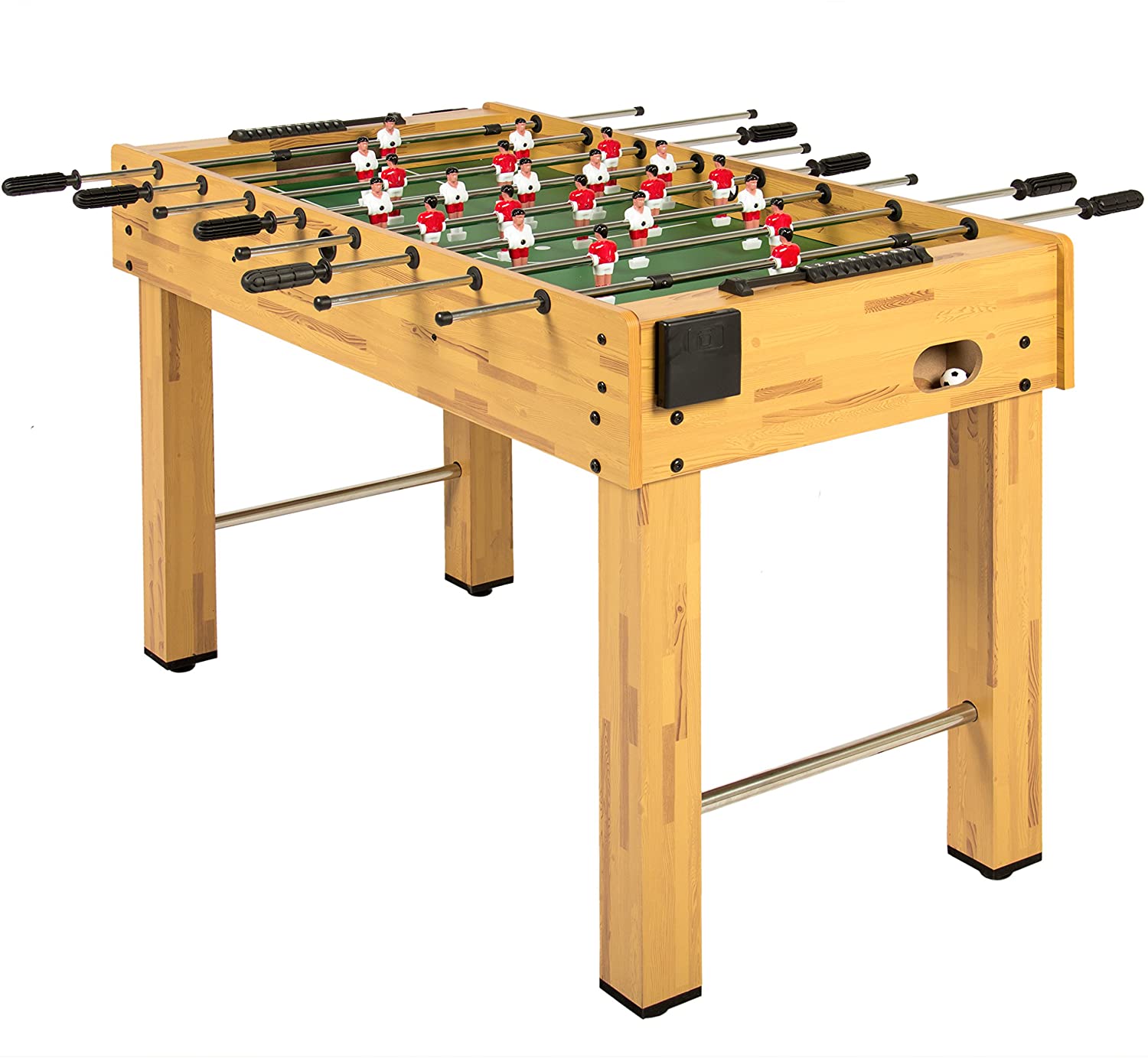 Ranked as the number one choice for foosball tables on Amazon, the Best Choice Products 48'' Competition-Sized Soccer Foosball Table is currently one of the best on the market in terms of affordability and practicality. This foosball table, appropriate for children and adults, will give hours of entertainment and family fun.
The Best Choice Soccer Foosball Table, as it says in its name, is a competition-sized table, making it perfect for your home, office, or other entertainment areas. The design makes playing easy, featuring eight rows, eleven players on both the red and white sides, and a cup holder on both ends so that you don't have to leave the action to grab a drink. The table itself is built out of durable, composite wood, and the rods have a chrome-steel finish. The ends of the rod bars include grips for comfort and playing ease, and they move with effortlessly with little friction. A mechanism for scoring is included as well.
The overall dimensions of the Best Choice Soccer Foosball Table are 48''(L) x 24''(W) x 33'' (H). There is little assembly required to the table, but instructions are included to make this process easier. The overall package weight 42 lbs and includes the actual table, two balls, and two cup holders. This foosball table is definitely worth the purchase without breaking the bank.
Pros
Affordable - Extremely affordable compared to similar foosball tables
Assembly - Offers expert assembly option
Cons
Cheap Material - As a trade-off for the price, this table is made out of a lower quality of material
3. Carrom Signature Foosball Table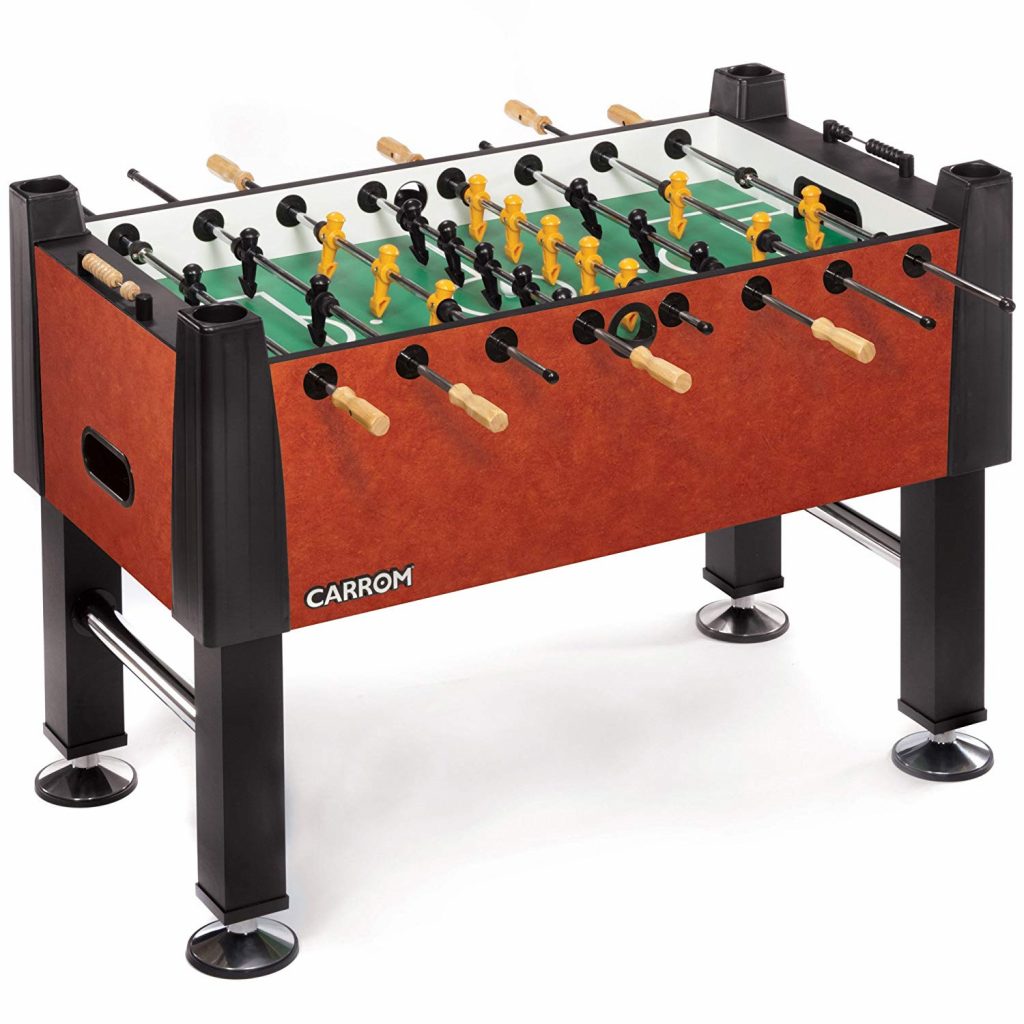 If you want a foosball table with a little better build, but don't want to fork out a grand or more for it, there are still some decent options out there. While some of these models have problems with the playing rods, there is one that we like more than all the other models in this price range. It is the Carrom 530 Signature Foosball Table.
This Carrom foosball table is both high quality and affordable. Plus, it looks great in home game rooms. As you might expect, it is a bit on the heavy side coming in at just over 160 pounds, but that is because it is made out of high-quality wood instead of fiberboard.
The measurements of this full-size foosball table come in at 50.3 x 36 x 55 inches, with 0.375-inch playing surface with enamel screen-printed graphics and a 1-inch-thick Moroccan finish on the exterior.
It features chrome-plated hollow steel playing rods that are 5/8-inch and have 8-sided hardwood handles for gameplay. Unlike some of the cheaper tables out there that might not be as smooth, you get fast and smooth spinning from the premium bearings on this table. And, there is a classic wood-beaded scoring system for gameplay, as well as a high-impact-plastic ball return.
No matter what, I feel like you know that you are getting a good game from this table without any tilt issues. The table base has heavy miter-fold black vinyl legs, including triple-chrome-plated leg levelers, so that the table levels efficiently and accurately.
When it comes time to play, the table can handle one- or three-goalie play. And if you go with one-goalie play, there are corner ramps to keep the foosball from drifting into the corners.
I like the look of this one because it looks more expensive than it is, so your friends may get a bit envious when they come over the get to play on such a beautiful table!
Pros
Different Setups Available - Offers one or three-man goalie setup - you choose!
Corner Ramps - Ball will never get stuck
Cons
Assembly - Everything needs to be assembled, including the playing field. It is made out of premium materials so it is heavy and may require two to three people.
4. Tornado Sport Foosball Table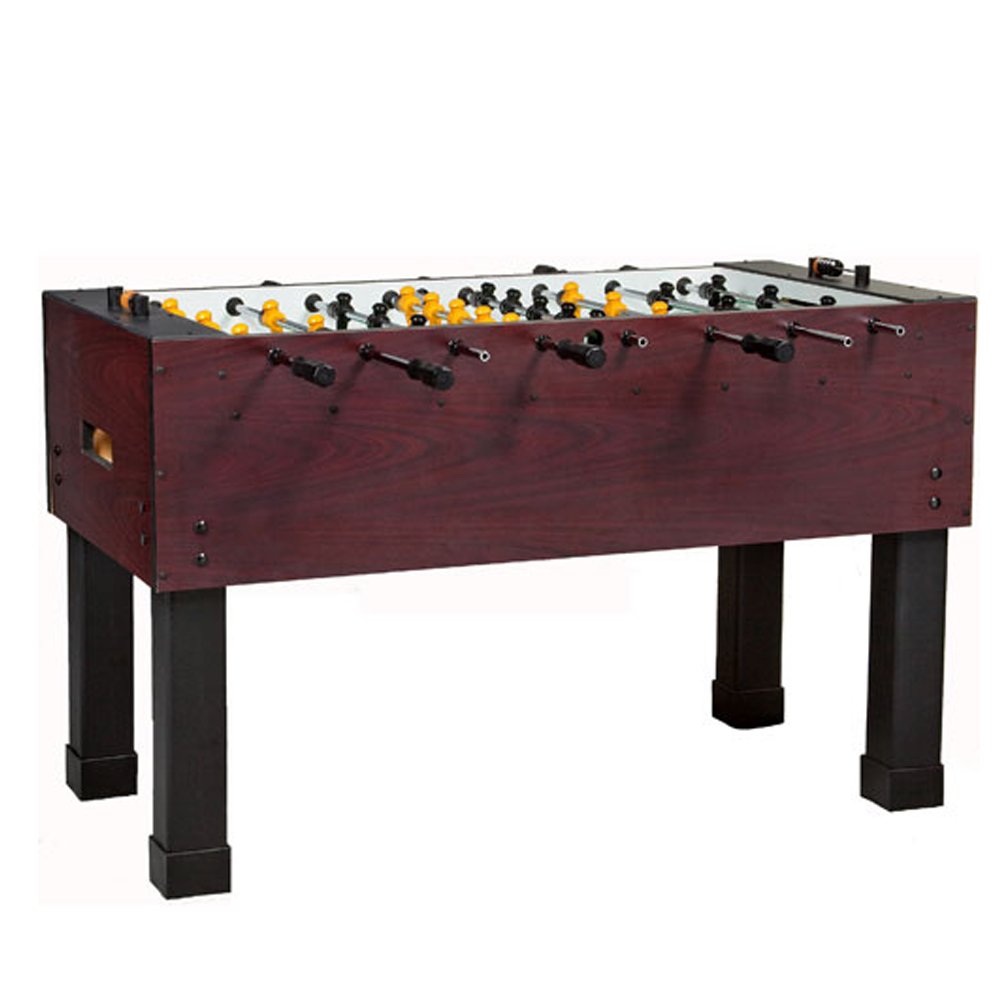 For the home rec room gamers with a little more money in the budget, I think you can get a higher quality table than the Carrom Signature Foosball Table by spending just a few hundred more bucks. You can get one of the most well-known brands in foosball tables for a reasonable cost. Out of all the tables that fall in this price range, it is my opinion that the very best foosball table you can get for the money is the Tornado Sport Foosball Table.
As one of the brand leaders, I think anything from Tornado will be of high quality and a lot of fun.
Probably my favorite thing about this table is that it is height adjustable. While I don't see this as a good thing for putting in a bar, it is excellent for a home game room with lots of adults and kids who play. Being able to change the height depending on who is playing at the table makes it more enjoyable.
In my opinion, this Tornado foosball table screams quality - it has a Mahogany Melamine finish designed to look great for years to come. The build seems to be very sturdy and high quality to me. Although it is not technically a tournament table, the quality and design are good enough that I think it has a tournament-style feel.
The table legs are height adjustable with boot levelers, which is perfect for families with kids who enjoy playing the game. And there's no need to worry about hand cramps while playing as the table has SureGrip black plastic handles on each side for players. The handles are on playing rods made of.125″ hollow steel.
Like all the beautiful quality tables, this one has a sliding scoring unit and end ball return. And an exciting feature is that the players feature a re-designed "foot" for more precise ball control / 3-goalie style play.
This foosball table is American made, so if you are the type of shopper who prefers to buy Made in America products, this is for you. The last time I checked, it comes out of a factory outside of Dallas, Texas.
It seems that the higher the quality, the heavier the table, and that is no exception with this unit. The weight of this table is around 150 pounds and it measures in at 56″ L x 30″ W x 36″ H (with the handles, it is 43″ wide). I think that getting the table assembled is pretty easy to do, but at one point, it does require two adults to flip it over, so make sure that you have someone there with you when you are putting this table together.
Pros
Brand Name - Best known brand in the foosball table industry
Height Adjustable - Perfect for tall or short players (or anyone in between!)
Cons
Heavy - Requires 2-3 people to move once fully assembled
Expensive - Might be a little more than you are willing to pay for an at home foosball table
5. Tornado Tournament 3000 Foosball Table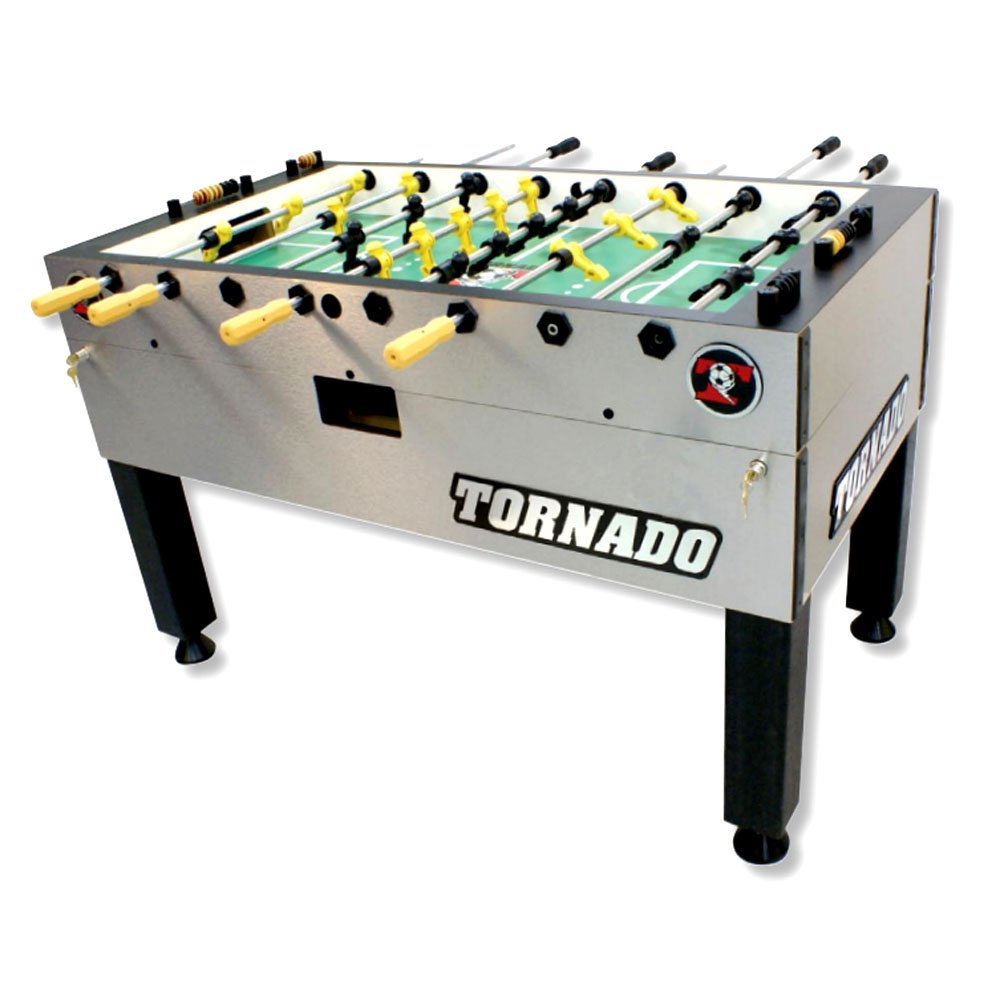 Do you take your foosball games seriously? If so, I think you need a serious foosball table that is worthy of a professional. There are not a lot of these high-end tables available for purchase, but the best foosball table for tournaments, in my opinion, is the Tornado Tournament 3000 Foosball Table.
Not many people need a tournament-style model, but if you take your foosballing seriously, you can't get much more serious than this. As you can see, this high-end foosball table is the real deal. I think that it is even durable enough to go into a bar if you're looking for something like that.
This table is for serious foosball players because it is modeled after the official Single-Goalie ITSF-Certified Tornado Practice table. And it weighs an impressive 350 pounds! So you will want to order online to get it delivered to you home.
This table is not for everyone, but if a tournament-style model is your thing, then I think you will like this one.
For people who need a good, cheap foosball table for a bar or frat house, I think this is probably your best choice. Now I know that some bar owners prefer the coin-operated type and don't get that with this one. However, this is a very durable, high-quality table at a great price. You can do some comparison shopping, but I doubt you'll find anything better to meet your needs than this table.
Pros
Durable - Can be used for years on end in a high traffic area (bar or arcade) and still keep its form
Designed Like the Pros - If you have hopes of a professional foosball career, this is the table for you
Cons
Heavy - Requires at least 2-3 people to move once fully assembled
Expensive - If you are looking for a tournament foosball table, you probably have already considered this
6. Hathaway Playoff 4' Foosball Table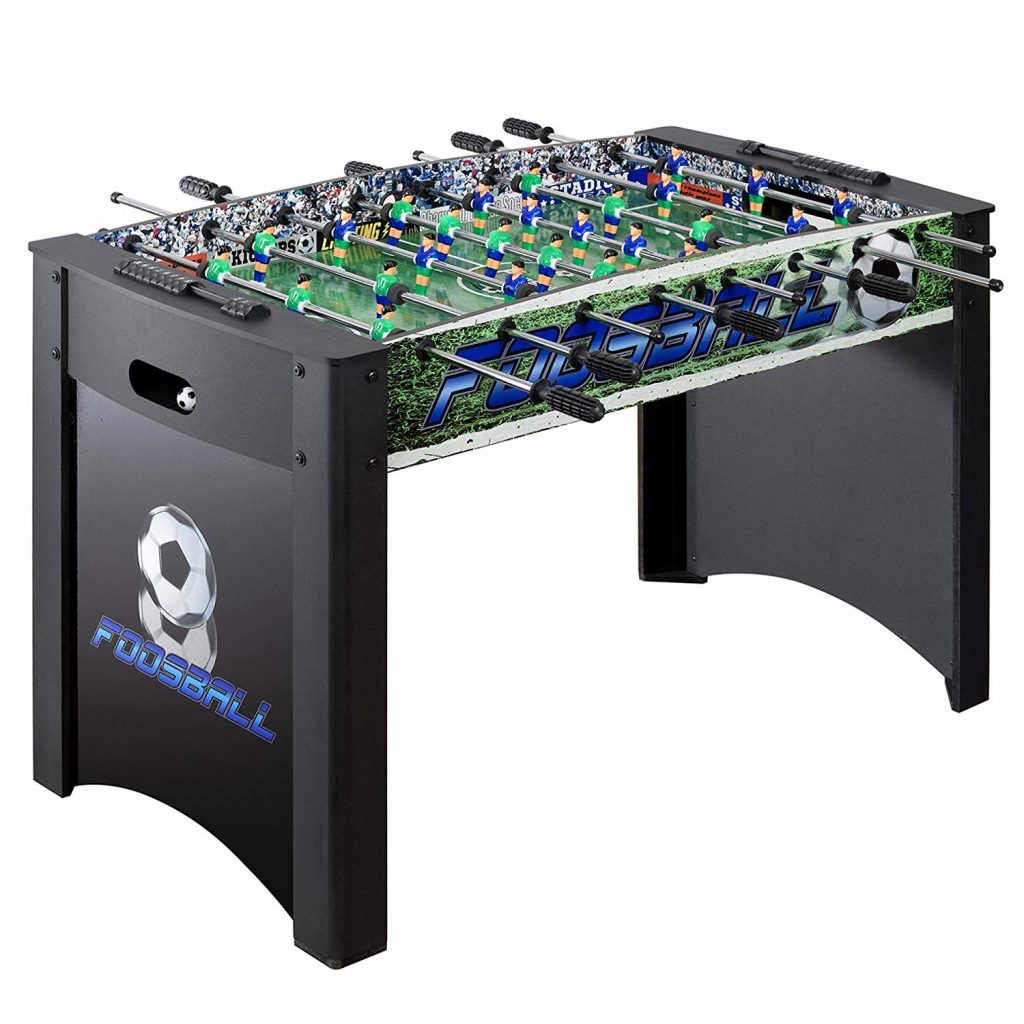 If you want an almost full-size foosball game table that will look great in your home game room without busting your budget, you will have a few options under $500. However, I've haven't yet been able to find a high-quality wood foosball table in this price range. Instead, you are looking at plastic and fiberboard building materials.
That being said, the best foosball table that I've found for kids is the Hathaway Playoff Soccer Table.
In my opinion, the table is sturdy and relatively easy to assemble once it arrives. Give yourself around one hour to get it put together.
The table has a 90-day warranty, but I don't think you will need to worry about needing to use that warranty unless you are rough with it. It seems that this table is made to withstand the abuse of teenagers playing, which gives you an idea of the quality and durability that you get with this table.
Unlike some of the more expensive tables, this one is reasonably lightweight thanks to it being made of fiberboard instead of real wood. When it arrives at your home, the box with it will only weigh around 50 pounds or so. Once you get it put together, it will be no problem for just two people to pick it up and position it in the room exactly where you want it.
If you are one of those aggressive players who put a lot of power in their plays, this table might be too lightweight for you as it will move with that playing. In that case, go for one of the heavier models listed below.
This four-foot black and green foosball table has a measured playing surface of 40.5 in. L x 23 in. W x 1/4 in. thick MDF. The chrome-plated steel playing rods are 1/2-inch thick and feature easy-grip rubber ergonomic handles (three on each side for players).
With this table, you get a three goalie configuration with ABS molded men for durability for 13 players per team. The table also features an end ball return on each end of the table.
For the money, this is an excellent value for the family on a budget. The biggest weakness with this table is the playing rods as they are not as sturdy as those with more expensive tables. However, if you take care while playing, I think that this table should last you for a while.
Pros
Affordable - Excellently priced for a present for the kids
Size - If you are looking to save space, this small four foot table is perfect
Cons
Materials - MDF cabinet looks and feels cheap
7. Sport Squad FX40 Foosball Table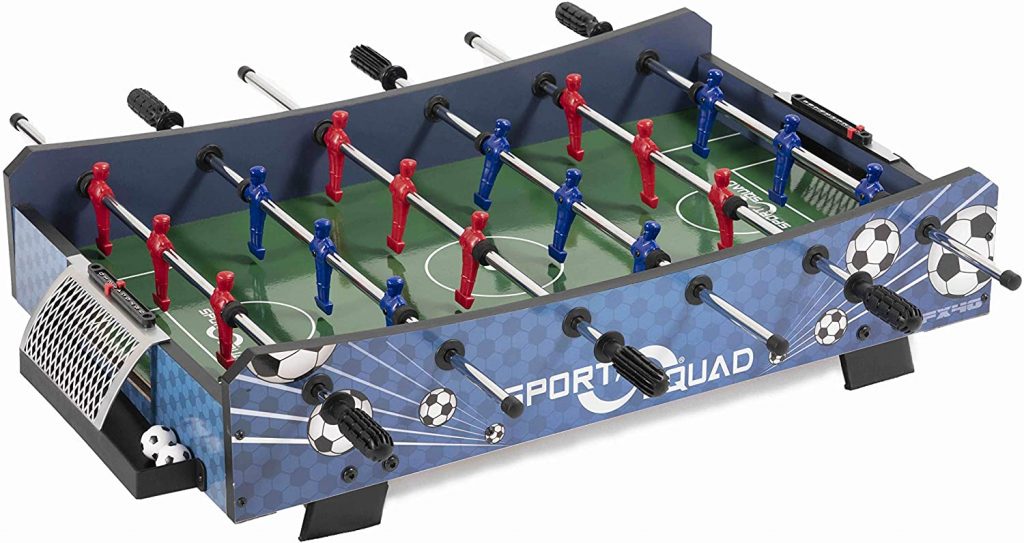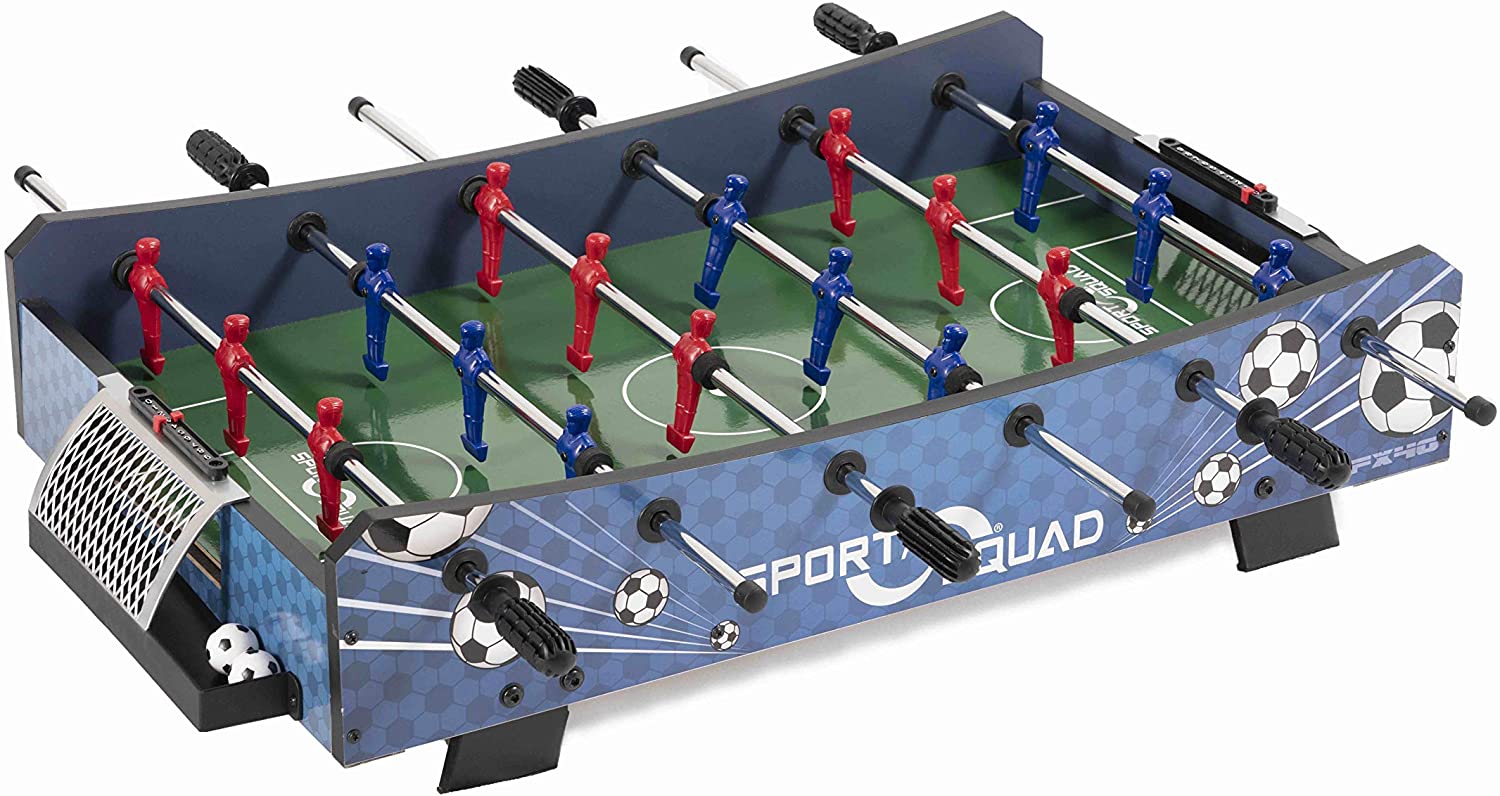 For the budget and space-conscious, a mini tabletop foosball game is the way to go. Prices for these are very affordable, and they let you experience the fun of the game even if you're short on space or cash.
The game has two large grip handle on each side for the players. The simulated playing turf and overall construction is surprisingly high quality for the low price. It is also a very sturdy build.
It features a sliding scorekeeper, and the game table is 20-inches. Perfect for even the smallest of studio apartments.
Pros
Affordable - Excellently priced for a present for the kids
Size - If you are looking to save space, this small tabletop table is perfect
Cons
Not Roomy - Designed mainly for kids
8. Garlando G-500 Indoor Foosball Table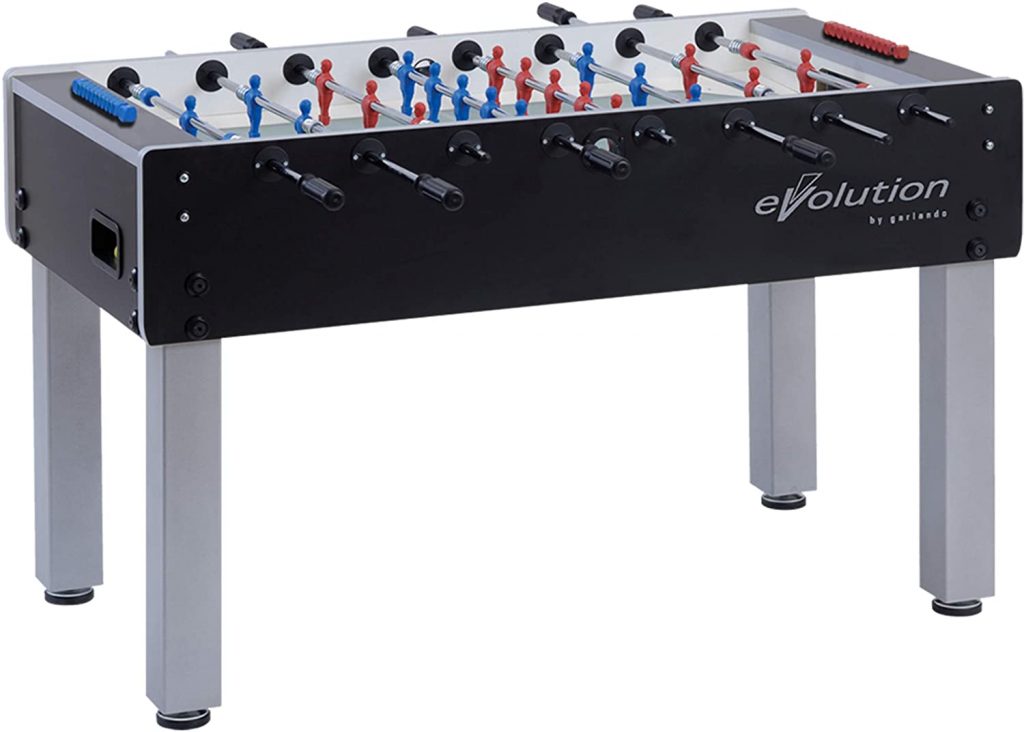 As one of the top brands on the market, there is no denying that Garlando makes some excellent foosball tables for the money. They have several models in their lineup, and they are all made of high-quality components. And they are built to last you and your family for quite a while. After checking out all of the models that they offer, I am a big fan of the Garlando G-500 Foosball Soccer Table.
If your home game room has a bit of a luxury feel to it with the decor, then I think that you will like the way that this one looks. It doesn't look like something that belongs in a bar or arcade. It is clear that, like the Tornado Sport model below, this one was built to be a bit of a conversation piece when people walk into your game room.
Playing it is a treat - the rods spin easily, and I don't notice any hand cramps or fatigue while playing. And even though it weighs under 200 pounds, it feels sturdy enough for the rough playing of teens or kids.
While this is a great little table, it does have some weaknesses. Since the players aren't counter-balanced, you have to deal with the men being in the way during gameplay. And you might also have to deal with one team having an advantage if the surface where you place the table isn't level - that's why levelers are an excellent feature!
There is no denying that this is a good option, but the truth is that there are a few better tables out there on the market like the Tornado Sport listed above. But for the money, I do really like this one - especially the lighter wood look of the cabinet.
Pros
Sleek Look - Unique look and feel compared to the other wooden boxes on this list
Lightweight - Lighter materials than other tables, but still durable
Cons
No Levelers on Legs - Hopefully your room is level!
9. Kettler Weatherproof Indoor/Outdoor Foosball Table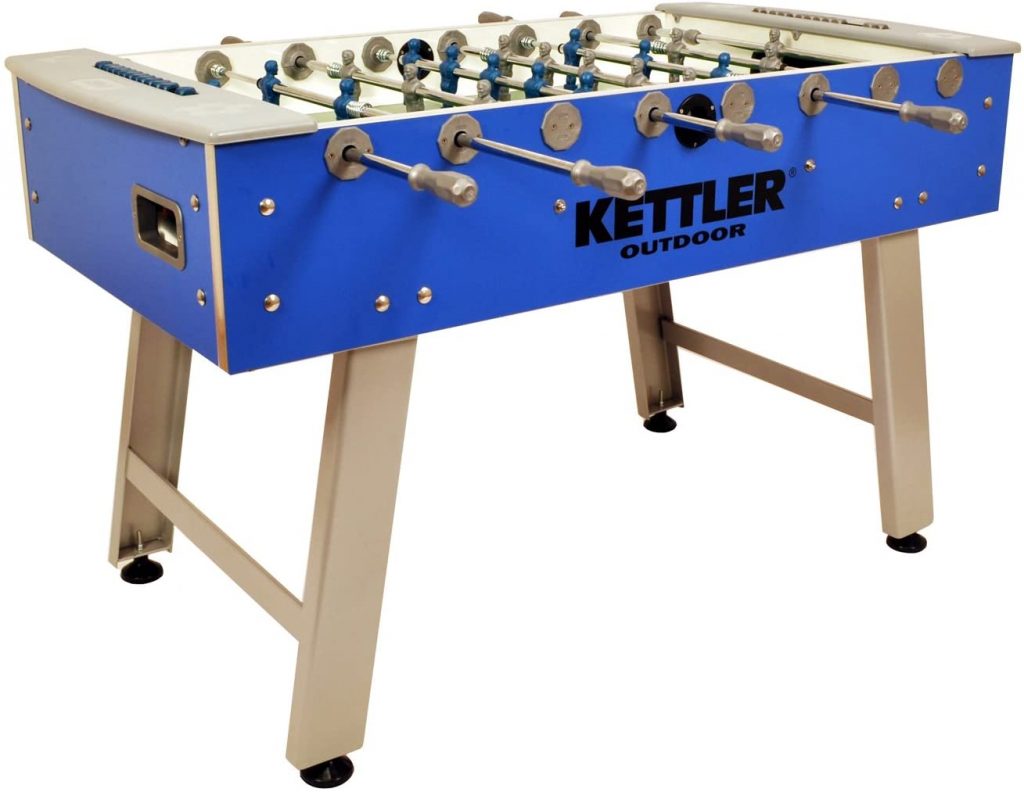 For the foosball gamer who enjoys being outside as much as inside, an excellent weatherproof foosball table that can be used indoors and outdoors is a good investment. You get a table that is durable enough to withstand weather elements but still practical for a home rec room. While not many of these models are available, the best of them is the KETTLER Weatherproof Indoor/Outdoor Foosball Table.
Unfortunately, there aren't many places in the US where you could get used out of this one all year long, but if you happen to be in one of those locations, then I think you will have a lot of fun outside with this one.
This weatherproof foosball table features weatherproof resin for the cabinet and high-quality laminates to keep it looking excellent all year long.
The table has a tournament-style single-goalie playfield and features powder-coated steel legs with levelers on each leg provide a level playing field, even when the ground beneath it isn't. This means that you can set the table up out in the yard or on your patio.
The players on it are counter-balanced, and when you play, the goalie's feet will hit the edge of the goal. This means that the goalie will not spin, like you may be used to seeing on tables. Once you get used to that difference, I do not doubt that you will love this table.
My complaints about this one are just a matter of personal preference and may not matter to most people. But if you need a weatherproof option, this is still my favorite choice right now - even though other brands make them in more appealing colors and cabinet designs!
The critical difference between this table and traditional foosball tables is that it features a high-speed glass playing field due to its weatherproof capability.
It is made in Italy and comes with an excellent 3-year warranty period. I doubt you will need ever to use that warranty though as this is a seriously high-quality foosball table. I like that you can take it outside when the weather is beautiful or leave it out on your patio all summer long. The table itself weighs a bit over 130 pounds, so keep that in mind when considering moving it outside or inside.
Pros
Single Goalie Setup - Play like the pros!
Lightweight - Only 130 pounds so you might be able to move it yourself
Cons
Expensive - Better options above, but this is one of the limited weatherproof ones
These are the very best foosball tables that I have been able to find. Each of them would look great in a home game room or home rec room. And some of them are even durable enough to go into a bar or other place of business, such as an employee break room. If none of the models I've reviewed above meet your needs, then you might want to click on one of the products above and scroll down to look for the link of list of the current best foosball tables to see if you can find something else that works for the space you're trying to fill. And once you get that new game table, brush on up maintenance and care tips to keep it in tip-top shape.
Buying Guide for the Best Foosball Table
To help make the shopping process a bit easier on you, let me break down what I know about the features that are available on these things.
Size
When it comes to the standard size for a full-size table, look for a model that has a length of 56-inches and a width of 30-inches. What some people don't realize is that these dimension do not take into account when the rods are fully extended. This is very important when it comes to the space in your home or business where you intend to put the table. If you forget to check the measurements with the rods extended, then you might end up with it not fitting well.
Goalie Setup
If you're new to foosball, then you might be surprised to learn that some of the tables have a one-man goalie configuration and some have a three-man goalie configuration. This was something that I didn't realize back when I was new to being a fooser. Here's why it is important information:
pros play with a one man goalie because it takes more skill
it is easier to score on a three-man goalie setup, which makes this setup a good choice for kids
Cost
As I am sure you already know, the amount that you can expect to pay for one of these ranges from under $100 to over $2000. It really varies a lot based on brand, size, cabinet materials and more. But I am certain that you can find something to meet your budget, no matter how big or small it might be. After reading this page, you should be able to come up with some solutions for:
best foosball table under $300
best foosball table under $500
best foosball table under $800
best foosball table under $1000
Other Good Features To Look For
Goalie setup and size aren't the only things to consider when shopping. If you want to stick with the feature that the pro go for, look for:
counterweighted men so that the men won't be in the way when the rods aren't in use
table levelers on the legs for a 100% level table for fair game play
hollow steel playing rods for the quickest and smoothest moves - also prevents wrist strain since this type is the most lightweight type of rod
laminate surface instead of stickers so that you don't have any stickers that roll-up and mess up your game play
These aren't the only features, but I think they are the most important when shopping.
Tabletop Foosball Game vs Full-Size Foosball Game Table
When shopping, you have these two main game design types to choose from. While traditionalists prefer the full size tables, each offers their benefits.
The good thing about a table top size foosball game is that they can work in even the smallest of spaces. For instance, if you live in an apartment and have no space for a home game room, then the tabletop foosball set gives you the ability to enjoy the game in your home despite being low on space. It is also easy to store thanks to its compact size. And, this is the best solution for someone on a budget as this type of foosball table has an average price under $50.
Full size foosball tables are best for people who have room in their homes for such a large gaming table. With this type of table, you get the traditional game play from a full-size table. Of course, it does take up a fair amount of space and has a price tag higher than that of the tabletop variety. The cheapest (almost) full size table that you'll find is just under $150 while higher quality options are available under $500. And if you want a luxe foosball table, then expect to spend somewhere around $700 at a starting point for a top of the line foosball table.
How Much Is a Foosball Table ?
This is a difficult question to answer, as the price of a foosball table can vary greatly depending on a number of factors.

The Quality of the Table
The most important factor in determining the price of a foosball table is the quality of the table. A high quality foosball table will be made from better materials and will have more features than a lower quality table. As you would expect, higher quality tables will also cost more money.
The Size of the Table
Another important factor that can affect the price of a foosball table is the size of the table. Larger tables will generally cost more money than smaller tables. This is because larger tables require more materials and labor to construct. If you have a limited amount of space, you may want to consider a smaller table. However, keep in mind that smaller tables may not have all of the features that you desire.
The Brand of the Table
The last factor to consider when trying to determine how much is a foosball table is the brand of the table. Some brands are more well known than others and as a result, their tables usually cost more money. If you are looking for a high quality table but don't want to spend a lot of money, you may want to look into purchasing a used table from a reputable source. Used tables can often be found for a fraction of the cost of new tables and they can still provide you with years of enjoyment.
How Big Is a Foosball Table ?
A Lot of Complex Math and Physics That Goes Into Making a Foosball Table
A foosball table may seem like a simple piece of equipment, but there is actually a lot of complex math and physics that goes into making one. The size of a foosball table can vary depending on the manufacturer, but they are all regulation size according to the International Table Soccer Federation (ITSF). A regulation foosball table is 9 feet long, 5 feet wide, and 2.5 feet tall. The playing surface of the table is 8 feet long and 4 feet wide. The goal posts are 6 inches wide and 3.5 feet tall. The soccer ball is approximately 1.5 inches in diameter.
Regulated by the Itsf
All of these dimensions are regulated by the ITSF in order to create a uniform playing surface for competitive foosball. The size of the table and the ball may seem small, but it is important to remember that foosball is a fast-paced game and players need to be able to react quickly. A smaller playing surface makes it easier for players to move the ball around and keep track of it.
ATSA also Has Its Own Set of Regulations
The ITSF is not the only organization that has regulation sizes for foosball tables. The American Table Soccer Association (ATSA) also has its own set of regulations. The ATSA was founded in 1971 and is the oldest table soccer organization in the United States. The ATSA's regulation size foosball table is 8 feet long, 4 feet wide, and 2.5 feet tall. The playing surface is 7.5 feet long and 3.5 feet wide. The goal posts are 6 inches wide and 3.5 feet tall. The soccer ball is 1.625 inches in diameter.
While the ATSA's regulation size foosball table is smaller than the ITSF's, it is still a regulation size table according to the ATSA. The ATSA's regulation size table is also used in many professional tournaments in the United States.

Many Different Sizes and Styles to Choose From
If you are looking for a foosball table for your home, there are many different sizes and styles to choose from. You can find small tables that are perfect for kids or beginners, or you can find large tables that are better suited for more advanced players. There are also many different themed tables available, such as football, basketball, or hockey. No matter what your budget or skill level, there is a foosball table that is perfect for you.

Benefits of Having a Foosball Table
There are many benefits of having a foosball table in your home, office or business.
Relieve Stress and Have Fun
For one, foosball is a great way to relieve stress and have fun at the same time. It is also a great way to socialize and bond with family and friends. In addition, foosball can help improve your hand-eye coordination and reflexes.

Relatively Inexpensive
Another great benefit of foosball is that it is relatively inexpensive compared to other forms of entertainment. You can find a good quality foosball table for under $200.00. This makes them affordable for almost everyone.
Built to Last
Finally, foosball tables are built to last. They are made from high quality materials that can withstand years of heavy use. This means that you will be able to enjoy your investment for many years to come.
If you are looking for a great way to relieve stress, have fun and socialize, then consider buying a foosball table. You won't be disappointed with the numerous benefits they offer.
Types of Foosball Tables for the Money
So, you're in the market for a foosball table, but you're not quite sure which one is right for your needs and budget. Here's a quick rundown of the different types of foosball tables available on the market today:
1. Budget Foosball Tables
These tables are typically made of lower-quality materials and construction, and as such, they don't tend to stand up to the rigors of intense play. They're fine for casual use or for kids who are just learning the game, but if you're looking for a table that will withstand heavy use, you'll need to spend a bit more money. Budget tables start at around $100.

2. Mid-Range Foosball Tables
These tables are usually made of higher-quality materials and construction, and as such, they're much more durable than budget tables. They'll still probably show some wear and tear over time, but they can withstand more intense play. Mid-range tables start at around $200.

3. High-End Foosball Tables
These are the best of the best when it comes to foosball tables. They're made with top-of-the-line materials and construction, and as such, they're built to last. You can expect to pay upwards of $500 for a high-end table.

So, which type of table is right for you? It really depends on your needs and budget. If you're looking for a table that will see a lot of heavy use, you'll need to spend more money. But if you're just looking for something to play around with occasionally, a budget table should suffice.

Expert Tips for Maintaining Your Foosball Table
Foosball is a great game for people of all ages, and it can be enjoyed in both casual and competitive settings. Whether you're playing at home with family or friends, or you're in a tournament setting, keeping your foosball table in top condition is crucial to ensuring that everyone has a good time.

Here are some expert tips for maintaining your foosball table:

1. Keep the surface clean and dry
This will help prevent the formation of mold and mildew, which can damage the surface of the table and make it difficult to play on.

2. Periodically check all of the bolts and screws to make sure they are tight
Loose hardware can cause the foosball table to wobble, which can ruin the game for everyone.

3. Make sure the foosball balls are clean
Dirty balls can make it difficult to control the game, and they can also leave marks on the table surface.

4. Don't forget to wax the playing surface
This will help keep the ball from sticking, and it will also make the table easier to clean.

5. Inspect the goal posts regularly to make sure they are level
Uneven goal posts can cause the ball to bounce erratically, making it more difficult to score.

6. Replace any worn or damaged parts as soon as possible
Worn out bearings, for example, can cause the rods to stick, making it difficult to play the game.

7. Store the foosball table in a dry, cool place when it's not in use
This will help prevent damage from moisture and heat.

By following these tips, you can keep your foosball table in top condition so that everyone can enjoy the game for years to come.

Buy on eBay, Walmart, Etsy (limited quantity)
BARRINGTON BILLIARDS 56 inch Allendale Collection Foosball Table - Walmart, Etsy, eBay
Lancaster Gaming Vogue 54 Inch Arcade Style Foosball Soccer Table with Beaded Scoreboards - Walmart, Etsy, eBay
KICK Monarch 48" Folding Foosball Table (Brown) - Walmart, Etsy, eBay
Hall of Games Kinwood 56" Foosball Table, Grey/Tan (FS056Y19033) - Walmart, Etsy, Ebay
Steve Silver Diletta Foosball Game Coffee Table with Casters in Walnut - Walmart, Etsy, eBay
Rally and Roar 56″ Foosball Table - Walmart, Etsy, eBay
Best Choice Products 48'' Competition-Sized Soccer Foosball Table - Walmart, Etsy, Ebay
Carrom 530 Signature Foosball Table - Walmart, Etsy, Ebay
Tornado Sport Foosball Table - Walmart, Etsy, eBay
Tornado Tournament 3000 Foosball Table - Walmart, Etsy, eBay
Hathaway Playoff Soccer Table - Walmart, Etsy, eBay
Garlando G-500 Foosball Soccer Table - Walmart, Etsy, Ebay
KETTLER Weatherproof Indoor/Outdoor Foosball Table - Walmart, Etsy, eBay
Conclusion for Foosball Table Buyers
We hope this article has helped you in your search for the perfect foosball table. As you can see, there are a lot of factors to consider when making your purchase. But if you keep all of these things in mind, we're confident that you'll be able to find a table that's just right for you and your family. Thanks for reading and happy shopping!