Many amateur players use hand chalk or powder on their hands, as this helps to keep the hands dry and free of perspiration when playing. Hands that are wet from perspiration can lead to friction between the hands and the cue stick, and friction can lead to poor or incomplete strokes with the stick, which can in turn lead to missed shots. The problem with hand chalk or powder, however, is it tends to make a mess, leaving white stains on the pool felt and usually all over the player using it.
Professional players-and now many amateurs-have a found a way to forego chalk and hand powder while still reducing the friction between their hands and the stick. How did they do this? With a billiard glove!
Billiard gloves are a great way to enhance your game and start playing like the pros, and given their relatively cheap price you simply cannot afford NOT to get one of these pool accessories. To help you do just that, below we have briefly reviewed several of our editor's favorites and most popular billiard gloves currently on the market, including the pros and cons of each glove. We have also included a Billiard Glove Buyers Guide, in which we will explain the various factors and characteristics to consider when it comes time to shop for your new glove.
Top Billiard Glove by Editors' Picks
Best Billiard Gloves for the Money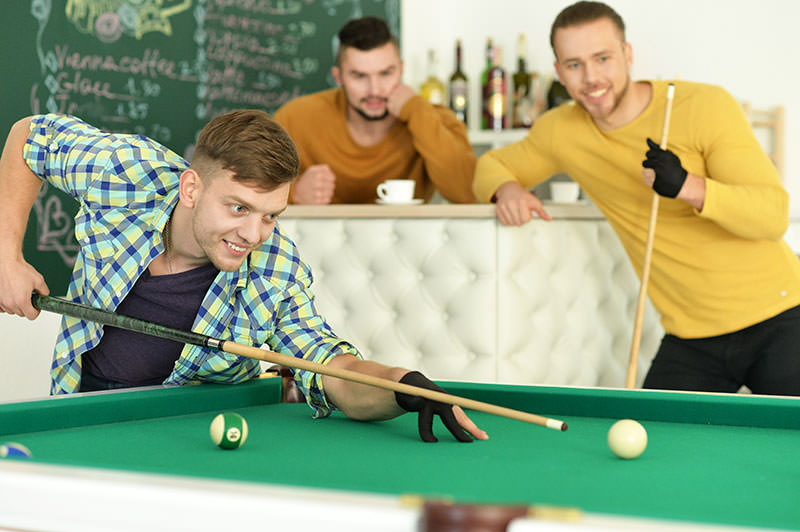 Should I Wear a Glove to Play Pool?
Do your hand get all sweaty and clammy when you're trying to play pool? Are you tired of getting powder all of your clothes? Sounds like you're the perfect candidate for a billiard glove. Wearing one of these will help you make better shots since you won't have to worry about those sweaty hands. Check out the video below for more info.
Predator Second Skin Billiard Glove - Link
Available in both black and grey, the Predator Second Skin Billiard Glove is sure to reduce the friction between your hands and the cue stick and help improve your game. The glove is made from a stay-dry ultra-breathable mesh material that allows the cue stick to glide over the hand and fingers with ease. The non-slip, rubberized heel pad helps your hand stay put wherever it's placed, on the railing or the felt; and the double-stitched construction ensures your new billiard glove will never rip or tear when you need it most.
As the name suggests, the Predator Second Skin Billiard Glove fits effortlessly on your hand-so effortlessly that you may even forget you have it on. Although this particular glove is for the left-hand bridge-or for right handed players-there are also gloves available for left-handed players. The new age elastic Velcro strap on the glove ensures it remains closed tightly for feel, and the patented Second-Skin low friction surface will create the perfect relationship between your fingers and the stick. The glove provides accuracy and consistency for players of all skill and ability levels, regardless of the conditions or type of shot. Smooth and even shots every time, the Predator Second Skin Billiard Glove is a must have for anyone serious about pool.
Pros
Absorbent. The Predator Second Skin Billiard Glove absorbs all moisture from perspiration and the air to keep the stick bone dry.
Different sizes available. The billiard glove is available in a variety of sizes for players with different sized hands.
Adjustable wrist band. Players can adjust the tightness of the Predator Second Skin Billiard Glove with the adjustable wrist band.
Cons
No child sizes. The small Predator Second Skin Billiard Glove does not fit very small children.
Can wear out if wrong size. It is very important to choose the correct size when purchasing this billiard glove, as it can wear out when the wrong size is selected.
MIFULGOO Three-Finger Lycra Billiards Glove - Link
Made of friction-resistant Lycra, the MIFULGOO Three-Finger Lycra Billiards Glove is both stretchy and breathable, designed to maximize flexibility and comfort. Boasting a great design, these 3-finger gloves allow the top of the middle finger to be exposed while the forefinger and thumb are completely covered for the perfect bridge.
Sized to fit, the glove has a Velcro attachment that stays closed and out of the way, thus allowing the cue stick to glide smoothly over the fingers. The gloves are reversible-can be worn on either the right or left hand-and will make you say goodbye to messy powder forever.
Pros
Made for both men and women. The MIFULGOO Three-Finger Lycra Billiards Glove is available in both men's and women's styles.
Many colors to choose from. Purchasers can choose from a variety of colors and designs.
Unique design. With the exposed middle-finger, the MIFULGOO Three-Finger Lycra Billiards Glove boasts one of the most unique constructions in the industry.
Cons
Reversible. Although some would see a reversible glove as an advantage, we think it sacrifices a proper fit.
Not very large. The extra large glove does not fit very well on men with larger hands.
Unglove Fingerwrap Billiards Glove - best value for the money - Link
The Unglove Fingerwrap Billiards Glove offers the friction resistance you need without the discomfort of a full or three-fingered glove. The open-palm two-finger design of this glove is much more comfortable than other billiard gloves on the market, and supplies the same advantages you would get from a glove.
Made of smooth, sweat-resistant Lycra, the Unglove slides on easily and is available in an array of different colors, including a beige tone that actually camouflages the glove to other players.
Pros
Great fit. The Unglove Fingerwrap Billiards Glove is made with super stretchy and light material that perfectly fits the first two fingers.
Many colors available. The Unglove is available in an array of fashionable colors.
Hand-washable. Washes up easily with soap and air dries rapidly.
Cons
Smallish. The Unglove Fingerwrap Billiards Glove does not fit extra large hands.
May be uncomfortable to some. The two-finger design with open palm may cause some people discomfort.
Billiard Glove Buyers Guide
When you set out to buy a billiard glove, there are a number of factors to consider, some more crucial or important than others. To help you find the ideal glove for your specific requirements and preferences, below we have compiled a brief buying guide that will help take some of the guesswork out of the purchasing process.
Size
Size is perhaps the most important consideration when buying a billiard glove. Gloves that are improperly sized can negatively impact your game and, over time, wear out very quickly. Of course, a good billiard glove should fit tightly against your skin, as you want the cue stick to be able to slide easily over your hand, but how tight is too tight? Well, you want to purchase a glove that can slide easily on and off your hands. You do not want a glove that you have to force on your hands every time you want to play, because you could damage the glove or simply get tired of wearing it.
Be very careful about gloves that say "one-size-fits-all." These claims are seldom true, and even if they do technically "fit all," what kind of "fit" are we talking about? Loose on small hands and so tight on large hands that they cut off the blood supply? Our recommendation is to try on several gloves before making a final purchase, and only buy a glove that fits comfortably without being too loose.
Type
There are many different types of billiard gloves, and while no type actually has an advantage over the other in terms of friction reduction, you may find you enjoy one style more than others. Billiard gloves are designed to be worn on your bridge hand-the left hand for right-handed players; the right-hand for left-handed players. The purpose of the billiard glove is to reduce friction between your fingers and the cue stick where it meets the bridge or steering hand-the hand towards the front as you take your shot.
Billiard gloves can be whole-hand gloves, covering all of the fingers on the hand. Whole hand gloves have the advantage of being more comfortable and natural than other types of gloves, but if you use your non-bridge fingers-usually the ring finger and the pinky finger-to stabilize your hand as you prepare to shoot, having a glove on these fingers may feel awkward.
Most billiard gloves have three fingers, covering the thumb, forefinger and middle finger-the fingers many players use to form the bridge. Three-fingered gloves are the type normally worn by professionals, as they provide the reduction in friction they seek while leaving the other two fingers out for stabilization on the felt. Most three-finger gloves have a pad in the palm of the glove, making it more comfortable when shooting from the rail.
Lastly, there are billiard gloves that just cover the forefinger and thumb. These billiard gloves, which don't even really resemble gloves but rather a strip of material on the first two fingers, are popular by those who only use those two fingers to make their bridge, and because they have less material they are usually a bit more comfortable than other types of gloves.
Material
Billiard gloves can be made using a variety of materials. Some gloves are made using a breathable mesh material. These are popular because they are much more comfy to wear than gloves made out of other materials, as the breathable mesh keeps the hands very cool during play. The majority of billiard gloves are made from a synthetic Spandex or Lycra material. These materials not only provide a strong and sure grip, they also allow for better traction on the cue stick, reducing incidences of slips and miss-hits. When billiard gloves are made using these materials, be sure to avoid the one-size-fits-all hype, and instead look for gloves that are sized properly.
Left Hand, Right Hand and Reversible
Although this may seem like a no-brainer, it's important to mention anyway. If you are a right handed player, be sure to pick out a glove that goes on the left hand, and vice versa. Many of the three-finger gloves manufactured today are advertised as reversible, but for the sake of a proper fit we recommend steering clear of those types of gloves.
Color and Design
Fortunately, billiard gloves are made in a variety of colors and they sport a myriad of different designs. Try to shop around until you find a glove that not only fits perfectly and provides comfort, but one that matches your personality and playing style as well.
Buy on Walmart
CUESOUL 10pcs/Set 3 Finger Billiards Gloves Pool Cue Gloves - Walmart Link
KAMUI Billiard Glove - Quickdry - for Left Hand - Walmart Link
IBS Three Fingers Billiards Glove Snooker Cue Professional Cool Mesh 4 Colors - Walmart Link
IBS Three Fingers Billiard Gloves Snooker Cue Professional 4 Colors (Spandex) - Walmart Link
TAOM Midas Ultra Silky Thin Billiards Pool Cue Gloves World Class Winning Billiards - Walmart Link
MIFULGOO Man Woman Elastic 3 Fingers Show Gloves for Billiard Shooters Carom Pool Snooker - Walmart Link
Tiger Billiard Glove - for Left Hand - Walmart Link
Buy on eBay
CUESOUL 10pcs/Set 3 Finger Billiards Gloves Pool Cue Gloves - eBay Link
KAMUI Billiard Glove - Quickdry - for Left Hand - eBay Link
IBS Three Fingers Billiards Glove Snooker Cue Professional Cool Mesh 4 Colors - eBay Link
IBS Three Fingers Billiard Gloves Snooker Cue Professional 4 Colors (Spandex) - eBay Link
TAOM Midas Ultra Silky Thin Billiards Pool Cue Gloves World Class Winning Billiards - eBay Link
MIFULGOO Man Woman Elastic 3 Fingers Show Gloves for Billiard Shooters Carom Pool Snooker - eBay Link
Tiger Billiard Glove - for Left Hand - eBay Link