Tired of playing pool in a cramped and stuffy room? Try taking the game outside on an outdoor pool table. A variety of billiards companies have specially designed tables that can withstand outdoor weather throughout the year. These beauties feature materials that are waterproof, rustproof and fire resistant.
With the right outdoor pool table, you can really enhance a backyard patio or entertaining area. Barbecues and parties will be that much better once you add a friendly billiards competition to the mix. Since you'll be playing in an open space, you'll have no trouble stretching out to make those awkward shots.
Top Outdoor Pool Tables by Editors' Picks
Best Outdoor Pool Table Reviews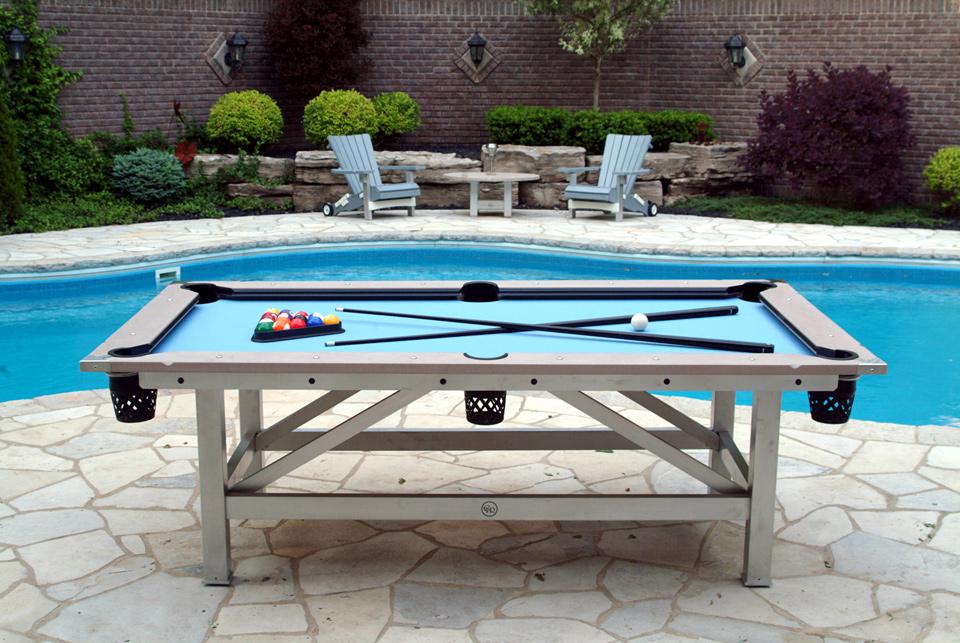 You can spend anywhere from a few hundred to well over a thousand dollars on an outdoor pool table as you might be able to tell from the chart above. We have broken down the tables into two separate categories - foldable and permanent. The foldable tables are easily moveable and probably should be moved indoors when they are not in use. These tables will be shorter then regulation, but also cheaper. The permanent tables are able to be kept outside regardless of the weather, but should be covered when not in use. You will receive a cover along with the purchase of a pool table, but we have a premium option at the bottom of this article if you are interested.
The beginning of the article will feature the permanent, more expensive pool tables. If you are interested in the foldable and cheaper options, feel free to scroll past the first couple of tables. For the most part, you pay for what you get. However, there are some great tables at every price point. Here are a few of our favorites.
1. Playcraft Extera Outdoor 8′ Pool Table Review - Link
xtruded aluminum 5-7/8" top rails, 5-1/2"aprons, legs and square tubular beam sub-frame with anti-rust coating
1" composite weather proof playfield
Large tubular beam legs with cross truss bracing
K66 profile cushions
After comparing a few models, we think that this is the best outdoor pool table for the money right now. Like most outdoor gaming tables, it probably a higher price that you're expecting. Fortunately, it is built to last so we think that you money will be well spent on it.
It is made of aluminum to withstand the weather outside and the playing surface is UV resistant to protect from any sort of weather damage. Don't worry about moisture damaging it because it does arrive with an anti-rust coating on the exterior.

This table is the standard 8 foot length of a pool table. Even though it is not a slate pool table, it is quite heavy and will require 3-4 people to flip it over once you are finished assembling it.
Included is an accessories package that does have a cover for you to use on the table when it is not in use. It is definitely a good idea to keep this thing covered when you're not using it cause you don't want any dirt or other debris to build up on the playing surface.
Also note that it does have leg levelers so you can put it on uneven ground just fine. And remember to bring your accessories inside when you're not playing because they are not weatherproof!
2. Hathaway Alpine 8-ft Outdoor Pool Table - Link
PERFECT FOR PATIOS - This gorgeous table stands up to the harshest elements. UV-resistant felt provides protection against rain and sun. Its tough, aluminum frame ensures long-lasting, dependable durability.
TOURNAMENT READY - Enjoy responsive, accurate action with the Alpine's pro-ready, K-55 gum rubber cushions. Its weather-resistant felt stays firm and level, regardless of the weather. Bring exciting, action-packed tournaments to your yard, deck or patio.
STYLISH DESIGN - The Alpine's sleek frame is covered in a white, powder-coated gloss, adding a luxurious look to this quality table. This brisk-white look combines with dazzling, electric-blue felt to create a style that's sure to draw the eye.
1-YEAR - Your product comes with a one-year manufacturer. Your item will arrive damage free with all necessary parts and accessories.
Next on our list is the Hathaway Alpine 8′ Outdoor Pool Table. This has a very similar look and feel to the Playcraft table above. The only quickly noticeable differences are that the frame is white and the playing felt is a little bit of a darker blue.
The felt on this table is also UV and weather resistant which is obviously important if you are going to be using it outside. However, you should be sure to cover the table and put away the accessories when you are not using it.

The Hathaway Alpine table is the standard 8′ pool table length. It is a great, top of the line option if you are searching for the perfect outdoor pool table. It comes with all the necessary accessories and a 1 year manufacturer warranty if you happen to have any issues.
3. Imperial 8ft Outdoor Pool Table Review - Link
8-ft. outdoor pool table
Mostly assembled; just bolt on the legs and level to the surface;
Anodized aluminum rails and aluminum corners and legs
Bed is covered in Camel color, waterproof taclon cloth
With a price tag of over $3,500, this table is ideal for those who want a durable, high-end option. It boasts a sleek construction and beautiful 8-foot playing field that warrants the added cost. The camel-colored cloth is waterproof, and the rails are lined with K66 cushion rubber to give a fair rebound. While the frame is made of aluminum, the bed board is a polyester resin that's waterproof and fire-retardant. This table is a bit larger and heavier than other options. However, the added sturdiness makes it perfect for long-term outdoor use.

The table comes mostly assembled and you will only need to bolt the legs to the table and then level it. It also comes with a complete accessory kit - balls, cues, rack, chalk, and a fitted cover. Since the table is tan, we recommend that you get tan chalk to match so the blue chalk doesn't make marks on the playing felt. Just like the Playcraft table about, the Imperial table is quite heavy and will require 3-4 people to flip over after assembly.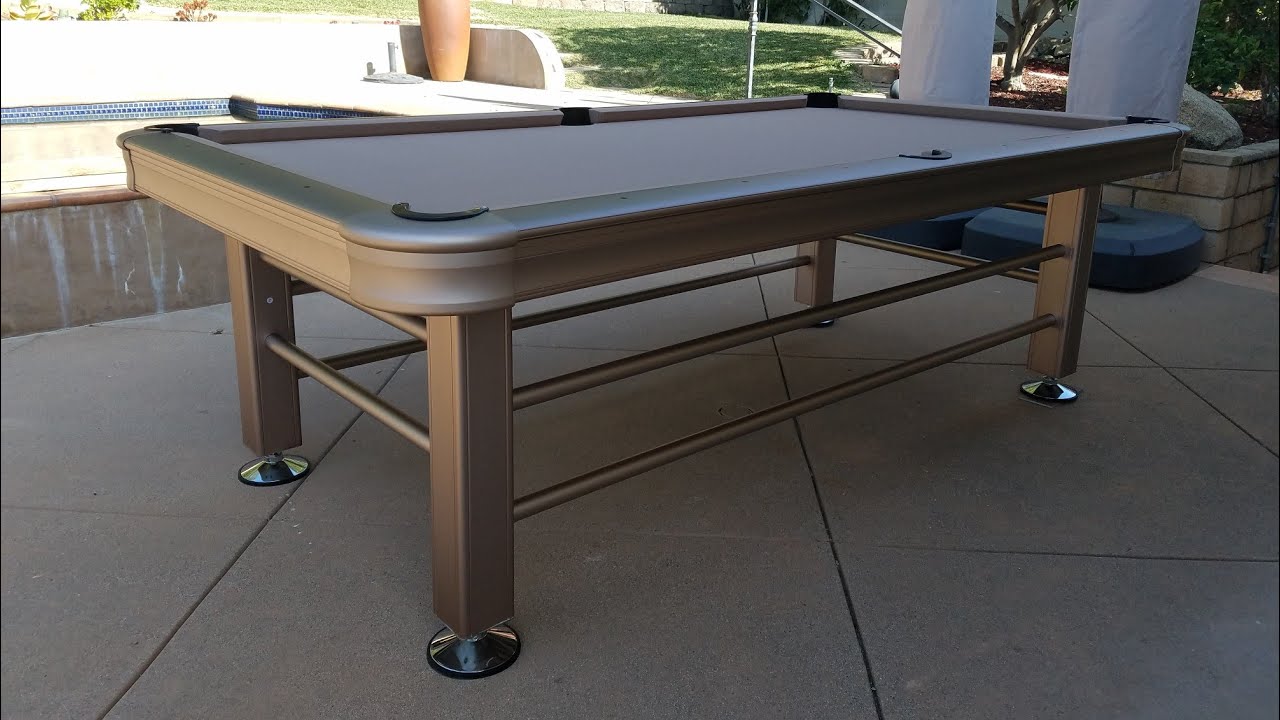 The permanent free standing tables aren't always in stock on Amazon. If you are looking to get something quicker or wanting more options, check out what eBay, Facebook marketplace, or Craigslist has to offer.
4. Fat Cat Trueshot 6' Pool Table with Folding Legs Review - Link
Your purchase includes One GLD Fat Cat Trueshot Pool Table of 6 ft. | Set of billiard balls, Two cues, One billiard brush, One ball triangle and Two chalks | A case is not included
Pool table dimensions - 76" L x 43" W x 32" H | Weight - 114 lbs. | Balls (each) - 2.25" Diameter | Cues (each) - 57" | Playing table thickness - ½" | Indoor only
Compact design allows you to enjoy your favorite game in spaces you never thought possible
High quality building materials allow for lightweight play and portability without sacrificing strength
This lightweight pool table features an all-black design that fits perfectly with a contemporary patio design. Since the Trueshot comes with space-saving foldable legs, transport is a breeze. You'll have no trouble moving this model in and out of storage on your own. When you're ready to play, simply unfold and use the leg locks to ensure a stable game. Thankfully, Fat Cat doesn't skimp on materials to keep its 128-pound table portable. This model, which sells for under $400, is made to ensure a long life of outdoor play.

5. Hathaway Fairmont Portable 6-Ft Pool Table Review - Link
EASY TO TRANSPORT - This gorgeous table includes durable, steel legs that easily fold for transportation and storage. The included nylon carry bag is rip-resistant, keeping your table safe and secure while it's on the go.
FAMILY FRIENDLY - The Fairmont's compact 6-foot frame is perfect for kids learning the game. Adults will appreciate its high-quality construction and simple space-saving design A perfect addition to any game room gym or office.
NO ASSEMBLY REQUIRED - Every table ships fully assembled and ready to play. Simply unfold the legs and get the fun rolling.
DIMENSIONS - Table dimensions: 76" L x 43.25" W x 32" H - Playing surface: 66" L x 33" W. Rigid 1.25-in diameter steel easy-folding leg system with 1.5-in stabilizing leg levelers.
Hathaway's portable 6-foot table has a similar price and design as the Fat Cat Trueshot. Both are compact and built to fit in tight spaces. However, the Hathaway model has a few distinctions that may appeal to certain buyers. For starters, this table has a more traditional look with blue felt made of blended wool. Its dimensions are slightly bigger, yet Hathaway found a way to make the table about 18 pounds lighter. While the lighter weight means easier transport, it sacrifices a bit of durability.

The Complete Buying Guide
Of course, it's important to find the perfect pool table to suit your needs. There are several factors and qualities to consider when looking for an outdoor pool table.
Consider Your Environment
Before you start your search, it's important to think about your outdoor environment. Your local climate will affect any piece of "furniture" you leave outside. If you're lucky enough to live in a dry area with relatively consistent temperatures throughout the year, you'll have a bit more leeway in your choices. Those who have to deal with a lot of precipitation will want to consider the sturdiest tables available.
It's also wise to consider the specifics of your backyard and how you plan to use your table. Hopefully, you have a nice level area that's near some shade. Under a pergola or patio awning is often the best home. While the game will be better without the glare of the sun, a good outdoor table should be able to handle UV rays and summer heat. If you're putting it near a pool, it may be better to get a darker table that won't get stained from water splashes.
You should also consider the size of your space. Just like their indoor counterparts, outdoor tables come in a range of sizes. You'll find everything from small bar box models (6 foot) to regulation size tables (8 foot). If you plan on moving the table around a lot, opt for a lighter weight option.
Qualities of a Good Pool Table
There are a few standard qualities that are necessary for any good pool table. Most importantly, the play field must be flat, even and smooth. For that matter, all of the measurements need to be exact. Otherwise, balls may roll to one side or have an unpredictable rebound in certain corners.
An outdoor table should be made with the same attention to detail as a good indoor model. However, outdoor pool tables do feature special types of cloth fabric designed to handle moisture. These materials may affect the speed of the ball and the way you approach certain angles. While this may be a trade-off for some, it's necessary to ensure outdoor durability.
Features of Outdoor Pool Tables
Most indoor pool tables aren't made to handle changing temperatures and inclement weather. These models will crack, warp and rust if you leave them outside for too long. If you want to play pool in your backyard, invest in a billiards table designed for outdoor enjoyment. These models often have the following features:
• Aluminum framing
• Weather-resistant and rustproof coating
• Waterproof play fields with sturdy cloth
• K66 cushion rubber on railings
• Cues, balls and other accessories made for outdoor use
• Leg levelers meant to ensure an even playing field
• Foldable legs for easy transport
• Standard pockets rather than automatic ball return
Extending the Life of Your Table
These outdoor tables are built with sturdy materials. However, there are ways you can make sure they provide many years of enjoyment for your family. The best protective measure is to cover your table when you're done with it. This is particularly important if you plan on leaving the table outside for long periods.
[amazon]
One of the top protective products available is the East Eagle Outdoor Pool/Snooker Billiard Table Cover. This heavy-duty covering comes in 8-foot and 9-foot sizes that can provide full protection all the way to the floor. Made of strong vinyl, the East Eagle cover can withstand rain, wind and sun.