Whether you call it a table tennis blade, racket, racquet, paddle or bat, one thing is certain - you can't play the game of table tennis without these. There are a lot of ping pong rackets on the market to choose from. Our goal is to help you find the best ping pong paddle for your skill set!
Models are designed so that some are better for beginners while others are better for more advanced players. While we're focusing on the beginners and intermediate players here, we'll give a few tips for the more advanced table tennis players. Below you can find our recommendations on the ping pong rackets that offer the best value for the money, as well as a guide and some reviews on the best ping pong pong paddles.
Top Ping Pong Paddle by Editors in 2022
Best Ping Pong Paddle Reviews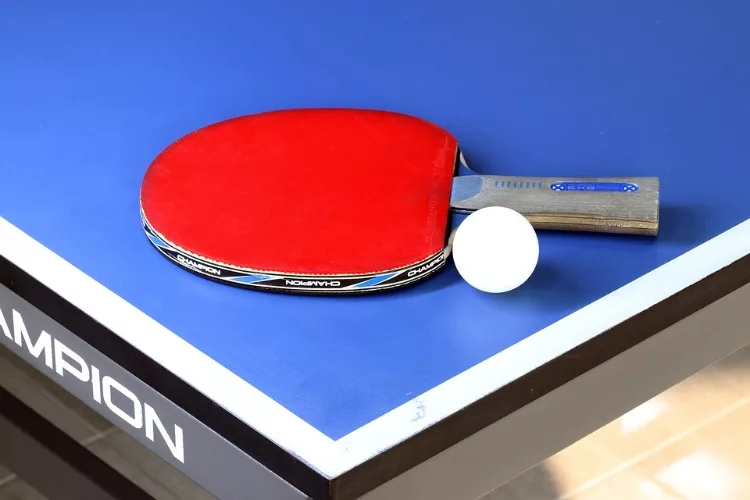 While we whole heartedly recommend all of the models listed up above, our editors want to share their reviews on a few of our choices for best ping pong paddle. So, if you're looking for a bit more info on some of the bats listed above, you'll find our reviews below.
STIGA Evolution Table Tennis Racket - Best Ping Pong Paddle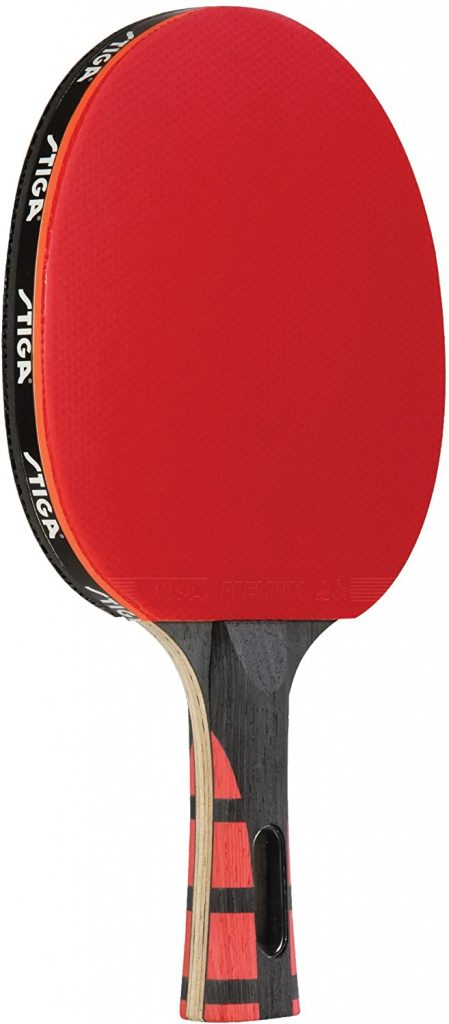 If you're looking for the best ping pong paddle under $50 , then look no further cause this one fits that criteria with a price under $50 at Amazon. It has a flared handle that fits comfortably in your hand.
You'll notice that it has ITTF-approved rubber for tournament play, so if you could actually compete with this racket. And it's performance ratings are:
Speed: 96
Spin: 94
Control: 90
One of the features that we really like is that it has shock dispersion technology, which means that a shock dispersion tube absorbs the vibrations and actually transfers that energy out, which results in you having more control, better speed and feel when playing with this paddle.
Overall, this STIGA paddle offers a great value for the money because it is high quality, performs well during game play, and has an affordable, low price. That makes this our #1 pick when it comes to the best cheap ping pong paddle for beginners.
STIGA Pro Carbon Table Tennis Racket Review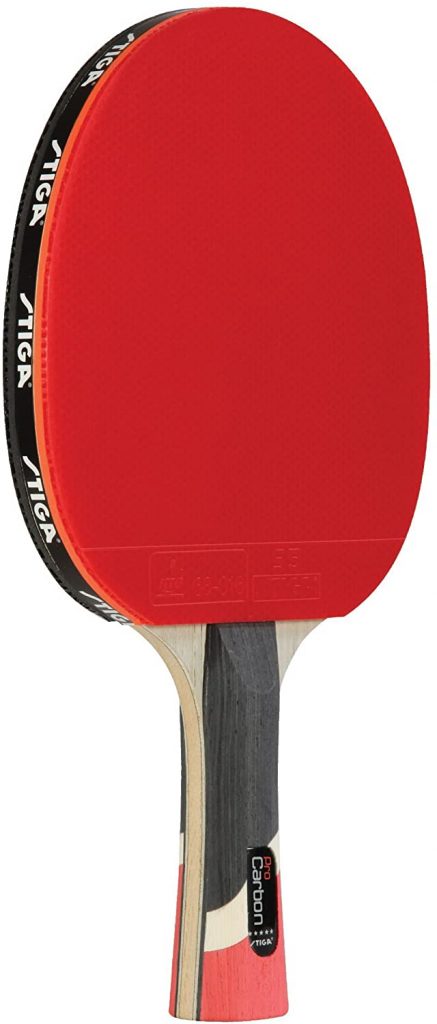 If you're looking for the best table tennis paddle for intermediate players, then look no further than this racket from STIGA. It's the perfect choice for players who want to improve their game and techniques by moving up to a more serious racket. And, it has a great affordable price!
Our favorite thing about this paddle is that it offers unmatched spin and speed compared to the other paddles we've tested. In fact, this STIGA paddle gets our vote for the best table tennis racket for speed and spin . Just check out these performance ratings:
Speed: 99
Spin: 100
Control: 80
How does it offer such amazing speed and spin ratings? It's because of the carbon technology that's integrated into the blade. It improves response and rigidity, which gives you that boost in power and speed. Another reason it has such a good speed rating is that this paddle features an ultra lightweight balsa wood center-ply, which helps to increase speed and reaction time.
As you can see, this paddle has a lot to offer, which is why it gets our vote as the best table tennis racket for intermediate players.
Best Table Tennis Paddle And Ball Sets
Instead of buying your paddles and balls separately, you can shop for a combo package that includes your table tennis rackets with some ping pong balls. While you don't always get the best quality products in combo deals, we've managed to find some good options for you out there. Check out our recommendations and reviews below.
1. Kettler Advantage Indoor Table Tennis Bundle: 4 Player Set (4 Rackets/Paddles and 8 Balls)
Kettler Advantage racket features a pips-in rubber blade, providing players more control and speed for power shots
Concave handle is easy to grip and allows for comfortable gameplay, even during extended use
Bundle includes 4 rackets and 8 regulation size, 1-star rated white and orange table tennis balls, each measuring 40 mm in diameter
Playing with a 1-star rated table tennis ball is ideal for both casual and competitive play, offering consistent bounce and excellent spin
This set right here is our editor's pick because you get great quality, enough equipment for four people, and it's all at a great low price. Plus, all of this comes in a zippered nylon carrying case, which makes it easy to transport and store.
The paddles offer good speed and power, thanks to thick 1.5mm sponge sits between the rubber and the paddle, providing perfect control for beginners.
And the balls are 1-star rated, which is ideal for both casual and competitive play, offering consistent bounce and excellent spin.
2. Killerspin JETSET 2 - Table Tennis Set with 2 Ping Pong Paddles and 3 Ping Pong Balls
COMBO PACKAGE: Set of 2 red and black ping pong paddles and 3 white balls is designed for fun with family and friends
SHARPEN YOUR SKILLS: Perfect for learning basic strokes and perfecting ball control, these rackets are designed for recreational ping pong players who want to develop their skills
SUPERIOR CONSTRUCTION: 5-layer wood blade construction and Jet Basic rubbers help improve your game, while flexible PVC tape surrounds the racket edges for protection
IDEAL RATINGS: Features ratings of Control: 5, Spin: 5;5, Power: 6;5, ideal for beginners, kids, or guests
Killerspin is one of our favorite brands when it comes to quality ping pong racquets and we like the JETSET premium paddles that are included with these quality table tennis balls.
If you're comparing this set to buying the items individually, these rackets are the Jet200 paddles.
One thing to note is that you do not get paddle covers with this set.
Based on regular usage of an hour or two a week, we expect the paddles in this set to last you for around 12 months before you notice any performance issues.
3. STIGA Flow Outdoor 2-Player Table Tennis Set
Includes 2 Outdoor Rackets (Red and Blue) and 2 Outdoor Balls (White)
Weather and Shock Resistant Rackets for Both Indoor and Outdoor Play
Outdoor Balls are Water Resistant and Minimize Wind Resistance
Rackets and Balls are Made of Durable Materials for Longevity
If you're doing your ping pong playing on an outdoor table, then it only makes sense to use rackets and balls that are optimized for those outdoor conditions. And this set is the perfect solution for outdoor players.
Our editors love the STIGA brand and the quality that comes with these paddles, though we do wish that a case was included.
Weather and Shock Resistant Rackets for Both Indoor and Outdoor Play
Outdoor Balls are Water Resistant and Minimize Wind Resistance
Rackets and Balls are Made of Durable Materials for Longevity
Racket Performance Ratings: Speed- 45, Spin- 45, Control- 90
We saw a lot of improvement in our playing when we switched to this set, especially with spins seeing a major improvement. And, these seem to be ultra durable, even after being left out in the wind and rain they play just as good.
What To Look For As A Beginner
It's easy to get overwhelmed by all of the options out there, but the truth is that beginners really just need a basic racket to play ping pong. You need a table tennis paddle that offers good all around control. So, nothing too slow and nothing too fast.
The benefit of beginner table tennis bats is that they make is easy to control the ping pong ball as you learn all the different strokes. They also have a larger sweet spot, which means you'll be more successful in getting the ball over the net.
One thing to keep in mind that you get what you pay for. So, avoid the cheap ping pong rackets with a price tag under $10 because they won't work as well. In fact, those really cheap racquets usually offer terrible control, which makes it difficult to properly learn the strokes and develop your technique.
How much does a quality table tennis paddle for beginners cost? We suggest you expect to spend between $30 - $40 for a high quality ping pong blade for beginners.
If you're looking to improve your game, then it's time to upgrade your racket to one that gives you even more control as a more skilled player. If you're a serious table tennis player, then you could opt for a custom made blade where you pick your own rubber and wood paddle to get a completely customized experienced. However, for most people who are just recreational players, there's no need to pay the premium cost of a custom racquet when you can just buy a good table tennis bat for intermediate players.
You'll need a blade that offers good control but is a bit faster than the beginner paddles. It's important to not choose a racket that is too fast because it can lead to a lot of errors during game play if you haven't yet fined tuned your techniques.
You can identify good ping pong paddles for intermediate players by looking for all around paddles that have a high control rating.
How to Hold a Ping Pong Paddle
There are several different ways to hold a paddle, but we will cover the main two grips - shakehand grip and penholder grip. Both of these grips have variations, which we can read about here.
Shakehand Grip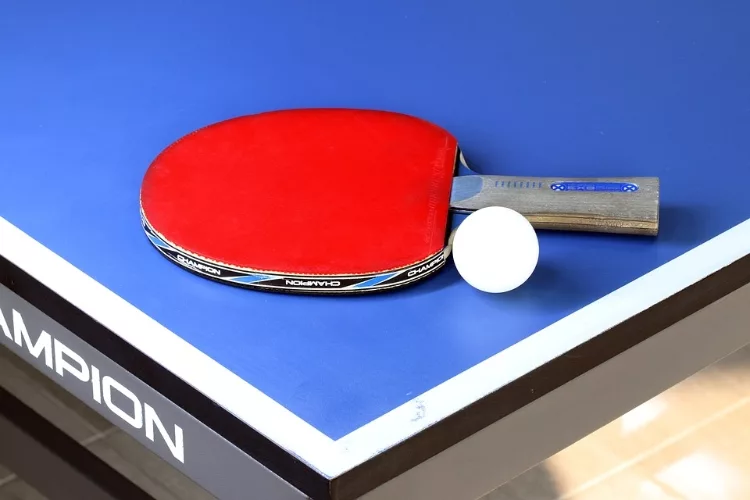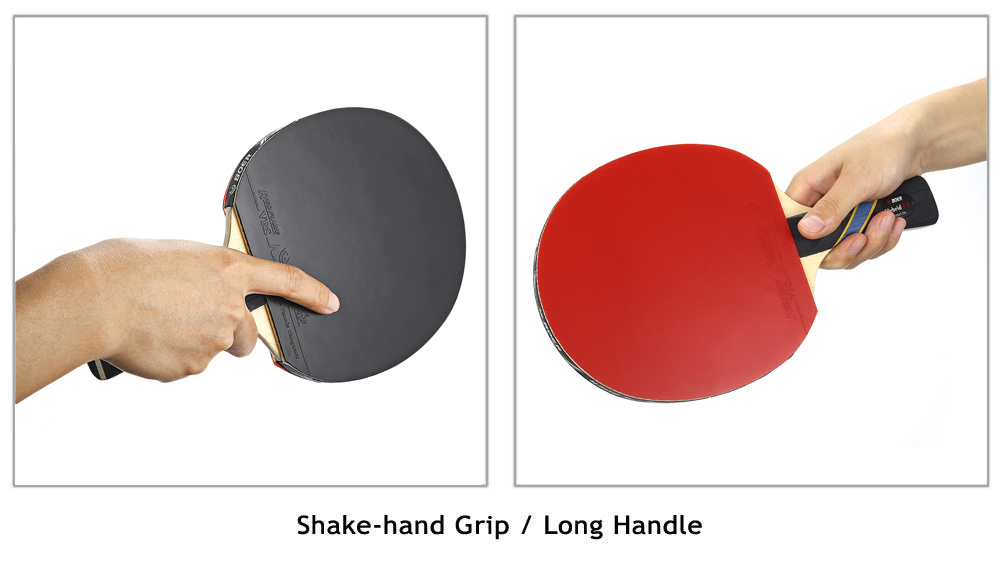 As you may have guessed from the name of the grip, the shakehand grip looks like you are holding the racquet like you are about to shake hands with someone. You will grip the handle with your thumb, middle, ring, and pinky fingers. Your index finger will be on the other side of the racquet and placed however is comfortable for you - can either be horizontal or vertical.
Penhold Grip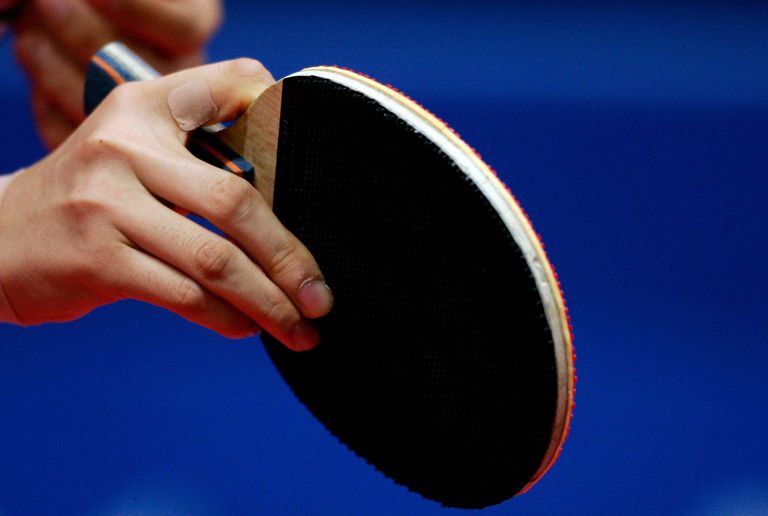 This grip's name is also easy to understand - you are going to be holding the racquet like a pen. This grip is mostly favored by Asian players and might not be suitable for beginners. Your paddle will face downward and you will have your middle, ring, and pinky fingers on the backside. The front of the paddle will be held by your index finger and thumb.
Racket vs Racquet vs Paddle vs Blade vs Bat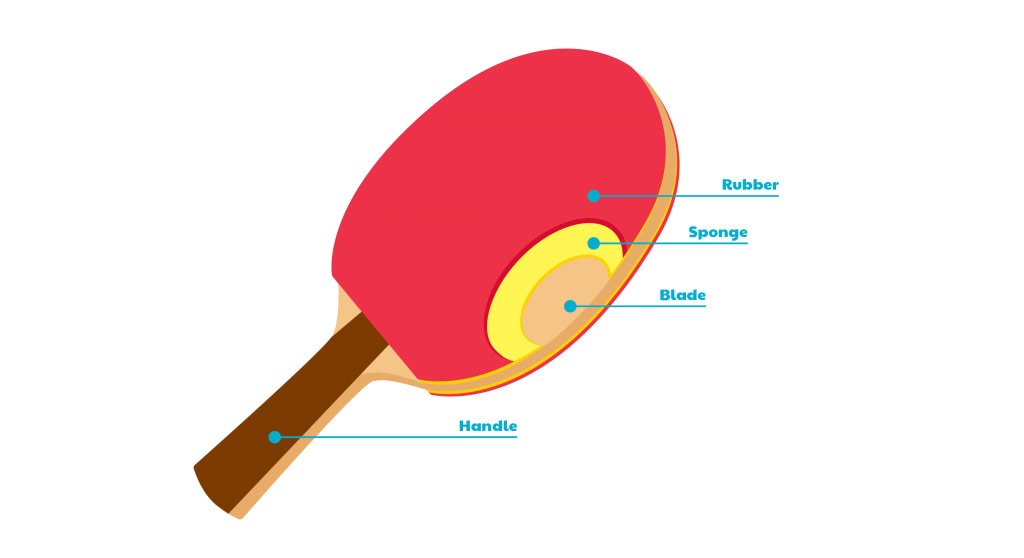 You'll notice that we use all of the above terms on this page to describe this essential piece of table tennis gear. So, is there a difference? No, there is not. In fact, all of those terms refer to exactly the same piece of equipment. In the official table tennis rules and laws, it is referred to only as a "table tennis racket" but you can use whichever terminology that you prefer.
You'll also notice that different regions of the world use different terms, so you may just want to use whichever term is most common in your country.
What Is A Table Tennis Racket?
The first thing that you need to know is that these can be any size. There is no regulation rule on the size, weight or shape - only that it must be rigid, flat, and composed of at least 85% natural wood components.
The most common size for a ping pong racket is around six inches across and 10 inches in length, including the handle.
Rubber is attached to each side of the ping pong blade with a water-based glue.
Types of Blades
As you shop, you will notice that there are two distinct types, or shapes, of blades on the racquets. Those two types are:
Penhold style blade
Western style blade
The penhold style blade is ideal for those players who use the penhold grip. If you're not familiar with this grip, it is when you hold the handle of the racket between your thumb and forefinger. This is most commonly seen among Asian players.
The Western style blade is ideal for players who use the Western, or shakehands, grip. This grip is when the handle is held in the palm of your hand, with the head snuggly fitting into the "V" area formed by your thumb and index finger. This is the most common among players.
Additionally, you should consider the weight of the paddles based on the type of player that you are. Here's a breakdown on the types of blades by weight and player style:
Lightweight rackets are good for defensive players
Mid-weight rackets are good for all around players
Heavy rackets are good for offensive players
Types of Handles
You'll notice that there are three different types of handles that can be found on the table tennis paddles. They are:
There are no rules or regulations related to handle type, so you are free to choose whichever you prefer. We suggest that you go with whatever style is most comfortable in your hand, as it varies from one player to the next. Personally, we prefer the flared handles and suggest it if you're not sure where to start.
About Table Tennis Rubbers
Since July 1986, the official rules and regulations state that one side of the rack must be of black rubber and the other side red rubber. Of course, if you're just playing for fun, then you can go with other colors that are available.
Generally, there are a few areas of differences between the various types of rubbers. They are:
Different thickness levels of the sponge
Pimples (pips) can face outwards or inwards
Out pips can be either short or long
Short pips are ideal for players with a fast blocking or counter hitting game, whereas long pips are suitable for a more defensive style of play.
Rubbers deteriorate with age and should be replaced at least yearly with rubber approved by the International Table Tennis Federation (ITTF)
How to Clean a Ping Pong Paddle
Since you want your racket to last you a while and perform well during game play, it is important that you take good care of it. The easiest way to do this is to always store your racket in a table tennis racket case or cover when it's not in use. This protects it from sunlight, dirt or dust, and liquid spills. To ensure the most protection, don't use a racket shaped case - instead, go with a square or rectangle option.
To clean your racket, just use a damp cloth with plain water to gently remove any dirt or debris buildup from the racket's rubbers. This should be done after each use. Let it air dry before putting it back in its case for storage. And don't forget to clean the handles to remove any grime buildup from your sweaty hands!
Buy on Walmart
Nibiru Sport Ping Pong Paddle Set of 4 - Table Tennis Rackets, 8 Balls, Storage Case - - Walmart Link
PRO SPIN Ping Pong Paddles - High-Performance 4-Player Set | Premium Table Tennis - Walmart Link
JP WinLook Ping Pong Paddle - 4 Player Pack; Premium Table Tennis Racket Set; Good Spin; - Walmart Link
Franklin Sports Table Tennis Paddle Set with Balls - Walmart Link
STIGA Pro Carbon Performance-Level Table Tennis Racket with Carbon Technology for - Walmart Link
Senston Table Tennis Rackets Set, Professional Table Tennis Racket, Composite Rubber Ping - Walmart Link
Abco Tech Ping Pong Paddle & Table Tennis Set - Pack of 4 Premium Rackets and 6 Table - Walmart Link
Kettler Advantage Indoor Table Tennis Bundle: 4 Player Set (4 Rackets/Paddles and 8 Balls) - Walmart Link
Killerspin Jet Set of 2 Ping Pong Paddles and 3 Table Tennis Balls - Walmart Link
STIGA Flow Outdoor 2-Player Table Tennis Set Includes Two Outdoor Rackets and Two Outdoor Balls - Walmart Link
Buy on eBay
Nibiru Sport Ping Pong Paddle Set of 4 - Table Tennis Rackets, 8 Balls, Storage Case - - eBay Link
PRO SPIN Ping Pong Paddles - High-Performance 4-Player Set | Premium Table Tennis - eBay Link
JP WinLook Ping Pong Paddle - 4 Player Pack; Premium Table Tennis Racket Set; Good Spin; - eBay Link
Franklin Sports Table Tennis Paddle Set with Balls - eBay Link
STIGA Pro Carbon Performance-Level Table Tennis Racket with Carbon Technology for - eBay Link
Senston Table Tennis Rackets Set, Professional Table Tennis Racket, Composite Rubber Ping - eBay Link
Abco Tech Ping Pong Paddle & Table Tennis Set - Pack of 4 Premium Rackets and 6 Table - eBay Link
Kettler Advantage Indoor Table Tennis Bundle: 4 Player Set (4 Rackets/Paddles and 8 Balls) - eBay Link
Killerspin Jet Set of 2 Ping Pong Paddles and 3 Table Tennis Balls - eBay Link
STIGA Flow Outdoor 2-Player Table Tennis Set Includes Two Outdoor Rackets and Two Outdoor Balls - eBay Link