You and your family have made the decision to add a beautiful pool table to your home. We applaud that and can help you find the perfect option for your family. It won't be long before you are considered among the great pool players of all time! Buying one of these for the family rec room is a good, sound decision despite the expense of another amenity in your home. Whether you are looking for a top of the line pool table or just a cheap pool table, let us help you make a good decision on which table to add to your home game room.
Editor's Recommendation: Top Pool Table in 2022
Pool Table Reviews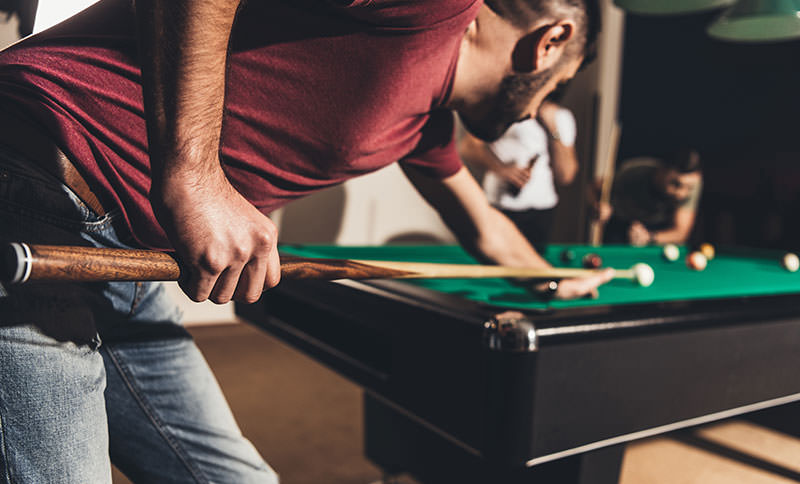 If you need a little help making sense of our recommendations listed up above, then let us share some of our thoughts on our favorite models on the market. Below you'll see our editor reviews and recommendations on the best home pool tables on the market that we've seen so far.
We share some of our top picks based on price, so if you're shopping based on a budget, then you'll see what we recommend as the best of the best for the price. Just keep in mind that when we reference a price, that prices change all the time and the valid price is ALWAYS what you see at your preferred retailer. We have no control over pricing at the various retailers and can only share what we see at time of publication or updates.
We also share some of our favorites when it comes to the top-of-the-line premium models that have the slate playing surface for that professional billiards table experience at home.
Cheap Pool Tables Under $1000
If you're on a tight budget, or just don't want to spend a lot on something that the kids might damage, then we suggest sticking to models with a price under $1000, but if you have a bit of wiggle room there are some great models under $1500 and $2000. Some of the top pool table brands that have model which meet this price range include Playcraft, Fat Cat, and Barrington Billiards. While there is no doubt that you get what you pay for, we have still managed to find some decent models that meet this price range (while there are awesome premium tables with a price over $3000). But do keep in mind that prices for these models can vary by retailer, and the price you see listed by the retailer is the current, valid price regardless of what you read here or elsewhere.
If you are looking for a quality pool table without breaking the bank, these cheap pool tables are your best bet. At the time of writing the cheap pool tables range from $500-$800. Anything under that price point will likely not be great quality and will need to replaced without getting much use out of them. Here are our choices for best cheap pool tables (under $1000)
1. Fat Cat Tucson 7' Pool Table with Automatic Ball Return
Distinctive arcade-style designed 7-foot billiard table with distinguished electric-blue playing surface
Play as if you were at your pool league, in the comfort of your home, with the easy ball return outfitted on this tasteful table
Equipped with 3/4" MDF playing surface, rubber bumpers, and leg-levelers to keep your pool table level even on uneven flooring
Includes two pieces of chalk, resin triangle, two 57" two-piece billiard cues, and set of 2-1/4" billiard balls
The Fat Cat Tucson is one of the best cheap pool tables you will ever come across. It's quick and easy to install. All you need to do is attach the legs to the base of the table and you're ready to go. Not only does it have rubber bumpers, but it also comes with circle sights that help you get the perfect shot every time. The white tone pairs back perfectly to its midnight black legs and rails. It's also fully equipped with a side ball return system. This pool table will automatically collect and store your billiard balls with ease.

As for the playing surface, it features a beautiful sapphire polyester cloth instead of the traditional green cloth that you're familiar with. This vibrant color complements the table's arcade-style legs. The great thing about this cloth is that it has a protective moisture-resistant membrane that sits below it. This pool table package includes two pieces of chalk, one resin triangle, and two 57-inch two-piece hardwood cues, and one set of 2-1/4 inch billiard balls.
This pool table can be used indoors and outdoors. However, you should bring it inside when you're done since its hardwood could get damaged by humidity or rain. Just remove the legs when you're done. It's slim enough to fit through doors and around tight corners. Aside from the features, it's an attractive pool table that will give you plenty of space to practice on.
2. Barrington Springdale 90″ Claw Leg Billiard Table Set
23 PIECE SET includes the Barrington Billiard Table; 2 cue sticks; 2 chalk cubes; 1 triangle rack; 1 felt brush; 15 numbered billiard balls; and 1 cue ball. This handsome claw foot pool table completes any game room.
FAMILY FUN that develops physical, mental and emotional control in people of all ages. From your youngest child to your great-grandmother, billiards is a leisure activity that anyone can learn and play.
STRIKING ball and claw leg design is richly ornate. With its exquisite styling and detail, this game table is sure to become the focal point of indoor activities in your family room or man cave.
STRONG DECK SUPPORT is made of 18mm particle board with professional-grade wool blend green felt surface. Stop dropping hard-earned quarters into arcade games; play billiards in your own home. The ball and claw legs feature a molded plastic shell.
This 23-piece set includes the Barrington Billiard table, two cue sticks, two chalk cubes, one triangle rack, one felt brush, 15 numbered balls, and one cue ball. All of the accessories are included, so you don't have to invest any more money.
This beautifully designed pool table is designed with handsome claw feet that fit in with any style game room. Its striking design is intricate and ornate in styling and detail. It also features K-818 bumper guards that provide a consistent bounce every time you use them.

This pool table is likely to become the focal point of your family room or game room. This pool table is made from 18mm of particle board that's combined with a professionally made felt green surface. The reinforced play surface has a double-sided lamination that adds to the durability and levels the playing field. Meanwhile, its drop pockets give any room an authentic look and feel. This doesn't look like the amateur pool tables that you'll come across in toy stores. It allows you to quickly retrieve those balls and rack them up for the next game.
This table was built to last. It's made from the highest quality craftsmanship and materials that will meet your expectations. It's the perfect table for meeting new people or schooling your current friends.
3. Barrington 84 Inch Arcade Billiard Table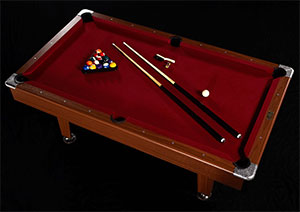 The Barrington 84 Inch Arcade Billiard Table is made by a well-known brand who has a reputation for making quality tables at affordable prices. Of course, Barrington has plenty of models that exceed this price range, which lets you know that they do deliver quality products.
It is slightly smaller than your standard full size table at 7-foot in length, however this makes it an ideal pool table for smaller rooms. The surface features a scratch-resistant finish to protect it from any damage inflicted by the pool cues. The table surface is level and the polyester velvet keeps the balls rolling easily and smoothly during game play. The bumper guards seem to be quality for the price and work as intended.
Where to Buy:
- Amazon
- Walmart
Since this is not a slate table, it weighs less than 200 pounds at around 172 pounds total (so you will likely need a friend to help you assemble it). So yes, it is a quality MDF pool table.
The ball catching nets on this one are really more of a cheap polyester fabric bag, but for the money it's not that bad. It definitely doesn't have that high-end leather pocket look like you get with more expensive billiard tables.
A nice feature of this one is that it comes with an accessories kit that includes the balls, a rack, a brush, two chalks, and two cue sticks. Basically, you have everything that you need to start playing as soon as you get it assembled. Just keep in mind that the included cues aren't great and you'll likely want to upgrade those at some point in the future.
Best Premium Slate Pool Tables
If you're looking to get the best that money can buy, then you need to get yourself a billiards table that has a slate playing surface. Slate pool tables are what the professionals play on and they are what you want if you're going for luxury or professional options for use in your home. Technically you could put any of these models in your office break room, in a bar, or other business, but we are focusing on the home pool player.
Keep in mind that slate tables typically have a higher price tag since they use more quality components than other models. This means that they are also a lot heavier and typically take around four adults to move around. Fortunately, Amazon delivers most slate pool tables for free, which is why they are our #1 recommended buying option for free delivery of slate pool tables.
1. Playcraft Charles River 8′ Chestnut Slate Pool Table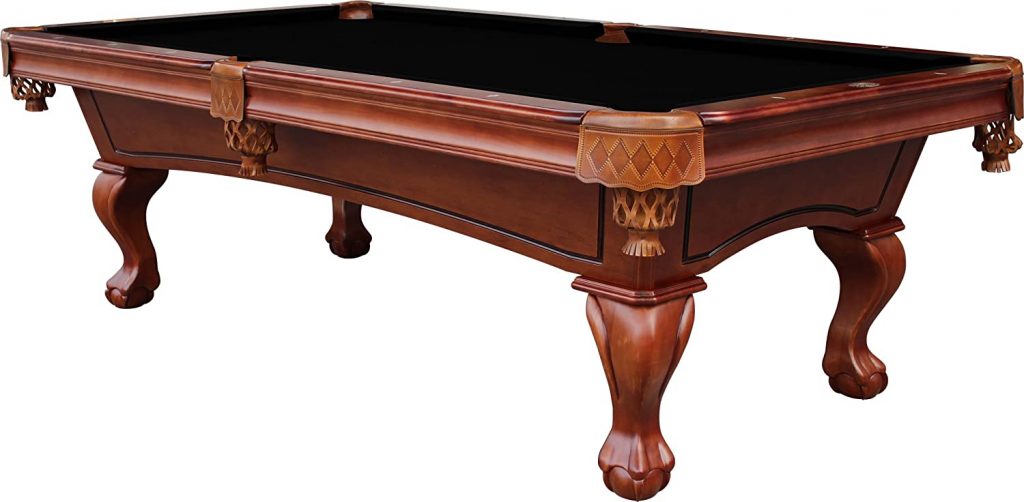 Though Playcraft is primarily known for making cheaper MDF tables, this Charles River model is an excellent choice if you're shopping for a cheap slate pool table. The quality is good and the price is under $3000. In fact, we think that this is the best slate pool table under $3000 right now.
This model has those attractive claw legs, which makes it a great signature piece for whatever room you put it in. It also features leather drop pockets for catching the balls when you make a shot.

It is a full-size standard table, so make sure that you have enough space in whatever room you want to put this baby in.
If you're trying to match the table to the rest of your furniture, then you'll like that you can order this one is a dark espresso finish or a warm chestnut finish. And remember, the slate surface makes it heavy, with this one weighing it at around 700 pounds!
Unlike the cheaper models above, you do not get any accessories with this model. So, you'll need to get your cues, etc. on your own if you want to be able to play as soon as it arrives at your home with free shipping from Amazon.
2. Barrington Claremont Slate 100″ Billiard Table Set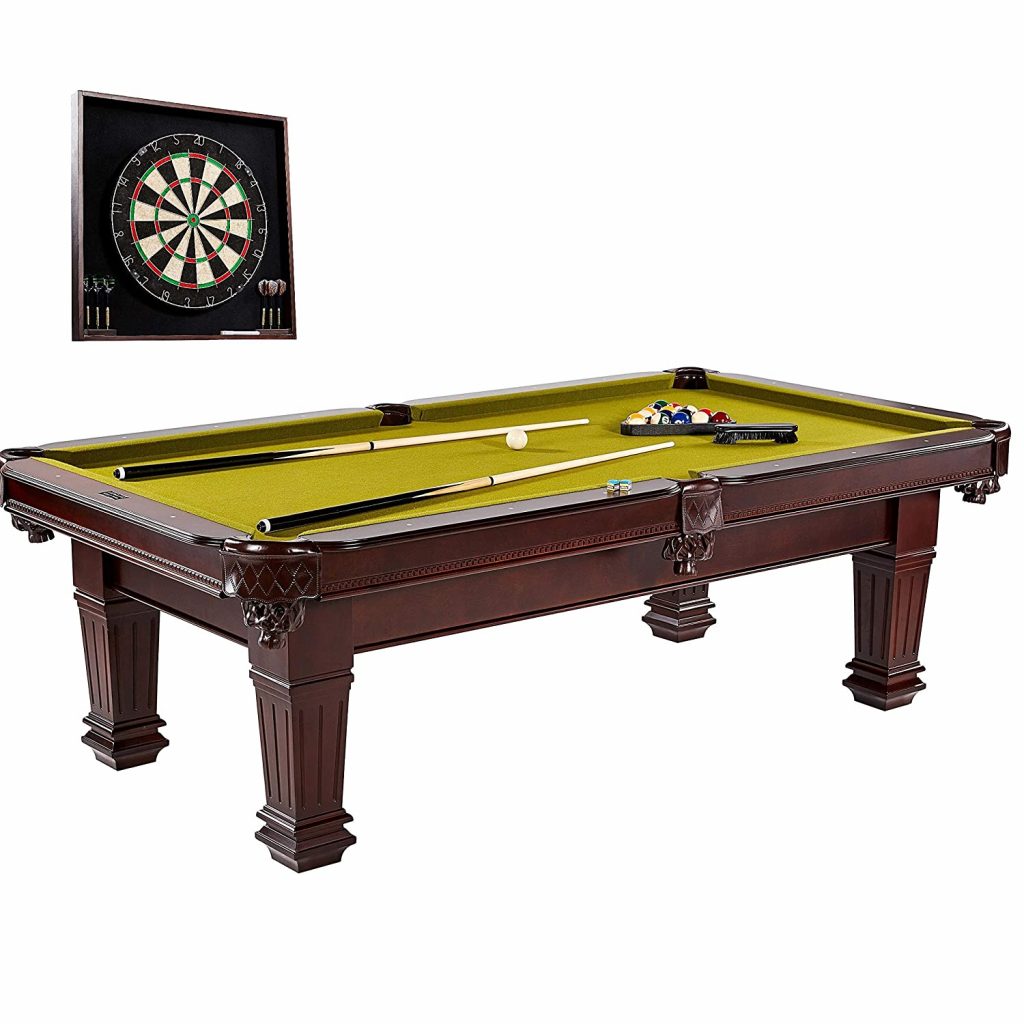 If you're looking for the best full-size pool table at an affordable cost, then we recommend you check out this 8-foot table from Barrington. As you can tell from the photo, this model has a much more luxury look to it with the claw leg design. So, if you want a high-end feel at a cheaper cost, this is your best bet.
As you'll notice, it's not just those claw feet that makes this model one of the best pool tables for your living room. The playing surface is made of a 50% wool blend, that gives you a more premium feel, and you'll notice it when you're playing a game.

The feet, top rails, and the sides of this model are composed of solid wood, which not only means that this is a very durable pool table, but also slightly heavier than most cheap models. It weights around 260 pounds, so definitely have someone to help you assemble it!
We really like that the ball pockets are professional-style drop pockets made of a faux leather that gives it that luxury, high-end look that you find with the more expensive models on the market.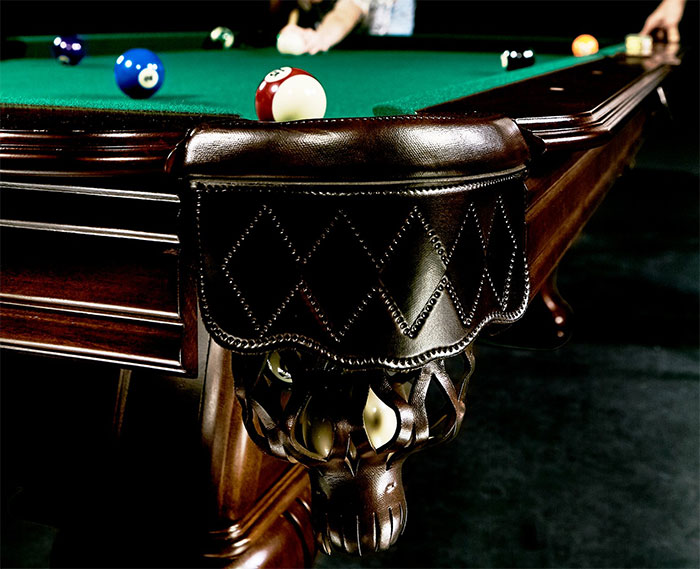 This is definitely the best high quality pool table with a low price. It's one that you won't mind having in the living room for your guests to see because it is really a signature piece of furniture that you will be proud of. And, it's high quality should last your family for many years to come.
This model also comes with the same accessories package at the 7-foot table reviewed above.
Brunswick Danbury -
Brunswick Danbury -
Brunswick Danbury -
Brunswick Danbury -
This pool table is made from beautiful chestnut wood and dark green felt play surface. It'll become the perfect addition to any game room. This billiard table also features wooden rails that provide stability on a carpet or hardwood floor. In the meantime, its diamond-shaped add a little bit of style to the overall design. It also comes in your choice of Merlot, Sahara, and Regatta Blue.
This pool table includes one set of billiard balls, four 58-inch Contender two-piece cues, two-piece bridge sticks, a black plastic 8-ball rack, a plastic table brush, and 12 pieces of chalk. You can assemble and start playing right away if you want to. While it's recommended to assemble it yourself, you don't want to, especially if you're not familiar with assembling billiard tables by yourself. Instead, ask the Brunswick certified professionals to come to your home and install your new pool table. Use Brunswick certified professionals only since hiring someone else won't void your warranty.

They will determine which space in your home is the most appropriate for your table. They will measure for height and evenness to ensure that your pool table is properly assembled. They do everything precisely and professionally. The Brunswick certified team will also inform you about the direction of the table, lighting, wall clearance, and more. Once your table is leveled and situated, you're ready to entertain and play. This billiards table provides hours of fun for all ages.
Other Types of Tables
All of the tables listed above are traditional 7 and 8 foot pool tables. If you are looking for something unique or need your pool table to fit into a certain space, check out these options below.
Outdoor Pool Table
Your purchase includes One GLD Fat Cat Trueshot Pool Table of 6 ft. | Set of billiard balls, Two cues, One billiard brush, One ball triangle and Two chalks | A case is not included
Pool table dimensions - 76" L x 43" W x 32" H | Weight - 114 lbs. | Balls (each) - 2.25" Diameter | Cues (each) - 57" | Playing table thickness - ½" | Indoor only
Compact design allows you to enjoy your favorite game in spaces you never thought possible
High quality building materials allow for lightweight play and portability without sacrificing strength
If you are looking a pool table for an outdoor space, our number one pick is the Fat Cat Trueshot 6' Pool Table. Outdoor pool tables are typically smaller (although you can find regulation size ones), portable, and resistant to some of the elements. Click here to read all about outdoor pool tables.
Bumper Pool Table
Bumper Pool is another variation of pool, but it is played on a different type of table. It is played on an octagonal or rectangular table fitted with an array of fixed cushioned obstacles, called bumpers, within the interior of the table surface. The surface of the table has the same coating as a standard pool table. Unlike most types of billiards tables, there are only two pockets. Click here to learn more about bumper pool tables.
Mini Pool Table
If you need a tabletop pool table or just a smaller one for the kids, your best bet is a mini pool table. They don't take up much space at all and are typically 3-4 feet in length. With no setup required, they can be a fun activity for kids. Click here for more on mini pool tables.
Pool Table Dining Table
Looking for a pool table that doesn't take up any additional space? You might need a pool table that doubles as a dining table. Save all of that extra space by using it as a dining table most of the time, but remove the top and you can play pool whenever you are in the mood. Read all about the best pool table dining tables.
Pool Table Accessories
Now that you are purchasing a pool table, you need to make sure that it is well maintained and usable for years to come. Below we have listed some of the top products that you may need after getting a new home pool table.
Pool Table Cover
A pool table is a big purchase and you want it to last for many years. One of the easiest way to maintain the table is to cover it after you are finished playing. Since the pool table is felt and can be difficult to clean, throwing a cover on it will protect it from any dust or dirt in the air. Most tables come with a cover that is specifically made for that table, but those can be costly. If you are looking for something cheap, but effective, here is a cover on Amazon that is under $10.
Pool Table Felt
If you don't like the color of your felt or it becomes worn after years of use, you may need to replace it. This should only be required every couple years or so and is much cheaper than replacing your entire table. To ensure that you do it correctly, please read our guide on pool table felt.
Pool Ball Set
Looking for something unique or just looking for a different type of pool table balls? Check out our advice on pool ball sets.
Pool Cues
One of the most important aspects of shooting pool is the cue stick. Whether you are a beginner or especially if you are a seasoned vet, selecting the proper cue can be critical to improving your gameplay. Here is a some info on the best cue stick for beginners.
Pool Cue Case
Need to transport your cue to go over your friend's house and show them how to win? You will need a pool cue case to protect your stick so it doesn't get damaged in the car ride over. Plus it will show your friends that you mean business.
Pool Cue Rack
6 Cue and ball wall rack - Made of 100% wood - no particle board, mdf etc
Holds 6 cues and a full set of balls - Revised to sit flush against the wall
Mounting hardware included with L bracket - Cues, balls and ball racks not included
Some assembly required - Measurements are 28 1/4"H X 27 1/4"W X 2 3/4"D
If you are putting a cover on your pool table, you might want to consider a pool cue rack to store your balls, cues, and ball racks. It will keep your entire area nice and organized and will look nice on the wall. We have selected our favorite pool cue rack above which looks nice for under $50.
Pool Table Light
Having a light right above your pool table will enhance your vision and add to the ambiance of your area and make it feel more like a pool hall. Here are our choices for best pool table light.
Our Pool Table Buying Guide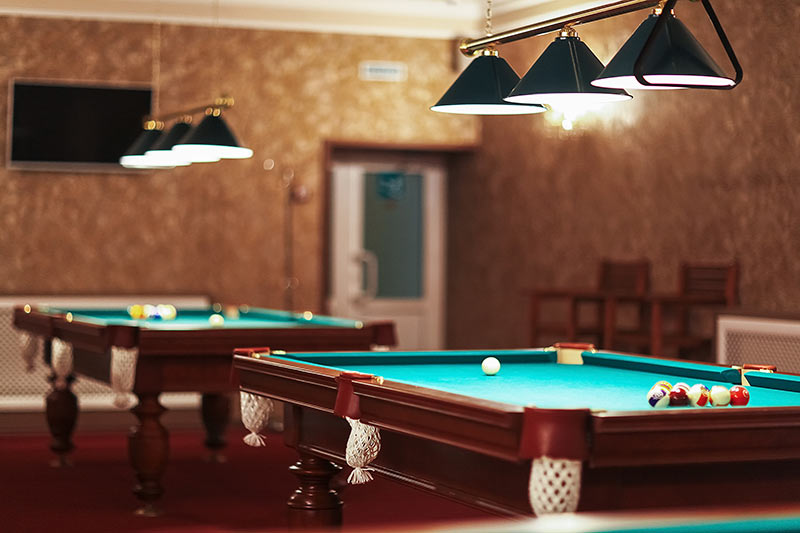 There are a couple of variations on the game of pool which are worthy to keep in mind as you go out to begin your shopping. Pool is a broad term that most people identify all billiard games with. However some of the other games such as snooker, and carom billiards have different rules of play. For your pool playing purposes you need to know this since these other cue games have different tables as well. That is what you are in the market for - a pool table.
Cue Games is the broad umbrella of a term that refers to all games played on a large welled table using a cue stick. Not only can your shopping yield a table with a napped bedcloth but the cloth may have grooves to guide the balls. Nothing slick and smooth about it Depending upon the game, the balls may be of different sizes as well.
Take a little time to research this and start your shopping with a keen knowledge of what game you desire to play on your pool table. Here's a quick lesson that will inform your purchase:
Cue Games Can Be Broken Into Three Major Categories:
Carom billiards - These tables are typically ten feet in length. This game is played without pockets.
Snooker - We've all heard the term, "you've been snookered, or don't get snookered. Snooker refers to a recent recruit to the military. It is also a billiards game that is played on a 12 foot by 6 foot table.
Pool - Refers to the games that most people think of when you hear the term. Again there are several pool games that you have the rest of your days to learn all about. For the purpose of buying your pool table the general size is 7, 8 or 9 feet., with seven feet being the most popular.
This guide is designed for assistance with the purchase of a standard pool table (which is 7-foot long, has a green playing surface and is commonly referred to as an American Pool Table). Keep reading to get a full outline of all of the parts of a standard pool table so you won't be behind the 8-ball.
We understand why you made the decision since pool is an easy-to-do recreation that doesn't take too much of an investment of your time to become quite good at. There are so many positive things to say about the game and your decision to add a quality table to your home. Instead of boring you with what you already know we will craft this guide along the lines of assisting you in finding the right table for you and your family.
Getting The Right Size Pool Table For Your Home
Measure Makes Perfect - But You Will Need a Model
Sounds simple right - just measure the room. When it comes to buying the right size it is important to add space for the players stance. Try not to laugh but it is a good idea to find the tallest person you know - have him or her come over to your home and have them pretend they are playing pool at a particular mark you designate.
Some players really like to get eye level with their ball and that requires a significant amount of bending and extension. This translates to extra square footage that you have to take into account. Set up the rectangular markings of a standard pool table in tape on the floor where the pool table will be housed - then have your tall model come over and actually assume the postures of someone playing pool. Measure their extension.
You want to make certain that there is ample space to have not only the pool table but you need room for the players to flex and make the best possible shots. That's part of the fun. The last thing you want to do is have a beautiful table set up at your home and no one over 5 foot can play without bumping into a wall.
Other Things to Consider When It Comes to Size
Is the pool table going to be part of a larger recreational space in your home or is there going to be one room designated for it?
Is the floor sturdy enough to support the weight of the pool table you are considering?
Can the area also house accessories?
Table Construction and Components
Pool table tops are typically made either of slate or MDF. So, if you're curious about slate vs wood pool tables, we can break down the differences for you. Experts assert that the slate tables, though much more expensive and heavier lend themselves well to better play. The balls move more freely with the slate pool table top and they are nearly indestructible.
Slate tables are generally constructed with more than one piece of slate. The slate slabs are joined together by a resin composite which produces a seamless surface. Better construction costs more money and it also produces higher quality table tops. Spend a good deal of time researching this facet of your purchase. The table top material and workmanship will lend considerable value to your pool table. Ask the salesperson or pool table dealer if you can see a model or work up of the table before the bedcloth is applied.
MDF (medium density fiberboard) table tops are constructed of wood fiber board and are at risk to warp over time with moisture in the air. This is considered a more economically feasible alternative to the slate. Other economically feasible alternatives include plywood and plastic. It really depends on what level of play you need for your home. If you want a small table for the kids to play on as part of their rec room, your requirements are going to be much smaller than if you plan to make this the center of a lavish man cave.
The other components of a pool table include:
head
six pockets
legs
cushions (bumpers)
rails
bedcloth (baize)
cabinet side
foot
cabinet end
Like the tabletop the other components of your pool table run the gamut in levels of quality. Pool tables are a sturdy piece of furniture. Grand tables have hand carved, solid wooden legs crafted with marble inlays and the like. A pool table is an investment in a treasured and highly valued old world past time. Pool playing can be a hobby as well as a great recreation. As the consumer think about what you want your pool playing time to be like. Consider what components will add value to your experience. Beautiful and expensive tables that don't add awesome recreational time with family and friends may not be worth the i
Features To Look For
Some enthusiasts like to get the most usage out of their table. To answer every need there is such a thing as a pool/dining table or a dining conversion table. This serves both functions by having removable parts when you want to use the table for other uses or when you want to dine on the table.
As with any amenity purchase it is possible to have custom features added to your pool table to make it a stunning addition to your decor with felt bedcloth and rail finishes to complement just about any designer finishes.
Other Things To Consider
Pool tables do not depreciate in value and if they are well taken care of chances are you will get what you have paid for the table or more - it is a wise investment.
People often employ a professional pool table installer to make certain the table is set up appropriately. Undoubtedly this will add to the expense of the purchase.
You will also have to consider if you will have room for the table if you and your family plan a move. Pool tables get passed down from generation to generation at times but remember it is such a large heirloom.
Before buying have your home inspected to make sure there are no leaning floors or other structural problems that will be detrimental to your pool playing.
You can have the best of both worlds and have a great playing table that also makes a grand statement and sincere nod to the tradition of the past time while looking spectacular. Be cognizant of what you want to get out of the table as well as what you want to put into it.
It's Your Shot
Now that you know a little more about pool tables we are certain you won't get snookered when you go out to make your purchase. We are just as sure that you and your family will enjoy your home pool table for many years to come.
Buy on Walmart
EastPoint Sports Billiard Pool Table 87 Inch or Cover - Scratch Resistant Top Rail, - Walmart Link
GoSports 6ft or 7ft Billiards Table - Portable Pool Table - Includes Full Set of Balls, 2 - Walmart Link
American Legend Kirkwood 84" Billiard Table with Rustic Blond Finish, K-Shaped Legs and - Walmart Link
EastPoint Sports Billiard Pool Table 87 Inch - Scratch Resistant Top Rail, Built-in - Walmart Link
Hathaway Fairmont Portable 6-Ft Pool Table for Families with Easy Folding for Storage, - Walmart Link
Hathaway Spartan 6' Pool Table, 72" L x 38" W x 31" H, Black - Walmart Link
Mizerak Dynasty Space Saver 6.5' Billiard Table with Leg Levelers, Automatic Ball Return, - Walmart Link
Fat Cat Tucson 7' Pool Table with Automatic Ball Return, Electric Blue Playing Surface and Included Billiard Accessories to Play Out of The Box - Walmart Link
Barrington Springdale 90 Inch Claw Leg Billiard Table Set with Cues, Rack, Balls, Brush, and Chalk (23 Pieces) - Walmart Link
Barrington 84 Inch Arcade Billiard Table - Walmart Link
this Charles River model - Walmart Link
this 8-foot table from Barrington - Walmart Link
Brunswick 8 Foot Danbury Pool Table with Green Contender Cloth and Play Kit: Billiard Ball Set, Cues, and Accessories. - Walmart Link
GLD Products Fat Cat Trueshot 6 Ft. Pool Table | Folding Legs for Storage | 64-6035 model - Walmart Link
Iszy Billiards Cue Rack Only - 6 Pool Cue - Billiard Stick Wall Rack Made of 100% Wood Choose Mahogany, Black or Oak Finish - Walmart Link
Buy on eBay
EastPoint Sports Billiard Pool Table 87 Inch or Cover - Scratch Resistant Top Rail, - eBay Link
GoSports 6ft or 7ft Billiards Table - Portable Pool Table - Includes Full Set of Balls, 2 - eBay Link
American Legend Kirkwood 84" Billiard Table with Rustic Blond Finish, K-Shaped Legs and - eBay Link
EastPoint Sports Billiard Pool Table 87 Inch - Scratch Resistant Top Rail, Built-in - eBay Link
Hathaway Fairmont Portable 6-Ft Pool Table for Families with Easy Folding for Storage, - eBay Link
Hathaway Spartan 6' Pool Table, 72" L x 38" W x 31" H, Black - eBay Link
Mizerak Dynasty Space Saver 6.5' Billiard Table with Leg Levelers, Automatic Ball Return, - eBay Link
Fat Cat Tucson 7' Pool Table with Automatic Ball Return, Electric Blue Playing Surface and Included Billiard Accessories to Play Out of The Box - eBay Link
Barrington Springdale 90 Inch Claw Leg Billiard Table Set with Cues, Rack, Balls, Brush, and Chalk (23 Pieces) - eBay Link
Barrington 84 Inch Arcade Billiard Table - eBay Link
this Charles River model - eBay Link
this 8-foot table from Barrington - eBay Link
Brunswick 8 Foot Danbury Pool Table with Green Contender Cloth and Play Kit: Billiard Ball Set, Cues, and Accessories. - eBay Link
GLD Products Fat Cat Trueshot 6 Ft. Pool Table | Folding Legs for Storage | 64-6035 model - eBay Link
Iszy Billiards Cue Rack Only - 6 Pool Cue - Billiard Stick Wall Rack Made of 100% Wood Choose Mahogany, Black or Oak Finish - eBay Link