Let's face it, video games are kind of expensive. I'm looking forward to getting the new Mortal Kombat 11 when it's released and the cheapest option is $60. But if I wanna go for the premium edition, then GameStop has that one listed at $100.
And it's not just this one game. Pretty much any new game is going to cost you around $50, so how the heck are you supposed to keep building that collection of video games when they cost so freaking much?
Well, I was reading an article about travel hacking the other day, which is where travelers use credit card rewards programs to travel for free (or almost free) and it got me to wondering if there was any way that I could leverage the same sort of thing for cheaper video games.
I did a bit of research and reached out to some personal finance experts, and it turns out there are are a few different credit cards out there are that perfect for helping gamers lower their expenses when it comes to buying new games. I'm calling it gaming hacking (y'know, like travel hacking but for gaming).
So, if you've also been looking for ways to get more new video games at a lower per-game cost, then this article is for you. Below are the best credit cards that I've found that lets us work the credit cards to our advantage.
GameStop Power Up Rewards Credit Card
If you buy a lot of your new video games at your local GameStop, like me, then this card will be of great benefit to you.
The way that this card works is that you get rewards points when you sign up, as well as when you use the card to make your purchases. Then, you can cash in your rewards points for gift certificates to GameStop itself, or for xBox and Playstation Store gift certificates.
Overall, this is a pretty sweet way to score free games at GameStop - especially if you already do most of your shopping there anyways.
PlayStation Credit Card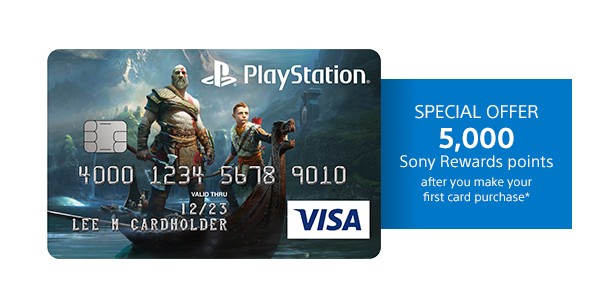 Do you have a PlayStation as your main gaming console? If so, you'll definitely want to sign up for this branded credit card from Capital One.
Not only does this thing look super cool since you get a video game image on the card, but you get to earn Sony Rewards points when you use it. And, of course, you get a bonus haul of them just for signing up for this new credit card.
Redeem the points you earn for PlayStation games, consoles, downloadable content, subscription services, Sony electronics, movies, music, experiences and more.
Other Credit Cards
While those are the only cards that I could find that are specifically for gamers, there are a couple of other decent options as well.
With both the Amazon credit card and the Best Buy credit card, you can earn back from your purchases. This works in the favor of gamers cause it lets you eventually lower the overall cost of your video games when you buy them. Jenny at Money Misfit highly recommends the Amazon credit card if you buy a lot of other stuff on the site, because it can result in big savings on your gaming essentials.
That being said, we do believe that the GameStop and the PlayStation credit cards are the absolute best options for gamers right now.
We are not affiliate with any of these credit cards, offers, or companies. This is an independent analysis and opinion.