Whether you are a serious aficionado of the sport or you're just looking for a fun backyard game to play with family, croquet is a wonderful pastime that can be played and enjoyed by one and all. If you are currently in the market for a croquet set, the following article may just be able to help you find the best croquet set for your needs.
We have reviewed several of the most popular and best croquet sets available, and highlighted some of the pros and cons associated with each product. We have also included a Croquet Set Buying Guide which explains all the factors and characteristics to look for when purchasing one of these fun sets.
Top Croquet Sets Editors' Picks in 2022
Best Croquet Set Reviews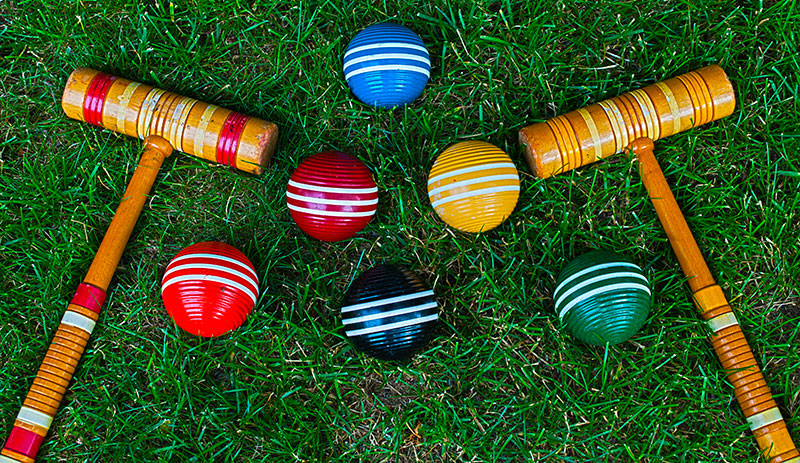 The above table shows the best-selling croquet sets. In the reviews below, you may or may not see the sets listed above. You will see a wider variety of croquet sets because the best sellers are typically only beginner or family sets. The reviews below are broken down into two separate categories - beginner/family and premium Amish sets. If you see a set above that you like and don't see the review below, click the above link to be taken to Amazon to see the product description and reviews.
1. GoSports Premium Croquet Set - Link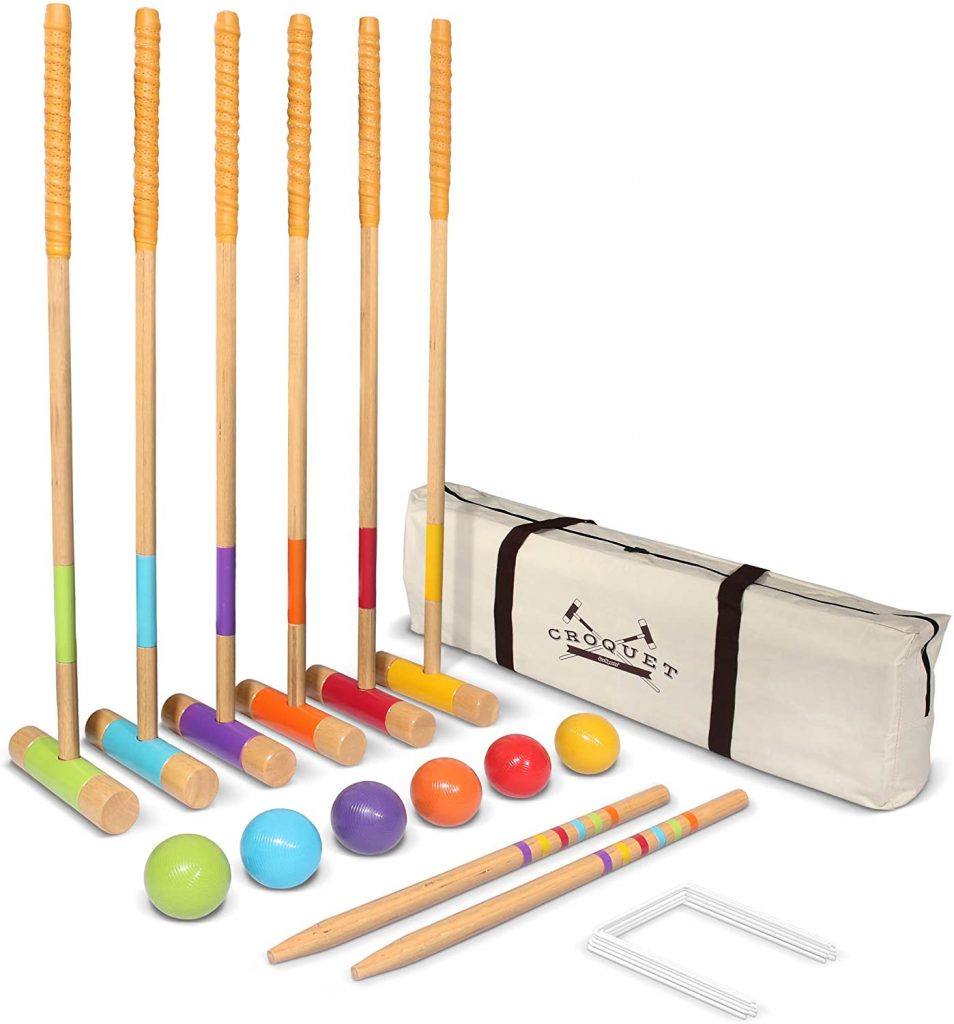 The GoSports Premium Croquet Set is our vote for best croquet set that the entire family will enjoy. The six-player set comes with six color-coded wooden mallets; 5 matching balls in green, blue, purple, orange, red and yellow; two center stakes; 9 wickets and a handy carrying bag made of tough canvas for easy portability and storage. There is even a handy rule book that explains the game and its rules of play.
Measuring 35 inches long, the mallets in the GoSports Premium Croquet Set are the perfect size for both adults and children. The traditional wooden mallets offer a standard hitting surface and the heads can be disassembled from the shaft for easy storing. Best of all, buyers of this set receive a 100 percent money back guarantee if they are not completely satisfied.
Pros
Genuine wood : Unlike some of the more cheaply-made sets, the mallets in the GoSports Premium Croquet Set are completely made of high-quality wood.
Perfect size : Not too tall for kids and not too short for adults, the croquet mallets in this set are perfectly sized.
Rule book : The colorful rule book in the GoSports Premium Croquet Set is a nice bonus.
Cons
Smaller heads : The surface area on the heads of the mallets is a little smaller than that of other sets.
Mallet heads come unscrewed during play : Several reviewers complained about the mallet heads in this set coming loose during play.
2. Amish-Crafted Deluxe 8-Player Croquet Game Set - Link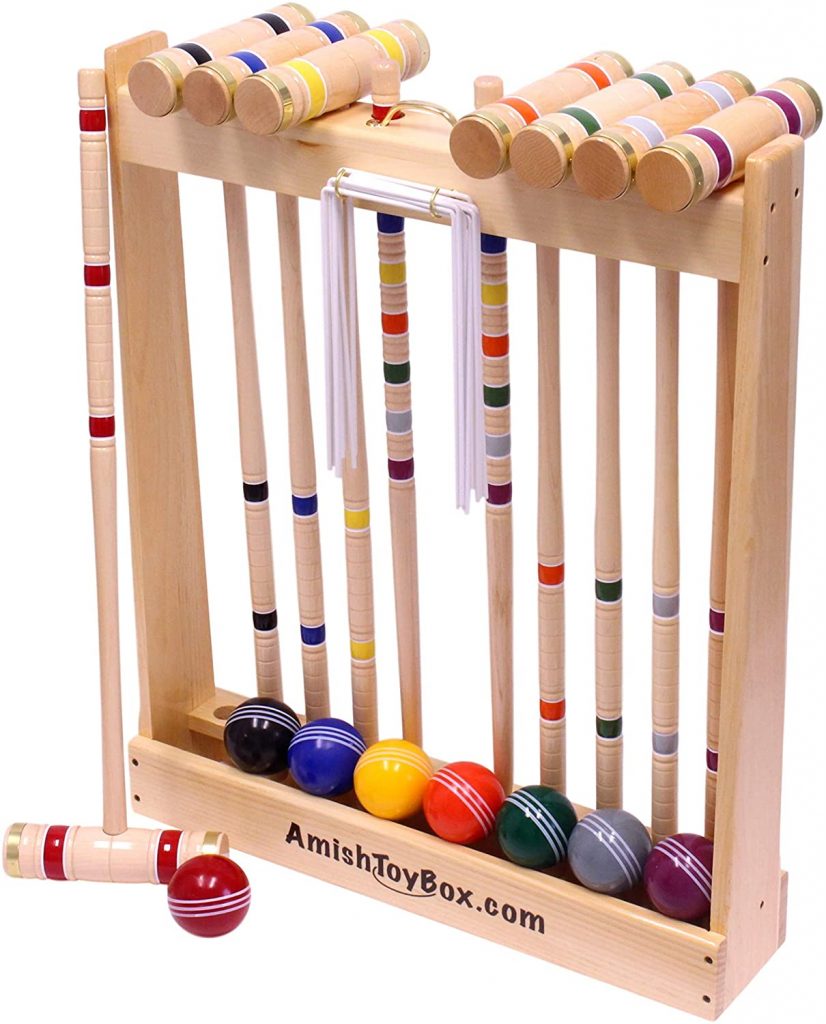 With attention to detail and finish, the Amish-Crafted 8-Player Game Set is designed for the serious croquet gamer. With sizing options and adorned in vibrant colors, this game set is fun and convenient.
This croquet game set comes with eight hardwood maple mallets all of which are very durable. The option of either opting for 4 28-inch mallets, paired 4 32-inch mallets, or 8-32 inch mallets, is entirely up to the purchaser. The mallets and stakes are lathe-turned, and there is a polished brass ring on each mallet head to prevent cracking. The wickets are 5/32" in diameter, metal and vinyl-coated. There are nine in total. There are eight plastic balls, which are 3-5/16" in diameter, and the set comes with a wooden holder for storage.
Pros
Durability : Very sturdy due to finish and details
For everyone : Sizing options for adults and children
Cons
Expensive : Costs significantly more than competitors
Storage : Does not come with bag, only wooden holder
3. Juegoal Six Player Croquet Set - Link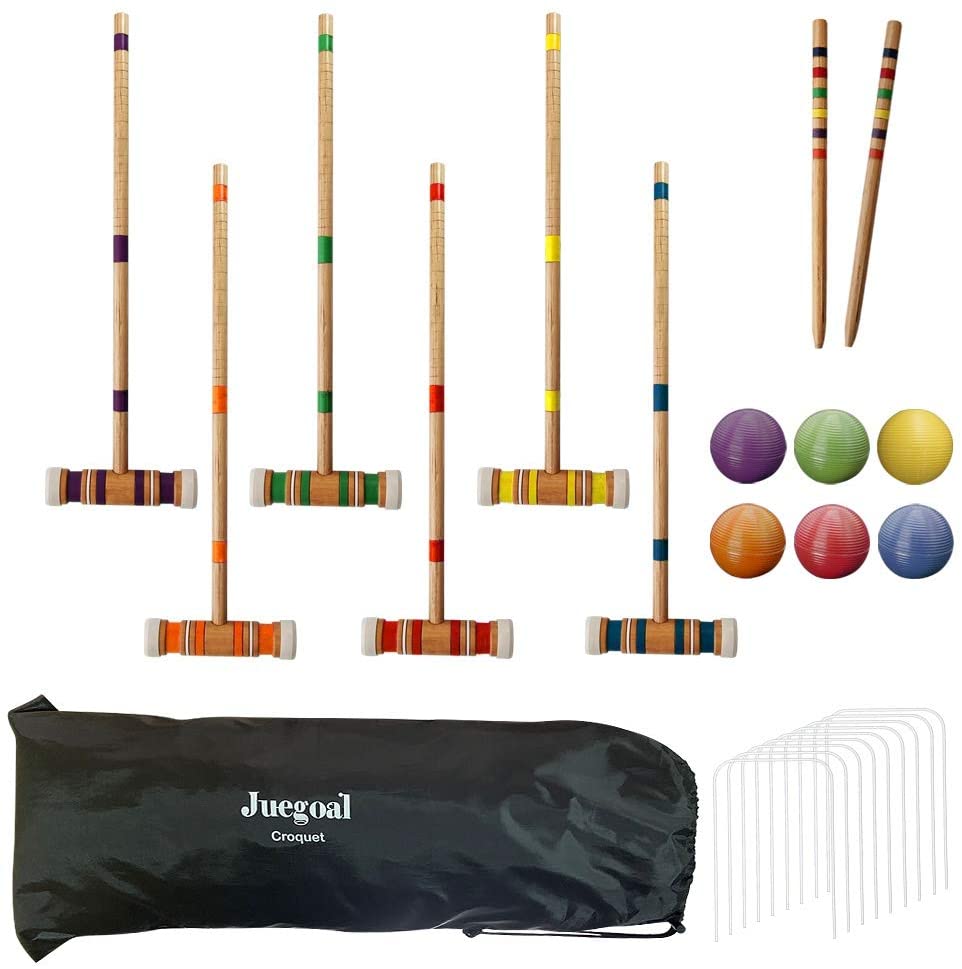 Ranking in at number one for croquet sets on Amazon, the Juegoal Six Player Croquet Set is perfect for your family gaming needs. The bright primary and secondary colors on the set are easy on the eyes, and every member of your family will enjoy the fact that it is appropriate for children and adults.
The six mallets, weighing four pounds heavier and standing about two inches taller than other similar competitor brands, are hardwood and sturdy. The handles are about 28 inches and there are two eighteen inch stakes, all hardwood. There is good threading on the handles and heads, making them durable. There are six 2.8" weather resistant, molded balls, as well as nine steel wickets coated with vinyl. The set also includes a player's manual for beginners and a drawstring bag for transportation. The Juegoal Six Player Croquet Set is the best set in terms of affordability and quality.
Pros
Ranking : Ranked #1 on Amazon for croquet sets
Environmentally Friendly : Made from recycled crutches
Convenient : Does not have to be disassembled to store
Cons
Finish : Complaints about mallet shafts not being smooth and causing splinters
Coloring : Colors on product may fade over time
4. ROPODA Six-Player Croquet Set - Link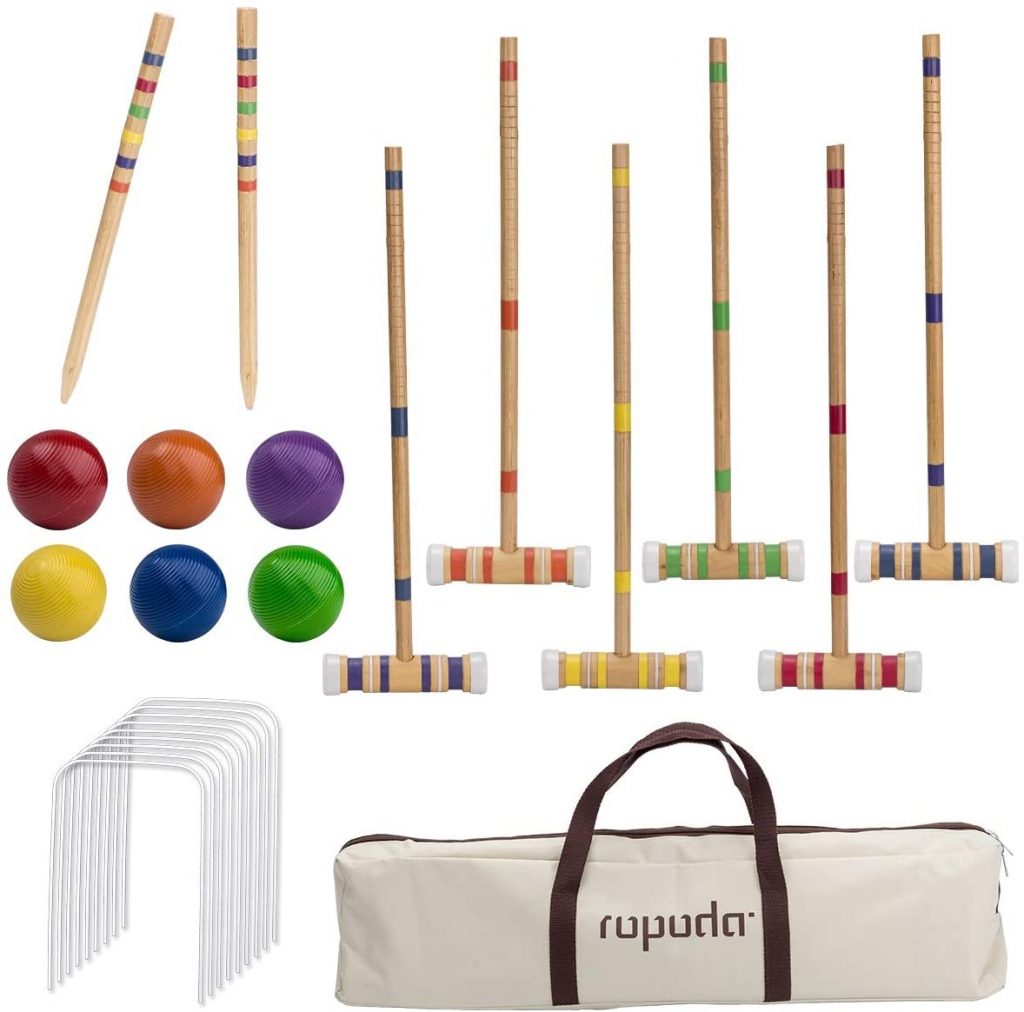 Conveniently crafted with wood to wood construction, eliminating the need for metal or screwing, the ROPODA Six Player Croquet Set is ideal for any croquet player. With colors of yellow, blue, red, green, orange, and purple, this particular croquet set is suitable for all ages.
Ranked at number three for croquet sets on Amazon, this set features six 26" hardwood handles, six 8" color mallets, 6 2.8" weather resistant balls, 9 steel wickets with vinyl coating, 2 hardwood end posts, and a bag for storage. The mallets are made of solid hardwood with a 2.8 inch finish, making them sturdy. They have protective covers for safety and durability, and the resin makes them crack and damage resistant. With a players manual included, this set can accommodate 2 to 6 players.
Pros
Ranking : Ranked #3 on Amazon for croquet sets
Affordability : High quality and affordable
Cons
Storage : Tight fit when left unassembled in bag
5. Best Choice Products 6-Player Croquet Set - Link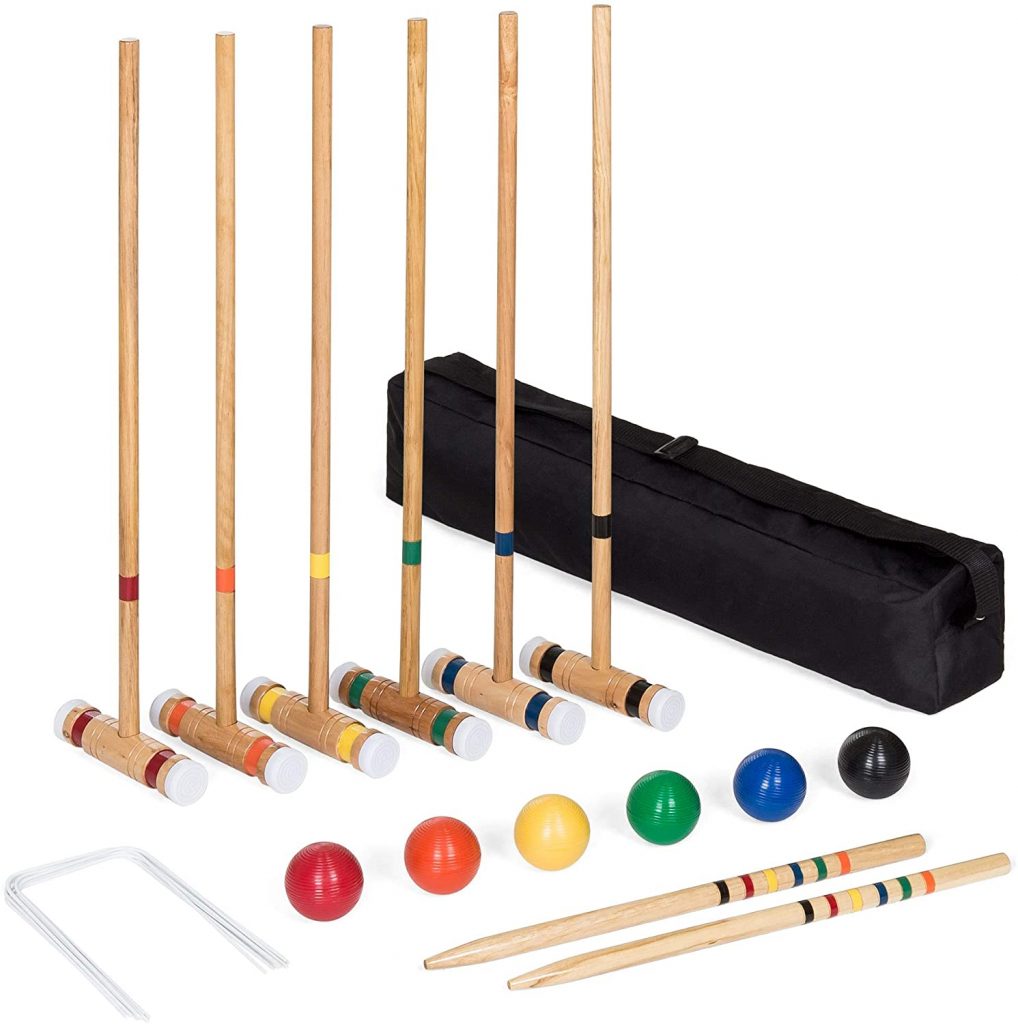 With a rating of 4.5 out of 5 stars on Amazon, the Best Choice Products Six Player Croquet Sport Game Set is reliable and efficient. This simple croquet set comes with everything you need to optimize your croquet game.
This croquet game set features six 32" high quality hardwood mallets that have rubber caps for safety. There are six colored polymer balls, nine 6×8.5" vinyl wickets, and two 21" hardwood stakes, all crafted with durability in mind. This product also comes with a zippered bag for carrying. The total weight comes to about 24 pounds. The Best Choice Products Six Player Croquet Sport Game Set is simple, but will still fulfill the needs of any level croquet player.
Pros
Quality : Very durable for price
Good Reviews : Not many consumer complaints
Cons
Storage : Have to disassemble before putting away
Pricing : Slightly more expensive than competitors
Buying Guide
Croquet is a wonderful game. However, before you go out and buy the very first croquet set you see, you may want to take a minute to read this helpful buying guide. Here we have highlighted and explained some of the things to look for when shopping for a croquet set-tips that will help you pick out the perfect set for your family.
Age of the Players
Naturally, one of the most crucial steps to finding the perfect croquet set is to determine the ages of the players who will be primarily using the set. There are many sets geared specifically for children, with smaller balls and mallets. There are even some budget-friendly sets made for very small children, in which the balls and mallets are made of plastic or hard foam. This helps to mitigate injuries and ensures the balls and mallets are of a manageable size.
The majority of people buy croquet sets for the whole family. In cases like these, a quality lawn croquet set is usually your best bet. Lawn croquet sets typically feature lightweight wooden mallets, hoops and balls, guaranteeing that every member of the family can enjoy the croquet set equally.
Skill Level of the Players
A lawn croquet set is also a good choice for beginners, regardless of age. A lawn croquet set is a good way to practice your aim and precision before moving up to one of the more deluxe sets, which feature weighted balls that are more difficult to maneuver.
Those that are more experienced in the game of croquet may be ready to graduate to some of the more professional croquet sets. These sets generally have mallets that weigh 1.3 kg and the various croquet balls weigh in at 16 ounces (1 pound). Moreover, the mallets in these sets are of the very highest quality and finely structured. This type of advanced set will ensure the highest degree of accuracy when rolling the ball, and just one or two games usually make players of this game hooked for life.
About the Croquet Mallets in a Croquet Set
A mallet is the club used to hit and roll the ball in croquet-a stick that features a rounded head/hitting surface on both sides of the club. There are many theories as to why mallets were originally designed with a head on each side of the club. Some say it is was designed that way to give the club balance, while others say it was to allow left-handed and right-handed players to use the same clubs. Either way, depending on the exact type and purpose of the croquet set, you can generally expect the number of mallets in a given set to vary-usually between 4 and eight. Also, the head of the mallet is essentially screwed onto the bottom of the stick, and during the game you may have problems with the head becoming unscrewed-but reattaching it is easy. Mallet heads are screwed on-rather than glued or nailed-to allow for more compact storage of the set.
Mallets in a croquet set range from about 3 feet to 3 1/2 feet in length. At this height, most children can use the mallet as they stand tall, while taller adults will probably need to bend over to certain degrees when playing the game.
Mallets in different croquet sets can vary in weight, but professional mallets usually weigh in at about 2 pounds, or 1.3kg. Professional mallets in croquet sets are almost always made of some type of wood, such as hickory, ash, or tawa wood. Recreational sets can be made of wood or a variety of other materials, including aluminum, fiberglass and carbon fiber. These other materials are usually lighter than wood, but ironically, most experts suggest that very young players and beginners use the heavier wooden mallets because it will help them get more power and ball-rollout out from their hits.
In addition to the length, weight and material used to make the croquet mallet, there are a couple of other considerations of which you should be aware prior to shopping. These include:
Shape of the shaft. The part of the mallet you hold is called the shaft. Shafts can be rounded, hexagonal, or even octagonal. Most opt for a shape other than round, because it makes it easier to hold the club.
Shaft rigidity. Advanced croquet sets will usually have very rigid shafts. This is important as it helps reduce any unnecessary play in your swing.
Peripheral weighting. Many professionally styled croquet mallets will have peripheral weighting on the sides of the head that will help you swing in a straighter path.
Size of the head. More experienced players may prefer a mallet with a smaller hitting surface as it challenges their precision. Beginners should use a mallet with a larger head to avoid hits that catch the edge of the club.
About the Balls in a Croquet Set
The most important thing to look for when buying a croquet set is the color of the balls. Typically, croquet balls come in a variety of colors, such as orange, yellow, black, red, blue and even purple. The colors are important because they match the color of the clubs. For instance, if player one selects the red mallet, he or she will also play with the red ball throughout the game. This helps to avoid confusion during the game and disputes over whose ball is whose.
As we mentioned briefly above, the regulation weight of the croquet ball is 16 ounces. In tournament play, everybody must play a regulation ball, to ensure nobody gets an unfair advantage. However, when playing with family you can mix and match balls of different weights, even allowing the younger children to play with a plastic ball if need be.
Stakes
The stakes in a croquet set are the actual target you will be aiming for as you play. These normally have the colors of the balls on them, which indicates that you are to aim at and hit them with the ball. Over time, these stakes can take quite a beating, so be sure to look for a croquet set whose stakes are very sturdy and durable.
Wickets
Wickets are tunnel like pieces on a croquet set that will be set up all over the yard in which you are playing the game. Out of all the pieces in your croquet set, you will have more wickets than any other components. The goal of croquet is to pass your ball through these wickets in a prescribed direction, and the one who completes this goal first wins the game. Like the stakes, be sure to look for wickets that can take a beating over time. These pieces will most likely be hit by balls and mallets several times throughout the game, so if you don't want deformed wickets that are difficult to pass through, make sure you think "durable" when checking out these components.
Lastly, croquet sets can be very basic in nature, including a minimal amount of mallets, balls, stakes and wickets; or very elaborate and comprehensive, with all of the above-mentioned components plus items like colorful corner pegs and boundary string to vividly mark off the playing field; and wicket clips that make it easier to see the wickets from a distance.
Buy on Walmart
ApudArmis Six Player Croquet Set with Premium Pine Wooden Mallets 28In,Colored - Walmart Link
Juegoal Six Player Croquet Set with Wooden Mallets Colored Balls for Lawn, Backyard and - Walmart Link
ropoda Six-Player Croquet Set with Wooden Mallets, Colored Balls, Sturdy Carrying Bag for - Walmart Link
GoSports Six Player Croquet Set for Adults & Kids - Modern Wood Design with Deluxe (35") - Walmart Link
Lawn Croquet Set for Kids & Families - Six Player Croquet Game with 6 Mallets, 6 Balls, 9 - Walmart Link
Franklin Sports Outdoor Croquet Set - 6 Player Croquet Set with Stakes, Mallets, Wickets, - Walmart Link
Franklin Sports Croquet Set - Includes Croquet Wood Mallets, All Weather Balls, Wood - Walmart Link
GoSports Premium Croquet Set - Walmart Link
Click HERE for Price - Walmart Link
Amish-Crafted 8-Player Game Set - Walmart Link
Juegoal Six Player Croquet Set - Walmart Link
ROPODA Six Player Croquet Set - Walmart Link
Best Choice Products Six Player Croquet Sport Game Set - Walmart Link
Buy on eBay
ApudArmis Six Player Croquet Set with Premium Pine Wooden Mallets 28In,Colored - eBay Link
Juegoal Six Player Croquet Set with Wooden Mallets Colored Balls for Lawn, Backyard and - eBay Link
ropoda Six-Player Croquet Set with Wooden Mallets, Colored Balls, Sturdy Carrying Bag for - eBay Link
GoSports Six Player Croquet Set for Adults & Kids - Modern Wood Design with Deluxe (35") - eBay Link
Lawn Croquet Set for Kids & Families - Six Player Croquet Game with 6 Mallets, 6 Balls, 9 - eBay Link
Franklin Sports Outdoor Croquet Set - 6 Player Croquet Set with Stakes, Mallets, Wickets, - eBay Link
Franklin Sports Croquet Set - Includes Croquet Wood Mallets, All Weather Balls, Wood - eBay Link
GoSports Premium Croquet Set - eBay Link
Click HERE for Price - eBay Link
Amish-Crafted 8-Player Game Set - eBay Link
Juegoal Six Player Croquet Set - eBay Link
ROPODA Six Player Croquet Set - eBay Link
Best Choice Products Six Player Croquet Sport Game Set - eBay Link