If you're a gamer, you need a great headset to fully and completely get into your game. Whether you're collaborating with other players on your team or guild, or talking trash to your enemy combatants, a quality gaming headset can make all the difference.
To help you select the very best gaming headset for your specific needs and preferences, below we have reviewed several of the most popular and highest selling models on the market, and highlighted the pros and cons associated with each product.
We have also put together a Gaming Headset Buying Guide. In this guide we will outline several of the factors you should consider-and a number of characteristics you should look for-when shopping for and ultimately purchasing your very own gaming headset.\
Top Gaming Headset by Editors in 2022
Best Gaming Headsets for the Money (2021)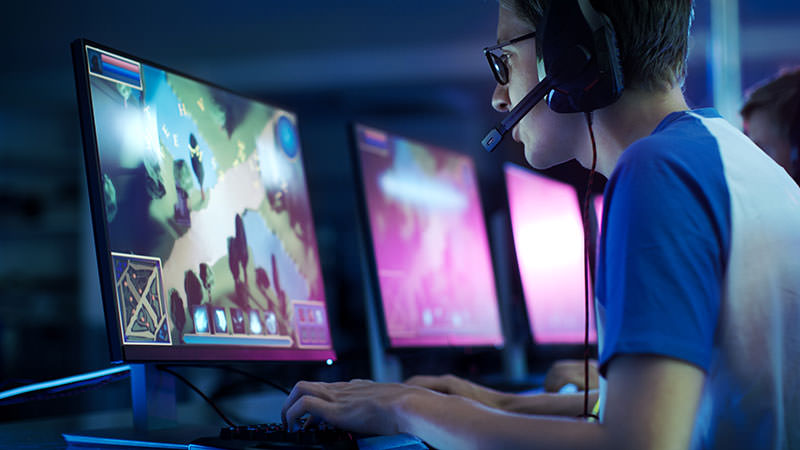 SteelSeries 61463 Arctis Wireless Gaming Headset - Link
Our first headset, the SteelSeries 61463 Arctis Wireless Gaming Headset, is a premium product that features a lag-free 2.4 GHz wireless audio system with up to a 40 foot range (away from your computer or gaming console) and a battery that will generally last up to 24 hours between charges. The headset also includes a high-performing ClearCast microphone that is very proficient at cancelling out background noise while delivering studio quality voice clarity.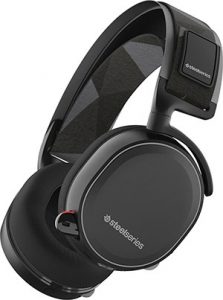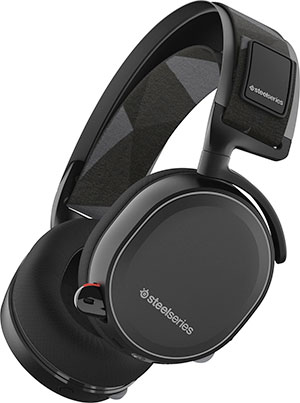 When using the SteelSeries 61463 Arctis Wireless Gaming Headset with your PC you can expect excellent surround sound, thanks to the SI speaker drivers and the DTS technology. In terms of comfort, the headset offers a high performance fabric and patented AirWeave ear cushions with a suspended headband to ensure a comfortable experience in which users might even forget they are wearing a headset. Highly rated, the SteelSeries Gaming Headset recently earned the title of "Best Wireless Gaming Headset from the PC Games publication.
Pros
Highly rated. Voted the "Best Wireless Gaming Headset" by PC Games, the SteelSeries 61463 Arctis Wireless Gaming Headset is very highly rated.
Surround sound. Thanks to the DTS technology, the headset has "surround sound" capability when used with a PC.
Comfortable. The patented AirWeave ear cushions on the SteelSeries 61463 Arctis Wireless Gaming Headset offer the best in comfort.
Cons
Lag time. Due to its wireless nature, the SteelSeries 61463 Arctis Wireless Gaming Headset may rarely experience some lag time.
Headset requires charging. Wireless headsets like this one from the SteelSeries Company require charging after a certain period of use.
Astro Gaming A10 Wired Headset - Link
One of the best aspects of the Astro Gaming A10 Wired Headset is its amazing durability. This sturdiness can largely be attributed to its tough anodized aluminum headband wrapped carefully in a protective polycarbonate outer covering that can withstand all the daily ups and downs of competitive video game play. Comfort is also covered with this headset due to the soft memory foam ear cushions that make it effortless to play your favorite game in any position without sacrificing the personalized fit.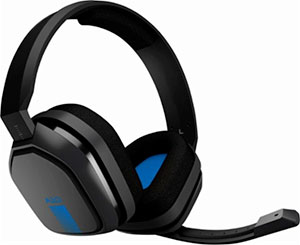 The Astro Gaming A10 Wired Headset comes standard with an Omni-directional microphone that is perfect for communicating with both your online team of allies and the other side. It includes an easy-switch mute function and in-line volume control for simple adjusting, and provides a crystal clear sound that cannot be beat. The sound quality of this headset is amazing and immersive, with low latency and extremely accurate voice action. The headset is compatible with a wide variety of gaming platforms, including PCs, MACs, Mobile applications, Xbox One, PS4 and Nintendo Switch, just to name a few.
Pros
Cushioned for Comfort. Using soft memory foam to cushion the ears, the Astro Gaming A10 Wired Headset is very comfortable.
Works with many platforms. The headset can work with almost any computer, console or mobile based platform.
Durable. The anodized aluminum and protective polycarbonate on the headband make the Astro Gaming A10 Wired Headset very long lasting and durable.
Cons
Limited by wires. As a wired headset, those who use the Astro Gaming A10 Wired Headset may be limited by the length of the cord.
Fit concerns. Some reviewers mentioned that the headset was not up to par in terms of fit.
Turtle Beach Elite Pro Tournament Headset - Link
With a uniquely designed and proprietary ComforTec Fit System, the Turtle Beach Elite Pro Tournament Headset offers a personalized level of comfort that is hard to replicate-even for people who are forced to wear corrective lenses, as their patented ProSpecs Glasses Relief System allows you to comfortably wear your specs and headset simultaneously without the extra pressure you might expect from other similar gaming headset systems. The headset includes a state-of-the-art professional gaming microphone-a microphone that is artfully equipped with the company's TruSpeak technology, which guarantees your voice will be heard as you conquer level after level of your favorite video game.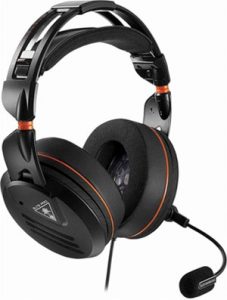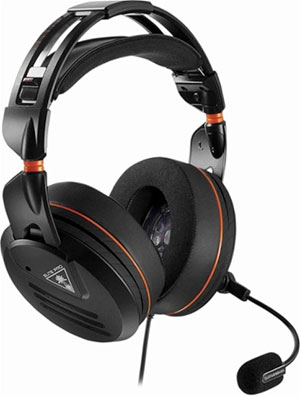 The Turtle Beach Elite Pro Tournament Headset is loaded up with 50 millimeter NanoClear speakers, which allow players to become fully immersed in their gaming world while receiving real-time, crystal clear feedback from other players. The customized AeroFit ear cushions on the headset offer the finest in comfort and fit. They are made from revolutionary materials that are designed to keep your ears cool and comfy as you play. Although fairly premium priced, it's difficult to beat the Turtle Beach Elite Pro Tournament Headset for all the great features the product offers.
Pros
Excellent sound quality. The Turtle Beach Elite Pro Tournament Headset provides excellent sound quality thanks to the patented NanoClear speakers.
Comfortable. The ComforTec fit and ProSpecs features of this headset make it very comfortable to use, even for players with glasses.
Powerful Bass. Users were very complementary about the powerful bass on the Turtle Beach Elite Pro Tournament Headset.
Cons
Premium Priced. Compared to some of the other wired headsets on our list, the Turtle Beach Elite Pro Tournament Headset is not very budget-friendly.
Only comes with one cable. The headset only comes with one cable-a cable that lacks the Y splitter.
No accessories included. There are no accessories included with the Turtle Beach Elite Pro Tournament Headset.
Things to Consider Before Buying
When setting out to purchase your first gaming headset-or when upgrading to a better model-there are several factors you should definitely take into consideration. Here we have highlighted just a few of those factors and considerations to help you get started.
Wired or Wireless Gaming Headset
Like most of the electronic audio equipment of today, gaming headsets are available in two different general varieties: wired headsets and wireless gaming headsets. Wired gaming headsets have a cord that plugs into your PC, MAC or gaming console; while wireless headsets operate through a USB or Bluetooth connection, allowing users to hear the action and speak to other players in the game without feeling tethered to the actual source of that game, provided they remain within the specified range.
When it comes to wired or wireless headsets, there are several advantages to each of these forms. Actually, any advantage to owning a wired headset is essentially a disadvantage to owning a wireless headsets, and vise-versa. Here is just a brief look at the advantages for each type of headset:
Wired Headsets: Advantages
Don't have to worry about batteries dying mid-game as you would with a wireless headset.
No latency or lag issues
No interference from other electronic equipment
More budget-friendly
No security concerns
Wireless Headsets: Advantages
No cord to trip over
More flexibility as you play
The ability to move about freely as you play
Ability to sync to almost any other electronic device
With these advantages (and disadvantages) in mind, try to select the perfect wired or wireless gaming headset for your needs.
Sound Quality and Surround Sound
It goes without saying that you of course want a product with excellent sound quality, both from the speakers and in the return communication (the microphone). This is something you should research very carefully before making a final purchase. Also, if surround sound is an important consideration on your shopping checklist, you will definitely need to read the fine print and do a little research before heading out to shop. That's because some of the gaming headsets that claim to have surround sound actually do not. For a gaming headset to truly offer surround sound there must be a separate driver for each ear, coupled with either Dolby or DTS technology.
Fit
While most gaming headsets sold today are "fully adjustable," that does not necessarily translate to a good fit for every player. Hence, before purchasing a gaming headset that meets your needs and preferences, ask to try on several different models before making your selection.
Comfort
Some manufacturers have gone out of their way to produce some of the most comfortable gaming headsets in the world. Using materials like memory foam and employing state-of-the-art technology these "quality" headsets will typically make you feel as if you are not even wearing it.
Range and Battery Life
If you plan to purchase a wireless gaming headset, make sure to check out the range to ensure it meets your needs. Those headsets that begin to distort as you walk away from the console are really no better than a wired headset with a long cord. Also, look for a wireless headset that has a long battery life between charges. Nothing is more frustrating than having the battery die during your all-night video game session.
Warranty
And finally, there is the warranty. Keep in mind that manufacturers that truly have confidence in their products are usually the ones that offer extended warranties at no extra charge. These are the headsets you want to zero-in on, as these are likely to last much longer than those with a one-year warranty or less.
Buy on Walmart
Razer BlackShark V2 Gaming Headset: THX 7.1 Spatial Surround Sound - 50mm Drivers - - Walmart Link
SteelSeries Arctis 3 - All-Platform Gaming Headset - for PC, PlayStation 4, Xbox One, - Walmart Link
BENGOO G9000 Stereo Gaming Headset for PS4 PC Xbox One PS5 Controller, Noise Cancelling - Walmart Link
Bose QuietComfort 35 Series 2 Gaming Headset - Comfortable Noise Cancelling Headphones - Walmart Link
Razer Kraken X Ultralight Gaming Headset: 7.1 Surround Sound Capable - Lightweight Frame - Walmart Link
BENGOO V-4 Gaming Headset for Xbox One, PS4, PC, Controller, Noise Cancelling Over Ear - Walmart Link
Amazon Basics Gaming Headset for PC and Consoles (Xbox, PS4) with Desktop Mixer - Black - Walmart Link
Buy on eBay
Razer BlackShark V2 Gaming Headset: THX 7.1 Spatial Surround Sound - 50mm Drivers - - eBay Link
SteelSeries Arctis 3 - All-Platform Gaming Headset - for PC, PlayStation 4, Xbox One, - eBay Link
BENGOO G9000 Stereo Gaming Headset for PS4 PC Xbox One PS5 Controller, Noise Cancelling - eBay Link
Bose QuietComfort 35 Series 2 Gaming Headset - Comfortable Noise Cancelling Headphones - eBay Link
Razer Kraken X Ultralight Gaming Headset: 7.1 Surround Sound Capable - Lightweight Frame - eBay Link
BENGOO V-4 Gaming Headset for Xbox One, PS4, PC, Controller, Noise Cancelling Over Ear - eBay Link
Amazon Basics Gaming Headset for PC and Consoles (Xbox, PS4) with Desktop Mixer - Black - eBay Link