Looking for a fun yard game that the whole family can play this summer? Whether you need an outdoor game for a family reunion, barbecue with friends, or just something to keep the kiddos occupied, ladder ball makes a great choice that everyone can enjoy. Also known as ladder toss or ladder golf, this game is easy to play and every age group can have fun with it - from toddlers to grandparents.
If you're new to this fun backyard game, it's pretty simple - you just throw two balls connected by a string (called a "bola") at a ladder with three rungs. Different point values are assigned to each run of the ladder. What's cool about this game is that it's really all luck since you never know what the bola will do as it spins around the ladder rungs.
For a strategy, you can either offensively (by aiming to get the highest points in a round) or defensively (by knocking your opponent's bolas off the ladder). Keep on reading to learn about how to play ladder ball, various factors to consider when purchasing a set and some of the best balls.
Top Ladder Ball Set by Editors in 2022
What to Look For When Purchasing a Ladder Ball Game Set
The ladder's material: Typical ladder ball ladders consist of metal, PVC, and wood. The elements have different advantages. Also, a ladder's material significantly affects its durability, safety, and weight. When picking it, you should consider whether it's for adults or kids. Furthermore, the material influences the frame's reliability.
Ease of installation: A ladder's design determines how fast one can set it up to start playing. You require a set that you can quickly dismantle in a short while and pack it in your bag. Some ladder ball brands have distinct designs that allow a user to set up or uninstall the sets quickly.
The ball's texture: If the game is for children, you should focus on its safety. For instance, a golf ball wouldn't be ideal due to its hard texture; thus, the ladder ball should be slightly soft to avoid injuries when participants toss it.
The stability of a base: A firm support stabilizes the ladder while in different settings. When buying a ladder, pick a flat plate with high security. It prevents it from toppling during vigorous games.
Price: Ladder balls are available at varying rates. The shots, design's quality and type of material greatly influence their price. The amount doesn't necessarily determine a set's quality. Some ladder ball sets appear cheap, yet they are of high quality.
Reviews: Our Top 7 Ladder Ball Game Sets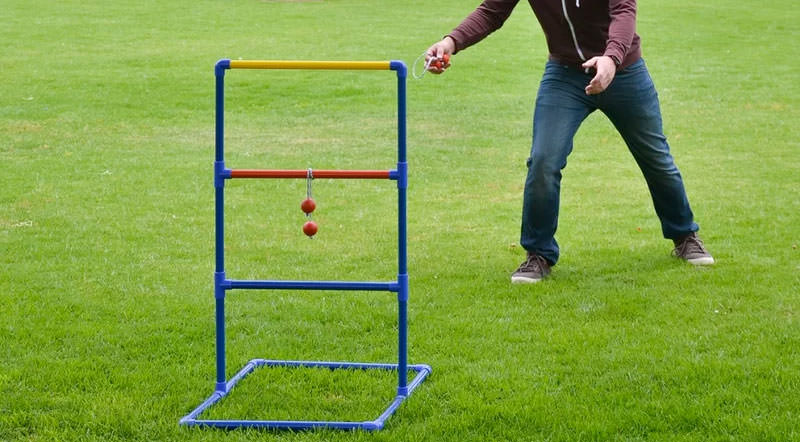 1. Go Sports Premium Ladderball Game Set - Link
Go Sports set is one of leading ladder ball game brands, in our opinion. This set comprises 2 PVC targets, a carrying bag, clear instructions and six bolas. Also, you can quickly assemble it. Moreover, it's appropriate for all family members.
Pros
Lifetime warranty.
A beautiful carrying case.
A light framework.
Affordable.
Maranda Enterprises is worth your hard-earned money. It has a metal frame comprising of horizontal plastic bars. The game's unique design makes it ideal for two to four participants. Also, it has steel goal frames, three blue and three red bolas. You can quickly dismantle it. Its carrying bag eases its transportation. Moreover, it's fit for persons above eight years who have passed specific tests.
Pros
Stable construction.
Easy to assemble.
Safe for any player.
An elegant and light design.
3. Triumph Sports Ladder Equipment - Link
Triumph Sports ladder is ideal for barbecues and tailgates. It comprises a complete base with high stability. Also, it has an efficient scoring system that allows one to make accurate scores. You can easily install the ladder as it doesn't require individual tools. Its gears have six bolas, three blue and three red bolas. Furthermore, the set comes with a cute carrying bag which facilitates its portability.
Pros
Easy installation process.
Light PVC material.
Suitable for adults and children.
Its affordable to many people.
4. Ladder Ball Pro Steel - Link
Ladder ball pro steel has a unique design which enables parents to play with their children hence providing unlimited fun. Due to its powder coati and rigid steel metal, the system has a long lifespan. It's easy to assemble and disassemble. Besides, it's packed in a comfortable carrying case. Moreover, the ASTM has certified the game brand.
Pros
Affordable.
Rigid steel material.
An extended lifespan due to its powder coated frame.
Its substantial weight and massive base offer maximum stability.
5. Yard Games Premium Set - Link
Yard games sets comprise detailed instructions, premium targets, a polyester carrier bag and six bolas. Also, it has quality balls and a rope which authenticates the game. Any person of any age will surely enjoy playing with it. It's suitable for tailgating and barbecue camps.
Pros
Easy installation.
Suitable for everyone.
Easy transportation.
Quality balls and rope.
6. Triumph Sports Tri Toss - Link
You can never get bored with the Triumph Sports toss. It comprises ladder, play and washer bag tosses that increase the players' interaction. The set has 18.5 by 28 inches wooden platforms for the bag toss and washer toss. Also, comprises light PVC material that is easy to install and transport. Moreover, there are 5-inch toss bags, six metal washers, four blue and four red rubber bolas. All the game pieces nicely fit in a carrying case that you can strap on your shoulder.
Pros
Affordable.
Excellent and stable platforms.
Several games in each design.
7. Sportcraft Ladder Ball - Link
A standard ladder game is easy to learn with particular equipment. The Sportcraft set from Crown Sporting enables new players to enjoy the game. Also, it provides unlimited family fun. The brand comprises two vertical ladder targets which measure 24 by 40 inches. Also, it has three blue and three red bolas. You can quickly assemble and carry its PVC framework. Moreover, the set is fit for players older than 14 years.
Pros
Light PVC frame.
Beautiful balls and framework.
Unlimited interactive fun.
Fit for indoor and outdoor activities.
Interactive games make outdoor events thrilling. You should choose a game which everyone can comfortably participate. Ladder ball games are an ideal selection to pass the time with friends. Also, when purchasing the game set, focus on its affordability, assembling process and quality.
Ladder Ball Rules
Ladder ball game entails connecting two balls with a string at a ladder and throwing them. The ladder should have three rungs. Every rung has varying point values, usually 3, 2 and 1. When playing the game, you can opt to be on the offensive or defensive. Besides, you can choose to focus on getting the most points in a given round or knocking off an opponent's bolas.
To win, you need both luck and skill. Often, you aren't aware of what happens next as the bolas spins rapidly around a ladder. Also, it's a fair game since one can compete with anyone as you knock off, bounce up or drop the bolas into a ladder. Usually, the winner is the first person to reach a score of 21 points.
Best Way To Throw Ladder Ball
Want to take your game to the next level? Check out the video below for some tips on improving your game play.