DXRacer and Secretlab make two of the top gaming chairs on the market. There are many different factors that can include a gaming experience and one of the most often overlooked is the quality of the chair.
Everyone needs to make sure that they are comfortable in their gaming chair because this can make or break a gaming session. Comfort is key and even though each brand will make their claim as to why their chair is better than the rest, it is important to have all of the objective information available so that people can make their own decision.
With this in mind, what are a few of the most important factors to consider when trying to decide between the DXRacer and the Secretlab gaming chairs? Some of the key points to remember are presented below.
First, Get to Know the Brands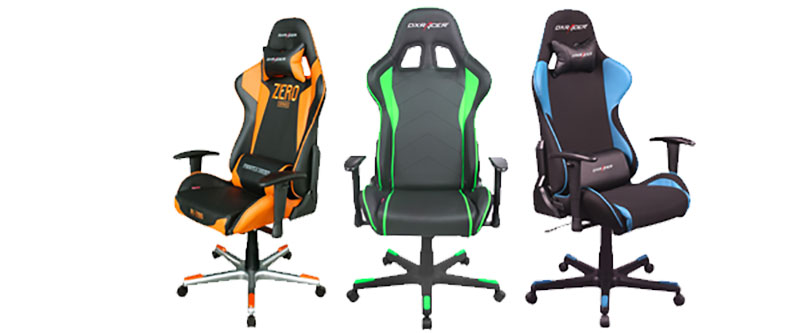 The first step in choosing between the DXRacer and the Secretlab Gaming Chairs is to consider the brands themselves.

Secretlab: Secretlab has become synonymous with high-end office and gaming chairs. Their products range in price between about $200 and close to $1000. In the world of eSports, the company is well-respected.
They sponsor a wide variety of gaming organizations including Tempo Storm, Blazer 5, and Newbee Gaming. Founded in 2014 by Alaric Choo and Ian Ang, the company has a gaming background which makes them qualified to engineer products to meet the specific needs of top-tier gamers.
DXRacer: In contrast, DXRacer was not founded by individuals with a gaming background. This company instead started by making high-end chairs for sports vehicles. The company then decided to branch into the gaming world by creating its sports chairs for individuals who needed a gaming chair for video games that involved driving.
In addition to chairs, DXRacer also engineers driving simulators. The company is both well-known and well-respected in the world of eSports and sponsors teams such as Optic Gaming and Riot Games.
Now, with the brands having been introduced, it is time to break down a few of the critical aspects when trying to decide between the two.
The Quality of the Build
Some people may think that if they pay more for something they are receiving a higher quality product. This is simply not the case. The price is a product of many different variables of which quality is only one.
Price alone is not enough to consider the build quality. Both companies are at the top of the list in terms of price. This means that both chairs are made of quality parts.
There are far cheaper chairs on the market; however, both DXRacer and Secretlab are worth the added cost.
Both of these chairs use a mesh backing which means that there is solid airflow. This will keep everyone cool while playing.
The chairs are also made out of sturdy, metal parts that are sure to last. Finally, both companies use leather vinyl or something similar.
They both have similar armrests; however, DXRacer's chairs can support up to 450 pounds while Secretlab can support up to 290 pounds. That makes DXRacer chairs the best gaming chairs for heavy guys .
Ultimately, both chairs are very similar in terms of the quality of their build. This is reflected in their user reviews as well. One could even argue that these chairs would warrant a higher price tag; however, neither chair really stands above the other in terms of build.
The Cost of the Chairs
As alluded to above, the cost of the chairs is an important factor when making a decision. The starting point for a DXRacer chair is around $289. Similarly, the cost of a Secretlab chair starts at around $299.
At the high end, DXRacer sits at around $800 while Secretlab chairs get up to around $1000. Therefore, the price tag of each of these chairs is not that different.
The low points start at around $300 and people are able to pay for what they want. As people start to climb the ladder on the various features, the price will start to climb. This is where the differences start to come in.
When looking at the Secretlab Omega 2018 and the DXRacer Formula series (which are comparable in price), some differences start to arise. For $329, someone can invest in the Omega 2018 which reclines back to about 165 degrees and offers lumbar support with a velour head.
On the other hand, the Formula series can only recline back to 135 degrees and does not have a velour head. Both chairs offer lumbar support. The Formula series cannot recline back as far as the Omega 2018 can.

The Variety of the Options Available
Everyone has different needs when it comes to a gaming chair. Therefore, it is important to consider some of the options that people have to choose from.
Secretlab does not appear to have as many choices as DXRacer. First, Secretlab has four different series of chairs to choose from. In contrast, DXRacer has 12 options for you.
Furthermore, DXRacer even offers about 10 different color schemes to choose from. This means that pretty much anyone will be able to make the DXRacer options suit their needs.
While Secretlab is newer on the market, they appear to also have kept their color schemes relatively narrow. DXRacer, on the other hand, has a wide variety of different color schemes that people can choose from.
It's worth noting that DXRacer also has a handful of unique special edition chairs to choose from as well. While Secretlab has been expanding their color schemes of late, they still have some work to do. They will likely catch up to their competitors eventually.
And, even though the Secretlab Titan chair is big enough to accommodate the size of most gamers, it does not offer an extra large chair. Secretlab chairs tend to top out at around 6′ 4″ and around 300 pounds.
DXRacer chairs are significantly larger. This means that DXRacer caters to a wider audience in terms of both its color schemes and its size limits. Those who are in need of an extra large chair will definitely want to check out what DXRacer has to offer.
Adjustable Lumbar Support with the Secretlab Titan
What Secretlab lacks in terms of color schemes and options it makes up for with its unique adjustable lumbar support feature. The Secretlab Titan chair is one of the few options on the market that provides an adjustable lumbar support feature.
Pretty much everyone has felt their back get sore after a long gaming session so this option should not be overlooked. The lumbar support option on the Titan chair can be easily adjusted using a tension knob.
By turning this knob, gamers are able to change the amount of lumbar support that they are able to get. This customizable feature is key and has been recognized by many gamers in their user reviews.
In general, most people feel that this feature is superior to many of the lumbar cushions that are on the market. For many people, this cushion is far too bulky. Those who have backs that are prone to getting sore while gaming will definitely want to consider the Secretlab Titan chair.
The Verdict: DXRacer versus Secretlab Gaming Chairs
In the end, it is important for people to consider the chair for their specific needs. It is hard to tell the two brands apart overall; however, those with specific needs might want to consider one brand over the other. Some of the important circumstances include:
An Extra Large Chair: Those who are over 6′ 4″ or over 300 pounds will probably want to lean towards the options that are provided by DXRacer. Their chairs have been designed to accommodate a wide variety of heights and weights.
Specific Video Game Needs: DXRacer also specializes in seats meant for sports cars. Therefore, those who are looking for a chair for a driving video game should probably check out DXRacer. They have been around since 2001 and started by making chairs meant for driving video games.
Back Support: There are few chairs on the market that can compare to the back support provided by the Secretlab Titan. Those who would like some added support for their back should invest in the adjustable lumbar support offered by the Titan.
In Conclusion: Choosing the Right High End Chair for Gaming
Without a doubt, everyone is going to have their own personal preferences when it comes to gaming chairs. On the other hand, it is important not to overlook some of these important details.
Without a doubt, both chairs have their own benefits and downsides but it is vital to consider the size of the chair, the material that the chairs are made out of, the durability, and the cost.
Ultimately, it is essential for everyone to try out a few different models before making any decisions. Everyone should make sure that they know that they want before making such an important decision.
Don't forget to use code GAMINGWEEKENDER at Chairs4Gaming for the best price on your gaming chair!