So, you've decided to add some gaming tables to your home, but you don't want something traditional like air hockey. Why not try something a bit unconventional like a home shuffleboard table.
This fun game can be enjoyed by all ages and many of the models come in a finish that adds a bit of elegance to the room. If you're new to this type of gaming table, let our guide and recommendations below help you make a good decision.
Editor's Recommendation: Top Shuffleboard Tables in 2022
12 Feet or Shorter - Playcraft Woodbridge Shuffleboard Table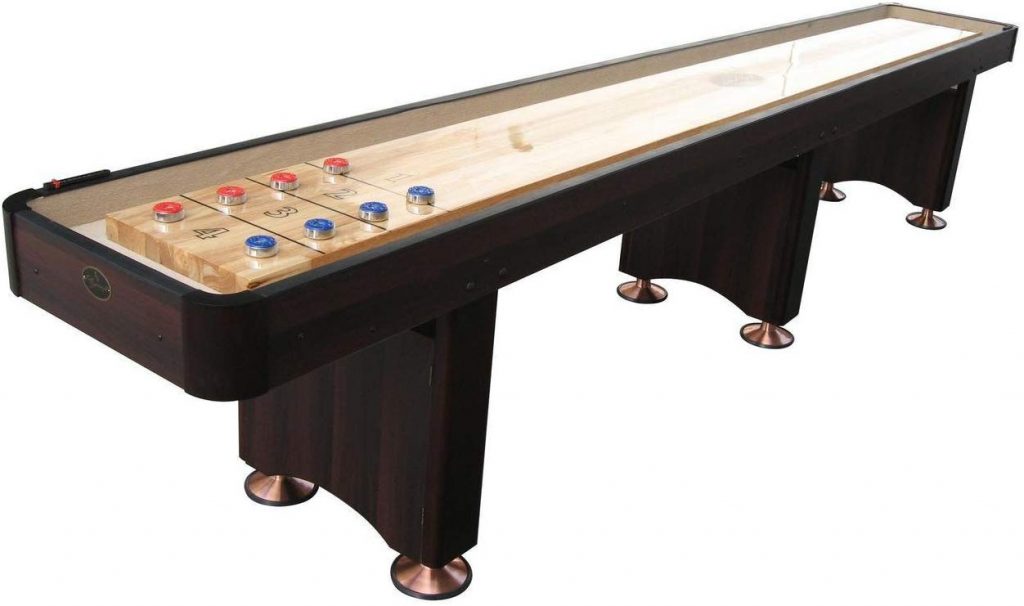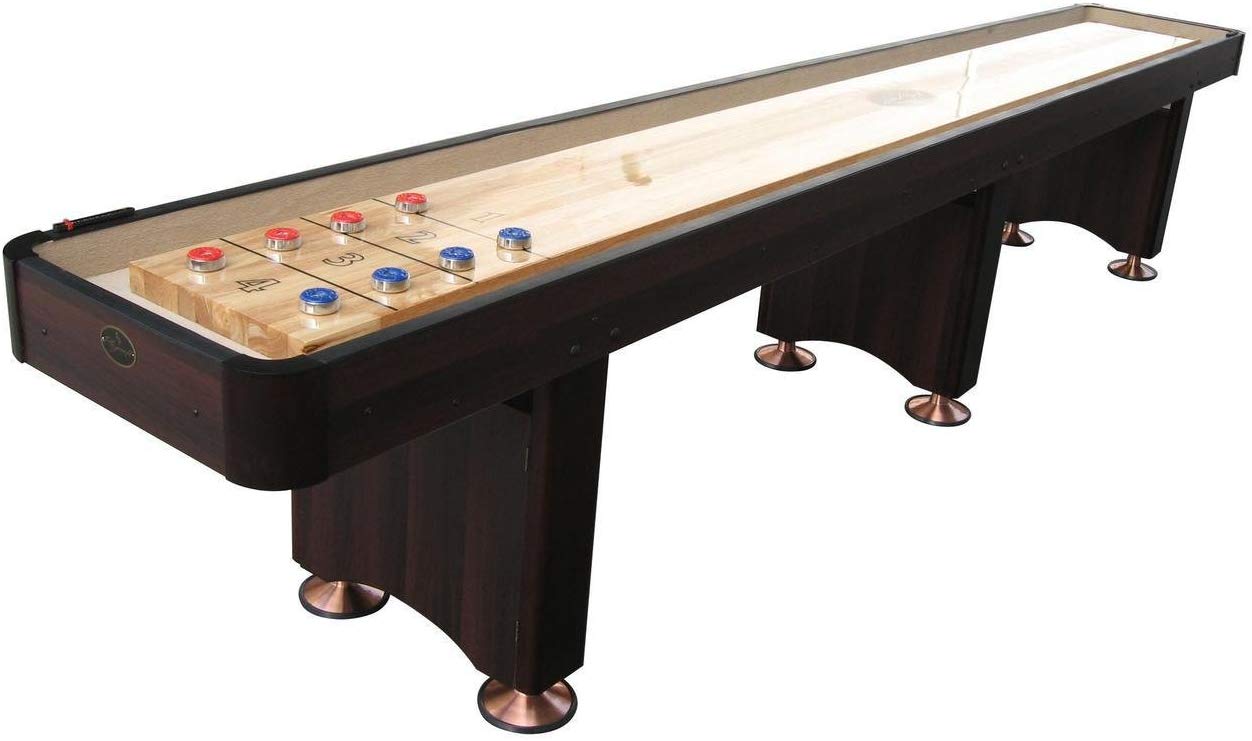 A shuffleboard table in your home provides an attractive activity center for your family and friends that can entertain everyone for hours of fun-filled competition. The beauty of the Playcraft Woodbridge model makes it an elegant accent in your living room, basement or game room. At a length of 9, 12, 14 or 16 feet, the high-quality board invites everyone to pick up a puck and slide it down the table. The fascination with it may keep players busy for an afternoon or evening.
Construction
A playing surface of thick hardwood butcher block creates a strikingly beautiful place to try new or traditional shots. The solid wood construction allows each shot to take a direct path to its target. Not a laminate, the smooth surface on the table comes from many coats of satin polyurethane. Within a one-piece cradle of plywood construction and hardwood corners, the playing surface rests on reinforced pedestal legs that feature double panels for stability and beauty. The two longer tables require a third set of legs to support the span, and all models come with 6-inch metal leg levelers. Carpet on the walls and gutters provide a safe place for the pucks to land. The quality of the hardwood table shows in its weight and solid construction, and you may need to enlist the help of several energetic assistants to move it to your preferred location. The table carries a 1-year guarantee.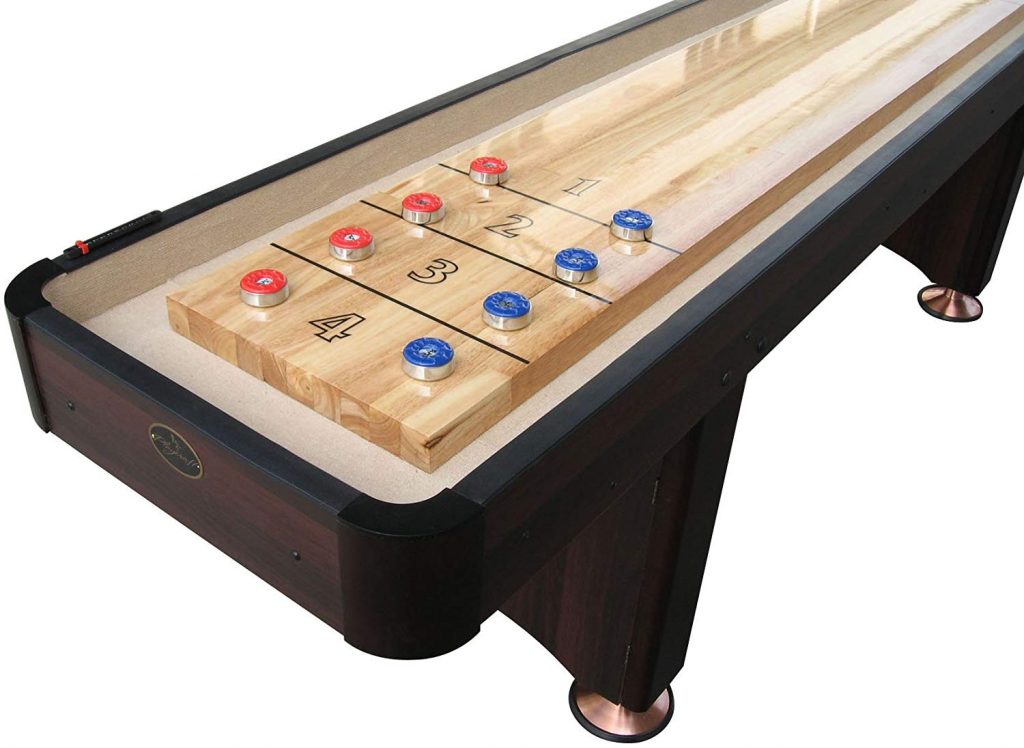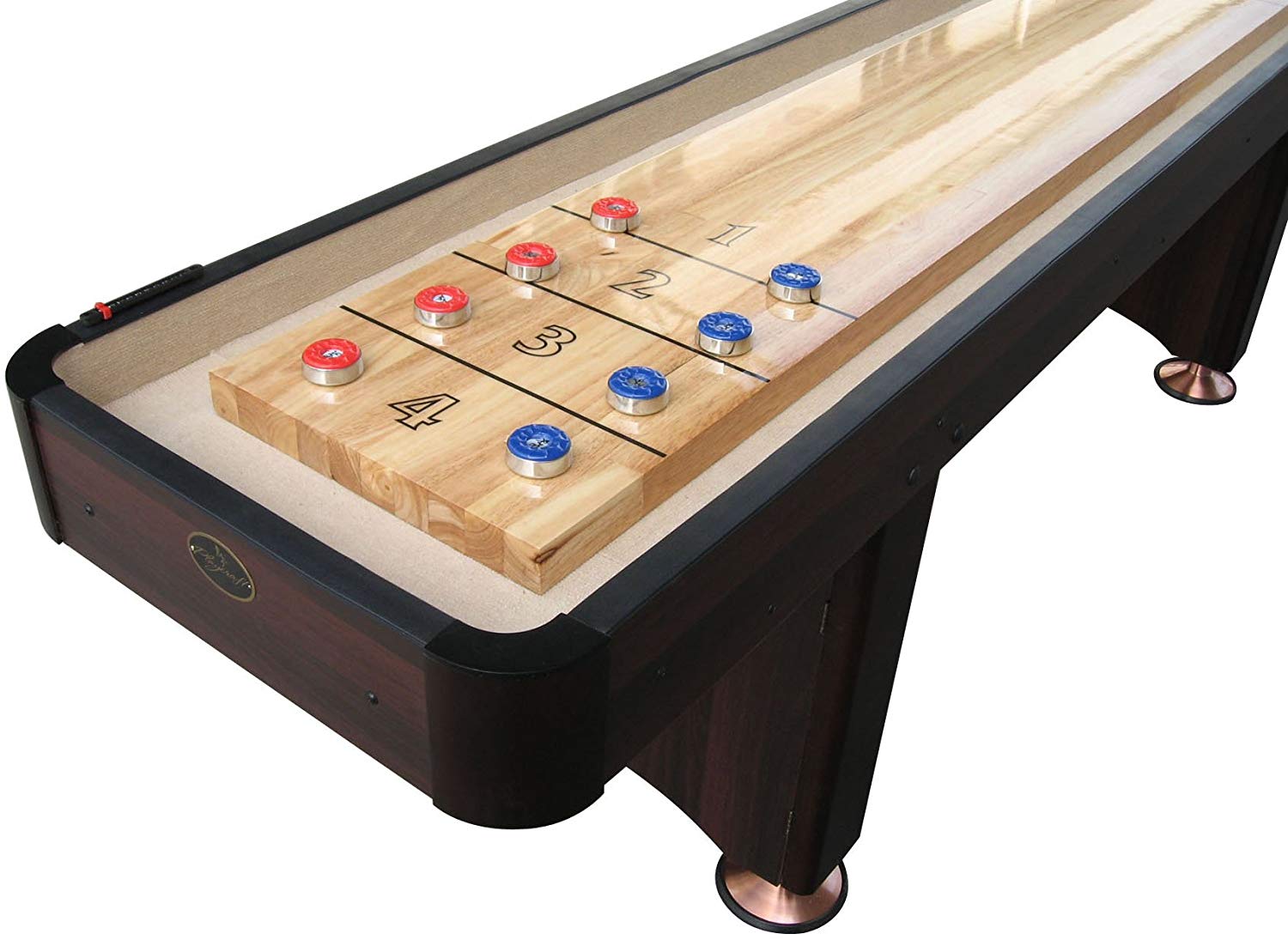 What's Included
Each table comes with a set of four red and four blue pucks or weights in a standard width that players know very well. A can of speed wax keeps the weights moving smoothly, and two plastic slide scorers help players keep track of winners. A set of instructions allows players to learn the rules of the game. Optional equipment that can create challenges for players includes a set of hardwood bowling pins. The table requires less space than a ping pong table, a pool table or a bowling alley, but it needs some of the same skill sets that those activities require. Players need at least a couple of feet on either end of the table to have room to execute their shots. A deluxe pinsetter can make the job of replacing the pins after a score efficient, and it enhances the enjoyment of the game. As a throwback to earlier times, upgraded wood abacus scorers can give the activity center a touch of sophistication. For the protection of the playing surface from spilled drinks or pizza sauce, a Naugahyde or PU leather covering can keep it safe and clean until the next game. An optional hardwood board sweep can make it look like a shuffleboard table in your favorite bar or local entertainment establishment.
14 to 18 Feet - Playcraft Georgetown Shuffleboard Table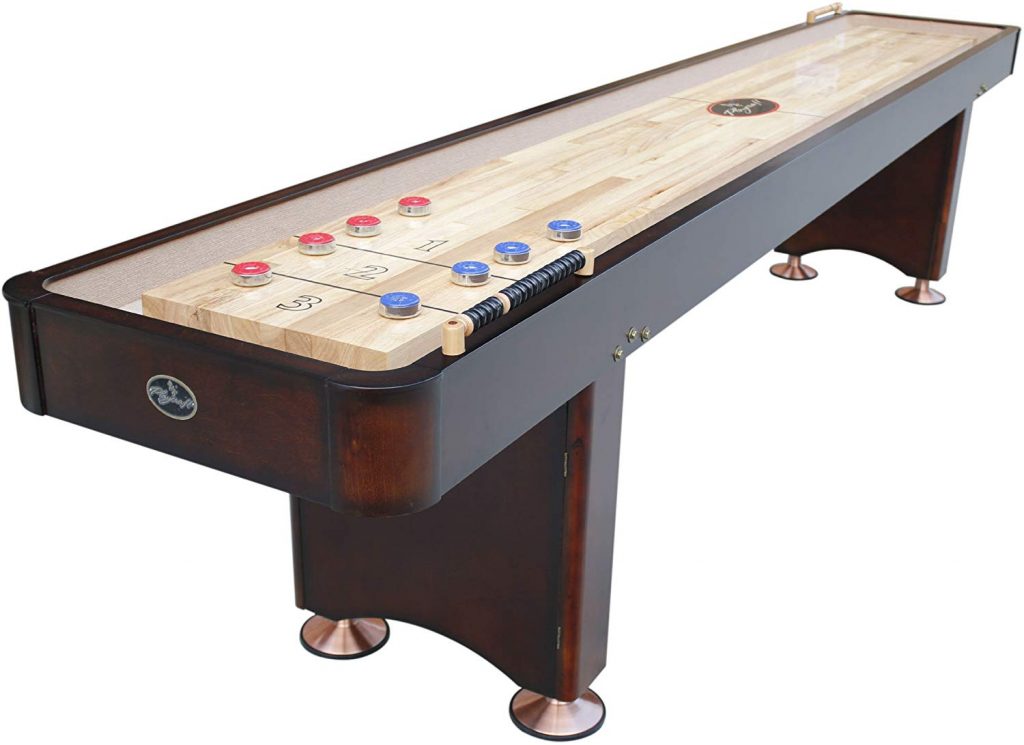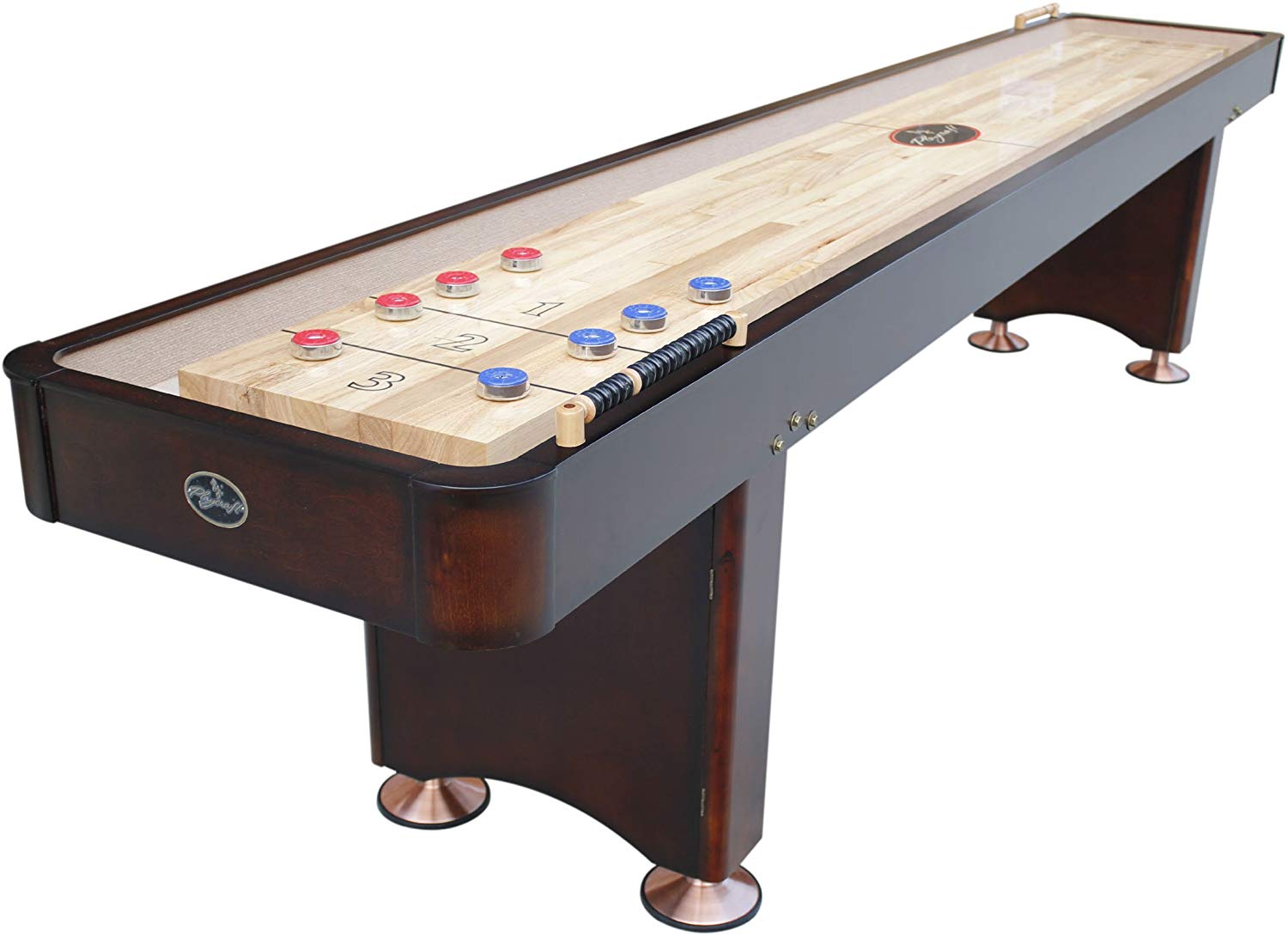 A knockout gift for your family, a Playcraft Georgetown shuffleboard table can win you endless praise and appreciation. A handsome addition to your game room, living room or basement, it provides the appeal of a beautiful piece of furniture. Even as it enhances the appearance of a room, it provides a center of activity with a game that everyone can enjoy. In your preferred length of 12, 14 or 16 feet, the table makes an impression that draws attention to its beauty and functionality.
Construction
The burnished color of the single staves in the butcher block playfield creates a shine on the slick surface that features a design for speed. The hardwood receives 10 coats of the highest quality of polyurethane that makes the playing surface perfect for amateur or professional puck shots. With solid hardwood corners for the supporting frame, the table presents an attraction that draws people to it for fun. The quality construction of the Playcraft shuffleboard gives it considerable heft that requires the efforts of several strong people to assemble the table and put it in place. Rigid legs with reinforcements on double panels give it the stability that you want for a center of entertainment activity. The two longer tables use three legs to support their extended length, but the 12-foot table requires only two legs. Each Georgetown comes with 6-inch leg levelers and a climate adjuster system that shapes the profile of the playfield.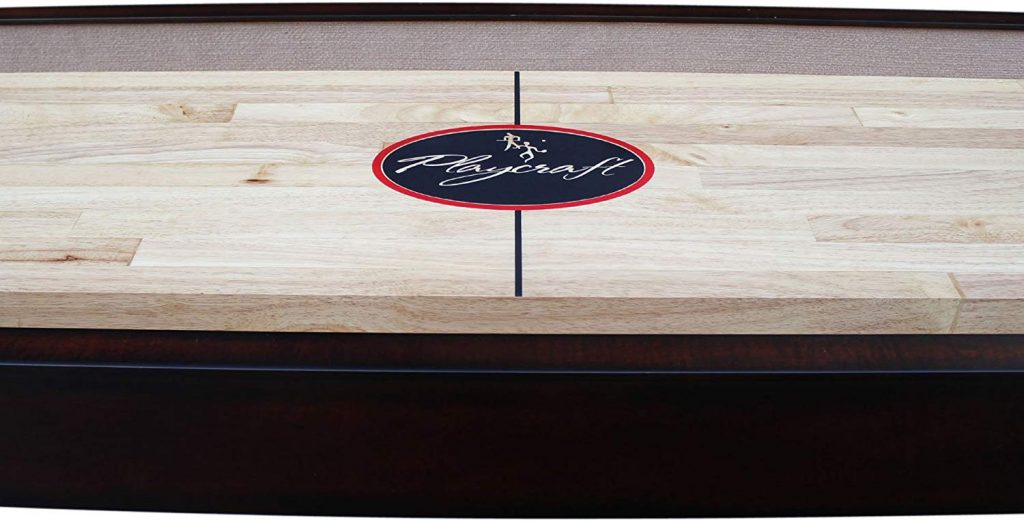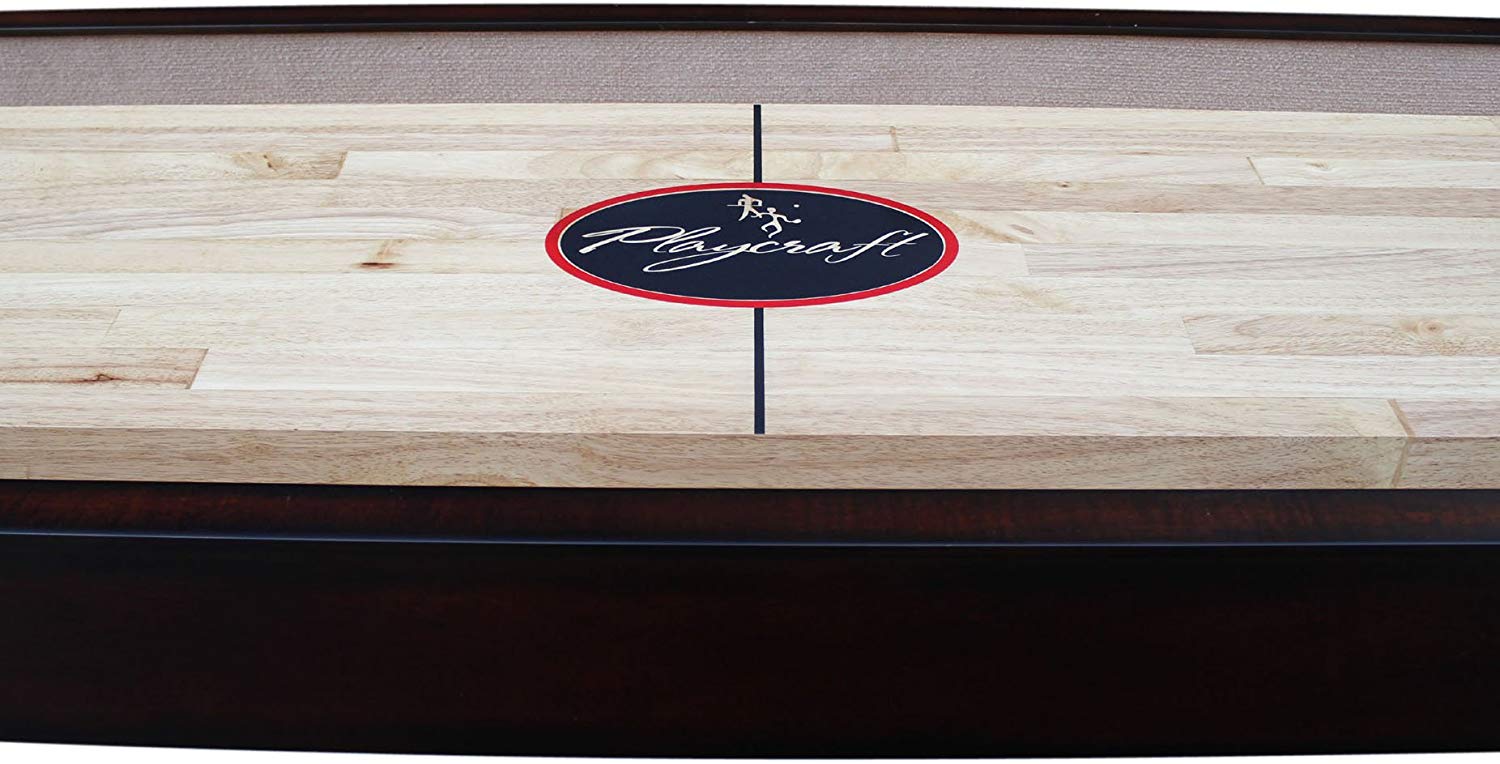 What's Included
Each table includes deluxe hardwood abacus scorers as standard equipment, and a set of pucks comes with it as well. Four red and four blue weights let teams have an identity for competitive matches that everyone can enjoy. A container of speed wax keeps the table in excellent playing condition, and a set of instructions teaches new players the rules of the game. Playcraft provides a 1-year warranty on the Georgetown shuffleboard.
Extra equipment that can enhance the enjoyment of the game includes a set of 10 solid hardwood bowling pins. The game of shuffleboard requires players to understand angles, and the pins can give them a target to hit. While it does not need as much space as a pool table or a ping pong table, it does give players some of the same challenges. An area of at least 2 feet behind each end allows players the room they need to get into a perfect position to develop and deliver effective shots. A score pad can help them keep track of the winners, and a hardwood board sweep helps tidy the playing surface. For protection of your table after players finish using it, a brown Naugahyde cover makes it ready to use the next time players get together for a rousing game of table shuffleboard.
20 Feet or More - Playcraft Telluride Shuffleboard Table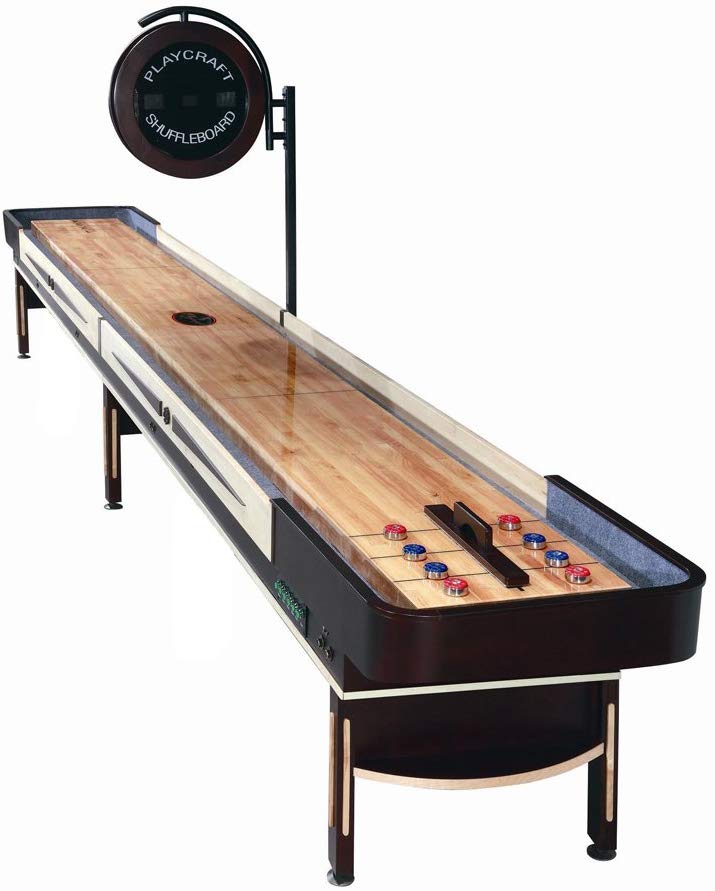 Anyone who wants to play can soon learn how to block their puck from getting knocked off the table in a spirited game of shuffleboard. Easily as much fun as a game of pool or ping pong without requiring a huge table, shuffleboard lets players learn to work the angles, protect their shots and have a rousing game when you own a Playcraft Telluride shuffleboard table. The togetherness and camaraderie of family and friends can create almost endless hours of enjoyment. Your home can provide quality entertainment in a game room, living room or basement when your game attracts people to pick up a puck and speed it down the table.
Construction
The elegance of the Telluride table as a handsome piece of furniture makes it an excellent addition to a room even without its entertainment capacity. With the remarkable beauty of Canadian maple and superior craftsmanship, the top-quality table by Playcraft becomes a focal point in any décor. One-piece horseshoe shapes enwrap the cradle at both ends and complement the appearance of the pro-style table that can please the most discerning player. Beautiful appliques accent the sides of the cradle and legs of the Telluride tables that have lengths of 12, 16, 18 and 22 feet.
An upgrade that can make the table stand out from the competition features the kiln drying that the vertical staves of maple receive. Glued edges bond them permanently to each other as they provide a long sweep for the pucks or weights to traverse. A layer of poured polymer creates the fast track that lets players put the puck in the most advantageous places. With gray carpet lining the gutters and sides, you get excellent noise reduction that allows conversation in the room to continue while play goes on. Fine-tuning the level of the table with 3-inch leg levelers and pro-style threaded climate adjusters gives it a perfect playing surface.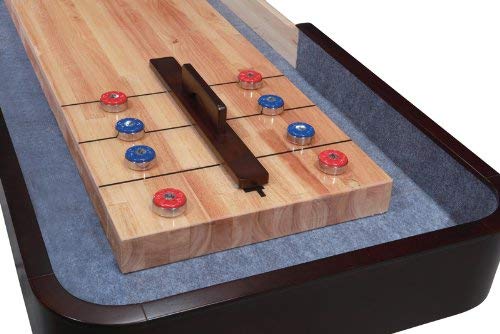 What's Included
Each table includes the playing equipment that lets you invite friends to join in a game the first day that you get your shuffleboard. With a shipping weight of 785 pounds, the crate requires the efforts of several people to help in assembling and setting up the quality-built table. With a 24-inch electronic scorer that enhances the professional appearance of the Telluride, the table meets the expectations of experienced as well as novice players who want to start a competition for fun. An acrylic face on the scorer protects it from any errant shots, and the company provides a 1-year warranty.
Four red pucks or weights and four blue ones come with the table along with a set of instructions for new players. A board sweep and a container of wax let you keep the table in excellent playing condition for years to come. An optional set of 10 hardwood bowling pins and a hardwood pin setter provide hours of fun as players try to knock the pins down. A beautiful cover of black PU leather can protect the table from spills or pizza drippings after the game ends.
What To Look For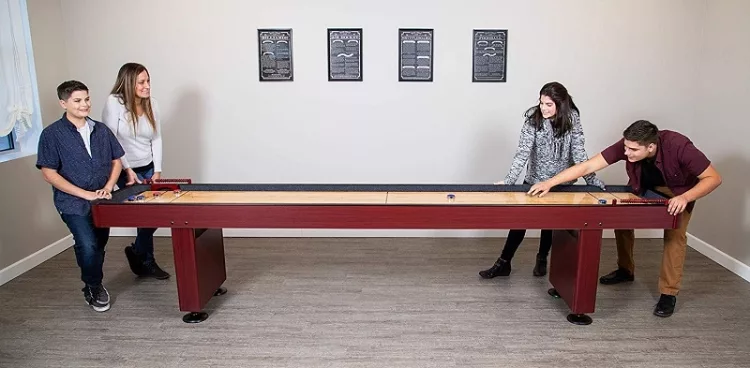 This shuffleboard table buyer's guide provides you with critical information to consider before investing in a table for your home. This guide will help you determine what general features to look at in determining the quality of tables you're considering, and to determine which table is the best fit for what you're looking for. Closely consider all the features discussed in this guide as you research the different available shuffleboard tables.
Size
Size is one of the first aspects you'll want to consider in finding the best shuffleboard table for your home. Shuffleboards can take up a good amount of space. In considering a size, be sure to take the time to determine how much clearance you'll need when using the shuffleboard. The best way to do this is to envision yourself actually playing in the spot where you plan to set up the table. If it feels awkward, you'll want to consider different dimensions for your table.
If you aren't a visual person, it would be worthwhile to mark the potential size of the table with tape on your floor. Make sure that there is enough room for players on each end of the table and enough to easily walk around the table. You'll also want to make sure you can access and enter the room comfortably.
Additionally, consider the location of the room you plan on having your shuffleboard table. You need to ask yourself how the table is going to get into the desired room. Narrow hallways and doorways will make getting the shuffleboard inside your home and to the specific room problematic. It is possible to use cranes and lifts to get shuffleboards upstairs. But if you want to avoid all of that, you'll need to consider a new room or a different size table.
The width of shuffleboards range between only 16 and 20 inches and the length goes anywhere from 8 to 22 feet. Traditionally, these boards are approximately 3 inches in thickness. However, the thickness may vary. If you find a table that is less than 3 inches thick, be wary. These tables will easily crack or chip under regular pressure and use of your shuffleboard table. Regulation-sized shuffleboards are 20 inches in width and 22 feet long. But, you don't need to have a 22 foot long shuffleboard table for the game to be challenging enough for it to be fun. A table that is only 9 foot long, for instance, will eventually make you feel like something is lacking. A table that short won't be challenging enough in the long run. Of course, tables that are longer and wider are going to cost more than smaller tables.
For those trying to stay on a budget while getting the best bang for your buck, your best bet will be getting a table between 12 and 16 feet long, and 16 inches wide. Smaller puck sizes are available to scale to a smaller table as well. If the tables you're finding aren't fitting your size needs, customized sizing is always available.
Materials and Surface Finish
Shuffleboard tables are made from wood pieces which are laminated together in vertical running layers. Harder woods, while costing more, will offer you a more durable shuffleboard. A smooth, shiny surface isn't the sole aspect that is important in considering the wood. Shuffleboards can be damaged in high-intensity games, and if pucks are dropped on the surface. A solid, and toucher wood will minimize the accidental damage to your shuffleboard, such as dents, dings and scratches.
The best and highest quality shuffleboards are made with woods such as maple, oak, mahogany and birch. The surface itself may be made from a different type of wood than the other parts of the shuffleboard table, such as the legs.
Softer woods, such as Canadian soft maple and Russian birch, when finished with a polymer will offer you a cost effective solution. It is a more affordable way to get a quality wood, while ensuring the wood is hard and strong enough to minimize potential damage. The cheapest tables are made with rubber wood, poplar and China birch. Unfortunately, the wood of these tables will be more prone to warping when the climate changes. Humid environments will have a stronger effect on woods of these types. Warped wood means that the playing surface will be a bit uneven, potentially hurting your shuffleboard playing experience.
Shuffleboards can be finished with a clear, shiny polymer coating or a shiny plastic laminate. This coat makes it less work for you as a future shuffleboard owner. You'll avoid frequent re-finishing. The polymer coating in comparison with common plastic laminates will make our shuffleboard more durable. The surface will be less likely to peel, scratch, chip, crack, and dent. The higher quality tables have American made polymer resin as a finish. The resin should be about a quarter of an inch thick. Some of the higher quality shuffleboard tables will also include a lifetime guarantee on the polymer coatings, which is a great deal. Lower quality finishes such as spray-on finishes need to be re-finished more frequently in order to maintain smoothness, slickness and evenness.
Shuffleboard tables are lastly coated in wax. Shuffleboard waxes vary, allowing you to truly customize the playing experience. Waxes are categorized based on a system that ranks the speed the wax will allow your puck to move at. The rating system ranges from 1 to 3, with 1 creating the slowest table surface, and 3 creating a super slick, and fast playing surface. Unwaxed surfaces will make your puck not glide as smoothly as it could.
In selecting a wax, you'll also have to consider the length of your table. You'll want to select a faster wax for longer boards. A fast wax ensures that the momentum is maintained as a puck slides across a table. Slow waxes are better suited to the shorter tables. This prevents the pucks from sliding too far, or slide completely off the table. It will also make it easier to gauge how far your shot will go. Lower speed waxes gives the surface a bit more resistance by increasing the level of friction, which in turn gives you a better level of control over the puck. You can have more customization over the speed by buying several waxes of different speed ratings and mixing them. It is recommended that you get a variety of waxes.
Design
The surface of your shuffleboard table should be slightly curved downwards. This concave curve helps to reduce the puck sliding off the sides of the boards. The ends of the table should be slightly more concave than the center. Weather conditions can affect how this curvature changes. People living in moist, humid climates should be especially concerned as the moisture in the air can get into the pores of the wood that your shuffleboard table is made out of. Depending on the quality of the wood and the table's finish, this can majorly impact the shape of this concave curve by warping the wood. If you live in a humid climate, you'll be better off investing in a table with higher quality materials that can withstand these kind of detrimental weather conditions. Some shuffleboard tables include a few climate adjusters to maintain the correct curvature of the table. These climatic adjusters are further discussed in detail below.
The outer cabinet of the shuffleboard table is the structure that actually holds the table together. It is usually coated with laminates or veneers. Solid hardwood used in the outer cabinet structure ensures that the table has enough weight to stay in place. Professional shuffleboard tables use hardwood for this outer cabinet. It is great to have that extra support, especially if you expect to play some pretty intense games. Be sure to read carefully when noting the specs of the outer cabinet. It may seem like the cabinet itself is made of hardwood, but retailers use the word "finish" to describe what the wood looks like. For instance, a "maple finish" isn't the same as a "maple cabinet".
There are two different kinds of scoring grids available to you for your shuffleboard table. There is a 3-level grid which has a 1-2-3 scoring system. This scoring system is the most common of the two. There is a triangular scoring grid option, which is most commonly used for outdoor shuffleboard tables. You have the option to opt for a newer electronic scoring system as well. Systems with electronic scoring automatically keeps track of the score as users play.
Other Features to Look For
Shuffleboards may be equipped with climatic adjusters. Not all boards have climatic adjusters, however. If the shuffleboard table you're thinking of buying doesn't have any climatic adjusters, you can certainly buy them separately to attach to the board yourself. You will find these located at the bottom of the board, bolted to the bottom surface. The length of a shuffleboard will determine how many climatic adjusters are equipped with the table. There can be anywhere between four and six climatic adjusters attached to a board. The adjusters allow you to maintain the shape of the surface, and the quality of the shuffleboard. By maintaining the shape of the board, you ensure optimal speed and game accuracy.
If you're having trouble finding a shuffleboard table that will fit in your home, and don't see that as a feasible option, consider getting an outdoor shuffleboard table. Most of the shuffleboard tables you'll find are suited for indoor use. However, there are tables which have been coated with weatherproof sealer on the table's legs, outer cabinet, and top surface. Tables such as these would make a great addition to your backyard, patio or deck.
Getting a Good Fit In Your Room
A shuffleboard table will make for a great addition to your home. To find the best fit for your home and lifestyle, remember what specific features to consider, and what questions to ask yourself. There are many options offered for each feature of the tables that should be considered. Remember to carefully read product descriptions to understand what you are getting for the money.
Pay attention to the size, material of the surface and outer cabinet, the finishes used, as well as the scoring system. When considering the size, a good rule of thumb to follow is that you need about 3 feet around the ends of the shuffleboard for comfortable play and enough space for you to walk around the sides of the table. To really visualize how much space a shuffleboard table will take up, use tape to mark the outline of the table on your floors. For a top-quality table, make sure you go to people who know what they are doing and specialize in making shuffleboard tables.
Recall that getting a shuffleboard that is too small will take the fun out playing, because it won't be adequately challenging. Be sure to also pick up a variety of waxes with different speed ratings, so you can find your sweet spot for the speed of the puck on your particular table. Shuffleboard tables vary greatly in price. It may be worth to invest a little more because there can really be a high variation in quality, and the price goes up accordingly. Determine what features of a shuffleboard table are important to you and be sure to research to find competitive prices for the quality you are looking to buy.
If you are having trouble finding the features in a table you are looking for, look into companies that offer customized tables. Some of these companies offer custom logos or graphics for the surface of the board for an extra fee. You can find shuffleboard tables online or at sporting goods stores. Look into the companies that you are buying from to ensure reputable table crafters and sellers. Following these guidelines will ensure you get the highest quality table.
Buy on Walmart
American Legend Kirkwood 9' LED Light Up Shuffleboard Table with Bowling - Walmart Link
Atomic 9' Platinum Shuffleboard Table with Poly-coated Playing Surface for Smooth, Fast - Walmart Link
Hanover Indoor Full Size Butcher Block Shuffleboard Table, Brown - Walmart Link
Playcraft Woodbridge Shuffleboard Table - Walmart Link
American Legend Brookdale 9' LED Light Up Shuffleboard Table with Bowling - Walmart Link
Barrington Collection Shuffleboard Table - Available in Multiple Styles - Walmart Link
Barrington Urban Collection Shuffleboard Table - Available in Multiple Styles - Walmart Link
Playcraft Georgetown shuffleboard table - Walmart Link
Playcraft Telluride shuffleboard table - Walmart Link
Buy on eBay
American Legend Kirkwood 9' LED Light Up Shuffleboard Table with Bowling - eBay Link
Atomic 9' Platinum Shuffleboard Table with Poly-coated Playing Surface for Smooth, Fast - eBay Link
Hanover Indoor Full Size Butcher Block Shuffleboard Table, Brown - eBay Link
Playcraft Woodbridge Shuffleboard Table - eBay Link
American Legend Brookdale 9' LED Light Up Shuffleboard Table with Bowling - eBay Link
Barrington Collection Shuffleboard Table - Available in Multiple Styles - eBay Link
Barrington Urban Collection Shuffleboard Table - Available in Multiple Styles - eBay Link
Playcraft Georgetown shuffleboard table - eBay Link
Playcraft Telluride shuffleboard table - eBay Link