There are few recreational pastimes like darts. Darts requires skill and precision, but it is an intuitive game that is highly accessible to novices. Because of this, almost everyone can enjoy a good game of darts. This is why so many people choose to have their own dartboard. However, as you peruse the options, you will quickly realize just how many dartboards are on the market. One of the first brands you should consider is Arachnid.
This company is easily recognizable in the dart business. Getting its start in 1975, the company quickly expanded into dartboards and has made important innovations that still define the modern dartboard. When you buy an Arachnid dartboard, you can be confident that you are buying a product made for quality. Although all Arachnid dartboards are worthwhile, you will still want to find the one that best suits your needs. Use this buying guide to make your choice.
Editors' Picks: Top Arachnid Dart Board in 2022
Arachnid Dartboard
Size
Size is both a practical function and a recreational one. On the one hand, the size matters because the dartboard must fit in a specific location. If you have limited space for your dartboard, then you need one with a smaller footprint. The Arachnid Cricket Pro 650 is a good example of this. It has a smaller frame, which makes it easier to fit into any location. However, size also refers to the size of the playing surface. The professional size of a dartboard is 15.5 inches. Many Arachnid models including the Pro 650 feature this standard size for the best range of play. However, for smaller spaces, reduced playing surfaces are also available. The drawback of a smaller surface is that there is less usable play space, which can make the game less fun, less dynamic and less accessible.
Display Options
Many Arachnid models are now electronic. This means that the board will keep track of players and scoring for you. Therefore, these dartboards have displays. The nature of the display can be something to consider when you make a purchase. Most modern Arachnid dartboards have LED displays for superior visibility. Both the Arachnid Cricket 650 Standing dartboard and the Arachnid Cricket Pro 650 wall mounted board feature LED score displays. However, the layout of the display on the Cricket Pro 800 is a bit different with a more dynamic LED feature. This is usually a matter of preference, and you should pick an option that feels intuitive to you.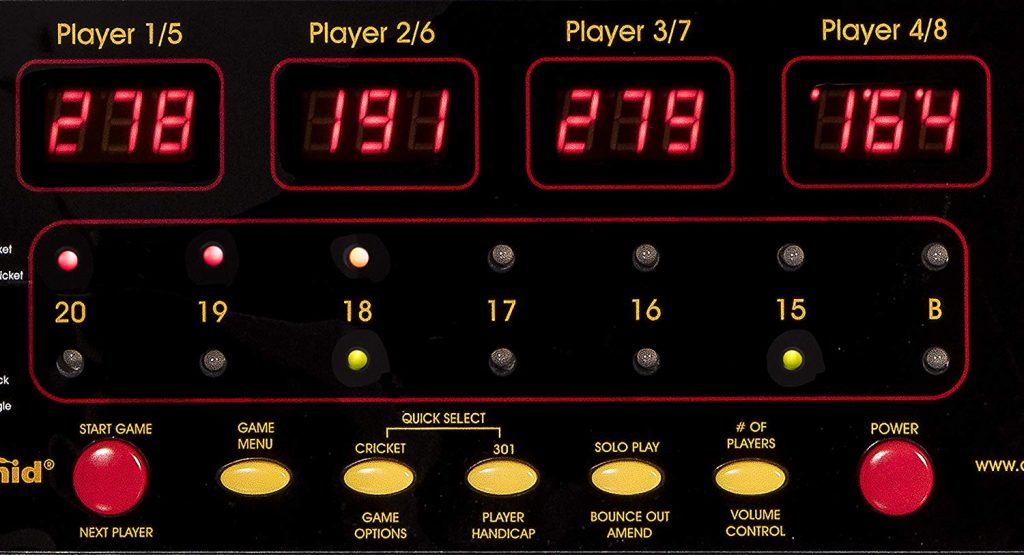 Number of Games
You can still buy dartboards with no frills, but one of the things that makes Arachnid boards so appealing is the scope of their interactive qualities. In other words, these dartboards come loaded with games for you to play. The number of games is a great way to make sure that your dartboard stays fresh. If you always play the same game, you might get bored. However, if you have options to pick from, then you are more likely to keep using your unit for years to come. When you choose the Cricket Pro 800, you get 39 games with 179 variations. The Pro 650, on the other hand, comes with 24 games and 132 variations. With this many games, you probably cannot go wrong either way.
Surface
One of the main reasons people are so loyal to Arachnid as a brand is because of its refined approach to making the board. All Arachnid boards made today feature NylonTough segments. This refers to the playing surface, which is extremely important in darts. This surface texture allows the dart to connect and stick to the board. Other brands have varying degrees of success with this, but Arachnid's NylonTough segments dramatically improve the quality of your play. They are also incredibly durable. This means that your dartboard will be usable for years to come. These Arachnid models also feature micro-thin segment dividers. Dividers are an important part of the game, but they can cause bouncing. Bouncing can be frustrating, which is why Arachnid has minimized its occurrence. The Pro 650, Pro 650 Standing and the Pro 800 all come with these standard Arachnid features.
Number of Players
A dartboard can be used by yourself or with a group. Obviously, if you want to play without interactive features, these dartboards can be used for an infinite number of people. However, if you intend to take advantage of the preloaded games, then you will also want to see how many people can play each game. These advanced Arachnid Pro models all come ready for eight players. This means that the game can track scores for up to eight people. Many of these boards feature a scoreboard that highlights four players at a time with small light indicators to show which player is currently up.
Darts
The board itself is a huge part of your decision. However, a dartboard on its own is pretty useless. You also need to look at the darts. Originally, darts had to be sharp in order to stay on the surface of the board. However, modern boards from Arachnid have small holes that allow the darts to connect and stay without a sharp point. These soft-tip darts are much safer and lead to fewer accidents and injuries. Soft-tip darts also ensure that surrounding surfaces do not get damaged during play. Soft-tip darts are not uncommon, but the Arachnid Pro line offers refined holes to maximize the sticking factor. This means that the Pro 650 and the Pro 800 are more responsive to your play. These models along with the Pro 650 Standing variation come with six darts to start.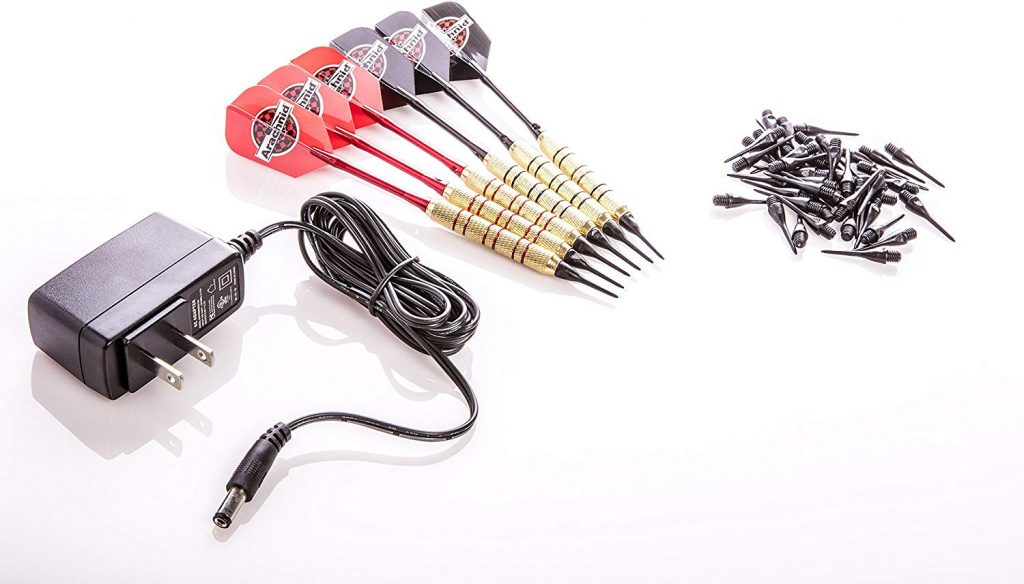 Installation
Some dartboards are meant to hang on the wall. The Pro 800 and the Pro 650 are prime examples of this. Therefore, these devices will come with the necessary mounting gear to aid with the installation process. While there will be detailed instructions for assembly included with these models, the user is typically responsible for the installation process. You will want to make sure you have the tools and the wall space needed to complete this process. The Arachnid Pro 650 Standing unit, by contrast, is designed to stand. This means that it has a full cabinet. Despite this fact, this cabinet is not meant to be freestanding. It should still be mounted to the wall for stability. The Pro 650 Standing takes up far more wall space accordingly.
Other Features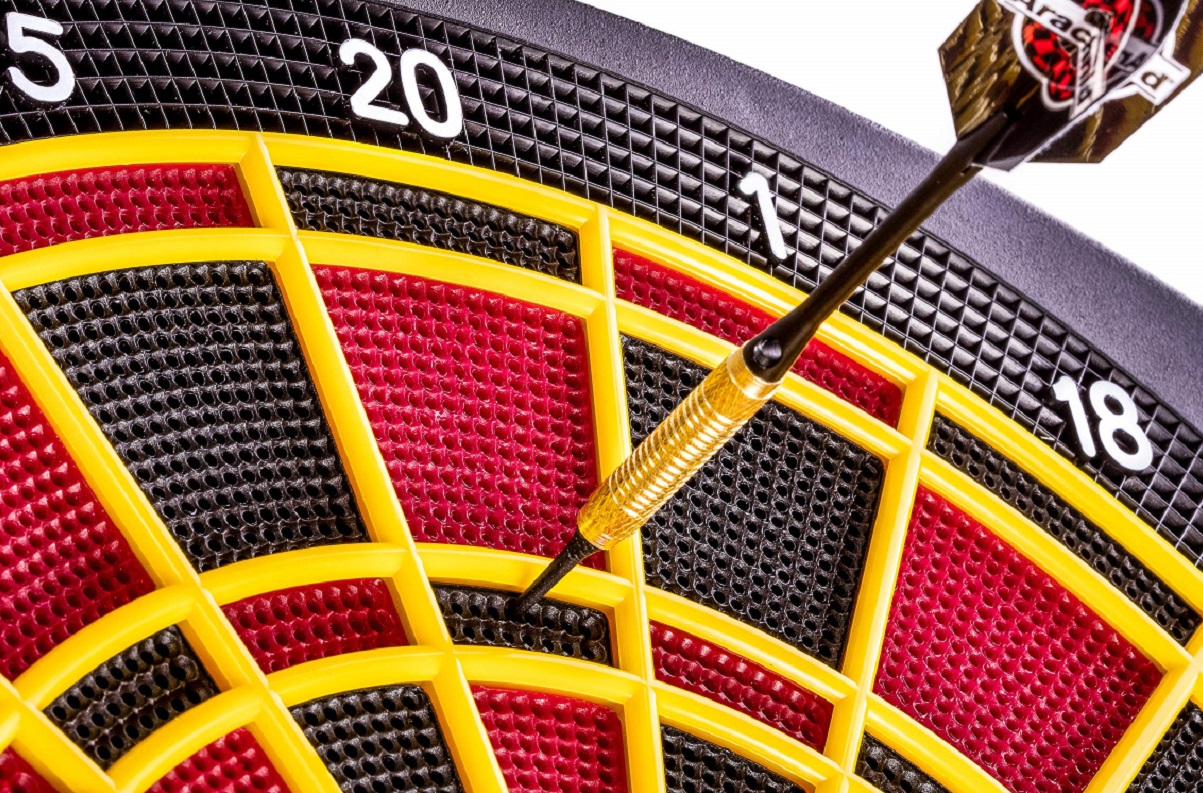 There are other nuances to look at when you are considering an Arachnid dartboard. Look at the sound functions. For example, the Pro 650 Standing unit has prompts for the next player to throw. The Pro 800 has heckler options, which can be turned on and off. The Pro 650 has a unique handicap feature that allows you to customize the playing field for each player involved. Everyone will have unique priorities for the game experience, which is why it is important to compare the options thoroughly before making your final decision.
The Bottom Line
The good news is that no matter which model you pick, Arachnid is always a brand you can trust for a good time. Between the Pro 650, the Pro 650 Standing and the Pro 800, you will surely find the right dartboard for years of fun.