So, you've got yourself a home dart board but you're looking to take your game to the next level. Well, getting a new pair of darts to play with might be just what you need. It's no secret that the darts packaged with boards aren't always the best quality. Sure, they're functional and you can play with them. But, if you take your game of darts seriously, nothing beating buying your own set that meets your needs.
To help you out with this, we have a guide below that helps you know what to look for when shopping, as well as a few recommendations on some of our favorite darts on the market right now.
Top Darts by Editors' Picks in 2022
Best Darts for the Money in 2022
The Different Types of Darts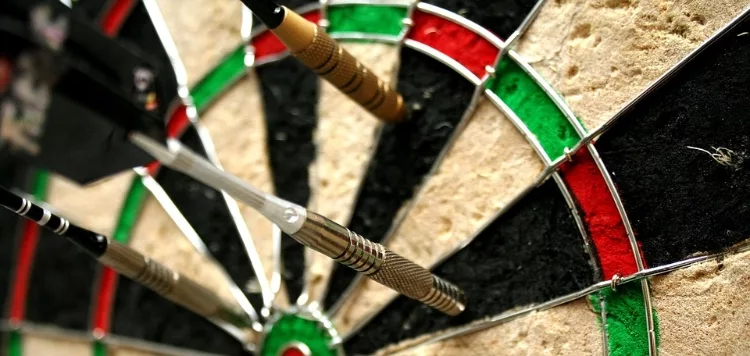 There are two categories of darts: steel-tip darts and soft-tip darts. Both types of darts are similar in appearance and all other features except for their tips which are designed for use on different types of dart boards.
Steel Tip Darts
Steel-tip, or hard darts, are designed for use on classic bristle dart boards which are normally made of cork, coiled paper or sisal fibers. The tip of the dart, also known as the point or the business end of the dart, is made of steel. The steel tip darts cannot be used on electronic dart boards because they can damage the dart board. Steel tip darts can weigh up to 50 grams but the most popular ones with dart game enthusiasts weight between 20 - 25 grams. The steel tip darts are available in two designs; fixed and moveable tips.
Fixed - point tips are the most common types of darts. They are compact and completely fixed in the barrel. They can be sharpened when they become blunt.
Moveable - point tips, on the other hand, are moveable as the name suggests. These darts don't bounce off the board easily owing to their special design. Another great advantage is that it is possible to replace the tips of moveable-point darts now and then when they become damaged and dulled.
Soft-Tip Darts
Soft tip darts are designed for use on electronic dart boards. The point of the dart is made from rigid plastic and although not soft per se; they weigh less than steel-tip darts. Different tip shapes are available for different electronic dart boards. The soft tips are maintenance free and easily replaceable if they bend or break. They are available in a variety of colors. The most common soft tip darts weigh between 14 and 16 grams.
The type of dart you choose depends on the type of your dartboard. However, soft-tip darts should be an important consideration if you have children in the house for safety concerns. If you're going for the more classic cork bristle dart boards, steel-tipped darts will come in handy.
The Weight Of The Dart
The weight of the dart is an essential consideration as it can affect the throw significantly. The dart weight primarily lies in the barrel which the middle part of the dart which you hold to throw it. Darts are available in different weights ranging from 14 grams right up to 50 grams, with the standard ones weighing between 21 - 27 grams and the most popular choices weighing 22 or 26 grams.
Most dart barrels are made from the tungsten alloy, which is a dense metal, making them heavier while remaining slimmer and more streamlined. The weight of the dart is determined by the amount of Tungsten contained in it. Heavier darts usually contain more tungsten and they are usually more expensive. A good rule of thumb for a beginner is to go for a heavier dart and then adjust to a lighter one depending on how comfortable you are.
The choice of your dart weight to a large extent is determined by the speed of your throw. Heavier darts require a harder and a swifter throw for an accurate flight. A lighter dart, on the other hand, requires less speed and effort. Lighter darts are best suited for more skilled players who have mastered their aim game, movement and release techniques which allows them to control the throw to achieve the desired dart accuracy.
There are various ways of weighing the dart; the back-weighted darts are weighted towards the rear while front-loaded darts are weighed in the front. Additionally, some darts are weighted evenly along the shaft. The type of throw determines the weighing method, for instance, an evenly weighed dart is most appropriate for a player who has a straight, flat throw.
The Grip Of The Dart
In addition to weight, the barrel plays another significant role in providing a grip. This is part of the dart which you hold with your fingers to throw. The type of grip largely depends on your personal preference but make sure you choose what feels comfortable in your hands. This is because the quality of grip determines the level of control, consistency and the accuracy of your throw. Dart grips vary from smooth to groove. A smooth barrel doesn't allow for enough grip on your dart and your fingers may slip off as you forcibly grip them onto the dart thereby affecting the accuracy of your throw. Similarly, an extremely grooved dart may give you a good grip but it may catch the skin on your fingers. For this reason, most players prefer moderately grooved grips which provide an easy grip for an accurate throw. Furthermore, a grip can be wide or thin depending on the type of metal used. Narrow grips are most popular with players because they are easier to group closer together on the dart board without interfering with each other.
The three different types of grips are:
Brass Grips are the most common types of darts because they are cheaper. They are the heaviest and widest grips but they wear out more rapidly, thereby changing the feel of the dart, compared to other types of grips. Brass darts are perfect for players who are learning darts and beginners.
Nickel-Silver Grips . Like brass grips, nickel-silver darts are fairly heavy but thinner and relatively cheaper. They tend to be denser and more durable than brass and therefore less likely to wear out as rapidly.
Tungsten Grips . Tungsten - the metal used to produce these darts- is twice as heavy as brass. A dart made from tungsten is durable and less likely to wear away. The metal can be pounded to produce a thinner dart half the size of an equivalent brass dart. As a result, they are easier to group on the dart board to achieve a maximum score. Tungsten grips are the most expensive of all and their prices vary depending on the amount of tungsten contained in the grip. The higher the percentage of tungsten used the more expensive the grip. The 4 common categories of tungsten grips are 50% to 70% Tungsten, 80% Tungsten (which is popular with beginners), 90% Tungsten (which is heavier, and easier to hold and throw.), and finally, the 95% to 97% Tungsten (which is the best and more expensive option with high density, thinner, more durable and feels better to throw).
Other Things To Consider
When you are deciding which darts to buy, your budget is another important part to consider. Make sure you buy what you are comfortable paying for, not what is expensive. Expensive does not always mean better. Although the less expensive darts may not match the quality standard of the more expensive ones, you can get a good functional set that fits your wallet. A cheaper set will be better if you're just starting out and you can graduate as you better understand the sport. Additionally, check for compatibility to accessories such as standard shafts, flights, and tips.
Should You Try Out The Darts Before Buying?
It is important to try out a dart before buying to know how your fingers feel while holding the dart. You should also never go looks alone. When buying darts, find a local store that specializes in darts and where they have a board where you can practice. Most pubs where darts is played also sell darts. Spend at least 1-hour practicing with different shapes and weights. Concentrate on how the dart feels rather than the hit. Narrow down your selection to at least two sets. The decision you make should have the right weight and the correct grip depending on your personal preference. It should also match your style and fit your budget. Remember to bring along your usual flights and shafts to try out the compatibility. If you're buying your first set, test with middle length shafts and standard flights.
Alternatively, you can order a selection of darts from an online retailer with a good return policy. That way, you can test them out with your home dartboard and see which you prefer to play with.
Playing darts at home can help you perfect your dart throwing skills as well as helping you bond with your family. There are many options of darts in the market to choose from and selecting the best one can be confusing overwhelming. If you're in the market for a new set of darts for your home, the above guidelines will help you find the perfect set for you. Whichever type you choose remember to have fun while playing!
Buy on Walmart
Ohuhu 12 Pcs Tip Darts with National Flag Flights (4 Styles) - Stainless Steel Needle Tip - Walmart Link
Ohuhu 24 Pcs Steel Tip Darts with National Flag Flights (4 Styles) - Copper Barrels, - Walmart Link
Wolftop 15 Pack Steel Tip Darts 18 Grams, Premium Darts Metal Tip Set with Aluminum - Walmart Link
CENTAUR 6 Pack Steel Tip Darts, Professional Metal Dart Tips Set 22 Grams with Aluminum - Walmart Link
Whimlets Steel Tip Darts Set - Professional Darts Steel Tip for Dartboard with Brass - Walmart Link
Accmor Steel Tip Darts, Professional Metal Darts, Darts Metal Tip Set, Metal Darts for - Walmart Link
CIKKUE Steel Tip Darts, 18 Pack Premium Professional Dartboard Darts Metal Tip Set with 4 - Walmart Link
Viper Blitz 95% Tungsten Steel Tip Darts - Walmart Link
Viper Super Bee Soft Tip Darts, 16 Grams - Walmart Link
Centaur Steel Tip Darts 20 Grams with Aluminum Shafts - Walmart Link
Viper Black Ice Soft Tip Darts - Walmart Link
Ignat Games Steel Tip Darts with Aluminum Shafts - Walmart Link
Viper Atomic Bee Soft Tip Darts - Walmart Link
Viper Diamond 90% Tungsten Soft Tip Darts - Walmart Link
Fat Cat Predator 80% Tungsten Steel Tip Darts - Walmart Link
Viper Desperado 80% Tungsten Soft Tip Darts - Walmart Link
Viper Bully 80% Tungsten Steel Tip Darts - Walmart Link
Buy on eBay
Ohuhu 12 Pcs Tip Darts with National Flag Flights (4 Styles) - Stainless Steel Needle Tip - eBay Link
Ohuhu 24 Pcs Steel Tip Darts with National Flag Flights (4 Styles) - Copper Barrels, - eBay Link
Wolftop 15 Pack Steel Tip Darts 18 Grams, Premium Darts Metal Tip Set with Aluminum - eBay Link
CENTAUR 6 Pack Steel Tip Darts, Professional Metal Dart Tips Set 22 Grams with Aluminum - eBay Link
Whimlets Steel Tip Darts Set - Professional Darts Steel Tip for Dartboard with Brass - eBay Link
Accmor Steel Tip Darts, Professional Metal Darts, Darts Metal Tip Set, Metal Darts for - eBay Link
CIKKUE Steel Tip Darts, 18 Pack Premium Professional Dartboard Darts Metal Tip Set with 4 - eBay Link
Viper Blitz 95% Tungsten Steel Tip Darts - eBay Link
Viper Super Bee Soft Tip Darts, 16 Grams - eBay Link
Centaur Steel Tip Darts 20 Grams with Aluminum Shafts - eBay Link
Viper Black Ice Soft Tip Darts - eBay Link
Ignat Games Steel Tip Darts with Aluminum Shafts - eBay Link
Viper Atomic Bee Soft Tip Darts - eBay Link
Viper Diamond 90% Tungsten Soft Tip Darts - eBay Link
Fat Cat Predator 80% Tungsten Steel Tip Darts - eBay Link
Viper Desperado 80% Tungsten Soft Tip Darts - eBay Link
Viper Bully 80% Tungsten Steel Tip Darts - eBay Link