If you play disc golf you already know how important it is to have a high quality disc golf bag in which to carry your discs and other equipment. However, if you are new to the sport of disc golf, or if you are looking to upgrade from a backpack or other carrying device, we have laid out the top 5 best disc golf bags for you to choose from.
Here we have provided reviews for several of the most popular and best selling disc golf bags currently on the market, and we have highlighted the pros and cons associated with each product. We have also included a Disc Golf Bag Buying Guide, in which we will explain in detail the various characteristics you should look for-and the factors you should consider-before buying one of these useful items.
Editor's Recommendation: Top Disc Golf Bags in 2022
Best Disc Golf Bags Reviewed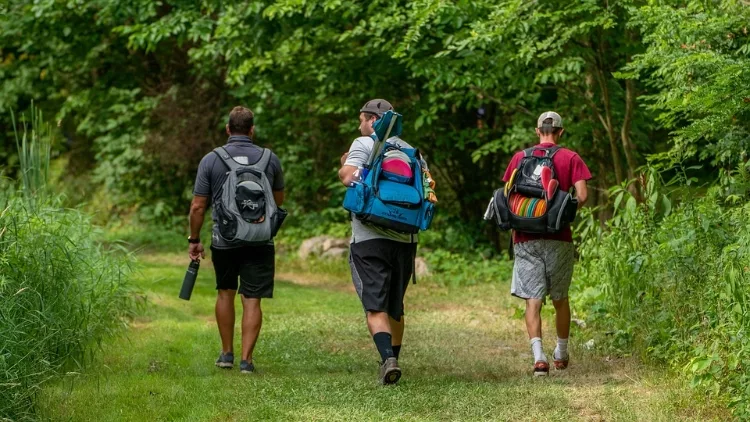 Now that you have seen a quick list of the best disc golf bags, here are reviews of some of the top bags. We have been sure to review some of the top brands - including Innova, Prodigy, and NutSac. Let use know in the comments below if there is another bag you would like to see reviewed.
1. Dynamic Trooper Disc Golf Bag - Best Overall Value - Link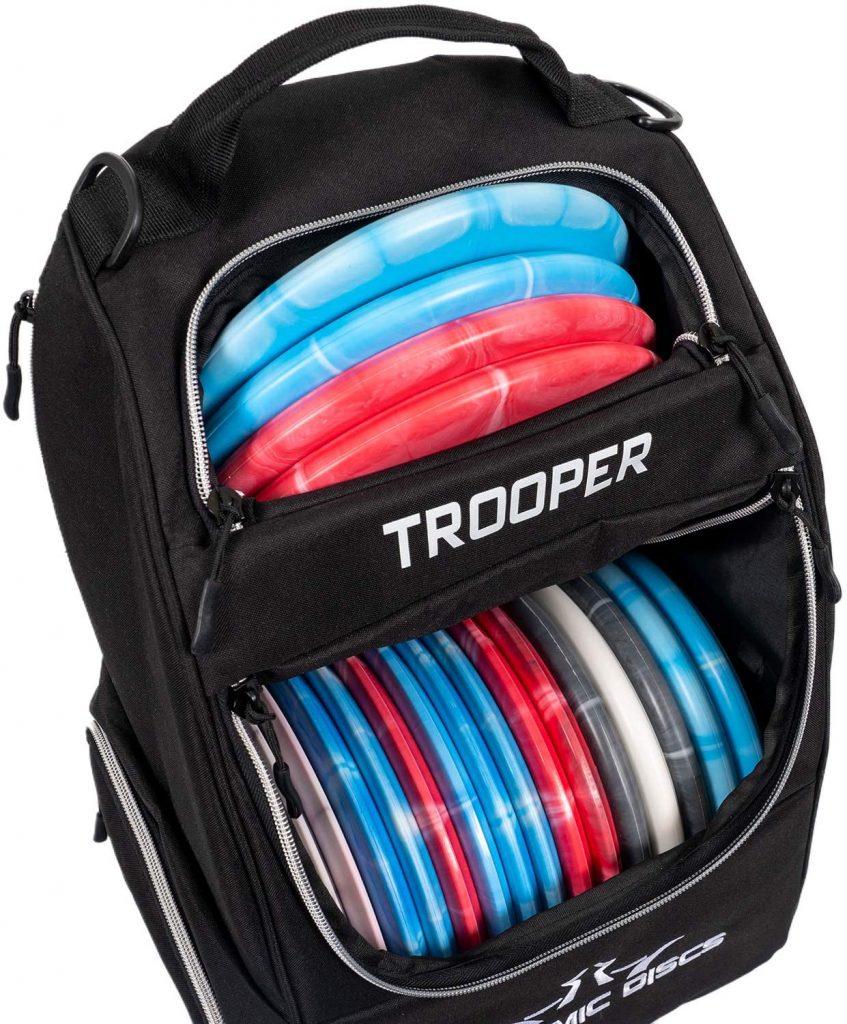 With a 18+ disc capacity, the Dynamic Discs Trooper Disk Golf Bag is beyond convenient. At a very cost-friendly price, this bag includes many worthwhile features for any golf disc aficionado and is at the top of our list of best disc golf bags.
The Dynamic Discs Trooper Disk Golf Bag has an array of colors to choose from: black, heather gray, artic camo, and heather blue. The spacious design makes carrying any and all items needed, whether for a short game or lengthy competition, simple and trouble-free. The backpack is lightweight, but durable all the way around. The backside of the bag is mesh and breathable, and also features reinforced and padded back straps. There is a handle up top as well.
The Trooper backpack features a spot for a 32 oz water bottle, but that isn't included. The side compartment has a drawstring for the bottle and will hold an even bigger bottle if needed. The backpack also features plenty of storage space for your extras. The right side has a storage pocket big enough to fit your hand inside. A scorecard, pencil, keys, and wallet could fit easily into this compartment. The user-oriented layout also contains two huge pockets on the back panel. For example, a towel, or other discs could fit easily in these pockets.
One of the backpack's best features is that the main disc compartment can holds 18 discs, with room for a few more. There is also velcro inside, so the bag can be propped to stay open when needed. A top compartment is also conveniently included, perfect for extra discs, putters, and even a hoodie for cold days. All in all, the Dynamic Discs Trooper Disc Golf Backpack, due to size, price and comfort, is one of the better disc golf bags on the market currently.
Pros
Sturdy: Low center of gravity-will remain upright
Size: Large enough to fit all items needed and extras
Pricing: Includes many different incentives for a great price
Cons
Strength & durability: There are some complaints listed about fabric tears and zipper issues
2. Prodigy Disc BP-1 V2 Disc Golf Backpack Bag - Link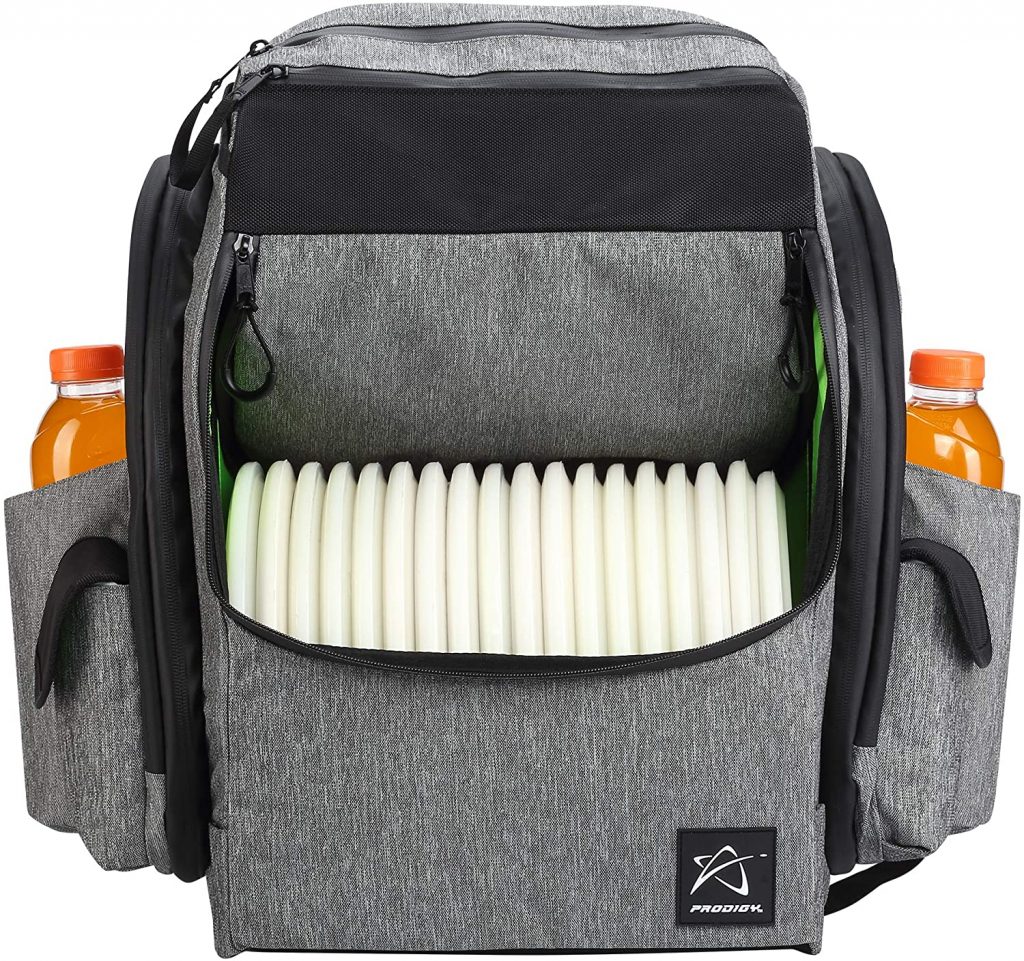 The Prodigy Disc BP-1 V2 Disc Golf Backpack is certainly a note-worthy bag for a frequent disc golf player. The available colors consist of black and heather gray, green and black, heather gray and black, and navy blue and red. The backpack consists of a main compartment with a 25 disc capacity, complete with dividers and side panels, and two spacious side pockets, perfect for goodies and extra discs. There is also a large storage pocket on the top.
The Prodigy backpack comes with a variety of perks. Not only is the bag water resistant, but it also comes equipped with an optional rain fly. There is also an umbrella slot and an accessory strap with Velcro, giving you options to stay dry while gaming on a rainy day. The back straps are very sturdy, padded, and can be connected by a clip. The shoulder blades and lower back areas of the bag are also padded for your comfort. You can conveniently adjust where the bag sits on the chest. The bag also sits off the ground and does not fall over easily. It also has compartments for an umbrella and two 32 oz insulated bottle holders.
Pros
Comfort: This bag has extra padding and adjustability, making your comfort a top priority.
Size: The Prodigy backpack has a very spacious front compartment with plenty of extra storage. This bag holds more discs than other similar bags.
Water Resistant: The material on the bag is water proof, and the bag also features an optional rain fly.
Cons
Convenience: Users of this bag said that it can be difficult to pull discs from the main compartment when full.
Price: This disc bag is expensive compared to other similar disc bags.
3. Innova Champion Discs Standard Disc Golf Bag - Link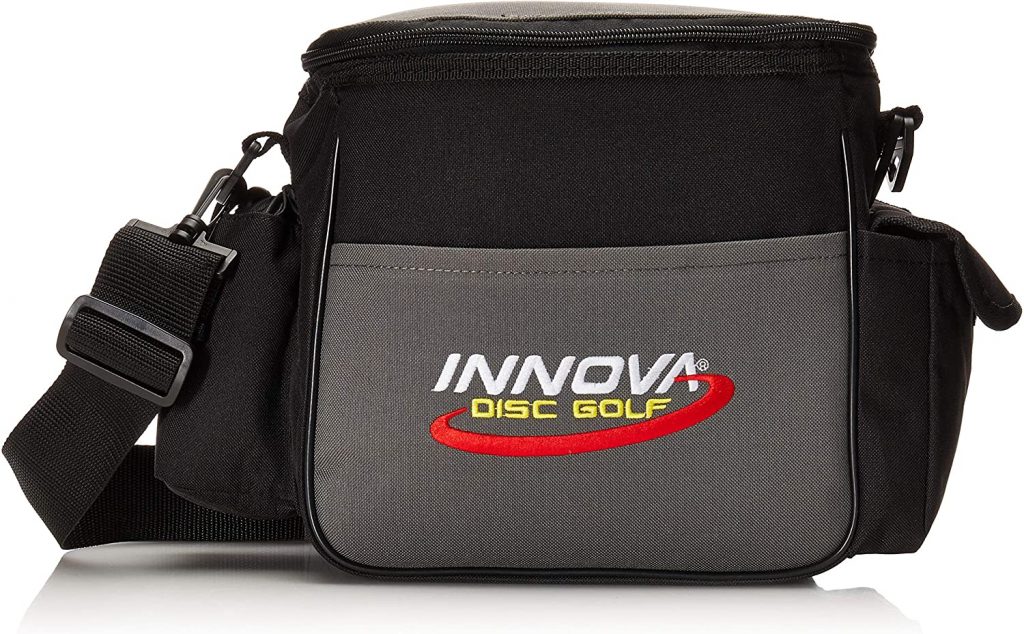 The Innova Standard Bag is the perfect disc bag for the novice disc golfer. There are three different available color choices, black and gray, blue and gray, and camo. The main disc compartment, which holds about 15 discs, is soft with velcro dividers, allowing you to arrange your discs in the desired order for playing ease. The front putter pocket is conveniently and quickly accessible and can hold a couple extra putters if you desire.
The Innova bag has quite a few advantages that you can benefit from. For example, the bottom of the bag is reinforced, making it hard to knock over, and is protected from wear and tear while you enjoy your game. The bag strap is padded for comfort and contains an inner mesh pocket. You can also find a small mesh pocket at the top of the bag, suitable for storing keys or other miscellaneous items, such as scorecards and pencils. A zippered rear compartment is featured, as well as a cinching bottle holder that will hold a bottle containing up to 32 ounces. There are two outer pockets for storage as well. The stylish and lightweight bag is water resistant and of high quality, especially for the price range.
Pros
Price: The Innova Standard Bag is the lowest priced bag on this list.
Lightweight: This bag is easy to maneuver and carry.
Cons
Size: The bag is relatively small, making it hard to fit extra items.
Protection of Items: The side pocket will open if not secure.
4. NutSac Disc Golf Bag - Link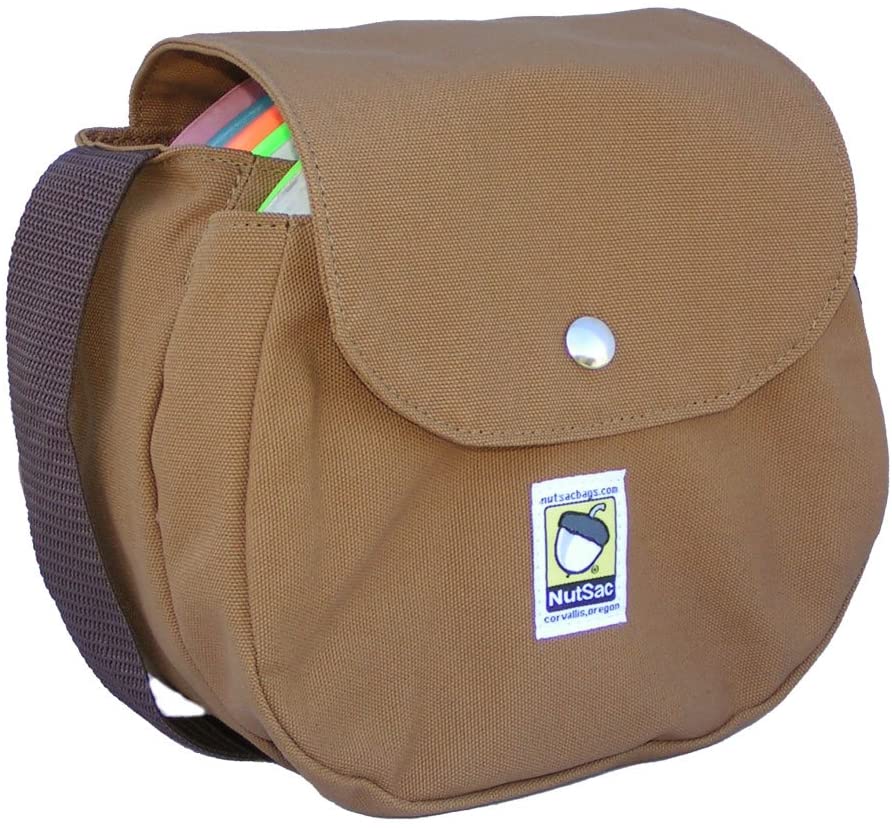 Although it is highly doubtful your mother would approve of the name, the NutSac Disc Golf Bag is a great starter bag for anyone just getting into the sport of disc golf. Although this disc golf bag is very small by comparison-with a carrying capacity of about 6-7 discs-it does allow players to carry only the most important discs-the discs they most frequently use-while leaving behind some of the more unnecessary ones in their arsenal. This translates to less weight in the bag and an easier bag to carry between holes.
The NutSac Disc Golf Bag is minimal, lightweight and extremely comfortable, and users say it wears very easily and provides a stable place for their discs. The disc golf bag also looks great. Crafted out of the very same Cannonball canvas used by popular work clothes manufacturers, the bag is available in a number of vivid colors to match your style. The bag is tough and durable, crafted entirely in the United States of America and bearing the US seal of approval; and it carries a Lifetime Guarantee against defects.
Pros
Durable. Made from tough and solid Cannonball Canvas, the NutSac Disc Golf Bag is one of the most durable disc golf bags currently on the market.
Lightweight. The material and design of this minimal disc golf bag makes it very compact and lightweight.
Lifetime Guarantee. Made in the USA, the NutSac Disc Golf Bag comes with a no-questions-asked lifetime guarantee against any defects caused by normal wear or use.
Cons
Small. Those looking for a large roomy bag in which to carry 10 or more discs should look elsewhere.
No extras. There are no added benefits to the NutSac Disc Golf Bag-no equipment pockets, no water bottles and no feet to keep the bag upright on the ground.
5. Athletico Power Shot Disc Golf Backpack - Link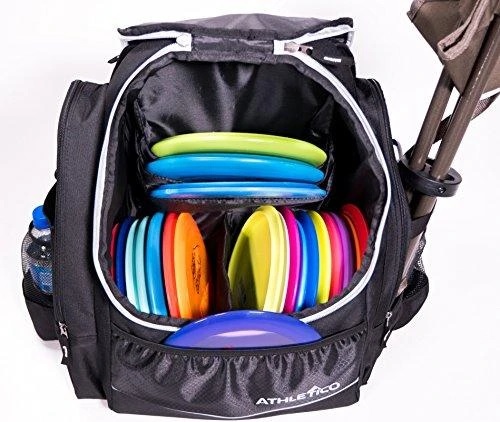 Listed at the cost-friendly price, the Athletic Power Shot Disc Golf Backpack is an ideal entry level backpack for disc golf players. There are two colors to choose from: black and blue. With a plethora of storage options and the feature of not one, but two 32 oz tumblers for hydration, this backpack offers a number of different perks.
The Athletico backpack has two side pockets with enough room to hold a hoodie on cold game days and a small pencil pocket. The right side pocket is insulated for the storage of cold items. The bag also stays elevated due to its plastic feet on the bottom. Inside, there is a single large pocket with an elastic bag. The front can hold a massive, impressive variety of up to 30 discs. The padding on the back of the backpack makes it conveniently comfortable as well. There is a pocket on the front flap as well as the bottom.
Pros
Affordable: The bag is affordably listed as one of the cheapest on this list.
Comfort: The backpack comes with extra padding and is lightweight.
Size: The Athletico backpack holds up to 30 discs.
Cons
Not Truly Waterproof: Although water resistant, there is no rain fly. Also, the canvas material up top can get wet.
Top Flap Issues: Users of this backpack have complained about the top flap. There is no way to secure the flap when open, so it may be inconvenient at times.
Disc Golf Bag Buying Guide
When shopping for your first-or next-disc golf bag there are many characteristics you should look for and some important factors to consider. To help you select just the right bag for your unique situation and preferences, below we have highlighted some of those considerations.
Disc Capacity
How many discs can the disc golf bag carry? This is perhaps the most important consideration. If you are new to the game and have yet to acquire a good number of discs, you may be able to get away with a smaller bag, one that is also probably lighter and a bit less expensive. However, if you are a seasoned player, with 12 or more discs, you should select a disc golf bag that can hold these discs easily. You may also want to get one that has slots for your individual discs. This will help you retrieve the right one each time without always digging through your bag.
Equipment/Storage Capacity
Apart from having the proper amount of disc capacity, you will also want a disc golf bag with just the right amount of storage capacity for your other gear and extras. Some bags are large and roomy enough to accommodate a sweatshirt or rain gear, along with all of your disc golf equipment, while others are very minimal in nature and thus a bit more budget friendly.
Water/Beverage Holders
When it comes to disc golf bags, some have a water bottle holder and some do not; and we recommend you skip over the latter. A water bottle holder is a very convenient addition to any disc golf bag, and it might be a lifesaver on those hot summer afternoons. Some bags even have two water bottle holders. While this may seem like a bit of overkill, it does help to balance the bag out evenly while also providing a place to put two drinks-one for the front nine and one for the back nine.
Stability
When we speak of stability in terms of a disc golf bag, we are talking about how well the bag can stand up on its own when placed on the ground-an important consideration if you do not want to spend your day picking up the spilled contents of your bag. We recommend you look for a bag with integrated rubber or plastic feet at the bottom of the bag, as these are much more stable than those disc golf bags without this feature.
Shoulder Strap Style vs. Backpack Style
Disc golf bags come in two varieties: those with a shoulder strap and the type made into a backpack. Although the backpack disc golf bags are much easier to carry, they also require you to set your bag down every time you need a new disc. With the shoulder strap style, you can actually reach in and retrieve a disc as you walk. In the end, backpack vs. shoulder strap is really more a matter of preference than it is quality, but seeing that you will have to remove the bag anyway in order to throw the disc, we recommend going with the easier to carry backpack style.
Waterproof/Water Resistant
Finally, if you live in, or plan to play in areas that are often wet and rainy, you may want to choose a disc golf bag that is at least water resistant (most are not totally waterproof). Made from vinyl and other manmade fabrics, these types of bags can help keep your discs and gear dry on wet and rainy days. If you do not opt for a bag that is water resistant, you can always buy a rain cover for your disc golf bag, which will help keep your gear covered and protected on damp courses.
Buy on Walmart
Dynamic Discs Cadet Disc Golf Bag | Introductory Disc Golf Bag | Great for Beginners and - Walmart Link
Dynamic Discs Trooper Disc Golf Backpack | Frisbee Disc Golf Bag with 18+ Disc Capacity | - Walmart Link
MVP Disc Sports Voyager Backpack Disc Golf Bag - Walmart Link
Dynamic Discs Paratrooper Disc Golf Bag | Frisbee Golf Backpack Bag with 18+ Disc - Walmart Link
MVP Disc Sports Nucleus Tournament Disc Golf Bag - Walmart Link
Dynamic Discs Cadet Disc Golf Backpack | Frisbee Disc Golf Bag with 17+ Disc Capacity | - Walmart Link
Dynamic Discs Trooper Disk Golf Bag - Walmart Link
Click HERE for Price - Walmart Link
Prodigy Disc BP-1 V2 Disc Golf Backpack - Walmart Link
NutSac Disc Golf Bag - Walmart Link
Click Here to View Price - Walmart Link
Athletic Power Shot Disc Golf Backpack - Walmart Link
Buy on eBay
Dynamic Discs Cadet Disc Golf Bag | Introductory Disc Golf Bag | Great for Beginners and - eBay Link
Dynamic Discs Trooper Disc Golf Backpack | Frisbee Disc Golf Bag with 18+ Disc Capacity | - eBay Link
MVP Disc Sports Voyager Backpack Disc Golf Bag - eBay Link
Dynamic Discs Paratrooper Disc Golf Bag | Frisbee Golf Backpack Bag with 18+ Disc - eBay Link
MVP Disc Sports Nucleus Tournament Disc Golf Bag - eBay Link
Dynamic Discs Cadet Disc Golf Backpack | Frisbee Disc Golf Bag with 17+ Disc Capacity | - eBay Link
Dynamic Discs Trooper Disk Golf Bag - eBay Link
Click HERE for Price - eBay Link
Prodigy Disc BP-1 V2 Disc Golf Backpack - eBay Link
NutSac Disc Golf Bag - eBay Link
Click Here to View Price - eBay Link
Athletic Power Shot Disc Golf Backpack - eBay Link