Although certainly not a mandatory piece of equipment, a gaming headphone or headset stand is a great piece of gear for organizing your gaming desk and work area. To help you make the most educated buying decision when you set out to purchase one of these great organizational items, below we have reviewed several of the hottest, most popular and best-selling headphone stands currently on the market today, and highlighted the pros and cons associated with each product.
We have also included a Gaming Headphone Stand Buying Guide, in which we will discuss the various factors and traits you should look for and consider when buying one of these popular gaming items.
Editor's Recommendation: Top Headphone Stands in 2022
Best Gaming Headset Stands for the Money (2021)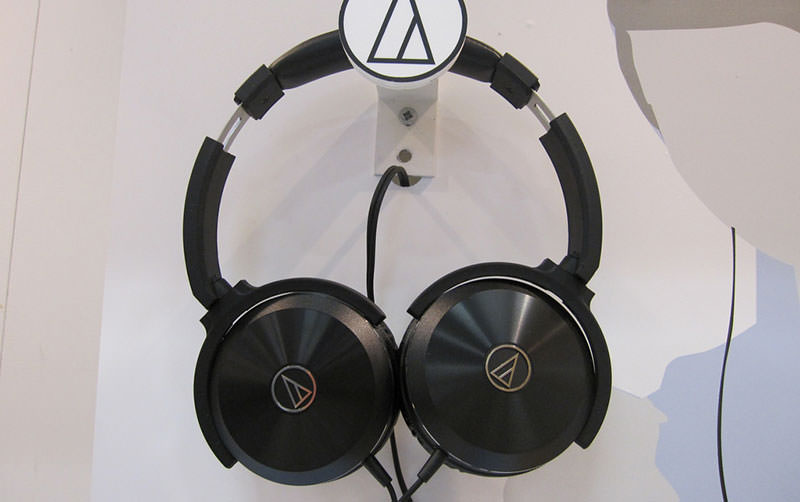 Just Mobile (HS-100) HeadStand - Link
As a serious gamer, we are guessing that a lot of consideration was involved when purchasing your headphones or headset. Because of this, it just doesn't make any sense to just throw these headphones down on your gaming desk (or worse, the floor) after you have finished a gaming session. This is where the Just Mobile (HS-100) HeadStand comes in. The Just Mobile (HS-100) HeadStand is the ideal place to hang your top-of-the-line headphones when they are not in use. The headset stand is precisely engineered from the finest aluminum materials, and its design helps to keep your headphones always within reach and easily accessible.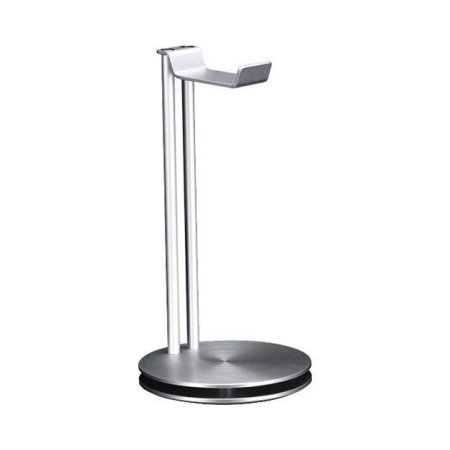 The dual-layered aluminum base on the Just Mobile (HS-100) HeadStand is unique in that it includes a handy storage space in it-a storage space in which to keep your headphone cable, keeping your gaming desk just as organized as your many moves while playing your favorite game. The company that manufactures these headset stands-Just Mobile-began in 2005 with a singular mission: to manufacture and provide the most modern and chic mobile accessories in the world. They are the same company that brought you the Xtand-the world's first iPhone stand, which came out in 2007-and their headphone stand is now one of the most best-selling of its kind on the planet.
Pros
Simple and sturdy. The simple design of the Just Mobile (HS-100) HeadStand makes it very sturdy and durable.
Storage Space. The base of the Just Mobile (HS-100) HeadStand has a small compartment in which to store the headset cable, keeping it out of the way yet always within reach.
High-quality material. The headphone stand is made from only the highest quality and strongest aluminum materials.
Cons
Leaves indentation. If the headset hangs too long on the Just Mobile (HS-100) HeadStand it can leave an indentation on the top strap of the headphones.
Hard to wrap the cord. Some reviewers have complained that it is often difficult to wrap the long cord of your headsets on the headstand (when not using the storage compartment).
Avantree Aluminum Gaming Headset Stand - Link
Akin to a comfort station for your headphones or headset, the Avantree Aluminum Gaming Headset Stand is a great way to keep your gaming desk neat and tidy, giving you a permanent place to hang your headphones and their often tangled wires when not in use. The sturdy aluminum base on the headset stand is very nicely designed. It gives you the perfect place to wrap the cord of your headphones-the piece that can make any gaming desk look cluttered if not stored properly. The hanger of the headset stand is made with tough steel that has been blended with silicone, which ensures the stand will remain scratch free for as long as you own it.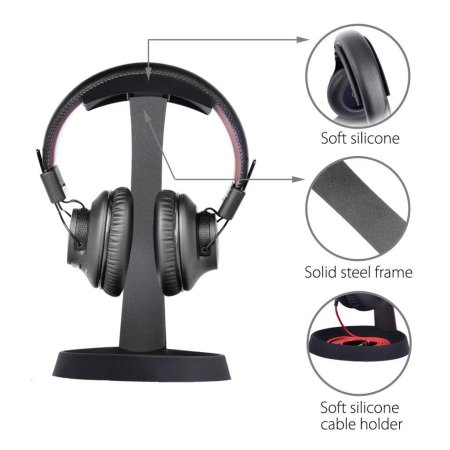 Users of the Avantree Aluminum Gaming Headset Stand do not have to worry about their headphones getting "hung out of shape." That's because the contact zone of the top silicone pad-where the stand meets the headphones-is just wide enough to keep your headphones in their original condition. The headset stand is a convenient organizer first and foremost, but it is also a great looking accent piece that looks awesome on any gaming desk-a piece that sends a signal that you are serious about your gaming and gaming equipment. Boasting a wonderful blend of simplicity with functionality, the Avantree Aluminum Gaming Headset Stand is definitely a must-have for the regular gamer.
Pros
Silicone Finish. The silicone finish of the Avantree Aluminum Gaming Headset Stand ensures that the item will never become scratched-and will never scratch your headphones.
Wider contact zone. The wider contact pad on this headphone stand ensures a great fit without having to squeeze your headphones to size.
Aluminum Base. The high-quality aluminum base on the Avantree Aluminum Gaming Headset Stand includes a handy place to keep tangled cords at bay.
Cons
No USB Port. Unlike some of the more higher end products of this kind, the Avantree Aluminum Gaming Headset Stand does not include a USB port for charging.
Base can get scratched. According to more than one reviewer, the base of the Avantree Aluminum Gaming Headset Stand, which is not treated with silicone, can become scratched from the cord.
AmoVee Acrylic Headphone Stand - Link
Ergonomically designed with gamers in mind, the AmoVee Acrylic Headphone Stand offers you a superb way to keep your gaming desk organized and your headphones always at arm's reach. Those who like to ensure that everything has "its proper place" will fall in love with this headset stand from AmoVee. Measuring about 10 inches in height, 2.5 inches in width and boasting a thickness of.24 inches, the headphone stand is the perfect size for any gaming desk, allowing you to properly store your headphones when not in use while also freeing up the clutter on your desk for other projects. Incredibly sturdy, users will experience no "wobble" whatsoever with this headphone stand, as the base keeps it in place even during the most raucous gaming sessions.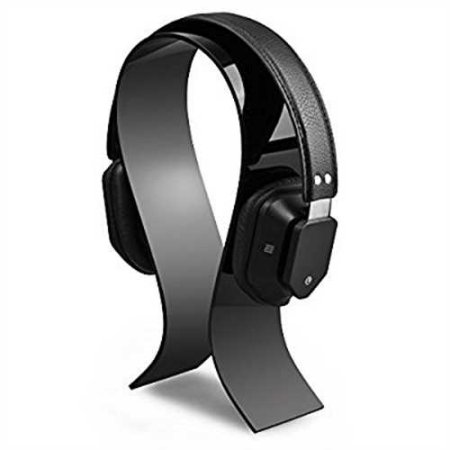 Made from a tough acrylic material, the AmoVee Acrylic Headphone Stand is universally-sized to fit any headphone on the market. Its base includes a handy place to stow away tangled cords, and the contact zone helps headphones to always keep their shape and integrity. Priced to sell, this is one of the most budget-friendly headphone stands currently on the market; and because the AmoVee company believes so strongly in the strength and integrity of this product, purchasers will receive a 12-month, no-questions-asked money-back guarantee at no extra cost.
Pros
Lightweight. Made with an acrylic material, the AmoVee Acrylic Headphone Stand is very lightweight and maneuverable.
Compatible with most if not all headphones. From Panasonic to Sony to Samsung, the AmoVee Acrylic Headphone Stand is compatible with most headphone types.
Guaranteed. The AmoVee Acrylic Headphone Stand comes with a 12-month guarantee in which users can get a full no-questions-asked refund.
Cons
May overstretch the headphones. Depending on the type of headphones you have, some users have noted that the AmoVee Acrylic Headphone Stand can rarely overstretch the headphones.
No rubber pads. While some headphone stands have rubber feet to keep it steady on the gaming desk, this offering from AmoVee does not include this fairly important feature.
What to Look for in a Gaming Headset Stand
If you have decided you need a quality headphone stand to tidy up your gaming desk or music station, you may be tempted to rush out and buy the first one you see at the lowest cost. However, before you do this we recommend that you first read this Gaming Headphone Stand Buying Guide, in which we have outlined some of the most important factors and characteristics to look for when buying one of these products. At the end, you may find that you need to spend a little more than you originally thought-but this will be money well spent, as you'll be sure to get a headphone stand that meets all of your needs and preferences.
Types of Gaming Headphone Stands
There are essentially two types of gaming headphone stands: freestanding headset stands and under-the-desk headphone stands.
Freestanding Headset Stands. As the name implies, freestanding headset stands are those that stand independently on your gaming desk. They usually include a heavy base piece or foundation to keep them from sliding around.
Under-the-Desk. If you really want to free up space on your desk you can go with an under-the-desk headphone stand. These headphone stands are usually affixed or clamped under or just outside the desk on the vertical side. Unlike freestanding headphone stands, these are not portable and will first have to be unfastened before you switch it to another desk.
Material
The material used to make your gaming headphone stand is another important consideration. These stands can be made from a variety of materials, some stronger than others, such as steel, aluminum, acrylic, fiberglass, plastic, wood and more. If you have a sleek and modern gaming desk, one made with metal and glass, for example, you may want to opt for a material that blends in nicely with this theme, such as aluminum or sleek stainless steel. However, if you want a more rustic feel, a wood headphone stand, one that has been treated and stained, always looks great on an older wooden desk.
Strong Base
If you opt to go with a freestanding gaming headphone stand, such as those we reviewed above, you should pay especially close attention to the base of the stand. This base or foundation should be fairly heavy and sturdy in nature to prevent the stand from tipping over or sliding around on the desk. Also, look for a base that includes some form of rubber on the bottom of the base piece, as this material will help the gaming headphone stand stay in place as you play.
Cord Storage
Some gaming headphone stands have a hook on the base on which to wrap the cord around, thus keeping it out of the way but still visible. Other headphone stands have a hidden compartment in the base where the wound cord can be stored out of sight. If the ultimate in tidiness is what you are looking for, we recommend a product in the latter category, even if it does add a couple bucks to the overall price.
Lastly, you should look for a wide contact zone. The contact zone is the area on the gaming headphone stand where the headset meets the stand. Be sure to look for a stand that has a wide enough contact zone to hold your headphones "as is," without having to squish or compact the headset in an effort to make them fit correctly on the stand.