Once you have purchased the perfect gaming PC tower or laptop, along with a myriad of modern games in the genre of your choosing, your new gaming headphones, a gaming mouse and a gaming mouse pad, you are going to need a place to put everything. That's where the perfect gaming desk comes in.
Gaming desks are designed with the serious gamer in mind. They include things like retractable keyboard trays to avoid repetitive movement injuries; multiple storage options and plenty of surface space to help you manage all of your gaming gear. But which gaming desk is the right solution for you based on the style and floor plan of your game room and your various needs and preferences? This is a question we will help you answer today via the article below.
In the following piece we have reviewed several of the most popular and best-selling gaming desks currently available on the market today, and highlighted some of the pros and cons associated with each of these models. We have also included a comprehensive Gaming Desk Buying Guide, in which we will highlight and define the various characteristics you should look for when purchasing one of these desks; and some of the major factors you should consider when doing so.
Top Gaming Desks by Editors in 2022
Best Gaming Desks For Streaming, Dual Monitors, Couch Gaming & More! (2021)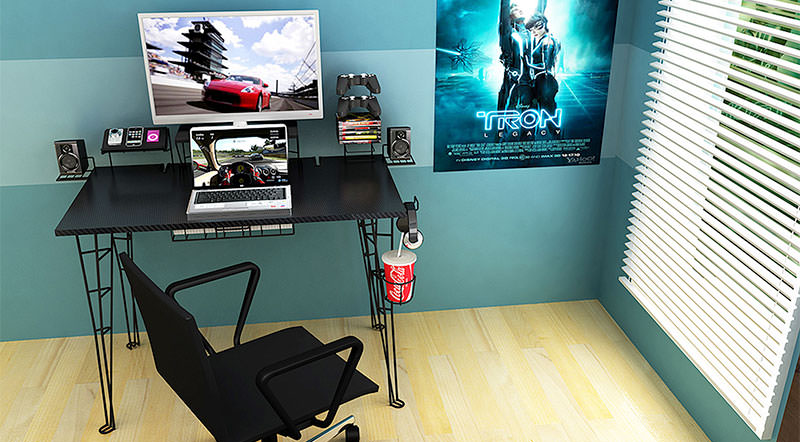 If you're a serious home gamer looking for the perfect desk to do all of your gaming, then we highly recommend the selected models above. Whether you prefer to do your gaming from your couch or sitting at a desk with dual monitors, these desks get the Gaming Weekender seal of approval.
Atlantic Gaming Desk Pro - Overall Best Gaming Desk For The Money
If you do a lot of gaming at home and want the perfect dedicated gaming space at a reasonable cost, then this pro gaming desk from Atlantic is definitely what you need to check out. Here at Gaming Weekender, this is our #1 pick for gaming desks because this thing is just awesome. You can tell it was built for gamers by someone who knows us.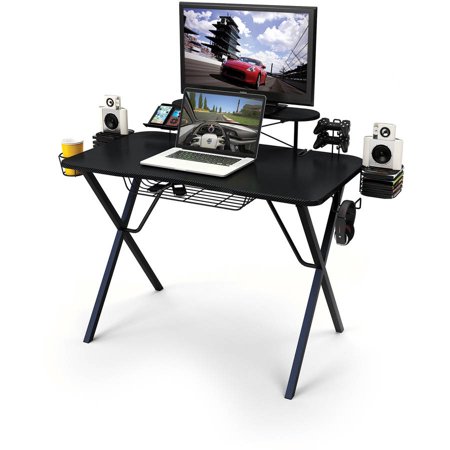 I mean, it has room for speakers, room for controllers, room for a monitor and a laptop, a place for your drinks and snacks, a headphone holder, and so much more. And we really like how minimalist it is so that there aren't a lot of surfaces to gather dust, because let's face it, we're not doing any cleaning!
Here at the top features of this awesome gaming desk:
All-in-one professional gamer desk with gamer-inspired storage
Ample room for your monitor, PC, laptop, gaming gear and more
High-tech carbon fiber laminated MDF top and durable steel leg construction
Built-in metal wire holders for your headphone, 10 video games, 6-inch by 5-inch speakers, controllers and an underside basket for extra swag or snacks
Cup holder
Cable management slots and an underside surge protector basket
Tablet and phone charging station
Based on the features, we think that this is hands down the best value for your money right now. It should have all the features that any PC gamer needs, with plenty of storage and such for gamer geeks to add more gear to the mix.
Here's what we really like about it:
Tons of cool storage options
Very sturdy
Quick and easy to assemble
Can use laptop and external monitor at the same time
Dedicated space for drinks and snacks (you can fit a 32 oz. drink with a little room to spare!)
Built-in charging station
And, we only have a few minor gripes about this one. Here's what we think could be improved:
Only enough storage space for 10 video games
Monitor stand isn't that deep and could support something bigger. (It only supports 40 lbs and up to 32-inches).
It is a small desk, so if you have a lot of equipment it might not be big enough for you.
One thing to keep in mind with this desk is that you don't have to actually attach all of the extra stand and pieces. For instance, if you are a dual monitor gamer, then you can instead attach a dual monitor mount. It's really up to you how you to decide to build out this awesome little gaming desk.
Atlantic Gaming Desk - Best Cheap Gaming Desk
If you're shopping for the best gaming desk under $100, then you might come across this model from Atlantic. Depending on where and when you buy it, you just might be able to score it for that low price. But even if you can't, we still suggest that gamers on a budget pick this desk for their home gaming. Let's face it - the price is very affordable for most gamers and it's one of the cheapest options on the market.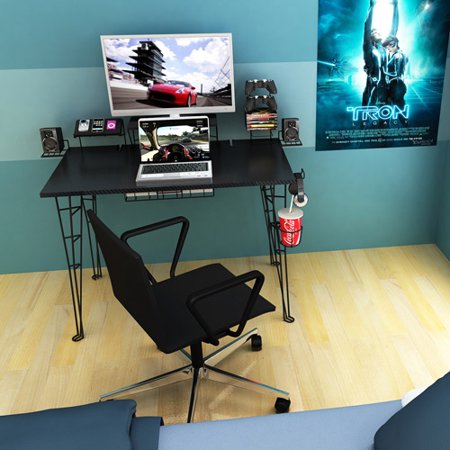 Here at Gaming Weekender, we think that this is definitely your best choice based on price and quality if you need to go with something that is low priced. Just look at it - this desk is made with gamers in mind and it shows. It actually shares a lot in common with the Atlantic desk above.
Here's some of the features we like about this desk:
Monitor stand
Can use a laptop at the same time
Features a charging station
Game desk with storage drawer
Seems sturdy and durable
Has space for 9 dvd/blu-ray games, 2 game controllers, 3 mobile devices, 2 speakers, drink holder and headphone storage hook and surge protector tray
So, it's a basic gaming desk that has just enough features to be useful but not enough for the hardcore gamer.
Here are some of the things we're not crazy about with this one:
Monitor stand only fits 27 inch flat panel monitor up to 40 lbs
Storage tray is very small/thin and not practical for most gear
Monitor stand not very sturdy - wobbles if desk gets bumped
For the money, this is a great option if your primary concern is sticking to a budget of around $100. However, if you are a more serious gamer who can afford to spend a bit more on a new gamer desk, then we suggest that you go with the Atlantic Gaming Desk Pro model up above.
COUCHMASTER Cycon - Best Couch Gaming Desk
If you're the kind of gamer who has a large TV or monitor screen mounted on the wall with a large comfy couch or lounge chair in front of it, then you need an awesome couch gaming desk. And we think that the best option for you is the COUCHMASTER Cycon.
We just love this thing because it is so comfortable and each to use while reclined back on the sofa. Honestly, is there a more perfect gaming setup? We think not!
Here are some of the awesome features that we love:
4 port USB-3.0 hub integrated
Internal cable management system
Ergonomics focused - memory foam cushions support your arms
Adjustable laprest legs to fit most any body size
Lag free by 5m active USB-3.0 cable connection!
Positionable mouse pocket
Useful side pocket for keeping your gaming tools/remote controls/drinks close at hand.
Mouse pad can be moved to the left side for all the lefties out there!
As you can see, there is a lot to like about this couch gaming lap desk. However, there are a few things that we think could be improved.
Things we're not crazy about:
Optimized for wired devices instead of wireless devices
It's faux leather and you have to spend around $500 to get the real leather model
Cushions don't fit on some recliners, leaving you with just the lapboard
Overall though, we think that this is the perfect choice for PC gaming from the couch. And it's definitely the most comfortable version that we've come across so far.
iSkelter Hover X+ Ultimate Gamer's Lap Desk - Best Cheap Lap Desk for Gaming
If the COUCHMASTER Cycon is a bit too much for you, then consider this cheaper and smaller option from iSkelter. The Hover X+ is a more minimalist lapdesk for couch gaming and it's designed to work perfectly with your gaming laptop.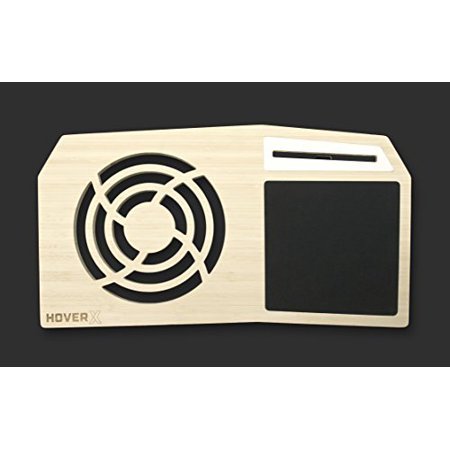 A cool thing about this one is that this gaming lapdesk is made in the USA, if that matters to you. And it actually launched on Kickstarter back in 2015. In addition to those two facts, there are some cool features in this one that we like.
Here's what we like about it:
Built-in large size gaming mousepad
Vents to prevent overheating
Mobile dock for your tablet or phone
X+ model fits 17-in laptops, or you can get the X model for smaller laptops
Made of premium bamboo
Feels very sturdy
Now, here's what we don't like about it:
For such a minimalist lapdesk, the price seems a bit high
Mousepad cannot be moved for lefties
Built-in mousepad doesn't seem to be the highest quality
Phone/tablet slot not wide enough to fit your phone/tablet with a case on
Overall though, this is a decent choice if you want a quality gaming lapdesk under $100 that will fit a large laptop. But, we don't know if this is a good choice for everyone. But, if it meets your needs, then we do think that it is a decent choice.
Atlantic Eclipse Space Saving Gaming Desk - Best For Dual Monitors
If you're a dual monitor gamer who doesn't want a giant desk taking up most of the room, then check out this space saving model from Atlantic. It's no secret that we're fans of the gaming desks that Atlantic makes, and this Eclipse model is another one of our favorites.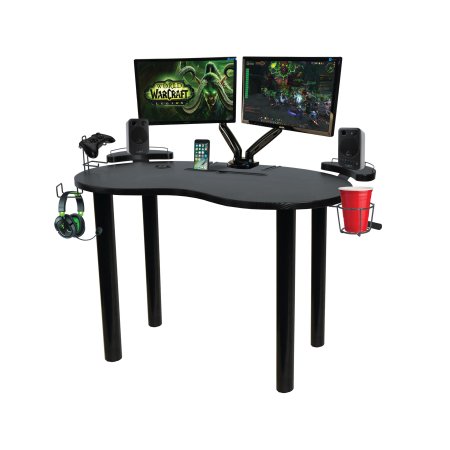 As you can see in the image above, this small gamer's desk has enough space for two gaming monitors and storage for some of your gaming gear. We're big fans of this model and highly recommend it to dual monitor gamers.
Here's what we like about this one:
Rounded surface offers great ergonomics
Enough space for a dual monitor mount + laptop
Storage for speakers, headphone/VR headset, game controllers and more
Wire storage basket for games
Power strip basket with two wire management slots to keep wires hidden
Easy to assemble
Here's what we don't like:
Surface size might be a bit too small for a racing wheel or lots of gear
Storage is minimal, so not ideal for heavy gamers
Monitor brackets not included.
Overall, this little gaming desk is ideal for a small space - especially if you want to game with dual monitors. Even if you don't need two monitors, it is still great for small spaces. But keep in mind that the monitor brackets are not included with the desk, so that will be an additional purchase for you.
Aroi Arena Gaming Desk - Best Premium Desk for 3 Monitors
If you're trying to go pro with your gaming, then your setup might include a whopping three desktop monitors. But where will you put all those screens? How about this desk from Arozzi.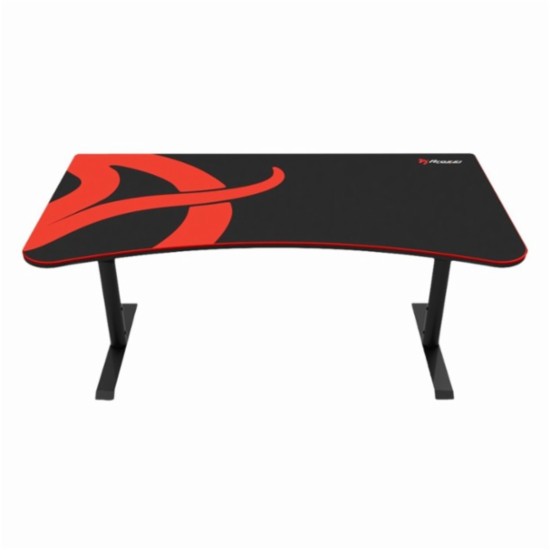 This is really more of a premium gaming desk as it has a higher price tag than most options. It is also a lot bigger and it has enough room for three monitors.
Here's what we like about this one:
Tons of surface space (even with 3 monitors set up!)
It is available in five attractive colors: red, blue, green, white and black
You can adjust the feet to stabilize the desk
And just loosen the screws to set up the height
Curved surface offers great ergonomics
Very sturdy and can support 176 lbs!
Good cable management system
14 square feet of water-resistant machine-washable mousepad surface liberates you to game with new intensity
Built with and for eSports players
Here's what we don't like about it:
Cost is rather expensive compared to most gaming desks
If you don't get it assembled just right, there is some wobble
Probably the biggest complaints that we hear from other gamers are that the price is high and that the desk wobbles. Honestly, the wobble issue doesn't seems to affect everyone, which leads us to believe that this is just a user error. We suggest that you follow the assembly directions to make certain you're putting it together correctly to reduce that chance of wobble. Cause no gamer wants their monitors to fall off the desk!
Reasons To Buy A Gaming Desk
You might be wondering if you really need a gaming desk. After all, you could spend that money on a new game, right? While that may be true, the benefits of having a gaming desk for your PC gaming sessions far outweigh the benefits of using that money to buy another game.
Here are some of the reasons that you need to get yourself a dedicated gaming desk or lap desk for gaming right now:
Better Optimized Space. When you get a desk that was designed for gamers, you end up with more space for all of your gaming gear and just an overall better gaming experience. And this is true whether you're buying a lap desk or an L-shaped desk. Plus, if your new desk has storage space, that is even better for making the most of your space.
Your Body Is In Pain . You might not notice it that often, or even give it much thought, but the poor posture and your current setup are killing your back. And let's not even get started on carpal tunnel risks! When you buy a proper gaming desk (and chair), then you can make sure you get the right ergonomics to keep your body happy and pain-free. Trust me, your back will thank you later!
Everything Within Easy Reach. Desks designed for gamers are awesome because there is a place for everything that keeps within an easy reach - from your headset to your new game to your soda. And if you're clumsy, this helps to reduce the changes of that soda getting knocked over on top of your keyboard.
No More Cable Chaos . From your keyboard to your speakers, you can end up with a lot of cables connected to your gaming PC. The desk makers know this and they've put in some awesome cable management systems to help you prevent the chaos that happens from too many cables getting all knotted together.
Now that you know why you really need one of these, we can show you a few more options if you want something that will fit in with your home office decor just a little better than your standard gamer desks.
Best Home Office Style Gaming Desks (2021)
Z-Line Belaire Gaming Desk - Best L-Shaped Desk
Those looking for a budget-friendly and very modern gaming desk may want to look very closely at the Z-Line Belaire Gaming Desk. Sporting premium looks without the premium price, this desk features a metal construction and clean, stylish glass surfaces for an almost futuristic look. The glass on the Z-Line Belaire Gaming Desk is tempered glass, a type of glass that is very resistant to breaking, chipping and shattering. In fact, when tempered glass does rarely shatter, it breaks into large chunks of glass rather than those tiny slivers that are impossible to clean. Regardless, purchasers of this desk can rest easy knowing that it comes with a lifetime warranty that protects the buyer in the event of "accidental" breakage.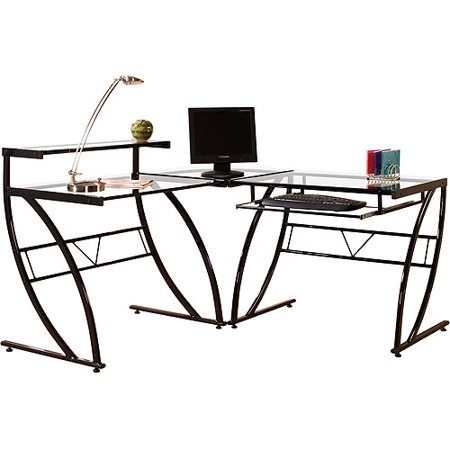 Although the Z-Line Belaire Gaming Desk is 60 inches tall on the main desk, 37 inches tall to the side and 24 inches deep, it weighs just 96 pounds thanks to its lightweight aluminum construction, making it extremely portable and incredibly easy to move from place to place. Sporting a feature that gamers love, the desk comes with a slide out retractable keyboard to help reduce hand and arm strain and prevent repetitive movement injuries. The L-shaped design of the Z-Line Belaire Gaming Desk makes it ideal for corners, and it is absolutely perfect for those gamers who regularly need to watch more than one monitor at a time. A desk that looks great and very professional, while also being extremely functional and lightweight, the Z-Line Belaire Gaming Desk is a great entry-level gaming desk with outer storage options that gamers tend to covet.
Pros
Stylish. With its clean and sparkling glass surfaces, the Z-Line Belaire Gaming Desk is very stylish and chic.
Lightweight. Coming in at just 96 pounds in total weight, the Z-Line Belaire Gaming Desk is very mobile and portable.
Lifetime Warranty. The lifetime warranty protects the entire Z-Line Belaire Gaming Desk from accidental breakage.
Cons
Glass could break. Users of the Z-Line Belaire Gaming Desk must be fairly careful when using the it, as the tempered glass can rarely break and may cause injury.
Limited Storage. Compared to other L-shaped desks, the Z-Line Belaire Gaming Desk has fairly limited storage.
Bestar Hampton Gaming Desk - Best Corner Desk
Moving up a notch in quality we arrive at the Bestar Hampton Gaming Desk. A mid-range and very high quality product, the Bestar Hampton Gaming Desk can be purchased in either wood or granite style according to preference and to match the décor of your gaming room. The desk features more than its fair share of space, and its L-shaped design makes it perfect for game room corners or in front of windows. The Bestar Hampton Gaming Desk is equipped with several shelves on which to store game room media and other supplies; and the built-in, slightly recessed cabinet on the short side of the desk can hold even the most elaborate gaming computer and case, while also being a nice touch from an aesthetic viewpoint. With a width of 70 inches it is the ideal gaming desk for those who enjoy spreading out as they play; and the surface area is large enough for a wealth of on-desk gaming supplies.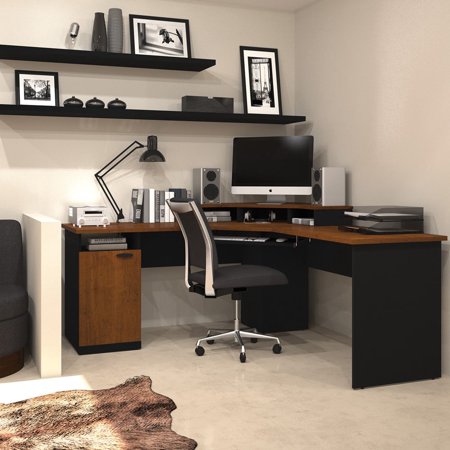 The work surface on the Bestar Hampton Gaming Desk is coated with a shock-resistant PVC material for the utmost in performance, and the ergonomically designed keyboard tray slides out easily thanks to its ball bearing rollers, cutting the distance between the player and the desk. The wooden style of the Bestar Hampton Gaming Desk sports a dark wood variant covering the desk, making it look as if it belongs in a board room rather than a game room; and the granite-style desk blends easily in any room and is super tough against scratches and dings.
Pros
L-Shaped Design. A preferred shape among serious gamers, the L-shaped design of the Bestar Hampton Gaming Desk makes it perfect for corners and for watching more than one monitor at a time.
Large work surface. With a width of 70 inches, the Bestar Hampton Gaming Desk provides gamers with a large work surface.
Plenty of storage. Between the large cabinet for the PC Tower and multiple shelves, the Bestar Hampton Gaming Desk offers plenty of storage solutions.
Cons
Premium Priced. Compared to the other two desks on our list, the Bestar Hampton Gaming Desk is not a very budget-friendly option.
Not very modern looking. Some reviewers have complained that the Bestar Hampton Gaming Desk lacks some of the modern looks of other best-selling gaming desks.
Prepac Wall Hanging Gaming Desk - Best Space-Saving Wall-Mounted Desk
Do you primarily play from your laptop or some other portable device rather than from a PC Tower? Is your house, apartment or condo a bit short on space at the moment? If so, the Prepac Gaming Desk might be the perfect choice for you. One of the most unconventional gaming desks on our list of products, the Prepac Gaming Desk is a wall-mounted desk that is available in three different wooden finishes to match the décor and style of your primary gaming space. The desk, as you might imagine, has built-in cable management, which keeps all the cords off the floor and neatly tucked away for a tidy and well-organized look.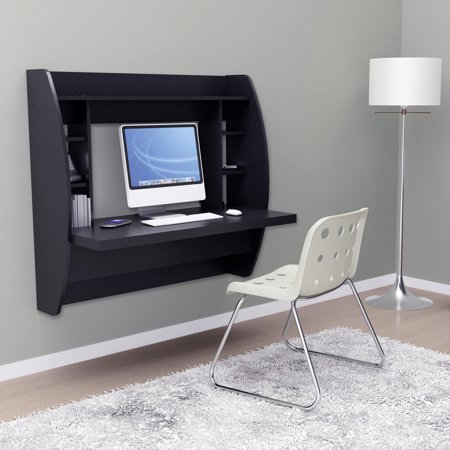 One of the best features of the Prepac Gaming Desk-and one of the most amazing given its small size-can be summed up in one word: storage. The desk includes a series of shelves on either side of the unit. Each of these shelves has a removable piece of wood that allows you to enlarge (or divide) the two compartments-making them the perfect place to put large speakers that are connected to your laptop or mobile gaming device-a great idea considering that laptops are not usually equipped with booming speakers that can greatly enhance your gaming experience.
Because the Prepac Gaming Desk is very small and lacks a retractable keyboard tray, it is not recommended for tower PC users. However, if you typically game from a smaller device the Prepac Gaming Desk gives you a stylish and affordable option that is also quite functional and saves a load of space. Minimalist in nature, yet big on storage, the Prepac Gaming Desk is a great choice for those with smaller dwellings who put a great deal of value in aesthetics.
Pros
Space Saving. Because the Prepac Gaming Desk is a wall-mounted desk it will save you loads of space-space that can house other gaming gear.
Enlarging Shelves. Whether you want to use the side mounted shelves to store gaming media, or remove the divider wood to create a massive speaker compartment, Prepac has got you covered.
Stylish. With minimalism being all the rage now, the Prepac Gaming Desk is one of the most stylish desks on our list.
Cons
No retractable keyboard tray. The Prepac Gaming Desk does not offer a retractable keyboard tray and is thus set up mostly for laptops.
Difficult assembly. Because the Prepac Gaming Desk is a wall-mounted desk, the assembly for this product takes a lot of time and effort.
Not made for PC Towers. Users that play their games from a PC Tower will find this desk to be very non-accommodating.
What to Look for When Buying a Gaming Desk
When it's time to shop for your new gaming desk, there are several factors and considerations you should keep in mind. To help you with this task, below we have listed the various things to look for when shopping for a high-quality gaming desk.
Desk Shape
Gaming desks come in a variety of shapes and configurations. Long, straight desks may be perfect for those who plan to set up along a wall that is equally long and straight, but you have to keep "access" in mind when buying one of these traditional desks. Long, straight desks may be able to nicely accommodate all of your gaming equipment, but what kind of access will you have to that equipment when it is needed most? In other words, will your gear be close enough for you to reach when using a long, straight desk?
Fortunately, there are many other options to choose from when we talk about desk shape, including L-shaped desks, corner desks and even standing desks for those gamers who think better on their feet.
L-Shaped Desks
Although often difficult to assemble and move, the L-Shaped desk can give you plenty of room without leaving you feeling as if you are boxed in. The shape of the desk provides a lot of work space above and plenty of storage underneath. L-shaped desks are the perfect option when you need to look at two monitors at once or store things like speakers, your extra laptop or printer-it also gives you a place to eat-while keeping all your gear within arm's reach.
Corner Desks
As the name suggests, corner desks are perfect for corners, meeting at the corner seam of your game room and giving you plenty of workspace on either side. They are a great space-saving desk due to their configuration, and provide many of the same benefits of an L-shaped desk. However, many of these desks do not have a space for a PC Tower and are thus taboo for players who game in this style.
Standing Desk
Whether your motivation is to get a workout while you game or attack your fellow gamers from the standing position, a standing desk can be a great option. Storage is often limited with a standing desk, however, so you may have to combine this desk with other cabinets and storage space to keep your gear organized and protected.
Desk Material
Gaming desks can be made from a variety of materials, including wood, aluminum, steel, graphite, etc. This is something you can determine just by reading the three brief reviews above. Most of these materials are great for gaming, but if you are looking for a portable, temporary option, you may want to go with something like aluminum vs. wood, as the former is much more lightweight and easier to move. Solid woods such as oak and cherry wood make for great permanent desk options. In the end, "material" is more a matter of preference than it is performance, so be sure to choose a desk material that matches your style and the décor of the gaming room.
Size
How large do you need your new gaming desk to be? Naturally, this will depend on a few factors, such as physical size-gamers that are larger in frame may require a larger or taller desk and gaming chair to feel comfortable and supported while playing. The second main factor is the size and quantity of your amassed gaming gear-the monitor and all of your accessories. For example, if you have a lot of equipment that you need to keep handy and at arm's reach-the monitor, gaming headphones with stand, a specialized gaming mouse and mouse pad, etc.-you are definitely going to need a larger desk, one with enough space on top to hold your many items. On the other hand, gamers who are just starting out can probably get away with a gaming desk that is a bit smaller in size, providing they have yet to amass a lot of specialized gear and equipment.
Ergonomics
Ergonomics is a word often talked about in the world of gaming products. But what exactly does that term mean when we are speaking about gaming desks? And why, as a consumer, should you care about ergonomics?
The most straightforward way to explain ergonomics as it relates to gaming desks is it refers to the way the desk feels when you are sitting behind it-and gaming from it.
One example of ergonomics is the height of the desk. For instance, if you buy a desk that stands a bit higher than the traditional desk, you will also need to buy a chair that is taller, or one that can extend high enough to fit the desk. Chairs that are too short in this case could lead to repetitive strain injuries over time, such as carpel tunnel syndrome.
To help prevent these types of injuries, some gaming desks come equipped with ergonomically-designed features, such as a retractable keyboard. This helps to vary the distance between the user and the typing surface to prevent hand and wrist injuries. When shopping for your next gaming desk, be sure to ask the salesperson about all the ergonomic features the desk offers. Not only will these features allow you to play for longer periods without experiencing discomfort, they can also prevent a wide range of injuries over time-injuries that have become far too common in the gaming world.
Storage
As a gamer, you know (roughly) how much storage space you are going to require in your new high-quality gaming desk. This storage can take many forms, including drawers, shelves, cabinets and cubby spaces. Drawers and shelves are a great way to store all of your gaming media. Some gamers even use drawers to store their gaming headphones and other supplies. Cabinets and cubby holes are usually reserved for larger items, such as your PC tower, speakers and other large supplies. We recommend you go slightly "bigger" on storage than you may currently require. Then, as you begin to accumulate new gaming gear and media, you will still have plenty of places to conveniently store it. Keep in mind that proper storage can mean the difference between a well-organized and functional gaming station and a pig sty that makes it difficult to find what you need.
Aesthetics
Finally, we get to aesthetics. Aesthetics is just a fancy way of saying "how a gaming desk looks." And when it comes to aesthetics, the choices you have are immense. Unlike your traditional work or school desk, which could, in a pinch, also work for gaming, a gaming desk can take many different forms to match your personality, preferences and the style and décor of your game room. Gaming desks can be made from a myriad of different materials, take on a variety of shapes and include many extras that give it a personalized appearance. Of course, aesthetics is a matter of preference, so shop around until you find a desk that looks just as good as you play.
top image credit: Walmart