One of the most important pieces of equipment in a serious gamer's arsenal is a high-quality gaming mouse. But what exactly makes a gaming mouse "high quality?" This is the question we will tackle below.
Here we have reviewed several of the most popular and hottest selling gaming mice in the industry, including a section outlining the pros and cons of each product. We have additionally included a Gaming Mouse Buying Guide, in which we have highlighted a series of 9 questions you should always ask when shopping for one of these products.
Editor's Recommendation: Top Gaming Mouse in 2022
Best Gaming Mouse for the Money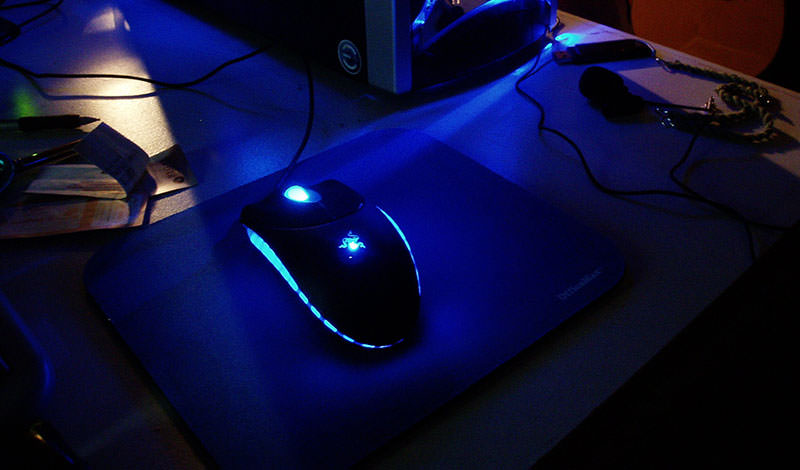 Logitech G903 Gaming Mouse
Picking up where the impressive G900 version left off, the Logitech G903 Gaming Mouse is loaded with impressive features that every serious gamer covets. Aesthetically awesome to match all of your other gaming gear, the mouse is one of the most customizable and comfortable mice currently available. Perfect for both right-handed and left-handed players, the ambidextrous mouse boasts several removable auxiliary buttons that allow you to create a personalized gaming experience that matches your needs and preferences. Whether your game requires first-person shooting, or you need several different buttons for your MMO or MOBA games, this mouse is built with versatility in mind.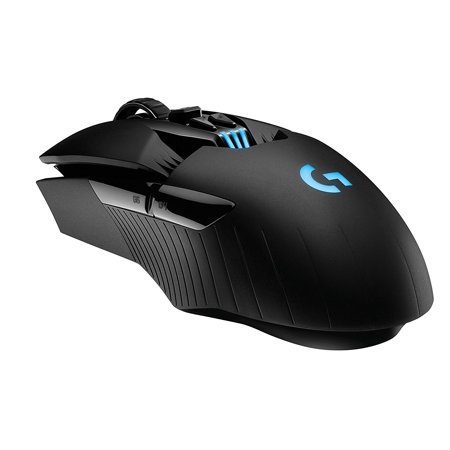 The Logitech G903 Gaming Mouse boasts a top of the line PMW3366 sensor that offers an incredibly precise experience across the entire DPI range, topping out at 12,000. Even better, with its on the fly DPI shifting, the mouse enables you to effortlessly toggle between five different modes simultaneously. At 110 grams it is the perfect weight for most gamers, although those that like their mice a tad heavier can take advantage of the 10 gram weight that's included in the package-a weight that easily snaps into the bottom of the mouse. The G903 comes complete with a fully adjustable lighting spectrum that allows you to adjust for color and brightness in all lighting conditions. The mouse features the proprietary Logitech Lightspeed wireless technology, which is so powerful it all but eliminates any latency; and the clock-tuning technology serves to minimize battery drain and sluggishness while still delivering over-the-top performance.
Pros
Highly customizable. With removable auxiliary buttons and a full lighting spectrum, the Logitech G903 Gaming Mouse is highly customizable.
Long battery life. This gaming mouse literally sets the standard in the industry for battery life.
Ambidextrous. The Logitech G903 Gaming Mouse is perfect for right-handed and left-handed players thanks to its intuitive ambidextrous design.
Durable. The gaming mouse is one of the longest-lasting and sturdiest mice on the market.
Cons
Premium priced. Packed with great features, the Logitech G903 Gaming Mouse is not a very budget-friendly product.
Hard to learn. Far from an entry-level product, this gaming mouse presents a learning curve to gamers who are new to these types of items.
Razer Deathadder Chroma
The Razer Deathadder Chroma is a gaming mouse for the ages-a mouse that combines powerful performance with versatility at a fair price. Feeling great in the hand, the ergonomically designed mouse is guaranteed to be comfortable. It features five fully programmable buttons, and its easy configuration makes it the perfect choice for first-person shooters. One of the most impressive aspects of the Razer Deathadder Chroma is the lighting profile. The mouse features some of the most vivid and intelligent lighting schemes in the industry, and the Razer Synapse software package allows you to "dial in whatever type of lighting suits your preferences." At 105 grams it is the ideal weight for serious gamers and e-Sports athletes.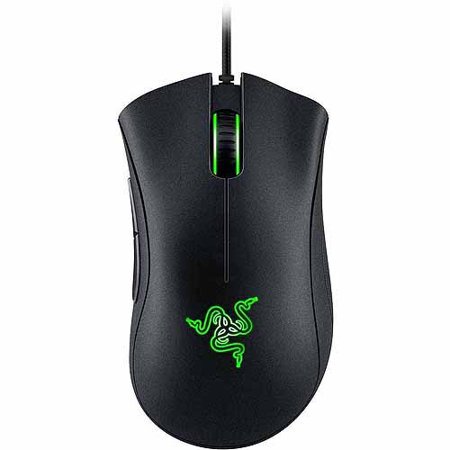 In terms of performance, the Razer Deathadder Chroma delivers in all of the areas that truly matter. At the center of this performance is the 10,000 DPI PixArt sensor the mouse relies on, which can register movements at up to 200 feet per second. The mouse boasts on-the-fly adjustment capability and features 1,000 Hz ultrapolling and 50 g acceleration. The wired mouse comes with a convenient 7-foot cable, one that is gold plated for performance and durability. And the included software offers you a myriad of information on how to use your mouse, which will ultimately enable you to fine-tune it to meet the highest levels of performance and customization.
Pros
Great lighting profile. The deep, varied and vivid RGB lighting profile on the Razer Deathadder Chroma makes this gaming mouse truly stand out.
Intuitive software package included. Not only does the Synapse software package enable you to personalize your gaming mouse, it also helps you dial in the best in performance.
Quality components. Razer is one of the most well-known and best loved names in performance based gaming gear thanks to the quality components from which each mouse is constructed.
Cons
Lacks some key buttons. With only 5 programmable buttons, the Razer Deathadder Chroma is not the best mouse for MOBA and MMO players.
Right-handed only. The Razer Deathadder Chroma is made for right-handed gamers only and is not suited or set up for lefties.
SteelSeries Rival 600 Gaming Mouse
The Rival series of gaming mice, particularly the SteelSeries Rival 600 Gaming Mouse, offers a ton of intelligent features that gamers crave. The Rival 600 is a streamlined mouse that feels very good and natural in the hand, and for added comfort, the removable sides of the mouse are constructed from an ultra-soft rubber that will give you a slip-free grip when it truly counts. The sides are removable to allow gamers the opportunity to adjust the weight. Out of the box, the Rival 600 weighs about 96 grams, significantly less than the previous two offerings we reviewed, but the SteelSeries mouse comes with several extra weights that can take the weight of the mouse up to 128 grams. These extra weights enable you to customize the feel of the mouse to meet your preferences and match your playing style. Also impressive is the vivid and interchangeable RGB lighting profile on the Rival 600, which makes the mouse look a lot more "higher-end" than its price suggests.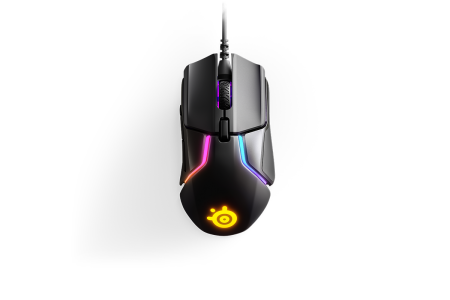 The SteelSeries Rival 600 Gaming Mouse is essentially controlled via the patented TrueMove3 sensor. This sensor offers a maximum of 12,000 CPI, and remarkable 1 to 1 tracking at 3,500 CPI. There is also a second or auxiliary sensor which helps keep the cursor from drifting when the mouse is lifted off the pad-a serious benefit that first person shooter gamers will really appreciate. Finally, the 32-bit processor on the Rival 600 Gaming Mouse offers exceptional performance with very low-latency, and allows you to easily save all your settings, making them easy to retrieve when playing tournaments and events.
Pros
Custom weighting. The extra weights that come with the SteelSeries Rival 600 Gaming Mouse enable you to adjust/customize the weight of the mouse from between 96 grams and 128 grams.
Great lighting. The true RGB Lighting on the SteelSeries Rival 600 Gaming Mouse is very impressive.
Perfect for first person shooter gamers. Equipped with a second sensor that serves to quiet the cursor and prevent drift when lifted, the SteelSeries Rival 600 Gaming Mouse is the perfect mouse for first person shooter gamers.
Cons
Not good for fingertip players. Although the SteelSeries Rival 600 Gaming Mouse has a great feel for palm and claw grips, those who utilize a fingertip grip may find this mouse a tad awkward.
Lacks additional buttons. The lack of additional programmable buttons on this mouse may discourage MOBA and MMO gamers.
What To Consider Before Buying
When you're ready to head out and purchase your next high-quality gaming mouse, it literally pays to know what to look for. Hence, here we have outlined some of the most important factors and characteristics you should definitely consider as you shop-questions you may want to ask before making a final purchase.
What Is the Sensitivity of the Mouse?
Sensitivity, at least when it comes to gaming mice, is very important to their performance. It is usually measured by dots per inch (DPI) or characters per inch (CPI). This number can range anywhere from a few hundred to over 12,000 or more, with the higher range mice being the most coveted.
What Is the Sensor Type?
Sensors come in two general types: optical sensors and laser sensors. Optical sensors use an LED light to track the movement of the mouse. These sensors tend to track better on cloth mouse pads than laser sensors.
Laser sensors have long been the industry standard for serious gamers, largely because they offer a greater degree of sensitivity. Laser sensors work great on hard flat surfaces, but the feet of these sensors can often wear down and break after a time and will thus need to be replaced.
Optical sensors are beginning to close the gap on their laser counterparts, but for now, laser sensors still offer more bang for your gaming buck.
What about Acceleration?
When we speak about acceleration in terms of gaming mice, the term is defined as the ratio of the mouse pointer speed to the speed at which your hand moves the mouse. Acceleration is measured in G-force, and one G works out to 9.8 meters per second.
So what does all this mean?
In effect, mouse acceleration attempts to predict where you'd like your cursor to end up when you make a rapid movement with the mouse. Many gamers do not like the acceleration function when playing first person shooter games, saying it is unnecessary and merely gets in the way. Thus, look for a mouse that allows you to toggle he acceleration button on and off when you so desire.
What Is the Polling Rate?
How fast can the computer and mouse communicate with each other? This is what is meant by the polling rate. Polling rate is a factor that is measured in hertz, and most mice range between 250-1000Hz. As a common rule, the higher the polling rate, the more responsive the mouse will be.
How Many Programmable Buttons Should My Mouse Have?
If you are merely a first person shooter gamer, you can probably get away with five or less programmable buttons on your mouse. However, if you are a MOBA or MMO gamer, you want to look for a mouse with the maximum number of programmable buttons-buttons that can be programmed to accomplish a variety of tasks, such as making different moves, attacks and spells on the fly.
Does Lift off Distance Matter?
Actually, yes. The lift off distance measures how high you can move the mouse into the air-above the gaming mouse pad-before it becomes unresponsive. Naturally, when shopping for a gaming mouse, a larger lift off distance is usually preferred.
What Is the Perfect Weight for a Gaming Mouse?
Weight is a matter of preference. As you probably gleaned from the product reviews above, gaming mice come in a variety of weights to suit different players' styles and preferences. Some higher end gaming mice include extra add-on weights that you can affix to the side or bottom of the mouse to increase the overall weight.
Is Software a Plus?
Software is most definitely a plus. Some gaming mice-like the Razer Mouse we reviewed above-come with intuitive software that allows you to learn about your mouse, customize it and improve its performance. This is definitely a bonus when purchasing a top-of-the-line mouse with a lot of bells and whistles that may be confusing.
What Is the Battery Life?
Last but not least is battery life, which of course only applies to wireless mice. If you opt to go wireless with your next gaming mouse, be sure to look for a product that promises long battery life, and then read several customer reviews to see if the manufacturer indeed keeps that promise. The last thing you want is for your battery to die just as you are approaching gaming greatness.
top image credit: Sam DeLong/Flickr