It probably goes without saying that some of the best gamers in the world also use some of the best gaming keyboards money can buy. A quality gaming keyboard, one with all the bells and whistles professional gamers look for in a product such as this, is one of the keys to high scores and advanced level attainment.
To help you game like the pros, below we have reviewed some of the best, most popular and hottest selling gaming keyboards currently on the market, and highlighted the advantages and drawbacks associated with each keyboard. We have also included a Gaming Keyboard Buyer's Guide, in which we will outline and explain some of the factors and characteristics you should look for when shopping for, and ultimately purchasing, one of these items.
Editor's Recommendation: Top Gaming Keyboard in 2022
Best Gaming Keyboards for the Money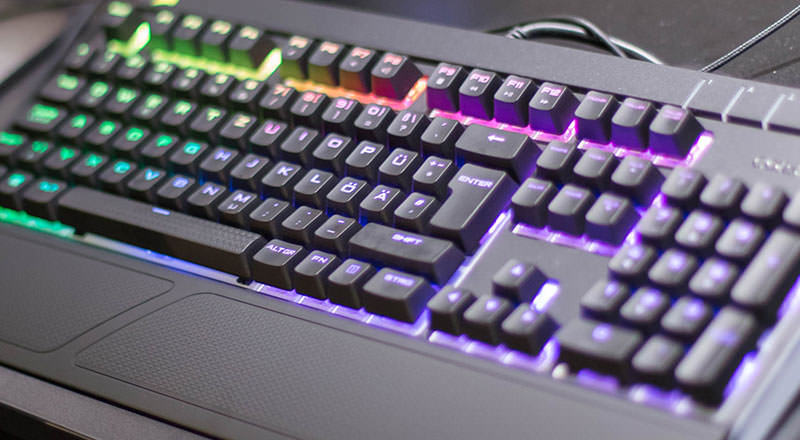 Emarth Mechanical Feel Gaming Keyboard
The Emarth Mechanical Feel Gaming Keyboard is one of the most popular gaming keyboards currently on the market. The keyboard features 104 non-conflicting keys and a numeric keyboard, all with flexible and removable keycaps that provide a motivating audible click. The keyboard also boasts 12 hotkeys, 4 joystick movement keys and 19 anti-ghosting keys for a more efficient and pleasurable gaming experience. The product enables multiple keys to work simultaneously without confliction, and because it features laser engraved keys you will never have to worry about fading.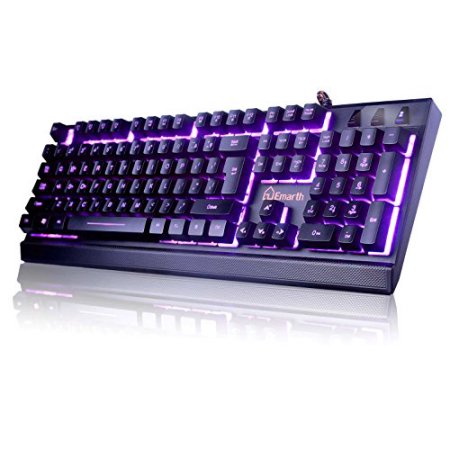 The Emarth Mechanical Feel Gaming Keyboard is made of top-notch ABS plastic with a non-slip steel base. It can display up to 7 colors at just a stroke of one of the hotkeys and features LED backlighting with three adjustable brightness levels to suit your preference in a variety of lighting conditions. Great for typing as well as gaming, the standard full keyboard has undergone a "50 million times" keystroke test and features a lifetime warranty against defects. The many "Fn" shortcuts give you quick access to specific media controls, such as volume (up and down), play, pause, next and previous track, calculator, email, web browser and more. Very easy to operate, the plug and play wired keyboard requires no drivers and features stepped keycaps to prevent fatigue in your fingers and hands.
The Emarth Mechanical Feel Gaming Keyboard is compatible with a wide variety of operating systems, including Windows10, Windows 8, Windows 7, Windows XP, Windows VISTA, and more.
Pros
Great Feel. As the name suggests, the Emarth Mechanical Feel Gaming Keyboard has a great feel, with stepped keys to prevent finger and hand fatigue.
Budget friendly. Those looking for a great entry-level gaming keyboard at a fair price will love this offering from Emarth.
Good backlighting. The LED backlighting on the Emarth Mechanical Feel Gaming Keyboard does a great job of illuminating all the keys.
Cons
Can be noisy. With an audible click that some gamers prefer, the Emarth Mechanical Feel Gaming Keyboard can be a tad noisy to operate.
Get what you pay for. According to many reviewers, the Emarth Mechanical Feel Gaming Keyboard is slightly inferior to other mechanical gaming keyboards in this class.
Logitech G213 Gaming Keyboard
When it comes to gaming, one thing is for sure: not all keyboards are alike. Enter the Logitech G213 Gaming Keyboard. This remarkable keyboard allows you to play faster than you would have ever thought possible on a standard keyboard, providing you with keys that combine the best in gaming-grade performance, lighting and ergonomic comfort. Part of Logitech's Prodigy Series, the keyboard is designed to be up to 4 times faster than a standard keyboard, with key presses that provide instantaneous results from your fingers to the screen. The brilliant full color spectrum illumination enables you to rapidly personalize your keyboard with up to 5 individualized lighting zones, providing you with a whopping 16.8 million colors from which to choose to perfectly match your style and the rest of your gaming gear.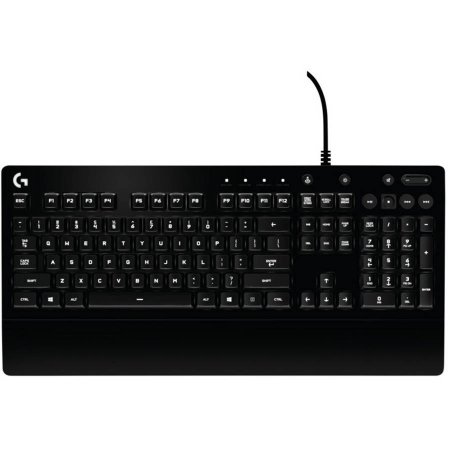 Tuned specifically for gaming, the keys on the Logitech G213 Gaming Keyboard are very tactile, comfortable and responsive. The dedicated media controls enable you to quickly-at the push of a key-play or pause your game; and skip and adjust the volume of the music directly from the keyboard, giving you more time to focus on the game. The keyboard boasts 12 function keys with custom commands, and is compatible with most operating systems, including Windows 10, Windows 7, Windows 8, Windows Vista and Windows XP, among other systems.
Pros
Media controls. The dedicated media controls on the Logitech G213 Gaming Keyboard are very convenient and extremely responsive.
Good response time. Unlike slower standard keyboards, the response time on the G213 is 4 times faster, providing instantaneous results that are too fast for the eye to see.
Ergonomic. The ergonomic palm rest designed into the Logitech G213 Gaming Keyboard makes it very comfortable.
Durable. The keyboard is very durable and spill-resistant.
Cons
Permanent wrist rest. Unlike with some higher end gaming keyboards, on the Logitech G213 Gaming Keyboard the wrist wrest is not removable.
Performance. According to a variety of users, the performance of the Logitech G213 Gaming Keyboard is not on par with some other mechanical keyboards.
Razer DeathStalker Expert Gaming Keyboard
Thanks to the fully programmable, slim chiclet keycaps on the Razer DeathStalker Expert Gaming Keyboard you are guaranteed to need less time to fully actuate each key. This means you can react faster to situations within the game and your enemies. With these types of keycaps, you'll be able to move your fingers rapidly between the keys, ensuring your entire master plan for gaming dominance is perfectly executed just as you drew it up. With this keyboard you can take your gaming experience into the dark thanks to the fully backlit keyboard which enables you to personalize your product's lighting using a wide array of colors.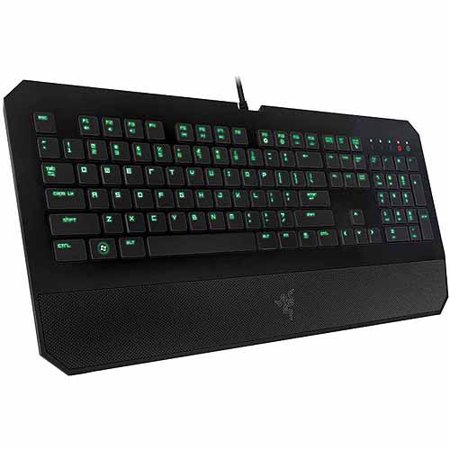 The Razer DeathStalker Expert Gaming Keyboard boasts 10-key rollover, which means regardless of the complexity of your commands, the keyboard will never stand in the way between you and the game. With a built-in wrist rest the keyboard has a very ergonomic and comfortable design, allowing you to play for hours on end without risking hand and finger fatigue that can slow you down. The keyboard comes complete with the Razer Synapse 2.0 state-of-the-art software that serves as the brain for the keyboard, automatically communicating with and syncing the gaming keyboard to a cloud server while saving all of your important, personalized settings.
Pros
Very responsive keys. The fully programmable keycaps on the Razer DeathStalker Expert Gaming Keyboard lead to more rapid actuation and super responsive keys.
Individual backlighting. With this particular gaming keyboard, each key is individually backlit.
Great software package. The Razer Synapse 2.0 software makes the Razer DeathStalker Expert Gaming Keyboard one of the smartest and most intuitive of its kind.
Cons
Premium priced. If you are looking for a budget-friendly keyboard, the Razer DeathStalker is probably not for you.
No media outlet. There is no media outlet with the Razer DeathStalker Expert Gaming Keyboard.
When you set out to purchase your next quality gaming keyboard, there are several factors you will want to consider and a number of things you should look for before ultimately buying. Here we have listed just a few of those factors:
Performance
The biggest thing to look for when we talk about the overall performance of a gaming keyboard is the feature called "anti-ghosting." Absolutely essential for a quality gaming keyboard, anti-ghosting is the ability of the keyboard to register multiple keys pressed simultaneously, which is an absolute must for anyone serious about gaming.
Connectivity: Wired vs. Wireless
Gaming keyboards come in either wired or wireless form. Wired keyboards are usually the choice for most serious gamers. Despite the extra wire to potentially trip on, these keyboards do not have the same interference, connectivity issues and lag time that is often associated with wireless keyboards.
Wireless does have its advantages, though. First, it allows you more freedom of movement as you play, allowing you to sit away from the computer screen if you so desire. Most wireless keyboards now have a standard 2.4 GHz connection, which is pretty fast, and they are only going to improve over time.
Comfort
Although comfort is not a technical issue by any means, it may allow you to play better and longer than you otherwise would. Ergonomic keyboards with wrist rests and slopes can be much more comfortable than standard keyboards and stepped keys can help reduce finger and hand fatigue. The feel of the keys is also dependent on the material used to make them, and of course, you should read the reviews and rule out any keys that can get sticky over time.
Software
Some of the better gaming keyboards come complete with software that can really amp up your game. These software packages can allow you to do more with your keyboard, such as customizing it with macro recording, pre-set profiles, lighting and mapping. Some packages even include cloud storage where you can save game information and all of your personal preferences.
Key Switch Type
When we talk about "key switch type," we are basically referring to non-mechanical vs. mechanical keyboards. Casual gamers can usually get away with the less pricey non-mechanical keyboard, but if you are a serious gamer there is nothing that compares to a true mechanical keyboard. These keyboards are faster and much more responsive that your standard keyboard-up to four or five times faster in many cases. This extra speed and responsiveness can mean all the difference in the world when you are playing against someone with similar chops as you.
Aesthetics (Looks)
Last but not least is aesthetics-the way the keyboard looks. If you have ever had the chance to check out a professional gamer's keyboard you will see loads of personalization, such as different lighting styles, brightness that can be adjusted for different lighting conditions, etc. Although looks is a matter of preference rather than performance, if you want to play like a pro it doesn't hurt to have a keyboard that makes you look like one.