Whether you call it cornhole or bean bag toss, one thing is for certain – this is a fun game for all ages and it can be played all year long! Growing up, we had some cheap bean bag toss boards that us kids played with in the summer. As I got older and moved to the Midwest as an adult, where the game is known more commonly as cornhole, this became the go-t0 game for tailgating, cookouts, and just hanging out with friends and family.
If you've never played this game, then you are in for a treat. Not only is it relatively easy for anyone to play, it's perfect for kids, teens and adults. But just because anyone can toss a bean bag doesn't mean that it isn't challenging, in fact, it takes a little work to perfect your technique to become the winning team. If you're looking to buy your first cornhole game set, or looking to upgrade your old one, then let us help you out with our recommendations and guide below.
Top 10 Best Cornhole Board Sets for the Money (2018 - 2019)
our editor ratings are based on quality, value and durability. **This page contains some affiliate links and GamingWeekender may be compensated if you make a purchase after clicking on the links.
What To Consider Before Buying
Let's face it – this game has some pretty basic components – the boards and the bean bags. So, there isn't a lot to consider in terms of what your buying. So, it really comes down to preferences and budget. With that in mind, here's a few things to think about before you start shopping.
Weatherproof or Not?
Do you intended to play out in the rain or snow? If so, you should look for boards that have a weatherproof coating that protects them from the elements outside. If you're just getting one of these sets to use at home, then you can probably skip the weatherproof coating. We find that this feature is most beneficial for tailgating purposes and for people who end up having drunken games with their buddies (cause beer can damage it just like rain).
Got A Design Preference?
From your favorite college team to the American flag, you can find pretty much any design on the tops of cornhole boards. If you're super picky about that design, then it might take you bit longer to find what your looking for. Or, you might even need to pay for a custom set of boards. Expect to spend a bit more too, if you need something special. Otherwise, you should be able to find plenty of good cornhole boards on the market with a design that you won't mind.
Do You Need Special Bean Bags?
If you're purchasing a set, then it will most likely come with bags for playing. Sometimes these bags are high end with designs on them, and other times they are just solid colors. If the look of the bean bags matter to you, then know that before you go shopping. Honestly, I find that they get pretty dirty during play, especially when someone misses the target, so you shouldn't worry too much about what they look like.
Is It Regulation Size?
If you take your cornhole games seriously, then you'll only want to buy some boards that are regulation playing size. Otherwise, you're just playing with a practice set. If you're not sure what meets regulations, then here's what to look for:
48-inches by 24-inches for the size of the board
made of plywood about a half-inch thick
six inches in diameter for the hole
hole placement should be centered 9-inches from the top of the board and 12-inches from both sides
back edge of the board should be 12-inches from the ground
front edge of the board should be between 2.5-inches and 4-inches from the ground
Anything other than that can still be played, but does not meet official regulations for proper tournament sizing as put forth by the American Cornhole Association.
Our Top Cornhole Board Sets Reviews
To help you make a decision on which of the recommended boards are ideal for your needs, take a moment to read our reviews below. Our editors to took the time to share their thoughts on the boards that we rated highly and made the cut as one of our favorites on the market right now.
Best Outdoor Cornhole Boards — Driveway Games All Weather Corntoss Bean Bag Game Review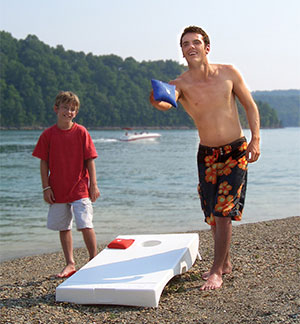 If you are shopping for something that won't get damaged outside and is good for taking to the lake or tossing in the beach cart, then look no further than this option from Driveway Games All Weather Corntoss Bean Bag Game.
As you might be able to tell, this one is made out of high quality plastic, so it is definitely weatherproof. If it gets wet or dirty, you can easily clean it off and you don't have to worry about it getting damaged from sitting on the sand or other ground surface.
You can even sit it in a puddle of water and it will be fine!
This one comes with a total of eight bean bags – four in red and four in blue. They are filled with plastic pellets, so you don't have to worry about those getting damaged outside from the weather either.
Though these are not made from the regulation plywood, they do meet ACA regulation sizing. So, if you're preparing for a tournament these are the proper size for you to practice on. Just remember that the surface of these boards will have a different effect on the sliding bags compared to a traditional plywood option.
Best Professional Quality – Victory Tailgate Black Hardcourt Border Cornhole Boards Game Set Review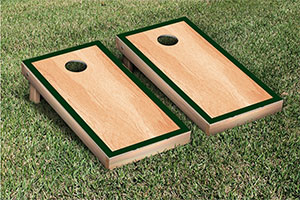 If you want a set that meets all the regulation standards – from the proper size to the proper materials, then look no further than the Victory Tailgate Black Hardcourt Border Cornhole Boards Game Set.
This is one of the best high quality options on the market, and it has a very affordable price! We think it's the best cornhole boards set under $200 at Wayfair.
We suggest that you order this one from Wayfair because they currently offer free shipping on it. Plus, they have it available in several different color options.
This one comes with the standard set of eight bean bags for your game play, however you may want to order yourself a set of better quality ones because they are pretty basic.
Overall, these boards are very sturdy and we can see them lasting for many years of game play. And most importantly, the Victory Tailgate brand is a certified ACA cornhole builder, so you know that you are getting top of the line stuff when you buy yourself this set.
top image via Wayfair