If you want to bring the fun of competitive horseshoes away from the standard pit and into your very own backyard you simply can't go wrong with these lawn horseshoe kits. Made with the whole family in mind, lawn horseshoes are the perfect activity for backyard BBQs and family get-togethers, and at just a fraction of the price of regular horseshoes they are also extremely easy on your wallet.
In this article we have reviewed several of the most popular and hottest-selling backyard horseshoes kits currently available, and included the pros and cons associated with each product. We have also put together a helpful Lawn Horseshoe Buying Guide that will highlight the various factors and characteristics you should consider when purchasing one of these products, whether you plan to buy online or at your local fun and games store.
Top Horseshoes Game Sets by Editors' Picks in 2022
Best Lawn Horseshoes Game Sets for the Money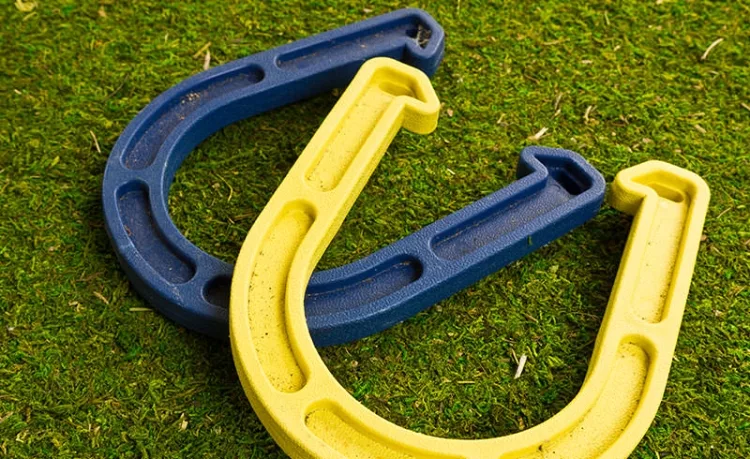 Champion Sports Indoor/Outdoor Rubber Horseshoe Set
Sporting a design that gives them the genuine look and feel of metal horseshoes, the horseshoes in the Champion Sports Rubber Horseshoe Set sports a high-quality construction that makes them appropriate for all ages. The horseshoes are easy to grip and throw and their soft makeup makes them safe for players of all ages-young to old. The lightweight horseshoes and the stay-put rubber playing mats enable users to play this horseshoe game both outdoors and indoors, and the various pieces will never damage walls or floors because the rubber mats always stay in place and do a great job of accepting and grabbing the horseshoes.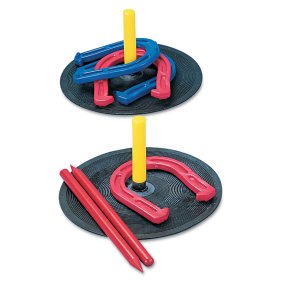 The bright vibrant colors are sure to make the Champion Sports Rubber Horseshoe Set a hit with your children. The horseshoe set comes with bright red and blue horseshoes and colorful yellow pegs. This vivid array of colors helps to improve visibility when playing outdoors and makes it much easier to spot up the target in all lighting conditions. With 4 horseshoes, 2 rubber mats with center pegs (for indoor play), and two red plastic dowels (for outdoor play), the Champion Sports Rubber Horseshoe Set has everything you could possibly need to start a rousing game of horseshoes in your backyard, at the beach, playground or campsite, or even in the family room or garage. Incredibly easy to setup and disassemble, the game is ready to play right out of the box and promises to give your family hours of recreational pleasure.
Pros
Indoor/outdoor. With dowels and rubber playing mats, the Champion Sports Rubber Horseshoe Set can be enjoyed equally outdoors and indoors.
Rubber construction. The rubber construction of the horseshoes gives them the look and feel of real horseshoes, while still making them safe for indoor use.
Colorful. With different colors for the horseshoes, mats and pegs, the Champion Sports Rubber Horseshoe Set is very colorful and will appeal to small children.
Cons
May not be suited for very small children. Due to the weight of the rubber horseshoes, the Champion Sports Rubber Horseshoe Set may not be appropriate for very small children.
Not budget-friendly. Of all the products on our list, the Champion Sports Rubber Horseshoe Set may be the least budget friendly (although it is still fairly affordable).
Crown Sporting Goods Deluxe Indoor and Outdoor Horseshoe Game Set
Made from the highest quality materials and built to last, the Crown Sporting Goods Deluxe Indoor and Outdoor Horseshoe Game Set is designed to be safe and appropriate for all ages. This one-of-a-kind set includes everything you need for a fun-filled day in the backyard or even in the house on a rainy day. The set includes four horseshoes-two to a side-two plastic pegs, two plastic stakes and two rubber mats for indoor use, as well as a genuine rule book that will teach kids how to play the game the right way. The set is perfect for any occasion: backyard BBQs and get-togethers, family reunions, day camps, physical education classes, beach trips and more.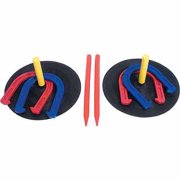 One of the most impressive things about the Crown Sporting Goods Deluxe Indoor and Outdoor Horseshoe Game Set is that it can be played both inside and outside and is very safe. Allowing two kinds of scoring-1 point for the person who gets closest to the stake and 3 points for ringers-the game can get very competitive and will keep children busy for hours on end.
Pros
High-quality materials. All of the pieces in the Crown Sporting Goods Deluxe Indoor and Outdoor Horseshoe Game Set are made from the most premium grade materials.
Great for small children. The plastic horseshoes and vivid colors make this horseshoe game set perfect for small children.
Rule book included. Kids can learn how to play the game the right way thanks to the included rule book.
Cons
Very lightweight. The plastic horseshoes in the Crown Sporting Goods Set makes them very lightweight and hard to throw long distances.
Temporary smell. The smell of the horseshoes and mats right out of the box is temporarily offensive, but it does wear off.
K-Roo Sports Plastic Horseshoe and Ring Toss Game Set
A unique product that will not bust your gaming or recreation budget, the K-Roo Sports Plastic Horseshoe and Ring Toss Game Set can provide hours of summertime fun for children and adults of all ages. Just split into teams of two at your next outdoor BBQ, picnic or family get-together and let the fun commence with this colorful game that is perfect for the entire family.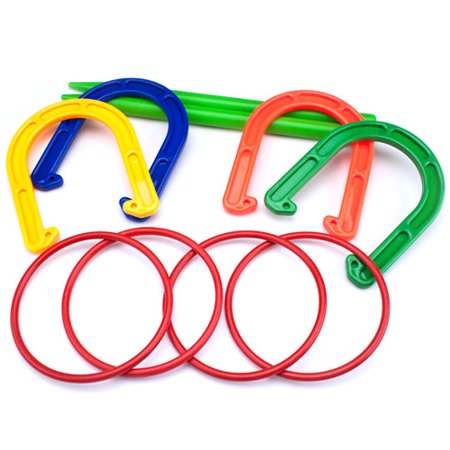 The K-Roo Sports Plastic Horseshoe and Ring Toss Game Set comes with four colorful horseshoes, four ring-toss rings (5 inches diameter) and two stakes. Together the game allows you to play either horseshoes or ring toss in any outside area, needing just a small patch of grass to set the game up.
Pros
Very safe. The tough durable plastic used to construct the horseshoes and rings in this set is very safe for children of all ages.
Great customer service. More than a few reviewers have commented on the excellent customer service they received from the K-Roo team.
Versatile. The K-Roo Sports Plastic Horseshoe and Ring Toss Game Set comes with a horseshoe and ring toss game.
Cons
Outdoor only. Unlike other sets of this kind, the K-Roo Sports Plastic Horseshoe and Ring Toss Game Set can only be used outdoors (no mats included)
Very light. The plastic horseshoes in this set may be too light for a proper toss.
Now that you have a better idea regarding the types of backyard horseshoe kits that are currently available for purchase, let's take some time and go over some of the factors and characteristics you should consider when purchasing a horseshoe games kit for your family.
Material
As you learned from the several reviews above, horseshoes and their related accessories can be made from a variety of materials. Professional horseshoes, those used in competition, are usually made from a heavy metal of some kind-cast iron, forged steel, etc. This gives these horseshoes plenty of weight and adds a challenging degree of difficulty for the players. However, when purchasing a backyard Lawn Horseshoe set you should definitely steer away from these heavily weighted metal horseshoes. Metal horseshoes are designed to be thrown into a sand pit at a metal post that is equally as heavy and durable. They are NOT made for the lawn-unless your goal is to rip up all your sod-and they are not safe for young children who could get hit by a horseshoe or hurt their arm while attempting to heave it.
Lawn horseshoe sets are usually made from one of two materials: rubber or plastic. Each of these materials has its own benefits and disadvantages. Below we will look closer at each type
Rubber Horseshoes. Rubber horseshoes are heavier than their plastic counterparts and can thus be thrown further. They are perfect for families with older children that can tolerate the extra weight. However, rubber horseshoes can also chip and wear down over time, and their weight may be too prohibitive for smaller children. They can also cause a lot of pain should someone accidentally get struck with the horseshoe.
Plastic Horseshoes. Plastic horseshoes are great for smaller children and are very durable and long lasting. Their low weight, however, also makes them much more inaccurate than rubber horseshoes when thrown. Nobody is likely to get hurt from a plastic horseshoe, but the stakes will have to be placed much closer together as they won't travel too far in the air.
Both rubber and plastic horseshoes are safe alternatives to the very heavy metal horseshoes. If your family consists of older children-ages 9 and above-we recommend the rubber horseshoes for their accuracy and ability to travel further in the air. Smaller children, however, should probably play with the safer and slightly more durable plastic horseshoes, despite their relative inaccuracy.
Weight
Although we already mentioned "weight" in the previous section, it's important enough to have its very own category when talking about horseshoes. As we mentioned, rubber horseshoes typically weigh more than their plastic counterparts. However, not all rubber horseshoes are the same weight, and not all plastic horseshoes share the same weight. Horseshoes-rubber and plastic-come in various weights to suit the preferences of the user. Hence, be sure to check out several different horseshoe sets before ultimately deciding on a kit for your family.
Durability
Naturally, the most durable type of horseshoe is the metal horseshoe, but since we have already ruled those out for backyard play we must focus on rubber and plastic. Both of these horseshoe types are fairly durable, assuming you don't skimp too much on price. Plastic horseshoes that are made from various durable composite materials tend to really stand up to the punishment, as do "heavy-duty" rubber horseshoes. Be sure to read a lot of customer reviews to see how various horseshoe sets stand up to regular play and the elements.
Performance
When shopping for your next set of yard horseshoes, be sure to choose a brand in which the performance of the shoes is a top priority. For much smaller children, performance should be less of an issue than safety, but as children get older the manner in which the horseshoes perform will take on a greater deal of importance. For example, if the horseshoes do not perform well when thrown, older children may tend to get bored of the game and refuse to play any longer.
Most horseshoe game sets will come with 4-8 horseshoes and two stakes at which the horseshoes will be thrown. Other sets may be suitable for both outdoor and indoor play, and will thus also include rubber mats for indoor play. Some kits may include other games in the horseshoe set package-games that are similar, such as ring toss or weighted lawn darts. And other kits come with an easy-to-read rule book and even a DVD that visually explains how to play the different games.