Top Dart Board Cabinet by Editors' Picks
Best Dart Board Cabinet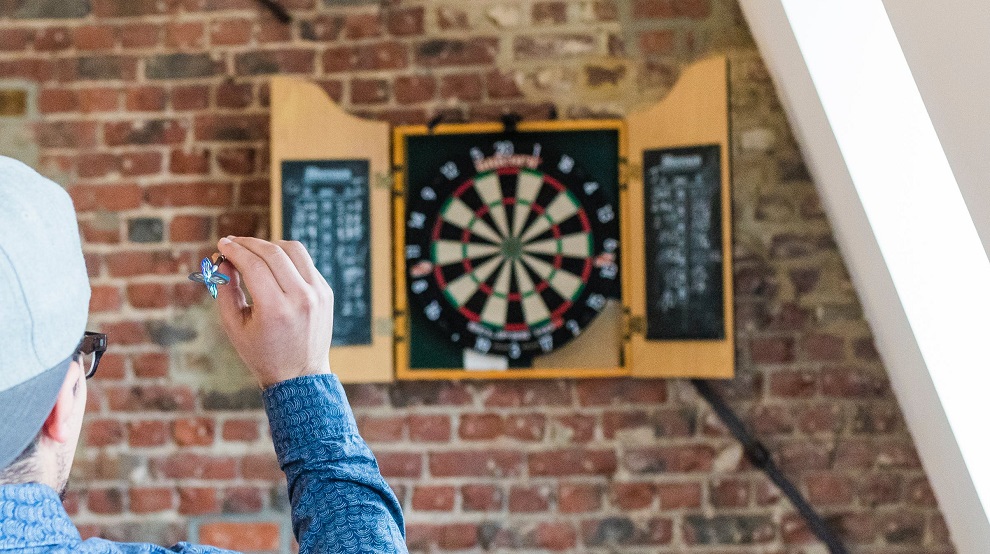 DMI Sports Deluxe Bristle Dartboard Cabinet Set - Link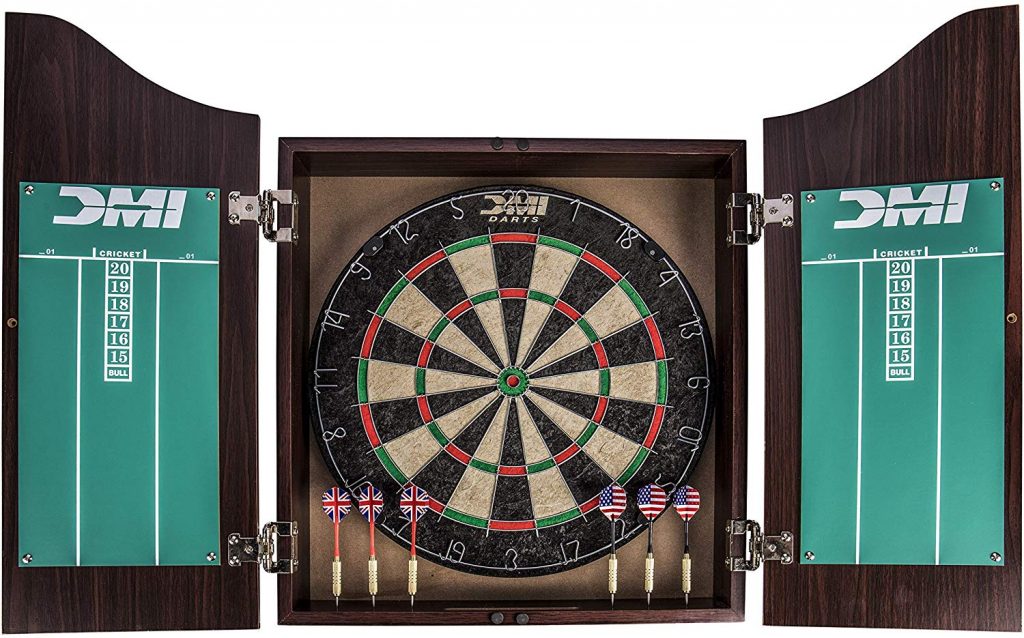 An activity center that brings beauty to a living room or game area serves dual purposes that let it please and entertain. Attractive features on the DMI Sports Bristle dartboard enhance its beautiful finish of rustic rosewood and displays a deep luster that can complement your room. With brass and steel hardware, the wood composite piece creates an attractive center where friends and family have fun with a game of darts.
As a new addition or a replacement of a well-loved but worn dartboard, it can bring a smile that welcomes players to pick up the darts and start a game. Built according to specifications of an official size dartboard, it lets players enjoy the familiarity of a board that has a standard size. The darts that come with the board make it ready to play after you complete a simple installation. The quality construction of the DMI dartboard recommends it for a featured place in any home. Its finger joint frame construction features pieces that join like the locked fingers of a hand with matching components that fit together perfectly.
The technique that requires precisely matched parts creates a generous amount of surface area for gluing that bonds securely and presents a sturdy piece of furniture. With deluxe, self-closing brass hinges, the dartboard's doors swing open for playing or close to create a pleasing wall decoration. The inside of the doors features a chalkboard for scorekeeping, and it cleans effortlessly with a cloth. The unit mounts efficiently with the provided hardware, and the well-built cabinet can make an attractive addition to your bar area, game room, living room or basement. A reliable and sturdy product that provides entertainment, it brings an element of beauty to any room.
Viper Hideaway Cabinet & Steel-Tip Dartboard - Link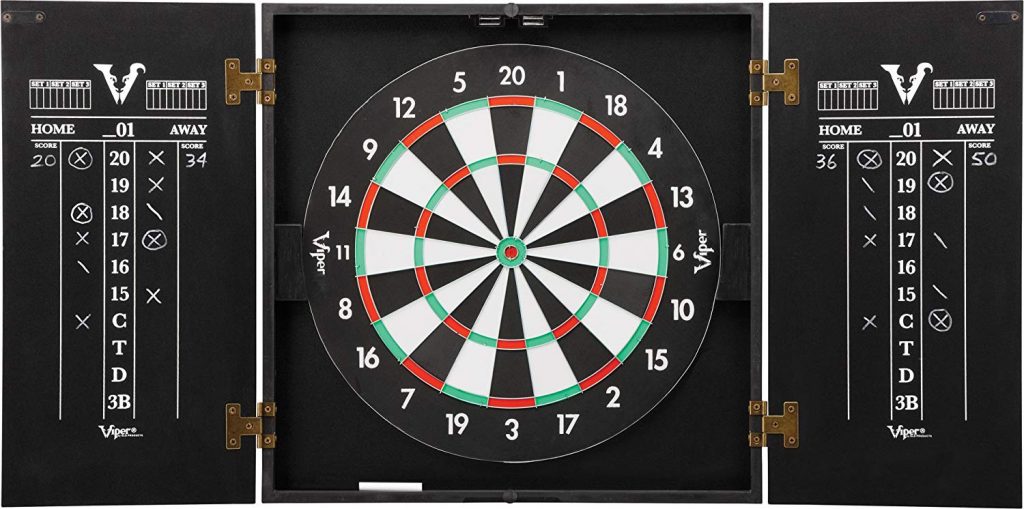 A game of darts can appeal to your friends and family whether they know how to play or not. The Viper Hideaway dartboard cabinet protects your walls from tosses that miss the board and encourages everyone to join the fun. Along with a piece of furniture that can complement your bar, basement, living room or game area, you get mounting hardware that lets the play begin without delay. Its thin profile allows it to fit snugly against the wall without interrupting your view of the room. For a change of pace, you get two different boards that make the game fun for people who like the traditional dartboard with its colorful shapes and design.
On the reverse, you get a replica of a baseball diamond, and both sides have a high-density, coiled paper surface that receives the darts. The set includes the beautiful cabinet, baseball darts that go with the baseball diamond side of the dartboard and traditional darts for the more familiar design on the other side. A two-sided game can keep your family and friends busy having fun for hours. A coated finish on the lovely Viper Hideaway cabinet that can stand up to impacts from the steel-tipped darts helps protect your walls. A fun game lets everyone enjoy the competition, and this unit allows everyone to relax and enjoy the game without concern for damaging anything.
With the doors open on the cabinet, players have an ample area to hit in case they miss the dartboard. A scoreboard on the inside of the doors makes keeping track easy, and the magnetic locks keep them closed after the game. Below the main dartboard, you have a place to store up to six darts. To add to the elegance of your Viper Hideaway dart board cabinet, the decorative piece of furniture uses hinges of antique brass that give it a classy look.
WIN.MAX Electronic Soft Tip Dartboard Set with Cabinet - Link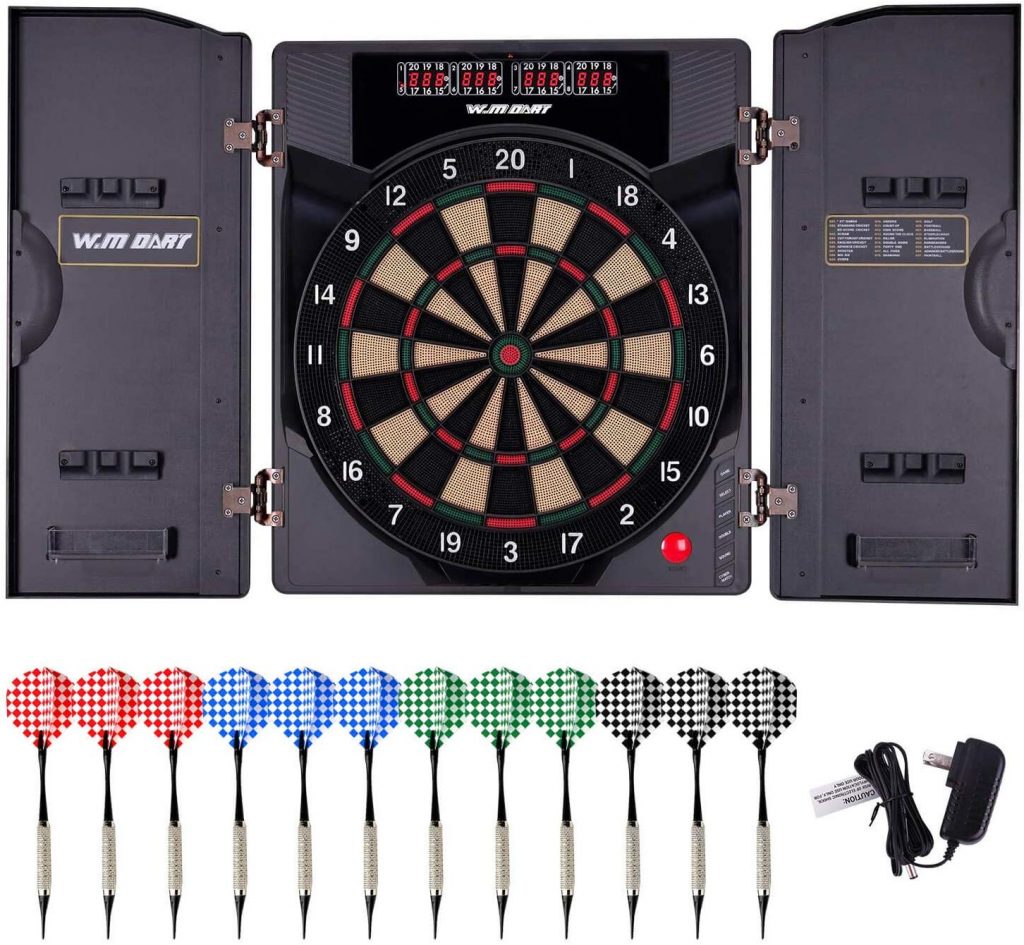 An electronic dartboard adds a new dimension to the traditional game and gives you more to enjoy. Great entertainment for your family, it can serve as a gift that wows your friends with its style and class. The WIN Max dartboard can surely enhance the fun of playing darts. Londoners played them in pubs for a hundred years, but the electronic capability gives you 27 games and 195 ways to score. Up to eight players can compete on many skill levels. A set of 12 soft-tipped starter darts in four different colors lets everyone start playing right away.
To prevent bounce-offs, the intelligent design of the board separates the pads with an ultrathin spider that makes it harder to hit. With concave segment holes, the pads can accept the darts and make them stick. Around the outside of the target face, a 360-degree catch ring provides a safe place for missed shots to land without hurting anything. Your family's enjoyment of a dart game increases with an electronic control panel that displays scores and statistics in bright LED numbers so that no one needs to keep score manually.
The construction of the ABS plastic cabinet provides a sleek, minimized appearance that can close when the game ends. The kit includes 40 soft tip dart points in addition to the 12 starter darts, an AC power adapter and a manual that shows you how to play many new games. With almost 200 to choose from, your family can enjoy a new game every day that they play it for more than six months. Slots in the doors can store the darts and accessories to make sure that players can find them when they want to start a game. The board comes preassembled and ready to play.
Barrington Collection Bristle Dartboard Cabinet Set - Link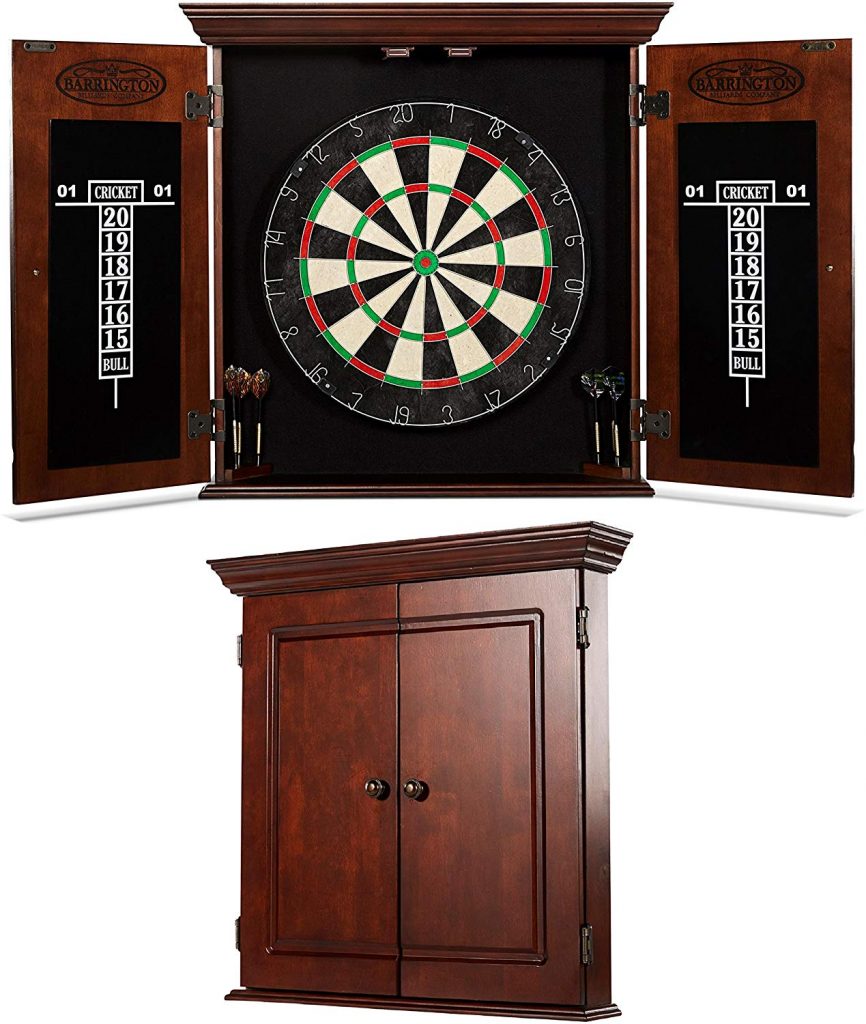 Anyone who loves darts and appreciates a beautiful, best dart board with cabinet can find all of it in the Barrington Collection Bristle set. Expert players can enjoy the compliance with regulations that it offers as an official pro indoor dartboard, and players of all skill levels can enjoy the game. The premium quality of the Barrington self-healing board that measures 17.75 inches helps prevent bounce-offs with a bullseye that contains no staples.
A handsome cabinet brings a mark of distinction to a game room, basement, hallway or wherever you want to place it. Fashionably styled with elegant crown molding on top and beveled woodwork on the front, the Bristle model displays the unique beauty of the Barrington line of wood products. The set comes with six steel-tipped darts and six flights with the dartboard to provide the essential components of a regulation match.
The construction of the cabinet includes box joints that provide a durable and beautiful piece of classic furniture, and small stoppers on the doors keep them from slamming shut. The inside of each door contains score sheets that let you keep up with the competition. Pub goers in London have played darts for a hundred years, and this handsome case looks like one that may have adorned a classy location. With plenty of space surrounding the colorful dartboard, it prevents random or errant flights from damaging your walls. Lightweight and easy to hang where you want friends and family to gather for fun and companionship, the Barrington Bristle looks great anywhere you place it.
Viper Stadium Cabinet & Shot King Sisal/Bristle Dartboard - Link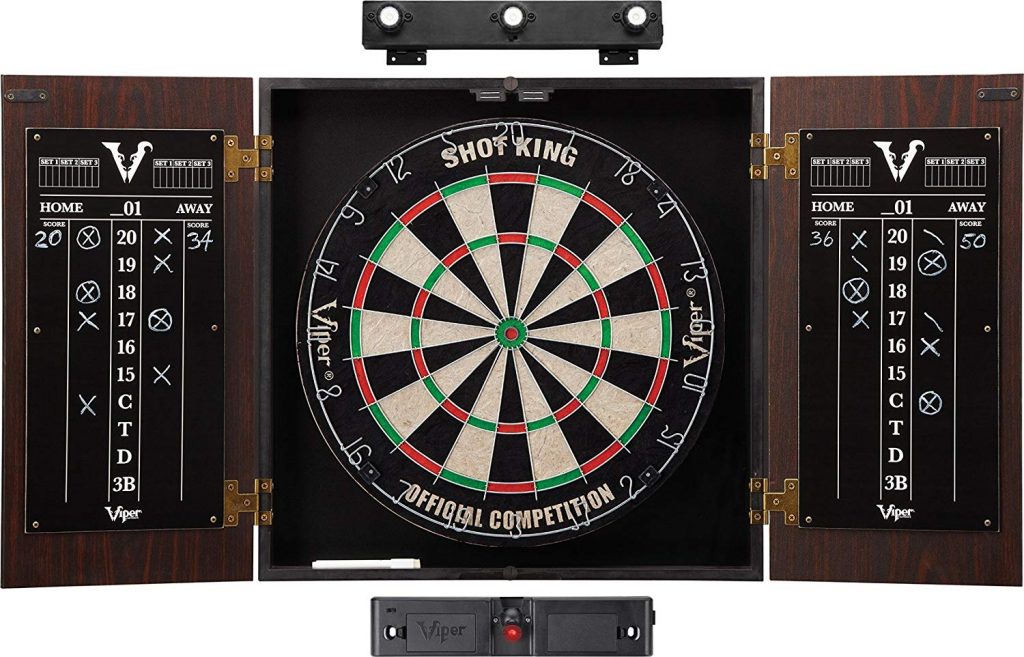 Highly durable and available for play every evening as a great way to relax, the Viper Stadium dartboard provides hours of fun in a game that has thousands of years of history. Pub goers in London played darts for 100 years as a companionable way to enjoy the game and the company of others, and you can create a similar entertainment center with the Viper Stadium model for your family and friends to enjoy. A classic beauty with a dark finish on the cabinet, the set contains a dartboard with a staple-free bullseye that allows darts to land securely without bouncing off.
Six darts come with the dartboard along with mounting hardware, a dry erase marker and a scoreboard that complete the set. When open, the dartboard cabinet measures 42 x 21.5 inches but 21 when closed, and its 3-inch depth lets it adorn any wall with grace. The magnets on the doors keep them securely closed until time to play another game. The Viper Stadium's 18-inch diameter board provides an official tournament size for serious players or for everyone to enjoy trying their skill.
With a blend of sisal and bristle fibers firmly compressed, the board has the durability that allows many hours of fun. A movable ring lets you relocate the numbers to extend the life span of the board by using pads that do not get hit very often. Players can enjoy a unique feature that displays light to illuminate the board, and it throws a light on a line for players to know where to stand.