Ultimate is like any other sport. You don't need more than bare-bones equipment to play - in this case, a disc - but the more specialized gear you have, the safer and more competitive you can be on the field. Since success in Ultimate depends on how well you maneuver on your feet, cleats are some of the first Ultimate frisbee equipment needed as you start to upgrade your gear. The right pair of cleats will provide added protection, greater comfort, and increased versatility during gameplay.
Editors' Picks: Top Ultimate Frisbee Cleats in 2022
Best Cleats for Ultimate in 2022: Our Favorites!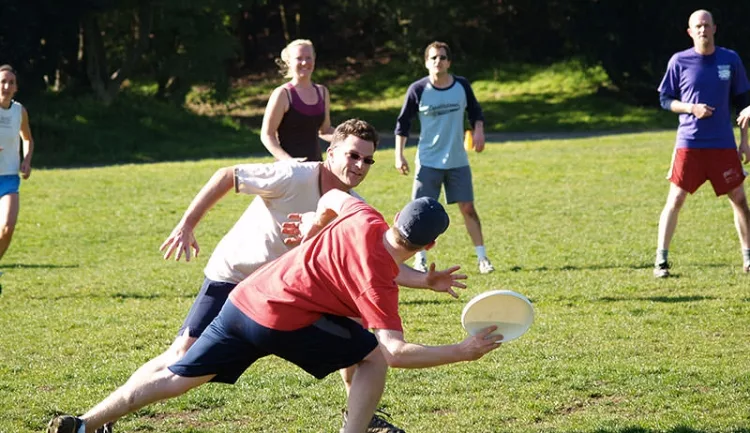 What to Look For
There are a butt-load of cleats on the market, designed for many different things, so let's keep it simple. Stick to soccer cleats. Soccer cleats are designed specifically for agility and quick release, making them ideal for Ultimate, in which the abilities to rotate and cut are essential. Cleats made for soccer are lower cut, which widens range of movement, and lighter weight, which lessens the burden on your legs and ankles. Their ample cleat spacing also prevents dirt and grass from sticking between cleats.
As for the cleats themselves, conical cleats provide the most stability, as there are typically more cleats per shoe, while bladed cleats provide greater traction, which can be beneficial when playing in less-than-ideal conditions. For most Ultimate play, conical cleats trump bladed cleats, and plastic or rubber cleats are lighter weight than metal cones.
Avoid metal spikes. They are forbidden on the Ultimate field.
Other Things to Consider
So, now you've got a good idea of what makes the ideal Ultimate cleat. The best cleat for Ultimate frisbee is a low-cut soccer cleat with conical rubber or plastic studs.
Except, when it isn't.
There are a couple instances in which a low-cut, conical soccer cleat is not the best shoe for you, or for the Ultimate field.
1 - When you have an injury.
If you have weak ankles, or have suffered an ankle or foot injury that requires additional support, a low-cut cleat can do more harm than good. The good news is, while many soccer cleats are low-rise, most manufacturers do make mid-cut cleats as well. These cleats provide greater support around the foot and ankle, and, while they tend to be slightly heavier, and the higher cut hinders movement to an extent, it's worth sacrificing a little agility for extra protection. Ultimate is a lot of turning and juking. You must protect your ankles! This means wearing a higher cut, or a stable upper.
2 - When there are poor conditions on the field.
If it's been raining or snowing, and the ground is soft, soft ground cleats are your best option for traction and protection. Soft ground cleats typically use a combination of cones and blades to increase traction, while maintaining mobility.
If you prefer to invest in only one pair of cleats for all weather conditions, opting for cleats with removable studs can give you the best of both worlds. Studs can be moved and spaced for different playing conditions. You can even replace metal studs with plastics to ensure you're within regulations.
How to Care for Your Ultimate Frisbee Cleats
If you want your cleats to last, and provide the comfort you want on the field, you're going to have to spend a little extra money. A lot of companies make in-house cleats on the cheap, but you'll feel it. Admired sporting goods companies are admired for a reason. Their shoes will hold up better and provide greater comfort.
When you shell out for shoes, though, you expect them to last, and good shoes should. But how you take care of your cleats is just as important as which shoes you buy.
Six Rules for Taking Care of Your Cleats
Don't wear them to the field. Nothing will wear cleats down faster than walking in them on hard surfaces. Pack them with your gear in a separate bag, and put them on once you're on the grass.
Take some tools to the field with you. Make sure you carry a popsicle stick or flat-edge screwdriver, and a towel or rag. Clean any dirt from between the cleats from your shoe with the popsicle stick or screwdriver as soon as you take them off. If you're using a screwdriver, be careful scraping to ensure you don't puncture the sole. Then, wipe down the outside of the shoe as much as possible.
Let shoes air dry between wearings. Do not leave them packed in your bag, and don't put leather shoes out in the sun. This will cause cracking and they won't last as long.
Dry clean your Ultimate cleats regularly. Ideally, after every practice or game, but at least once a week. Use a toothbrush or soft-bristled shoe brush to brush dirt from the outside of the shoe, paying special attention to any areas of stitching. Don't forget the tongue.
Deep clean your Ultimate cleats as needed. To deep clean, remove anything detachable - the insole, if it comes out, shoelaces, cleats if they come off - and brush the upper part of the shoe with cool to room temperature water and regular dish soap. Wipe off with a damp towel, and allow to air dry. Avoid hot water, and don't put them in the washing machine. It will alter their shape, and shorten their lifespan.
Use leather conditioner on leather cleats after they dry. Leather conditioner will keep the leather supple, ensuring better movement, and preventing cracking.
What If You Have Weak Ankles?
For players who have old injuries or weak ankles, wearing cleats while playing Ultimate can be a real pain - literally. So, you might be wondering what are the best Ultimate Frisbee cleats for weak ankles? The answer is - Adidas Primemesh cleats .
Adidas Primemesh cleats
Rubber sole
Shaft measures approximately Low-Top" from arch
Firm ground cleats for the playmaker
Zero wear-in time with a PRIMEMESH upper that provides a comfortable, sock-like fit
PRIMEMESH vamp overlay
Wide build for comfort and performance

Adidas Primemesh Cleats
Adidas Primemesh cleats don't provide full support for your ankles, but they do give you some support - and offer more than standard cleats. For additional support, keep in mind that you can use tape and braces for some extra protection.
Lacrosse cleats are another option for weak ankles, though they greatly diminish mobility. But, if your susceptibility to injury is high, or it just hurts that much when you tweak your ankle, they can provide a highly-protective alternative to low or mid-rise cleats. See our recommend lacrosse cleats in the list at top of this page.
top image credit: Ernest McGray, Jr./ Flickr
Buy on Walmart
Men's Cleats Football Soccer Shoes - Walmart Link
| Men's Ultimate Cleat 1.0 | Designed for Ultimate Frisbee - Walmart Link
Men's X GHOSTED.3 Soccer Shoe - Walmart Link
Men's Dribling TF Turf Soccer Shoes - Walmart Link
Men's GEL-Provost Low Lacrosse Shoes - Walmart Link
Men's 442 1.0 Pro Firm Ground V1 Soccer Shoe - Walmart Link
Men's Firm Ground Soccer Cleats Shoes - Walmart Link
Nike Vapor Carbon Elite TD Mens Football Cleats - Walmart Link
adidas Performance Men's Ace 16.2 Primemesh FG/AG Soccer Shoe - Walmart Link
Warrior Men's Burn 9.0 Mid Lacrosse Shoe - Walmart Link
Nike Men's Hypervenom Phelon II IC Soccer Shoe - Walmart Link
Nike Mercurial Victory VI Dynamic Fit CR7 Firm-Ground Soccer Cleat - Walmart Link
Warrior Men's Gospel Lacrosse Shoe - Walmart Link
Nike Vapor Pro Low TD Football Cleats - Walmart Link
adidas Performance Men's Copa Mundial Soccer Shoe - Walmart Link
adidas Men's Nemeziz 17.3 Firm Ground Cleats Soccer Shoe - Walmart Link
Buy on eBay
Men's Cleats Football Soccer Shoes - eBay Link
| Men's Ultimate Cleat 1.0 | Designed for Ultimate Frisbee - eBay Link
Men's X GHOSTED.3 Soccer Shoe - eBay Link
Men's Dribling TF Turf Soccer Shoes - eBay Link
Men's GEL-Provost Low Lacrosse Shoes - eBay Link
Men's 442 1.0 Pro Firm Ground V1 Soccer Shoe - eBay Link
Men's Firm Ground Soccer Cleats Shoes - eBay Link
Nike Vapor Carbon Elite TD Mens Football Cleats - eBay Link
adidas Performance Men's Ace 16.2 Primemesh FG/AG Soccer Shoe - eBay Link
Warrior Men's Burn 9.0 Mid Lacrosse Shoe - eBay Link
Nike Men's Hypervenom Phelon II IC Soccer Shoe - eBay Link
Nike Mercurial Victory VI Dynamic Fit CR7 Firm-Ground Soccer Cleat - eBay Link
Warrior Men's Gospel Lacrosse Shoe - eBay Link
Nike Vapor Pro Low TD Football Cleats - eBay Link
adidas Performance Men's Copa Mundial Soccer Shoe - eBay Link
adidas Men's Nemeziz 17.3 Firm Ground Cleats Soccer Shoe - eBay Link