Cornhole, which is also known as the bean bag toss game, is fun game that is taking the country by storm. This portable game, which can be played virtually anywhere, is very popular at parties and family get-togethers, and as it has gained in popularity, there are now even tournaments that pit some of the best cornhole players in the country against each other. You can even just have your own backyard tournament with a recreational cornhole board set.
In the following article we will discuss the game of cornhole in a bit more detail, starting with the rules of the game and how to play it. We have also included a section in which we will highlight some tips and tricks you can employ while playing the game-strategies that can help you win every time you play.
Setup, Basic Rules and How to Play
Cornhole is a fairly simple game, but we warn you; once you start playing you just might get addicted.
Equipment and Setup
The first things you will need to play cornhole are the two cornhole boards and the bean bags. Cornhole boards are slanted boards with a hole near the middle of the board. The board slants upwards ever so slightly from front to back, with the bottom portion very near to the ground, and the very top portion standing roughly 4 inches above the bottom portion.
Each cornhole board is typically made of plywood, is in the shape of a rectangle, and measures 4 feet in length by 2 feet in width. The top of the cornhole board is sanded smooth and is treated with a coating which allows the bean bags to slide upwards or downwards when they hit the bottom and top of the board respectively.
The hole in the Cornhole board is six inches in diameter and is centered nine inches from the top of the board and 12 inches from each side of the Cornhole board edges.
When playing tournament-style cornhole, the two cornhole boards should be placed 27 feet apart from front to front. However, for events like parties, camping trips and family reunions, the boards can be placed at any distance that the two individuals or teams deem fit.
Cornhole is played using 8 small bean-bag-like bags that are actually filled with un-popped corn kernels, hence the name "cornhole.". There are 4 bags of each color to help keep track of each side's supply of bags. Each cornhole bag measures 6 inches by 6 inches (6 square inches) and has one pound of corn inserted into each cornhole bag.
Tips and Tricks for Winning Consistently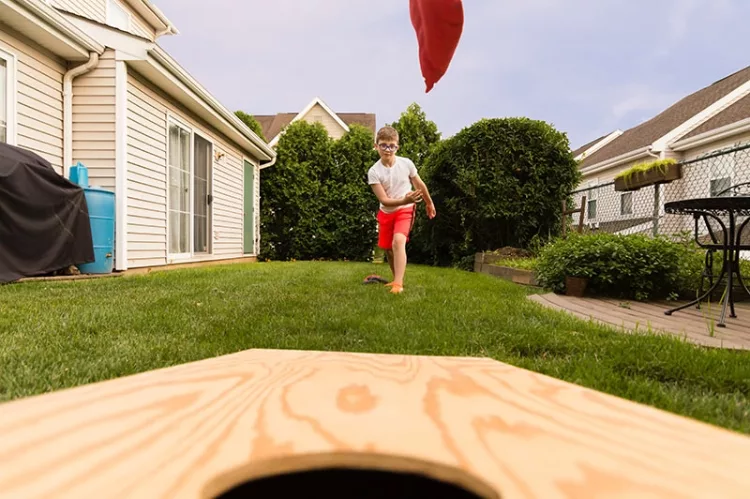 Now that you have a basic idea regarding how the game of cornhole is played, you might just be interested in learning some of the tips and tricks of the game that can help you win consistently, thus giving you bragging rights amongst your friends. Here we have assembled just a select few of those tips:
Upgrade Your Bags
If you're just playing with the bags that came with the boards, then you might want to reconsider that. You see, the bags that come as a set with the boards are just your basic models. They're not designed for serious players and really just meet the bare minimum for the occasional player. If you decide to upgrade your cornhole bags with some of higher quality, then you'll likely see an improvement in your game performance at the same time.
Finding the Perfect Arc
When it comes to the perfect arc at which you should throw a cornhole bag there are various theories. However, for best results we suggest you throw at an arc of about 7-9 feet. Throwing the cornhole bag at an arc that is less than 7 feet will cause you to regularly slide the bag off the board. Similarly, throwing it higher than 9-10 feet may cause you to lose much of your control and accuracy, and end up with cornhole bags that simply bounce off the board-if they ever hit it in the first place. Finding an arc that is consistently between 7-9 feet, and then practicing that arc over and over until it becomes part of your muscle memory, will help you find the hole in the board much more often than not.
Try Spinning the Bag
Believe it or not, a spinning cornhole bag is much easier to control than one that simply flies flat and even, like a knuckleball in baseball. Much like a top is able to stay upright by spinning, a cornhole bag that is spun on the throw will land and stick to the cornhole board with greater accuracy, hence reducing the chance that it will simply slide of the board.
The proper grip and footwork can help you consistently score high in cornhole. When gripping the bag, always use your four fingers placed underneath the bag, with your thumb in the top center portion. Start with both feet slightly together and your knees slightly bent. Then, as you swing your arm up and forwards towards your target, step with the same foot as your throwing arm, leaving your back leg planted for leverage. This is the same way many of the professional cornhole players grip the bag and stand-always with good results.