If you have a weekly poker night with your buddies, then it's about time that you get an automatic card shuffler for your games (or a manual one, if you prefer that). While you usually only see these cool gadgets in casinos, they are actually pretty cheap to buy and they speed up your games a little bit. And hey, you gotta admit that it will be cool to have a bit of Vegas at your next card night.
Plus, using a good card shuffler makes the entire process of shuffling the deck much easier - especially if you have a new deck of cards that are hard to shuffle. If we've convinced to you add one of these to your next poker game so that you look like a professional card game, then let us give you a few tips on what to look for out there.
Editor's Recommendation: Top Automatic Card Shuffler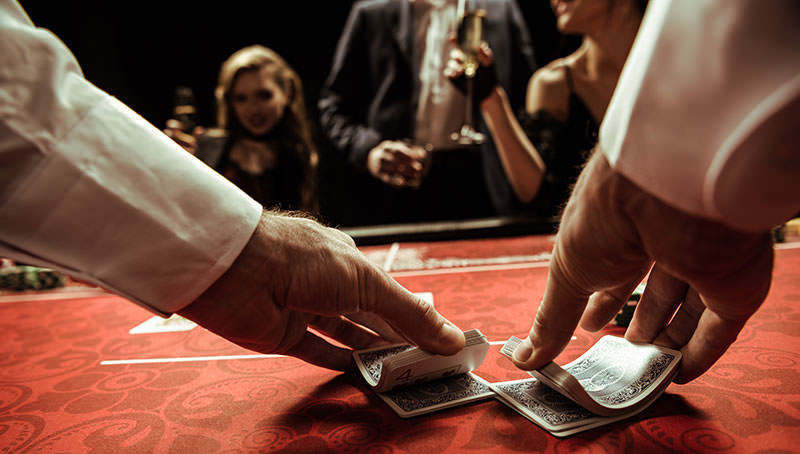 As you start to shop for a cheap card shuffler, you'll notice that you can actually buy based on the types of card games that you will be playing. So, maybe you're only going to be using it for poker games, which means that you can buy one designated for poker players. And honestly, that's what we're focusing on here today. So, if you want the best home card shuffler, then check out any of the recommended products on this page.
Automatic vs Manual Card Shufflers
Another thing that you'll notice is that you can either choose an automatic or a manual card shuffler. Obviously, we prefer and recommend the automatic models, but we'll give you a bit of info on each.
The automatic card shufflers require a battery in order to work. And you usually just have to press a button in order to get it to automatically shuffle the cards for you. For the manual card shuffler models, you often have to use a hand crank in order to get the cards all shuffled for your card game.
Obviously the benefit of the manual models is that you can use them anywhere, anytime, since it only requires the use of your hand in order to function properly. And the benefit of the automatic models is that it is completely hands-off and requires nothing but a battery.
Usage Tip
It doesn't matter how great your card shuffler is if you're using cheap cards that aren't even the right size for it. In fact, you'll want to make sure that you're using standard full-size playing cards that are of a good quality for the best results. This is the best way to make sure that you don't have to worry about jams or cards flipping during the shuffling process.
Card Shuffler Reviews
Casino 6-Deck Automatic Card Shuffler by Trademark Poker Review - Link
Are you planning on having a fun casino night at home with your buddies? If so, this automatic card shuffler might be just what you've been looking for to make those games have some Vegas casino-style professionalism. Our editors think that this is the best automatic card shuffler on the market right now.

With this card shuffler, you can quickly shuffle up to six deck of regular size playing cards at one time. We think this is the best 6 deck card shuffler for the money. And yes, if you only need to shuffle one deck of cards, you can do that as well with this model.
It does require batteries to work, and none come in the box with it - so do make sure that you have some on hand, including extras, before card game night arrives.
We like that this automatic card shuffler works through the decks in just a matter of seconds - it is very powerful. But it is also compact in size, which makes it the perfect addition to any home game room. Though we do wish that it took AA batteries instead of the more expensive C batteries.
And if you're looking for a good card shuffler for Magic: The Gathering cards, then yes, this one will work perfectly for that as well.
Hand Cranked Card Shuffler (2-Deck) Review - Link
If you don't need a large capacity from your card shuffler, then this model might serve you well. It can handle up to two decks of playing cards. However, note that this is NOT an automatic model. Instead, you need good old fashioned elbow grease to make this one shuffle those cards.
Just insert your decks of cards and use the hand crank to fully shuffle them before you start playing. Our editors think that this is the best manual card shuffler that you can buy right now.
One of the best things about manual card shuffler like this one is that they are very quiet, especially compared to automatic models. In fact, this is one of the quietest card shufflers on the market since is it all manually controlled.
Overall, this is a nice compact card shuffler that is easy to use and cheap to own - you don't have to worry about the on-going expenses of batteries and the cost of the actually unit is relatively cheap to buy as well.